Welcome back to our Case Study Series. In this episode, I am talking with Naomi. Her main concern is that she might be losing more than $300.000/year because of the Entrepreneurial Imposter Syndrome. This is something that so many people feel, and it is becoming more obvious every day. Let's solve the problems Naomi has, and I hope this will help some of you deal with yours.
Problems and challenges
When I need to pitch myself to new clients I get nervous – I am not as good as other entrepreneurs

If I have not done a task before and got perfect results I am scared I might not get the results they want, it will be my fault, they are angry with me, I have let them down, they are disappointed, I feel like a failure, ashamed, embarrassed

Belief that everyone is making stuff up all the time, don't know all the answers, just trying their best

My work is so easily tracked so it is very obvious when my work is good or bad. Nervous that I will be judged by my clients that I am not good enough

Not confident enough in what I have to offer

Constant Worry and anxiety that maybe I am doing something wrong or I am not doing the best that my client could have gotten from someone else

Always thinking to myself "Why would they trust me?"
Effects/Results
Holds me back from pitching and outreach. Only doing 5-10% of what I could be doing

I could be making another $27k/month or $324k/year

Holds me back from being a superstar and changing the planet for the better helping a lot of people

Spend 20% more time on projects that I need to make them perfect in my own mind. This 288 hours per year of extra work I don't need to be doing

Drains my energy – only 4/10 energy

Health: I make worse health decides when I feel this way

Eat 1-2 more dessert servings than usual

I work out more to contact my negative emotions and stress about this. For 2-3 hours.

I rely on others to give me confidence, so when they are not around I have a big problem
Solutions
Nervous, uncertain, scared, stomach tense, rapid shallow breath

6 y.o. Parents sat me down told me they were getting divorced

Send the energy of certainty and calm to her

What color is this to you at this moment?

How many ancestors have you got on your mom's side?

Fathers?

Past lives with this pattern?

Percentage left? 60%
WWIT (What Would It Take) to get it to 50%?

Cut cords with family

How many in place? 3

Where was it attached in your body?

Hip

How kept in place – not noticing

2nd – heart – rope

3rd – upper back, between shoulders, gray, shame

WWIT for it to be safe, right and good to see all my reality clearly?

Trust

WWIT to trust?

Seeing the patterns I run

Inward journey

Meditation and psychedelics

Gratefulness

What percentage left now? 50%

Did you or parents checkout during your birth, pregnancy and conception?

Clear from DNA, cells, organs, chakras

What percentage left now? 49%

WWIT to get it to 48 ¾ %

What are you afraid of if you let this go?

Confident,

Role model – Steve Jobs

Spiritual Advisory Board – Steve Jobs, Frank Warren, Gandhi, Benjamin Franklin, Albert Einstein, Nelson Mandela

What would they say?

Just do it

Do it while I feel uncomfort rather than wait to feel comfortable before I do it

Trust yourself

Ask them for the exact words to write or say in your work

At 40%

WWIT to get 30%?

practice

Discipline

What other areas of your life do you have discipline in?

In yoga

How

Think about the results you want rather

Not giving myself outs, no alternative

Do it with other people

Pay a teacher

At 30%


Ask your future self what would be helpful to clear this fully?
What yoga pose would help? Warrior 3

What location would help? A Coworking space

Schedule it 11.00am until I finished

Set a mini goal to know when I am done

Photos of happy clients on top of my laptop

Me Smiling

At 0%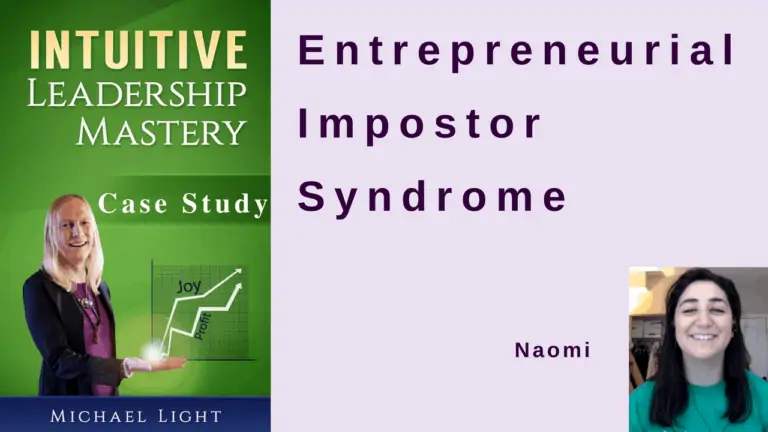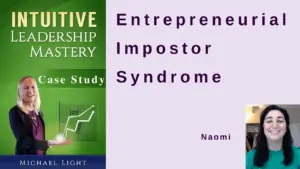 Tools from the book
TLC (To the Light, Connect)
WWIT (What Would It Take)

Youngest Age Pattern Recycler

Percentage Cleared

Cord cutting
PS Naomi is her pen name. You probably have seen her by now in DC. Next time you see her, make sure to notice her improved light around her.
Podcast: Play in new window | Download (Duration: 42:54 — 39.8MB) | Embed
Subscribe: RSS
 Interview transcript
Michael:                               Back to the case studies. I'm here with Naomi, and she has entrepreneurial imposter syndrome. This means when she's pitching to new clients she gets nervous. She thinks she's not as good as other entrepreneurs. Even if she gets the job, she feels she has to do perfect results and she worries a lot, and is scared she might not do as good as the client needs, and it'll be her fault and they'll get angry at her and fire her, and she'll feel she's let them down, that they're disappointed. That she's a failure. She'll be ashamed and embarrassed by all the mistakes she made. Of course, she never actually makes mistakes, but she's worried that would happen.
This is an enormous energy drain. She thinks, when we talked before this course … She calculated she could be easily losing more than $300,000 of income a year because she has this, and she doesn't reach out to people or talk to new people about it. She's always thinking to herself, "Why would they trust me?" Constant worry she's doing something wrong, that she's not doing the best for her client, they could be doing better work with someone else, and it totally gets in her way. Not only that, it affects her health and stress levels. She sometimes has to eat emergency desserts in order to feel better or go work out for two or three hours, just to feel okay to make that client call. So it takes up a lot of time and energy.
Thank you, Naomi, for joining us today.
Naomi:                                 Thank you.
Michael:                               Yay. Are you ready to clear this out of your life?
Naomi:                                 Yes.
WWIT that reading this helps you grow in your work role and in home life? WWIT it helps other staff at your company?
Learn more about this powerful technique and how it takes only 10 minutes to learn a new technique that makes running your business 3x easier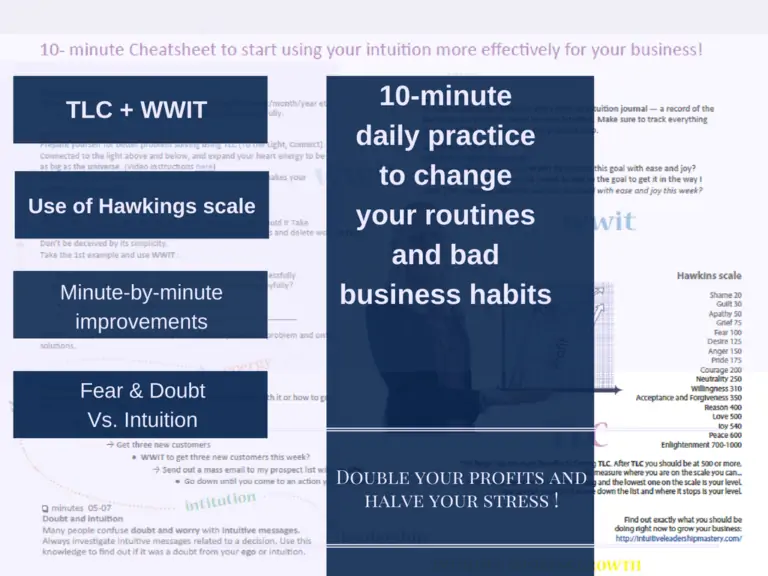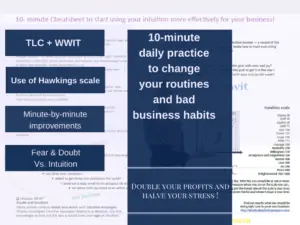 How many of you feel the same way? Let's discuss this together.