Holly Worton talks about "Bold Business Beliefs (Vital to Easy Success)" in this episode of the Intuitive Leadership Mastery Podcast, with host Michaela Light.
" If anyone has ever felt like they're under charging or they're not happy with what they're making in their business, but yet they're afraid to increase their prices, you might want to look at that belief and how you feel about that belief – "Are you enough?" Just as you are today. Like this is another thing, a lot of people think well, "Okay so, you know things are good but I need to take another course. Once I take that next training course, then I will be enough" or "Once I read 300 books on whatever my area specialty is then I'll be enough". It's I'm enough today just as I am with everything that I've got; period." – Holly Worton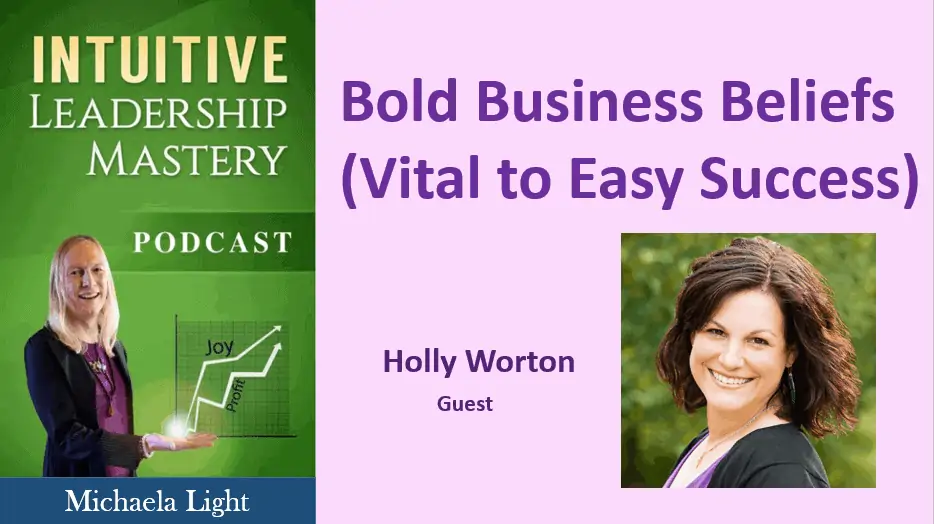 Here are some of the topics discussed in the episode:
Why your business beliefs are vital to your business success

What are business beliefs and why are they so important?

I am not enough → underpricing, poor visibility, bad marketing, bad sales, over delivering, over studying

Self-confidence

Fear about Public speaking, podcast interviews, blogging

Fear

Self-esteem

Vulnerable and open about myself and fears

Delegating – lack of trust, I am the only person who can do this

Must be busy to matter, have to work hard for the money

I have to worry to succeed

Where do these biz beliefs come from

Parents

Teachers and other pupils at the school

Partners

Friends

Movies

Songs

Books

Stories

advertising

How can someone find out what their belief system actually is?

Work with someone else

Journal about stuckness, problems

Positive beliefs = gas pedal

Negative beliefs = brake

How do you know if your business beliefs are supporting you or hurting you?

Which beliefs support you end results (not the means)

How can you get the business beliefs you need to create business success?

Why your business blocks may be interfering with your success

What are business blocks and why are they so important?
Fears, Limiting beliefs, self-sabotage, stuck

Makes you feel contracted

Fear of success, fear of change

How can people find out if they have blocks and what they are?

What are the best ways to release business blocks?

Is this something that people can work on by themselves?

How she started using her intuition in her business

Out of touch with herself, not aware, not into personal growth

Decisions

Trusting yourself

A mindset of an intuitive business owner

Listen to more, quiet, bodywork

Intuition Journal

Oracle card

Why are you proud to use your business intuition?

WWIT to make business intuition more openly used this year?
If you want to double your profits and half your stress, check out the Biz Intuition Profit Doubler. It is a free course for you to use intuition in your business.
Mentioned in this episode
Podcast: Play in new window | Download (Duration: 50:11 — 45.9MB) | Embed
Subscribe: RSS
Bio
Holly Worton is an author, podcaster, and business mindset coach for women entrepreneurs. She works with women at any stage of business who are feeling stuck and frustrated because they're struggling to fully step into their highest potential as entrepreneurs. Using a technique that works at both the subconscious and energetic levels, Holly helps them release their fear of visibility, set aligned prices for their products and services, and take easy inspired action to grow their business.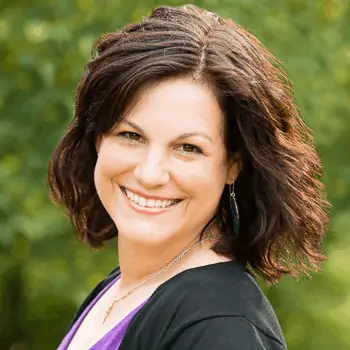 Learn more about Holly Worton at
Interview Transcript:
Michaela:        Welcome back to the show. Today we're looking at bold business beliefs you might have or not have and how they're vital to your easy success. And I'm here with Holly Worton. She's the author of bestselling books on business beliefs, and business blocks, and business intuition, and being visible in your business. And as well as a bestselling author, she is a podcaster and a business mindset coach for women entrepreneurs who want to get unstuck in their business and maybe they're frustrating because they feel they have great potential, but they're just not achieving it. And she does lots of amazing work with people. We'll hear about that in a moment.
So, coming up in the episode, we'll look at what business beliefs are and why they are vital to your easy business success. And we'll also look at how they may be hurting you, and keeping you stuck in your entrepreneurial journey, and what you can do about it. And we'll also look at the business beliefs that are blocking you. Maybe yourself sabotaging or holding yourself back with limiting beliefs and how you can shift those. And you may be amazed that just how a little bit of time shifting this stuff could leapfrog your business to the next level without having to go through that 'H' word; the hustle. [Laughs] So welcome Holly.
Holly:              Thank you for having me.
Michaela:        Oh I'm so glad you're here. So, let's just clarify for people listening what you mean when you talk about business beliefs and give us some examples when you explain it, please?