How do you run a successful business? This is a question that has been asked by CEOs and upstart entrepreneurs for ages. Most believe running a successful business is the culmination of collecting proper data, targeting niche markets, and implementing savvy business strategies to get ahead. These factors are very important and crucial; however, many business experts believe in another powerful tool: business intuition. I write in my book, Intuitive Leadership Mastery, that there are four factors as to why we should use our business intuition.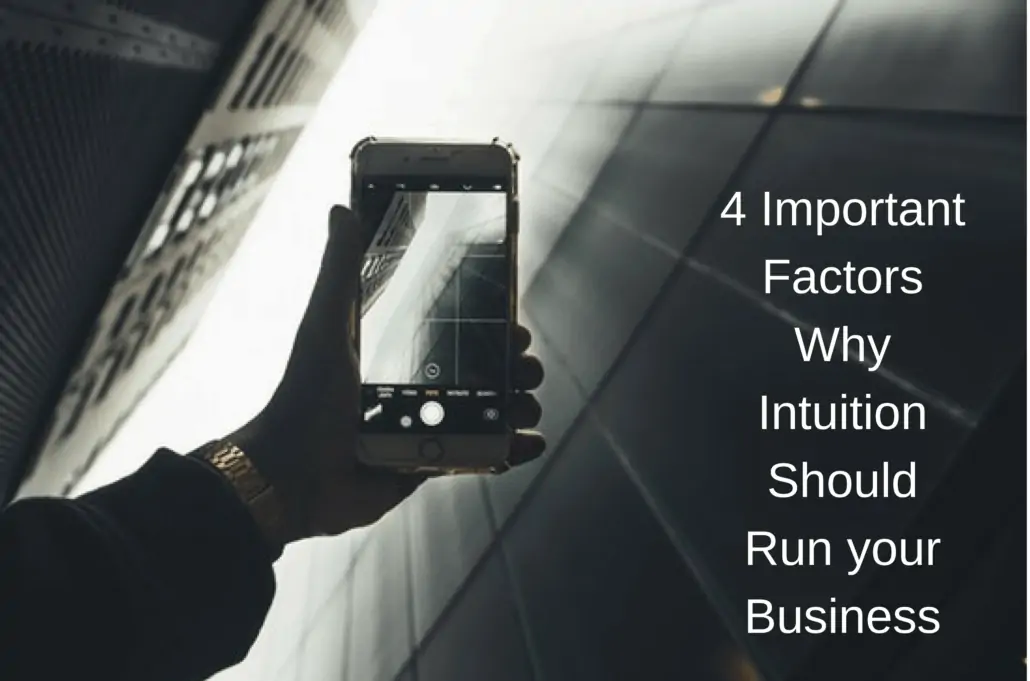 "Since I've committed to massively improving my intuition, great things have happened for me. I notice when I'm stuck and that I can get out quick, realize the source is something outside of myself and unplug from it and make better decisions." –CEO Mandi Hill Ellefson, The Hands-Off CEO
1. Logic alone is no longer enough.
For years, many businesses have been running their operations based purely on statistics and other empirical data. These businesses have succeeded in their own respect. However, most of the greatest companies to have ever existed have thrived not just on hard factual evidence but with a combination of data, innovation, and intuition. Intuition and "gut feelings" no longer just belong in the realm of detective novels.
Master innovator and former Apple Inc. CEO Steve Jobs once stated, "Have the courage to follow your heart and intuition. They somehow already know what you truly want to become. Everything else is secondary."
Using your intuition can help you make the right decision while allowing the necessary speed to match the importance of the decision. Along with accelerating your decision-making timetables, using your intuition can help you distinguish certain elements that logic simply overshadows.  These elements are chiefly human in nature and cannot be defined through hard numbers. We must evolve with our business and experience our own spiritual shift.
2. Spiritual Shifts
"There's a shift happening in humanity, a shift in consciousness, happening now because it has to happen now." — Eckhart Tolle
In recent years, there has been a huge spiritual awakening for men and women across the globe. The popularity of yoga, meditation, life-coaching, and other spiritually uplifting activities are reaching a modern high. This is an exciting time to be alive! With this ever-growing spiritual shift, the effects of this event are spreading to all facets of human existence. Business is one of those facets. Employees are now no longer searching for merely good salaries and great benefits. Important factors when selecting employment now include:
Meaningful job relations between employers and coworkers

Relaxing and caring work environments

General happiness and motivation for job duties
Designing your business model with your intuition towards spiritual human elements can provide a great advantage vice getting stuck behind outdated business principles.
3. Competitive Edge
It's a dog-eat-dog world out in the realm of business. Luckily for us, we can help to curb the competition by using our intuition.  As stated before, business is evolving. The only thing we can do is to evolve alongside. By using our intuition, we can gain a leg up on the competitors who refuse to change. Remember to use every tool and gift you have available in order to succeed.
"The intuitive mind is a sacred gift and the rational mind is a faithful servant. We have created a society that honors the servant and has forgotten the gift." — Albert Einstein, 1879-1955 Physicist and Nobel Laureate.
4. Information Overload
This factor ties in with "logic alone not being quite enough". Have you ever been so swamped in data and figures that you have no idea which way to turn? This is classic information overload. The task of cutting through the jungle of data set before you can be quite daunting. By the time you complete your decision; multiple other decisions may already be sitting before you. This is where using your intuition comes in. Using your intuitive thoughts can help you expedite your business decision-making process leading to a happier workplace.
Practicing Safe Business Intuition
So, we have identified four factors why intuition should run our business; but, how should we go about doing so?
"For myself, I find that using my intellect first is vital.  I assess the situation, consider the data, if there is any, and then take a moment to 'feel'.  I know that drives my analytic friends nuts, but it deserves some credence."—Victoria Wynn (CEO, Author, Business and Branding Coach)
Let me share with you some techniques I use in my business life that helped me to become successful.
TLC (To the Light, Connect)
TLC is a practice I use to ground myself to the Universe and its surrounding positive light. I use this tool before my decision-making process begins. For an in-depth look at how I TLC, check out my detailed YouTube video.
WWIT (What Would It Take)
WWIT is a tool that comprises of asking specific questions to achieve your goals. By asking specific modified WWIT questions, your intuition is able to shine through and provide you with specific answers as to how to solve your problems. This handy WWIT Cheat Sheet can guide you along your way with asking and answering WWIT questions.
Office of the Mind and Spiritual Advisory Board
Have a meeting with your spiritual advisory board in the office of your mind to help make key business decisions.
Why should intuition run my business?
By taking a look at these four factors, it is abundantly clear we should be using Intuitive practices in our businesses. Business experts and leaders agree that intuition is very important in harboring decisions along with proper and sufficient data. Using intuition as a key tool in our business arsenal can open up many more doors for the future. The methods I use to access my intuition are clearly stated in my book, Intuitive Leadership Mastery, and can be found for order here. This can allow for more joy to flow into our lives through ease of business practices. Start using your intuition today!
Please share your business experiences with intuition in the comments below. As always, great advice is always appreciated!