Pauline Paquin talks about "From "Mademoiselle Perfect" to Intuitive Entrepreneur (and World Traveler)" in this episode of the Intuitive Leadership Mastery Podcast.
"I'm going to do whatever it takes to live the lifestyle that I want." – Pauline Paquin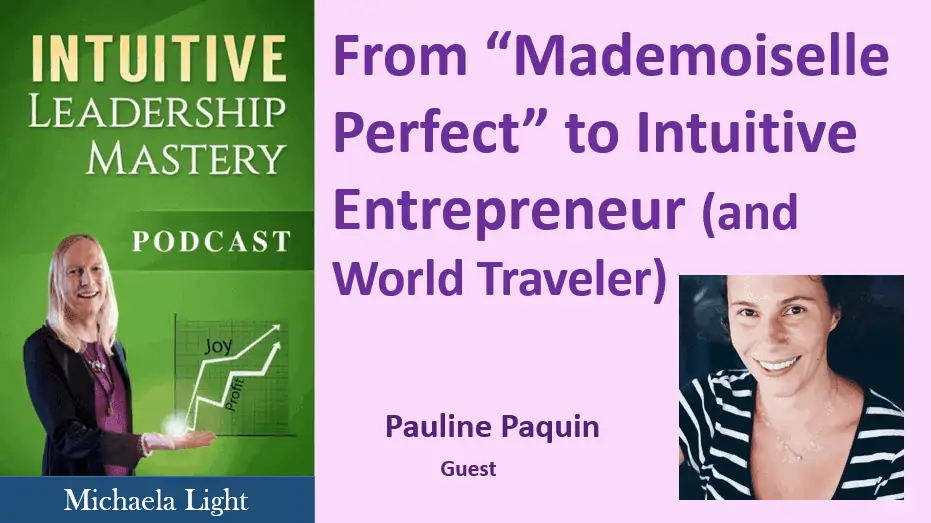 Here are some of the topics discussed in the episode:
Life moves – what would be good for me, what would I need right now, including where I live

Heart vs head decisions

Relocating countries without having all the details or numbers ahead of time

Visualizing big goals

What is my worst case? ← usually not so bad

Otherwise, stop talking about and give excuses

Gut feeling that a prospect will be bad, accept them anyway as a customer then have problems/bad reviews

Your intuition is screaming at you, you go the other way. Then your little voice of intuition says "I told you so"

Money and Spirit

Money can't buy you love and it can buy you options and freedom and time and ease

Starting a biz for the sake of starting a biz or the numbers (rather than what they enjoy)

If it does make money → existential crisis

Meaning and human involvement

Follow your calling

Doing something you are good at and attract the customers and the money follows

The danger of not having clear money goals

Money instinct and pulse

Tracking money flow

Why are you proud to use your business intuition?

WWIT to make business intuition more openly used this year?
If you want to double your profits and half your stress, check out the Biz Intuition Profit Doubler. It is a free course for you to use intuition in your business.
Podcast: Play in new window | Download (Duration: 49:22 — 45.2MB) | Embed
Subscribe: RSS
Bio
Pauline was born in Paris France and was all set to start a career after business school, except she suddenly decided the rat race was not for her. She set off to travel the world for a year and ended up living in five countries over the past 15 years.
She now calls Guatemala home. Pauline runs a guest house in the jungle, and now that she has found she enjoys building, she is starting construction in Colorado as well. Pauline is passionate about empowering people financially and runs five personal finance blogs.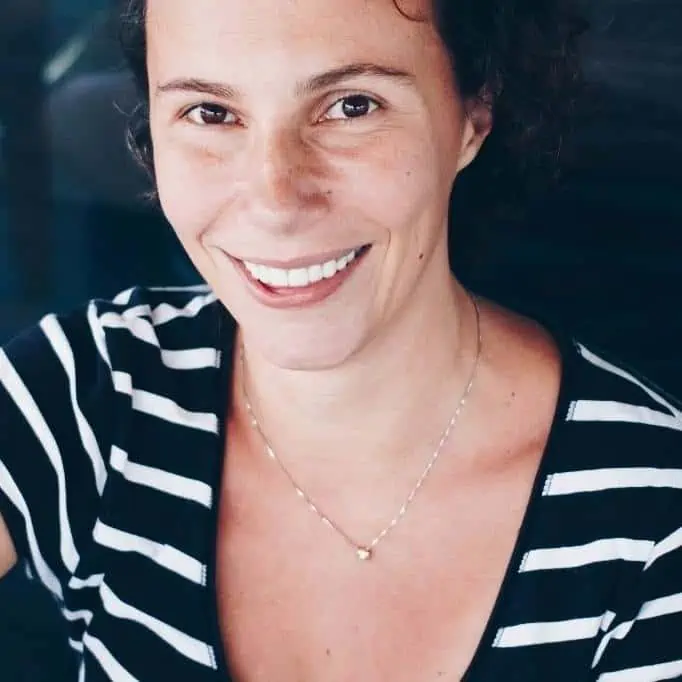 Links
Interview Transcript
Michaela 0:01
Welcome back to the show. I'm here with Pauline Paquin. I hope I'm saying your name, right? You should practice that earlier. And she used to be Mademoiselle perfect when she was doing her MBA in France. And we'll talk a bit about that. But now she has given up that white picket fence and 2.1 children and perfect existence come an intuitive entrepreneur and world traveler. She's also an expert with money. And we'll talk a bit about that. But we're going to start off by talking about some major life moves she made when she back when she was Mademoiselle. Perfect. So and it just in case you don't know her, she lives in Guatemala now moved out France that I'm giving away where she moved to. And she has a beautiful guest house in the jungle, she rents out and she's passionate about empowering people financially and has by personal finance blogs, and will maybe put those into the show notes so you can find them, but she certainly has escaped the rat race. So and she uses her intuition now when she's running a business. So welcome, Pauline,
Pauline Paquin 1:12
thank you so much for calling. Thank you for having me. Yay.
Michaela 1:15
So just so we're clear, you know, you were following the perfect life plan, right? You were you done your degree, you you, you were doing an MBA you you'd learn how to ride a horse, you were being groomed to be the perfect French wife.
Pauline Paquin 1:43
I was all the way to parents having hopes of marrying me their song. Their friends' sons. is that's Yeah, friends, songs, sorry. And I started thinking, yeah, you know, that's just the way it's going to be. I'm going to get my MBA, I'm going to have a nice career. I'm, I'm all set. But during the MBA, I got my first taste of cubicle life. And I was working for IBM in that big Tower in Paris. You know, you get then it's dark, you get out. It's dark. It was not for me, it was it was terrible. And it was really hard actually, to go from being perfect. And following all of your family's expectations