You can listen to the podcast and read the show notes here.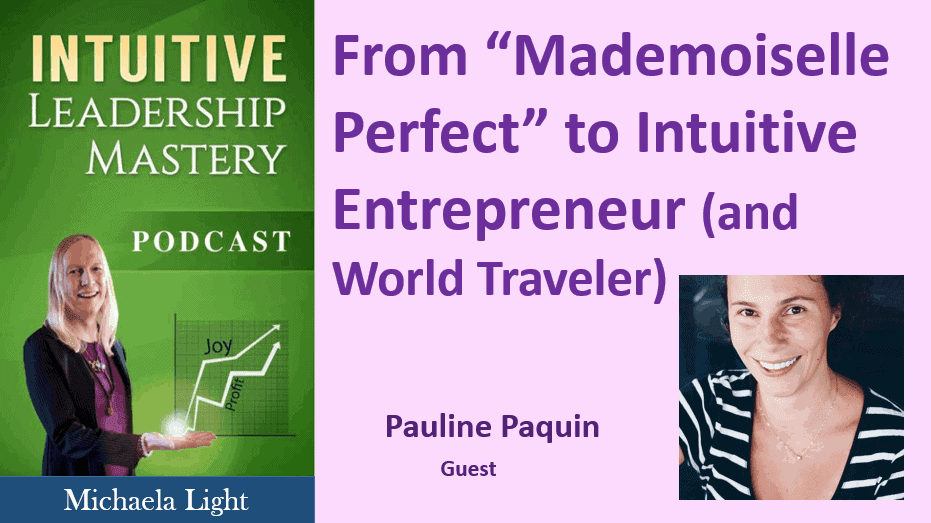 Michaela 0:01
Welcome back to the show. I'm here with Pauline Paquin. I hope I'm saying your name, right? You should practice that earlier. And she used to be Mademoiselle perfect when she was doing her MBA in France. And we'll talk a bit about that. But now she has given up that white picket fence and 2.1 children and perfect existence come an intuitive entrepreneur and world traveler. She's also an expert with money. And we'll talk a bit about that. But we're going to start off by talking about some major life moves she made when she back when she was Mademoiselle. Perfect. So and it just in case you don't know her, she lives in Guatemala now moved out France that I'm giving away where she moved to. And she has a beautiful guest house in the jungle, she rents out and she's passionate about empowering people financially and has by personal finance blogs, and will maybe put those into the show notes so you can find them, but she certainly has escaped the rat race. So and she uses her intuition now when she's running a business. So welcome, Pauline,
Pauline Paquin 1:12
thank you so much for calling. Thank you for having me. Yay.
Michaela 1:15
So just so we're clear, you know, you were following the perfect life plan, right? You were you done your degree, you you, you were doing an MBA you you'd learn how to ride a horse, you were being groomed to be the perfect French wife.
Pauline Paquin 1:43
I was all the way to parents having hopes of marrying me their song. Their friends' sons. is that's Yeah, friends, songs, sorry. And I started thinking, yeah, you know, that's just the way it's going to be. I'm going to get my MBA, I'm going to have a nice career. I'm, I'm all set. But during the MBA, I got my first taste of cubicle life. And I was working for IBM in that big Tower in Paris. You know, you get then it's dark, you get out. It's dark. It was not for me, it was it was terrible. And it was really hard actually, to go from being perfect. And following all of your family's expectations
in my family, you know, children don't speak at the dinner table, and things like that. So Wow. When I announced, hey, I'm just going to save during my last year of MBA and go travel the world I was, that was a bit weird. It's, it took a while to this for me to spit it out. Really. And after that, it just became easier. Like once you kick the door. It's it's tastes a jar.
Michaela 3:01
So what led you to you said you didn't like the idea of being in the rat race. But how did you decide where you're going to move to?
Pauline Paquin 3:11
Oh, I did not. I just said, Hey, I'm going to travel the world for a while. And then life kind of happens. And I started imagining my life, hey, I'm going to come back to immerse I was maybe six to nine months into my trip. And it had been wonderful and made great, great people, nice places. And I started talking to my friends from business cool. Who said, when I left, I was starting my degree awake. And I said, Hey, guys, how's it going? How do you enjoy? It's like, in Paris with their fancy carrier. And they said, well, it's, you know, it's hard. We hates our jobs. It doesn't pay enough to live in Paris. Anyways, we have to commute for an hour and a half and religion, one bedroom if we're lucky, you know, these tiny European apartments. And I thought, hey, that's not for me. Still not for me. So how do I swing that,
and I really lights Latin America. So I just saw as well, I'm going to see if you know, life, send me a job. I'm moving there. And I sense maybe five applications. And I got a job in Guatemala. So I was a hotel manager for a while. And then one of the hotel clients approached me and hired me in his law firm. So I get as I still had, that's
I'm going to do whatever it takes to live the lifestyle that I want. And right now, the only thing I know is get a job mentality. But I didn't want to be a
bartender in Guatemala then make $1 post tips, the all the tourists thats hanging around the bars in tourist destinations. And
I wanted options. I wanted to be able to fly home if someone gets married or died, or whatever. I wanted to be able to afford all that. So yeah, the beginning, the only thing I knew was get a job. And after a while, I'm like, Okay, I'm just living the same life. The background is difference that the life is the same. So I moved to Barcelona, and I started the company.
Michaela 5:47
Now, how did you decide what company to start
Pauline Paquin 5:51
up? A friend started talking to me, one of my
similar minded friends from Business School, let's say, Hey, how about we start an energy saving companies. So Barcelona, there's problems with barter. And we had solutions to preserve border likes these low flow showerhead or
the little formers that you can put to wash your hands. And
it was, it was great. We were all over Barcelona, we're equipping like 20 hotels from the same chain at the same time. And then it was 2007, 2008
construction crisis. No more money,
everything. People were not paying us. We had like six months payment plans for our clients. And I could see it's going south pretty fast. So I moved to London.
And yeah, that was another just kind of random
pay. Let's see, you know, I'm more money minded. So hey, where do I go to make quick money? Well, London sounds like a good place to get a good job really fast. And, yeah, a week later, I was on a plane to London to do a job interview and got the job and just move there for a while.
Michaela 7:30
Now, what do you think that was a head decision you made, or use it from your heart, or your gut or your left toe? Or there was
Pauline Paquin 7:40
there was a guts decision, like, it's not manageable to stay here and, you know, keep expecting things to change quickly. If we're entering a crisis.
Yeah, it's just not goods and I'm a I'm a money person, but I'm not as spreadsheets kind of, you know, three year plan. I have honestly,
even for income, I'm like, as long as I make enough it's fine, I don'ts
budget, I don't. It's kind of a balanced approach as as long as there's a safety net. And as long as expenses are kind of covered. Like, you know, when you offer eats, I know when I was in when I need to
control that. So the move to London was, yeah, a gut reaction. Oh, my God, this is not this is not what I signed up for. I need I still need safety. And in order to be safe, I need money, I need options. And I wanted a rental property to get some passive income. I had tiny one I boats in Paris attorneys to do well in the worst suburb of Paris, and still had a little income from that's what I wanted another one. So how'd you get a rental property? Well, you need a mortgage and not have to pay the mortgage and get a job. And
that was that came from a point
of feeling like I needed safety.
It was not okay, so in order to live my life I needs you know, it's thousand pounds a month. And so I need a cash flowing property that spits out 1000 pounds a month was I need safety. I need I need to non covered and yeah, that's what prompted the move to London and I soon as I got that property, the mortgage the plan
Yeah, I guess the only way I follow a plan like that is because I see the end of the tunnel. And I know it's going to be you know, worse the cubicle, long winters. The I was the first for an employee in that company. So I even experienced racism like you do that because you're French.
Oh, that's disgusting. What do you eat? You have to be French to eat, things like that. I was there were treating me differently. They were
not honoring like, Holy Days and stuff. extra time. And yeah, that was not a good place to be. And but I had my eye on the prize. And then I gave my resignation later. And I moved to Morocco.
Michaela 10:53
Wow.
Now what would you say to? I know, some people listening may have a dream that they would move to another location, or even another country or get a different job somewhere else. And, and maybe some of them like ponder this for years and don't do anything. What would you say to someone who is listening that situation?
Pauline Paquin 11:18
Well, I like projecting myself like ice ice lay in my bed. And I'm just dreaming. I close my eyes. I'm like, Okay, I'm, I'm living in Morocco. Now. You know, in my London bed. And what do I like about it? Okay, so it's sunny. It's warm.
It's 100 euros away from Paris. So I can visit. It's easier to visit and Guatemala blah, blah, blah. I just go on about my life. And I'm like, yeah, it feels very good. And then I sit down. And I'm like, what's the worst case scenario what's going on happen.
So I had a family member, for example, who was miserable at her job. And she had the opportunity to get a
free training because in in France, you have part of your income is going to training farms. And then your company gives you free days. And you can train and pretty much anything and so she was going to from that's awful government job to learn. I say it was Reiki or some some healing thing for two years. And I'm like, hey, that's awesome. Just Yeah, take the sabbatical. And go to that. Yeah, but what if I have to go back to my job? I could not look my
colleagues in the face, though, was her answer. Like she was terrified to go back to the same place that she was in. I'm like, Well, every time I take the leap, my worst case scenario is usually I'm going to lose a bunch of money. I mean, I'm starting a new business, I'm moving to you, country,
etc, etc. That's, I have something to lose. You have absolutely nothing to lose. Your worst case is you're going back to today, two years from now. And so that's something I enjoy doing. Like, what's my worst case scenario? Is it really that bad? And usually, it's not that scary. And that helps you gets over the fear of being whatever you've been procrastinating on for years. And if not, let's just stop talking about it. Because it's, I find it really annoying when people say, Oh, I'm going to do this, I'm going to do that. And then two years later, you're like, hey, how's How's it going? How's that new job? Has the move has the entrepreneurship? Oh, yeah, you know, it's Yeah, the economy or the kids or there's no time or whatever
excuse people come up with. And yeah, I just don't want to hear about it
Unknown 14:07
until space for nothing.
Michaela 14:10
Yeah, it does take up mental space, if you have dreams, but you don't act on them. And you're still talking about them.
I mean, you could put the dream, you know, you can move it into the future and say, Well, I'm not going to do it this year, but I'm going to plan for it in, you know, five years or whenever
I'm gonna stop talking about it until I get nearer though, I think might as well do your dreams. Now, you know, why wait?
Pauline Paquin 14:35
Well, there's always an excuse. But again, the IQ way it's against what you tend to gain and what you might lose the game usually overpowers everything
Michaela 14:50
it does, yes. And you can always use what would it take to get rid of any, you know, perceived obstacles? I think most obstacles are because excuses or their fear, showing up as an obstacle. So it's,
Pauline Paquin 15:05
yeah, fear is a big one. And when you but when you place people in front of their fears, and you deconstruct the fear, then usually not ready to accept it.
Michaela 15:22
Yeah, well, you know, we can't live other people's lives for them.
Pauline Paquin 15:28
Sure,
Michaela 15:29
we can, if they want advice, where we can give that, you know, we want they want emotional support, we can provide that the end of the day, they have to make whatever changes and want to do it.
Pauline Paquin 15:41
That's very true.
Michaela 15:44
So you were in Morocco. How did you get to Guatemala than you
because that's where you are now. Right. And between there and Colorado,
Pauline Paquin 15:55
follow love.
Michaela 15:57
Oh, okay.
Pauline Paquin 15:58
I'm just I ended up in Morocco for a year. And I thought it would be a really good life for me. But I ended up being in kind of an expat bubble with all the other French people and I really wanted to live the local life and it was I was in Casablanca, so that's a very modern, open city, I was, I never got into any trouble or anything for being a woman for wearing skirts, etc, etc. It's, I could leave the local life if I wanted to. But
I learned basic mark and Arabic, but could not get the kind of deep conversation that you want to have, in order to really know someone I could barely even order things are the market. So getting to cap and,
you know, I started missing Guatemala. And I realized that
it was not like the things that had made me move part here were at the distance from family and friends. And that was back in 2000 or so
I had to be out on the balcony with my laptop for that to make a call to my family's I could catch the good signal.
All these things were non existent problems. I was making way more money. So I was able to fly back four times a year if I wanted to.
But yeah, rewind a little bit. Before that. I just thought, Hey, I'm just going to go visit my friends in Guatemala. It's been a while. And while I was there, I met someone and we went traveling on a motorcycle for a couple of years. And
Michaela 17:52
all over the bottom Allah. Yeah, all over Latin America.
Pauline Paquin 17:57
We went from Guatemala to see Seattle to New York. And then I bought a bike in London that we took all over Europe. Wow. And tomorrow CO and yeah, so there wasn't a hard decision, my
saying such as going to be all right. I'm just going to go with the flow. I prepared financially with the rental and the London stands. And I'm good, I can afford it. And worst case scenario, I just take flight home and you know, nothing's going to happen. So went back to Morocco, give up my apartment, back my stuff, brought it back to Paris. And yeah, followed the guy on the back of a motorcycle for a couple of years.
Michaela 18:51
Sounds fun.
Pauline Paquin 18:53
It was really fun. And it gives us a lot of excitement adventure. And it's a fun way to start a relationship. You 24 seven traveling, you know, your belongings are limited to tiny
suitcase. And yeah, it's, it's a fun way to get to know someone.
Michaela 19:19
What, what do you put in a suitcase when you only have a tiny suitcase notes on the side of a mountain bike,
Pauline Paquin 19:26
a laptop, cold weather gear and as many underwear as you can the Queen laundries tedious
so yeah, we tried to have about two weeks worth of clothes. Mm hmm. Very versatile, versatile items, like is wrong, can be a towel, and can be beach towel, and can be a headscarf, etc. etc. As you tried to find can be at is. Yeah.
Michaela 20:01
I have a sarong. It's great. Yeah,
Pauline Paquin 20:05
exactly. So that's one of the things I just thank you for word protects your laptop, you can drop that in there.
Michaela 20:14
You can even wrap up a baby in it and put it on your back. I do that in Peru.
Pauline Paquin 20:21
So yeah, it was it was fun. And then we went back to Guatemala. And we're, we're kind of looking for purpose, I guess, because we did excitement of going somewhere new.
We bought a place in the jungle
kind of falling apart and full of creators and fixed it up. And yeah, that was another kind of hearts decision. I didn't even see the place. I saw some pictures. And my heart was like, Oh, I want to look at that view. for months on end. Yeah, put an offer. And I was in Europe, he putting off for a week at the place. And yeah, I came back with a beer suitcase. And
it's been six years since I've been in Guatemala.
So that's my longest move ever. And it's it feels good to have a home after two years of roaming. And then the rest was kind of renting play pieces here and there.
I finally have a place where I can have a dog where my stuff doesn't have to be packed all the time and move to storage because some other people are going to come. And
there's something nice about sleeping in your own bed when you come back from somewhere, huh?
Michaela 22:00
So you also have have guests, you have a guest house you rent out on Airbnb. Yeah. So
Pauline Paquin 22:07
the the initial house that we bought and fixed up is now a guest house at the beginning, we were living there, then we broke up. So I bought him out. And I was living there with guests. And you don't want to do that they're going to knock at your door, it all kind of flows was asking the most random things. So I made a very nice laminated sheet. And I went
Unknown 22:35
my way
Michaela 22:37
now, do you? How do you decide who to rent to? Do you follow your intuition on whether someone's going to be a good guest, or
Pauline Paquin 22:47
I don't, and I have a really good radar for that. And then I blame myself.
Michaela 22:54
So your radar shows you a bad guest is incoming, look out, Pauline, and then you still rent them. And then I'm like, Oh, I can still use the income and it's going to be all rights
Pauline Paquin 23:08
and
one of the last people I had so I usually don't France rooms individually, I try to run the whole place to bigger groups or families. It's the same amount of emailing back and forth and
the same amount of problem for five times the money so I get a little more patience when more money's involved.
Anyway, these people last minute they just wanted a tiny, cheap room, the first female she sends me says, Hey, can we pick the room once once we've booked it and I have a listing for all different rooms at different price points. Right so she inquires about the super cheap one and then asks Hey, is it's like when we get there I can we pick any room and I know you're renting the super cheap one. And so I canceled the booking inquiry and I said, Well I don't want you to be misguided This is a very tiny room there's no air conditioning there's a shared bathroom and that's what you're applying for inquiring for and
encounter have put her over my mind side I didn't want to deal with her and then I get another email and inquiry and now she's booking for one person because I have a fee for the second person so she's like oh okay yeah it's fine we're gonna arrive this time blah blah my quote sure to people you book for two so it's it was screaming trouble
usually that's it are that's the the lower price points you get people expecting a lot because it's Guatemala and people are like case the third world I'm going to pay $10 and I'm going to get the Ritz and when I get out a higher price points I get more respectful guests who treat your house with respect and that's the kind of people I want to attract so that's why I almost never rent which he prunes and anyway it was a last minute saying it was for three or four nights on my yeah I might be worth my while and well with all faults I gots may review and speakers. They didn't get the upgrade to the fancy rooms with the AC and
they had to be picky about every little thing. And yeah, I regret it. And it's it's always screaming at me. And
Michaela 26:05
your intuitive voice is screaming at you is Yeah. What are you? What is she psyche?
Pauline Paquin 26:12
I'm like, you don't need the trouble. The trouble is not worth your while.
Now that I've reached a point where I Don't sneak to kill myself for a paycheck. My time is worth a lot to me. And
Unknown 26:33
I decided I would,
Unknown 26:35
how much do you think your time is worth you
Unknown 26:40
off?
Pauline Paquin 26:42
It's really weird. Like, if I enjoy doing something, I'll just do it for free. But I've turned on client sites, several hundred dollars an hour because I I just didn't feel like I wanted to do the job.
Michaela 26:58
In the case of this rental staff. How much is it worth? You know, how much do they have to be paying you for you to have to deal with some hassle? Or is that no amount they can pay? There's not
Pauline Paquin 27:12
it's just not worth your time. Like, hmm, because you get angry. So if it's an Airbnb booking, for example, you get two weeks
before you can read the review. Unless you also put a battery few. So you got two weeks with a little voice in the back of your head saying, Oh my God, that's just kind of growing my business that's just gonna ruin my business. And people aren't super mean in general. But if you get a three star, you might as well get a one star they after. If you're using it as a guest, you know that you pay attention to the bad reviews. And you're like, Okay, these people were happy. But let's see what the unhappy one has to say about.
Unknown 28:01
So no, there's no
Pauline Paquin 28:05
you cannot, you cannot even quantify the amount of business you lose if you get a bad review.
Michaela 28:11
So it's better. Not better not to have that kind of guests who might is likely to give you a bad review in the first place. Yeah,
Pauline Paquin 28:18
I'm just looking for trouble.
Unknown 28:22
Hmm.
Michaela 28:24
So we do you have some advice to your younger self, or as to how how she should have dealt with that particular guests were when they were inquiring.
Pauline Paquin 28:35
Yeah, just say no. And move on with your life.
And yeah, you cannot, you cannot put a price on the worry and concern. And
so I'm in the jungle. And the power goes out sometimes. So if the power goes out, I'm like, Oh, my God, do they have candles and they kind of their food is going to spoil. And they're gonna open the fridge for 15 minutes to see what's in the fridge. And then it's going to take all the
the cold air out, it's going to be terrible. So I know that too. I know that I need to limit bookings in heavy rain season. But that also happens to be the summer holidays for the US. So I'm packed. And again, the voice is telling me you should have left on that. And it's going to affect you for
Christmas rentals, for example. And the part doesn't go out. But there is five reviews saying the power went out power went out and people want comforts. So
yeah, I would tell my younger self to just
keep the end goal in mind, which is, you know, a year revenue or
iTunes, I don't have a mortgage on that did some cash. So I don't have the banker don't have, you know, additional stress that I need to deal with.
Unknown 30:09
But still, it's
Pauline Paquin 30:13
it's a business. So it needs to generate profits. And it will run better if
Unknown 30:21
Yeah, I don't have that additional stress and worry.
Unknown 30:26
And
Pauline Paquin 30:28
yeah, just listens myself a little more, I guess.
Michaela 30:34
What do you do to listen to your inner voice?
Pauline Paquin 30:39
Usually, I lay down and close my eyes and
starts kind of talking to myself and say, Hey, you know, I tried to be compassionate. But sometimes I have to admit, I screw up
and say, Well, you did the best you can with the tools you were given. What can you do to do things better next time.
Michaela 31:08
And then you listen to what your inner voice says.
Pauline Paquin 31:12
When I listen. It doesn't mean I put it into practice.
Unknown 31:19
Allison Hmm. Baby steps.
Michaela 31:22
There you go. Do you do you write down any of this, like in a journal,
Pauline Paquin 31:30
I stopped journaling, I I used to do it. But when I started my blogs about money, and I started
talking about my journey in Guatemala, and how we're fixing the house and everything that was going through my mind at the time. And it kind of felt like there was no more brain energy or creative energy to channel on this hides. And they was it felt good because it was
kind of journaling to the world or putting your diary on the often.
And I kind of liked it. I was never anonymous, I always put my name there. But then when people started perfectly friends, Google you and some people were like the hedge fund your blog website. I never publish. It's like on Facebook. I separates logging and personal Facebook. And people started finding me and I'm like, that's really weird. Because now it's not like my readers have a face I'm writing and my cousin is reading it. And my friend is reading it. So
it's felt a little uncomfortable at first, but it's it was pretty good because your minds is in the output. And everyone can Yeah, read your brain starts
on a regular basis.
Michaela 33:08
So let's let's switch to talk about money because you you run five blogs about money. And
I know a lot of people who combine some kind of spiritual work with with the business have difficulty with money. So what what what's your thought about money is it is money evil, good
Pauline Paquin 33:35
money is a tool and money's not good. It's not bad. It's just a tool, like you need a toothbrush. Like he needs
tool for work in the garden, you need money and
attracting money is not that it's not going to make you a bad person. And I know some people just
take religious or the monks or the air mites and they've just got rid of all the sessions thinking
money was bad. But there's also the protesters on the other side who has stewardship of money and don't see it as evil at all. So you can combine spirituality with any level of money management. But the truth is for anything going to need money. And a lot of people have met who say, Oh, I don't care from me are actually slaves to money they have about paying job that's making them with paycheck to paycheck
dream of things that are material instead of spiritual or empowering personal development. That is it want a new car because it got to go to work with new car. And so yeah, money can buy one thing, its freedom. It's time. And that's one thing that's people don't see about smoking, they see, oh, I need money because I'm to get dressed. No, you need money. Because you have dreams and you want your dreams to become a reality. And so there is always going to be something that's money will help your life get easier. Money can make you work part time at home. If you want to stay with the kids or just do nothing can help you start a business. It can help you not be miserable the day you get sick, and decide not to work while you have that cushion on that pile of money. That's
if you don't like your job, you can give your resignation and go just work at Starbucks. And you'll be fine because you have the savings
so money is actually a really powerful and I think
Unknown 36:15
the more you
Pauline Paquin 36:21
I don't know, it's
Yeah, for me, it's not good or bad. It's just something you need in your life. And you should
try your best to attract money. And
Unknown 36:36
even if you're in the spiritual or
Pauline Paquin 36:41
whatever out alternative kind of business you're going to need to eat. So
charging for your services is just having people recognize your worth. And
a lot of people are having a hard time time you know, charging a fair amount. They're like, Oh yeah, I'm just going to just give me whatever or it's gonna be fine. But the truth is, yeah, we'll all have needs and if you good at what you do, people are just going to throw money at you.
Michaela 37:19
So I like that viewpoint and saying money is just another tool just like a toothbrush car or whatever and it's not like we think of toothbrushes as being good or evil they just know that help you clean your teeth more efficiently and it's not you can't clean your teeth without toothbrush or you can stick your finger in your mouth but isn't going to do as good a job and it's going to be harder to do
so maybe Money can't buy you love but it's certainly comply you options freedom time and ease
Unknown 37:57
yes
Pauline Paquin 37:59
and it's bought me a nice plane tickets that they I broke up with my boyfriend's
Unknown 38:04
there you go
Pauline Paquin 38:06
away or buy him out. Hey, I don't want to see you again. That was a big one to
Guatemala and guy who's not used to women especially having power and hey, I don't want to see you in my house. Who's your check
Michaela 38:28
now if you want to attract money What do you see the problems people have the obstacles they have to attracting
Unknown 38:36
money in that business.
Pauline Paquin 38:41
Many people just start a business for the sake of starting a business not what they're truly good out. But yeah, like when I was selling these energy saving things I'm not a salesperson at hearts I'm I'm a writer I'm a creative person I'm a traveler. I'm not a buy in so showered peds kind of person. And I started it because the figures made sense. And yeah, we're gonna buy it for that much. And we're going to sell it for that March. And we're going to make that profits.
And I think people can feel it if you're not
passionate about it. And
even if it was not like selling NC PTA or two old ladies.
And you know, in the end, you're saving water. So you are saving on your water bill and I was selling you a cheap solution to reduce your bills. So
you are just giving me part of the savings. Basically, it was not extortion or it's not unethical business. But it was not my business.
It was not something I would leave for. And I think that one of the mistakes a lot of people make is just starting any kind of business and you're not going to attract money. That way, you're going to be fine. Maybe you're gonna make a living, but you're not gonna be abundance.
Michaela 40:23
Yeah, and I see that a lot. We're both in an entrepreneurial group called dynamite circle with over 1000 members, I'd say more than 50% of them really don't enjoy the business that they like to sell it or, you know, totally automate it because they just don't enjoy doing it.
Pauline Paquin 40:42
Yes. And then if it starts making money, there's an existential crisis like, Who am I? What am I doing? I one of the persons I talked to in the dynamite circle it's making five figures a month selling something that is completely automated a has a an army of vas in Southeast Asia and no life goal. I'm like, what's, you know, what do you do all day since it sounds kind of depressing not to wake up in the morning and be energetic about what you do. And I feel that's a little bit with some of my blogs, who are purely automated, cash flying I don't like them. And my main blog that I started first is about my life is about me, it's I poured my heart and soul into it. And it's the blog with the best metrics it's the blog that
gets the most money that attracts the best kind of readers people comments on the advance encouraged me and
Unknown 42:02
yeah, there's a
Pauline Paquin 42:04
big difference between that blog and the other ones. And when I found that I imagine I
I came to a point where the blogs were more than covering my life expenses even if the state automated for life and Guatemala came in because I needed a purpose I needed something tangible something I could touch
Unknown 42:31
I
Pauline Paquin 42:33
yeah I have a websites What does that make me a website honor It's not like I can show you my house and you can score it and you can touch the walls that I've made this local stones and a lot of sweat from everyone in the village who contributed
it's it's nice and I have an education project in the village hi gets free it and English classes for the kids
and we're used to reach about 250 kids a week so it's big saying knives scale back a little because I'm building a house in Colorado and there's only so much bandwidth for everything but yeah I think
Unknown 43:24
if
Pauline Paquin 43:26
if you have a calling or if you're good at something you're going to attract money and ny like building so I'm building houses and
I thought okay I could buy and flip a couple of properties and Midwest and make them cash flow and do these do that
it's cross my mind for quick seconds and then I thought no i just i want to be good at one be happy forever that property is gonna be and I picked a really nice piece of land in the mountains of Colorado it's going to be beautiful is going to be a nice log cabin and I'm going to the nature it's going to be completely off grid with solar
it's going to be amazing and everyone all my friends from Denver they're going to want to come up for the weekends and because it's going to be so amazing I'm I could sell it for a lot of profit it's desirable in a great location you're 45 minutes away from Denver you can go there just for the weekend and just potentially selling the property when it's finished it's gonna make me wear more money than the little fix and flips and headaches from the Midwest so by taking what is right for me I believe attracting more money
Michaela 45:03
now do you think it's important that the if you want to make money you have clear goals around money or does that not matter or
Pauline Paquin 45:12
I don't have clear goals I'm I'm more of a Phils rights kind of person.
Some people need goals. I often compare money with diets and some people need to count calories. And some people know when they offer eats. Then they been a salad the next day and I'm that's
seems to eat whatever she Yes,
Michaela 45:39
here's my sacrificial lettuce was I ate too many foods yesterday.
Pauline Paquin 45:45
There you go. Well, when it comes to money, I have that instinct that's I know when I need to make some I know when I need to spend less. I know
it's it just comes naturally. But I also recognize that it's not for everybody. And some people may need a spreadsheet and to write everything down. They've seen this fence this week and tallied with what remade and see where the problem is. So it's not a one size fits all
Michaela 46:22
so why are you proud to use your business intuition Pauline
Pauline Paquin 46:28
because it makes me me it's kind of weird to explain but if you if I do what's right for me, I'm self preserving. I'm taking care of myself and if I use the heads decisions Yeah, I would make myself miserable in the process
Michaela 46:55
and then I'm on a mission for all business owners to openly you their intuition at work because they'll make more money there'll be happier less stressed so what would it take to make business intuition more openly use this year
to take business intuition what what would it take to make business intuition more openly used this year
Unknown 47:24
huh?
Pauline Paquin 47:26
awareness but I guess when people think from the head they need to be shown results so if you have testimony of people who change their approach and can say yeah I used to be like whew and then I did that and then I got XYZ as results
Unknown 47:49
that might help
Pauline Paquin 47:53
more square mines its people
and vision what's could be
Michaela 48:02
so if people want to find you online. One of the best ways to do that
Pauline Paquin 48:08
you can find me at reach financial independence. That calm and I'm on Google Facebook everywhere. But my main website is rich financial independence.com. Great. Well, we'll put the reach financial independence website and the Twitter and your Facebook in the show notes. And thanks so much for coming on the podcast today. Thank you very much. It was lovely.