You can listen to the podcast and read the show notes here.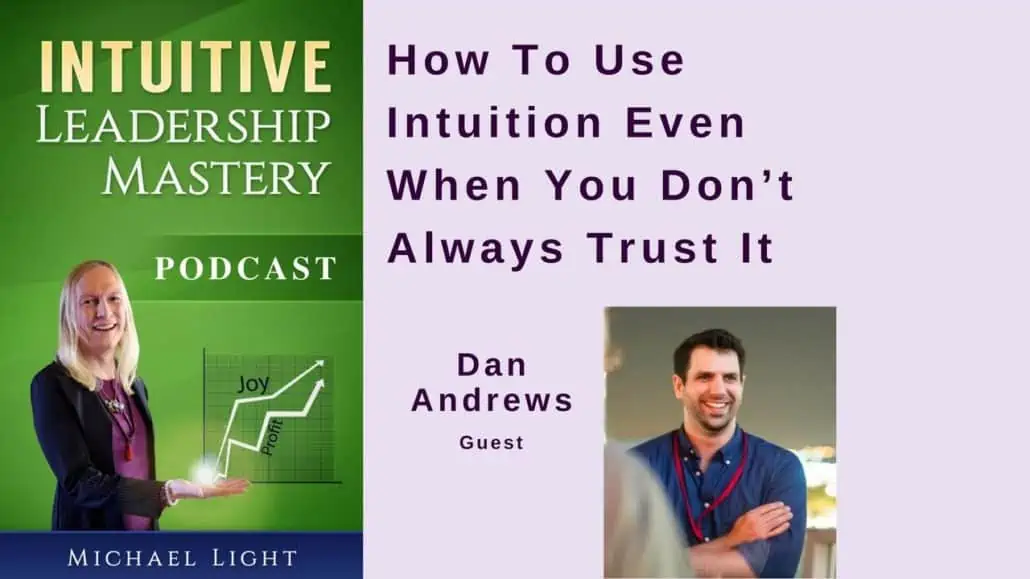 Michael:          Welcome back to the show. I am here with Dan Andrews; co-host of the world famous Tropical NBA Podcast and co-founder of 00:13 [inaudible] Businesses. He's a long term entrepreneur and he does it in a special flavor because he's location independent coming to us today from I believe Barcelona in Spain.
Dan:                Yes, Michael thanks for having me.
Michael:          Yes, so coming up, we're going to be looking at what exactly is intuition and how can you use it in your business. Or even is it useful in business? This is a question we want to consider and how originally did we get attracted to intuition. Even if it's sometimes the pet that wants to bite us it seems like. And we'll look at is muscle memory intuition and some sports analogies that help with business and intuition. And what are some of the things that many people believe intuitively but are actually false. We'll also have a look at whether intuition helps or hinders in hiring. And controversially, we'll look at dating and business, are they really the same thing? So…
Dan:                You're going to have to stick around to the end of the show to hear our solutions, thought on dating.
Michael:          Yeah, absolutely. So I appreciate you coming on the show and we were asking before we hit the record button you know, what exactly is this situation thing?
Dan:                yeah
Michael:          So, let's talk about that. Yeah, let me ask a few questions of you because that's maybe you just give me a little bit of background on how you discovered this concept and what attracted you to it? That's the first thought that occurs to me because I don't think I've had the same sort of attraction to it and I'm curious about that.
Dan:                Well I think for me, I had a small car accident in 2001, had a little whiplash, got some therapy. The health insurance on the physiotherapy ran out and then I started doing yoga because one of the therapist said hey, you can't come to me but you could look after yourself a bit better. And then that I think started me opening up to hearing my intuition more. And around that time, I started going to a bunch of personal growth workshops that I paid for as opposed to trying to find free stuff. So, there was a whole acceleration in my life there. And also I was very keen to have my business make more money. I nearly said have my money make more business.
Michael:          Which would be pretty amazing if you can figure that out by the way.
Dan:                Yes, well often I think when I said that phrase, I was thinking I get the same amount of money but I have to do twice the amount of work. In early years, my business that sometimes seemed to be the way not entirely going backwards. So, I was interested you know, how can I improve my business and that was a lot of the motivation there. And this was just one of the tools to doing that. I mean I was interested in all kinds of ways. I read lots of books on business and sales and marketing and hiring and went to work shops on how do you read people? And you know, how can you predict the future? Or you know, various other things.
So, those are some of the ways I got into it and I sort of think it was a kind of graph of intuition. It kind of went up and up. So in the early days, I didn't hear it so well and I would go to other people like for hiring. One of the things I've done is use handwriting analysis. I'll go to a graphologists and have them as well as me interviewing the people and reading their resume and giving them tests, doing the rational mind stuff and having the team interview people as well so, they got other viewpoints. I'd also get this handwriting analysis done and they'd give me other things on the person.
But then around 2009, I did yoga teacher training and that did all kinds of things because it wasn't just learning how to teach yoga. You go through like every possible pretzel position. And I think a lot of stuff gets stuck in our bodies and it certainly did for me and going through these different meditations and postures released a lot of stuff. And around there I got the strong intuition to move from Maryland and go to the Andes except I didn't know anyone in the Andes. I just asked a lot of friends. Eventually found someone in Bolivia who said yeah, come visit me in 04:45 [inaudible] I'll help you an apartment. And I was terrified to get on the plane because my rational mind was like, what are you going to do there? Is it safe? I mean isn't Bolivia dangerous? Isn't that where of Butch Cassidy and the Sundance kid got shot? But you know this plane landed I was happy with it. So I trust my intuition enough to overcome the fear.
Michael:          I jumped ahead because I knew that you were happy with the decision. I'm curious like do you now have a narrative about what the world or yourself was trying to say to you or was it just merely some good sense was occurring to me that I needed to make a change. Or is this part of a bigger kind of thing going on?
Dan:                I think it was that particular… both of those things I think my highest self-giving me that message. I think I did have that car accident so I could have that experience of getting into the yoga. It kind of tipped me into taking it more seriously. And same thing with having that intuition to go to the Andy's now actually acting on it because you know, I think everyone gets intuitive messages but the difference is do we hear them, do we act on them. And the more I act on the intuitive messages the stronger I hear them. Well, that's my experience. You know, it's like reading marketing stuff in books. You could read a thousand books on marketing but if you don't actually change how you do your marketing, it doesn't really change your business.
Michael:          How often do you end up being disappointed by your intuition?
Dan:                Well, I don't know I really get disappointed but I mean may be a related question is how accurate is it?
Michael:          yeah
Dan:                Because I think that sub question there is you know, does the intuition produce the results I want? And then I'm more… I go more into curiosity. If my intuition said hire this person and then they don't work out. I'm kind of curious well, what happened there? Did I misread the intuitive info? Was there something else there? Did the situation shift?
Michael:          You can also like have this goal. Like I really want to grow my business and then your intuition doesn't give a shit about that goal and so it's telling you to move to the Andes or to help people in your neighborhood or it could be telling you a number of things you're not listening to and then… In other words you could be trying to shoehorn yourself into a type of person that maybe you're not and trying to employ it to dark means so to speak.
Dan:                Employ your intuition to dark means?
Michael:          Right because it's possible that maybe the only reason you want to double your business is so that you can look good at a family reunion for example. Or that you can show off to your peers so that you can feel a sense of validation. And I'm wondering if in your experience you know you've had so many guests on the show is there… I mean is the intuition is that the thing that is it a part of the problem in that respect. If you knew you know, if you're doing things for the wrong reasons or for really harmful reasons or couldn't point you in a healthier direction.
Dan:                Well, I think intuition is just a tool. You know, in our life and business we have many things available. We have our rational minds, we have our intuition, we have our emotions, we have books or courses we can access and it's just like screwdrivers and saws and spanners and all the other stuff you might have in a tool box.
Michael:          How do you know what a spanner is? Are you a former carpenter?
Dan:                Yes, my name is Michael and I used to be a carpenter.
Michael:          I believe it.
Dan:                Yeah but I don't… I'm not… I try not to be too attached so I must use my intuition is just a tool to give me extra info when making business or life decisions. You know the rational mind is another tool so. And if you want to use your saw to make bright and shiny object to make your family reunion happy, there's nothing wrong with that.
Michael:          Right, that makes sense.
Dan:                Or if you want to do it to change the world and end world hunger, that's cool too you know.
Michael:          right
Dan:                Why do we have to judge that? It's all good stuff. I mean you're getting to practice soaring, you're getting to practice using your rational mind or your intuition or whatever other tools you happen to have in your toolbox.
Michael:          What's the meaning of… What's the reason we incarnated? You know why did you incarnate, Dan?
Dan:                Well I guess I was thinking about it because the intuition could potentially be particularly useful in like getting us out of a bad situation. So, that bad situation might be one that you think is good. So in the case I was thinking about that were you mentioning going Andes or whatever. You might think that it's really great to have a big powerful business or you might think it's great to like live in a certain place. But then your intuition could be challenging that subtly for you and if you listen to it, it could be back where it could have a tremendous impact on your life where you trust that voice and you say. Actually all the things that I have like stated for myself aren't… Maybe there's a point of resistance against that because if you've built this like rational web of like why it's good to be you know, so and so or this type of person and then. In other words, that's where it can be tremendously powerful and not just another tool but it could be particularly interesting or particularly useful.
Michael:          Right because it might be the tool in your toolbox; the flashlight, right.
Dan:                yeah
Michael:          You want to be bumbling around in the dark saying yeah, make my business bigger. Yeah you know have a better logo. Yeah, let's get a bigger office because that looks impressive.
Dan:                exactly
Michael:          You know, let's buy the latest model car and then you find this flashlight that's been beeping at you from your toolbox and it says hey, maybe you need to be doing something slightly different with your business.
Dan:                Well, that's where…
Michael:          focus on this
Dan:                One of the things that I've heard and the problem is it can cut both ways. But I've heard a lot of entrepreneurs speak like that when they're talking about identifying new opportunities. Like their intuition told them five years ago that this was what they were made for, that this was going to be great. But instead, what they did was they read a blog that had a course and they signed up for it or are they thought like well, Dan Andrews says podcasting is the greatest so, I started a podcast instead of doing that thing that I you know. And I get blamed for that all the time that's why I mentioned it again because people come up to me and they're like 12:30 [inaudible] But that's interesting because I remember times like that in my career where I just felt like something was really valuable and how I waited for the world to agree in terms of money, checks and balances spreadsheets, the marketplace, the news media, my friends and family; then I would have missed an opportunity.
Michael:          Right, I think that's a great insight. And the problem is that so many entrepreneurs, business people are so busy and so afraid to have silence in their life, to hear those messages or to act on them. They just keep on going down the same treadmill and they may be a little stuck on it.
Dan:                What's your life style like Michael? I'm sorry but I'm just curious because I'm seeing the background but your head's in the way of all these books and there's a yacht on the wall. It's like a brick a brak of fascinating items. Do you 13:37 [crosstalk]
Michael:          I'll just bring this up you can read that.
Dan:                Do not try. Do or do not, there is no try. Classic words of wisdom for me from a small being.
Michael:          Yeah, he's a very successful entrepreneur. 14:00 [inaudible] I may have to put that back. I'm kind of constrained by my headset. I'll put the Yoda back but that's an important. I mean I have that on the walls to remind me not to try to do things. You know either do it or don't do it. But I don't language, I'm going to try to learn yoga or I'm going to try to do this new marketing video or I'm going to try to create a new book or a blog or whatever. I am either going to do it and actually have it happen or I'm not going to do it. And that's not just for me, that's something. I used to have up when I had an office. I now have a virtual company to answer your question about lifestyle. So, I move around the world. I spend about half my time in Peru. And then spread the rest in the U.S., Europe and Southeast Asia. And I've got two businesses; a computer software business and intuition training business.
Dan:                Why do you do the intuition training because you don't need to here? So, what was the spark?
Michael:          My intuition said I need to be doing this. And it wasn't entirely clear how to make it a business. And right now, financially it's being supported by the other business. But I do get a lot of joy out of doing it. I guess you call it a passion project. But I think it has the opportunity to be financially successful because I think there's a whole wave of change happening in the world and just people are… How I would put it is they're increasing their vibration. Becoming more positive and more conscious of role and that includes entrepreneurs. And part of this in the entrepreneurial and business world is being open to using our intuition and doing it in an open way. It's not just you go into a little dark closet and then check in on your gut on a decision. Like you can openly share in a meeting with your staff that you know, I've got a gut feeling this marketing plan is not the way to go and we need to relook at it or this candidate for this position. You know my intuition says yes, this person will work out and bring us profit and joy over the next year.
Dan:                It's interesting because I've been in that situation. And it's an interesting rhetorical move actually to make in a room full of people because what we… the common way we communicate with each other is through the dialectic. So particularly in a meeting. So it's like if there are six people there, what you're trying to do is like you have a feeling about the way the business should go and the social contract kind of suggests that you need to like basically make the case. And so if you show up and you're kind of like the senior person, you're the year the owner and you say I have a gut feeling here.
It's a card that either you need to like reset the way you talk, most companies talk or you need to use it sparingly. It's also sort of tie radical in a way where you would say I have a gut feeling, I need you all to trust this because I can't explain it to you. But I'm very experienced, I trust my gut and I knew. You know basically, the implication is that now you all have to follow that right because we're not having a dialectic anymore.
Michael:          What about if you invited everyone else to share what their intuition was?
Dan:                Well let's just [crosstalk]
Michael:          And why do you have to be that dictator of intuition in the room 18:16 [crosstalk]
Dan:                Here's why; Well let's just use a hypothetical which is quite common in that sense which is like I mentioned in the value example. You generally wouldn't need to resort to that unless you were the only one who had that intuition. So, that's the useful hypothetical as it happens all the time in business is that like with these people, you can make any judgment you want. Let's just say the hypothetical is you're the only person who has that intuition which will often be the case if you're the owner of your business. So now, there's like a whole bunch of literature about those people say things like well, let your employees make their own mistakes and develop their own intuition. So this could run it yeah, this is an interesting. Like you said like as business people were so far away from this that if you bring it to the table in your business, it could be a big challenge and that
Michael:          Is not particularly hypothetical here. It definitely could be a challenge. It's a moment of vulnerability. I was talking to Tim Conley on this show the other day. I asked him what will it take for all entrepreneurs to openly use their intuition and his answer on that is they'd have to be okay being vulnerable.
Dan:                I disagree with that. So in the hypothetical that I just set up. And look I'm using unlimited hypothetical. But like that's not a vulnerable move, that's a dictatorial move. I can say like look, everybody share their intuition here. But my intuition is different from yours and that's what we're going to do because I think it's the right thing to do. So, there's nothing vulnerable about that in my mind. So I only mention it because I can and it might not be a good hypothetical but because I can relate to it very much. Like I've been in a lot of meetings and maybe this isn't my intuition. It could be my experience or whatever where I feel like I see something. I feel like there's something to be done but that to get everybody on the same page is a you know, is a I think a situation that a lot of entrepreneurs find themselves in.
Michael:          So I mean if I was in that situation first of all, I'd asked is this thing I have coming from my intuition or is it my emotions or is it my rational mind or is it some pattern, some belief system is running through me from previous experiences. Like often for example, in hiring people who have what's called 'scarring' in their hiring. In other words, they made it back hire 20:58 [inaudible] it was kind of person and now they're gun shy about hiring the same kind of thing. You know that new person may be just fine. It's just that you've got a previous emotional scar dealing with that kind of individual.
The first thing is to get conscious where is this knowledge in me coming from and being in a meeting with a bunch of other people is probably not the best situation to get clear on where that info is coming from in the first place and what intuition is. I mean one of the ways I think of intuition is sort of like; I'm driving in my car and intuition is a little boy or girl in the backseat whispering things to me about hey Michael, turn left at next intersection you'll avoid the traffic is a good idea. And meanwhile I've got the G.P.S. rational mind blaring away and I've gone the loud brothers of ego and follow the crowd yakking away plus I have the radio turned up full crank on some rock channel, right. And I'm not really hearing that little intuitive voice, right. So first of all I held you know a business meeting where this much of other people and everyone's discussing things it's really hard to hear intuition.
Dan:                So then what the sorry I mean this is my brain works when you give that example I thought. So let's say you can hear the intuition and say you've practiced that which is a whole other conversation on how to do that. Is it always right?
Michael:          It depends what question you've asked it, Dan. I think it is always right. Like here's the thing and let's jump right to the end of the episode and reveal the dating thing just…
Dan:                okay
Michael:          You know shake things up a bit. You've been seeing friends who ask themselves, is this person going to be a good person to date, right. Is this going to be a good boyfriend or girlfriend? And then they proceed to date them and it turns out into a cluster fuck disaster dating situation.
Dan:                sure
Michael:          But if they look back after it's ended and they say, was this good for me? Maybe they suddenly become aware of some family dynamic that they cleaned up or they just stop being a doormat to people or whatever the thing is. And you could say from a certain point of view yeah, that was the perfect person for you to date at that point in your life because you had this growth afterwards.
Dan:                right
Michael:          And the same thing in business. Is this a good person to hire? Well, maybe they were a disaster zone, right. But then you realized hey, I really need to change my hiring process and our own boarding of stuff needs to be different and there are just some people I'm just going to say no to. This personality type is not a fit and I'm now for two hundred percent clear on our company culture. And I'm not going to like take crap time after time if someone does a major screw up, their out the door and if they do a minor screw up minor, I'm going to have this process in place that deals with it.
Dan:                right
Michael:          So were they a good person… is this person good to hire? Absolutely, but did this person bring me joy and profit? So that's the example of a better question. Will this candidate bring me profit and joy in the next twelve months would be a question my intuition could clearly answer.
Dan:                right
Michael:          Will this person to date bring me joy and happiness? Well, apparently not.
Dan:                Right but what the question that it doesn't answer well is, should I date them in the first place?
Michael:          Well, it depends what your goal is. Is your goal to have the most growth, personal growth and spiritual growth? Is your goal to have happiness and joy and a wonderful home life? If you're hiring someone is your goal they fit in well with the team and they contribute to the profit and joy? What's the goal? You know and I think in business… and that comes back to the question you asked earlier or you know, you're here to make something, to make you or your family think you're doing clever things or your school friends to think that or are you here for personal growth or here to change the world or you're here to make a billion dollars. What is the goal of your business? And I think underneath every entrepreneur, the goal is personal growth. Why really do we do businesses? It's to grow in a certain way or certainly that seems to be the motivation.
Dan:                That's interesting, it's definitely like there's a high correlation between that desire. And it's like it's almost when people decide to start their first business, the first thing they do is go out and buy a bunch of personal growth books. And it's a kind of a strange thing because like well you're going to grow a business, you're not going to grow yourself. But there is such a huge identity overlap. It seems between your business and yourself, yeah.
Michael:          So, I think the better question you ask, better answer you're likely to get from your intuition. And not being conscious of the question you're asking is a recipe for getting poor quality answers.
Dan:                That make sense and that's a different understanding that I had coming into the conversation because I made the assumption that you wouldn't need… Like the intuition would be the thing that you don't provoke or you don't ask questions of, right. I kind of thought that your intuition was this thing that was what's already in you somehow. But of course, I have a bunch of assumptions about. I don't know that much about it. But you're saying that you actively go in there and say, what is the quiet voice? Think about this issue or what could be revealed to me.
Michael:          Right; first of all, you know as you alluded to earlier, I create situations each day so I can hear the quiet voice and then I do things to amp up the volume on the quiet voice.
Dan:                Can you talk about those things?
Michael:          Well sure, I'm sure you do them yourself. You know things like meditating or going for a walk or taking a shower. You know and being able to you know. So many people get great business ideas in the shower or when they wake up you know.
Dan:                yeah
Michael:          Why is that? Because they finally got quiet instead of having the T.V. on or the radio listening to 27:53 You know being busy.
Dan:                For me it's walking. Somehow when I walk and my brain is more productive than when I sit. So I pace a lot around the house when I'm trying to write something or come up with an idea.
Michael:          And I have a business friend. She typically when we have phone calls, she paces around her office to get better ideas.
Dan:                What kinds of things do you… Do you teach your students or do you facilitate them or what sorts of things happen in those interactions? I'm curious about how you coach people.
Michael:          I mean I certainly will give suggestions. But I also use the what would it take question to have them because that's a key, that's a way to access your intuition. Ask yourself what would it take to get this goal? What would it take to hire an ideal candidate? What would it take to increase my profits ten percent this week? Or whatever the question is.
So any time you've got a business problem, I suggest they use the what would it take. And then I use other tools to amplify that. And look at the energy of the situation because often there's like the physical reality of your business but also usually, there's some kind of energy in there that needs to shift to get to where you want to go. And then there maybe family patterns or childhood trauma that you have that's getting in the way of getting to the goal you say you want to get to. Often if a goal you know, if something's not happening easy in my business, I know there's something in me that's creating that at some level.
Dan:                I'm curious about coaching because I've tried a few times and I think that I'm pretty horrible at it. For whatever reason I don't know if it's…
Michael:          Horrible at giving it a horrible or receiving it.
Dan:                Probably both, I'm not sure about. I've thought more on there is people come to me for coaching occasionally and sometimes I'll go on a phone call whatever. And it's hard to get people to change I guess, that's hard. And it takes a really long time for me. So I guess I always get frustrated with that. Like gosh! This is a hard, it's taking forever so. And it also seems like you mentioned. Like if it's a pattern that you're in or a childhood trauma.
Well, that does seem to be the case in a lot of situations and business. Like we were talking about the overlap of your identity in your business. It can be the overlap of your practices and their results. And so, I've been encountered with that many, many times and that's part of the reason that like the different… I don't know if you member that slide at 30:53 [inaudible] This event that we were at many years ago. And it was like if you're less than a hundred thousand dollars in revenue, you're still like in the psychological problems realm. And then if you get greater than that you're in like a marketing problems realm. If you're greater than that, you're in like each human resources realm. And that's one of the things that kind of struck always struck with me about trying to facilitate change in entrepreneurs and businesses is that… Yeah, strikes me why intuition is a powerful way to speak to people in that way because a lot of it is us that's holding these things back.
Michael:          I think all of it is us holding these things back because either it's us directly or in the past we hired people into our business that weren't a fit for where we wanted to go now. Or we didn't structure things to support the kind of business we want. I mean I was D.C. Austin event where Laura Rohde gave her talk on how she clearly paints a clear picture for her staff. And she deliberately consciously created that business which is the third business she's created I believe. And the first two businesses kind of sucked because she either had to spend her the time making the money or every time she took her hand off the controls of the business, it stopped growing.
Dan:               right
Michael:          She said, 'Wait a minute, this third business, I want it to be able to be successful and grow even if I'm not in the office making it grow or doing stuff'.
Dan:               right
Michael:          And that was a total change of mindset and her business, I forget exactly how much of it. Didn't she go from zero to a million dollars recurring revenue within a year in that third business?
Dan:               I think it does so much better than that at this point.
Michael:          Yeah, well she's now in a second or third year of the business.
Dan:                right
Michael:          She's doing much better but she went from zero to a million dollars and she took three months off the pregnancy leave. You know I love that. And that's impressive, right. There's this whole myth in entrepreneurship that you're supposed to hustle and work really hard and that's the only way to make a business succeed.
Dan:                right
Michael:          And I think she and some other people I've met through the D.C. are examples of that doesn't have to be the case.
Dan:                That's interesting because if I were asked, that's interesting. It seems to me like my… one of I guess my core beliefs is that the hard work element is pretty highly coordinated, correlated with successful businesses. And that's part of that stacking like I don't think she could have done that in the first year or the second. I think it was like in the third or fourth year, yeah. You can like take your foot off the gas because a part of it is like that business relied on her seeing something that no one else in the world saw. I believe at least and it's hard at that stage. I don't know. Here's the interesting question is, do we know entrepreneurs who like had that vision and just hired people right away? Who were able to see it too and then just write like almost immediately stepped away?
Michael:          Well, I think she helped her staff see the vision. That's what she talks about is that she painted a clear picture of where they were going and what it was about so…
Dan:                You have to talk to her about that. I don't want to speculate too much about that, 'aha'. Okay, you just saw the real Dan Andrews.
Michael:          Are you okay?
Dan:                Yeah, I'm okay. I have a difficult training schedule this week so I was on the road for three hours this morning and I just crammed…
Michael:          on a bicycle?
Dan:                Yeah, so I had 35:05 [crosstalk]
Michael:          Let's now we brought the bicycle up. Let's switch gears into intuition and sports.
Dan:                okay
Michael:          And we talked about how much of this is muscle memory in our business? You just have to practice a whole bunch before you can get to do it intuitively.
Dan:                Is a better question for you. I mean I've got my own ideas about it but you tell me. I mean because it's an interesting…
Michael:          You mentioned that you used to play tennis and maybe you still do play it.
Dan:                Well, here's the thing. Let's say like if you're an experienced entrepreneur and you don't really know what you're doing. I think it's fair to say we all know people that don't know how to yet start a business. You know, how can their intuition be useful to them? Because that strikes me as like a… And this is why about the sports analogies because is intuition only valuable to people who practiced a lot. So there is something that I learned about golf many years after playing it which is that most golfers… This is… and we wrote this down.
My guess is about ninety five percent of people that are on a golf course are not using their wedges correctly which is the majority clubs that you use on a golf course. The same is true of a similar number with tennis players because the correct way to use the tool of… and this is a maybe it gets back to what you're saying you're asking the correct questions of these tools. Is not the intuitive way that an amateur would think about it. So, if you pick up a tennis racket and I say like get this ball over the net. The way you're going to do it is not how the most effective way to do it. And that to me like there's your kind about a inroads there. Like it would take you a really long time to get to the correct answer in other words. So, there's a great deal of training that goes into undoing that knowledge or undoing that. I don't know if you would call it an intuition but that's like sort of your first attempt. And getting to a point where you can have a great deal of practice under your belt so that you can trust yourself to make sort of quick decisions on the fly because you've learned the technique.
Michael:          So I mean I think how you hold a golf club or a tennis racket. If we gave the three year old Dan Andrews a golf club; assuming we had one his size. He'll probably hold it better than the twenty year old Dan Andrews because what makes you hold something in a certain way or do something in your business a certain way. You've probably observed other people doing it. Maybe not consciously so, but you probably watched a lot of tennis on T.V. and in a way you picked it up. And you got like a default way of doing it. And the same in business you probably were; I'm assuming you went to high school and then probably get a degree. And you probably got a shitload of training about this is how you're supposed to make decisions and this is what how you're supposed to deal with money. Or in the case of money, don't deal with it.
Dan:               Not much, not a whole lot of training in that respect for sure. No money training.
Michael:          Yeah, I know it's that incredible? That's like one of the more important things: money and health and relationships are three of the things that determine in people's happiness I would say in the modern western world. How much classroom instruction is given almost? Basically zip
Dan:                Right and where you have to go back and consider your teachers and ask yourself if you'd want that sort of instruction.
Michael:          Well maybe you'd want to have an expert on relationships come into the school and help on that or an entrepreneur to come into the school and do that.
Dan:                sure
Michael:          There is a lot of mindset stuff that happens in schools and then when we start our first business, if you've kept away indoctrination, it's going to get in your way. It's not so much that you don't have that little voice, is you've got so much junk in the car. It's like you filled your car with boxes and boxes of shit and that little voice is kind of covered up.
Dan:                Fair enough for me…
Michael:          But I think if you had someone who was a kid you know, they were a young kid and they were doing an entrepreneurial thing. Often they're pretty good at running a business. They're like a three or five year old kid, they're very creative and imaginative and they're really in touch with their intuition. Maybe they need a little training to understand how this money thing works or whatever but then we train it out of doing it. I've had some friends who've been in the unschooling movement. I don't know if you've come across that.
Dan:                not really
Michael:          It's beyond homeschooling. In homeschooling, the parent is the teacher. In unschooling, the child says hey, I'm interested in something and then the parent facilitates. So like the child might say hey, I'm interested in learning how to program video games or I'm interested in learning how to write my own music and then the parent helps provide the information and the tools to make it easier for them to learn that skill. But the point is that the child himself is motivated. So, instead of being in school where like you know, you must learn mathematics now between eleven am and twelve pm and English between these times and you're not really motivated. Now you've got… Like I'm passionate about writing a book so, I'm going to learn better English Grammar and I'm going to learn tricks of doing that.
Dan:                right
Michael:          Or I'm going to create. I mean I have a friend, he's fourteen years old. He started his own business. He was making money and he was doing S.E.O. things and he wasn't being forced to do it. It was like this is really cool. I want to learn this.
Dan:                sure
Michael:          What a difference and then that makes it much easier to hear your intuition when you're full of passion and you don't have a bunch of beliefs in the way that make it harder.
Dan:                sure
Michael:          So coming back to your question; is it possible for someone out of the gate to listen to their intuition and create a business that doesn't involve them working incredibly long hours. I think it is. Is that common right now? No because we're not going up a system of education designed to turn out 41:58 [inaudible] who work as employees in factory and in the military, right. Why was education created in the United States?
Dan:                I agree with that.
Michael:          You know, a hundred and twenty years ago. It was designed to create good soldiers and good factory employees.
Dan:                Sure, I agree with that.
Michael:          And still is.
Dan:                That's true.
Michael:          Because if you're a factory owner or general of an army do you want people who are listening to your intuition and coming up with creative ideas. Well these days, maybe you do. But back then, you didn't.
Dan:                Sure, I agree with that.
Michael:          I think I went off on a slight rant, I shouldn't.
Dan:                I'm trying to decide whether I should start talking about how much I hated school and…
Michael:          Oh apps!
Dan:                I think I'm going to have the same level of vitriol as you are expressing. I mean I don't have anything great to say about my formative education really. I don't think.
Michael:          But just imagine if either you or some other child didn't go through that kind of schooling and they wanted to create their own enterprise.
Dan:                Well so I can imagine that. So there's this great book that I loved as a kid. It's called 'Ismael'. It's written by this guy named Daniel Quinn. And it's really influential me and he also had this book called 'The Story of B'. And this is like when I was very young I read these books. And he proposed this idea, a century of apprenticeship which is that you learn by doing and that these things are no house and that you learn from the master. And that you follow your passion and that you just don't need school. Like if you just let kids go figure it out, they will figure it out. And did to me this is very appealing as you can see it's manifested itself later in my life.
And part of the reason I think this is so fascinating is that I think entrepreneurship specifically is a skill set as well and that's one that I learned by doing it. Yes, I did uncover a kind of a creative or I seek novelty I like to make things. But I also think that there's a great deal of skill involved and that skill for me was learned in a sort of I was blind to these skills. You know, I didn't have them within me at all. I had potential to learn them.
And so that to me is a very important source of knowledge as well is, know how and the practice of doing the work. And that to me is something that's really stuck with me not only through those books, but in my uneducation as well from following schedules and listening to authority and all that. But that doing the craft you know, doing the work itself as a source of knowledge as opposed to reading accounts of the knowledge which is something that I'm also extraordinarily passionate about. In fact, maybe more so.
But and that's important to note that particularly for people listening to podcasts and people reading our blogs and stuff like that is that that's only a very small part of the bargain I think. If you want the knowledge to execute things like how to make sales calls, how to become a developer, how to do like really high end skill sets that are super valuable in our society. You just can't read about it and get that knowledge. And so that's something that I think about when I think about intuitive knowledge. Is that you make one hundred sales calls and then you make five hundred and you make a thousand and then all of a sudden you hear a client on the phone kind of say a certain thing and it's also a boom! I know where this is going. I can see the opportunity here and I think that I guess when I think about developing your intuition as an entrepreneur, I think about that repetitive action or that with conscious action of course. But also putting yourself through it many times so that you can see all the different small facets and you can react quickly when you do see them. So I don't know, that's actually that was a little bit of a rant myself.
Michael:          I think there's great value in practicing and you can also say, what would it take to accelerate my learning for this skill? Whether it's sales or programming or managing people or creating a vision for a team or whatever. You know, what would it take to learn the skill ten times faster and see what your intuition says to you. And in the case of sales calls, some of it is being conscious. I mean I've been through a bunch of sales training. I did the sales training a few other ones and one of the things they want you to do is to do a deep breath after each call. You kind of write down what were the good things I did, what went wrong. So you become conscious of what you did in that sales call so, you can do it better the next time instead of just blindly repeating it. So that's a way to accelerate the learning.
Dan:                And then one of the…
Michael:          Also just meditating on it you know, what would it take to have a great sales call with this particular individual today.
Dan:                And one of the maybe harder things to do would be to put yourself in a situation where you're receiving critical feedback from a master or someone who's willing. Maybe not quite a master but someone who knows more than you. And that's a situation you can put yourself in doing an apprenticeship or a job. I think many honestly don't mind or a mastermind and I think many entrepreneurs are loath to put themselves in this position because it hurts sometimes to see things that you don't want to see about yourself for whatever reason. And you know what…
Michael:          Why doesn't it hurt to get that feedback about something we don't see about ourselves? Because if we could figure that out we could grow so much faster as entrepreneurs.
Dan:                Sometimes it you know, I don't know the grand answer. But there's a smaller one that if you can rearrange the stakes it often becomes less a liability and more of an opportunity. So if the stakes are I could double my business if I become a great salesperson. And if you can rearrange those incentives in your mind then all of a sudden, it doesn't hurt at all.
You just can't wait to have somebody tell you something that you're deficient in in terms of that sales call. Whereas, I think if were not as focused on what are what we're trying to accomplish because a lot of us might use our businesses as… Like we're talking about earlier. They might use a business for a completely different aim. The goal might, you might do it as a recognition of self or fulfillment or you know, those things can be quite complex if you're getting critical feedback.
But if all the sudden you're just trying to your sales or you really want to become a great sales person, it can be a lot easier to receive the feedback. So in a mastermind setting, it wouldn't probably be wise to walk in and say, how everybody just openly critique. Because then it's just… it's not as it's harder to receive the feedback and it's not as focused on something that you can rearrange the incentives clearly on. Like I clearly want to do this and I'd love to hear what I'm not seeing here and…
Yes that's a maybe that's a little hike for the listeners. Maybe I hopefully I've said something somewhat useful to your listeners. I feel bad. I feel like I'm not… Oh, I don't know want to be wasting people's time with my drivel.
Michael:          I don't think you're doing that. And I think many people listening have similar concerns to you. You know why I don't have but I trust my intuition more, what exactly is this intuition thing. So it's all valuable to dig into this.
And the other thing that occurs to me with practicing sales skills or hiring skills or whatever. Part of that is like becoming conscious of all the steps and the subtleties in it and part of it is being able to practice over and over the actual mechanics of it. But I think a large chunk of it or certainly was for me in sales is getting rid of a whole bunch of mental garbage and beliefs I had that selling is evil and manipulative and all the other head trash that I brought into sales.
Dan:                totally
Michael:          And if I just attack that directly and get rid of that head trash it just went a lot faster.
Dan:                How do you do that?
Michael:          Well, first thing is becoming unconscious of the head trash I have. I mean I know when I used to sales training, some of the classes we have we just write out all the beliefs we had that were getting in our way. So that's a first step. If you don't even know where that you've got the junk in your car that's getting in the way of you getting to your destination, it's hard to clean up the junk.
Dan:                sure
Michael:          And then there are many ways you can clean up head trash. I mean I used to do E.F.T. tapping was one way. Now I do more direct energy manipulation to remove it. Or you could just ask what would it take to remove it because that not only accesses your intuition to say, here are ways I might remove it. It also just by the act of asking the question, it starts to put more light onto, it starts to dissolve it in my view.
Dan:                I don't think I'm that good at it yet but… I do think it's challenging for everybody listening and that's why we're going to such great lengths to develop tactics and strategies to do something about it. You know and it also comes down to identification as well. Part of the reason I didn't want to do sales training is because I didn't want to identify as a sales person.
Michael:          Oh my God, my family might think I'm a salesperson!
Dan:                Yeah and that's real and you have to ask yourself why are you even bothering to identify with that in the first place or why you know there's a lot of things that can get in the way of what otherwise looked like simple things on the surface just sales you know, it seems it's like just a skill set that you can learn. But a lot of us particularly on the Internet where ended up here or we have avoid it because of an aversion to such things so.
Michael:          Well and some of the best sales people I've met have being introverts and they're very concerned about other people's feelings and what's going on. And that's why they're so good at sales because they can really… instead of the traditional idea of the salesperson is that loud extrovert who you know, yaps your ear off about whatever it is they're selling.
But in reality, the good salesperson is able to listen far more than they talk and to really deeply understand the person's problem and not just the surface level problem. But like what's the problem underneath the problem they're having and how do you know, does what they have even so you know it's their company's product or service even solve that. And if it doesn't they're honest and say look, I can help you but he has some other things you could try them and the consultant the sales.
Dan:                It's totally true and you know this who software sales is that the bigger check that they're writing you, the more consulting is involved. So in other words, it's a relationship. Like no one just gives you a million dollar check. They give you a million dollar check and you work with them for nine months and any moment they're not going to pay you because you have some crappy terms with them because it's a million dollar deal or whatever and they can revoke the back end of the deal.
So I've noticed that a lot is definitely you have to be passionate and active with your solution and yeah, if you're just telling them bullshit the whole time then they'll figure it out on month number two and they will stop paying you. And I'm thinking back now to my days as a sales person selling basically retail services at a large scale. And it was just an incredible amount of listening and then going above and beyond constantly and that was a sales position kind of I didn't think that.
My perception of sales as a college student as I was like evaluating career like hypothetical careers was so different. I imagine like the boiler room, stockbroker person. But if you look at the best salespeople like everybody has an idea of the boiler room stock sales person. But the best salespeople are actually the hedge fund managers and they have a much subtler approach to getting people into their pipeline.
Michael:          Well to paraphrase that quote from the ancient Chinese philosopher; the best sales person you know, you don't even know they were there.
Dan:                exactly.
Michael:          You know, they help you because the sale salespersons that facilitate you to make the best decision for you; that's what a good sales person will do. Even if that best solution is not buying their stuff right. It's helping people get clarity and make whatever the best decision is for them to solve whatever the problem is. And often that's figuring out what the problem is, what's the real problem?
Dan:                It seems like a situation where the having an intuitive approach could be super profitable.
Michael:          Yeah and I have this salesperson called Samantha who I interviewed on one of my case studies. And one of the things she does is if her intuition is telling others something false in the room well, something needs to be spoken. She'll speak to it and that's a sales skill. You know, I am getting the impression that this just isn't a good fit for you.
Dan:                right
Michael:          That's a classic sales move right or I'm getting the impression there was something you're not speaking about. Am I off base here?
Dan:                Where the high pressure one would be I'm getting the impression that you're not willing. You're not willing to do what's necessary to grow your business. And I really want to deal with serious people. I remember being on the opposite end. (I almost bent my leg again that moved.)
I remember being on the opposite end of that and actually like feeling bad. Like if you had a car dealership and totally buying into it you know and feeling horrible that I wasn't the type of person that was serious about buying a car that day or whatever. It's amazing how powerful those things can be on consumers who are in those situations a lot often. Anyway that's a divergence.
Michael:          So what about hiring, does intuition help you when you're hiring or hinder it or…?
Dan:                Well maybe it's a good time to talk about your hiring technique. You had a chapter in your book about this and the problem that I have with using intuition for hiring is that; I just have been wrong many times. I've been right many times I think.
And so I don't think I've gotten to a place where I mean I have intuitions about it or I think I do. But I still make a lot of mistakes. I think I still make a lot of mistakes just generally speaking in business. So, that's a long way of saying…
Michael:          Do you keep a hiring journal where you like okay, this candidate had these rational reasons for me wanting to hire them and here's what the interview process was and I had these gut feelings or other intuitive information about him. So you can look back to see did your intuition…
Dan:                no
Michael:          Where was it good or where was it bad so you can improve it.
Dan:                No, so far the most useful framework that we've found is looking past a lot of traditional indicators that it's tempting to look at charisma. Whether they remind you of your best friend, whether you want to be friends with them, whether you want to have a beer with them, whether there's all these sorts of things that are very tempting to look at. Whether they went to a really nice school. One of the things that is sneaky is have they worked at a really awesome company? You know, had they been involved in some really awesome projects or products?
Like those are all things that are really seductive in the hiring process. And what we've found is that by really trying to narrow down on what it is they've actually done and getting just super clear on that. Like what has this person done? What are the actions that they've taken in their life repeatedly? What are the patterns in their work and then asking ourselves the question, do we feel like we want to participate in or connect ourselves with those types of actions in the future. And that process has been so far like the one that we rely on the most and seems to has given us the best results. It's sort of a… But no we don't have like a sort of a record of all the interactions in the past.
Michael:          So, how do you know what kind of quality of intuitive information you're getting on the hiring?
Dan:                No idea yet.
Michael:          So I mean that I was yes that is a first step to improve hiring intuition for anyone listening to just jot it down and then review it once a month. You know, I had this intuition about this person here's how it works out.
Dan:                yeah
Michael:          And that helps you improve it. But I like that idea of drilling down to what have they done because that's a good. You're trying to predict what will they do for me in the future right, that's the basics. And how they will interact with me and the rest of the team.
Dan:                yes
Michael:          Those are two of the key things.
Dan:                Well, there's a lot of… it's easy, it's hard to sometimes find that information now which is the hard part about that process because traditional resumes and interview process. People more likely connect themselves to good things as opposed to like they're the critical component of those good things happening. And so, that's where all the magic happens is that's the toughest part. And for me it's still something that's really difficult and I admit I continue to make poor judgments occasionally there.
Michael:          Yeah, I mean my belief is we really can intuitively tell how much profit someone's going to bring to a business and how much joy they're going to bring and I can tap into that knowledge. And also I can pick up on issues they have that are going to cause problems in the business. I've certainly seen that when I used to do the handwriting analysis. You know, I would clearly see people who had issues because one of the beliefs I have is a business is very analogous to a family. And the C.E.O. is the mother or father and the employees act as children or other roles. People often react out the family dynamics they haven't resolved in their own personal growth in life and I don't want drama queens or kings in my business as an example and I used to get those. But I learned how to pick that up as an example.
Dan:                So you used to be more comfortable with more drama essentially but that didn't contribute to the goals that you had for your business.
Michael:          Right I think I had a family dynamic where I was used to or comfortable with that kind of behavior. People be playing the victim or whatever the exact role was and I needed to clean that up in myself so I could see more clearly this potential employee is not going to be the best fit for the team.
Dan:               I see, that's a tough one to start looking at. I suspect there's a lot there.
Michael:          Yeah, well it's sort of analogous to the dating thing. You know, when you hire someone, it's a bit like dating someone without the sex. You know, because you're spend a lot of time with that person. It's like a group dating situation. You've got a team of people and you will interact together. It's quite complicated. I mean if you think dating is complicating right hiring, you're not just going to interact one on one. You've got a whole team interaction plus all the customers and vendors interactions.
Dan:                totally
Michael:          You know it's a hundred times more complicated.
Dan:                One of the reasons why on our team everybody talks to each other individually every week and we don't have three ways so to speak, there's a scandal three ways. Because when you add a third person to the conversation, there's already politics happening. And by politics, I mean there are things that you can't say in the presence of the third person for good reasons, some good reasons, some bad reasons and it's nice to be able to have that one on one where you're just like, here's what I'm doing, here's we're doing, here's…
You know make your own connection in other words. As opposed to it, it's always around an official meeting table. And so giving your employees a back channel I think is a really great thing. It's really useful for them so. And for me too as a manager.
Michael:          Well and with three people you have twice as many relationships as you do with two people because with two people, you have the relationship between A and B. And then you have A's relationship with himself and B's relationship with herself. With three people, you've now got six of those lines if you draw out 1:05:48 [inaudible]
Dan:                one hundred percent
Michael:          And then if you have four people, it goes up even more. By the time you get to ten people, it's so many possible relationships and interactions both verbally and energetically. You can't control it rationally.
Dan:                I like that visualization of it. That makes a lot of sense to me that's why meetings are so difficult to get things done in meetings. There's a whole other skill set.
Michael:          Yeah and that's why I like to before I do a meeting set what my intention is for the meeting.
Dan:                right
Michael:          So I am clear what I'm trying to create there and I probably verbalize it at the meeting too. Like here's the agenda, here's the goal, here's why we're here. But I've been in meetings where people… and this is like a little challenge to people listening. Just consider having a one minute of silent meditation at the beginning of any business meeting to clear out any crap that's going through people's heads they're bringing in the meeting from somewhere else.
Dan:                I like that.
Michael:          And that can make quite a difference and it can be quite uncomfortable to do because people aren't used to doing it.
Dan:                Do you still go to meetings on a weekly basis?
Michael:          I have one on one's with my direct reports, that's what I currently do.
Dan:                okay
Michael:          I don't have an office so, I don't do in person things and unless I'm in a conference.
Dan:                Yes but I really do there
Michael:          Yeah, but maybe a group you know, I know some companies have like an all hands meeting so.
Dan:                Yeah, we do once a week right now. But we try to keep it drama free.
Michael:          So I know we're coming up against some time constraints here.
Dan:                This is the longest interview I've done in a really long time, Michael. I can't believe it, I'm loving it.
Michael:          Well, we're both good interviewers I think. It's a bit of a co-interview. So what you know, I have this goal to have every entrepreneur openly use their intuition because I think it would bring in more profits and more joy in their business. But also because I think if everyone used their intuition openly, they'd make less stupid ass decisions with hurt other people, either their employees or their clients and the planet. And I don't think you and I are going around hurting other people a lot but certainly, there are some people in business you do things that are a little twisted and hurtful.
Dan:                certainly.
Michael:          So my question to you to wrap this up is, what would it take to make business intuition more openly used this year?
Dan:                Well I like first off it's inspiring when you stated your message. Like there's a feeling in me that wanted to support you or I mean like there's something attractive about the confidence that you have a vision for how this can help people. And so, I think stating your message loud and proud and how people can get involved and help, that's a great contribution, that's the… Yeah like I said it even just like on a very emotional level, I was like oh that's something that's inspiring, so yeah.
Michael:          All right I'll be louder and 1:09:20 [inaudible]
Dan:                Yeah, state; let people know that. I think that you can sell intuition to people you know that you have an idea of what this is and how people can incorporate it and make the world and their businesses a better place. I want to know more about that. I think that you don't have to let people like me talk about it so much I think. Yeah, I think I'd like to hear more from you about what, why you believe in it and how we can use it. So that's inspiring. I don't know. I never thought this through. You put me on the spot.
Michael:          That's the idea right. To elucidate you to bring out things you hadn't even thought of.
Dan:                Yeah and I think that was what I felt was like when and I think everybody's different. But when you stated what you saw is the value of it something that I… It's like a leadership element because it's like wow, he sees something here and that's an attractive quality. So there you go. I think you're doing what you're doing it right here.
Michael:          Well, I appreciate you being on the show, Dan. If people want to find you online what are some good ways to do that?
Dan: And there's one way to do it, tropicalnba.com. That's where my podcast is.
Michael: excellent
Dan: Thanks for having me. I love poding. I love doing the pods. Very few people ask me to come on their podcast so, it's nice to be asked.
Michael: Great, all right thank you.
Dan: cheers