Dan Andrews talks about "How To Use Intuition Even When You Don't Always Trust It" in this episode of Intuitive Leadership Mastery Podcast with host Michael Light.
"I think everyone gets intuitive messages but the difference is, do we hear them? Do we act on them? And the more I act on the intuitive messages the stronger I hear them." – Dan Andrews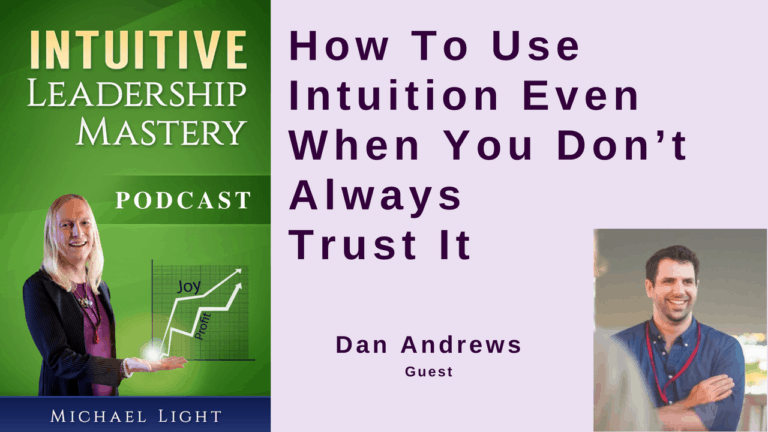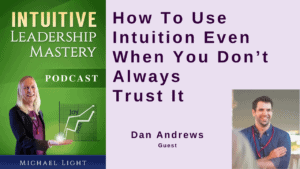 Here are some of the topics discussed in the podcast:
What exactly is intuition?

An action that you do

A type of knowledge

Your prior knowledge, truth

The knowledge that is in your gut

Confusing intuition with confidence

Hard to talk about because it is such a large topic

Have I ever made an intuition

But damn I didn't trust it enough but I did make it

Emotion/Feelings vs intuition

Is intuition just practice?

How to usefully use intuition in my biz

I don't trust my intuition

WWIT

Toolkit

In your domain of expertise helps – faster trust of the intuitive info

Vs speed decision and change and competition

If you wait for perfect info the price goes up

What attracted you to intuition?

I would be suspicions if intuition was not part of every biz decision

Does this data confirm or deny my prior knowledge/intuition

Is muscle memory intuition?

Instrument flying, motorcycle

Muscle memory

Sports

Duct taping the tennis rack

95% of golfers don't know the best way to hit the ball with a wedge

Thinking while you do it ⇒ choking

Stuck in my rut

The Quality of questions and how it affects the quality of answers you get from your intuition

The Government/Degree/Industrial complex

Does intuition help or hinder hiring

Intuition was strong and it was still a bad hire

Do you have to like the candidate to hire them?

How many have you hired? 50

Feedback loop – they are a different person when inserted in

Family dynamics in business – the value of vision

Vision as a way to set state/energy in biz

A way to think about their actions

Story

Dating and business – are they really the same thing?

Why are you proud to use your business intuition?

WWIT for you to make business intuition more openly used this year?
If you want to double your profits and half your stress, check out the Biz Intuition Profit Doubler. It is a free course for you to use intuition in your business.
Mentioned in this episode
Bio
Dan Andrews co-host of the TMBA podcast. Co-founder of Modern Cat Furniture Company.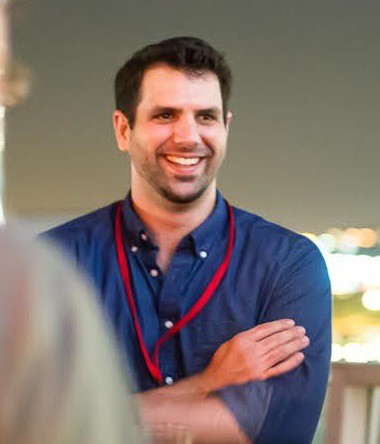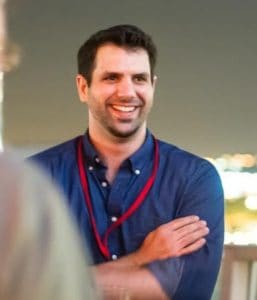 Podcast: Play in new window | Download (Duration: 1:11:53 — 65.8MB) | Embed
Subscribe: RSS
Learn more about Dan Andrews at:

Interview Transcript:
Michael:          Welcome back to the show. I am here with Dan Andrews; co-host of the world famous Tropical NBA Podcast and co-founder of 00:13 [inaudible] Businesses. He's a long term entrepreneur and he does it in a special flavor because he's location independent coming to us today from I believe Barcelona in Spain.
Dan:                Yes, Michael thanks for having me.
Michael:          Yes, so coming up, we're going to be looking at what exactly is intuition and how can you use it in your business. Or even is it useful in business? This is a question we want to consider and how originally did we get attracted to intuition. Even if it's sometimes the pet that wants to bite us it seems like. And we'll look at is muscle memory intuition and some sports analogies that help with business and intuition. And what are some of the things that many people believe intuitively but are actually false. We'll also have a look at whether intuition helps or hinders in hiring. And controversially, we'll look at dating and business, are they really the same thing? So…
Dan:                You're going to have to stick around to the end of the show to hear our solutions, thought on dating.
Michael:          Yeah, absolutely. So I appreciate you coming on the show and we were asking before we hit the record button you know, what exactly is this situation thing?
Dan:                yeah
Michael:          So, let's talk about that. Yeah, let me ask a few questions of you because that's maybe you just give me a little bit of background on how you discovered this concept and what attracted you to it? That's the first thought that occurs to me because I don't think I've had the same sort of attraction to it and I'm curious about that.
Dan:                Well I think for me, I had a small car accident in 2001, had a little whiplash, got some therapy. The health insurance on the physiotherapy ran out and then I started doing yoga because one of the therapists said hey, you can't come to me but you could look after yourself a bit better. And then that I think started me opening up to hearing my intuition more. And around that time, I started going to a bunch of personal growth workshops that I paid for as opposed to trying to find free stuff. So, there was a whole acceleration in my life there. And also I was very keen to have my business make more money. I nearly said have my money make more business.