How are you using your business intuition to grow your company?
Like Richard Branson, most successful CEOs have strong intuition and use it to grow their business. Unlike him not all talk about it. Seems like for some it is a hidden talent that they use.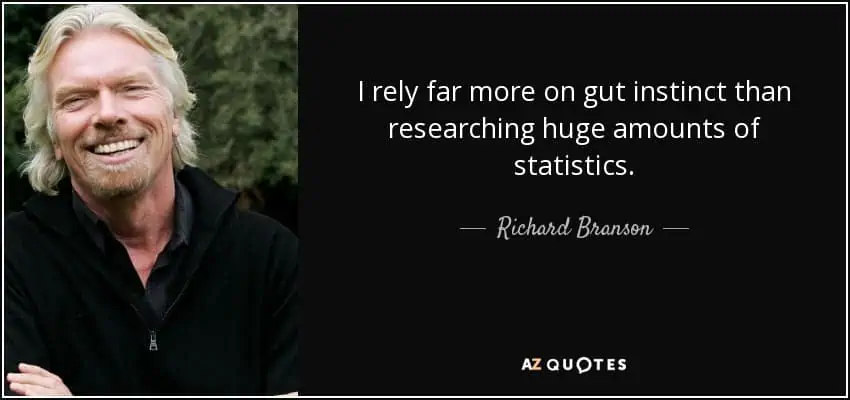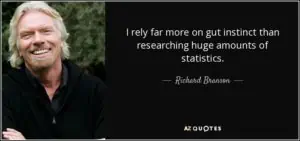 1. Talk Openly about Business Intuition
The first step to increasing our business intuition is to talk openly about how we use it!
Ways I use intuition in business
hiring ideal staff – if my gut says no it is a no hire, no matter how impressive their resume
finding ideal clients
knowing what price a prospect will pay and what their concerns are before I call them
predicting how a new project will perform in profits and joy for me
picking domain names that will have most profit and joy for me
picking what is the task with most profit for me to start my day with
Using WWIT (What Would It Take) to solve problems faster
2. Ask WWIT
2. A second way to  amp up your intuition easily is using WWIT (What Would It Take). I helped CEO Dustin Overbeck to make that a habit in his business, here is what he said about it:
My experience with asking WWIT is the precursor to Nike's old slogan of "Just Do It!".
Asking myself "What Would It Take" to solve problem "X" lets me think about what the possible solutions or alternatives there are for it.
I don't dwell on a problem or worry about it anymore. Instead, I think of what would it take for that problem to not be there anymore. And then when I have enough ideas for a possible solution, I switch over to "Just Do It!"
I know it sounds sort of simple and obvious, but asking myself "WWIT" removes that nagging feeling of having something sitting in the back of my mind and weighing on me.
It has helped save me energy [,time and money] since I'm not dwelling about problems so much anymore.
CEO Josh Plotkin said about more about WWIT to move his company forward faster:
I remember the first time Michael asked me WWIT to a tough problem I was facing, it took me a few seconds to come up with the answers. I was wearing a lot of hats at the same time, trying to focus my creative energies towards marketing an online business, improving my foreign language skills and figuring out how to make my travel plans work. By being asked WWIT I was able to clear through the emotional fog and see clearly what needed to be done to move things forward.
By the third time I heard WWIT it became a habit and I started asking myself WWIT all the time. Every time I face a major challenge I ask WWIT and I quickly come up with a course of action. Sometimes it doesn't seem possible that I'll get my desired outcome, but I ask WWIT anyway and I often unlock new possibilities that I didn't consider before.
3. More ways to increase business intuition
Other ways to increase business intuition include:
Ask the WWIT then meditate, take a walk, nap, a shower. Often the solution comes when I take my rational mind off the problem.
Create a vision board for your business goals
Keep a journal of your intuition and results
Clear mental blocks/beliefs to using your intuition in business.
Write a letter from your future self explaining how you bring in all those ideal clients, including testimonials from your future ideal clients
BTW in case you are freaking out by my use of the term business magic my definition of that is anything we do energetically that affects the physical world of our business. Examples include:
shifting a negative team spirit to a positive one
aligning staff to your vision for the business
setting clear intention on what kind of staff and clients you want in your business.
attracting ideal clients to your business
turning around an upset client energetically before you call them
Michael likes to use the word magic to describe what he does, and the results he gets often seem like magic. Some of his techniques may seem kind of out there, but at the end of the day they deliver greater emotional stability and mental clarity. If you're facing a roadblock in your life or business that you can't seem to overcome, talk to Michael and let him work his magic on you. – Josh Plotkin
This year I am on a mission to help others expand their business intuition and magic and to discuss using it openly. As a way to both grow our businesses and to make running a business easy and graceful (instead of the struggle and grind I used to do).
How are you using your business intuition and magic to grow your company?