Podcast: Play in new window | Download (Duration: 38:03 — 35.4MB) | Embed
Subscribe: RSS
Edie Weinstein talks about "Using Intuition, Trusting Gut and Learning to Love your Business" in this episode of the Intuitive Leadership Mastery Podcast with host Michael Light.
"For me, that's truth with a capital T. Indisputable, this feels right. If I have feelings in my stomach like, "This isn't feeling so good", then I know that it's not a vibration that I want to tap into." – Edie Weinstein
Edie is a journalist, inspiring transformational speaker, licensed social worker, interfaith minister, editor, radio host, BLISS coach, event producer, Cosmic Concierge, the author of The Bliss Mistress Guide To Transforming The Ordinary Into The Extraordinary and co-author of Embraced By the Divine: The Emerging Woman's Gateway to Power, Passion and Purpose.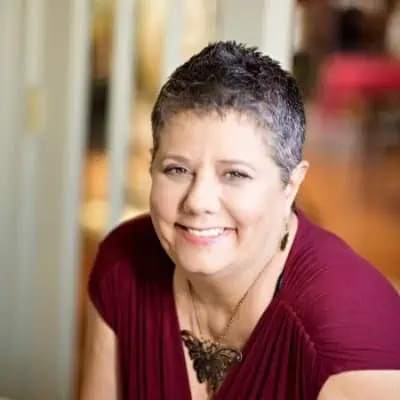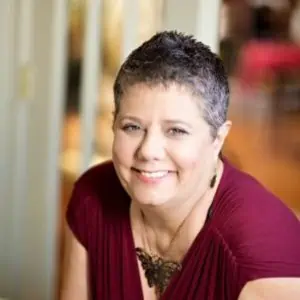 Some of the topics discussed on the podcast are:
How she got started using intuition in your business
How she Learn to trust her gut
How she learned to love being a businesswoman (relationships vs coercion)
How to express intuitive hunches to staff or clients who may not understand intuition
The different ways she gets intuitive message
How to tell the difference between good guidance, your ego and psychotic voices
How she read body language and voice inflections
Why being a listener is key for an entrepreneur – using both ears and heart
Why it is important to take dictation when listening to your intuition
How intuition help being writer – trust intuition how communicate
How to focus when you get distracted easily and get so many intuitive messages and creative ideas
Why visioning my tasks during the during helps my day flow well.
WWIT (What Would It Take) to know what the most profitable and joyful tasks to work on first today is?
Optimistic – sees the eyes through the eyes of possibility
WWIT tool
Setting office hours for your creative muse or guides
Idea parking lot
Learn more about Edie Weinstein at:
Resources:
"Business is about relationship – people buy from you only when they know, like and trust you" – Edie
The Hansel and Gretel breadcrumb trail – Look back on past events and intuitive messages to see how they worked out
Interview transcript:
Michael Light:                    Welcome back to the show. I'm here today with Edie Weinstein, amazing conscious entrepreneur, best-selling author and journalist, therapist and interfaith minister. We have some amazing topics around business intuition we're going to cover. How she got started using intuition in her business after she'd being stuck on not using it, how she learned to trust her gut, how she learned to love being a business woman when she didn't really love it when she started, how to express those intuitive hunches you have when you're talking with clients.
We don't understand intuition and different ways she gets intuitive messages, how you can tell the difference between good guidance, your ego and psychotic voices in your head and why being a good listener is key for being an entrepreneur and listening with both your ears and your heart. Welcome, Edie.
Edie Weinstein:                Hi, it's lovely to speak with you. I haven't seen you in years. I can imagine hugging you right now. I'm here in Pennsylvania and you're in [Peru 00:01:26]. It blows my mind that we're having this conversation.
Michael Light:                    It is. How did you get started using intuition in your business? You said when you first started in business, I guess that was 38 years ago ,maybe or quite a while ago.
Edie Weinstein:                Well, quitet a while …
Michael Light:                    You didn't use your intuition. How come?
Edie Weinstein:                Well first of all, 38 years ago is when I first started being a counselor. I was an undergrad and actually, that was probably a seed-planting time in my life. I was a getting a degree in Psychology and I was working at a crisis intervention center and around that time is when I learned to meditate, when I learned to trust the information that was coming to me, where I learned to hone my therapy skills.
WWIT that reading this helps you grow in your work role and in home life? WWIT it helps other staff at your company?
Learn more about this powerful technique and how it takes only 10 minutes to learn a new technique that makes running your business 3x easier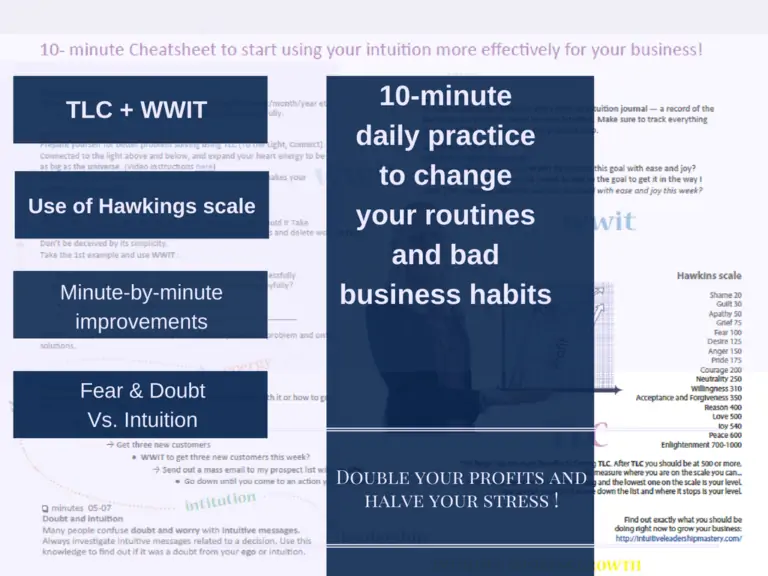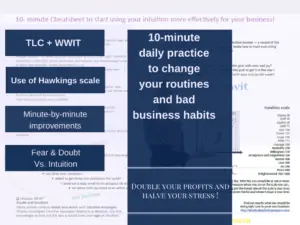 How many of you feel the same way? Let's discuss this together.