Martijn Meima talks about "Hidden Secrets for Success from your Business Constellation" in this episode of the Intuitive Leadership Mastery Podcast, with host Michaela Light.
"I'm not really a feeling person. I'm getting more and more into that. But I'm more of a seeing and knowing person. And then you think oh no I don't have intuition. But I have a lot of information. It's just a different channel and that also helps my clients to see, oh okay, so I don't have to focus on the feeling. I can also see things or know things. And when you learn these other channels like even the dreaming of like you say, then you can get a broader and more rich picture of your intuition. So it makes it just like a normal life. All the senses and information." – Martijn Meima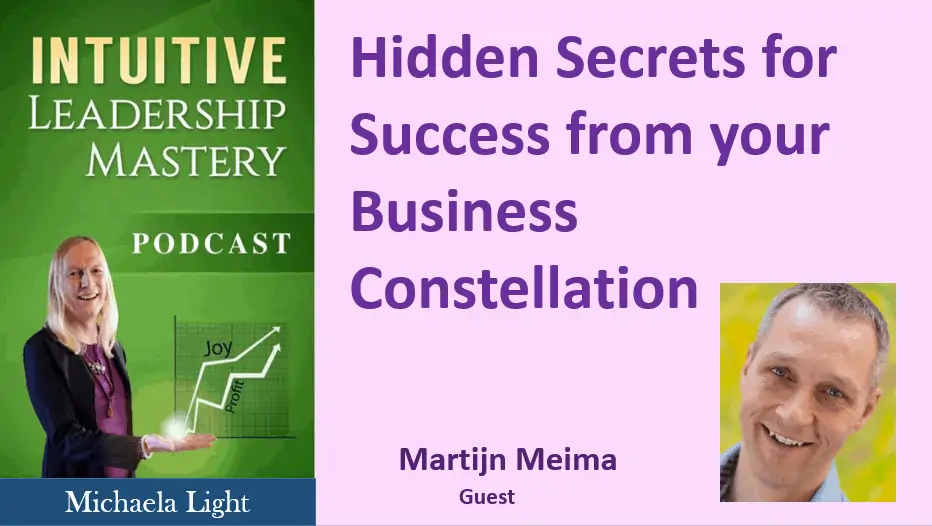 Here are some of the topics discussed in the podcast
What is business intuition?

Tap into the invisible intuition info that can help your business

Make it more precise and clear

Learn your language of intuition

Different intuition channels

Emotions

Seeing with the inner eye

Clear knowing (not thinking), the flash of insight

Clear hearing

Clear smell and taste

Dreams

Synchronicities

Animal signs

Subtle and quiet voice of intuition

The more you trust it the louder and clearer it gets

The spiritual side of all business

Total freedom and responsibility – no one to hide behind

A vehicle for personal growth

What is a business constellation?

From Family Constellation Therapy

Intuitive management tool for reading and healing business dynamics issues

People represent elements related to your business question like a company, potential client, product or service, marketing method, division X, function Y, CEO, the environment. You then place them in the room to create a 3D image of your question. They then move and give information about what they sense. This gives amazing information that helps your business. At the same time, the facilitator can help clear entanglements and this way unleash the potential for growth.

May come back to family dynamic issues

Business as family energy

Who is this really about – the person behind me

Patterns attract patterns. People tend to be attracted to jobs in which the patterns from their family will be repeated.

Why should all entrepreneurs be using it?

Fast way to find the keys to your success

Make doing business easily because you will find a way that really suits you

Intuitive marketing

what marketing channels to use

which products to develop

identifying why sales are dropping

Diagnosing the root cause of complex or repetitive problems

When you sense there is something wrong, but cannot put your finger on

When there is a conflict and the source is uncertain or doesn't appear to make sense

Team building and resolving problems in teams

Clearing office space bad energy

The energy of the business entity. Every business has its own 'soul'. Tuning into this and staying connected will help you to create flow and success in your business.

From big serious biz world to playground success with tripling revenues

Better mergers and reorganizations

The clear intention of the merger and is it aligned with the goals of both companies

Where can we relax the tensions in the new entity

Why are you proud to use your business intuition?
If you want to double your profits and half your stress, check out the Biz Intuition Profit Doubler. It is a free course for you to use intuition in your business.
Mentioned in this episode
What is first next step

Easily successful

"Not dead, can't quit" mantra of Richard Machowicz, Navy SEAL

All change starts with acceptance of what is

Sedona Method for releasing stuck emotions and beliefs
Podcast: Play in new window | Download (Duration: 53:40 — 49.1MB) | Embed
Subscribe: RSS
Bio
Martijn Meima, based in the Netherlands, specializes in helping business people produce better results through intuitive practices. Intuition is overlooked in a world where the focus is on quantifying and predicting. Martijn's methods connect people to a larger sense of knowing that can have profound effects on their ability to make better decisions. He has developed a holistic, non-dualistic and systematic way of looking at businesses that help you find new ways of creating success in your business.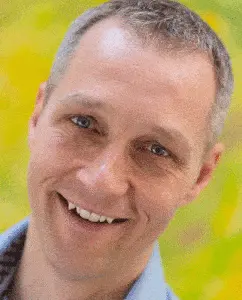 Learn more about Martijn Meima at:
Interview Transcript:
Michaela:        Welcome back to the show. And today, we're looking at hidden secrets for success in your business constellation with Martijn Meima. And he is joining us from the Netherlands. And we're gonna look at what his view of what business intuition is, and what is business constellation, and why you as an entrepreneur should be using it. And how you can use it to diagnose the root cause of complex or repetitive problems.
That way you sense something is wrong you can't put your finger on it, or you've got a conflict that's really hard to solve, or you want to resolve problems in teams. And we'll also look at clearing office space bad energy and how that can really mess with your business success. And how to have better merges and reorganizations in your business using business constellation. So welcome Martijn.
Martijn:           Thank you, thank you Michaela.
Michaela:        And for those of you who don't know him, he is a business intuition expert and coach in the Netherlands. And he has a great e-book on business intuition and he's been doing this stuff for over nine years now. So he has a lot of experience in helping entrepreneurs improve their business using intuitive message and improve their marketing using intuition. So I'm interested what you think business intuition is. I mean I've written a lot about that myself, but I'd love to hear what your opinion is.
Martijn:           Okay, yes, that's also why I like connecting with you because there are not many people using intuition in their business and it's such a good way of improving your business. And for me, business intuition is tapping into this intuitive layer I call it. It's this layer that is non-visible, non-touchable, but it's there. And whenever you walk into a room, you sense things. Whenever you have a meeting with people, you already know what is gonna happen or you know if this is gonna be good or bad. And all this information we think no it is…