You can listen to the podcast and read the show notes here.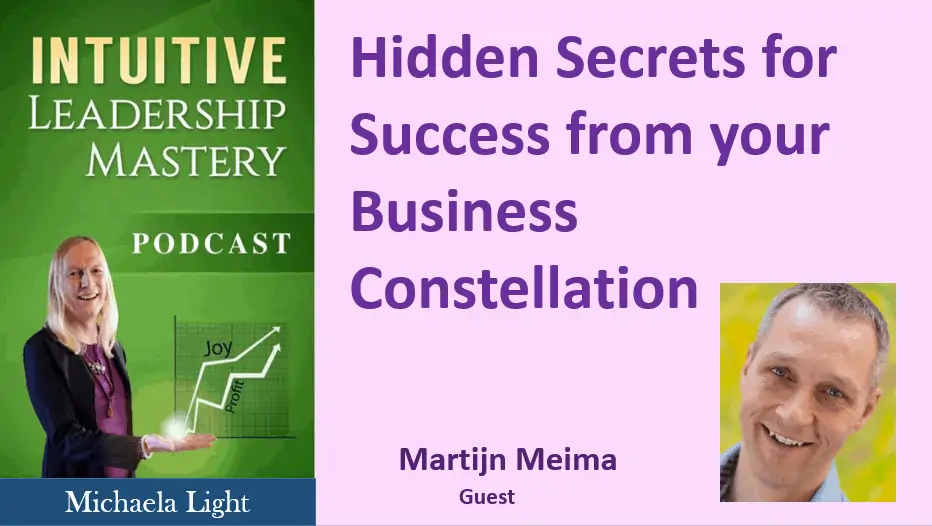 Michaela:        Welcome back to the show. And today, we're looking at hidden secrets for success in your business constellation with Martijn Meima. And he is joining us from the Netherlands. And we're gonna look at what his view of what business intuition is, and what is business constellation, and why you as an entrepreneur should be using it. And how you can use it to diagnose the root cause of complex or repetitive problems.
That way you sense something is wrong you can't put your finger on it, or you've got a conflict that's really hard to solve, or you want to resolve problems in teams. And we'll also look at clearing office space bad energy and how that can really mess with your business success. And how to have better merges and reorganizations in your business using business constellation. So welcome Martijn.
Martijn:           Thank you, thank you Michaela.
Michaela:        And for those of you who don't know him, he is a business intuition expert and coach in the Netherlands. And he has a great e-book on business intuition and he's been doing this stuff for over nine years now. So he has a lot of experience in helping entrepreneurs improve their business using intuitive message and improve their marketing using intuition. So I'm interested what you think business intuition is. I mean I've written a lot about that myself, but I'd love to hear what your opinion is.
Martijn:           Okay, yes, that's also why I like connecting with you because there are not many people using intuition in their business and it's such a good way of improving your business. And for me, business intuition is tapping into this intuitive layer I call it. It's this layer that is non-visible, non-touchable, but it's there. And whenever you walk into a room, you sense things. Whenever you have a meeting with people, you already know what is gonna happen or you know if this is gonna be good or bad. And all this information we think no it is…
This is not a good, we need to think of things, and we need to really analyze things. But I would say okay, why don't you just focus on this information that you get and make it even more precise and more clear. Because that's what happens with intuition is sometimes it's really fussy and it's not very understandable. But you need to learn this language; this language of your intuition. And it's not like a general language. This is specific language for each person. So you need to really find out and play with your own intuition and then find out what your language is.
Michaela:        Now when you say your language of intuition, what are some examples of that?
Martijn:           Well what you could… For me, there are different channels in which your intuition talks to you. And one of the channels is your feeling. So you sense things, you feel things. That's the general idea about intuition or gut feeling. But the only thing with the gut feeling is that the gut feeling is a little bit mixed up with anxieties and with anger and with pain. So I also call it 'clear feeling'. So if you can get this feeling sensation more clearer and more transparent, then you get a very good feeling of what is happening and where you should go.
Another channel this is seeing. You can see and then without… not with your eyes, but more with your inner eyes. And you see maybe images of where you should go or you get an image of what marketing images to use or how to reach out to your clients. And another important thing is the knowing; the clearer knowing. It's more than thinking. Thinking is going [making funny noise] [03:53]. It's repeat, repeating, repeating and with the clearer knowing.
It's like a flash of insight. And it's like when you focus on something and you wanna question what should I do. Whuch! There's the answer. Or when you're in a conversation it's like, "Oh! I should ask this or this name comes to my mind and oh maybe I should share this name and we should introduce this person". And then more things come out of that so… So those are for me three important channels. And there are three more. It's been the clear hearing that you hear words and it's even clearer smelling and clear tasting, so yeah.
Michaela:        Those are all great channels. I think I'd add on dreams maybe as a separate one and animal signs as another one.
Martijn:           Right, right yeah.
Michaela:        Synchronicity is, third one. So many different way. And just because you speak one intuition language doesn't make it good or bad.
Martijn:           But many people are focus on the feeling. And for myself, I would… I'm not really a feeling person. I'm getting more and more into that. But I'm more of a seeing and knowing person. And then you think oh no I don't have intuition. But I have a lot of information. It's just a different channel and that also helps my clients to see, oh okay, so I don't have to focus on the feeling. I can also see things or know things. And when you learn these other channels like even the dreaming of like you say, then you can get a broader and more rich picture of your intuition. So it makes it just like a normal life. All the senses and information.
Michaela:        Yeah, I mean any of these ways is a good… You may have multiple ways. I did a long course on intuitive life coach training and some of the people like they… Initially, they wanted to like get their intuition. Like they wanted an angel to appear in front of them in broad daylight and tell them they're intuitive messages. Some people do get that.
Martiji:            right
Michaela:        You know that's very constricts training when there all these other ways you get the information. So that was one of the things we worked on let they go having to get information a certain way.
Martijn:           Yeah, it's good that you mention that because for me, that's true too. I thought and you could like see these clear images and you get this knowledge. But it's its own whispery actually. It's very vague, it's very subtle. But when you tune into it and take it seriously, it get more clear and more loud actually; your intuition. And by trusting it, you get reassured every time. Oh okay, so when I trust it I get into these interesting new opportunities which really work for me. So it's also… it's like I always say it's like a muscle. You need to train it. And when you train it more, you can use it more and it becomes stronger so yeah.
Michaela:        Absolutely! So that's what you see business intuition as. Using your intuitive language in your business and listening to it and practicing it. And what do you think… why do you think we are from a spiritual point of view why as an entrepreneur in business in your view?
Martijn:           Why are we in business what do you mean?
Michaela:        Well obviously, we get into business to create something or serve some people will make money. Those are the mundane reasons we go into business; the real world reasons. But this is… I think there are spiritual reasons why people start a business. Just wondering if you have any view on that.
Martijn:           Yeah for me, starting a business is never about making money. It is always about expressing yourself and creating something that you could not create when you were working for a company. It's also very creative boost actually. Because I remember the first time I had quit my job and I was… I think at this store and I was like okay so… First I was thinking, "Where should I book these hours? How can I register these hours?" I thought, "Oh! I don't have to do this anymore." And then I felt this freedom.
It was like, "Wow! I can create and do everything I want." And it was even scary. It was like, "Wow! This is limitless". But I think that entrepreneurs take the full responsibility of their lives and there's no one to blame if things go bad. And there's no one else responsible if things go well. So it's all you. And that's also what I see when I coach entrepreneurs that a lot of issues with marketing or is because there's no one to hide behind anymore. It's all about you. And for me, I think… But it's a good question. If there is like a higher spiritual goal.
I think everybody is here for a reason. And for some people, I think entrepreneurship is a better way to live their life mission or their purpose in life. And well there's something in me that says everybody should be an entrepreneur because this is just a total freedom and everybody can. But I think also that some people can do a lot of their mission in life as an employee so… But then you really have to do some personal work because as an entrepreneur, the best thing is to take full responsibility of your life. And I think that's very important that you don't blame anybody that you take this… That all the steps you take in every direction you wanna go, it's up to you and that's what I also like about it, yeah.
Michaela:        That's a great point of view there, very empowering. My view is that entrepreneurship is a spiritual journey. And that yes, we're there to create products or make money, but it's also for personal growth. And that's actually the main reason because everyone I know as an entrepreneur has gone through tremendous personal growth as their business grows. And often if their business is stuck in plateaued a certain level is because they're stuck in their personal growth. And the way they break through is by overcoming the mind set or other spiritual blocks that we're gonna talk about later that use business constellation to clear. And that just releases them in their business, but also shifts them spiritually.
Martijn:           Yes, so I don't know if it's really the purpose of entrepreneur, but that's what you… Yeah also for me in the past ten years, I've done a lot of personal growth and it has shown immediately in my business when I do something… I even had this one session very tough bodywork session. And then the week after that I got 5,000 Euros of new revenues. It was like [making sounds] [11:01] after that session where on there was a lot of freedom created. So yeah, but I think also employees, if they do this personal growth, well maybe get better jobs, get more freedom in their work or more creativity. But the only thing…
Michaela:        absolutely
Martijn:           [Crosstalk] they're forced to do it. Because if they don't do it, their business just dies or plateaus or…
Michaela:        Yeah, it's a lot clearer for an entrepreneur. For an employee, they can feel stuck, but not do anything about it for years and still be possibly depending on what company they're in. But yeah entrepreneur, there's a lot more immediate feedback.
Martijn:           yeah
Michaela:        And I mean part of me my role is not for me being a custodian or a I don't know what the right would is. But someone who looks out for their staff and helps them grow personally because they're growing makes them happier, makes them more productive. And even if eventually they end up leaving my company that's okay because we've created far more together by them growing so.
Martijn:           yeah right
Michaela:        So let's move on to talk about business constellation because that's one of the ways you can shift the stockiness that you have in your entrepreneurship. So what exactly is business constellation?
Martijn:           Well let me start first by saying that for using business intuition is by this. You can use the six channels of your intuition. That there are also intuitive tools you can use and one of them is the business constellations. They can be used for personal growth and transformation, but they can also be used for as a management tool. And business constellations were developed or in Germany in the 1980s and this therapist [inaudible] [13:03].
He found out that if you have a question from a person like you a psychological question, you could place people in the room representing his father, his mother, brother, or sister. And this people for some reason and that's the interesting thing about constellations these people feel sense like this father or mother and they will even have an accent or even have like sweaty hands or to have this [inaudible].
Michaela:        And that… just to clarify. They may never have met.
Martijn:           No, no [crosstalk] [13:45] not even a story about his father. It's not like… it's not a role play. It's like okay, I place you in the place of this father, in the position of the father and then… and I've done it many times myself. You change… you feel suddenly you feel very happy or very depressed. It's very… and then when you step out of it, it's gone. So it's very… Yeah for me, it's tapping into that intuitive layer again by being placed in someone's position.
Michaela:        You were talking there about family constellation therapy for solving family dynamic problems, but then you've applied this to business dynamics.
Martijn:           Yes, so what you can do in business is that you ask somebody to represent your potential client and you can ask somebody to represent your product or your service. And somebody to represent your business and maybe your competitors or their clients' clients. And then what you see is like this dynamic because people start moving just following this in our movement and they say they and then the facilitator asks questions. So how are you feeling here, how do you relate to each other?
And it gives so much information about what is really happening with you and your potential client in this case. To find out so what is needed here to get more clients or what is needed for me to grow my business. Well and the interesting thing is it is really focused on business questions. But what I've seen in all these more than five, six hundred constellations I've done with entrepreneurs is that sometimes, it comes back to the family again. Because when you are an entrepreneur and you work with your clients, you bring to this family system because you're part of a family system. And when you do business, you are still connected with his family system.
And well that's some interesting knowledge they gain from all these constellations. Is that when people form a system, like when you're born, you are in this family system. There's also this what they call 'system consciousness'. So that there is larger consciousness which causes all kinds of dynamics inside the system. And sometimes, it's sub-conscious and sometimes, you're very aware of it. But when you start doing business, you are influenced by this consciousness of your family system. And sometimes it's saying okay in our family and we don't make a lot of money or we… there's somebody who has been killed for making a lot of money for example. Or somebody is… what was it?
I mean you say it is that somebody made a lot of money, but the people in the family didn't like him, so he they put him out of the system. And this is still… this energy still vibrating in the system. And then when you're trying to do business, you're might be pulled back by this energy of not making enough money and not wanting to make enough money without you know it. And in the business constellation, you can also solve these entanglements they call it. And it's yeah, it's a very powerful method which sometimes is really magic and sometimes it's really down to earth and more practical.
Even the question about what kind of website should I build? Could be showing a business constellations, should I…  I had this one client who says I have two types of customers. Like private customers and business customers. Should I have two types of websites? And then I did a constellation where I had one person representing the website and one person representing the private clients and one business clients.
And I just asked them for your own movement and where do you wanna position yourself? And for some reason, nobody knows why the website was in the middle. And he was going like, "Oh I cannot see both the clients." So it was very clear in like five minutes that you should built two websites. So that's a very practical one. And the other is more like a… you have very more transformative one.
Michaela:        That is very interesting and just the idea that a 50-minute session clearing this energy or reading the energy using business constellation therapy could clear years of stock issues in your business. Or give you insight on an issue where you're not clear what to do and you've been holding back. And definitely, I think I'd agree with you. Most businesses have family dynamics at play. You know someone has a father issue and this can apply to stuff. You hire someone, but they have a father issue and they treat you as the business owner as their father. All the angry they had to their father now gets redirected, but not necessarily directly. They may not shout at you, but they may screw things up or you know.
Martijn:           Right, so you know business constellation is this and that's when a lot of problems keep repeating and it's very complex. And in a constellation, you can put somebody behind. What if there's an issue between two people? You can always put somebody behind one of the persons and say, "Okay, so who is this really about?" And then you can find out there's something between us but it's not about us.
It's about me and somebody else and then you bring in the right person that this is all about. And then things like, "Oh I'm messing this up. This is terrible." And then because they see this images now next to each other, it's like oh okay, so I can focus my anger on my dad again and that's something I need to solve. But now I know that my boss is not my father and I can really relate in a normal way to him.
Michaela:        That sounds very healing. So instead of having to fire the person, you can heal the situation and they can grow personally.
Martijn:           I even have issues with two project members and one was… They were from Belgium and there was one from Belgium and one from Holland.
Michaela:        oh, oh!
Martijn:           And it was like in Belgium and a French speaking and a Dutch speaking.
Michaela:        Yeah and they don't get on.
Martijn:           We needed to have both because there was some kind of rule. And this lady she was like very shouting and yes and this guy and she was like hitting the table. And I was like woah, this looks like a war almost. So I said, "So what are you really fighting about? Maybe it's the Flemish and the Dutch of the Flemish and the Dutch speaking fight you're fighting with the two of you." So I put in the constellation. This large country fight they have and how they could see like, "Okay, so we're finding that fight, but it's not our fight. It's more like a national fight. We don't need to fight it." So they could relate to each other in a normal way again.
Michaela:        That is fascinating because if you think about it, I mean people may be thinking well I'm not from Belgium or Holland that doesn't apply in my business. But wait a minute guys, everyone belongs to some group. You're either male or female and that's the war between the genders or you're black, white, yellow, or some other race. Where you've got different religion or some other grouping that you belong to.
Martijn:           You are form the north or east or west.
Michaela:        It's amazing how many distinctions humans make up about stuff that doesn't really matter. But that's a discussion for another day. Now another point is that if you've got a team, those things could be going on under the surface screwing up their productivity and their enjoyment of working together.
Martijn:           right
Michaela:        And if you could put them aside using business constellation therapy, that team could work ten times more productively and have ten times as much fun doing it.
Martijn:           yeah right
Michaela:        So genius. The other thing that occurs to me here Martijn is that when I'm hiring someone, I sometimes used to think, "Okay what… you know how do I hire the best person?" I didn't get clear who the best person was. And my intuition might have said, "Okay, the best person for you Michaela is someone who's gonna really tweak that family dynamic issue you need to heal. But it isn't actually going to make your business too much money. So you get a lot of spiritual growth, but it won't move your business forward.
Martijn:           no money
Michaela:        Yeah, so I don't do that anymore. I now ask my intuition, "Who's gonna bring me profits and joy?" Not necessarily who's the best candidate quote.
Martijn:           Yeah, it's good that you mentioned that because that's something we learn from constellations is that patterns that happen in families, they are attracted to patterns happening in companies and they attract each other. So somebody who has a safety issue; say a safety issue in his family, goes to a company where if there are safety problems and they don't feel secure in this company. And this company most of the time is providing something with safety or security in the world. So it's this pattern that is repeating everywhere. So I can almost… well it's a very short cut.
But it does say that the police has a safety issue inside the company because they're working with safety or they have a violence issue. And the people working there have finance issues in their family and it's and it's not good or bad. But it's like knowing these then you can do your safety work or your or your filings work outside a lot better if you have fixed this inside your company and you fixed this inside of your families. So it's very… it's like a spiritual growth of the persons and but also of the company. And then they can provide much better work in their community.
Michaela:        That is fascinating and just to be fair to police. I think some people have a pattern of they want to help out or protect others. You know that can be all care taking. So it's not just violence or …
Martijn:           No, it's not.
Michaela:        But and I think that applies not just to the police as a profession but to every single profession. Whether you are creating computer software or baking cakes or writing books or…
Martijn:           everything
Michaela:        … whatever it is. There's something energetically in you attracts you to that and that makes you feel yeah this is the job or this is the task for me.
Martijn:           yeah
Michaela:        And that's also true for entrepreneurs. As entrepreneurs, we probably have something in us that's like we really wanna have all that freedom and responsibility and an opportunity to grow enormously and create some [crosstalk] [24:58]
Martijn:           … because for me for example my tag line is easily successful. And that energy even has its shadow side. Because easily successful is I don't like working hard, I don't like tough times, I don't like trouble and struggle. But by saying I focus I'm easily successful. This is an issue in my life and I help people becoming easily successful. But at the same time, I have to face to face also the fact that things are sometimes are difficult and it's hard work. And if I don't focus on that and just focus on as easily successful, I kind of do my work that well as that I also include this hard work and this struggle that life is also about.
Michaela:        Well I mean whatever intents we put into our business is going to be a filter for what choices we make in our business and what kind of business we wanna create.
Martijn:           right
Michaela:        And I would just say there are an infinite number of entrepreneurial parts and they all lead to different spiritual growth. And easily successful is one path, struggle and hard successful is another. Success fail, success fail, success fail is another. There's all kinds of paths different entrepreneurs take and you can see it. I can see much more clearly looking at other entrepreneurs, I'm like, "Oh yeah, they're running that, that it. But I was reading a book that a business friend of mine had written about recently and it was one of those special forces autobiographies.
This guy was in the Army Special Forces and they had to train really hard and work together as a team intensely. And one of them had a mantra that's the total opposite of that. His mantra was 'not dead, don't quit'. In other words, it could get incredibly hard, he could be suffering. But if you're not actually dead, he can still think and he has to keep going.
Martijn:           keep going
Michaela:        Yeah which led him to be able to succeed at an incredible level. On the other hand, I think he died from a heart attack at age 50 something.
Martijn:           okay
Michaela:        Not actually life path I choose, but there you go.
Martijn:           Well the good thing I learned about facilitating inn constellations is that there is no good nor bad. So it's not like okay, so this is the good path or this is the bad path. Or if you do this… this is good or is bad. Because in a constellation we approach everything like okay, this is what it is and this is how life shows up to you and this is just what you have to take actually; that's what we say. Like you need to take this because there is no… it's not no different from what it is. And some people want to change everything that is and the change always starts with accepting what is or acknowledging what is. You don't really have to accept it, but you have to acknowledge it. Is like okay, so this is what I see here in my life or in my business.
Michaela:        I think there's a lot of truth in that. So I am totally convinced of business entrepreneur constellation therapy is a great thing. But suppose some of the people listening are not like sure they should be checking it out or experimenting with it. What would you say? Why should they at least experiment with it?
Martijn:           I would say don't call it therapy because it's business constellations. There are some also very practical way of looking at what is the real cause of the problem and what is the real way to success instead of analyzing and thinking a lot. It's a very actually very easy way to find your… the keys to your success. And like I said in a session and with them sometimes in ten minutes or 30 minutes, you already get a lot of insights. The other day, I had his workshop intuitive marketing where we work with marketing. But then with a lot of constellations and intuitive work. And one of the questions was okay, I have all these marketing channels. I can use my social media, website, webinars.
I can do fliering, I can do whatever. Which one should I use? And I said, "Okay what you do, you write down all these options you have and you fold the pieces of paper. And then you choose from the group. You choose somebody to represent this piece of paper which represents one of your options." And these people I just said, "Okay follow your intuition follow where do you feel that you need to move to." And we had one person representing the potential client and entrepreneurs will step into a constellation. So when these people moving with these pieces of paper and we had the client moving. And very soon, the clients start hooking up with one of these people. In this I said, "This is what I need."
And then when you can just open a piece of paper you knew, okay so this is what I need to focus on. So in ten minutes, this whole complex thing like okay all these marketing channels was brought back to okay the client. Some of the channels were all the way back, some was close to the entrepreneur. So he knew okay, so this is something I like but the client was not really connected. So you can do it your way to getting more clients. So that's why I would advise people to do this. Because it is also a very practical way of getting your business in a new flow and getting to know what steps to take to make more success out of your business.
Michaela:        That is great! So that's taking a really complicated decision. Probably, they've been stuck with it for months if not years and then cutting through in minutes to get what's the right way to proceed.
Martijn:           right
Michaela:        Without having to like do a lot of analytical research and make spreadsheets and logically figure it out [crosstalk] [31:08] it could take forever.
Martijn:           It doesn't work. Yeah, but it doesn't work because they make a spreadsheet or you make… Okay, well maybe I'll give it a seven, no make it an eight because then it's not gonna work.
Michaela:        Now that the other thing you alluded to earlier. You talk there about using this to read intuitive information. But mine is saying is you can also use it to shift things or adjust staff if… I mean suppose you were in the example, you were trying to pick the marketing channel. And for some reason, one of them you wanted to do, but it didn't feel right. You could do that to adjust it to make it feel better or make it go better?
Martijn:           Yes, well that's maybe a difficult example. But sometimes, when I do a marketing constellation, you see that there is this tension between the person that the entrepreneur and the client. It's like the client wants to run away or the client doesn't want to connect. Yeah that's what happens. And then I said, "Okay, this is what it is. We need to acknowledge what it is." So you see the client just turn around like oh I'm not interested here. And then it's interesting to find out what is happening here, why is his client not interested? You know sometimes I bring in like a bridge; something that can be a bridge between the two. But sometimes, there is the client says, "Yeah, well you're not focusing on me. You're focusing on something behind you. You need to fix your own problems first."
And then there's entrepreneur most of the time they recognize this on a deep level. They can sense like this is true, yeah right. It's tough to face but I am deep inside I know in that I know this from my own constellations that you see that is aha, I don't wanna see this. But it's right. I feel it's right and then I need to bring in like the father and the mother and see okay, so maybe there's some family issues. But in other workshop, I had this guy who wanted to have more clients in his own city. He was working all over the country, but not in his own city. And he was why not? I don't get a constellation and we put a representative, somebody representing the clients in his own city. And they said, "I can feel this here."
So what this is a business constellation here. We're not talking about this. But says it is very clear. I can sense that here. So I brought in a representative for that what was that. And then his entrepreneurship whoa, yes, now I know. Because my office building used to be a garage and the owner of the garage has committed suicide. Okay, so that was a reason why the local people didn't wanna come to his business because there was this suicide energy still there. And yeah, actually only thing he had to do is sit next to this dead person and said, okay, this is what it is.
But he couldn't do it without crying. So you knew in that setting it was not really [inaudible] [34:15] setting to work on that, but it's very healing. But at the same time, it's very confronting that these issues can influence your marketing and your business. But I have learned that there are so many influences in this… on the one rule in this intuitive layer that influence your business. And if you don't work on that, you can work really hard in the real world, but don't make the results that you should make. So that's why I always advised to use this intuitive layer either with business constellations or with visualization and meditation too to find out what is really happening here.
Michaela:        I think that very insightful comment about you know, could be something in the office space. Because it's very common in my experience that the office space or houses or hotel rooms have we weird energy. And it might be from someone murder or suicide. But more often, it's like something violent that happened there. A terrible argument or a family rift or a sexual energy or something.
And if it isn't cleared up, it just kind of hangs around there and ends up affecting you in a subconscious way. So I really recommend feeling into that. I did an interview with Russell Smith a while back and we went in pretty depth that. So I'll link that in in the show notes, so the people interested in the idea. But the more sensitive you get to this intuitive info, the more you can be affected by other people and places.
Martijn:           And they have done some interesting research in England. There seem to be some places that there are more car accidents. And then go why? Why are these places… we're going to have more car accidents? And you can look at the roads and the signs and the lightning. But what they found out is that they used to be war zones. So in the the world war that was where the [inaudible] [36:14] were. So this [inaudible] energy was still there.
Micahela:        wow!
Martijn:           What Rupert Sheldrake has called the 'morphogenetic field'. So they are energy that's still there and stays there over time. And that's also what happens with businesses and what's happening with families. There's always energy. Like if you have a company that has a long history, that's energy in your history still influencing what you're doing today. And yeah, if you like come in as a new employee and you don't know about this energy and you… but you will adjust to it right away without you knowing it.
So when this is a supportive energy, it's very good. But when it's like a restrictive energy, then yes you look at it as a company owner. You say, "Okay, so what is happening here? Why is all this illness and sickness in the company? Or why is not working here? Or why are these two teams not working together?" And form a systemic perspective that what we call if we look for from a systemically. Like from the business constellations, there's always a deeper cost that is causing these symptoms.
So we don't look at it as a problem, but as a symptom of something that is happening somewhere else. And then you have a larger view of the issues in your company instead of just looking okay, this person she's always behaving very bad, so we need to get rid of her. No, this is a signal of the system. Like okay, we're missing something at somewhere. So we need to find out what we're missing otherwise we'll fire this person and the next day, we get a new person in doing the same thing.
Michaela:        I think that is a very wise way to look at it instead of complaining about bad employees or bad areas in our businesses to see them as messages from the business to us that something inside us to shift. Because businesses also have a consciousness.
Michaela:        yeah
Martijn:           So had it with my own company. I started my own company and then I wanted to start this intuitive Coaching Academy. And I had a new website, a new logo. But it didn't really work. I didn't get the clients. And there was a reason that I didn't… My business intuition website I couldn't close it down for some reason. I just did not… And then in a constellation, I saw that this was just a big distraction for me. I was like working with this academy and just I thought my mission in life was very happy with my business intuition company and we were going like very fast and then they had big plans. And I was just distracted by all kinds of other things.
So the business intuition that I started just had its own energy and its own consciousness saying, "Okay, we need to go that direction. If you want to go another way, I don't mind. We go this direction". And it's the same also with larger companies that the managers just think they can create a strategy and have goals. But there is this larger consciousness and you should follow that consciousness. You should tune into the energy of your company. Where does it wanna take me? What is it asking for me? It's not like one what am I asking from the business. Now what is the business asking for me or what is the larger purpose asking for me?
Michaela:        Yeah, I mean instead of thinking, "I am the one creating my business perhaps the business is creating itself through me."
Martijn:           Right and it's not a business like in business business, but it's more like the higher purpose of the business.
Michaela:        right
Martijn:           That's telling people and letting people experience that there are so much more to business than what we can see with our eyes. And that you can boost your business or that's one thing we go into the world and I'm just a vehicle of doing that.
Michaela:        Very interesting way to look at things and gives a lot of insight and takes the pressure off. So you told me earlier about someone who was seeing their business as a very serious endeavor. It was like big business and it was a lot of stress. And how did she… Tell us how you helped to transform that and where she got to.
Martijn:           Yeah, this was this lady. Young lady actually, had a coaching business. A coaching business with coaching young girls. And yeah, for some reason or I know to reason people have an idea of a business that you need to be very serious, you need to work hard and have these goals and have the.. And that's not what business is about. Business is fun and especially if you're coaching small children. Then you should also have this playing energy in your company otherwise, you will not attract children and their parents to the company. So what we did. We did a consolation to find out okay, so why is your business not growing and what is what is blocking it. So she got a lot of insight from that.
And not only inside, but also some energy already changed inside of her. But I also work with release techniques and I use the Sedona Method. You might be familiar with that. And it's a very powerful and strong release technique that you can release all kinds of thoughts of anxiety or fears and even physical sensations. And by releasing all that, you get so much more freedom to look at your business in a fresh way and after the coach sessions, and we had six sessions and things were thinking where were we did all kinds of things. She said, "My revenues tripled." So she was very excited about that and of course she also did some things herself.
But it was also due to the coaching she set so and that was all; intuitive coaching because I never… Yeah sometimes I look at the figures. Okay, so how do you… how can you make more money? But most of the time, it's about someone who's walking you and how can we transform this energy and how can we transform your mindset that this roads and folds itself and that you find unity inside of yourself to take the right steps.
Michaela:        I think that's amazing. And I'm just gonna imagine she not only trippled her revenue, but she probably tripled her happiness as well.
Martijn:           Yes, yes and I can tell you now that she's teaching other people how to coach children so and that's in… I think we coach them was like three, four years ago. And now she already is a mentor for other people and she teaches other people how to run their coaching business. So it's very interesting to look at her now to see what she's doing because she really got herself a big boost, yeah.
Michaela:        I think for me, my viewpoint is really any problem in business is really simple. Millions of other entrepreneurs have probably solved the exact same problem. The steps to do it, you probably already know yourself what you need to do. But this often internal resistance will self-sabotage when you come to be implemented it, or you make it too complicated or you go two steps forward in three steps back or any of that stuff. So really the place to really get leverage in our businesses is the stuff you're talking about of shifting the pattern, shifting your mindset and then it just flows easily.
Martijn:           That's also why I think you asked, "Why should people use business intuition?" Is because all this technical and irrational information, we can just Google. We can find everything about how to get new clients, how to do the finance, how to make more out of whatever. There are so many e-books in gurus and videos. And so it's not difficult anymore like 20 years ago, you needed to people and coaches to tell you that. But now you have all this information so you know what to do. But now you need to okay to know what you need to do and what fits you and your company. And you need to free yourself of all the limitations you have to say to take the right steps.
Michaela:        So let's talk about if you were merging your business with another one or acquiring another one or maybe you're just reorganizing your own business internally. How does the stuff apply there? Because a lot of crazy stuff can happen when you merge two businesses.
Martijn:           I know. Well first of all, you need to make sure what is the intention of the merger. And is the intention of the merger aligned with the goals of the both companies? So if you have a company that really wants to… well let's say a company that has a IT. It's an I.T. company and they want to create fun games and have people have fun in their lives. And there is this other company in which is a financial company and for some reason or financial IT company and they have a totally different purpose.
And the only purpose for the merger or other stakeholders is a merger is to like okay we wanna make more money and we wanna get rid of all the overhead and we wanna triple our revenues. I can already say, "That it's not really gonna work." And then you can say, "Okay, it's a lot of resistance and we need to do something about the resistance and it's people don't wanna listen to us." But that's not met for the issue. The issue is something before that. It's like that these two goals they don't match. Or the goal like I wanna make money is not matching that the energy of the systems.
Michaela:        It would be a bit like if two people got married and one of them wanted to live in Holland and the other one wanted to live in Thailand.
Martijn:           right
Michaela:        They'd be like at each other you know.
Martijn:           Yes and they were forced to marry by their parents because they would get a very big money from there and from the bride.
Michaela:        Yeah, it's not a recipe for a happy union. And the same thing with businesses.
Martijn:           Well the thing is they have done some research there and they say that they have more happy… you're happier memories as when they're arranged, but that's…
Michaela:        Yeah, but when cultures where they do arranged marriage, they usually put quite a lot of effort into making sure it's a good match. You know they'll get astrologers that they'll talk with the family. They'll make sure there's compatibility between the families and the people. They don't just throw random people together.
Martijn:           So that's there's also with mergers. And then you need to… And I always advise to do work a business constellation before the merger to see what kind of dynamics will you create with the merger. Where will you find the tensions and what is needed to relax some of the tensions and what is needed to get this all smooth into each other? Because sometimes a merger is a very good idea and it will benefit the people, it will benefit the community, it will benefit the clients, it will benefit stakeholder.
Because that's what I think that's very important idea I have. When you follow your intuition and use intuitive methods, you will always create businesses that are good for the environment, good for the people, good for the money, good for the employees, good for yourself, and good for everyone. Because there and then you are in this flow of positiveness and flow of a love you can say. You will create a better world.
Michaela:        Absolutely and that's part of the reason I'm involved in this to create a better world. But we'll talk about that in a moment.
Martijn:           yeah
Michaela:        Let's just come towards the end of our interview by asking, "Why you proud to openly use your business intuition Martijn?
Martijn:           Well I'm proud because when I started ten years ago, this was very new and it was a very… Yeah, it was like walking in the jungle and people were saying, "What are you doing here? This is crazy and you should just follow this path." And I decided no, no I wanna walk my own path. And I have struggled and I have worked hard and I have also relaxed and I've also done a lot of personal development and now I'm here.
And the interesting thing is that I started in the Netherlands and since the two, one, two or three years I've spread my wings and come to other countries. So I've been a lot of in Europe. And now actually yesterday, I talked to his guy in America and on coming to us to Oakland to give a workshop in May. And I'm so proud that this thing is expanding and expanding and I'm expanding and developing myself as well. So that's what I'm very proud of it, yes.
Michaela:        That is great. So as I alluded to earlier on. I'm on a mission to have every entrepreneur openly use their intuition in business because they'll make more money, have less stress, have more joy in their business. Sounds like very similar to what you're doing. And then additionally, I think if every business leader used their intuition, it would inspire that staff, their customers, their vendors and they would make less stupid decisions that hurt other people or hurt the planet. I wouldn't claim they'd make no stupid decisions, but it would cut down the number of stupid decisions enormously so.
Martijn:           I agree, yeah.
Michaela:        Yeah, I mean it's sort of the difference between driving a car where all the windows are being covered in black paint, so you can't see where you're going. And you keep running over pedestrians, hitting other cars or you used to clear out that and you can see all the information around you with your intuition. And now you can make conscious choices about what you do much better so.
Martijn:           Yeah, I think I like the one with the car because I think it's a car with all black windows. But here's one little hope.
Michaela:        right
Martijn:           Oh no! We need to go with this. Oh no! It's all clear. All the windows are clear, so you can make much better decision. It's so much easier and more fun.
Michaela:        Yeah and that small hole that has the rational information, we don't throw that away. We still keep the rational information just use it together with all the other information. So my final question to you is, what would it take to make business intuition more openly use this year?
Martijn:           Doing more podcast like this. So for me, it's also just spreading the word. It's I give a lot of webinars, I give a lot of free stuff like you do in your newsletter. So it's very good like your newsletter is like giving people practical tools and practical ways of using their intuition to see, to show that it's very easy. And to talk about it openly. When you talk about it openly I do and a number of people still hide a little bit behind oh no it's like… it's not very intuitive but it's like I'm… I just… I have this card says intuitive the business intuition. And everyone straight can see that I'm working with business intuition. So that's what I think it would take is that we start talking about it more openly and yes, just give these webinars, podcasts, and free stuff so that more people can come in contact with this.
Michaela:        That is fabulous, very inspiring. So if people wanna find you online, what are the best ways to do that?
Martijn:           That's why it's go to www.intuitions-intuitioninbusiness.com with. Intuition-business.com or look me up on LinkedIn; Martijn Meima or Facebook. But on the website, you will find all the information, yeah.
Michaela:        Great! Well we'll put those in the show notes so people can find it easily which you can find at intuitiveleadershipmastery.com. And thanks so much for being on the podcast today.
Martijn:           Yes, you're welcome I enjoyed it.