Melanie Ginsburg talks about "Love vibration for business success" in this episode of Intuitive Leadership Mastery with host Michaela Light.
Show notes
What is Love with capital L?
Divine love vs romantic
Eros agape philia storge
The Greeks had four words to describe what we call love, Eros, (romantic love), Phileo, (enjoyment, fondness, friendship), Storge (family loyalty) and Agape (unconditional love with stick-ability).
Love is part of God-consciousness
Corinthians 13–letter from Paul….

Love is patient and kind; love does not envy or boast; it is not arrogant or rude. It does not insist on its own way; it is not irritable or resentful; it does not rejoice at wrongdoing, but rejoices with the truth. Love bears all things, believes all things, hopes all things, endures all things. Love never ends. As for prophecies, they will pass away; as for tongues, they will cease; as for knowledge, it will pass away.
Why Love?
In the zeitgeist
Happy, healthy, holy, wealthy
Clearing my body of negative energy and undigested information every day
Sometimes several times per day

Morning meditation
Breading technique (breading love)
Cleaning up at the end of the day
Nightly rituals
Even during the night, clear if waken up in the middle of the night

Info is like food – some is nutritious, some neutral, some toxic

Digest that info that is useful today, release that which is not

3d physical practices

Using a standing desk to get better energy
Trauma Release Exercises (TRE)
EFT tapping
Take shower (hot first, then flipping to cold)
Wim Hof breathing
Yoga
Chanting
Singing
Dancing
Laughing and making funny faces
Sex and orgasms
Touch
Hugging trees
Laying down on the grass or walking barefoot on the grass
Go up in the mountains
In general walking in the nature
Drinking water
Taking supplements
Using essential oils
Play music
Sense of wonder – like kids

Hawkins SCALE of vibration
Scan through body parts to clear old information and add in Love energy (or Mary, Jesus etc)
Love languages to give to yourself (vs partner)
Citrus oil and rose raises vibration, peppermint oil, sleep
Why are you proud to use your business intuition?
WWIT to make business intuition more openly used this year?
Mentioned in this episode
Podcast: Play in new window | Download (Duration: 46:35 — 42.6MB) | Embed
Subscribe: RSS
Bio
Reading, writing, and smiling all over the world.
Melanie Ginsburg is, in a lot of ways, an extraordinary person. She loathed the 9 – 5, 5 days a week office job. Instead, she wanted to explore the world, meet new people, and enjoy her life. And she did it. Instead of having a "normal job" she spends her time traveling around the world and working from her computer. She worked as a digital marketing consultant.
She started her carrier as a journalist, transitioned to marketing, and is now a real estate agent, a real estate coach. But, the most important to her, is she likes to bring out the best in people.
Links
Interview transcript
Michaela Light 0:00
Welcome back to the show. We're here to talk about increasing your love vibration for more money, happiness and health. And I'm here talking with Melanie Ginsberg. And we're going to be co-creating a show. Neither one of us is the guest or interviewee. We're both doing both to elucidate the subject of love. And we'll talk about what we mean by love. later on. So welcome, Melanie.
Melanie Ginsburg 0:25
Hello, thank you so much for having me. Yeah, but
Michaela Light 0:28
good to see you on the show. And I've known Melanie for about five or six years, I met her in a swimming pool in Thailand. Sounds sounds worse than it is. And at the time, she was an internet marketing genius. And now she runs a real estate empire. And really, it's a secret vehicle for adding more love and wealth into the world. Welcome, Melanie,
Melanie Ginsburg 0:53
thank you so much. And yes, I remember that day in the Zoom call. And I remember meeting you being very inspired by your business and how you. So we met through this entrepreneurship community, and always and still, then into this day, I'm inspired by how Mikayla just is very authentic, and not always the traditional entrepreneurship tools. And I love that I think, you know, then I was very, I was newer to entrepreneurship and so more wanting to say on the path. And now as I am maturing in my journey, and I want to use more intuition more love all of these things. Again, I think back to Michaela often and like, wow, she was doing it back then I should have listened to that.
Michaela Light 1:47
Well, I'm sure you did. Listen, it just had to percolate and grow. You know, like a new seedling.
Melanie Ginsburg 1:53
I think everything is perfect timing. Yeah.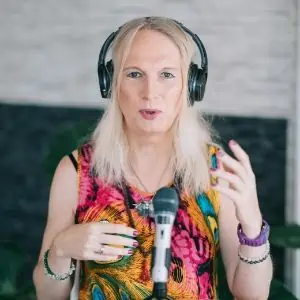 Hi, I am Michaela Light, author of "Intuitive Leadership Mastery" and "What Would It Take?". I help CEOs dramatically increase their business intuition so that they can grow their biz faster with less stress. And not burn out with even more work hours. In a 1,000 member international entrepreneur community, I am known as Ms. What Would It Take. It has been 15 years since I stopped only using my logical brain to run my businesses and stepped up my intuition to help me make faster and better decisions. I have helped thousands of CEOs reach their goals 4x faster than before. Here is what  one of them had to say: "I'm working on things that are more fun, more exciting and more enriching for me...from a personal perspective, but also from a career standpoint. And I have to say, this is surprising for me because 2016 will mark the ninth year of me running my business. I was actually looking to exit my business and to try something completely new, different and more exciting. But after working with Michaela for the past three+ months, I realized that I didn't have the right framework to reach my goals." - Dustin Overbeck, CEO of TownWeb