Read the show notes and download the episode here.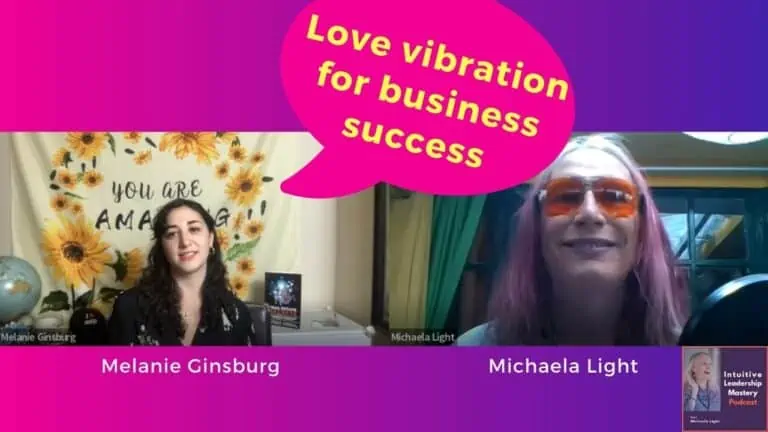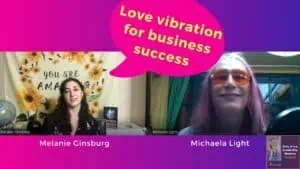 Michaela Light 0:00
Welcome back to the show. We're here to talk about increasing your love vibration for more money, happiness and health. And I'm here talking with Melanie Ginsberg. And we're going to be co-creating a show. Neither one of us is the guest or interviewee. We're both doing both to elucidate the subject of love. And we'll talk about what we mean by love. later on. So welcome, Melanie.
Melanie Ginsburg 0:25
Hello, thank you so much for having me. Yeah, but
Michaela Light 0:28
good to see you on the show. And I've known Melanie for about five or six years, I met her in a swimming pool in Thailand. Sounds sounds worse than it is. And at the time, she was an internet marketing genius. And now she runs a real estate empire. And really, it's a secret vehicle for adding more love and wealth into the world. Welcome, Melanie,
Melanie Ginsburg 0:53
thank you so much. And yes, I remember that day in the Zoom call. And I remember meeting you being very inspired by your business and how you. So we met through this entrepreneurship community, and always and still, then into this day, I'm inspired by how Mikayla just is very authentic, and not always the traditional entrepreneurship tools. And I love that I think, you know, then I was very, I was newer to entrepreneurship and so more wanting to say on the path. And now as I am maturing in my journey, and I want to use more intuition more love all of these things. Again, I think back to Michaela often and like, wow, she was doing it back then I should have listened to that.
Michaela Light 1:47
Well, I'm sure you did. Listen, it just had to percolate and grow. You know, like a new seedling.
Melanie Ginsburg 1:53
I think everything is perfect timing. Yeah.
Michaela Light 1:57
Well, thank you so much. Yeah, it was more of a pool party, then, you know, it wasn't like we just bumped into each other swimming. There was a pool party going on with our other entrepreneurs. Yeah, it was a lot cooler in the pools and it was outside the pool. Yeah, that was my recollection. so fabulous. Yeah, so we're gonna be talking about love. Now what that's a very loaded word in English. In other languages, like Greek, they have like, four separate words for that one word, we have an English. So let's just clarify what what we're talking about here, which is divine love, like the love aspect of God or the universe or whatever other word you want to apply for that divine consciousness. And looking at how we can increase this in ourselves and in our businesses and our life. So, and we'll talk about why we might want to do that a little later. Do you have to know the Greek words for love off top your head? Or? Why didn't?
Melanie Ginsburg 2:56
Yeah, no, no, I don't. Can you share that with us?
Michaela Light 2:59
Yeah, so arrows a gappy Filia. And store story, I think is how you pronounce that. So Eros is your, how we often think of love, like, oh, I fancy this person or I'm having a romantic relationship, or I'm married to this person. And that's not really what we're trying to add into our businesses. Or a life really except for the romantic part of our lives. And then a gap pay as I understand it is the you know, unconditional love. The I think that's the the divine kind of love virus. And in fact, there's a new age church called a gappy, that some Minister whose name eludes me runs and I think that's why he called it that. And then the other two I didn't know as well fit filio his friendship, fondness enjoyment, you know what your best BFF or your pet or your plants or a piece of land or you know, maybe family members, so there's no sexual element. It's like a caring kind of thing. And then having said that family I think I got a bit confused because story means family loyalty, which I guess was big back in ancient Greece in ancient Rome, and also in many Latin cultures today as you probably know, they really make family first. So those are the different words so I think we're focused on a gap pay out of that set definitions but you know, really divine love. And I see you know, God consciousnesses and everything, including you and me and all the listeners and the computer and the Internet and everything. Sun in the sky, stars and the earth, and all the animals and peoples on it. And so I see love as a aspect of the God consciousness and anywhere anyone hearing word God is going eek I don't like that word. Just substitute universe or what are some other words for God that you know,
Melanie Ginsburg 4:52
source? Love, I've heard as another word. Oh, believing Well, there you go. Science. Some people think, oh, yeah, whatever, whatever works.
Michaela Light 5:06
Yeah. So I mean, for me, God means this con, the collective consciousness of everything that's exploring itself by incarnating, as Melanie or Mikayla or whoever's listening or, or as a computer component, or a tree or whatever. And we're all growing and experiencing, and some of those experiences are high vibration, some a low vibration, that's a well, okay. And also where, you know, as far as humans, would, we often go through personal growth. And for me, having being an entrepreneur, one of the motivations is, wow, this is a great vehicle for having an enormous amount of personal growth. Because, you know, the first time you you hire an employee, or you, you get on the phone and sell someone or you do anything else that's growing your business, often it brings up resistance, we have to go, we go through a growth cycle, to, to get there. So I actually view business as a, you know, a way to grow personally, in many deep ways. And the money is important, and that's part of that, and the success is important as part of it, but it's really the personal growth comes first or spirituality comes first, then the success and money and fame or whatever flow from that is my view. Though some people do it totally the other way around, they focus on the money, and then they wonder why they feel depressed and satisfied, then they have their personal growth. So So Okay.
Melanie Ginsburg 6:38
Yeah, I agree. Yeah, I think, you know, also the, the way that you look at it, you could say, well, the more I grow, the easier it will become, and similar to the conversation about love. For people that maybe are in the second category of chasing the money first, which that's fine, you can say, well, don't you think if you are more in love with your life, and happier and showing up to sales calls with that higher vibration, you would close more deals and make more money? So it's one of those tricky things that even if you're not really focusing on it, it tends to make you focus on it.
Michaela Light 7:18
Yeah, and that's part of the motivation of why why would I do this in my business, because I've, I've set this is my quotes, word or theme for the year. And I've shared that with all my staff, I've, I think I've shared it with some of my clients, and I've had positive reactions to that, you know, when I've explained it's divine love, it's not I want to go to bed with you don't want to get people confused here. And then we had discussions about it. Okay. You know, how can we manifest more of this? And it does seem to I don't know, if it's in the site, Geist, if I said that word, right. It's not in I think it's in the spirit of the year that a lot of people are seeking to add more love vibration into their life and work and, and maybe you know how this this quotes great resignation movement in the United States where a lot of people either have quit their jobs, or they want to quit their jobs in like 45%, you know, nearly half of employees, which probably doesn't say their jobs are full of love vibration, to be honest. I think that this may be as a part of the cause that there's this that sense of joy and meaning and purpose is missing from a lot of people's businesses and work. And even someone who started her own business may feel a lack of love and purpose, they may feel bound down by the whatever daily things that choosing to do.
Melanie Ginsburg 8:46
Definitely, I see that a lot. In in the entrepreneur space as well, people start a business because they want to make the money, but it's not if it's not grounded in love, or it doesn't have to necessarily be grounded, like both you and I are businesses are kind of basic, or whatever you want to say like software and real estate. They're not like intrinsically loving, but we intentionally show up with our clients, with our employees, with our teammates, everything to raise the vibration through that. And so I think it doesn't need to be Yeah, I think like just having the mindset and the perspective of how can I have more love and be more love and share more love. And then of course, there's all the ripple effects of that.
Michaela Light 9:35
So last year, my quotes word of the year, I actually had four words the year because I was whatever abundant. Were happy, healthy, holy and wealthy. Which to me, each of those four things are a sub aspects of this love word. I kind of like how it kind of encompasses so the more love I have, the more happy I am. I think that's pretty direct, right? You, you feel that love and joy for unhappy. And then health, I think really is something a lot of entrepreneurs struggle with, right, they burn the candle at both ends or they get stressed. And then the health suffers. And then suddenly they make health a priority because like, otherwise, they can't actually, either, well, if the health really gets really, really bad, they die. But even if it just gets whatever, they don't have the energy to do any work because to me health, naturally vital health is and a good immune system is when we are filled with this energy of, of love. I mean, that's a bit of a spiritual energetic way to look at health, but I really think there is joy because to me, if I know I'm healthy, if someone's healthy, if I'm healthy, I have all this energy to do stuff. And when I'm not healthy, I have airfoil energy to do anything. So and then holy, naturally corresponds to divine love, you know, being connected to the Divine to God, angels, your ancestors, whatever that might mean to you. And then I do believe that wealth relates, you know, to how much love we throw flow through our life and business. So, and a lot of entrepreneurs have wealth as one of their goals for various reasons. Either they have a magic number they want to exit out or want to earn or, or they want to create a dynasty for their children, you know, you know, many reasons people have for wealth, or they just, it's a game people play to at some level, you know, how far can I go, you know, it's bit like the Olympic high jump, you know, what is the point of jump, I don't know how high jumpers go, but eight feet, or nine feet or 10 feet, there's no actual practical benefit to jumping an extra two inches, but it makes you feel good. The goal, you probably had to train hard and grow to be able to do that flaws, flaws, preflop, or whatever it's called, that they do looks really weird, but gets you an extra few inches, because your center of gravity stays below the pole, very sneaky of them. So that's my other motivations. Here. You know, it's not just a spiritual thing. It's very practical.
Melanie Ginsburg 12:11
I love that. So I would love to hear about the practices, I mean, with last year's words, and with this year, of how you are bringing those in to your life and your business.
Michaela Light 12:23
Great question. So there are some practical aspects and there are some spiritual aspects. So on the spiritual aspect, you know, I visualize the energy of love, and there are many sub flavors of love. And I've used quite a few and I don't identify as fully Christian, I mean, I have some resonance with a lot of that. But the some of their doctrine, I don't, you know, get on with, but I've tried, I've experimented with, Okay, let me take the energy of Jesus, for example, and visualize that flowing through my, all my body parts, or through my business areas, or the, or the energy of Mary Magdalene, she's a different energy, or the Holy Spirit or God, God themselves, herself, himself itself, whatever it is. And you can take that with other you know, if you have some other spiritual thing, if you're into Hindu deities, or Buddha or whatever, you could use that. Or maybe another one I've used is visualizing a mountain. You know, here, I live in Peru at the moment with a travel assignment we have right now. And the locals here, believe that mountains have a spirit, they call it an APU. And believe me, when I've gone hiking in the mountains, those mountains do have a strong energy. And I think it is an energy of love. Generally speaking, I have come across smaller boulders, mountain nets that have mischievous energy as well, but the big mountains, they're very grounded, as you might expect, they've got deep roots miles deep in some cases. And they just have this energy of unconditional love and acceptance. I mean, a mountain doesn't get upset if the stock market goes up or down, I have to tell you, you know, they're very chill. And even if there's a river grinding away at their feet, their feet, they don't worry about it, you know, I'm a mountain, don't worry about it, you know, I'm just here to radiate presence. And they've been around for millions of years as I understand it, so So that's an that's a non religious way of doing it or some people work with trees, you know. So Whoa, you know, many many possibilities. So,
Melanie Ginsburg 14:43
just to clarify, you're saying like, you visualize the tree energy or the mountain energy as well to be that like, chill and mighty force. Yeah.
Michaela Light 14:55
Yeah, I think they are. You know, my all my encounters with mountains and trees. They are generally speaking, I mean, unless they've been abused, in which case there may be a bit of it. Like if they're if the mountain has had its top blown off like the mountains, West Virginia did to get the coal inside them, they might be a little cheesed off, perhaps I don't know, I haven't actually talked to those mountains to discover. And the same with a tree if it's been, you know, molested by humans or beetles or whatever, it might not be quite so loving. But generally speaking, they have a very pure, our most of nature does most by my experience, rivers is another example, rivers have a very pure energy. glassy is oceans. I mean, this is why when I, I've always known I feel great when I go to the beach in the ocean. And there are many reasons for that, but one of the reasons is the energy of love is just so pure there. So that's so those are, those are ways doing it currently, I generally use either Jesus or the Holy Spirit or God or Mary. Or I just think of love of pure love coming through either my body or body parts or visualizing go through the my business areas, like you know, I've got an accounting department. So seeing it, going through there, maybe there's a bit of clutter, you know, organizational clutter that needs cleaning up or, or a seat going through my, the project and the clients we work with. And this is partly visualizing, it's also setting intentions that hey, this project meeting is going to go well with sales school is going to go great, gonna have a great connection with the person. And when I do sales calls, I usually will visualize my heart connecting to their heart and you know, love coming from above and below to me and them just seems to make things go better.
Melanie Ginsburg 16:45
I love that. I love that so much.
Michaela Light 16:49
So that's the spiritual side of it. So it might look like me meditating, visualizing, it might look, when it comes to a more practical level, it might when I say body parts, I have a lot of body parts, right, I've got all the cells and human cells in my body I've got. So the spicy four levels in the body as the cellular, physical energetic and dimensional was how I classify it, you may classify different ways. So on the cellular level, we've got, you know, all the 200 Plus types of human cells, we've got the bacteria that live in our body, there's actually way more bacteria in a human body than there are human cells. We've got viruses if you believe in that as being a life form, some people seem a bit questioning as well, they're actually alive because they can't reproduce without the aid of a host cell. That's why and then we might have parasites most humans have parasites and then I also like to add in unnamed in case I didn't know the name and I forgot and unknown, I don't even know they exist to allow for more possibilities. And then I'll go through human cells bacteria virus, parasites and name alone are just visualized whatever love energy I'm using to go in them and heal women alive in them and also to let go any that aren't able to raise their vibration. So thanks for coming bacterias of low vibration can't handle high vibration time for you to leave in a gentle and loving way. You know, thanks for coming to the party, the party, the music of the party is now changed and you know, ciao. And then the same with all body physical body parts would be limbs and organs and skin and hair and teeth and eyes and ears and you know, veins and nervous system and endocrine system and lymphatic system. Depends how much anatomy you know as to how much detail you want to go into in that. I've studied anatomy for my yoga training. And then energetically, we've got chakras, we've got meridians. We've got other energy systems in there also play with sacred geometry the macabre if you know that one, the eight pointed star. So I do those as well. And then dimensional is a bit more abstract I, I visualize having met different mental bodies, and different dimensional bodies, and I kind of clean through those and I don't actually have names for like the chakras. So they have names right, typically, but these dimensional bodies Yeah, maybe someone has made names for them, but I just give them numbers I say okay, the number from one to 10 for example, and then I just focus on whatever number one is number two is and I don't have to know where it is in my energy field. And I have slow slow loves a rhythm. And then the other thing I do on the the energetic level with the sharp meridians, I also visualize I don't know what to call these things, but I just number them for typically from one to 100 like other energy bits that need cleaning, I don't have names for and then you might ask why Mikayla? Are you cleaning these things you're being you know Pigpen every day and getting really dirty and you need to clean off all your air Energy and body parts? Well, unfortunately, in this 3d world, yes, I do. Because I read the news, I interact with staff and clients, sometimes I get frustrated. You know, sometimes there are obstacles in my business. And at the end of the day, I might be energetically kind of achy. And so visualizing love, love going through these body parts, cleans that out from them. So that's what I'm doing energetically. What about you, Melanie? Do you do any meditations, visualizations, praying other things to?
Melanie Ginsburg 20:37
Yeah, definitely. I like to I meditate every morning and said, I think intention setting is really important. Recently I've been before sales calls are really any call, just like breathing, I guess breathing in light and love and connecting to the person and setting an intention for the call to you know, that we both get our highest good out of it, and connect in the best way possible. I love what you were saying about kind of cleaning up at the end of the day? Because that's definitely. Yeah, I mean, like you said, you have conversations or you hear something on the news, or are having an obstacle come up and it frustrates you. So having some sort of nightly ritual to cleanse, I think that sounds great, and would help with probably a more restful sleep as well, which then, of course, I believe sleep plays a huge impact on our emotions and migration and everything. So then it becomes this like, beautiful feedback loop of like, okay, I'm clearing my energy before bed, I'm sleeping better, I'm waking up better. So my day is better. And I'm sleeping better. And it all happens again and again. So that I
Michaela Light 22:00
definitely not not just good night's sleep, but or I would add in naps, you know?
Melanie Ginsburg 22:05
Mm hmm. Yeah, for sure.
Michaela Light 22:08
And also, although I will do this cleaning, at the end of the day, as part of my Get Ready for sleep kind of thing, I sometimes wake up in the middle of the night, and I'm not sleepy, I kind of wide awake. And I could get irritated by that. But instead, after I've settled down a bit, I will, you know, gone to the bathroom, drunks, mortar or whatever, I will go through and clean everything, and they'll not let me go back to sleep. So I will also have a particularly stressful day for whatever reason, I might do this again, a third time, you know, in the afternoon, just lie down and quickly, not maybe not quite so detailed. But just visualize that love going through my body parts. And often I'll cry when I do that. And it's not because I'm sad. It's a release. I don't know, I experienced crying and shaking and a few other physical things as an energetic release. So and then I know Yeah, that's good. And then maybe I possibly I fall asleep from any nap if I need it. Or maybe I'm fine. And I'm ready to go. Go back at whatever I was doing.
Melanie Ginsburg 23:15
Yeah. Yeah. That's great. I'm curious. Do you use any physical like shaking or like dancing for example, as a as a practice to clear and raise your vibration?
Michaela Light 23:30
I do. And that's a good reminder for me to do that more actually. Sorry. Sometimes I know to do things I forget to actually do them. That's where having friends to help remind me or having a group practice helps. But I'm right now. I'm using a standing desk because that gives me better energy and I often will do that for sales calls. I don't do it for all my calls because I can only stand for like an hour or two before I get tired. But I really find on a sales call or a podcast interview like this. That standing gives me much better energy. It's It's amazing. So yeah, I will shake I will do tre trauma release exercises. I'll do tap EFT tapping sometimes helps shift things. I'll take a shower sometimes you know, that's great way of releasing stuck energy. I do hot hot shower and then at the end I usually flip to cold because that seems to bring it it's like that Wim Hof ice bath thing. And Wim Hof breathing is another great way to shift energy as your brother introduced me to yoga and other way chanting, singing, dancing, making funny faces laughing sex, orgasms, all these great ways of shifting energy tops hugs, you know, lying down on the grass, walking barefoot on grass. hugging trees. I, I I mean, I do love trees. And the main reason I hug trees at this point is because often I'll get like a fuzzy head You know, I've got brain fog, or whatever you call it. And I find if I put all six sides of my third eye, I think shot chakras definitely have fronts back. And I think they actually have more sides to them. And the third eye definitely, for me has the front has, you know, two small sides, the back and other two sides over here, it's like a hexagon. And I will just for a minute, just breathe and put, you know, my third eye on a tree and just visualize all icky, foggy energy going into the tree and the tree loves it, you know, it's like we can deal with this. You know, we don't usually we don't watch CNN or Fox News or whatever, we don't have these problems. And trees are very grounded. So it's easy for them to take this energy and transmute it down into the ground. So. So I do that at least once a week. I do it more often if I had a nice big tree close to me, but I go up into the mountains, and it's like a 10 minute taxi ride. So that's just walking in nature is a good way to and just appreciating the beauty of the visual view and the flowers, hearing the bird seeing a sense of wonder, because that's another part of love, right? We talked about joy as being an aspect of love and kindness and patience. I think a sense of awe and wonder is part of this. You know, it's like the little kids little kids have this this love thing down. Before they're like three or four before they get indoctrinated and programmed. They're really good at just being fun and joyful and loving, assuming they haven't been traumatized. You know, if they if they were abused, they may have more difficulty. So So those are some of the physical 3d practices I'll do drinking water I'm drinking some chlorine I got a little whatever it's got Chlorine Dioxide water in it. That seems to help. So oxidizer that cleans out crap from your body. So I take lots of supplementary things to help clean things out sometimes to do colon hydrotherapy to clean gunk out what else? I do a lot of things. Oh, essential oils. I did. Yeah, go to when you can't see this. It says chakra spray. But basically it's lemon and orange, tangerine orange and Murali whatever that might be. And it doesn't matter what the mix is anything citrusy has a positive vibe. And some people like mental oil or there are other essential oils that shift the vibration. So that's another good way to change NGO burn incense. Yeah, well play music music is amazing for shifting energy.
Melanie Ginsburg 27:39
Mm hmm. Yeah, definitely. I'm hearing like, basically activating any of the senses. So scent or sound or chanting? Sound taste. Okay. Yeah. Movement? For sure. I think. Yeah, yeah, hug, like you said, or walking in the grass. Something that you touched on, which I think is important to highlight. And you recently made posts about this, I think not everyone realizes that. The information that we hear, like the news, or even the conversations that we have, is really affecting us and entering our energy about really entering. I mean, it's just, it's really a powerful thing.
Michaela Light 28:30
It's, that's why it's called teller tell a vision, because they're telling visions through the advertising and shows different different pieces of television or radio are trying to achieve things. The advertising obviously wants to bring up an emotion often fear or sometimes anger. Like if you're afraid, your car tires are not good enough, you need to buy new ones from this car tire company, or you need to buy life insurance because you might pop off and your family will be destitute. But often they use fear. And it's a very negative low level emotion that gets put in there. And they say Americans, on average, see lots of ads over what the number is between TV and online, radio and newspaper. It's crazy number. And then even the shows often how I mean, obviously the news shows, they say if it bleeds, it leads, in other words, they have to run on violence and fear because that's what gets people's attention, right? If you're, if you're saying, oh, today in the world, 99% of people were happy and healthy and having a good time. No one pays attention, which is sad, but that's how the news business seems to be at the moment. And so a lot of news focuses on stuff that's that's not working well and is violent or fearful or angry. And maybe there's some useful information to gather from that at some level, but on the emotional content that gets thrown in with it. Definitely not useful in my view. If you want to have an love vibration, and then even the soap operas or the movies or, you know, other things often have some kind of other agenda or or they're trying to manipulate your emotions. I mean, movies are very good at manipulating emotions in my experience. And you know, that's partly what makes them a good movie, right? You cry, you laugh, you scream, whatever. But if I take that energy away and store it up, and it kind of, I, after a few years of watching movies, my whole body is covered in dirt. It's sort of like you go play as I saying, play at the pigpen or whatever. Okay, that's fun. It's entertaining to play with pigs and roll in the mud. But maybe you want to take a shower afterwards. So maybe with watching the news, or seeing a movie, or a particularly graphic novel, if you're into novels, or friends who are drama queens, or kings is good to energetically clean your energy cut cords, if I cut cords with everyone. That's my personal advice on cord cutting. Because you're only cutting the negative energy cords. I forget what your question was, I got all excited.
Melanie Ginsburg 31:04
There was no question. I just wanted to touch on them. Because I think that a lot of people don't realize, like, oh, even the differentiation between the news, which I think more people know. But like TV shows have it too. They still manipulate your emotions, and they still grab your energy. And I can tell sometimes if I'm watching a darker show, that I'm like, oh, whoa, you know, I had nightmares tonight or that whatever, you know, smaller things. And people. Yeah, I just want to bring that to awareness for all of the listeners here.
Michaela Light 31:37
Well, a good thing to do is notice my body while we're consuming the media, whether I'm reading social media, or watching videos, or watching a movie, just not Oh, I noticed my tummy is tense right now I know to have a bit of a headache, I notice, you know, I feel I feel sweaty or whatever I'm feeling. And that's probably your body reacting to whatever the stimulus is, because let's face it, when we were cavemen and cave women, you know, have many years ago that or even farmers, right? Well, hunter gatherers, or whatever we were, they didn't have constant stimulus. And when you did have a stimulus, it probably meant something pretty bad was gonna happen. You know, there was a tiger in the village, or was warfare going on? Or the king or queen was about to do nasty things to their slave? It's, you know, so you know, humans are many humans are sensitive to energetic stuff for good reason. Because it's a it's an evolutionary benefit. And many animals are too, right. Particularly the the non carnivorous animals are pretty sensitive to energy. You know, if they sense something's not right, they often will leave and you won't even see them. Right? Because there's like humans coming and they might be hunting or hungry or something. Or just mean. Yeah.
Melanie Ginsburg 32:55
So yeah, I think animals can definitely sense energy. You know, definitely pets can tell when their owners have had a bad day. I mean, yeah. Wise.
Michaela Light 33:08
They are because they don't have that. I don't know what goes on in animals, energy system and brain. But I've got to believe they have less ego and less. I mean, some pets do have a bit of ego and personality, but a lot of them are in the present moment. And they're just with reality. And they're not trying to make a story up about it or be advertised about it or manipulate other people not that I have seen dogs are pretty good at manipulating cats, but but in general, they're more present. And humans tend to be less present. And presence is another flavor of this love thing. And I one other thing, while we're talking about consuming media or various kinds, and that's not just videos, I also find some novels leave me feeling upset, you know, it's particularly graphic or drama filled, novel or cliffhanger type thing is we take in information, we as entrepreneurs, we want information, right? Our industry probably is changing. And there's new things to learn, or we're looking for a new staff member, or we're trying to prospect for customers. And there's a lot of information that comes in and some of that information is useful. But I would say a large chunk, maybe 90% of the information we take in as entrepreneurs business information probably isn't useful or eat at least is not useful in this moment. And I have a metaphor I think of it as like the digestive system, you know, with food, we digest food, we take out the nutrients and then we poop out that which is not no longer useful to us. And if you have a good digestive system, it's a pretty regular process and you don't end up bloated and hanging on to a lot of old, unusable stuff. Right? And the same thing with information we take in information. I think it's important to do this energetic cleaning where we we say I set the intention, I'm letting go of the information. I don't need any more, because then I can get rid of the clutter. And I do think one of the reasons entrepreneurs health, or or people's health goes downhill is they've taken on too much info and they've never cleaned out. You know? It's like the, you know, it's like the spare room that you feel so full of clutter. And if you never clean it, it's energetically not good for you.
Melanie Ginsburg 35:23
Yeah, definitely. So my question for you would be like, if someone just knows that they want more love, and, and high vibration in their life, and maybe they're a beginner into all of this, where would you suggest someone starts?
Michaela Light 35:38
more sleep? That's the number one thing most entrepreneurs and Americans lack. This this tough culture and entrepreneurs, right? Oh, I only got three hours sleep last night. I'm the best entrepreneur in the room, you know? Oh, three hours. That's luxury. You know, I only had two and a half hours. Yeah. It's like that Monty Python sketch of the four Yorkshireman. And it's not true, I mean, and also the belief you I think you were chatting about this the other day online that working harder to get more results is not the only way to get more results, right. And it can be after a certain point, it becomes counterproductive, because I get tired, I get ratty with my staff or my customers. And, and I can't connect to the Divine and my intuition and my magical abilities as well. And actually, it's better to be more rested, to have taken vacations. But the number one thing I think we can all do immediately is get more sleep. And for me, that helps by setting an actual goal. And everyone needs different amount of sleep. But I think most people have an experience of being well rested. And that's what you're aiming for here and not just getting by, like what how much sleep do you need to be well rested and had some nice dreams? And feeling? Really, you know, Energizer Bunny fabulous in the morning? Yeah, not I have to have three cups of coffee, whatever else you do be slapped around by my business partner, or, or whatever people do to get themselves up? And and also, another clue is, are you using pressure and guilt to get work done? Or are you doing because you enjoy it and you want to do it, you know, that might be another clue that you're not getting enough sleep, you're overwhelmed. And I try and encourage my staff. To do this, I'm not sure I totally succeed in this, you know, I do encourage them to get rested. Because I can tell when something when a staff members tired, they cannot do that work as good. I'd rather they spend less hours working to do great work than spend 12 hours and do Sosa work and make mistakes and have to clean them up.
Melanie Ginsburg 37:45
So that brings up a question, as a manager, of course. You know, you have certain expectations for your staff to get things done. And what if you're not used? You just said, Am I doing this? Because I want to err because of the guilt and the pressure? Well, probably as an employee, there is more pressure, of course, because their job is dependent on it. So what would you say to people that aren't entrepreneurs and they do have jobs?
Michaela Light 38:13
Well, if if possible, have a conversation with your manager about what their expectations are so many employees I talked to aren't clear what would make their manager happy and what their job would be successful. So clear expressed expectations, then put them in writing. And if your manager is not a great manager, and they haven't done this and given you, here's the three goals, you need to achieve this quarter for me to think you're successful, then you elucidate that with them. Or you give them if they want to lose state you can you know if they refuse to meet with you, you could well maybe you want to change managers at that point. But you could always say, look, here's what I think your priorities are, here are the three priorities, I think will make me a star employee for you this quarter. What do you think? Do you have feedback? Because if I don't hear back from you, that's what I'm going to work on. And that's taking initiative being impaired not being one of the things I've been working on with my staff. I've been like, Hey, be more empowered. You make decisions, you be clear about the vision. And don't always come running to me with questions or worries, you know, you need to be part of the success we're generating here. And that doesn't mean I won't answer questions or help. But like I have a little rule. You know, if you have a question, challenge or question, come with two or three possible solutions and which one you recommend that trains their decision muscle and their problem solving muscle and plus, most of the time to be honest, they figure it out. You don't have to come to me and even if they don't, it's a learning opportunity for them to Okay, well, why would you mckaela Why would you pick up on three and not option one? Here's why. Because maybe I haven't explained the business vision and the culture, clearly. Because that's what to me having a vision and cultures around. It's empowering the staff to make their own decisions.
Melanie Ginsburg 39:58
Yeah, definitely. How do you? What's the word like, I guess implement that, like, I think so many people from from childhood school education are trained like, oh, I have a question I get the answer, you know, I can come to and say, a customer said this, what should I do? And you tell me exactly what to do. So how do you empower your staff to come up with the ideas on their own instead of just expect the answer from you?
Michaela Light 40:25
Well, one is set the expectation that you're welcome to come with questions or challenges, and you need to provide potential solutions and what you recommend and why. One is explicitly talking that education is screwed up in most schools. I mean, some schools like those was a Montessori and Waldorf schools, I think they actually tried to do it differently and make children empowered and creative. So you know, maybe hire your staff from that kind of school, or the school of hard knocks in life, right, someone who quit out at high school level and didn't go to university may actually be better at solving problems and being empowered, because they had to be, and someone who's done a PhD, you know, not to say all PhD, you know, some people have done PhDs to be really clever and good, but often they've been trained to follow the experts not think for themselves. And just the layout, talking about this and explaining how school programs people helps them deprogram from that mentality. I mean, but it is quite a long journey. And most people have been to school. So but I've always hired people like the high end, people who haven't done degrees or programming, because in my experience, it doesn't really help. Sometimes it can actually hinder. And also, internships are another way, you know, you hire someone who doesn't have the qualifications, but they do something lower level, and then you internally promote them as they grow. So those are some of the ways. I'm sure there are many others out there. And I'd love to hear in the comments on this episode. So I know we're bumping up against your time constraint. Oh, you are amazing, Melanie. Great, great, man. That's another thing to do put things up on the wall have beautiful environ I have fresh flowers in my office, you know, I have, I put effort into making my apartment and house, I live in a co living so I have an apartment, and then I share space, but I'm happy to spend money to make the place more beautiful and more functional. Because that that removes energy drains, you know, and removing energy drains and energy vampires from my life and business is another way to bump up the vibration. We should change that song pump up the volume to pump up the vibration. If is that a good wrapping up point for now. I mean, we could always have another conversation another quite a deep subject.
Melanie Ginsburg 42:47
I agree this I had some some good ideas, I'm definitely gonna add something to my evening routine to cleanse energy. And yeah, I think you know, the coolest thing about energy stuff and raising your vibration and raising your love is that it really does spread because you're having a good day you go to the coffee shop and smile at the person who then smiles at another person and on and on. And the same opposite happens to so the more joy and love I can have, I really do believe that's how we change the world.
Michaela Light 43:21
And picking clothes or jewelry for many people makes them feel good and helps them have that. And I'll give one small story before we end because it I had a telemarketing call. I don't get many of those because my the way my phones work, and it was a stockbroker, and I don't buy stocks. But I was very polite. And I just said, Look, I don't buy stocks. I don't have any stocks. I have no interest in this. And he so he did his one pitch. And I said no. in a kind way. And then he re pitch right? And I said no again. And at that point, I think he realized he wasn't gonna get it. And I said, you know, I wish you good luck in your prospecting. I'm not, you know, not the one for you to sell to today. And he said, You've been been a real lady, you know. And I know in the past, sometimes I'd snap or get angry at telemarketers, but they have a job to do they have a family to feed. Some of them are dead quads. But you know, when I respect them, they often respect me and if they don't, I'm happy to hang up the phone on them. I don't need to stay on the phone, but it was only like a one minute conversation. And if I had got angry with them, that would affect my vibration for the next half hour possibly. So why would I do that to myself? Yeah. So that's a thought and then my interactions How can I be more positive and loving and caring and have boundaries? Yeah. All right. If people want to find your ex real estate empire, how would they best find you, Melanie?
Melanie Ginsburg 44:48
Yeah, great question. Easiest way is probably on Instagram. My handle is at Melanie that Ginsburg dot realtor and follow me shoot me a message. That's definitely where I'm most present on the interwebs
Michaela Light 45:04
yay. And for this podcast, intuitive leadership mastery.com Probably the best way to reach me for my software businesses. Tara tech.com. So thank you, Melanie, for this fabulous conversation.