You can listen to the podcast and read the show notes here.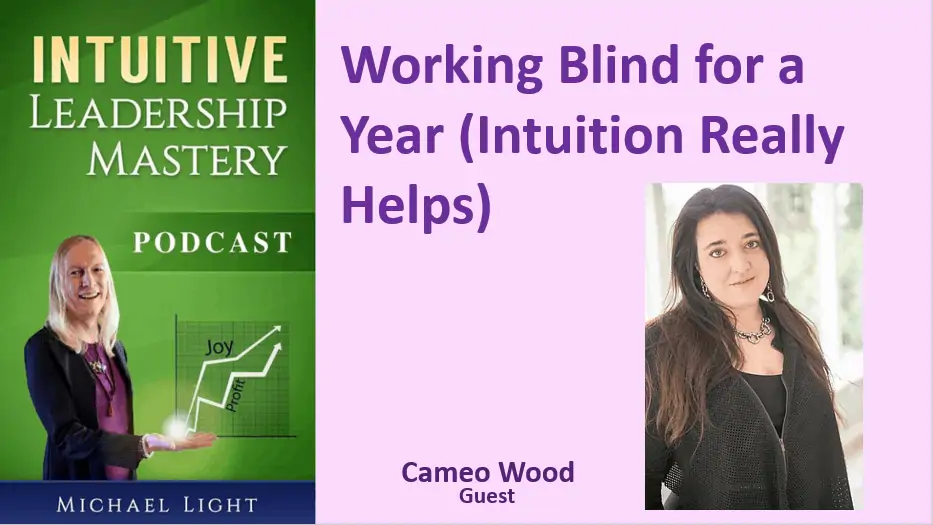 Michaela: Welcome back to the show. I'm here with Cameo Wood, and we're gonna talk about working blind for a year, and how our intuition really helps. And when I say working blind, I don't mean literally she didn't have any sight. What I mean is that she creates movies. She is a producer, a director, scriptwriter, she does distribution. So all the different stages of the movie. And as we're going to talk about she doesn't know when she's doing something on a particular day what it's gonna look like for a year's time.
So she has to rely on her intuition, and that's why I said she's working blind a fair amount of the time. So we're gonna go into that. And if you've ever made videos, and or watched movies, and wondered how the heck did they do those things, and what's behind the scenes on that, we're gonna delve into some of that, and how our intuition helps with that. And some of the more practical things like how she hires people for movies. And some disasters and success stories she had there where as she paid attention to her intuition, or ignored it. So welcome Cameo.
Cameo: Thank you so much. I'm very thankful to be here, thank you.
Michaela: Yeah, I'm glad you're here. So you have a lot of hats you wear in your movies. And you've released… For those of you people listening who don't know Cameo, she's done several movies. And you said you're working on about five right now is it…?
Cameo: That's true yeah, with my different hats.
Michaela: What's your most well-known movie that we should share?
Cameo: Yes, so my last film that is available is 'Real Artist'. It's going to be released from i-tune, and Amazon February, 2nd. That is a science fiction film that we just finished our festival [inaudible] [01:51] around 140 people in 2017. So that was a lot. So yeah, that was my last film, and probably the one that will be talking about the most here. But that's the film that I wrote directed, produced, and then now distributing.
Michaela: And it's a thriller about artificial intelligence, so very topical.
Cameo: absolutely yes
Michaela: Yeah, so tell me a bit about how you use your intuition when you're creating a movie. And maybe it would help to step back a bit before you answer that, what exactly are the steps involved in creating movies?
Cameo: Yeah, so in part of film making is writing a script, person having a story to tell. And having you know, and kind of that having both a producer and a director had on. So that you can have an idea of the story that you wanna tell making sure that in the years that it takes you to do it that it doesn't become [inaudible] [03:02]. You want it to always be fresh.
You know and that it will be something that maybe is easy the style in three or four years when you're planning to sell it. Will it be something that you know you some people want to see [inaudible]. But we also wanna make sure that you can do your [inaudible] that you're not you have meeting something that. You know is just like a film that you're just trying to get money for. You wanna be something that you really care about. To your balances, those marketing, and those artistic vision at them having a good intuitive sense of am I being true to myself, am I being true to my storytelling. But am I also not making a movie that no one will ever see, and will not ever make money and that will be [inaudible]. Like you have to figure out that balance.
Michaela: Wow! Now and just make sure I heard that right. You said three to four years between the concept and the movie releasing. And you hopefully making money, and having success with it.
Cameo: absolute, yes
Michaela: So other entrepreneurs listening to this. Just imagine you doing a product creation in your business. But you're not gonna know if it's three or four years. Whether it's gonna succeed or not.
Cameo: Yes, that's exactly what I mean plenty of… You know one of the ways that you know if you're succeeding is showing people the script, and having them read it, and having you know people who are experienced reading scripts and knowing is there anything here. Like reading like a business plan. Like oh you know I got there I think you should read the right people involved, maybe there's something here. But there's plenty of room to figure out.
So part of it is reading the script, trying to figure out there's this script have the ability, does the director and producer have the ability to hire the right actor, to just to make it become need to tell the story, and pull this off. And so you're thinking is that really the crazy alchemy of trying to figure out… You know with all the things that can happen, can we pull this off? And it's a dollar venture for a lot of [inaudible]. You know a lot of stakes.
Michael: Yeah, could be quite a lot of pressure when you're shooting. And I imagine the shooting doesn't always quite go to plan.
Cameo: Yeah, I mean so for most future films, shooting is between 15, and 25 days. So you spend a year and a half or so writing the script, getting pre-production ready, and then you only have a few days to shoot it, and then you've spent a year and a half working with what you got. And for me to be an artist, I had read a short story on a plane during the time when we weren't allowed to look at our phones, or anything. I got a magazine from MIT Technology year of year and it was short stories. And I read this one by this guy named Ken Lee who had it really published much yet. And I was like you know what? I just finished studying [inaudible] [06:22] science too, and I was studying… also studying artificial intelligence.
And I was like hey, look at the story of artificial intelligence that was film making and neuro-science. And these are things that I know is the easier things that are in your house I should make this movie. So I emailed him while I was on the plane saying hey, I wanna make this". And he was really nice, and said, "Yes of course, that sounds great." And I had him start stop along the way. And part of it is was this was my first movie that I was directing as a narrative film menial not a documentary; descriptive film. And I think that in doing it, you really have the net you know use your intuition to try to figure out does this feel like how making the movie should feel because you don't know. And you know.
Sort of like with filmmaking you could ask a bunch of people how do I do that and you're going to get so many different ideas from whether or not you're doing the right thing so you've got Leave the past within the home of the thing that.
Struck me the down to what I want to be like.
And you know.
And I had had a funny false start.
The very first person that I really got involved with the film is one of my lead actress and Hamlin to Meta and it was very interesting because.
You don't know.
If you're older so I'm I'm old and forty.
I remember being like that nurse and credited part and you may know that Dale goes to plan and we didn't friend with Japanese girlfriend and ask him what needed up to very small and I remember seeing her then you're making she's beautiful she's amazing like that Hollywood and.
Fast forward and. Someone you're looking for someone with a role that hey you know I know Temple and this is crazy I remember I remember the moment watching me and watching her dance and thinking if you know Mading and here there's a chance that she can be I'm a movie and she was the very first person to get an early script.
And then I also had a producer and I you know this person is very very connected knew everybody and I said I said I you know I'm trying to work out a creative I don't want to work on the net and both of things can you hire because to prove like everyone else can help me hire anyone else yes of course and I said you know I want to make sure that we're not going to go home and do I want to make sure that we have women and people of color and people diverse backgrounds and they get cars so we're getting ready to shoot and this is so this is nothing like August or September for sitting at a Tobar. Everybody signed a contract and he says to me turns out I don't know ANY women are people of color earning and from diverse backgrounds I hired everyone in there all control like I said sure to be by and by the way I told everyone that I was shooting it and directing it.
You're just going to do that and I was like that well I just went out making a movie so I actually fired him in called everyone and said. We are going to shoot a movie but American shooting October and we're starting over we have the high rehire everybody the parents you can't trust someone to go do it so yes we had to stop everything fire everyone that he had tried to hire and rehired Betty and and in case you don't know and.
There's about like an average that there's like less than ten percent women there's nobody so we had a goal of getting seventy five percent women if you said people of color. And so we met that but it was very hard and very unusual.
But you know intuitively I felt like this was what they needed in order to make a.
You know for myself with like I was shooting I'm actually on thirty five millimeter and I really wanted the best experience for myself to learn and I wanted the best environment with people that I felt safe with and that I felt like I could learn with and not feel overwhelmed or feel like.
I was messing up or people are telling me what to do too much like I really wanted to be by my.
Conduct to be the most amazing experience and the other thing is that even for.
People who work on your direct IT world and people who are in all kinds of crazy movies they're saying to me you're sad because the percent of the work that.
The strange life now I know what can be.
So nice for eight so I just want to go back to when you hired this initial producer the late to find out did you looking back on it did you have an inkling from your intuition that it might not.
Yeah I mean you know there are always like these things are sort of.
You know.
That he was like what going forward after the film a time to beating the crew or.
You know saying that he didn't really know any women filmmakers. Except there are a couple of our mutual friends who are most the director you know in the crew.
You know.
He was sort of telling me that he was going to do this in many ways but I sort of heard him trying to believe he was saying and you know listening to what he would actually think.
So yeah I mean you know he kind he could do it but he was also the same time telling me he couldn't answer what has been this is going to be and it's one of those things where you're terrible you're claiming somebody bit of a wheeler and dealer and you're excited because you're going to be working for you and then you realize later somebody who kind of a little shady in the going to do anything required them to do anything required for them at the end of the day that I'd be a sort of hard to measure that and especially if you're nearly making for me like making your first movie it's hard to know.
How much is acceptable in terms of.
The mishearing to take or you know if you don't have this person can you make a movie that worth having somebody be able.
If it means you don't have to make a movie which had to be patient as well
so I want yeah so for just to help me understand this. Did the producer access the chief operating officer for the organization all now. The producers are three different jobs and usually you can choose one producer the either bring the money they bring that Helen or they can help you with your creative.
I sort of think of it as like somebody who's like you know like your kid you know find the technology and care that you're making for.
You know like your superstars find the people that will really.
Bring you those press releases that you that money.
Or even to be an investor in they like you know I want a position on your board I'm giving you all the money.
That make I'm great until one day they decide to fire you because if your personalities didn't match and next thing you know now they're going to your company right.
And then the last minute the person who creatively helps you like walk you through your story like really support you in every way there.
And so that might be like maybe your C.E.O. or something like the person who in your company is the person that you can ultimately trust that you know has the best intentions not only for you but you know your company as a whole.
Understands what the company is intuitively that of the need to be told what.
So when you're getting messages from your intuition how do they come you hear them or you get unknowing will.
Somebody Pop starts tingling all yeah I think something else you know it definitely a little bit of like you know that that tightening in the or even like you know just. The person global you know when you watch them on the screen especially if it's an actor.
Or you know sometimes you'll see a producer like feel going to say oh my gosh this person has.
So many ways that a project like this is beyond imagining and some people and some producers are. Some people you might want to work with. They may act in different role. Preferred damp or.
You know John and Ellen can know and he.
Meant he he were dark and interstellar as a writer and now he's a showrunner for Westworld And so this is a guy who's very intellectual his brother is Christopher Nolan.
And but he's a for me he's my favorite of them all and I feel like he's much more intellectual he's much more restrained in stop all and so and then once you can start to stuff. What is it that this person brings to all their projects what that you know what that can read through their work that you can see like what they brought to the film because they weren't directing it right they were writing it maybe there.
What was it that they brought that unique to all the skill and so that's something that I think you know you need to have as a filmmaker when you're looking your intuition is.
You know really delving into people's work to figuring out who is it that bringing the most joy and life into every project and how do I get that person on my project and how do I tell them like this is what I need you to bring like is a little bit too long even or maybe if you work like. You know. Who will be like Who was that on the movie that rock that who was in that movie that he did that maybe they hated the bill but you you know and there are so many movies that
you know that we have been in a defensive about.
And that's also really important to understand there's you know also having your intuition change like oh I hated that movie and then you walk here and who wait there's something there there was nothing there oh yes we'll pretty good like any more of this year how could you never hear that movie The moment you remember.
And like I guess. I don't like a weird analogy maybe. You know like when my intuition and I feel like it's kind of like like a starter or something where the more I like speed and the different things they feed it makes a difference Howard you know it's kind. Of the field by intuition that well.
They hate intuition about this like what's more abuse movie you know like maybe maybe this is you know like maybe you can feel that we're here.
So you mentioned earlier that you shot your last movie on film instead of digital. What was your reasoning behind it doesn't that mean you're going to be blind for much longer Yeah. Yeah exactly so in that time then.
My gosh Alasdair Sundance last year and I was just about to begin production on. And I went to attack with. Controversial Christopher Nolan contrary he did draft a quarrel and he listed the newest one and movie called. Critter and all of her talking about and that Rachel more then who is an amazing kind of a hard worker and shot station she just shot Black Panther and she shot the less Amazingly be that I go after this here's my back and if the three of them are talking and you're talking about shooting on film and I went to the talk like sure.
Thinking that I'm going to.
Get people back I was ready to shoot on film there so pretentious.
You know like this is ridiculous feeling and felt like they had no doubt. And.
The thing that I was surprised about was.
That the reason.
Most of these people.
On the screen.
And not even that the workflow is better is once you shot it how you get it.
That was that what told me that they were mostly talking about was that. When you have a film camera and you're shooting an actual no color basis that makes everyone on the SAT feel like what you're doing is very important.
And to reel to reel or then shooting on like this and be a far or you're I.
Mean you've made it you know that you're really. You're doing it the real way. And the so resonated with me and in a way that you know if I said here.
I'm going to you know do your portrait in your come over here wearing L. T. shirt and jeans that I have a six foot tall canvas my old wide is like please have a beer we're going to be here for a few days why Pete your portrait will be like whoa let me change maybe brush my hair like I didn't realize if you're going to be so high.
Because we were very casual about you know digital photos can be taken all the time but having come on paper that was the. Very seriously with you know composers of the more seriously and I think that that extends where.
You know people that and I had actors that they knew.
A beautiful location and that's going to be really good and we were shooting on film and they have that elevated down where.
You know they have this intuitive sense themselves that they would only get a few tries on the scene they called cake so they thought like why don't we have they're going to have a couple of takes for every shot. So these are really have to count like I can't like not know my lawyer or I cannot know where to stand like I only have a couple of chances to make this movie free of every shot now the stakes are much much higher.
And I felt that as the first time filmmaker.
You know I could have just shot.
Like everybody else. But you know for me I felt like I needed all the tools in my tool box because when you are doing things a little unusually like I'm a woman first of all there's hardly any of us in terms of narrative making it's like must look I'm present I have a very female cast and crew.
And you know people of color I'm definitely hiring for that so you know for some people that may make them wary.
And you know there's a whole bunch of these things that were here were people like what can I do you like a logically to make things work for me and.
Yeah I used the film of the two of us for the ultimate As you mentioned that you know I would hit something and we would have no idea if we got the shot. We wouldn't know for days. For gun shooting and we could no longer research we would have no idea.
What we're playing maybe there was a problem maybe the hair in the frame like maybe somebody messed up when they loaded the film the whole thing with the poses we didn't get anything like we had no idea and the other thing is the stakes are so high that if we had lost any of the shop to win the patent maybe.
We would have no idea you know but we would have.
When you have those high stakes thing you're having your intuition as the direct.
Reference on the house phone because. Well we let you think you know you are the owner of the world and you're the only one that knows the world.
And well like you're the only one that knows everyone's backstory you know every character's reasons for doing things you know their intuition so a lot of times you're translating to people like you know you feel this way like you're saying the line because of this experience you had in your childhood you know your head like you know you have to have everyone else's return to an intuition in your head. And then you have to have.
The storytellers into action they are translating other people like you know when you talk your son of a toggle going to say like you know we want to end all that conveys nervousness we need to convey.
You know or like something we need to convey openness and curiosity you need to be able to turn your intuitiveness on a dime and that like you know how does this character feel what their intuition what this actor's intuition like what are they going to try to do and how can you help them change their intuition you basically have to have your own intuition.
What kind of film are you trying to make like what do you want to look like with your. You know anything that makes you you how do you translate that into the movie that you know eventually will have your name of the director on it then you also have to know OK I know these actors have seen their work and know what their first intuition is going to be and they translate this scene from the script to the flight you lied.
How do I guide their intuition you this is a model of everyone going to listen in your head so you can sort of like into it they're into it's very very met.
To help hold all these things in your head in order to.
You know really seem to.
You know it sounds.
Quite challenging.
Or exciting let's freeze frame it as an exciting adventure.
Like that yeah but then even when you've shot the movie you've still got another yeah before you know it's getting the music music composed and editing on the other things that go into making a movie. And you really only find out when you screen it in front of a lot of millions what the actual effect is. Absolutely into you know part of it is that you know you make this movie and then part of what you're doing when you're editing if you're trying different shots different.
Your character this person's face and they say the line or should we look at the person who hearing the line here what's working that's to give you the best the measurements and then you put the music on top of that if you want to make the music give the right emotional cue to the right time to guide people and then you have your B.F. act and you're trying to be respectful to I'm kinda information the people that you're coloring it and you're trying to get maybe. How can you convey emotion and really convey story through the way that you're changing the tent in terms of things.
And all those things you know layer on top of each other and you know that like.
It's all going to work out in the end but you have no idea what it's actually going to look like in the big screen and the big screen. You know and then when you do the sound mix and all these things so and a lot of it is that you just have to believe that you know what you're doing and you know that it's going to work out.
And the story is going to make sense.
But you really have zero idea. How it's all going to work out until you see it in the big screen and then further when you see it with an audience and I have had this experience where.
Like five frames of my movie where we had this place that.
They're kind of like dark.
And an animation studio in the film and this is one scene where a character walks off and reveals the poster behind her and it never meant to convey anything other than like that.
But
some audiences and they love your family and they start laughing and. Because they're laughing into the next scene which is supposed to be like a sinister me and. They miss all the dialogue and they have no idea what's happening and they usually don't like the movie if they laugh at the poster but if they don't laugh at the poster they have a memory and then they give me like a best ball.
So it was plenty thing where I think.
The audience and like what come they put before nine and what they think I'm going to be like whether I think my film is a comedy or what they like there is actually.
If they laugh at this one day I'm seeing my current going to get the right way because their emotions like.
You know.
The Oprah thing. You know in the twenty's you don't know until you're in the audience and then every one.
Of them and you can't change it like you have it like that. That's the movie you have Yeah it sounds so much harder than you know a lot of entrepreneurs work with software and making websites you know interact and sell things and they get so much immediate feedback right you you put up a landing page she can tell whether people opting in all buying and you have those tools where you can see where I believe we're going I don't expect happens from movies that you can tell where people are looking on the oh yeah yeah.
OK.
You know so because I used to be an engineering one of the things that that I did with my movie is so like in third and proper design we do have people prototyping right wearable people prototype stuff and so for my film we get a thing where we storyboard and then you hire a couple of actors to read your script and then if you enemy.
That recording with your storyboard that's called Making It In A magic and it's a lot of work and sort of like you know making a paper prototype or your whole you know when. You're just. The coding away even.
Though you're probably going to have to completely paste because whatever you're coding your first day you're wrong especially if you're coding. Before you design them like that's never going to work and that's a painful way to go but you know it's also true even though that people prototyping back you know like.
Asking a whole bunch of people to navigate.
You know just putting the pieces of paper. You know for a lot of engineers that is terrible and that's not what you want to do and those who personally Christou like an apple maker don't want to storyboard everything the theme and you know make the fan a magic and then remake the aromatic you're basically making an animated version for you and some people feel like that's sort of kill the.
You know for me I sort of live one foot in the air because the core already in period of parole and then one in the marketing engineering world where I feel like the more.
Take up and what all.
You know.
Story that may become problematic later on the more than I can with all the nuances nothing now means that when something goes wrong other that I know intuitively.
What I can change or do and go have my story be intact because I have I've mastered my story so well that Artie needed it and edited and animated it like I've already done it so now I'm just doing it over again and I can really use my intuition more.
You know on the set because I already have seen the enemy or a version of myself.
You know so now I can make decisions about teenagers.
We're much more.
You know not only with knowledge but with that in the sense of a party in my movie five hundred times so I know what this is going to.
Do any vacationing for your movie you know when you mentally raher how the day is going to go.
Yes and no I mean so when you're making a film like you have to make of the shot so I know I'm going to be doing the three.
Working for the shock of the camera. So I certainly know that. You know when you hear
you know where is the filmmaking if you have something going to break something going to be messy. Some is going to go wrong and so you have to have you know your plan in your vision Absolutely. And you also have to know that you have to be ready to get it at any point and have a plan or have the ability to know what to do when everything is on fire around you.
You know we didn't have too much of that when we didn't have a T.V. special effect scene that we had to just figure out as we were doing it and we only had a half an hour it was the very last they were shooting and we had to figure out intuitively on the fly how are we going to show you the special effects too little actually come across correctly or another example as we were running short and I was like well behind the scenes the dialogue I'm going to end this one scene that can handle i'm very important but that was the only scene I could cut going to run short of that.
In the movie in my head without that feeling that you're going to change.
In the gap without that scene. Having the sense that you have to show you were clearly.
You know on the script page that will never be shot.
And retiring the sense of balance.
What is important.
To what you have what you're going to fight for and you know go to battle for.
Yeah
and having that mental that mental model of your movie change all the time.
So we where when you were wearing your producers hat. You know what are some of the decisions you're making about how you spend the money or. Differ more gas.
You know as a producer most of what I do just because I'm financial and so.
You know I have a hard i feel like I get a frantic. I have to I'm like well. You know we can go to the phone possible I think they can or something when he can't appear like well is that worth five thousand dollars per person. That got a friend who want to spend time in the air. Like some people have the for their next project better comes out of this movie is.
Part of it is like you know feeling from this movie it's marketing back in order to make connections with the next movie. And try to figure out like as a producer that seems really on why as an artist this time.
And you know from a casting crew is like a great reward for everyone to go to Cannes you know and have a nice time so. Interesting like that a question when it comes to will win promotion and the like with this new movie that I'm working on I'll be reading a scene and I'll say Oh well you know do we need flying cars in a skyscraper cheap easy road to get the emotional feeling and the first by Peter or can we have two people having a like.
Two person fight or maybe we can have like a really rough rough talk you know how can we do this or not I believe dollars.
You know a lot of what I'm doing now is having that produce your side that we have an inner dialogue and fight with my team by their side of me and.
The best way to make this movie. That's.
You know millions and millions of dollars more than any.
Yeah because the decisions you make as a screenwriter to really affect the costs down the road and eliminate any you know I think the people the truth of business to me like you know somebody really kind of like a business plan the play well you know from day one you had five thousand computers that you're making but you can basically generate all the money you need for all of your future business endeavors like.
How you start.
How you start a company and the like you know a lot of times you know so many threats will have you know people like jumping off cliffs or buildings blowing up or like a massive car chase scene that involves you know cars flying up not realizing that they have now priced themselves out of every reader who's trying to work for a script for their first movie or second movie and they've only got like two hundred thousand dollars they don't have five to ten million dollars to make this movie I feel a little bit of not reading their scripts with their you know so it's really hard to to write a story that takes place in house one house or one room or only have three characters that's really hard and that's why.
You know people that can write and be doing stories that are hyper successful.
You know because maybe this explains why in Reservoir Dogs they don't show the high school the car chase they just have a lot of scenes in a warehouse where people are dripping blood then Bakley the reason I think it's because it wasn't you know create dramatic tension of though that it did create.
It very clearly is that the present tense scene I was like I don't have ten cars I can master I. Think amazing actors at a guy or warehouse so how can they create this like mobster heist movie with drama and disaster and never show you many you know but make you feel in your head and there's like you know a really great of I think maybe a nice element one of my favorite.
Lines actually. Everyone in their basement healing and they're coming and they're sort of scared and this would be a moment when some don't do it like see the helium but instead he just he three acts and he gets.
A few here be aliens coming into the room with you and as a result you're seeing creeped out you think hear them coming if you can't see anything in your brain is feeling that they see with a wave bigger budget than any Hollywood movie could ever have you know it was always about how to maximize that and again that's all intuitive right because he when he makes it will be that way you know I can turn to you know he has to have a good idea of a real intuitive sense when people watch are they going to be able to fill in the gaps anough that this becomes a bigger they'll want eating heart wrenching gut turning movie when it's really six guys that are around.
That how can I create the imagery in everyone's mind that will take them there because he can't know right because it's not on the screen in your head.
That's very tricky so I know you you're using that question what would it take.
To tell us some of the ways if you saw it in.
You movie Creation.
Well and mean some right now.
My next move is called the atomised and that's the time travel movie and one of the things that I'm constantly trying to work on in the script writing process I'm in right now at the beginning al.
So my main character is the guy and black queer woman about one hundred years in the future and she comes back to are our present the year like twenty twenty and a lot of what I need to do is.
In my three counting right now there's really a.
You know a viewpoint entirely different than mine and figuring out.
You know how people motivation and people that are not me how they get them how they get themselves into places and situations and desires their alien can my own.
And so you know a lot of that is in some ways almost retraining my intuition I would say.
You know because and I think that you know we see this a lot with Packers Louth specially in AI right now where you know we first think we know what an AI should be we think we know that you know here you know.
With Helen or something they have an AI that can talk to you about housekeeping and her name is Gloria.
That's right you know of course like you know your housekeeper the lady in Korea or your movie I think is pretty actually. But then when you think about it take a step back like wait why don't you have the women as to how to keep or why are we using better sounding keeping me happy really what we're trying to go forward.
And I think that sometimes you know we have to step or take a step back and and ask our intuition.
You know is this how much of our biases feeding our intuition.
And is that where we want to go with that and then rethinking that and seeing what our intuition says once we thought about it a bit current mission changes I think sometimes when we when we ask hard questions and I really like you know especially UNTAC.
Asking her intuition question. Having that conversation with what my gut response.
I feel about that that response.
And people. Wanted to challenge it.
And were challenging but I think that you know our intuition or gut response about you go in with. So.
I think you know it's what gives us purpose and gives us.
It makes us feel very competent and what we're trying to do.
I think that's also very valuable to. Be able to take a step back and say Well Michel response to that but in retrospect maybe that was the wrong thing you know and how do I expect that I got a poor or.
You know I got a poor.
Response out of it I got to pour results you know how do I how do I recalibrate a little bit.
And that's I think one of my favorite things to do in my work is be calibrating my intuition.
County recount great your intuition.
I think is for me is messing up and being OK with messing up and making mistakes.
Especially if I give myself the space she you have the hard conversations that are required or the hard reading.
You're out where I messed up because I mean the reality is I usually don't know why I am that.
When I make a poor decision whether it's artistic or.
You know a business decision I mean I know what it was that I did that was the downfall so a lot of it does have to be talking with mentors. Through with other people figuring out like when listening to that moment when they say well what do you do with that way.
Wife. The problem is I think that maybe that is the reason why.
You know maybe that is the reason why I think I'm off the track.
You know and really listening to the question that people are here about your prophet especially when you're doing something new you need to be near or if you need to be who I mean somebody made over a thousand people tried that went really wrong and you made the same mistake.
And trying to figure out where that is and I think.
You know like for me like you know shooting on film is actually super awesome I got amazing opportunities I never would have gotten elsewhere and a lot of people question sitting on. So that was that was great.
I will say in retrospect I had made with my location I thought I would only shoot ten hours in the C. standard twelve correlation there that there was a huge mistake.
And it meant that my film so much harder to do.
Other things are stupid like I thought I would save money by only serving people one meal a day turned out no turns out and the standard if I really were going to it was two and a half meals a day. And I would really made my movie so much happier and a better place could be done.
And I just didn't.
Or you know I thought I was saving money in some way and it turned out no there's a reason why there's an issue standard twelve hours in a because for twelve hours a day at like two hours of like actually working for the most part.
So. I really messed up there but you know you learn in your life like oh I I read an article that actually read the opinion I shouldn't value in the future now and I'll tell you the time that I threw all save two thousand dollars in the end you're like All right pop me twenty that was the wrong decision you know.
So why are you proud to use your intuition in your business.
I think I think a person's intuition I'm trying the combination of their lived experience and their dialogue that they have and all those things have coalesced into that like what we call a gut response but I think it's more like.
A practice response like it's um it's so into it if your nature is that your body is like that well trodden path of your mind knows where it's going.
And so and I think that we myself like I developed that you know I I work really hard to develop my mind with things that I think are of value and whenever I find that I'm going off on a
poor path or path. I'm in the works in the taking me somewhere that isn't growing the place I want to go.
I I think I I work really hard at redirecting that and taking a different path and doing that enough that may into ASH make Maine which no longer sent me down that path that not leading me where I want to go and out what I do want to go and you know part of that I think.
You know having rituals and practices in your life and beautiful patients of your life that that reinforce pathways in your mind like just neuronal pathways.
Surrounding yourself with the things that you want in your life how to train that aspect of you I think your intuition.
But I think when you do that in your very kind to doing that are developing that your intuition and I'm getting those you have got hunches. Good was getting one and saying.
Can I trust but if this is the work out intuition you and I are going to have a track we're going to have to you know go and have like a retraining montage here with me.
And yeah I don't know I mean I really value my intuition in.
You know I think I know when may interest in a company or something bad and when something is valuable and sometimes I can stake myself out I think it's my intuition but really it was like green either lie or something of my OA shouldn't I thought your intuition but your greed in your head into a simple had.
No You know I think we can with well I try to have that happen Bryant So I'm on a mission to have everyone in business so can we use that intuition because I think they'll make more money to be happy but also because I think if everyone.
Was using their intuition to make business sections we'd have less dumb OS decisions all the people and planets.
And we have plenty of those already so I'll extra What would it take so make this and since you ation more openly use this yeah.
Well.
I mean I think that part of the thing that some people may not realize about intuition I think when you're talking that like engineers who are acting as a people who are like in the startup business I think a lot of time we.
Have our styles that we shouldn't listen to our interaction that we should look at the numbers we look at the facts you know.
But I think that we forget that our intuition is the culmination of who we are everything we know that's OK to challenge ourselves.
But I agree with you that intuition.
You know it when we see numbers are pretty basic problems and our intuition says yes we should do it or no we shouldn't I think it's OK to say like why am I so.
I feel this way why is my gut telling me like this is a great business decision but the numbers you're telling me you know like why am I getting these conflicting or well.
And I think I agree with you that you know like for example if you're you know looking at some numbers that you know are going to be super positive.
But your intuition saying no it's going to hurt people.
I think that it's really I think it's
you know I think it's accounting and try to. Have to make the decisions.
You know that serious about making money it's not crushing it you know.
I think it's really hard for us to take a step back and.
Listen bitterly not a person who literally in person because I know what my response to my response said you know don't do that and the numbers are saying yes to this and I think that we have to listen and have a conversation with our intuition. In whatever ways and you know hopefully if you continue to have that direction but one of the ways that I talked to my intuition and I don't get it so much now I did it especially the crisis.
When it really battling when I thought what should I do that I think my intuition say yes you know don't do it like I was conflicting data where inflated Beyrle is for people and for people in my head who are people that I respect your parent or he'll call them heroes whatever this is people are awful lot of people that are not perfect and I imagine I'm standing in front of me and then I imagine them knowing the truth of what I'm battling with.
And saying Can I tell them the truth of what I'm battling with and have them say that sounds cool you start to do that or they say who sounds like something that you would always be again like why you think yes to this why is even a question.
This is really like a way to have a conversation you know if you are here with your intuition because you're basically asking for like and you've got to check on my gut you know I want to make sure that. You know when I am having that intuition I should do that and I actually like maybe the numbers are you know corresponding.
And you want to make sure because I think the other thing that has your question was how do we get more people to use their information and I think my question wasn't how my question was what would it take because there's a big difference between how when you ask how it goes to a logical mind what's the plan what are the steps but when we all see what would it take it opens up all the possibilities.
See other people do it I think other people talk about it. What you're doing now but I think I think that we learn by seeing and experiencing and that's why maybe there's some powerful happening I hear people say like I I had that intuition that this was the thing I could do or not do and I think other people do especially people that we admire or that you want to you late thing.
They're in their intuition or talk about how they use their intuition I think inspires other people I mean I promise you I'm lucky about Twitter you know I have a computer to do this people who obviously are and missing.
Well if I can get him on this cools publicly and that would be had and.
Maybe I just need to make a documentary called intuition that explanation is interviews with people using their intuition. And I think that I know a guy like him a.
Well it's been great talking with you about making movies and using your intuition and how it really helps you because you're so blind throughout the process and such a long process if people want to find you on Law and learn about your movies one of the best ways to do that.
Well you can go on to what I say which is just tell me a word that current.
And if you're interested in my last movie which will be coming out in February it's real artist. Film and if you're interested in following on my next movie within the time travel maybe that is adverse to that film.
And I'm also at cameo on Twitter so if you want to fall on real.
Crapulous Well thanks for joining us today thank you so very much I had a wonderful time.