You can listen to the podcast and read the show notes here.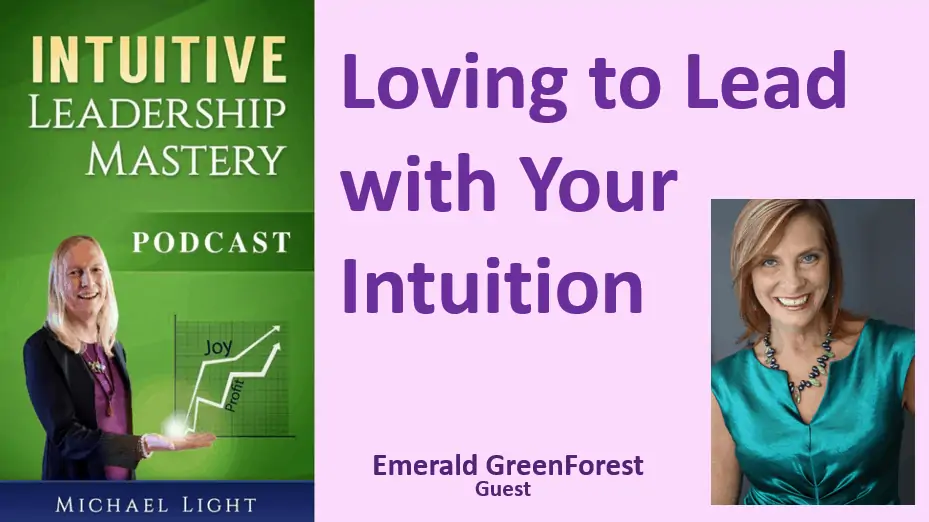 Michael:          Welcome back to the show. I'm here with Emerald Green Forest and we're going to be talking about loving to lead with your intuition. And we'll be looking at does your intuition always work? And what are key activities that define the role of a leader? And where do you get challenged in your leadership journey? And how can you deal with that especially in the area of money? Also, we'll look at how intuition and inspiration can deepen your ability to serve your purpose, your tribe, and your profits. And we'll look at what happens if you are going off course as a leader and how you can get back. And welcome Emerald.
Emerald:         Well, thank you Michael. I'm excited to the here and delighted to have this opportunity to serve you and your wonderful audience.
Michael:          I am so glad you're here. And for those who don't know Emerald; who went through a name change recently and maybe will talk about that later in the episode. She's the founder and lead visionary of 'Creative Age Consulting'. And she works with multi-dimensional [inaudible] 01:23 to be in the vanguard of the creative age. So, if you're ready to make a leap and go deep, she's the woman to talk with.
So, let's come back to that initial question because people are always asking me this. I don't know if I can trust my intuition, does it always work? What's your take on that?
Emerald:         So, here's what I know Michael from my own experience and also, from working with so many people around the world for the last almost dozen years in leadership, and leadership development, and intuition, and magic, and working with our multidimensional senses is we have all of the equipments and intuition works. However, we often either don't work it. It's like having muscles that have atrophy if you haven't worked it, if you haven't been societally conditioned or educated to work with your intuitive faculties, then your muscles are kind of weak in atrophy.
And so, on the one hand you're missing things because the musculature just isn't there for it. Or on the other hand, you're ignoring your intuition. And so, I found for myself it was kind of a twofold process and for the people that I work with, is about really affirming yes, you're intuitive, yes you have these multi-dimensional senses, yes you have been never trained maybe or affirmed that you have them. And now, we have to exercise and trust and listen to and take action on our intuitive knowings and our multi-dimensional guidance in order to continue to open up that channel for the intuition to flow with even greater ease and grace.
Michel:            That sounds like a great thing to do and typically, I use a question; what would it take to make that happen? What would it take for our intuition to flow and us to act on it with ease and grace? And I love those words ease and grace that you put in there because, why do you make it a struggle when it could be easy and graceful?
Emerald:         Exactly well, the other thing that I feel like as a culture, certainly Western culture more so than maybe Eastern culture. But definitely Western culture has been embedded in this story line of if you don't work hard, and struggle, and sweat to be able to create whatever it is you're trying to create then, there's either something wrong with you or you don't deserve to have the win.
And what I am here to say is that while we do want to take action, and we do want to apply our energy and our effort in service to the creation of whatever we are intending to create. We don't have to make it doubly hard on ourselves by buying into that belief that if we're not literally killing ourselves in order to achieve our desired outcome, that somehow we're either not going to get our desired outcome or we will have gotten it by some false means. Or that we need to have some kind of feeling of inadequacy for not having literally almost killed ourselves to get it.
And so, there's a big shift going on. I feel right now in our learning how to unlearn that old conditioning and open up to the magic that can happen and effectiveness that we can have as leaders and the efficiency that can be created as leaders. When we marry our effort and our energy investments with our intuitive knowing so that we can actually quantum leap into results with ease and grace.
Michael:          I think that is a very important message for entrepreneurs and business leaders listening to hear. Because it is so drummed in that you're supposed to hustle and work really long hours, work weekends in order to succeed. And that's just is not necessary anymore. So, and not only is it not necessary, I think it's bad for our health. To our body's health, our mental health, our relationship health. And I don't think it's actually that great for businesses health to be honest.
Emerald:         Ultimately, at the end of the day it's not. It's funny because I just wrote an article about hustle and posted it on LinkedIn just this last week. And there's a man that is the C.E.O. who is creating an artificial intelligence, virtual reality thing. He posted something about sometimes you just have to hustle and as soon as he posted that, I was like oh no! Let's not buy into this. Let's stop buying into the have to hustle hype. And I think that the important thing to remember is yes, you do want to apply energy and you do want to invest your heart, and your time, and your commitment into your creation. And buying into the, 'if I'm not hustling, I must be making a mistake'. Or 'if I just hustle and not'.
A lot of people have bought into this idea. I just hustle and if I double down on the hustle, if I work twice as many hours, if I work three times as many hours. And really what that's doing is it's actually creating a lot of static in the creation. It's putting more heat in than is necessary and it is many times hurtful to your health. It's hurtful to your relationships, it's hurtful to your hard on; if you're a guy who like if all of your energy is going in to the hostile rather than to creating in a way that is mindful and energy efficient. And then, you're going to lose your creative sexual energy into this hustle hype.
Michael:          I thing that is so true. I'm glad you mentioned hard on because guys tend to be pretty keen to have good sex. So, they seem to believe a hard on's required for that. So, I think that might provide extra motivation there. Really, why not live an easy life?
Emerald:         exactly
Michael:          So, any other thoughts about how we can get to that state of ease and grace using your intuition? How else can we get there?
Emerald:         Well, I think first of all we have to unlearn what we've been conditioned to believe. And we have to remember that sometimes, we need to take baby steps in the deconstruction of our all thought forms and our old conditioning. And we also need to take baby steps in the direction of improving our intuition muscles. So, I like to help people by giving them what I call baby bird bites. Let's just break it down into baby bird bites. So, can we suspend our belief for a moment? That we have to work hard and hustle in order to achieve our desired outcome. Can we just suspend this belief for a moment?
And then, in that open space of suspending that belief, can we then ask for an intuitive piece of guidance that's just small. It doesn't have to be this huge earth shattering thing that we recede but something small and simple and actionable. And then, we take action on that by choice. We make the choice to say yes, I will take action on this because if feels right, and I've asked to have an intuitive piece of guidance come through. So now, I'm going to follow that.
And when we do follow that, and then we see the results, and we feel the expansion, and we feel the easing, and we feel the opening. Now, we then can expand to something bigger you know way to spend a bigger disbelief. A bigger belief system that we might have and ask for more guidance, and just keep asking, and taking action, ask and taking action. Until ultimately, it's not so much mechanical anymore and it's more of a flow.
Michael:          That sounds like a great thing to do, and that makes a lot of sense to me. So, I'm kind of curious, you work with a lot of leaders, what do you think the key activities that define a successful leader these days are, Emerald?
Emerald:         Well, I think the first key is that you have to have vision. And that means that you must be in a space of again suspending your beliefs so that you can open up to something new. Vision is innovative, it's creative, it is beyond what is in the present reality. And so, you must have the muscle to be comfortable in the unknown. And also, have that intuitive muscle exercised such that as you start to explore the unknown, and quest for your vision, the intuition can support you in guiding to bringing the pieces of that vision.
So No. 1.) Creative Age leader must have a vision. No. 2.) The leader must value that vision themselves first. And so, when we receive the vision, it's up to the leader to say yes to that vision. And not just say yes but, say yes in a whole hearted way. So that they can become wholeheartedly committed to bringing that vision to reality, to fully manifesting that vision to the best of their ability.
And then finally, the third piece that a Creative Age leader requires is vocalizing and voicing their vision in such a way that they are able to compel, and connect, and capitalize on all the resources that are available to be able to bring that vision into life. Most of the Creative Age leaders that I work with have pretty vast visions.
And so, this being whole hearted, and being able to vocalize in a way that is compelling, in a way that is clear, and in a way that really invites in collaborative partnerships. That peace is very, very essential to being able to get a vision to come into full fruition. So, vision which is third eye. Value, heart or high heart, being whole hearted, and then voice. It's these three [inaudible] 14:28 if we're talking about the energy centers that I primarily working with people on.
Michael:          I love that vision [laughing] okay of what helps leaders succeed in creating something in this world and making change in the world. And I know myself, I wrote a book and launched a podcast this year. And I certainly had some resistance to getting my voice out there. And if you have a vision without voicing it, it's like a tree falling in the forest; no one may know.
So, very important you have all three clear vision that you put your heart into it. You've got passion for it because that's what people react to. It's great that it's intellectually wonderful vision but unless you feel it, it's not going to enroll other people. And then, have a clear voice. And clear voice doesn't mean you're an opera singer, it means you're able to speak your truth. Well, that's how I interpret it.
Emerald:         Absolutely, it's that you are so alive to your vision. So, can I give you an example Michael?
Michael:          yes
Emerald:         I had my own art gallery in Healing Arts Center for a few years back in the early 2000's. And that was borne out of a vision. And I worked with that for a couple of years until it became clear to me that it was not financially feasible for me to continue to work with this structure. The sticks and bricks art gallery and art center. And so, I quested for a vision. You know that's another's good sign of a visionary leader. A Creative Age leader is knowing when it's not working too, and it's dealing with your intuition, and knowing with your intuition when things are not working.
What's the difference between giving up and letting go because it's time? Or continuing to pursue because it's not a stopping point but, it's more of a resistance point. And that's a conversation for a totally other day. But to get back to the story, it became very clear to me that this art gallery in [inaudible] 16:54 center was no longer functioning in flow. It was not easy, it was not graceful, and it was not profitable. So, I quested provision and I received a vision to create a street festival to bring some attention into my street and into the city. And I received that vision whole. I could see the whole street festival. I saw all the booths in my mind's eye. I saw the performers, and all of that.
But my next job was to say yes. Well, I didn't say yes. So, I got the vision in May and I sat with it, and sat with it through June and about halfway into July. And about halfway into July, the vision just kept pressing on me and I kept asking, what else is it going to take for me to fix this store thing that's not profitable? And I kept getting the vision shown to me. The vision was like, Oh! I've got to do this bit. And so finally, I said yes. And when I say yes, it was whole heart. It was okay, I'm in. I'm jumping into the deep end of the pool. I'm going all the way in.
And then, I needed to communicate the vision and allow myself to say not only say yes to the vision. But allow myself to put myself in positions to ask complete strangers to say yes too to the same vision. So, I went to see the mayor and the mayor and I had a lovely conversation and he gave me the trash removal, the police department, the fire department, the city stage. Like he gave me everything because I was willing to say yes to the vision and I was willing to articulate it in a way that was compelling to him to say yes. And so, he brought all these resources and he even said yes to making October arts months in the city of Nashville which is where I live.
So you can see that it requires all three. You have to have the clear vision, you have to be wholehearted with it, and you have to be able to articulate it in a way that is compelling to the people that can help you to bring it into reality. And so, we ended up having twenty five hundred people on the street that day. We got a write up in the Boston Globe. I had forty vendor booths, fifteen live performances on two stages, and I only did six hundred dollars in my store that day. And that was like the final but [inaudible] 19:41 that said to be that doesn't work anymore but, this was flow.
Michael:          I love that story and how you followed your intuition and you were open to it. And I just want to invite everyone listening to think about your own business or the area of the business you lead. And just ask yourself, do you really have a vision for that that you've got from your intuition? And are you valuing it with your heart? And are you really clearly voicing it to inspire others to act as well? There you are, simple three point checklist you can use to see if you're doing good as a leader.
So, let's move on and look at where in your experience leaders get stuck or challenged most often these days in their journey. And maybe particularly in the area of money because a lot of people have [icky] 20:47 stuff around money.
Emerald:         So, the places where I see leaders get stuck is in letting go of things that aren't working; that's one area. And I just gave you a great example with this story that I told you about my store. I needed to let it go and I needed to really have an experience of creating a vision and bringing it into fruition. But letting go of having it be my way which was in my original vision of the store or the art gallery. I thought I was going to be there for eight or nine years and like I had all these preconceived notions about how long that was going to last.
So, learning to let go and being able to come to completion with something cleanly is a place where sometimes leaders get stuck. They want to hold on to the last. It kind of goes back to the hustle thing. They want to hold on and cling on to something that's no longer working. And especially in these times Michael where we are in such accelerated change. The inability to let go creates energetic leaks it literally drains your capacity to be able to propel yourself forward when the right opportunity that your intuition brings you or the next vision that you receive shows up.
Your fuel tank is almost empty because you've been so busy clinging onto something that's no longer working. So, that's definitely an area where leaders get stuck is in the letting go. In terms of the money situation, I think one of the biggest challenges for Creative Age Leaders is… 23:02 Go ahead. Are we getting slow on the bars again.
Michael:          Well, I was just going to say I've written a lot in my book on energy drains and how important it is to clean those up because if they're draining you… Yeah I think we've got
So, that makes a lot of sense and I just want to share with listeners, we should be having a few technology challenges here because I think because we're running so much high vibration energy around. So, we just took a little pause there and toned down the energy, brought in some spirit guides to help out. I did some talking to all the Internet and computer components. I imagine invests in a circle of chairs and so a way chairs were missing or people were not paying attention in a lot of network issues.
That seems to improve things and we also… Emerald dialed down the amount of energy we're doing live and we're going to pour it back into the video recording over time so the technology can deal with that better. So that some little tips if you having trouble with computers, if you're one of these high vibration beings on the planet right now.
But what I was going to say is that I think it's really important that you deal with this letting go because energy drains just not only drain your energy, they drain your businesses energy and they make it harder for it to run. And the other night you mentioned the 24:45… in a time of change; a lot of change right now. Technological change, political change, social change you know, who humans are is evolving right now and if you don't let go of things, you can't let new things that want to come in through your intuition and spirit. So, it's doubly important now to be good at letting go. So, where else do leaders get stuck these days?
Emerald:         So, we also get stuck in saying no.
Michael:          no
Emerald:         Saying no. And we started this conversation with the yes and how important it is to be aligned with the yes. And the way that we can get aligned with the yes is by having a very strong, clear, powerful no. And I feel like the no is kind of twofold. It's a [inaudible] 25:54 K N O W. Having a strong KNOW which is your intuition. Obviously, that's going to help you and guide you in the right directions.
And having a strong no, NO is going to allow you to set the boundaries around your vision that will keep you from overwhelming yourself, overwhelming your team, and over doing beyond what's necessary and in service. So, a lot of leaders just want to say yes to too many things rather than saying no to most everything. But being even more fully committed and whole hearted to a few things that they want to accomplish and get done.
Michael:          Yeah and that makes sense because if you're going to have a clear vision that you have put your heart behind, you can't spread it out and voice a hundred different things. You've got to focus on just one or two things and that way, your voice can be heard clearly.
Emerald:         Three of the most which is setting and [crosstalk] 27:35
Michael:          I have two right now. Yes, not more than three.
Emerald:         Yes, saying that moment and saying no more than three because that gives you also time to get the feedback around what's working, and what's not working.
Michael:          You know I've been using this wonderful ninety day planning method that a friend of mine Taylor Pearson has talked about. Where you list out all the ideas you have and then, you used your intuition than your rational mind to score them on both features. Like how much joy they're going to bring you, how much profit, how much effort you're going to have to put in and so on. But then, the key part of the advice is you only pick at most three things you're going to focus on for ninety days.
And the ninety day part of it is nice because if one of them… it's suppose it doesn't work out. Suppose one of them is like I'm going to try a podcast or I'm going to do this charity thing or whatever and then at the end, you don't like it or it didn't work. Then you can always change. You're not so automatically locks in letting go at least at ninety days if not sooner.
Emerald:         Yeah, so the third way that leaders get stuck; and you ask me about the money piece. So in the area of money, leaders often get stuck in forgetting that it's important to invest to be able to grow. So, the three places where we get stuck is letting go, knowing our no, and investing to grow. So often times, leaders will be hesitant to invest when the most important thing they can do is invest. Even if it looks in the moment like there's quote; and I'm going to put this in quotes, "not enough". Because especially if you're investing via vision on… Oh, you know what? I'm unplugged here. My battery got unplugged. I'm going to have to invest in putting more power in. There we go.
Michael:          Oh well probably help in everything work rights and maybe that was a metaphor, right. You've got to recharge yourself by investing in your growth.
Emerald:         Exactly, you have to plug back in and often times that requires money. Not only requires money but it also requires time. So, a lot of times leaders get stuck thinking well, let me just pour more time in so I can save the money. And really, it's the opposite. You want to actually utilize and leverage the money and credit that you have available in order to preserve your time and utilize that time to cultivate other resources. Like connections with people like you Michael.
The time that I have is much better spent in cultivating collaborative partnerships and looking for those strategic alliances that will bring my work and my message out to more people than it is in spending time maybe building a website or doing something that I shouldn't be doing that I instead should be utilizing money for. So, leaders often get stuck or challenged in the money area by failing to invest for themselves to grow and their team to grow. And the team is all about taking the to do lists and redistributing that energy to other people and utilizing the money as the means to facilitate all of that.
Michael:          Yeah because no matter how many as you hostile, you're never going to be able to do every single thing to get your vision to come into reality. You really do need a team. And a team of good people; that's the other way people I've seen take that money challenge. They hire people who are on the best of what they do. And then they wonder why things are a struggle.
Emerald:         exactly
Michael:          Definitely make sense. So, I hope everyone listening is getting their letting go muscle pumped up and their no muscle working good or at least identifying they need to work on that, and invest in their own company's growth by growing their team and them. And I will say I think people are trained in school to not say no. Probably because they're not supposed to say no to teachers or something. Because I've led workshops where I invite people as an exercise. They just are going to go to three random people, and make a request. And the other person's only job is to say no.
And you wouldn't believe how hard people find that to do even though they know ahead of time that all they have to do is say no. And all we have to do is ask. And they know it's going to get said no back to. But it brings up so much stuff in people.
Emerald:         It's funny sometimes the no is harder than the yes.
Michael:          For a lot of us is particularly for female members of the audience among us who are trained to be obedient, and compliant, and all that stuff. But I particularly like that you said you want to say a strong clear no because there are so many ways to say a word. And I can say no and laugh a little or I can say no and say it really strongly. There are so many ways you can use that and the tonality in the way you say it, and your body posture when you say it affects how it received. So, I'm just emphasizing that great thing you pointed out there.
But now, we've got our leaders clearer more on what their challenges might be. What if we want to use our intuition so that we can serve our purpose better, serve our tribe better, and create more profits?
Emerald:         Well, I think one of the most important things that we can do as leaders is not just use our intuition but value it to the extent that we actually share with the rest of our people that we are bringing this on board as a piece of our leadership. I think leaders today use intuition more than they actually admit. And I think that it's a disservice to ignore that the secret sauce is actually the intuition. And I think that it's important for us to stop buying into the idea that if you just do all these linear things, then success is guaranteed to happen; because that's not the case.
The case is success comes organically resulting in excitement which leads to more success. And if anybody tells you that success is linear, that's a fallacy. It's completely untrue. So, I have another story about a leader that I'd like to share; a leader who's inspired me. There's a company out of Boston called the 'Life is Good Company'. And the 'Life is Good Company', they were probably at the very beginning of the beginning of the Creative Age and were a couple of brothers who created this character. This little face; Jake and the words life is good. And their entire corporate story, their entire growth curve was all about them following their intuition in many ways.
And they came to a certain point where they had grown the company to maybe a ten million dollars brand. And they knew they needed to invest to grow bigger. But they didn't have the cash flow themselves and so, they started looking for investors to come in and support their growth.
And what happened was the investors wanted them to do things that were out of alignment with what they knew inside was the right direction for them at the time. So, they would have had to compromise their values. They would have had to compromise their vision, and they would have put themselves into a situation where they were doing the things that the venture capitalists wanted them to do. But ultimately, at the end of the day, it wasn't going to … It wasn't to work for them.
So, what they did instead of taking the venture capital money, and using it to do advertising. And they built their brand almost completely on word of mouth; up to ten or fifteen million dollars or something. They took that instead and they created a festival. They created this pumpkin festival and it grew their business exponentially because they tied it with a social cause. They tied the festival and now, they tied their brand with the social cause. And they actually were able to build the company to a hundred million dollar brand by saying no to the traditional venture capital formula and expectations.
We'll give you this money but you have to do this as I didn't think that was being asked of them. And instead, they followed their intuition, created the pumpkin festival, and ultimately, built this company, did festivals several years in a row. Built this company to a hundred million dollars brands. And because they tied to a social cause; the 'Life is Good Kids Foundation'. They have over the years been able with the festivals to raise over 11 million dollars to support the 'Life is Good Kids Foundation'. So, I think the important thing to …
Michael:          wow!
Emerald:         They here is that their intuition and them trusting in their intuition, and following their intuition, and bucking the expected way. And going in business at that time really paid off handsomely for them, and created social good as well as profit.
Michael:          I think that's a really inspiring story. And I'm just going imagine, not only did they create profits and help out that cause. I imagine if you looked at their profit graph for their business, which a lot of people just look at their profit and loss, right. But I think we should look at the joy and happiness balance sheet as well. I think they were done site happier having gone that way.
Emerald:          absolutely
Michael:          And after all why? You know it's great to have profits in the business. I'm all for that. And if you don't have joy and health as well, what is the point?
Emerald:         Exactly, exactly, what is the point? So, of course their brand is all about life being good. So, they had to be in congruency with their own brand, right. And so, that's another important thing to put into this equation. Another brand may have benefited by going with what the venture capitalists wanted. But each company, each leader has to be congruent and in alignment with their own message, with their own vision, and follow their own path in order to be really, really successful.
And so, I'm not saying that going for venture capital is a mistake. What I'm saying is it's important as a leader to lead, and to take that lead. And to be willing to take the stand and say no to conventional wisdom; if that's the right path for you, and that's what your intuition is telling you to do.
Michael:          I think that's important and it's not only important for your own profits and joy. I think it's important when you want to enroll other people. People even if they don't consciously understand, if you're out of alignment with your vision, they pick up on it. And it means your staff just won't work well together, and your sales won't be as good.
Emerald:         So …
Michael:          I was recently on a … go ahead. I'll tell me story in a moment.
Emerald:         I was just going to say, you're talking about enrollment here. People absolutely can feel if you're congruent with your beliefs, and if you're congruent with your message. They can feel it and as we change, you mentioned earlier that the human species itself is evolving. As we evolve, part of the evolution is we are actually becoming significantly more sensitive to the energetic subliminal, vibrational messaging that's being sent out. And so, if you do not stay congruent with what's going on internally as a leader, or internally in your company. If you don't stay congruent with that, or with your vision; stay congruent and in alignment with your vision, it is absolutely going to be perceived.
Some people are going to be able to see right through you, other people are going to be able to feel it, other people are just going to know yeah, this is not matching up. It's just not matching up. And those are the people who are out in the world that are using their intuition as well to make decisions. Because we're coming into a time where making rational decisions is no longer enough. We have to be marrying our rational mind with our intuitive knowing to be able to move forward and succeed.
Michael:          Definitely, we need to use all tools we have. The rational mind is a tool, intuition is a tool; any other tools that you come across. And you don't have to put any of them on top. They're all there to be useful for whatever purpose you're here on the planet for. So, I've got two things here. I had an inspiration while you were talking. I want to share with you and the audience which is … And I invite everyone listening to ask yourself this question; and you're asking this to your intuition, not your ego. And the question is, what percentage am I congruent with my vision right now? And whatever number comes in your mind, that's what you can work with.
And then, if it's not one hundred percent, you can do work to figure out okay, where is it not congruent? What could I do? What would it take to get it higher? If it's 73 percent, what would it takes to get to 75 percent or whatever number you're at? So, I think that might be a useful thing for modern leaders to look at that congruence with their vision. And if you have difficulty getting an answer on that, work with someone like Emerald, or me, or someone else who's really keyed into their intuition. And get answers like that straight away from their intuition.
What I was going to say early, I was on a conference call for a private placement investment, and all the numbers to my rational mind looked great. They were going to pay 30 percent interest, and it was backed up by all these guarantee. It was a good company and they just needed bridge financing for six months which is why they were paying the interest rate. But my intuition said this guy is not aligned. This is something off here. So, I didn't invest and six months later, they went into bankruptcy, and they never paid off their loans. It can be valuable to pay attention to this.
So, you've mentioned several ways that leaders can be challenged. Are there any other any other signs that a leader is off course in their leadership?
Emerald:         Yeah, well obviously, from a rational perspective, you can look at your bottom line. And if you are not generative to the extent that you wish you would like to be, or you are expecting to be, or your vision is showing you was meant to be then clearly, there is some work there around congruence.
Other signs that you might be off course are health issues. You know we talked about the hard on earlier for the men. If you're bowing to the god of hustle and you've gotten the biggest award for being the best hustler, but you can't hustle anything up in the bedroom, then you're in trouble. You're off course somewhere. And I think the other area where you can see that there's a sign that you're off course is in your in your peace and joy. In your ease and your family relationships. Are you spending time out in nature? Are you out of balance in any area of your life? We have to look at all of it.
One of my mentors long time ago, he uses in the [inaudible] 47:19 conversation. He taught in the [inaudible] conversations and he uses questions around the five apps: family, faith, fitness (physical fitness), finances, and fun. Like if you're not having fun, something's off. So, those five areas you definitely want to look at and if things are …. Again, we're going to go back to that conversation about hustle. If it's all about hustling until you're just collapsing in bed every night and then getting up and doing it all over again, that's not fun. That's trying to be a machine, and we are meant to be machines. We're organic evolving beings and part of what we have to do is decondition ourselves from the belief that we have to be producing like a machine, because we're not meant to be doing that.
Michael:          You know the image that … I think that makes a lot of sense. And I like those four F's that you mentioned; family, faith, fitness, finances, and fun. And what came to my mind when you were saying those is that's the way young children are, right. They're really connected to family. They usually have an [inaudible] 48:43 spirituality and by faith I mean connection to spirit. It doesn't mean you're like some high level person in your church or whatever. It means you're naturally connected to spirit and young children usually running around faith and they play and have fun. I'm sure if they had finances, they'd be fine with them. So, it's almost like going back to that childlike wonder, and connection with spirit and intuition.
Emerald:         Absolutely, awe and wonder. And if you're not in a state of awe and wonder, at least once a day, At least once a day, if you're not in a state of awe and wonder, something is off and it's time for support in that area. Sometimes leaders don't even know where they're off. But they can feel it using their intuition that something is off. So, even if you don't know exactly, specifically, and precisely; E.S.P. – exactly, specifically, and precisely what's off, that's often the most important time to receive mentorship.
Whether it's from someone like me or from someone like Michael because it's the mentor's space and place to be able to hold an opening and to see, feel, know, hear what's off that you as the leader may not be able to identify because it's in your blind spot. You can feel it something is off, you aren't clear about what it is. And that's why it's so important to have those excellent team members around you. And I would say that one of the most important people on your team is going to be the person who is your mentor. So as I've been evolving my own self, and my own business, one of the visions that I've received is the role that I intend to be playing for the leaders that I'm serving.
It's kind of like Marina which is like the girl form of Maryland where the king can come to Marina and have the deep conversation. And go into the dark places and look in those blind spots because the leader feels something is off and isn't quite a hundred percent clear what, or why, or how, or what to do about it. And so, I would invite anybody who is listening to this, who feels like there is a misalignment, or an [inaudible] 51:42 look at, are you working with a mentor first? And if you're not, find a mentor. Whether it's me, whether it's Michael, or whether it's somebody else. You absolutely must have a mentor to be your Merlin or Merlina to be able to be giving you that guidance and support and that clear vision that's not attached to the outcome of your vision; if that makes sense.
And secondarily, to be willing to know when it's if you do have a mentor, sometimes, it's time to fire that mentor and get a new mentor. Because if you've grow and you've outgrown your mentor, then it's time to invest in in somebody new. And then finally, to look at how well your team is being mentored as well. It's not just the leader that requires mentorship, everyone can benefit from mentorship. And you as the leader, the Creative Age leader oftentimes, you will be playing the role of a mentor for your team. And if not, you are most definitely encouraged to invest in mentorship for your team, and often, it's both.
You're going to be the mentor but you're also going to bring in other people to support and teach and train and help your team with their blind spots. Because if you're working towards a vast vision, you want everybody in alignment not just you. You want the entire team to all be rowing in the same direction. If you're off by even like … For example, if you're going to the moon, if you're shooting the moon and you're off by one degree, you're going to miss. You're going to miss the moon and you're going to go way off course.
So, better to when you feel you're off course, get mentorship and get your compass aligned quickly than to let it get too far out of alignment. Because the further out of alignment, the more challenging it is to stop the momentum in the wrong direction so that you get realigned and again in the right direction.
Michael:          I think that's a great metaphor there. And just remember when an airplane flies across the continent, 99 percent of the time, it's a little bit off course. But they constantly course correct. I mean they don't call a mentor, but same idea. And if you know, if you have a clear vision, you want to go from New York to L.A. and you always a course correcting, you will get there. But if you don't have a clear vision, or if you just ignore that you're off course, you aren't going to arrive where you wanna go. So, I love that.
So, I think it's time to change to a slightly more we would topics at this point in the interview if that's okay with you. And hopefully, it's okay for the listeners. Maybe it will take you into the more deeper end of the spiritual swimming pool today. So, I'm kind of curious, where are you really originally from Emerald?
Emerald:         Where I'm really originally from? And we're going to have to make sure that we don't blast out the internet here. Is from this star, behind the star in the middle belt of Orion.
Michael:          Oh great! And I just want to share with the listeners. I'm originally from the [Platys] 55:27 Galaxy. So, I came here a few lifetimes ago from that but so nice.
Emerald:         And we're into the energy so the cat wants to be part of the [inaudible] 55:38
Michael:          Yes so, when you found that out, was that difficult to deal with that you weren't from here originally?
Emerald:         It was actually relieving in many way. It was affirming in many ways, and it came for me at a point that was absolutely perfect. Other things have been difficult. But that one, it allowed … When I received that, it allowed a lot of things to click into place. It allowed a lot of awareness to click into place. I remember as a child, whenever we were driving, we had a camp up in the northern part of New Hampshire. And every time we would drive to camp, or drive home from a camp, usually is driving home because we come home late on a Sunday night.
I would lie with my head in the window of the car leaning against the window, staring at the Middle star and the belt of Orion. And I have always been just like super attracted to the Middle star and the belt of Orion. And so, when that information came through, I was just like, oh, that explains so much; that so much. And what I appreciate about it is that first of all, it allows me to be present here. Recognizing that I was called to this claim to bring my unique, energetic, radiation, signature to support in the ascension of the planet, and the evolution of humanity.
And number two, it allows me to be able to be very affirmative for, and a sacred space holder for other star beings. And people who are called to be leaders are generally speaking, are carrying star vibrations and star energy. And so, it's very helpful for them to feel affirmed and dare I say welcomes. Like you're welcome here. There's a reason you came and so, I am very appreciative of knowing that. And I'm very appreciative of all of the star brothers and sisters who have chosen to incarnate to serve and support in this divine unfolding. This divine plan that is unfolding for the ascension of earth and evolution of humanity.
Michael:          That is so wonderful and I'm glad you decided to incarnate from Orion and come here. It's quite an entertaining time. May we live in interesting times; to use the old Chinese proverb. They send him pretty interesting right now with and I don't … I'm not just referring to political things just look at technology or health or nanotechnology or drones or all of these things that just going away for exciting changes. It's amazing. I mean just look at the smartphone in your pocket. Ten years ago, we didn't have such a powerful computer that you could just carry anywhere and you could do all kinds of things and you could talk to Ed and whatever. It's amazing.
So, the other thing I would say in my work with entrepreneurs and business people. I really think a lot of people … my feeling is about 80 percent of people on the planet actually come from somewhere else and 20 percent come from here. So, the chances are if you're listening to this you probably are from somewhere else. And if you want to know, here's one way I do to know this. If you connect yourself to the light above and the light below; and light below I mean ground yourself. And see how it feels to feel grounded which is usually people say yeah, that feels good to feel connected to the center of the earth; to mother earth.
And then also say okay, as well as connects to mother earth, what's it feel like to be connected to my home planet? And usually, people feel different to that point or at least eighty percent of people do so. About say an interesting way to tell. So, I noticed you're wearing an amazing crystal round your neck. That tell us about how you use crystals in your business, how those….
Emerald:         Thank you yeah, crystals have been my allies for a very long time. They were part of my spiritual awakening back in early 2000 timeframe. This particular crystal is piece of selenite. Let me show it to you. It's beautiful piece of selenite. How do I ease crystals in my business? Well first of all, I have a medicine carrier; a mesa carrier, a bundle carrier. In the Peruvian tradition, I have gone through the rites of passage in the initial torrent process through the four winds society and healing in 'The White Body School.
So, I carry a personal medicine bundle which is filled with Khuya which are crystals and stones. But I also have a business medicine bundle. So, I have very specific crystals that are in my business medicine bundle that are supporting certain intentions that I am holding for being a business person, being in business, creating sales conversation, creating money, creating change in the world, helping to create a team. So all of that, I have graded into my business medicine bundle. And then for example at one point, I was doing a book. I have a number of crystals here in my house and so, it became clear to me I needed to grid out the book.
So, I built a crystal grid that would allow me to when it was time to sit down and write the book, when it was time to sit down and write the book, I was able to anchor myself energetically into that grid, and the intention for the book, in people there was meant to serve and all of that. And it allowed me to stay focused, and on track, and get the work done, and also be enjoyed around it. It began as a blueprint so, the crystal grid was a blueprint, an energetic blue print to hold the intention, and to hold the energy for bursting that book into reality. So those are just some of the ways that I work with crystals.
Michael:          I love the way you credit crystal grid for your book. And I'm just thinking anyone listening who has a project in their business; and let's face it most businesses have projects going all the time. Whether they're publishing a book, or a creating a podcast, or launching a new product, or a new service or whatever it is. And the idea that you can get support from crystal friends to make it go easy, and to make it easy for you to stay focused. I really like that. And I use crystals too. Let me just get out some of my crystals. We can see those. These are some of the ones I wear.
Emerald:         nice
Michael:          Yes I [crosstalk] 1:03:44
Emerald:         And you have a humming bird too.
Michael:          A hummingbird; symbol of joy for me.
Emerald:         yes
Michael:          That's one of the meanings of a hummingbird token and yet approved and humming but with little crystals on it. And this one is some stone that came from a meteorite. And the name of it is spacing out but it will come to me later motor right. And it helps connect with ET energy.
Emerald:         Sure so, not only do I work with crystals in my business, but I also work with animal totems in my business.
Michael:          Oh yes!
Emerald:          And one of my favorite animal totems to work with whenever I'm networking, Whenever I'm having a warm conversation, or whenever I am crafting my marketing. My favorite, favorite animal totem to work with is skunk medicine.
Michael:          uu-hhh
Emerald:         And I love skunk medicine because skunk medicine naturally easily repels anything that's not in service. And naturally easily and playfully attracts what is in service. Skunk is very sexual energy, it's very playful energy. And so, when I am crafting my marketing, when I'm having a role in conversations, when I'm talking to colleagues, my skunk is with me all the time. My cat is even skunk patterned, so yeah.
Michael:          I love that. I certainly pay attention to animal's symbols that come into my life. If I see an unusual animal or an unusual number of animals, I'll contemplate what it means or look it up in 'Animal Speaks' which is a great book to give you an initial guidance. Or you can just talk directly to the animal with your intuition to see what it particular today is trying to tell you.
And not just animals; the weather, or the mountains, or trees, everything can get. Even my computer tells me messages sometimes.
Emerald:         Well, your computer is crystals. Your computer is basically silicon dioxide, it's quartz your computer is filled with quartz which is where most of the money is now too. Most of our money is actually being held in quartz crystals. So, I work intently with quartz crystals and being in right relationship with quartz kingdom in relation to money issues.
Michael:          Wow! Now that's something I hadn't heard of so, I love that.
Emerald:         And most of the money in the world right now Michael is zeros and ones and imbedded in silicon dioxide. People think it's paper, or coins, or whatever but that's not the case. Most of the money in the world is basically zeros and ones imbedded in silicon dioxide.
Michael:          Right and that's just the traditional dollars and euros and what have you. All the bitcoins, and etherums, or whatever is even further imbedded in that Silicon crystal realm. So good to be able to get on well with it.
So, let's wrap this up. Few questions I've been asking all the guests coming on which is, why you are you proud to use your business intuition?
Emerald:         Why am I proud to use my business intuition?
Michael:          yeah
Emerald:         Because it's magic, and because it's fun, and because it's delightful, and because I'd be insane not to. I've been on the G.B.S. – guided by spirit. The G.P.S. system since 2003 with my business. And it has got me into some very interesting, powerful, amazing, transformational experience. And then, got me out of some very interesting and sometimes convoluted in business experiences. And I feel like my business intuition and my personal intuition allows me to just like literally ride the waves. Like I'm able to have success, and I'm able to experience lessons.
And it's all flowing so much more easily than it would if I ignored my intuition. When I do ignore my intuition which still happens every now and then, I get the big slam in the face. So recently, I evolved in my business and it became clear I'm meant to be working more with men than women. And I went and ignored that intuition and enrolled a woman to work with me at the end of April and was in five days, that whole deal fell apart. And the message was hello, we told you it's men now not women. So it's important to be just aware, and trusting, and faithful to your intuition, yeah.
Michael:          Yeah and that isn't a struggle or a hostile that's a fun joyful thing to do.
Emerald:         exactly
Michael:          So, I'm on a mission to get all entrepreneurs and business leaders to openly use their business intuition for the reasons we talked about earlier; that it will give them more fun, and family, and faith, and profits. I've forgotten the four F's but I wrote them down so, they're in the show notes. But also because it will help people make less stupid decisions. I look around and I see business leaders … Many people make good decisions but there are some of us, some amongst business leaders who make decisions that hurt other humans, or hurt the planet.
And I honestly believe if every single business leader used their intuition as well as their rational mind, we'd make a darn side less decisions of that nature. And now is a good time to change how we do things. So having said that, I get the impression you're on a similar goal in a slightly different direction. What would it take to make business intuition openly used this year?
Emerald:         Well, intuition is from the heart. And so, part of what needs to happen is business owners need to be whole hearted. And being whole hearted means being in tune not only with your mental, not only with the vision, not only with the voicing of your vision, but really with a love that you have with in. The seed of love that you have within you need to be of service to the world in some way. And so, in order for us to be able to do that as leaders, we have to open our hearts.
And how do we open our hearts? Well, one of the best ways of opening our hearts is by letting go. And most specifically by letting go of grievances. So, I had a vision that came to me for a passion project; that's kind of separate from my business, called the 'One piece Project'. And my big mission is to replace fear with love on the planet. And peace is part of the way of operation and the one piece project is take one breath, release one grievance, let go of one grievance; just one. And find the one heart between you and wherever that grievance was. Sometimes, the grievance starts with you.
So, if you have a grievance against yourself, maybe you invested unwisely because you ignored your intuition and you've been beating yourself up about that ever since. If you can let that go, let go of that grievance that you have against yourself and find the one heart and then, let's just do it again. Take one breath, let go of one grievance, find the one heart. And the more we are able to connect with our heart truly, deeply, and heal our heart, and open our heart, and let go out of our heart the grievances that we're carrying. First towards ourselves, then towards our intimate circle, then towards our quote – I'm putting this in quote. "Competitors that we might have out there in the world." And then towards our larger society ultimately, at the end of the day, that's going to make a huge difference in the world.
Michael:          What is this competitive word you talk of? I'm just joking but I'm sort of serious. Are there any competitors anymore?
Emerald:         Not really, but there's people out there who've been conditioned to believe in a society that we have to be in competition with one another. And it's kind of goes back to the hustle thing and it's … There really is no competitor. There's only you and your unique offering. If you're called to be a leader, there are some gifts, some unique offering you have that the Earth herself call you here.
And the people who you are meant to serve call you. They are praying for the solution to the problem or the fulfillment of the desire that they are holding that you can respond to, and that's what the colony is. It's literally their prayers whether it's subliminal or conscious prayers for either a solution to a problem, or the fulfillment of a desire that you were uniquely. Your signature, your vibration, your energy was uniquely put on this planet specifically to answer that call.
And so, there's nobody else who can answer that call. Therefore, there can't be competition as long as you are being true to yourself, and to your calling, and to your vision, and to your heart, and to your intuition.
Michael:          I love that Emerald. So, you've said so many wise things in our interview. And if people listening wanted to find you online, what are some ways they can do that?
Emerald:         Well, they can find me online at emeraldgreenforest.com; that's my main site. And for those of you who feel like I might be the right person to support you in mentorship, there is a box on page where you can click on mentorship and apply for conversation with me. And we'll get on the phone and see if it's a good fit.
And it's most important for me to make sure that it is that right fit. Because if we're trying to put the wrong foot in the wrong shoe, that's not going to work, that's out of alignment, and that's not in service. It's not in service to me, it's not in service to you. And that's why we have those conversations to just dive in and see energetically as well as practically whether it's a right fit to work together.
So if you feel called, if you feel like I might be the right fit mentor for you, then I would highly recommend that you click on the mentorship button and fill out the magic application. And we'll see where we go from there.
Michael:          I love it. So, I really appreciate you coming on the podcast. And we'll put the link to that mentorship in the show notes along with your sites, and social links. And some of the other loopback article you mentioned about not hustling. So, thanks so much and have a great rest of your day.
Emerald:         Thank you Michael. It was such a pleasure and I deeply appreciate the opportunity to serve you, bye.