Welcome back to our Case Study Series. In this episode, I am talking with Judy Schramm. She is an author, speaker, and executive LinkedIn expert.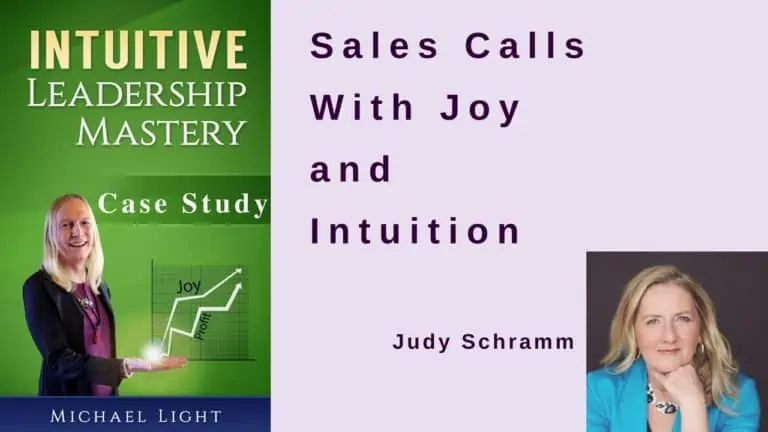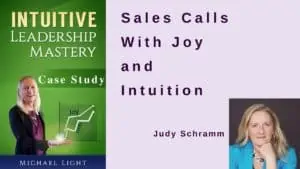 Episode topics:
The burden and resistance of having to make sales calls, or avoiding making them.
Let go my salesperson and sales was my responsibility and I had blocked out an hour a day and I was not doing it
And I have great excuses for not doing sales calls and following up (But really it was resistance)
How she went from feeling sales task were a burden to being a joy and being keen to do them
Clearing the belief that sales is manipulation, bothering and interrupting others
Solutions & Success:
How she closed 3 deals worth $20k in the week after clearing the energy blocks to sales. And she no longer avoiding making sales calls and following up.
4 Intuitive Leadership tools that helped Judy free up her inner sales diva
Youngest Age Pattern Recycler
Parents timeline
Percent left =80%
WWIT
Her secret pre-call "chat" using the 2-chairs method
Looking at Sales as healing
Moving the time for sales calls from

4pm ET

to vary the time – Pick up the phone when my intuition says it is the best time to reach that particular person
Feeling where a prospect list is "sticky"
What would it take to make the sales hour joyful?
What is the goal of the sales hour? Helping people, solving marketing problems, helping them make the decision about whether or not to work with us.
Clarity, feeling good about decision
TLC before sales calls
Heart connection during call
Set the intention for the day using WWIT and TLC them.
Adding some sales experts that you admire to your Spiritual Advisory Board, Sales sub-committee
Podcast: Play in new window | Download (Duration: 38:51 — 35.6MB) | Embed
Subscribe: RSS
Tools used in this case study:
WWIT= What Would It Take
TLC= To the Light, Connect
Youngest Age Pattern Recycler
2-chairs method
About Judy
LinkedIn
WWIT that reading this helps you grow in your work role and in home life? WWIT it helps other staff at your company?
Learn more about this powerful technique and how it takes only 10 minutes to learn a new technique that makes running your business 3x easier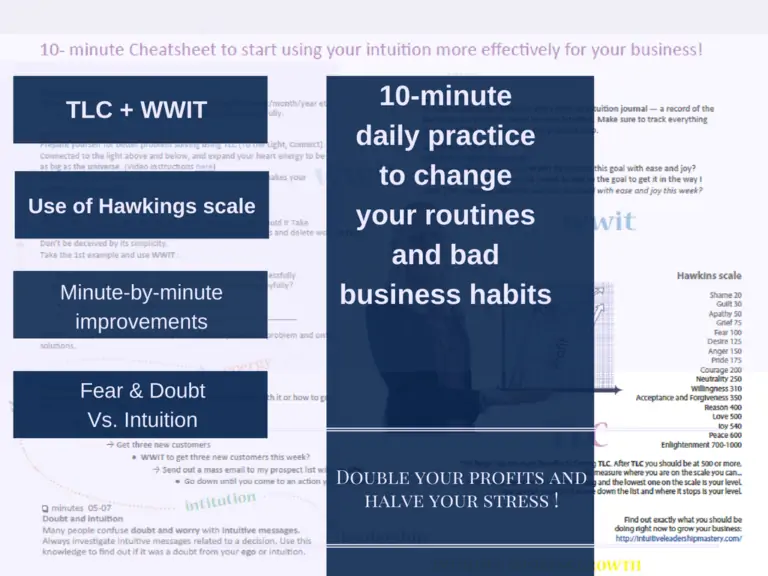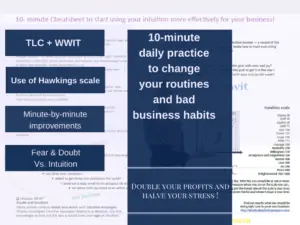 How many of you feel the same way? Let's discuss this together.