— The hidden decision factor: time value —
Jeremy is a multi- talented and super- successful manager at one of the top consulting firms based in Chicago. He was picked out of 10 other Ivy- league candidates last year.
Two days ago we met on our old favorite spot in the city, for some midday smoothies, so that we can build up some energy levels for the rest of the day.
NOT A NICE DAY for Jeremy at all!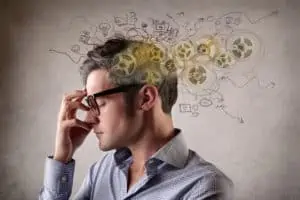 He looked out of his zone, not confident at all. Let me tell you what happened.
A couple of months ago, he got a task from his mentor to pick three new candidates for his spot, so that he can get a long- awaited promotion. No problem, let's put out our ad and pick the best one. Although, not only one candidate with impeccable CV answered the call. That didn't seem to bother me, Jeremy tells me. I decided to wait for a few days and that way I will a) check which one actually cares enough to wait b) have more time to think and make the possible decision.  
That would've been the smart thing to do if only it wasn't…
I have a terrible candidate taking the spot now, and my boss is not happy. Actually, my place is in danger as well. I don't understand what happened- on the paper, and during the interview, he seemed very excited to come to work.  
My friend Jeremy seemed to have forgotten something we spoke about before, and I want to remind him about that right here, and right now.
The time value of decisions
The values of the different options are usually not fixed over time. Often they decline over time. In addition, the days and energy you spend making a decision are time and energy you could have spent on other productive tasks in your business, so they have a cost too.
For example in hiring, the slower you are at responding to the different candidates the less enthusiastic they are about the job, and the more likely they are to pick another company. Plus the more time you have lost to other money making tasks.
Suppose you have two candidates A and B with values of 51 and 49 on Day 1 and that they lose 3 points each day you wait/it costs 3 points in your energy used each day.
Here are the values of the options over time:
Day 1 A 51 B 49
Day 2 A 48 B 46
Day 3 A 45 B 43
In this case making a fast "bad" decision on Day 1 by hiring B at 49 points is actually better than the slow "correct" decision of hiring A on Day 3 at 45 points.
It is true that sometimes the value of the choices might not change over time. However, the cost of spending  your time/energy on the decision day after day definitely applies. The time that could have been spent making money for your business. So there is still a time value to a decision.
A way to avoid that is to not worry about the decision or spend any time on it at all until you are ready to make the choice. A deliberately delayed decision. I have seen entrepreneurs successfully do this when they realize that they are too busy/lack resources to implement yet another change this year and "consciously decide not to decide" until next January.
Read more about smart hiring here
Lost opportunity cost
I also did not include the lost opportunity cost of a delayed decision. All the profits/new deals you could have made in the days (weeks?) you spent decision making using either choice A or B.
We are not just comparing choice A to B. But also to choice N – do nothing. In the case of a 49/51 near the equal decision, I imagine the value of N is much less than either A or B.
In sales, often clients don't take the cost of choice N into account because they have had the problem and been in this choice for so long. It is my job wearing my salesperson hat to help them see the true costs of choice N, as well as the costs and benefits of choosing to buy from me. Bringing more consciousness to their buying decision.
What happened afterward? Jeremy told me that he started using intuition more than before, to help him in making decisions, and moving forward.
Do you know what he is talking about; I am confused…
*TLC=To the Light, Connect
*WWIT= What Would It Take