Are you guilty of procrastinating? Putting off important tasks and avoiding others? Your business could be suffering! Find out how to put a stop to those bad habits with the help of your business intuition.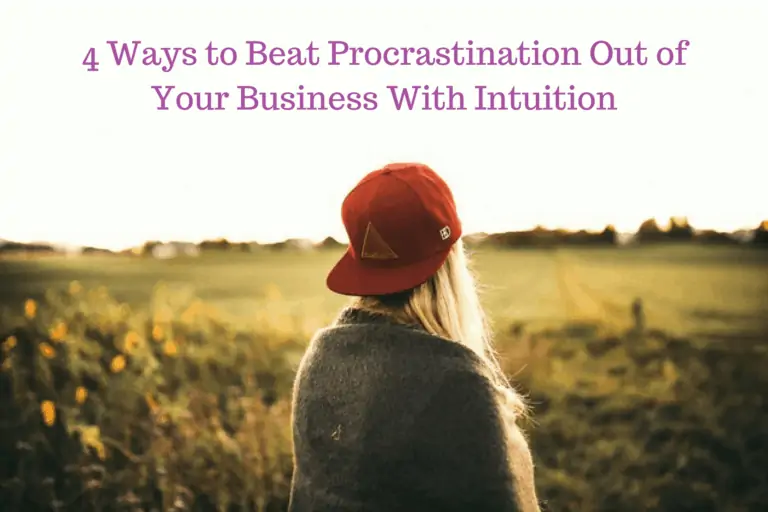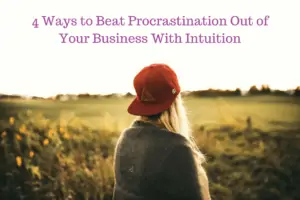 One of the hardest things as an entrepreneur is that there are so many things to do, many that you might not know how to, and others that you just don't want to do. And sometimes, we just get distracted by a million other things!
We are all guilty of procrastinating and putting things off until the last minute from time to time. But, if you aren't careful this habit of hiding your head in the sand could end up being the death of your business. Here are 4 simple ways to beat the beast of procrastination and refocus your energy using your business intuition.
Why Do We Procrastinate?
There are many reasons why we procrastinate, but when we look at the root cause there are 4 main ones that always seem to stick out.
Fear of failure

Low energy levels

Lack of focus

Being overwhelmed
What Procrastination Does to Your Business
Procrastination is a destructive force, whether it's in our personal life or business- and often the two are related. Procrastination in one area affects the other. Here are some of the consequences of procrastination in your business:  
Missed opportunities

Work, bills, and tasks pile up

Rushed and wrong decisions

Poor financial decisions

Missed deadlines

Poor customer and client relations

Added stress leads to strained personal relationships

Damaged reputation – professional and personal

Low self-esteem
What Would it Take to Kick Your Procrastination Habit?
Essentially, procrastination is 'inaction' – not doing what we should be doing. Sarupa Shah, 'The Soul Agent' makes an interesting point in her blog post, 'Why you can't be soul based and procrastinate too!', that procrastination is a choice, and she adds,
'When you procrastinate you are dropping your personal power and connection to you purpose…is that really the choice you want to make?'
Let's look at a few business intuition tools that can give us the kick up the ass we need to get into gear and at the same time halve your stress and time wasted, and double your profits and joy.
1. What Would It Take Tool
Where procrastination is a vicious circle, intuition and action is the circle of light. Intuition is action and action is intuition.
The universe responds to action. Taking action towards what you want means you're more likely to see results. Start moving (using your intuition) and the universe starts moving, too.  

How to get the ball rolling?
TLC to bring calming, clearing light

WWIT to find actionable solutions
Procrastination can feel like sinking sand, tasks dragging us down, more being thrown in on top of us. When you feel stuck on what you're next action should be, WWIT to work it out.
Firstly, TLC to bring the energy and light to refocus your attention on your business goals.
TLC
TLC, or To the Light Connect is a meditative practice which connects us to the higher power of light, truth and pure energy. It helps to focus our conscious minds, and channel the energy of the universe into our business life.
We can use it to help uncover the reasons for our procrastinations, and to dispel that restless, negative energy. Kay Robinson, the founder of InSight Intuitive Consulting, advises,
"Without thinking, trust your intuition and ask why. Why am I avoiding this? Then take a deep breath and release all the energy you have generated in your space in avoidance and resistance. Continue to let go of the energy you feel in your space until the resistance is gone."
2. Break Down Hard Tasks with Nested WWIT Questions
Sometimes tasks can seem overwhelming or too difficult because we are looking at the 'big picture'. WWIT questions gives us answers, but sometimes it's not clear HOW to implement it or get there. This is where  'nested WWIT' questions comes in.
Nested WWIT helps break down these seemingly huge issues, into smaller, manageable tasks.
For example, say that you have a set goal to bring in 10 new clients, perhaps you even need to for financial reasons. The stakes are high, and the task seems almost impossible. It will be impossible unless you ACT.
So, break it down. First, WWIT:
WWIT to bring in 10 new clients?
Now, use nested WWIT questions, take it down to a third or fourth level. Whatever it takes to get you to an easy, actionable solution.
WWIT to create an effective advertising campaign?
Hire a new marketing manager
WWIT to hire the ideal marketing manager by the end of the month?
WWIT gives you an initial answer, but if you're not quite clear what to do with it or how to get there, ask another What Would It Take (nested WWIT). Keep asking more nested questions, until you get clear practical steps that you can take NOW.
Using WWIT and breaking it down with nested WWIT questions, you go from the big picture of 'I need to gain 10 new clients' to a smaller, practical action of 'I need to place a job advert online'.
It's simple, it's manageable, and it's all action.
3. Clear Self-Sabotaging Beliefs
Some procrastination comes from the lack of self-confidence which fuels our fear of failure.
As human beings, we harbour negative feelings from our past, often on a subconscious level, which can block our progress in the present.
I've met so many CEOs and entrepreneurs who are struggling due to self-restricting and self-sabotaging beliefs. I hear things like,
I feel bad for wanting to make more money.
I feel like I'm not good enough.
I don't feel like I deserve success.
We internalize external views and opinions from others, from society, parents, friends and we allow them to override our ability and power. As Kay Robinson says,  
"Invalidating ourselves just adds more energy to our space, making it even more difficult to break out."
We avoid taking certain steps or take the risks, because we believe we will fail, that it's wrong to do them well, or just sucks all the energy out of us so that we can't face them.
TLC to help banish the negativity and replace it with light. While you are connecting to the light, give yourself the permission to be great, to be successful and to enjoy it!  
What about those tasks I just don't want to do?
Dr. John Demartini made a breakthrough discovery about human behaviour, which he called the Hierarchy of Values. Andi Shi, Human Behaviour Specialist explains Demartini's work in his blog post, 'Why do we procrastinate?',
"What we consciously think is important is often not really important to us subconsciously and, therefore, our life does not demonstrate it as important in our thoughts, words and actions. As is well known, in the contest between the conscious and the subconscious, the subconscious mind always wins hands down."
Sometimes, we avoid doing some important task, because deep down, it's not really that important to us. We are being driven by our subconscious hierarchy of values and fighting against our intuition.
So, what can we do to change this? Shi adds,
"Change your hierarchy of values. Raise the importance of what you procrastinate about by linking it to the high values on your hierarchy. When an action is linked in multiple ways to a high value, it becomes a high value, and you will automatically act on it."
4. WWIT to Discover Your True Values
Of course, it may also be time to reevaluate where we are. TLC and ask yourself:
Is this my ideal environment?

Is this what I should be doing?

Is this what I WANT to be doing?

What are my goals?

Are they still my goals?
Sometimes, it happens that we neglect our intuition and our inner voice for so long, that we get badly off track. But have no fear, your intuition is your best guide. Listen carefully, act and move on. 
We can also use more nested WWIT questions to discover the reasons and values behind our procrastination.
WWIT to finish this in a timely manner and send it ?

Why am I prolonging to call my client and ask for that payment that they owe me?

Why am I waiting to send a new offer to the client X?
For more WWIT tips and ideas on how to cut the stress and double your profits, check out this 10 minute cheat sheet!