Russ Perry talks about "From the Pit of Addictions to the Peaks of Business Intuition" in this episode of the Intuitive Leadership Mastery Podcast, with host Michaela Light.
"My belief is it is two parts. One is very biomechanical. I think there is a… You know in the brain with any type of substance or reward, you get that dopamine release, you get out that hit of feel good chemicals. And for some people, that doesn't… you don't require a lot. So just going outside on a walk you're able to enjoy it and it's a rush and you feel fantastic. For others, you actually have almost no resistance in the sense that you require a high level of activity. And alcohol and drugs, many of them are a bio like a biomechanical like release for those feel good for drugs. The problem is that they have a huge downside to it." – Russ Perry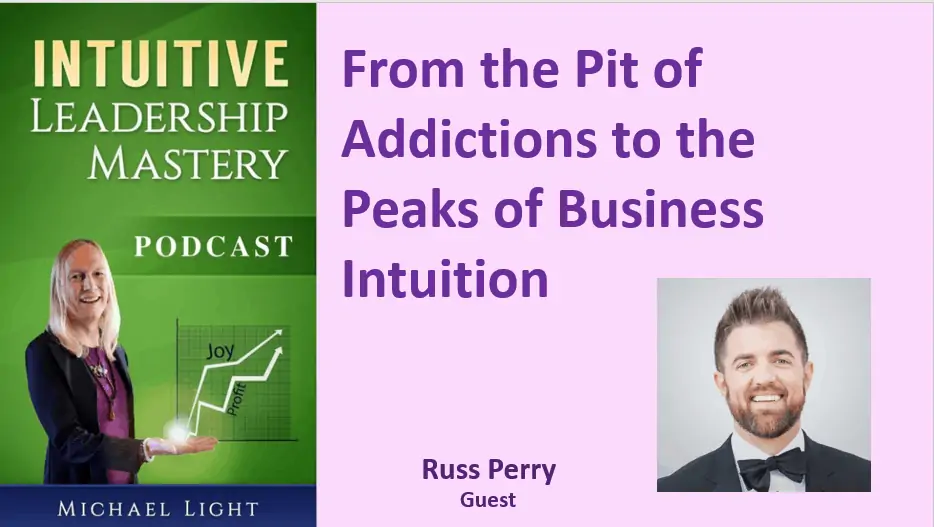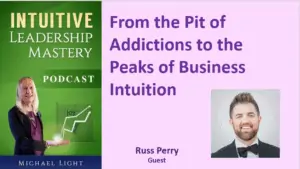 Here are some of the topics discussed in the podcast:
The worst hiring mistake I ever made in business

Worse point of my life with drinking, drugs and affair ← the pit

High expectations + passive communication style

Wake up call to live

Why he drank

Rituals and mindspace

Muting his spirit and intuition

depression

How he sucked at business intuition for a long time

Instead asking lots of other people and books

3 coaches → his inner voice

How he lost $200k in his first business

Biggest mistake

Creative agency biz partner

Ignore my intuition

Lost $200k

Generalist agency vs niche

How do you know you have outgrown a coach?

Wake up warrior

Addicted to bad business model

When it is hard to listen to your inner voice

Action is key to hearing your intuition better

How his hiring now is all based on cultural fit > skill set

Why are you proud to use your business intuition?

WWIT to make business intuition more openly used this year?

Know yourself

Action on small intuition
If you want to double your profits and half your stress, check out the Biz Intuition Profit Doubler. It is a free course for you to use intuition in your business.
Mentioned in this episode
"Fucked up and Fired Up" weekly sessions at work

Laura Hanley book coach
Podcast: Play in new window | Download (Duration: 57:41 — 52.8MB) | Embed
Subscribe: RSS
Russ Perry has been involved in branding and marketing strategy for over the last decade. He has worked to shift the status-quo with brands such as Apple, Morgan Stanley, Pebble Tec, LG, Botanicare and the Harlem Globetrotters. In 2015 he launched Design Pickle, the #1 flat-rate graphic design service in the world. He enjoys global travel with his wife and three beautiful daughters. Most recently he's on a mission to help individuals discover their inner voice through the power of sobriety.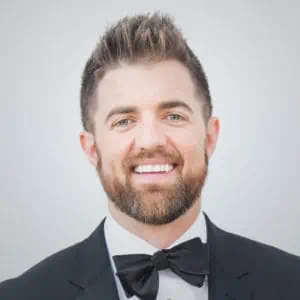 Learn more about Russ Perry at:
Interview transcript:
Michaela:        Welcome back to the show. Today, I'm talking with Russ Perry, and he is known as the sober entrepreneur. And we're going to be talking about how he made the worst hiring mistake he ever made in his business. And that led to drinking, drugs, an affair that led to total pit of his entire life to date. But it also led to where he is now where he is able to connect with his business intuition. And he has made some incredible business decisions that let him grow his business design pickle from zero to six million dollars in annual recurring revenue in just three years.
And perhaps more importantly, he's made an amazing culture and team. So, also look at how he made some other mistakes when he wasn't using intuition. Managed to lose two hundred thousand in his first business. Maybe have some of the issues there. And also talk about how you listening may be addicted to a bad business model, and are prepared to give up its model, and what you can do about that. So welcome Russ.
Russ:               Hey, thank you so much for having me. Good evening or good morning depending on where everyone's out.
WWIT to start using your business intuition more openly?
Learn more about this powerful technique and how it takes only 10 minutes to learn a new technique that makes running your business 3x easier