You can listen to the podcast and read the show notes here.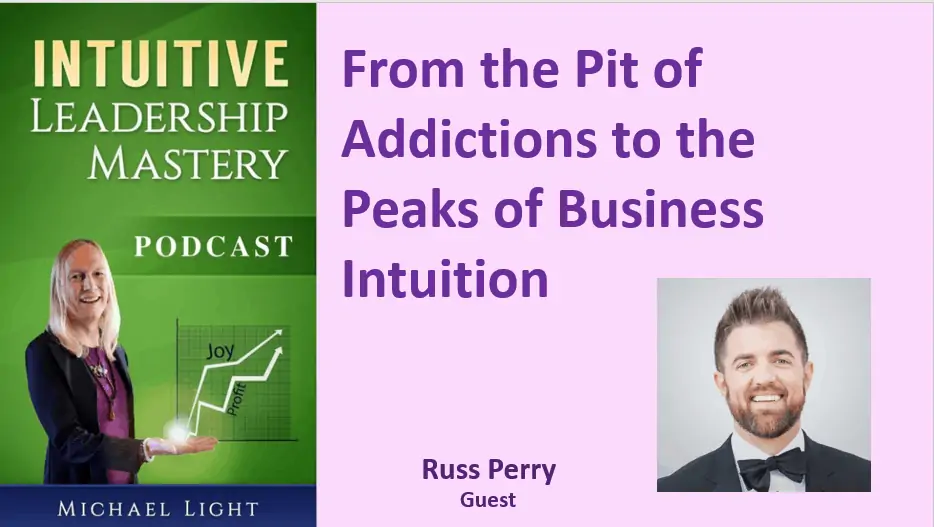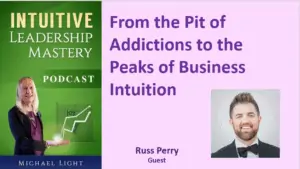 Michaela:        Welcome back to the show. Today, I'm talking with Russ Perry, and he is known as the sober entrepreneur. And we're going to be talking about how he made the worst hiring mistake he ever made in his business. And that led to drinking, drugs, an affair that led to total pit of his entire life to date. But it also led to where he is now where he is able to connect with his business intuition. And he has made some incredible business decisions that let him grow his business design pickle from zero to six million dollars in annual recurring revenue in just three years.
And perhaps more importantly, he's made an amazing culture and team. So, also look at how he made some other mistakes when he wasn't using intuition. Managed to lose two hundred thousand in his first business. Maybe have some of the issues there. And also talk about how you listening may be addicted to a bad business model, and are prepared to give up its model, and what you can do about that. So welcome Russ.
Russ:               Hey, thank you so much for having me. Good evening or good morning depending on where everyone's out.
Michaela:        Yeah, morning for you in Arizona, for me in… I going to say sunny Thailand, but right now it's dark. So I just want to start with this most to… I know you probably don't really want to talk about this. But we're going to ask you to talk about it. The worst hiring mistake you ever made where you weren't using your intuition perhaps.
Russ:               Yes, so talking about it actually isn't a problem now. I wrote a book about it which I'm sure we'll mention later on. But I think the worst hiring decision… Well it really was a period of time when which I was doing everything, but ignoring my business intuition. The general answer (not get into specifics that's where the juicy details are) is that I was a man who was always looking for an answer in somebody else. And I let that guide a lot of my hiring decisions for many years.
I was always looking to find the experts, and find the person that had the right answers to help solve my problems. What ended up happening out of that was I found, and I brought in people who most of which were necessarily like bad people. But they were… we were setting everyone up for failure because I had such high expectations on them to performance and to succeed that it was an impossible game to win. And so then I would get frustrated, I would be resentful. And at the time, I lacked the leadership and communication skills to do the unthinkable, and actually talk to them directly about their problems which…
Michaela:        oh!
Russ:               Like gosh my [inaudible] [03:00] it's like a revelation nowadays. And so this ultimately led to one person in particular that… it was a very destructive path that I went down. I was heavily involved in alcohol as I am alcoholic. I've been sober for four years now but the…
Michaela:        high five
Russ:               all right
Michaela:        yeah
Russ:               You know you mix alcohol, you mix drugs, you mix isolation and stress and depression. And one person in particular that I worked with ended up we had an affair, and it was the mistake of my life. The pit that I will never be any lower than at that point. But it was also believe wake up call for me on like about ten different levels on how I needed to change, and what needed to change in my life so that I literally could live. Because I was most certainly on a path that would have resulted in my death whether it was immediately or at the age of 50 of a heart attack because of unhealthy habits, and a lifestyle over a few decades.
Michaela:        Do you know any entrepreneurs who've done that? They done that hard living, drinking affairs, drugs, overworking, and then they did croak of a heart attack.
Russ:               You know thankfully, I don't know many. I have had two family members die of heart related issues who were very much involved in addictive of habits; alcohol, drinking. One was sort of an entrepreneur or family business. But I can tell you this is I have… my eye is on a lot of guys and gals here in the circles that I've seen that year just… You know it's not sustainable and the body will degrade really fast at a certain point. And so I will not be surprised when it starts happening because some of my people I've had in their '50s, '60s, they look like they're 80, and it's one of those things where any moment you know something could just break or shutdown.
Michaela:        Right, and I'm kind of wondering in retrospect. Why do you think you had this addiction to alcohol?
Russ:               You know it's that's like a really a question I've actually never been asked that question before. My belief is it is two parts. One is very biomechanical. I think there is a… You know in the brain with any type of substance or reward, you get that dopamine release, you get out that hit of feel good chemicals. And for some people, that doesn't… you don't require a lot. So just going outside on a walk you're able to enjoy it and it's a rush and you feel fantastic. For others, you actually have almost no resistance in the sense that you require a high level of activity. And alcohol and drugs, many of them are a bio like a biomechanical like release for those feel good for drugs. The problem is that they have a huge downside to it.
So I began buying. I'm like wired to just like crave that more. And so that's what leads to addictive personalities. But I also know that this is a second part of the book is like as an entrepreneur, we are stacking the deck against us in so many ways including creating a lifestyle that can be highly stressful. And I simply lacked basic Stress Management 101. And so my stress management strategy was stress suppress, stress suppress. And that's what alcohol did for me is it pushed down whatever it was I was struggling with. But then, when I was able to finally break free from that and learn healthy living habits that didn't involve substances, I was able to really manage my stress. And the biomechanical side of it wasn't even a factor because I wasn't even attracted to the substances.
Michaela:        That's great because I know people who… I used to drink myself. I gave it up about nine years ago.
Russ:               all right!
Michaela:        It's got in the way of me, yeah. I mean in retrospect, I think I did have some alcoholism. You know because I go out every weekend and get drunk. And I drink every day which you know sounds pretty alcoholic to me right now. At the time I didn't think. I thought I was just normal you know [crosstalk] [07:55] party.
Russ:               Well I mean you hear stories like, "Well my grandma still drinks a couple whiskey every day and she's 89, and she works fine." So yeah, I think everyone's wired differently. But what you said to me, that's the big…
Michaela:        How much is your grandma's annual recurring revenue?
Russ:               Zero, it's 200 dollars a month Social Security.
Michaela:        Right, so she may have slightly less stress in her life.
Russ:               correct, correct
Michaela:        Yeah, so yeah I mean for me, I wanted to get in touch with my spiritual side and I found when I drank, I just disconnected from that. I don't know, I'm kind of curious whether you had any… Do you think in retrospect you were taking these things so you didn't have to connect with your intuition or?
Russ:               Yeah, well in my spiritual journey was muted ever since I introduced alcohol into my life as a high school aged students. I stopped growing spirits chilly. I stopped listening to my intuition, or the voice, or God, or whatever interpretation that people have for that thing. And I always share when I eliminated alcohol, I literally felt like alcohol like took up this part of my life and this… I feel like this physical guidance container, this physical container that when you drink, it consumes you. And it's not just the drinking and being drunk and going out, it's all the rituals around it. It's meeting at the bar, it's buying something, it's the next day.
It's like that the… and for me like here in the United States like you know drinking and driving is a huge problem. And so who's going to get home, who's going to drive. It might have one drink then I got to not have a drink. So this cognitive bandwidth is just consumes on this topic. And so when I removed that from my life, and I removed alcohol, I had this huge cavity inside of me that was then… I was able to fill with spirituality, and with connection. And for the first time ever, that was when I felt like I had finally gotten contact with the voice. Like I finally heard myself for the first time, and that was epic. I mean that was like when I started to really question life and think about things at a deeper level. But last year we…
Michaela:        I think we were speaking far too much truth for the Internet to be able to handle. You were saying drinking and driving and…
Russ:               Oh yeah! So I just say like drinking and driving here in the States at least it's like a huge danger. So all the rituals to sum it up like all the rituals around drinking takes up like a mental bandwidth. And I like I said I imagine this container was filled with all of the decisions, and the cause, and effects, and all of these things. And so, when I limited that from my life, it was like a sigh, and I had this vacancy. And that's when the voice and my intuition finally was like, "Well it's about time I can now speak." And like you could hear me and like, yes. So that was when I started to really ask deeper questions and be reproached. Like put on the new trajectory. Not guided by external things but guided by the internal.
Michaela:        Yeah, because part of the drinking is annexed. There's a lot of advertising around drinking and there's a lot of peer pressure and you know let's go out drinking. And it's almost… It is to you know I want to get that experience feeling high, and feeling connection with others. And I'm doing it through alcohol instead of real connection.
Russ:               And that tends to be the number one reason why people are afraid to drink, or sorry afraid to quit drinking. Is they have social pressures they are worried about. Well what about my friends, well I just love… I'm the fun guy. What am I going to do on New Years? My significant other drinks or I get uncomfortable in public situations, so how my it… Like you know that loosens me up. Every reason why someone who wants to drink is always an external reason, period. Or wants to continue to drink. There are a few people who are like, "Ah yeah just like you know I just like chilling out." But you could get that same effect through other things like meditation, exercise. And so when you present that case or like then there are all the external reasons that come to play.
Michael:          Yeah, I mean I was to talking to Anna [inaudible] [13:12] on the podcast, and she gave up drinking I think maybe year ago. And it just totally changed a business, and she's so much happier.
Russ:               yeah
Michaela:        So it's interesting because it's a depressant I think, right?
Russ:               It is I mean and that's that bio chemical… it's there's the reaction of the dopamine drop. But what happens is because that's artificially triggered, you end up with the deficits. And you end up with all of this biochemical reaction over the next 24 to 72 hours in which you are clinically depressed by measurements of all of what's going on inside of you. And so the dots that's me is the irony of all of this especially for people who really want to leverage alcohol a relaxing type activity. Is like you kind of just setting yourself up for more shit down the road. And I think it's Matt Mullenweg was quoted that, "alcohol or drinking borrows happiness from the future'. So that's all that's really happening. You're just taking happiness and pulling it from the future into the present. But then when you get to the future, you're at a deficit.
[24:45]
Michaela:        hello
Russ:               Hey, welcome back.
Michaela:        Welcome back, I rebooted my computer just in case that would assists. I think we just… looks like was still recording too. So this could be all part of the experience.
Russ:               You got me just like staring at a screen kind of.
Michaela:        Well, we'll edit that part out. I think spiritually speaking, we just have far too much truth being expressed. Like honest belief always happens before on podcast interviews that we start talking about the real truth, and it just can't handle it.
Russ:               All right, well I don't know where we want to pick back up.
Michaela:        Just pick up we were talking about how you were substituting alcohol for your connection to spirits.
Russ:               Right snow, I think the biggest realization is kind of continuing the analogy around this containers. When I removed the alcohol, and the habits, and the ritual. And all of these things I found that there was like this huge vacancy. But in a good way to where it was almost unnerving where I was… It was like okay, well it's Saturday morning and I'm up at six and I feel like, "Oh my God! What do I do?" And actually in my book, 'Sober Entrepreneur' I create this very unscientific chart of kind of like the level of drinking commitment, and how much time actually goes into it between the various you know.
Michaela:        oh!
Russ:               The pre-planning, the actual time, after time. And when it adds up even, I mean if you're doing it even once or twice a week we're talking about like weeks of time over a year's period that is going to this thing, and this is crazy.
Michaela:        Does that include the energy drain you get from when you kind of [inaudible] [26:49]?
Russ:               To some extent, but as we get older, like that fog of postering game like gets longer. You can't recover as fast and two drinks. You're like, "I only had two glasses of wine last night and I feel so wrecked today." So that just is obviously an addition to that. So but back to the spiritual side of things when that was removed, I could then hear things I had never heard before which 100 percent is intuition is the voice like it just.
Michaela:        Like want to share with us what kind of things you hear?
Russ:               Well I mean the first was that I had a terrible business something I needed in my partnership.
Michaela:        This was the partnership where you think between the two of you lost 200,000 dollars too.
Russ:               Right, yes so my last day of drinking in my day of retirement was October 22nd, 2013. And really it took about eight, nine months to start to listen to this voice. But in August of 2014, I was at a conference in Indianapolis. And it was supposed to be a fun conference. It was actually like a vacation and I was taking for the school game conference I go to. And I was having this miserable time, and I was just like this sucks. And so I Skype my partner in Buenos Aires and I was like I'm out. And the funny part is this he wasn't surprised. Like he knew too. But I was kind of at the end reception. I was like carrying all the weight of this, and I finally wrote. And he's like, "Yeah, you're right we should probably end it." And I was like, "Oh motherfucker…
Michaela:        wow!
Russ:               We should have done this a long time ago."
Michaela:        Right, would have saved a lot of heartbreak, and lost energy, lost money.
Russ:               yeah, exactly
Michaela:        And lots of bar bills that you paid while you were drinking to avoid the pain.
Russ:               Exactly, so that was like the first big decision and then I was on like a rampage the rest of 2014 in the pursuit of the truth, in pursuit of the answers that I just never… And the questions asking the questions that I had never really asked before.
Michaela:        wow!
Russ:               And so that's what I got dabbled in coaching, and hired some coaches. And really loved out experience in the sense that I was able to accelerate to the questioning answer process with the person to help me support. Not tell you…
Michaela:        What would you… I was speaking to someone in the entrepreneur community. We're both in and… He was saying that… He just didn't see the… You know coaches cost a lot it's basically his reaction you know.
Russ:               Yeah, well I mean…
Michaela:        What would you say to that?
Russ:               I say what are you worth? Because if you don't have a high sense of value of yourself and what you're capable of, then you probably don't see the value in investing in yourself, and investing in support. But the coach is no different than a coach in any other vertical. The best people in the world don't do it by themselves. They have numerous coaches supporting them. Because all coaching does is it allows you to gain perspective and evolve at a faster pace than the person who's not being coached. And that's… what I tell people all the time. I agree with this guy is like dude coaching is insane. You pay all this money and then some would literally just asks you questions that you answer yourself.
And you do all the work, you do everything, and you're paid them like three times the rate of a therapist or bore you know, depending on who it is. But it's that personal accountability and it's also that unbiased mirror that someone can hold up right in front of you to say, "Look Russ, you say you want this, but your actions are completely the opposite. What are you gonna do? Are you gonna reconcile that, or are you going to be a hypocrite?" And I've outgrown several coaches, and ultimately, the program that I'm involved, now I don't work with a single coach. I just like the personal accountability of the network and the depth of the conversations that I have in my mastermind with that group. But to the person you're talking to, I just think they don't value themselves.
Michaela:        It could be [inaudible]. How do you know you've outgrown a coach? I look at it a real practical level because to me, business is like the… It's what's real in this world. It's probably the easiest thing to measure by many dimensions. And so, I have that as a kind of my guiding guide post of where I'm not in life. And for me, outgrowing my coach just meant I surpassed them in terms of my business creation.
Because I… it's hard for me to get spiritual advice or leadership advice from someone who hasn't been down the path that I'm going down. It would be no different for me to get like coaching advice from a 22-year old who's single with no kids. It's like I think I got a bit of a different game plan than you do. Not to say they're not intelligent or don't have good insights, but I'm more or less looked at as a coach as like a trail guide ahead of me. Looking back and saying, "Hey watch out there, or be careful here, be careful here." So once I pass that trail guide, I need to find somebody else that I follow in terms to learn from.
Michaela:        So, when you listen to your inner voice, how do you put a [inaudible] hear your inner voice? Do you actually literally hear voices in your head? Do you get a knowing? Is there some other way your intuition comes to you?
Russ:               Yeah, there's two very clear times. I think the first is during my prayer and meditation time. I do both separately. Prayer is more me having a conversation with God. I adopt the Christian belief system, and that's the way I understand the universe. Meditation is me by myself with my own thoughts and not trying to connect to anything beyond myself. And so meditation is actually when I have… I know it's like kind of not what you're supposed to do when you meditate. Like think about things. But that's like when those…
Michaela:        Who says that? Like are there rules for meditation? [Crosstalk] [33:32]
Russ:               Andy from head space. Well it's not like that use don't have thoughts it's just that you're supposed to sort of you know you're not supposed to hang on to them and you're supposed to let them flow through you. But when those things come through me, that's when I have those 'aha' moments. But then second half of that is actually, connect… keeping that thought, and taking action. So like for me, the intuition… When you someone has a good intuition that means they're good at doing things. Not good at meditating all day and having great insights. Like intuitions is only intuition when you actually act on it and it becomes real. Otherwise, it's just dreaming or brainstorming. Like that's it.
Michaela:        Now I think that's a good point. And I think the more we act on our intuition, the easier we hear those messages from our intuition.
Russ:               Yeah, let me give you a great example. I really love physical training from the stress and the peace that it gives me. And I've been really into running and outdoors and endurance. Actually when we were in Thailand, I was a little nervous to just go outside and running with the traffic. And so I ran on the treadmill and I was sweating so much on the treadmill that it was getting slippery because there's so much humidity in the air that is just pouring. And I was like the treadmill is getting dangerous. But this training I've been doing the lead up to this event called 'The World's Toughest Motor' which was hosted two weekends ago. I have been training for this for four months. I did it in 2016. It's a major endurance event, a 24-hour event. The night I was supposed to go, my intuition, I called the voice was saying, "Don't go."
Michaela:        oh!
Russ:               You've been gone, you've been traveling, your family needs you here, there's no reason for you to do this. And I message my teammate who's kind of the captain of the team. He lives close to me. He swung by the office. I'm like, "Hey, we're leaving like in two hours. We're driving to Las Vegas to go to this race." It's like I can't go. Like I am listening to this. So sometimes it's hard because it's going to tell you the complete opposite, and I am not joking. I'm like I had my gear, I was packed, I was ready to go there, I was trained.
Michaela:        right
Russ:               I would have been fine. I've done it before. I had the experience, but I listen to that. So it's that moment of action and quick action that then allows us to trust the voice more, and trust our intuition, and then move more rapidly.
Michaela:        Yeah, so do you had a good experience from that particularly one where you listened to that, and didn't go for the run?
Russ:               Yeah don't like the very next morning when I was… We were supposed to leave on a Thursday night, the next morning. It was a holiday day for school, so my daughter who… my oldest daughter who's twelve, Junior High tough time to be a kid when you're twelve and adolescence, and all of that. We went to breakfast that morning together. I took her to the office with me. And she just randomly started talking and opening up about some friendship challenges she's having. She was just connecting with me. And whatever she was talking about was very temporal and it was just her and her world right then. But I put myself in the observer role and I was like I would have never had this moment with my daughter which as you know connecting with 12… teenagers, or kids is not easy.
Michaela:        yeah
Russ:               So I was building that trust and connection with her. And like that breakfast alone, and that eight minutes of that conversation, that alone was worth not going. But I had a moment like that with each one of my family members throughout the entire weekend. And that's what my intuition knew. It knew that this was not a time to go out and beat myself up in the desert for a few days. This was a time to come back and connect with my family.
Michaela:        Right, do you think your younger self would have heard that kind of message even if he hadn't been drinking?
Russ:               Now because drinking isn't the solution in its entirety. I think experience and mistakes allowed me to… You just fortunately get better with age. You just make mistakes and you learn. I probably would have gotten to this point faster without drinking just because I think I could have probably gone through more reps of life and moved to clear through that there's not a verse is sort of the slow pace. But I think there's a combination there for sure.
Michaela:        I mean I almost wonder in myself where I had to unlearn not listening to my inner voice. I went through so much school and training and early jobs where we were told to be logical and…
Russ:               yeah
Michaela:        And it's almost like I had to unlearn that stuff in order to be able to hear it more clearly.
Russ:               yeah
Michaela:        And I'm wondering if it's that some of your experience or you had a different one.
Russ:               I tend to have been someone who's always sort of wanted to listen to my own intuition more so than others. It's why I left my job at Apple. I used to work at Apple. I had the best job ever at Apple. And I was one of the guys who worked in the retail store. I was a creative. I was like helping people every day. I got free Apple products. And you know to me this is like the [inaudible] [39:31] life. I had benefits and stock options. But my voice said, "Hey, go down this new path of entrepreneurship. You need to follow this."
So I think what I had to unlearn it was this belief that there's some like tome of knowledge that exists on a shelf somewhere. Where that if I just find that then I'll have enlightenment in the answers. And that's why I joined all these professional organizations. And it's why even week we met virtually online form is because I joined the dynamite circle because I was seeking answers versus just like getting out there now they're doing shit and learning and trying new stuff and look and you know creating my own answers.
Michaela:        I thought you joined the dynamite circle in order to have more drinking opportunities.
Russ:               I was sober then when I joined so. But I'd still be drinking as I learned Thailand. There would ample opportunity for socializing with a few cocktails.
Michaela:        Yeah, yeah so I'm just kind of thinking to our children. You know because I think young children really are in touch with their inner voice. You know when they're less than three years old. I mean often they have imaginary friends. I mean we call them imaginary friends. Maybe they're actually hearing some voices giving them useful guidance.
Russ:               Yeah, well that is probably one of the things I think about the most as a parent because I have three daughters; twelve, five, and two. And I was a product of the school system; public school system in Arizona. I loved it. I was involved. I went to public university; Arizona State University. Didn't help with the drinking to go there, has a very big party school. But I look at my daughters now even my 12-year old. In seven years she's been attending school, it's changed drastically to where I really am thinking a lot about we deprograming our children to not listen to themselves. To get any answers are in growth, or memorization. And it's tough because like you go back 2,000 years and you look at the classical form of education in Roman and Greek empires.
They did a pretty amazing job and they like studied and learned Maths, and literature. Like they were very engaged in like really fundamental things. I think there's value there. But at the same time, how am I making sure they don't become brainwashed of this promise of Higher Education that all the sudden you're going to emerge from grad school with your M.B.A. unlike the golden path of work. Like I have two people that work for me that have graduate degrees that are doing nothing at all, at all. Like it's just the huge student loan debt that they have. And it's only getting worse as private or public education gets reconfigured.
So I think about that all the time. And I think that's kind of our job as a parent is to make sure that we're inspiring, and instilling imagination, and questions, and exploration. And ultimately, it's one reason why I value travel so much for my family. I can't do it like you have, or I'm choosing not I could do it. It would just require a lot of decisions to get in a place. But for us, the summers are the summers of adventure and experiencing new cultures. And that's like my mission for my kids until I die. I will provide that for them as much as I can.
Michaela:        I think experiencing new cultures is probably worth quite a few years of education.
Russ:               right
Michaela:        Because it opens you up too.
Russ:               And I remember my first… you know my main cultural experiences are growing up younger was living in Tucson Arizona there is a very huge Latin-American, Mexican-American communities. And I had tons of friends who were first generation from Mexico, and we go to Mexico. So that's kind of one cultural is that I was fortunate enough to have them. But then my next one really wasn't until I was in college. And it was when I was 19, and I went to the British Isles. I mean that's impacted me for decades, so I can only imagine what we can do if we give those experiences at a younger age.
Michaela:        Right I know we had a time constraint to… should we wrap up, or should we continue?
Russ:               And I think you… let me just double check. Yeah, we could keep going. I got about another half an hour.
Michaela:        Okay, I just want to respect.
Russ:               Yeah, I know we had some hang up, so let's keep going.
Michaela:        Yeah, so here's my… I have a little bit of a difficult question for you. Is it okay to pop it on you?
Russ:               Oh yeah, shoot.
Michaela:        If you asked your future daughter self… You know she's now 12, but let's move forward some period of years, so she's a young adult. What would her young adult self say to you? You know should she stay in the school system, or should she do something else? Should she start her own business, should she travel? I am going to be extremely biased in this. Say I think the true path of freedom is her creating her own business. And if that opportunity comes before a higher education experience, then I'm going to support her. However, success in business comes from experience. And so, I definitely know that my successes have come from a decade of other experiences. They didn't just manifest when I was 19 at Arizona State University.
If she gets that lucky and that's those are the Tech Crunch articles that we see where it's like 18-year old builds Facebook app and sells it for 100 million dollars. Like those are the entrepreneurial lottery winners. But to everyone else, there is a growth period. So I'm going to be supportive. And but I firmly believe that I don't want their future in someone else's hands. And I want to raise them to be independent, confident women that could create on their own, their own pasts. And so you know it's hard to imagine what the world will be like in ten years. But that to me is my like guiding principle that won't change despite if I block chain takes over the world. Like well go into block chain, or whatever. I don't know.
Michaela:        I mean it is… You mentioned independent confident women that's… You know if you look at the traditional cultural labels we put on women, that's almost not seen more on. You're not allowed to be independent, and confident, and a woman.
Russ:               I think this whole roles have really gotten fucked up over the years. In both directions, there's… I think in any relationship there are roles. And whether they are gender assigned or not, I don't… it's just like practically if I have a business and I have everyone without knowing where they fit into the equation, then that's a nightmare of an organization. I think the same goes in a relationship. Like their roles, I don't think those roles have to be gender defined. But those roles have to be roles. But the main thing for me… You know my mom… I was raised by a like all women, my mom's a feminist, she's gay. She came out of the closet when I was like 15. So I'm like…
Michaela:        Good for her.
Russ:               Power, yeah a funny story about that. I can tell you if we have time. But for my daughters, like I don't… Whatever they end up from like the gender piece, that's their own personal decision. But I want them to be confident, and have an identity of who they are. And if that is a heterosexual relationship, great. Like that's not to me, it's not… that's not what I care about. It's just that they know where they stand and they have confidence.
And they don't have to go through what my mom went through which was being raised in the '70s, '60s, '70s, '80s, '90s to '1,000s where here you have no identity because something inside you is saying one thing, but then culturally, everything's elsewhere and you're confused. And so I want to eliminate that. And I think in business their success is going to be dictated by them from an early age learning about intuition, learning about trusting themselves, and not seeking that in someone else to fulfill them or complete them.
Michaela:        That's interesting, so the being not addicted to a substance, being addicted to having a relationship or addicted to…
Russ:               Cracks! And that was my big mistake. And I look back and it's easy to sort of play the 'what if games'. But being raised in a single mom household, I think what did this have to do or how did this influence my deficits that I had growing up. And did I… was that influential and then like me feeling like I needed to seek out affirmation and answers from others. If I had a father figure that was more active in my life, could that have solved that? Now those games are stupid because like we wouldn't be talking today had that been the case. But in the same sense like for me, my daughter I had when I was a senior in high school or not high school college.
It was an accident surprise my oldest and… Well like from day one, I was like, "Okay, my new role as a dad. My new role is to make sure she has support in all areas. And not grow up with a deficit as much as I can handle." You know as a parent you're going to fuck everyone up eventually. But like the biggest thing that I see for them now is get them… Let them know that an external relationship should be an additive engagement, not a just get me to full engagement. Like it should be over filling your cup with something that's greater than you could have by yourself. But when you're by yourself, you should have independence and confidence and not feel like you need that. Whether that's personally, professionally, spiritually, or wherever it might be.
Michaela:        That sounds like a great thing to do for daughters or sons.
Russ:               yeah
Michaela:        Any child, yeah. I mean I'm kind of wondering. I mean I notice that me and you and a lot of humans have a lot of addictions. You know whether it's drugs, or relationships, or money, or shopping, or food, carry cell phones. I notice a lot of people now are addicted to their cell phone.
Russ:               yeah
Michaela:        Why are people so addictive? Is it…?
Russ:               That's a question I viewed in my book. I really think a lot of it has to do with how we… the tools that we've been given to manage are really crazy life. Like to this world is not compared to the past generations, and we don't teach mindfulness in school. We don't teach the power of…
Michaela:        What would it take that we teach tool mindfulness to our children?
Russ:               I think that's an independent decision that we have to do it with as a parent. You know I don't… And that this is like this shifting of responsibility that we believe that it's not you and I. I don't think but general population. You know when things are going well, things are going well and great. But when things go bad, everyone believes it's like someone else's problem, or it's not my fault. And the habits in which that have been around for thousands of years are being ignored and we're raising people and even people my age (I'm 34) who don't even understand that food from a box, in a plastic bag, made by a machine; that's not actually food.
That's like a chemical product that's digestible. So can you eat it? Sure, some probably worse chemicals are better chemicals like absolutely. But that basic one on one is like vacant in so many conversations and we get it. I think in the circles we run in… we like it's kind of comfy because everyone's, "Oh yeah, meditation. I'm in Chiang Mai. I'm at a temple meditating." Like come on I know meditation, but I talk to my team here. And I'm like, "Guys we're going to meditate at our business event like our workshop and we're going to say it's will like create and… So I just think from your question like why is addiction so rampant, it's because people don't have the tools to manage stress, and problems, and things that just are part of life.
Imagine the agrarian farmer, you know the 1800s. Like him and his wife in an argument. But that he has to like go to bed at seven and wake up at 3:00 in the morning and go till the fields for four hours. Like the argument is so gone. By the time he gets back, he's decided to have a meal there for them. And so like we've lost a lot of things that I think have helped us manage stress and problems. And not to mention cell phones. I don't… I think my cell phone is in my car. But like I don't even know where my cell phone is. Like that device is like electrons of stressed and distractions in all of the things all the time. So no wonder we're like, "Fuck it, I want to drink. Like I can't handle it."
Michaela:        Maybe we should treat our cell phones like guns. They should be locked in the car and they're a tool to be used when handy, but not carry concealed on our body all the time.
Russ:               I love it. Do you know the author and really great blogger, Calvin Newport?
Michaela:        I don't know.
Russ:               Oh, you have to check him out. You will love him. So he's actually a computer. Like a theoretical computer scientist at MIT. And blogs, and writes, and published a book about the dangers of distraction and how we're kind of ruining ourselves. And cell phone addiction is going to be the cigarettes of the next generation. We're right now, everyone's like you look at the like our parents are like really smoked at dinner, we smoked on airplanes. Like it was no problem. Like smoking's fine. I can smoke if I want to. But it's this major public health risk. So fast forward 10, 20 years. Once that happens, he's like this is going to be a major public health risk between depression, and stress, and all sorts of things.
Michaela:        I seem to remember I don't know if this was in the cinemas, or airplanes. But I'm sure it was like if you want to smoke, you go on the right side of the plane or the cinema. And if you don't want to, you go on the left. Maybe we can do that. No, it's an intermediary step.
Russ:               Yeah, it's crazy I get so triggered by cellphones.
Michaela:        Yeah, well I'm sure coming technology where they're just going to implant it; the cell phone technology in your brain. You know it'll…
Russ:               I think that's the point when I'd become old man Russ where I'm like, "I am not going to put that contact lens computer in my eye. Like computers are for devices that you can put away. Ahaaaa!"
Michaela:        I mean how do we stay in touch with our inner voice if we are 24/7 hooked up to the internet or whatever [inaudible] [56:53]?
Russ:               Just make time to not be plugged in to anything else other than yourself.
Michaela:        Yeah, I mean that is going to be a challenge. As humans, we evolve with the technology.
Russ:               we do
Michaela:        And all the you know.
Russ:               And who knows, like there may be some breakthrough of trans dental, rapid eye movement technology that allows us to immediately access the voice with the assistance of technology. But and so then to me the biggest insights I've ever had of when I'm on a thriller like writing on a journal or just by myself. So as long as that keeps outperforming the technology engagements, I'll continue to go back to that. But to be in those states, you have to be comfortable with yourself.
And that's ultimately why I think a lot of people avoid meditation, working out, exercise, sobriety is because when you're in that state, you are forced to really know and examine yourself. And people aren't comfortable with that. They've made that decision, there's guilt. And I mean could easily talk about my affair because I don't have any guilt about it. I have no secrets. My wife, she encouraged me to write the book. But if you're not at that state of honesty with yourself, no doubt you wanna hide away and avoid that.
Michaela:        Maybe that's one of the greatest gifts we can give our children and our staff to be comfortable with themselves to the point where they can be on their own for five minutes.
Russ:               [Inaudible] [58:42] and actually, we've implemented a weekly leadership course now with the whole team. Now it's with the [inaudible] people where we… You know it's not forced by I try to get precedence. We share really personal stuff. And we share it on a… it's called 'Fucked up and Fired up'. So what's like the fire thing you're fired up about of the last week, and what's the thing you're fucked up about?" But a great example is one of my team members her husband… Not her husband, her brother who's an older brother in his '50s got put into jail for drug possession and drug abuse. It's like Thanksgiving week. And so…
Michaela:        wow!
Russ:               This man is at her house and she was really upset. And we didn't try to solve her problems. We didn't try to fix her or give her tips, or coach her. We just… it's just a format where she could be honest and open, and that was it. And she later on was like I was so looking forward to this call to be able to share this, and get it off my chest. And that to me was like that's the next level of leadership inside our families, and inside our businesses is creating a place where people can actually talk about personal stuff. And not have judgments, not have, "Oh, teach her. We shouldn't…" Like blah, blah, blah talk about that.
Michaela:        We're human beings.
Russ:               right
Michaela:        So we need connection. I mean I sometimes think I'm not so much an entrepreneur occasionally having spiritual experiences. I'm a spiritual being having an entrepreneurial experience.
Russ:               Absolutely, yeah, of course. I think the latter is way more accurate.
Michaela:        Yeah, and in addition, my business is actually a vehicle for my spiritual growth to be far more accelerated than if I just stayed in the regular job I had before I started my business.
Russ:               Right because we are physical beings in a spiritual world right now. And whatever you believe is beyond this current existence. This current existence is really reliant on money and things and stuff. And so, if I want to have an experience in Thailand, or I want to have an experience scuba diving, or just an experience where I don't have to do anything for two weeks because I'm out a silent retreat, that requires money and sports, and that's what the business feels. Feels it for me, feels it for my family. It seems like you have the same philosophy around that.
Michaela:        And for your staff too.
Russ:               And for my staff, exactly.
Michaela:        Yeah, it's pretty amazing. So just as we wrap this interview up, why are you proud to use your business intuition to listen, to this inner voice?
Russ:               My biggest pride comes literally from seeing the way we're helping thousands of people every single day. And that engine of value would have never existed had I not listened to my voice to pursue this idea. You know and I believe that the idea was given to me by the voice and my intuition because I was now ready to create this. And it said, "You know what? Now I can trust you with this idea and you can now help these people because you now are the person who can handle it.
And you're not going to crumble under pressure and resort to destructive habits." So I'm just proud that I'm there. I'm proud that I've written a book documenting a lot of this because if I don't give it to anybody, that's going to be a memoir for my children which I never had from my parents. They're both still alive, but they don't you know, what I know about their past as an adult and there's never really like lesson. And so that also was part of my intuition was writing this book, and sharing this journey that I've been on.
Michaela:        Wow! Do you feel in some sense the book wrote you to writing it rather than you wrote the book. You know I'm not phrasing that quite right, but wrote you instead of you wrote the book.
Russ:               I think the book was there all along. I just had to compile it. There was nothing to write because it was there. Like the story was there.
Michaela:        So you kind of… you got into the zone, and the words just came out kind of thing.
Russ:               Yeah, I did end up hiring Laura Hanley; who you may know she…
Michaela:        She helped me on my book.
Russ:               Yeah, so she's a gem and just got me through. I got to about 28,000 words and I was like… So there was literally help with the writing too. Her value was knowing the right way to get the deeper story which that was a gift that she brought to the table and our climb aeration was I'm so thankful for her support and coach. I mean talk about coaching. She was literally like a psychologist for me. Like, "Come on Russ. We can do this." But the book itself, I knew that was… I was like on a mission to get this done for my own historical sort of gift to my [inaudible] [1:04:14]. If I change one life and prevent them from hitting rock bottom, then that is a huge one for me. Not about being an author, it's about changing a life.
Michaela:        Right, but we'll put a link to the book in the show notes. It's the Sober Entrepreneurs. Is there a subtitle or?
Russ:               Change your family tree.
Michaela:        Oh! Okay, so we've talked about the importance and how much value you've got from connecting to your business intuition. What would it take to make business intuition openly used by every entrepreneur this year?
Russ:               Know thyself. I mean if you know yourself, your intuition will manifest naturally. You don't have to find it or search for it because all the sudden, you do a small thing. Like I'm going to pick this restaurant instead of this one, and that restaurant was really great. You know like, "Oh, that worked." And they do a little bit of bigger thing. Like I'm going to…. you know, whatever. Make this phone call. I feel like I should reach out to this person and that ends up providing more of like, "Oh wow! That really worked and you gain this confidence listening to the voice, and growing, and growing, and growing. But you can't ever take that first step if you are hiding from yourself.
Michaela:        Great advice there. So if people want to find you online, what are the best ways to do that?
Russ:               So I am on a competition to beat my wife in Instagram followers. So I could ask if I had everybody hates to follow me on Instagram. It's just Instagram.com/Russ Perry. And then, if you're interested in my story and the book, you can get signed up. Get a first chapter free at soberentrepreneur.com.
Michaela:        Fabulous! Well we'll help you beat your wife. That sounds like a really spiritual goal.
Russ:               That is like tied into the universe right there.
Michaela:        But hopefully you share useful things on your Instagram.
Russ:               I do
Michaela:        To do with your journey.
Russ:               I do a lot of anecdotal kind of quips, and inspiration, and lifestyle stuff. Just kind of what I'm going through, and where I'm at, so.
Michaela:        Fabulous! Well, thanks so much for being on the show.
Russ:               Hey, thank you very much. This is an awesome experience. Actually a lot of my story have never really shared before. So I'm excited to get the copy of this and distribute it in our circles as well.
Michaela:        absolutely