Cameo Wood talks about "Working Blind for a Year (Intuition Really Helps)" in this episode of the Intuitive Leadership Mastery Podcast, with host Michaela Light.
"To your balances, those marketing, and those artistic vision at them having a good intuitive sense of am I being true to myself, am I being true to my storytelling. But am I also not making a movie that no one will ever see, and will not ever make money. Like you have to figure out that balance." – Cameo Wood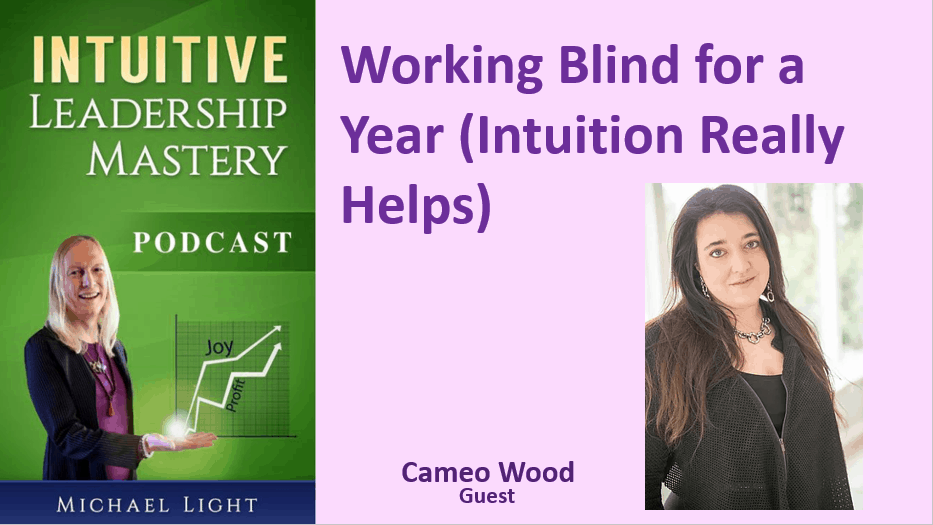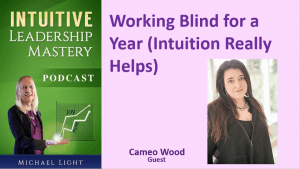 Here are some of the topics discussed in the podcast:
How she improved her director's intuition

watching lots of movies for what they did good or bad.

Shooting on film vs digital. Film – did I feel I got the shot?

The intuitive Movie Producer

How much can I spend on this movie to make money or make my next movie (connections)?

An intuitive sense of it is a cost or an investment.

Hiring

Immediate knowing about an actor

Hiring from desperation → disaster

Lower expectations and planning for it

Focus of my attention

Script Writing

Balance two hats – artist dream and cost of scene

WWIT for someone in the far future come back to face civil rights trials

Spirit of Yes x Yes x Yes

Distribution

Intuition if it will make both of us money

Having a sense of what I like as an individual, and what others will like

Not wanting to quantify taste, but having a gut feeling of what will be wanted and loved a year from now

Story telling – intuition that the audience emotions will become

Lighting, camera angle, acting, script, music, custom

A year's delay from shooting to film is a year

20 days of shooting

A year of developing, composing music, editing

Removing your bias from your intuition

Recalibrating your intuition

Ok making mistakes and learning from it

Mentors "Why did you make that choice?"

She takes acting classes so she has more resources to draw on for a scene or to help an actor give the performance I need. That conveys well on the screen. What to say to them in the moment.

Who is bringing the most joy and light to this aspect of the project

Story arc birth, creating, releasing.

The unknown pivotal moment in the movie

Why are you proud to use your business intuition?

Practicing the role of the people you are guiding

Take classes in acting

Do other jobs that I hiring for

Preparedness

That inner voice that tells you when something is working and will work once all the pieces of the movie are put together

Iterative – but also built on intuition and gut instinct

WWIT to make business intuition more openly used this year?

4 person advisory board in my mind – a gut check on my guy check
If you want to double your profits and half your stress, check out the Biz Intuition Profit Doubler. It is a free course for you to use intuition in your business.
Mentioned in this episode
Podcast: Play in new window | Download (Duration: 59:42 — 54.7MB) | Embed
Subscribe: RSS
Cameo wrote, produced, and directed "Real Artists", a narrative thriller about Artificial Intelligence and the future of filmmaking. Cameo Wood fell in love with movies at the age of seven when she saw Amadeus on the big screen, and she has been making films ever since. At the age of ten, Cameo began writing epic adventures, and shooting scenes on still photos. She began her film education when she was 12 and worked full time at the family video store and was a camera operator and editor for the weekly high school television show. Originally from Pittsfield, Massachusetts, she now lives in San Francisco.
Cameo Wood's science fiction homage to Jonathan Nolan, Jennifer Phang, and the intersection of bioethics and business is an exquisitely produced short film. Stunning images, lean writing, inspired casting, and a seemingly effortless deftness at storytelling create a this stunning film.
Wood considers short films as "tiny stories, perfectly crafted," which fairly sums up this film's ultimate effect on the viewer. Produced with help from Kodak, "Real Artists" perfectly pushes the boundaries of the short film format, delivering feature-length emotional impact and unforgettable visual style in 12 minutes.
Her first for into directing, writing, and producing, Wood has more in store for us in the future, noting, "I've wanted to make films for such a long time; now that we've received such kind and enthusiastic response to REAL ARTISTS, I have the confidence to nurture my ambitions.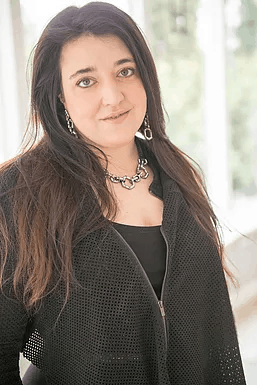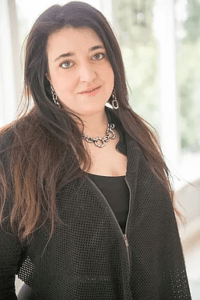 Learn more about Cameo Wood at:
Interview Transcript:
Michaela:        Welcome back to the show. I'm here with Cameo Wood, and we're gonna talk about working blind for a year, and how our intuition really helps. And when I say working blind, I don't mean literally she didn't have any sight. What I mean is that she creates movies. She is a producer, a director, scriptwriter, she does distribution. So all the different stages of the movie. And as we're going to talk about she doesn't know when she's doing something on a particular day what it's gonna look like for a year's time.
So she has to rely on her intuition, and that's why I said she's working blind a fair amount of the time. So we're gonna go into that. And if you've ever made videos, and or watched movies, and wondered how the heck did they do those things, and what's behind the scenes on that, we're gonna delve into some of that, and how our intuition helps with that. And some of the more practical things like how she hires people for movies. And some disasters and success stories she had there where as she paid attention to her intuition, or ignored it. So welcome Cameo.
Cameo:            Thank you so much. I'm very thankful to be here, thank you.
Michaela:        Yeah, I'm glad you're here. So you have a lot of hats you wear in your movies. And you've released… For those of you people listening who don't know Cameo, she's done several movies. And you said you're working on about five right now is it…?
WWIT to start using your business intuition more openly?
Learn more about this powerful technique and how it takes only 10 minutes to learn a new technique that makes running your business 3x easier