Michael Pole talks about "Unlearning Corporate Anti-Intuition Culture (12 Top Hacks for Boosting your Biz Intuition)" in this episode of the Intuitive Leadership Mastery Podcast, with host Michael Light.
"You got to be rushing into work, you're not late. If you're late, your boss gives you hell. If you're late for meetings, you feel the stress and so you just rushing, rushing all the time. And I think that doesn't really give you space to ever stop and reflect on what you're doing. The system is designed to keep you very busy and very distracted and that's a very clever trick." – Michael Pole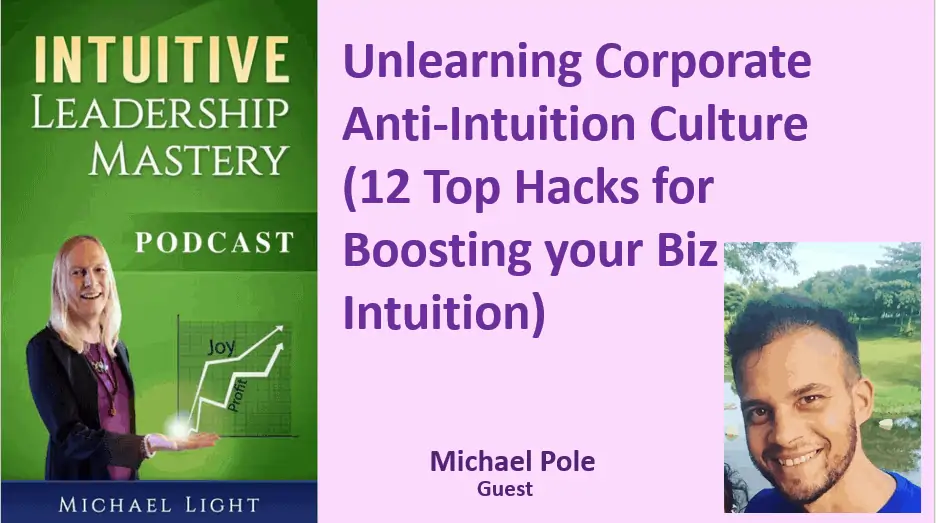 Here are some of the topics discussed in the podcast:
Deviously clever ways he blocked his intuition in the first seven years of his career

Long hours, following orders, staying very busy

The Corporate culture against using intuition openly

Banks in London

Homeschooling vs unschooling vs traditional

System to keep us distracted

Linear time and rushing. Never have enough time.

Glued to your phone

Time to just be

Guarded against office politics

Parents

Churches and cults

Community belief systems

Twelve top hacks for boosting your biz intuition

Question all belief systems

Limit your reality

Mind virus / meme

I don't Know opens you up

Be in nature

Grounding

Barefoot

Grounding shoes

House plants

Getting away from wifi and other EMF energy

Addictions to compensate

Auto timer on wifi router

No carrying cell phone on your body everywhere

Earthing pads and sheets

Sensing people's moods

Health, yoga, meditation

Fasting

Juice fast

Green juice fast (no sugar)

17 day water fast

No water/no food fasting

Sun gazing

Direct looking only near sunset or sunrise

In sunshine during the day.

Stop wearing sunglasses

Daily connecting with nature

Salt baths

Bio-hacking

Ice baths

Inversion 20-30 mins per day

Diet

Chemicals

Pesticides

Preservative

Even soap and shampoo

Pollution

Deodorant  without aluminium

Micro dosing

Light beings > diet/exercise

How constant stress blocks your intuition?

Stress vs Eustress

Sensing/intuitive vs stressed state

What creates stress/adds to it

Drama

Overwhelm

Lack of control of your work and environment

Scarcity

Picking up from environment – city, artificial, wifi, people

Co-creating the next level of entrepreneurial co-living /co-working in the X-Mansion

Your X-factor super power

eXperiment

eXperience

Why are you proud to use your business intuition?

WWIT for you to make business intuition more openly used this year?
If you want to double your profits and half your stress, check out the Biz Intuition Profit Doubler. It is a free course for you to use intuition in your business.
Mentioned in this episode
Podcast: Play in new window | Download (Duration: 1:22:38 — 75.7MB) | Embed
Subscribe: RSS
Bio
Michael Pole is a health enthusiast, entrepreneur, cryptocurrency educator, and co-founder of the X-mansion.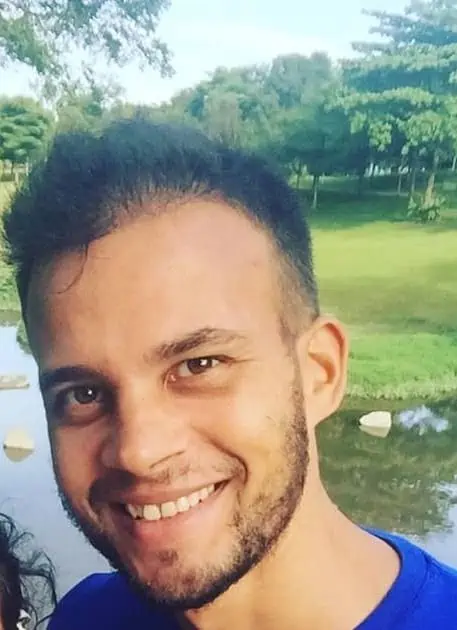 Learn more about Michael Pole at:
Interview Transcript:
Michael Light:            Welcome back to the show. I'm here with Michael Pole and we're going to be looking at and learning corporate and intuition culture with twelve top packs he has for boosting your business intuition.
We'll look at the 00:14 [inaudible] clever ways he blocked his intuition for over seven years when he was working in banks in London. How the corporate coach works against using intuition openly. The twelve top packs for boosting your business intuition that he uses every day and how constant stress can be blocking your intuition.
Also, he has just co-founded the X mansion; a next level entrepreneurial co-living, co-working space that's location independent self which shall be incarnating in Lisbon real soon now. I think in September; if I remember right. So, welcome Michael.
Michael Pole:              Thanks good to be with you.
Michael Light:            And just in case you don't know him, he is a health enthusiastic entrepreneur, crypto currency educator and he as I said earlier, co-founded the X mansion which is a very exciting new initiative.
So, you worked for a long time in the corporate world at a bank in London, can it get much more uptight and stiff lipped than that?
Michael Pole:              yeah totally