Justin Cooke talks about "Optimizing for Lifestyle vs Profits (Using His Intuition)" in this episode of the Intuitive Leadership Mastery Podcast, with host Michaela Light.
"Not that we're slaves of the business, but that we had to do everything to make the business make money, and more money would be a goal. And early on, and not long after starting, we realize you know what, it's our business. We don't have to do it that way. We can do it any way we want. So if we want to move somewhere else for a better lifestyle, or make a little less money, and be a little happier with our business, we can do that." – Justin Cooke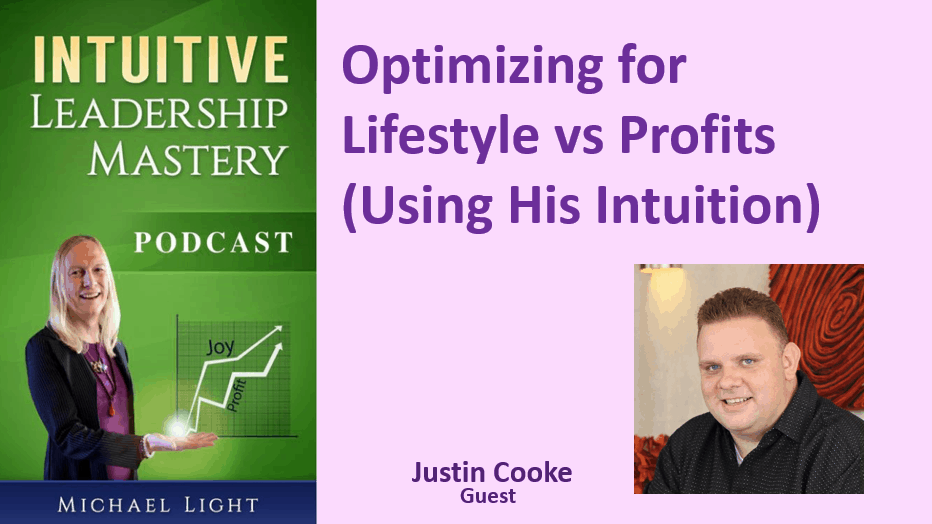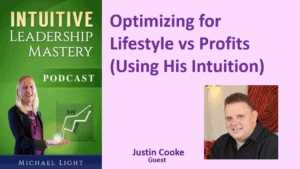 Here are some of the topics discussed in the podcast:
Optimizing for Lifestyle vs profits

Making profit vs joy

We can create our business anyway we want

Eg US office

Leaving money on the table

Lifestyle is better

Optimizing for happiness and personal growth

Marginal value of each extra profit dollar is less

Part of their brand

Is it worth it?

Combining work and personal life

Fake professional facade

Company get togethers – better team energy

The perils of data driven decisions

CRO + SEO Industry

Waiting for the data you may miss opportunities

What feels right for the business

Customer/partner/peer retreats – costs money but feels right and positive branding

Conferences

Send in twos – more creative

Sponsor, speaking or some additional benefit

Making win-win-win deals

Buyers and sellers get nervous

Win-win-win deals

Help them come to a fair deal for both sides

Compare to house sale

Breaking their no arsehole rule

Use intuition to detect

Notice that my eyes want to roll

Notice lack of interest in talking with them

Going outside our process, demanding

Business as a thing

When my intuition fails me

Or Prejudices?

Different backgrounds

Why are you proud to use your business intuition?

WWIT to make business intuition more openly used this year?

Play with synonyms for intuition eg gut
If you want to double your profits and half your stress, check out the Biz Intuition Profit Doubler. It is a free course for you to use intuition in your business.
Mentioned in this episode:
Jason Cohen

, founder of WP Engine who hired a CEO to get the company to the next stage (DC Austin conference keynote speaker)
Podcast: Play in new window | Download (Duration: 47:14 — 43.2MB) | Embed
Subscribe: RSS
Justin is a partner at Empire Flippers, a M&A brokerage that helps others buy, sell, and invest in online businesses. He's also a host of the Empire Flippers podcast, the Web Equity Show, and spends most of his time in SE Asia.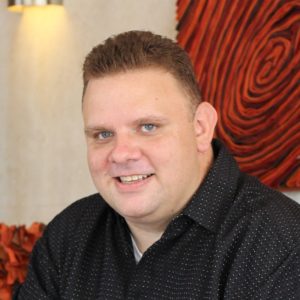 Learn more about Justin Cooke at:
Interview Transcript:
Michaela:        Welcome back to the show. I'm here with Justin Cooke, and we're gonna be talking about optimizing for a lifestyle versus profits, and I'll let you guess which one he optimizes for. And he uses in his intuition to help with that. And we'll be looking at the perils of data driven decisions which a lot of entrepreneurs may be doing. So that's an interesting thing there. And he makes deals; that's what his business is. He is a broker, he's whole business he's got a whole team there. And they make win, win, win deal, so we'll look in how they achieve that. And they have a particular rule they use for that which is 'Cool Ben no Ass Holes Rule'. And we'll talk about what happened when he broke that. And also when his intuition failed him. So welcome Justin.
Justin:              Thanks Michaela, thanks for having me on the show. I appreciate it.
Michaela:        Yeah, and Justin's a partner at Empire Flippers. So they buy, sell, invest in online businesses, or they help you do that, or sell your business, or get invested in. And he also hosts the Empire Flippers Podcast, and the Web Equity Show. And he generally is in Southeast Asia, but I think today you don't look like you're in Southeast Asia.
Justin:              I saw these days I mean it is in [inaudible] Colombia. So on the other side…
WWIT to start using your business intuition more openly?
Learn more about this powerful technique and how it takes only 10 minutes to learn a new technique that makes running your business 3x easier