You can listen to the podcast and read the show notes here.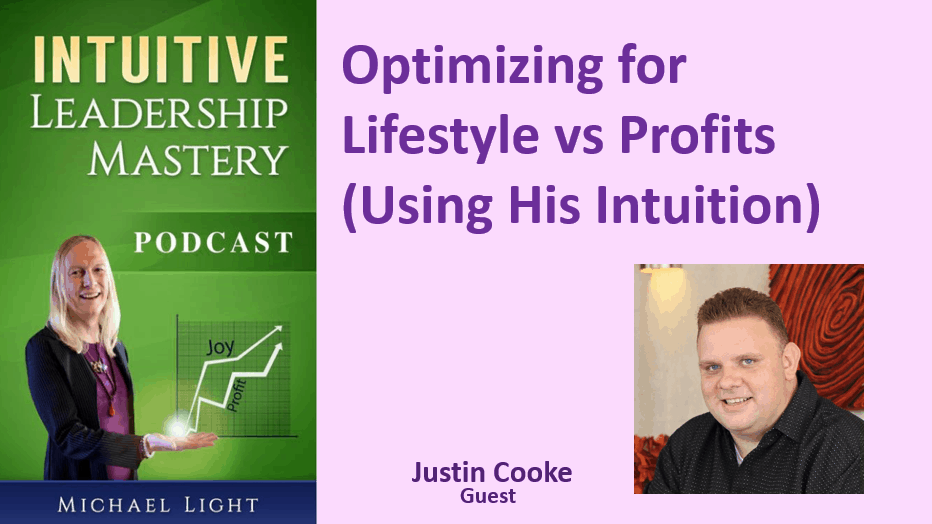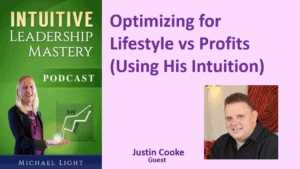 Michaela: Welcome back to the show. I'm here with Justin Cooke, and we're gonna be talking about optimizing for a lifestyle versus profits, and I'll let you guess which one he optimizes for. And he uses in his intuition to help with that. And we'll be looking at the perils of data driven decisions which a lot of entrepreneurs may be doing. So that's an interesting thing there. And he makes deals; that's what his business is. He is a broker, he's whole business he's got a whole team there. And they make win, win, win deal, so we'll look in how they achieve that. And they have a particular rule they use for that which is 'Cool Ben no Ass Holes Rule'. And we'll talk about what happened when he broke that. And also when his intuition failed him. So welcome Justin.
Justin: Thanks Michaela, thanks for having me on the show. I appreciate it.
Michaela: Yeah, and Justin's a partner at Empire Flippers. So they buy, sell, invest in online businesses, or they help you do that, or sell your business, or get invested in. And he also hosts the Empire Flippers Podcast, and the Web Equity Show. And he generally is in Southeast Asia, but I think today you don't look like you're in Southeast Asia.
Justin: I saw these days I mean it is in [inaudible] Colombia. So on the other side…
Michaela: yeah
Justin: … the world well to the end of February there were heading back to Asia. Will be there for a few months.
Michaela: Excellent! So I'm curious about how you optimize your business for lifestyle versus profits.
Justin: Yeah, so my business partner and I you know we worked in companies and we had jobs before. And most of those companies had investors that they answer too. And so there was a kind of a drive towards profit. And when Joan and I start our company, it was a similar thing. You know we figure like [inaudible] [02:02] make money. We… not that we're slaves of the business, but that we had to do everything to make the business make money, and more money would be a goal. And early on, and not long after starting, we realize you know what, it's our business. We don't have to do it that way. We can do it any way we want. So if we want to move somewhere else for a better lifestyle, or make a little less money, and be a little happier with our business, we can do that.
We're the bosses. We could do anything we want. And so, there's kind of awakening to that with this business that we've been running. Like we realized that this is the way we can run our business, and we've made bigger decisions along the way towards that. One of the examples would be we get to all the time that we should set up an office in the U.S. right. In the U.S. time zone and having people in Asia are traveling around, become location independent where they can live and work anywhere. It is you leaving money on the table.
So if we set up an office in the US and ran them like dogs, and we're in there every single day. You know hustling a business, we'd make a lot more money. And we're like, "That does not sound appealing to us." Like do you want to do that Joe? He didn't want to do it. I don't want to do it. So we've made decision to make less money, but keep the lifestyle. And it's hard to say which way would have been better, but this feels right. It feels right to me.
Michaela: So when you say it feels right is that partly an intuitive decision or?
Justin: I think so. I think that it feels more balanced to me. Like I'm happy with my lifestyle and giving that up would make me a last happy person. And I feel like even if we made more money which would make me happy, I'm not opposed to money. I like making it. It may cause other problems in my life. Like I may just be a little more [inaudible] [04:06], I may drink more, I may argue or fight with my wife more which hurts our relationship, which hurts me personally right. Makes me less happy and you know that doesn't seem like a good tradeoff to me. I'm not sure those things would happen, but I'd worry that they would and I don't have that problem now. I'm not good for those. You know I mean?
Michaela: Yeah and I think also for a lot of people, the marginal value of money declines the more you make. You know once you're making a good living and…
Justin: I think that's true too, yeah. And we look at some of our competitors that are a little more buttoned up. Don't have a team that works, and lives, and travels abroad. And relatively or comparatively, we're doing fine, and we've grown every year for the last several years. We've more than doubled. There are approximately doubled our business. And I couldn't be happier with that. I mean it's really good. So if we're made a little bit more by having a team, and slaving away in the office every day, I don't know how or that.
Michaela: Yeah, well and also may be part of your company's branding and personality is the fact that you don't do it that way.
Justin: Yeah, you could argue that. I don't know if it's true, but I could probably make the argument that we've done better by us being happier, right. That it's a fact that our brand people see our business and they go, "Wow! That seems pretty interesting". Or people are buying businesses, they see kind of our lifestyle of traveling around, and working anywhere. And they go, "Wow! I wanna do that. I wanna buy a business that I can do that." So there's definitely some upside. I think some upside that I may not even see or it may be hard to quantify, but is there.
Michaela: Yeah, so do you think you're optimizing for happiness, and profit or?
Justin: I can tell you just a little is I because it's not because it's [inaudible] [06:17] because there's not as measurable it's like [inaudible].
Michaela: So, I'm curious. Do you just go on a happiness feeling, or do you try putting a scale on the happiness? Like you know I'm happy from a scale of zero to ten, and you know where zero sucks and ten is ecstatic.
Justin: Well it depends on the smaller decisions not so much. I mean like that's probably not part of the calculus. But on the larger associations, we do. Like we'll weigh… Like what are the costs of doing this, right? What are the cost of doing this? In terms of lifestyle, in terms of happiness, in terms of the business. And is it worth it? And so we asked ourselves that question often. Is it worth it to us?
Michaela: That's a great question. [Crosstalk] [07:26]
Justin: Like is it worth it to us? Yeah.
Michaela: And do you take any other considerations into account? Like whether it's gonna give you a small personal growth, or some other criteria
Justin: I don't. At least I haven't put it in those terms. Drenching you having you on our show and having you mention that, and like how you really look at it in terms of personal growth. So I think that's something I might try to consider a bit more actually have a conversation. Like how will this help me grow? And I tell you I have… There are areas of growth that I'd like to get into, and I don't feel in some ways I feel like I'm not growing, in some ways I am with our business right now, and my life. But I think that I could use my business to help me grow personally a bit more if I was intentional about it.
Michaela: So what would it take to grow yourself a bit more with your business this year?
Justin: I think one of these we work on right now is really kind of developing our middle managers. And getting them up to speed and kind of like letting go of some of the things that we're doing in our business, and then help coming in, right. So I think making that more of a priority will force me to get better at it in terms of like passing on skills for me to them, and then the new people. And I think probably finding other interesting things to do in the business, or as I back out of things which are scary, right. Sometimes it's you do things your business like you just might be scary. So finding other things both in my personal life, but also in the business.
Michaela: I think doing things that we're afraid of assuming they're going to be beneficial, not just doing things because that's scary. But anyway, but doing it because it's gonna give us growth and we're scared of the thing is a good thing to do.
Justin: Having you on our show, you talked about how like you use the business as a tool for you to get some personal growth, and I never really thought of it that way. But I thought a person goes kind of a separate issue. So they want to be a little more intentional about ways that I can grow both personally and in the business. And one of those ways I think I'd like to grow… You know we have a lot… we're developing our managers this year.
One of our goals is to really kind of pass on most of the day to day and week to week operations to our managers by the end of the year. And so developing them and helping them develop our team is gonna be important. So I think number one focusing in on that, and trying to help them become leaders in our company will be helpful. But also finding other use of my time which can be scary right. For me, I'm good at things. I'm good to certain things and so I like to do those and so passing it off to someone else who and I go, "Oh God! They're not as good, or I would have done it differently", can be a scary thing.
Michaela: yeah
Justin: So I think helping like having other things like and focus on personally, and professionally will help that transition a bit better.
Michaela: Yeah, I mean I view entrepreneurship as a… It's not just a way to make money but it's a way to full personal growth. As is probably everything in our lives. You know a marriage is not just about having a companion, and someone you have sex with, and love. It's also both of you having the opportunity to grow together as you grow the marriage.
Justin: Together and individually.
Michaela: yeah
Justin: Like I think you find out more about yourselves I'm not close, yeah.
Michaela: Yeah, I mean we talk about relationships being a mirror. I think a business is a mirror too. If my business is running well, that's a mirror that I'm doing good things inside. If there are issues in certain areas, perhaps that's an indication I've got some stuff to work on.
Justin: I used to think Michaela that you could separate business from personal life when I was younger. But about a decade ago, I was working for a company in the U.S. and I was a manager like a mid-level manager. And I had a team, and I have like supervisors that work for me. And that period peers and people that I work for that mentored me. And I really kind of separated my personal life from my work life, right. So when those two would kind of collide, it was really weird for me. I thought that they were supposed to print and that like the fraternization should be limited. I'm like sure we'll all go to a work function, but then I'll go hang out with my real friends and go have my life. And I don't know why. I don't know why I felt that way.
I think maybe because I was younger and I thought that I needed to keep up that kind of like professional [inaudible] [12:48] that professional kind of demeanor. Now that in our company, in our business we don't have that. And you know for all the time do you think it's going to cause problems, kind of blending personal and business life, it doesn't really. I mean there are some problems that come about with that, but it's a lot less than you imagine there might be. So that's interesting. Like we're friends and friendly with the people that work with us. They're friends and family together. Not to the point where we kind of miss the grander scheme, but we're way more involved with each other than we would be that I was previously working from another company.
Michaela: Well you probably spend a lot of time with your coworkers, so you want to be able to connect well with them so.
Justin: yeah
Michaela: I wouldn't want to be working with other people who I just couldn't stand the sight of.
Justin: Yeah, and that's one of the reasons we do kind of get togethers too. Is because a lot of times things get heated or stressed out both internally in our company, but also with customers. And so if you're not fairly solid with the other people on the team you know, when you run across those kind of dangerous or stressful situations, there's more to it's used to point the finger, or blame someone else, or get frustrated with someone else in the team that you think isn't pulling their weight or whatever. Whereas if you've met, if you're meeting together, and eating together, and you've hung out together at some length you're more understanding, you give a little more leeway to other people on the team. And so I think that helps us get through some of the stressful deals that we do.
Michaela: Yeah that's a smart thing. Do you actually look at the how the team health is? Do you evaluate that intuitively, or some other way?
Justin: Joe and I talk about it. Kind of wears the mood, and we get feedback from them. We have no ringers. So you know we have… There's one particular guy in the Philippines that works for our crew and of our city. And in general I'm gonna generalize across the board. But in general, Filipinos are less likely to kind of share kind of where they're at the business, or how… You know if they think something's going wrong, they're less likely to tell you from a face saving measure of not wanting to ruin your face.
And we've got one guy who's been with us for eight years, and he's happy to kind of raises hand and go, "Hey guys, this is getting screwed up, or we're not happy with how this is going, or I think we can make some changes there". And we find ourselves… You know sometimes those suggestions or those kind of complaints are like working as intended. I'll put it that way. They're working as intended. But even in those situations sometimes they're great suggestions or like, "Wow! We haven't thought of that when you change with team. But even in the situations where it's working as intended from our perspective would be very careful to not shut them down right.
So like we're like, "Oh, that's great! Let me all take that, but we'll review that and see if we can do anything about it, and make sure we're not missing anything too. So we get feedback from that we do think about kind of where they're at. In terms of their had in their personal life. We miss it sometimes. Like we had someone leave us last year that was stressed out in a position that wasn't healthy, right; personally healthy. And it is that that hurt us right. We… by us not being in tune with that person. We missed out on them being with us longer and kind of their the value they're bringing the business. So if you're not in tune with that, it can cost you.
Michaela: Yeah, I mean I do intuitive exercises where I just visualize the whole team sitting in a circle in chairs, and just see intuitively is someone missing, or are they distracted, or is some other weird thing going on. And if I notice something intuitively then I check in physical world, and see what's going on. So I think
Justin: [Crosstalk] [16:59] sometimes your intuitions like off there and you're like okay well it was off, but you might catch things that you wouldn't have caught otherwise.
Michaela: Yeah, well you have to investigate. You know just because someone's not paying attention you don't know if that's work related or maybe they've got a family issue you know. [Crosstalk]
Justin: … are feeling down like a little sick, or whatever.
Michaela: Yeah, and then that's pretty cool. You mentioned the Philippines. I've worked with people in the Philippines for quite a while. And they sometimes have family crises and have difficulty focusing on work so.
Justin: The family drives this one. I wouldn't say it's a funny one; it's not funny. But one of the funny things about the family crisis is that number one, Philippines families… You know my wife's Filipino, so I'm pretty into that culture. I lived there for a number of years. And Filipino families are massive. So you know what we in Western the U.S. in particular would consider like the core family is like me, my mom, my dad, my brother; that's our family. Whereas they can have like a third cousin that's what I'm talking about tons of people, and then people get sick and injured, and have problems happen. And there's also the family is just so much closer, right. They're just so much closer than you have large families living together.
Michaela: yeah
Justin: And so yeah, so that's the… it's weird from US. You're like these family problems it almost seems like you know unlike you thought when you understand like the huge families, and the closeness they share you're like, "Okay, I get it". They sort of bounce back with business but.
Michaela: Right, so what about the perils of day to day decisions? Because a fair number of entrepreneurs think they should make every decision using data. And you don't do that with every decision, right? I know I'm sure you use data for some things.
Justin: For sure and when we can use data, it's helpful. And one of our goals in businesses to get the best data that we can, and make sure that we were working with accurate numbers, and using that the best we can. But one of the problems as and you hear this a lot too like industries in SEO, or o they or online business in general. General where they're like look you need to collect this data and then wait six months, and look for something that statistically significant, and then make your decisions based on that.
And what I've noticed is that sometimes waiting around to figure out what your churn rate is on your SAS business, you miss out on opportunities for making more immediate decisions. So instead of taking the 12 or 18 months required to kind of make those changes you could have made pivots or changes in the shorter term that would have been I think much more valuable to your business. So sometimes you have to make decisions on intuition or gut. It's kind of it's… I don't know. I think everyone likes to say they make [inaudible] [20:07], but a lot of times it's intuitive. But that's not talked about as much I think.
Michaela: Well that's what I'm hoping to change partly through this podcasts on the books, and other things I do where okay openly saying, "Hey, I've got this intuition". And then you can use all that. It's just a tool. But I sort of compare intuition to now to how spreadsheets flow when they first came out in the 1980s and people like wouldn't admit to using them. Whereas now if you were owning a business…
Justin: Is that true?
Michaela: Yeah, I mean yeah. They were kind of new-fangled. I mean you know it wasn't like they [crosstalk]
Justin: Maybe I didn't see that but I that's shocking to me so people were shocked to say that they were using a spreadsheet is like a cheat sheet or something and they don't want to admit it
Michaela: Well they just didn't know how to use it. When they first came out, not everyone knew how to use them.
Justin: for sure
Michaela: So just like today if you said, "I'm gonna run my business, and we're not even gonna use spread sheets because they're like weird, or cryptic, or whatever. I think the same thing we're gonna say in a few years about using intuition openly in your business. Like someone said that you'd look at them strange. Like why would you not use a tool you can use?
Justin: Yeah, for sure. And I think that it works well when the data that you just be there either the data can drive you to a decision, like you don't have enough data or you're waiting for it. I think intuition is great. Is a great thing to use. Because you have some data, but not enough. And so using intuition kind of allows you to come to conclusions based on what the data do you have. I also think that we in our business, we make some decisions that are not profit driven, that are not data driven, that just doesn't feel right. That and feedback from our customers, our team, or just for each other. My business partner and I, we were like, "Look we didn't make money on this, or we're not sure how much money we made. But it definitely felt like the right thing to do.
And a lot of times, it comes from just testing something, so we started a couple years ago. We started this customer treat and we would rent out this awesome villa in [inaudible] [22:28], and turn into multiple villas. Like these little community of villas that we have and we bring our customers out, peers, partner as our team. And we get together and we do a mastermind one day, and we do like a beach day another, we do talks another day. And it's just really awesome get together, super fun. And we lose money on it. We charge less than we make per ticket. It's to help defray the costs, and we have the money on it once they from lose a couple thousand to a few thousand.
But at the end of that, and the feedback we get from who are there it's… just it is it feels right, it's a good thing to do. And we looked at the numbers in terms like how much business do we make, and did it make sense from the dollars of deals we give this year. It's hard, it's really hard to tell. But we know that you know the getting the conversation sort of the goodwill that gets passed around because of that. It feels like the right thing to do.
Michaela: Well unlike you were saying earlier if those like a stressful situation with a customer later down the road. If you've met them in person, and they've met you, it's more likely to go well.
Justin: You give people more latitude right when you've met in person. You know the Internet thing where you know it's easy to be an asshole online. It's just super-easy to be an asshole online. Like they're just all the time of the trolling and everything. But you know meeting in person, you wouldn't do that. And so are having met in person once, or twice, or three times, or more, you're just… I think less likely to be that Internet asshole.
Michaela: Right, so speaking of assholes, I know that's one of you'll run criteria for working with people, and probably the hiring as well. You have a no assholes rule.
Justin: Yeah, we have a no asshole rule in this is we going to bunch of kind of like things that we've learned over time that we kind of just use in our business. One of them being the no asshole rule. And this works for customers, it works for partners, it works for employees. But if we get a sense of that person is an asshole, then it's better to not do business. And it doesn't matter the size of the deal, it doesn't matter the opportunity. It's likely to end badly one way or the other.
And there's a rule that you know, we bend it and we've broken it before where we were like look this is a really big deal, or we get a little greedy, we get the dollar signs and like how we can make a lot of money with this deal. Let's just do it. Let's just do it this time. And inevitably, it generally ends badly. So by the end, we're kicking ourselves going, "Well why did we do it? Okay hard rule again. We're gonna go back to [laughing] not, not happened." So it's one of those the ebbs and flows. Like we have the rule, and then we'll break it. And then we realize why we have the rule in the first place.
Michaela: Do you have an asshole meter, or Empire Flippers where you kind of measure the assholeness of someone?
Justin: We don't, but multiple people like you know it doesn't matter whether it's Joe, or I, or one of our managers; anyone can make the call they get that sense. And I think we haven't actually… we haven't gotten much detail about how exactly we make those calls. But over time, it seems like our team tends to make some of the same choices or understand the same reason. Like we're on the same page there, yeah.
Michaela: So without naming the name of any of the assholes involved, can you tell me one of these million dollar deals, or whatever size it was where you like broke the rule, and what occurred?
Justin: Yeah we had a seller, those very demanding, right. And exactly what they wanted with their listing we're not really willing to follow our process. Wanted to go outside of our process, wanted to change things, wanted things to be different than the way we usually do business. And so we wouldn't normally do it there was a large deal we make quite a bit of money on. Said, "Look, let's go around this." So we allow it to go outside of our normal process, we make some changes or adjustments to compensate.
And inevitably once we've done that, we've kind of like bowled over to these requests or these changes, and more come along. So we're getting close to doing the deal sellers no longer into should wants to change their mind assumes we'll just go with it because we've gone with everything that requests at that point. And starts to really cause problems toward the end of the deal. And it's very valuable to us. It's worth quite a bit of money to us, is worth quite a bit of money to the buyer that was going to buy the business. And got us in the trouble. So we're actually [laughing] [27:28].
Michaela: yeah
Justin: So when we make those mistakes, it usually comes around to being not good. And actually, I actually… because you could say that, "Oh well just you only notice it when it turns out bad." No, I've actually looked at it. I've come back and thought about this or people that… Where nothing happened not that it happens every once in a while, but it's rare. More often than not, it ends badly.
Michaela: So you have an intuition and your team does. And you help train your team's intuition to spot assholes, and politely filter them out. And I'm sure you have quite a nice way of saying thanks, but no thanks.
Justin: Yeah, this isn't gonna work. I really appreciate it. But where we're coming from just not a good fit here.
Michaela: So if I ever hear that when I'm selling a business to ramp up for the post. I know what it really, really means.
Justin: Michaela, you know it's not you, it's us. Keep you out of trouble. Yeah, I know that we do and you know we don't wanna leave a bad feeling in one's mouth. So you know but we do have no asshole rule for sure.
Michaela: Yeah, so when you're getting intuitive messages about someone's assholeness or anything else, where and how do you notice that? Do you feel in your body somewhere, or do you get… do you hear words in your head, or do you have weird dreams about that potential clients or?
Justin: I'll either… that's interesting. No, I don't think I feel it in my body. I may get distracted. Like I'm just way less interested in what they're saying; that's a sign. But that gets to be a sign that I'm distracted by something external too as I thought I'd like weigh that. But I just can't. I'm struggling to pay attention on them, or I'm paying quite a bit of attention and just kind of disgusted or like you know this is a waste of my time. I'm like I wanna roll my eyes.
Michaela: That your eyes are part of your body.
Justin: Well, I don't rule my eyes.
Michaela: [Crosstalk] [29:42] You want to you've got like an urge.
Justin: Yeah, I feel like oh my God! That's not great, yeah.
Michaela: Interesting and then you get messages any other ways?
Justin: I don't know. You know we talked on our show and you were talking about a kind of that you get a pain in your stomach, and that might mean something, and I've never know. Another you think of…
Michaela: So when you said earlier that you like to do what feels right for the business, and how you set up these retreats that feel right, but on the data level maybe they don't make sense. And you do other things that nature. I'm curious do you ever actually talk to your business as it was an actual person and kind of figure out will the business want this?
Justin: No, but I do view the business as a separate entity.
Michaela: yeah
Justin: And not as a being, but definitely as a thing, right.
Michaela: yeah
Justin: So it… You know like we do think of it in terms of protecting the business. In terms of feeding the business, leads and feeding the business, people I guess our team. It's people now. But like we do think of it in terms of that. But not as like an actual being I could talk to or anything, but yeah
Michaela: So you have a like a caring attitude towards it and it takes care of you.
Justin: Yep, yep and then we…
Michaela: So in effect…
Justin: We take care of it as well yeah. So we're [inaudible] [31:27] the business right?
Michaela: Right, so you could say you have a relationship with your business.
Justin: I think so, yeah definitely.
Michaela: Do you have a good relationship?
Justin: Yes, right now it's good. Not always, not always a good relationship. But right now, it's good. The business is not too demanding, that's great.
Michaela: yeah
Justin: Right, I'm happy to give. I think I know what to give the business right now which is helpful when you can give the business what it needs. So that's great. Yeah, I mean I think right now I'm really happy with our business overall. There are periods I'd say most, most recently by the last… some time last year. I got bored, and just the things I was doing the business were boring to me, and that was… I don't love that. I kind of…
Michaela: How did the business react see you getting bored with it? Because usually in a friendship or a romantic relationship if you get bored in it, it's not great.
Justin: The business did fine which is kind of a sign maybe that it can be fine without me. Like it can be okay without me constantly having to be deeply involved in every single thing that's going on. And it's bigger than me, right?
Michaela: right
Justin: There are other people are shepherding and taking care of the business, and helping it along that are not me. And so there are other people looking out for it. And that makes you know, that's a safer feeling where it's not just Joe and I. If this fails simply because we weren't watching it or because we weren't taking care of it. Well that's not true. We've got a ton of people involved.
Michaela: Yeah because you've set up a team and systems. So it's grown beyond that. I mean and I sometimes think of a business is like you give birth to a business. Like you give birth to a child and then they grow up and you have to look off them. But there comes a certain point where you don't have to look after them as much.
Justin: Well I got you talk about the business looking after you. Absolutely you're saying like you use the business to make sure that it is helping you grow and kind of meeting your personal or your lifestyle goals, right which is a right way to view it. There's a guy… wrote a book. I think it's called… Yeah, it's called 'Profit First'. I don't know if you've heard about that book.
Michaela: Oh yeah, yeah.
Justin: Yeah, but he in a similar vein I think. We're just talking about [inaudible] not life style. But he definitely talks about how the business should be providing you profit. Like that's the goal. Not like, "Oh I don't have any profit left because I have to pay this bill or that bill." No, no the profit is the thing that if you're not getting profit, it's not worth having the business. So think about that first. That should be your priority, and then everything else after that which is interesting.
Michaela: Yeah and I think the idea of that book is you actually put on a spreadsheet to whatever. Here's the profit I want and then you juggle all the other numbers to make that happen instead of having other numbers expenses come out. And then you like, "Oh dear, there's not enough profit left!"
Justin: Yeah and if you take that profit and you call it lifestyle, or you call it personal growth, or whatever you need to put in there for you. Like that's an interesting way of approaching it because you want the business to deliver X; whatever X is for you personally, right. And for you or your partner, or for your team.
Michaela: Yeah, well I think everyone needs to get things from the business and give things to the business. And that's not just the staff, but it's also the clients, and the vendors involved with the business I believe.
Justin: What do you think about the… what is it? Not the [inaudible] [35:38] there's something else. What's someone or you're promoted beyond your capabilities?
Michaela: The Peter Principle?
Justin: The Peter Principle.
Michaela: Yeah, do you think you have that?
Justin: No, no, but I was wondering about how that applies to entrepreneurs. I get some point does that happen like if they don't…
Michaela: sure
Justin: And you get to the point where you're kind of beyond something that you're good at, or that interests you, and I wonder about that. Like right now I feel like I'm a little out of my comfort zone in terms of building larger teams, and this is definitely the biggest business we are had. So it's a little out of my comfort zone. And I wonder if I get to the point where it's just kind of beyond me. I mean that may happen. We may bring in… have to bring in like C.E.O., C.F.O.s that are not my business partner and I to run a business that's kind of like beyond us. That'll be an interesting place to be.
Michaela: Well there was a speaker at D.C. Austin, and I'm spacing out on his name. But it's a really famous company to do with word press. So either WP curve, or WP engine.
Justin: [Inaudible] [36:45] engine maybe, yeah.
Michaela: Yeah, so they they're currently I think they have 400 employees currently. And at some point in that growth, the founder decided yeah this is beyond where I'm capable of dealing with. I need to hire a C.E.O. to take it to the next level which she did which is… You know that's a personal growth moment in itself to admit.
Justin: yeah
Michaela: Yeah, I'm not the person to get this business to where it needs to go.
Justin: Yeah, I could see that happening. I mean other people exit their business, other people maybe bring in C.E.O.s to do a run it. But I guess you might run that risk right of building a business that's beyond what you're able to deliver for anymore.
Michaela: yeah
Justin: You've grown apart.
Michaela: Yeah, exactly. Yes maybe you need to go to couples counseling.
Justin: Can't you… I mean if the business is really there to support you, I mean you can always cut back, right?
Michaela: Sure, you could change how the business is.
Just: Your business can't really grow beyond unless you allow that. You know that's true.
Michaela: right
Justin: And what if it keeps growing beyond you? You get slow growth.
Michaela: Exactly you can… if you own the business, you can decide what form the business takes. So I think that's an important thing not just to grow for growth sake. But what makes sense for the business, what makes sense for you.
Justin: yeah
Michaela: So I know we've only got a few minutes left. I'm kind of curious about when your intuition fails you.
Justin: Yeah, when my intuition fails me. So I've worried about this. Like I think we talked about this earlier. But you know where I'm making gut decisions or I'm making intuitive decisions, and biases are kicking in, right. So like no biases either I don't know I have or just it's not clear that you know it's a bias or it's… not a bias; a negative bias. Like one that I wouldn't want to be kicking at, right. So I don't listen couple of years ago where I was like… with the no asshole rule in particular. What if I am excluding people that just have a different viewpoint, are coming out a problem differently than I am? And maybe I just… I don't think that way. And so at first instinct or first you know hearing about this I'm like, "Oh I'm missing an opportunity".
And so I explored a little bit. I open myself up to people that thought differently, they came across problems differently. And I think it probably did make both in my personal life and professionally. It probably did get some deals maybe would have gotten, or I made friends I wouldn't have had otherwise. But I think in general I found that my intuition was right. So I'm not sure [laughing] [39:50]. But yeah I guess I miss some friends, and I miss some deals that we could have had otherwise. But all the hassle, and assholes, and bad friends, or people that I avoided made it worth it. So that's not really an example of intuition failing me, but it's me testing to see if it has failed. If that makes sense.
Michaela: That sounds like a good thing to do. So I'm also curious about the deals you make. Are they like win lost steals, it's a zero some game, or is it win, win, or how are your deals?
Justin: Yeah, so our approach to deals is to make it win, win, win, right. We want the buyer and seller to both get it when we want to be and when for the business as well. So that's kind of our approach to doing any deals, and it's really interesting. One of our guys… Our sales manager actually told me the other day. He said I got an awkward scenario for you just what you think about this. You know because we represent the seller we're listing the businesses on behalf of the seller and trying to do the business sold for them, right. But we do a lot of like education the market. We're podcasting, blog, and we do interviews, and we talk a lot about the industry. So why do we get to know and like and trust us. Like Joe and I team as well. So we'll have buyers.
We're representing the seller, but they come to us and I say, "Look here's the deal. I have you know, it's a 4,000-dollar business. I wanna offer 320. I can actually go up to 360 right, or 370, but don't tell the seller that." Right, or whatever. Can you? I'm willing to do that. And that's awkward, right? Because clearly we're representing the seller. So now we know what your limit is, and where you're willing to go. And so I was like, "What do you do in a situation, what do you do with that? And he was like, "Well if they specifically say like don't tell the seller, I won't tell them. If it's applied they don't want me to tell the seller, I wouldn't tell the seller. But I will try to make sure that deals are done like in both of their ranges to where they're both comfortable."
And I was like, "Yeah that's a pretty fair approach to it right." I mean on the one hand you could do this on try to maximize the cash, and somebody would argue that you should. And we are representing the sellers, so we do want to get them paid. And honestly we get paid the more the larger the deal we do. The same time, I wouldn't want to violate that trust in any way. I mean like and if you have asked not to tell, I wouldn't tell. But even if it's implied. So we're really does kind of weird scenarios where we're trying to do right for both parties, and we find ourselves as kind of a judge and jury, and deals between the sellers. And most the time it's trying to make everyone happy.
But usually at the end of a deal where people get nervous, you know you know we talk before we go on the show or whatever it's like about… It's like your primary house, your home, your major purchase for your life time. And buying or selling that can be personal, it can be stressful, it can be exhilarating. And buyers and sellers of these businesses go through all of that. I mean this is their baby, and it's you they begin birthed at this thing. And to sell that off can be stressful, so we help them navigate that. But the fact we do this all the time. We've done a lot of deals, and I think we're in tune with buyers and sellers on this kind of process. So we are window and when the wind comes through, I think understanding both sides of the deal, and helping people navigate a stressful time.
Michaela: So I'm curious, why you proud to use you of business intuition?
Justin: Well I think it helps us make better business decisions. Like it's better for the business. And I think when we're treating our business better, and our business is doing better, it's better for us personally. Us being both my business partner and I, but also our team, and our customers. I think if we are able to use intuition to balance our business, our lives, and our team in a way that's beneficial and helpful and positive, we end up with positive outcomes for everybody.
Michaela: And then you have a happier life and make more money for everyone.
Justin: That's right, that's the idea.
Michaela: So as you probably know I'm on a mission for this what would it take revolution to have business intuition be openly used by all entrepreneurs. And I've got a question for you related to that which is, what would it take to make business intuition more openly used this year?
Justin: I think… well you were saying before you were talking your audience, right. You said probably more women than men. 30 something, 40 something seems like a good age. You're getting a sense of that. And I was like well maybe intuition is a more feminine word, right. Like so if you want to get it more widely adopted, use synonyms that are some more like… You know I thought I mentioned gut early; sort of that's a definite like a male word, right – gut. You know that sounds like they got decisions, right. And I think that you do types of guys will be like I got decision sounds better than using their intuition to make decisions. So maybe wording would get out there more, or makes people more open to it.
Michaela: Yeah, no wording is important. It's whether they can own the concept so.
Justin: I think there's probably something better than got an intuition. I know that. Wouldn't help your domain name.
Michaela: This is okay. It's only a domain name you know it's not like it's reality. So if people wanna find you online, what are the best ways to do that?
Justin: They can check us out at empireforbusiness.com. Check us on Twitter at Empire flippers. And I do another podcast called the Web Equity Show that do sort of like the buying and selling. Check out season two and three where we kind of walk around through the process.
Michaela: Fabulous! Well thanks so much for coming on the podcasts today, Justin.
Justin: Thanks Michaela, I appreciate it.