You can listen to the podcast and read the show notes here.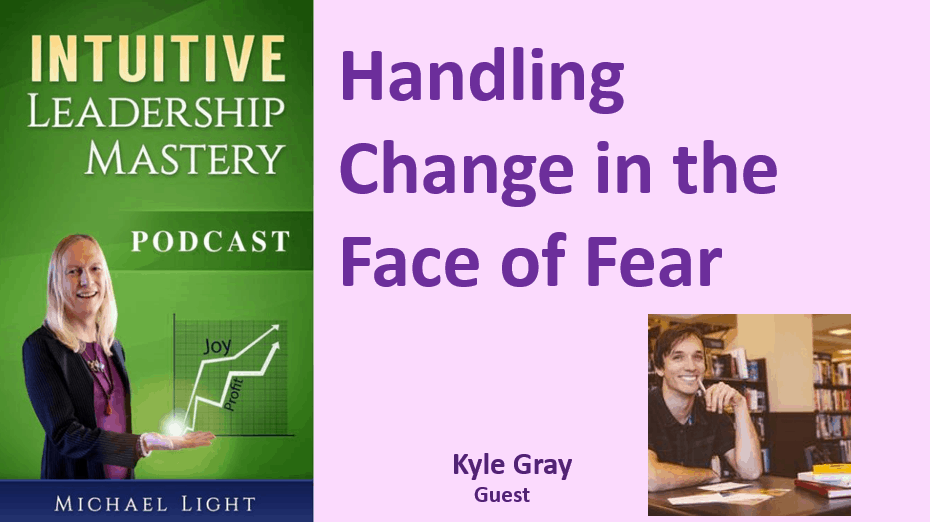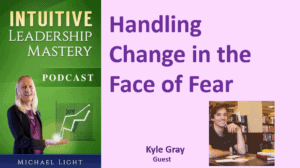 Michael:          Welcome back to the show. We're gonna be talking about handling change in the face of fear with Kyle Gray. And we'll also look about how he finds spirituality in his craft no matter how mundane it may appear to others. And also a practice he has that brings more truth into his life and business that he does every morning. And we'll also look at how intuition was the driving force behind his two Amazon best seller books. And if we get time, we'll… he has some tips on how he does micro digital normading even though he hasn't left the United States for several months. So welcome Karl.
Karl:                Thanks so much for having me Michael. I'm excited to be here.
Michael:          I'm excited too. And for those of you who don't know Kyle, he's an entrepreneur and a bestselling author. And he helps people out with storytelling and content marketing. And I love his book, 'The Story Engine'. We'll put that in the show notes and I definitely recommend checking it out. So let's just come back to that first point. You had a time in your business recently where you had some fear. And the fear wasn't because something terrible was going to happen. It was because something wonderful was going to happen.
Kyle:               Yeah, yeah speaking of stories. Like I work with entrepreneurs. I'm kind of the story they're telling all the time. But what's interesting is I kind of I try to use the same tactics on myself, and it becomes kind of a therapeutic thing from time to time. And then, just to kind of understanding what story you're telling yourself because usually kind of the story you have about what's happening is very different from what you're feeling, is very different from what's really happening in reality, and the world around you. And so yeah, what we were chatting about was Yeah I… My business has been growing a lot. I've been getting new opportunities. Thanks to the book 'The Story Engine', I'm getting more attention and more authority, and so more people are starting to be interested in working with me.
And I was actually putting together a proposal for a really big project that was going to be just a really big win for me. But I started feeling a lot of fear and a lot of uncertainty. And this was all happening like among the other changes. I was just moving and I was preparing to go to an event in Colorado too. So there was just all these little things happening. And so I got… I was I started feeling really nervous and started thinking things like, "Well, do I really have the capacity to really take this person on? Am I organized enough? Am I going to be able to keep all my commitments?"
And I started worrying about those kind of things. And it just changed it from like an exciting new opportunity to like this kind of frightening burden. And I notice I do this all the time especially if we were talking about just digital normading. I notice I do this especially when I'm like I'm about to travel to like go live in another country for a while, explore a new place. And I just think it's like you know and what I think I'm really feeling are the feeling I'm feeling could be interpreted in a lot of different ways. It could just as easily be interpreted as excitement and anticipation and like, "Wow! This is going to be great. Look at all these awesome things that are happening."
But you've got to make sure that you're in control, and you're aware of what story you're telling yourself. And usually, if we don't choose the story whether it's in whatever we're doing in our business, and how we talk and share about what we do for our work and in our own minds, we can control that story. We can control what we focus on. And it's something of course like I still need to practice on a lot. But it's been bringing me these lessons often now. And yeah, when I can reframe the story, then it changes how I see everything.
Michael:          So just remind us the story you're telling yourself about this opportunity you had that you got worried about; initial story.
Kyle:               The initial story was I'm [inaudible] [04:17] maybe. I don't know if I have capacity to take on another client. But if I turn them away, then I'm going to miss this huge opportunity too. So you're like… it was just like between a rock and a hard place, or at least that was kind of the… and it light and perspective that I had. And so from there, I had to just take a step back and reframe how I was seeing it. And I was lucky enough I was chatting with a close friend of mine just about this who works with a lot of entrepreneurs; really brilliant guy. And he was saying like what you're experiencing right now is you should be grateful for this because for a [inaudible] [05:10 – 06:00]. He came to these crossroads where he was like either I'm going to fall in love with this sound, or it's going to drive me crazy.
And he made the conscious choice to just fall in love with it, and enjoy it. And so my friend encouraged me to do the same thing. Like this feeling that you're going to have, the thing right now. It's part of your [inaudible]. And so, you can either embrace it the way, and know that this is part of growth and that this is part of the journey and love the journey you're on, or you can let drive you crazy.
And so just from that perspective and having that, I was able to step back and really say, "Wow! Yeah, like I just changed the story just a little bit in my head." It transforms it from being the challenge, this rock and a hard place to this incredible opportunity that I'm grateful for. And that brings in… once you start feeling grateful for it, and encouraged about it, then that brings in a lot of new options. It makes it easier instead of focusing on, "Oh, do I have enough to pass the or do hey, let me chat with my assistant and make sure we have everything outlined and lined up so that we can… I can clean up what I'm doing with my current business more organized and increase my capacity."
Michael:          That's great that you could do that. And just by changing the story totally changed not only how you felt, but also how you acted.
Kyle:               Absolutely yeah, and it gave me different options to notice that I couldn't have seen from thinking from a place of fear and a place of uncertainty, or just sitting right in front of my face.
Michael:          And something you told me earlier about the reason why we feel bad. Tell us about that.
Kyle:               Yeah, so something I've been doing recently as I've been coming creasing concerns are interested in my own health. And I've been taking a lot of blood tests, and trying to study how my kind of my body is working. And I have learned recently that I have something called Hashimoto's disease and I also learned recently that I just… I see a pattern that I have elevated like slightly above normal cortisol levels in the morning. And so then these things usually happen in the morning. They usually happen right when I wake up. First thing in the morning, I have extra cortisol in my system for whatever reason. But so I feel stress. But then, I just feel… I feel a stress. But then your mind when it feels the stress, then it comes in and it's like, "Okay, well let me tell you why you're feeling the stress."
And then, these extra stories come in where like, "Oh! I'm excited about this big opportunity. I got to get this proposal." And so that's when it like it moves in and now it's saying like well you're feeling stressed because of this. But I'm really not. I'm feeling stressed because just my body chemistry is working a little bit differently and I'm I have just thought I'd issued that makes me a little more susceptible to anxiety. And so when I come from that perspective, and just understanding my body, and how it's working, then I can say… Although, this is challenging to really change that story when you're right in the moment and I didn't even I could say to myself, "Now look, I know that this feels so real right now. But just try to give yourself a little bit of love because you know that in the mornings, you have like a slightly elevated level of cortisol.
So you're feeling this right now. But just get through the day, get a little bit of food, and go on a walk, and you don't have to stay stuck in this feeling. And the story that you're telling yourself of why you have this feeling is separate from what you're actually doing, what is actually happening to you. And I think that that's a really powerful thing to start to recognize just that the story in [inaudible] [10:15] and it's actually happening.
Michael:          Yeah, the reason you feel bad is different than the story you tell yourself about why you feel bad.
Kyle:               yeah
Michael:          And so, that's a subtle difference, but very important.
Kyle:               Absolutely, because we can… I mean you can always find a reason to condemn yourself, or throw why you're feeling bad. But you don't have to. There's always… There just is a superior you know in the most and there is really easy to find negative thoughts to fill in these things. But it's also possible to choose and change the story that you're experiencing.
Michael:          Yeah, and I would probably use the 'what would it take' question there. What would it take to feel good about the situation? What would it take to feel good that I got the opportunity to win this big new project? And see what my intuition have to say yeah.
Kyle:               Another great intuitive exercise that actually land from our mutual friend; Jeremy Ginsburg. He was… I can't remember what he called it. It sounded similar to my name. Kaluga or something and he was just like all right here's an exercise. You're going to talk to me as if what we were just saying are as if the proposal you were in the future, and it's already happened, and we're just catching up. So what that looks like is, "Oh hey Jeremy, you know that proposal I was thinking about last week? Well, I nailed, and it was great. Like they paid me more than I expected. And I also… Not only that, but I also figured out exactly how I was going to handle on boarding them, and managing a lot of this work."
And so, I talk as if it had already happened and I talk as if the best case scenario already happened. And that just again makes me feel like it helps me feel better about the situation. And just talking like it's already happened, and like it's believes that makes it, changes how you feel about it, and changes what options you can see. And really helps you get even a little more clear on what you want instead of focusing on like, "Oh! How am I ever going to do this?" Then I can say like, "Wow! I've already solved this problem and just by like acting like the problem was solved and talking about it in as much detail as possible. It gives you actually can come up with these answers intuitively sometimes.
Michael:          That is a great technique and I know I've used that with my staff in the past where I'd have them at the end of the year write a letter from their future self for the upcoming year about all great things they did, and how they how they did them, and how they felt. And it's amazing how much you help them achieve their goals easier and faster. So, I love that. We were talking about change in your business. Is there same way your intuition helps you deal with your change?
Kyle:               Yeah, I would [inaudible] [13:35] say this is into one of the other talking points says about morning pages. What I usually do with it when I'm kind of like facing that facing changes in my vision, and business, facing my intuition. I think a lot of us, I definitely fall into this category. But I rely on my mind a lot. I tried to do a lot of things mentally, rationally. And then it… By one exercise I can do to just get myself out of my mind and just kind of let whatever is happening just pour out of me is in the morning pages.
So, like first thing I'll do in the morning and I'll just start writing. I'll let myself write whatever I want. It can be sometimes there are ugly thoughts, sometimes that's what I'm worried about of the morning since I have like the extra cortisol in the mornings. They're usually a little bit stressful thoughts but I just dump them out on the page. And then I can see like, "Oh! This is really what's happening." But I just try. I try to filter myself. But also whatever is there, move, just rise to the top and just I like writing it and getting it out there.
Then you can see it and review it or just like just having it out like allows you to have that extra clarity and to get that extra. Then you can start. Once you've cleared out all of this junk then now you can start letting your intuition guide you a little bit more because you've dropped. I feel like when you're trying to be just really intelligent in your head, you feel to yourself a lot. You're like, "Oh well, I'm feeling this, but I actually like strategically it doesn't work or whatever." But if you just can allow yourself to just dump out a lot of thoughts and you're out kind about all this extra stuff that's going on. Then it lets the voice of intuition rise to the top.
Michael:          And do you personally hand write these, or you speak them, or you type them?
Kyle:               Yeah, I write hand them. I try to write three pages every day. I've got just like a little. I go through journals like candy these days. But like it's just simple. Just write out three pages, and it's also you got to be careful. Like last time… This is funny so this is a brand new one. And this is a little bit bigger than the journal I had before. So three pages is a lot harder on this one. But so it's funny that I had like a little smaller one and you could get through three pages pretty fast. But now, it's an extra… It's like a level up challenge. But yeah, and so just writing those down in the morning like helps you especially as like a writer. I don't want to get my censor mind out of the way. And yeah, so that allows that intuition and that good stuff inside you to really start to sound out.
Michael:          Now I first heard about morning pages from a book by Julia Cameron. I think was 'The Artist's Way'.
Kyle:               Oh yeah, that's where I got it.
Michael:          Yeah, I was curious whether you got it somewhere else. And great, great book. So, I'll put a link to her morning pages.
Kyle:               That's brilliant and there's like just what I was just describing is just the beginning of a lot of the amazing stuff about really connecting with your artistic self. And yeah, I think it's an incredible read.
Michael:          Excellent! So one of the thing with you know, I think a lot of people get fear, and anxiety, and worry when they're faced with changes in their business. And do you feel the pace of change is slowing down or speeding up or?
Kyle:               Yeah I think it's changing more and more. I think yeah it's interesting where I feel like a lot of the time, I have read a lot about this. But just like technology is evolving quickly, things are… the market and the opportunities for just as an entrepreneur I'm like looking around at this all the time. But like the landscape is changing so fast and things are happening so fast that we must rely on our intuition steps because we really like things change so fast that we can't even mentally like process them where we as humans like to see things as linear.
We see things as linear beings. But the change is happening exponentially. So our brains aren't really at least our kind of conscious minds aren't able to navigate the fast changing world very much anymore and so I think intuition is essential. Another really, really cool book that I've read that dives right into this topic is called 'Flash Foresight'.
Michael:          yes
Kyle:               And I can't remember who the author is. But it gives you like a lot of different ways to kind of rethink the problem, and gives you like a perspective into the future to see things a little bit differently.
Michael:          I… It looks like a Mr. Burrus.
Kyle:               yes
Michael:          Is the person yes. Daniel Burrus, there we go. Thank you Google search. Instantly answering that question. I'll put it in the show notes so that folks can find it. So, is there any other way you deal with this change going on or?
Kyle:               Let's see, so I think one of the best ways that I deal with it, and I understand it is really again I'm kind of told a couple of stories about this. I was chatting with Jeremy [inaudible] [19:48]. But I think just being able to open up to somebody else and just be like, "Hey, man I'm really feeling like this right now. I'm feeling uncertain. How do I handle all this?" And just getting a human connection and just like similar to being in the morning pages just talking a situation through helps bring out the good inside, and it helps me get clarity on it. Even no matter who's listening just being able to get it out of your head, and share it with somebody helps you listen to it and process it a little bit better. So there's not just these kind of I just like call them like little demons of thoughts running around in your head and your mind any more.
Michael:          Yeah, I mean either a friend who is able to listen well, or a coach.
Kyle:               yeah
Michael:          Could be on the phone or in person. And I guess the morning page is almost writing to yourself.
Kyle:               definitely
Michael:          It's getting out of your head so you can see more clearly what those little demon thoughts are, so cool. So, let's move on to looking at finding spirituality in your business because many people may think that, "Oh my business is so mundane. It's not even spiritual at all." What's your thoughts on that? And I know you wrote about this recently.
Kyle:               Yeah, so I think this is a pretty exciting thing that it's really… Again it's kind of like a deeper storytelling method. But what happened this all kind of came into my mind about how to find spirituality in your craft whatever it is. When I was sitting at a coffee shop here in Salt Lake City Utah. And this old man who I actually really admired because he is like maybe 80 years old. And I heard that he does like 20 mile bike rides in a day, and he just got a hips replacement, and he's just moseying into to the coffee shop with a cane and a giant, giant book on Latin.
Like a huge ancient tome that you'd find in like you know, these think you'd find in a Harry Potter movie or something. And so, he sits down and sips on his coffee. And he ends up overhearing me chatting with somebody else saying, "Hey, I'm a rider blah, blah, blah. And so he [inaudible] [22:21] his way over to me. And he's like, "Oh! I heard you're a writer. What do you write about?" And I said, "Oh well, I write about business, and how businesses grow with well you know, just helpful blog posts and articles and books." And he looks at me like I just punched him in the stomach. And he's like, "Oh!"
Michael:          wow!
Kyle:               Why don't you write something valuable that will actually make an impact on this world? Why don't you write about spiritual, or love, or poetry, or anything like that? One should make some real valuable use out of these skills. And I was like stunned by this. I wasn't really sure how to respond. But it like it stuck with me for a while. And I was like, "Wow! I really just agree with this guy, but I don't know why." And so, I started thinking about it and it kind of reminded me of I was also a musician when I was younger. I still am now. But when I was younger, I was certain the only way that I was going to live a happy and fulfilled life was by writing music that changed people, that helped people. Good lyrics that changed their lives, and melodies that they enjoyed.
And after like reflecting on that, and I thought that was something spiritual made to me where I could connect to it and just get lost in it. And I found it again in writing. In the interim between trying to become a rock star. And somehow, I ended up like instead of performing for an audience, whatever; Red Rocks. I just have an audience of people showing up to my blog post, reading my content. And instead of the lyrics, I'm writing helpful articles that change people's lives. But I'm still trying to create the same emotional, helpful experience that I was doing. And so, I found out my craft; my core craft, my writing was a spiritual practice to me. It was something I needed to show up and do every day to really keep sharp.
It was something that I needed to… It was something that… it was a skill I need to develop. It's not easy to write well and even no matter no matter how many things you publish, or how many words you've written writing a first draft of anything is always a bit of a challenge. And so, what I started to realize was I started to see the spirituality. And I started to see like have been instead of heaven as something that's hot away and some distant land. I kind of see it as having a raw material inside of you, inside of your soul. And your spirituality is figuring out, is mastering your craft. And through your craft, you get to bring your little slice of heaven to the earth and make the world a better place.
And so by doing that, you really the fate in this kind of spirituality just showing up in and writing in the morning are practicing what you're doing. Practicing your business or your core craft; whatever it is that is your energy. And yes, practice and that is how you grow your faith and you bring heaven to the earth. And I think that that's what this world needs most right now. I think a lot of people talk about the environmental crisis happening right now where our natural resources are running out in some areas, or pollution is happening here.
But I think that there is an equally powerful yet not so what the best human resources crisis where a lot of us aren't connected with some kind of craft that allows us to brain have been out inside of us. And I think there's a lot of brilliant, there's a lot of geniuses out there that there's Einstein's and Mozart's, and any other kind of brilliant poets or scientists out there that just haven't really connected with what's inside of them. And so, I think it's important and I think if everybody could do that this is definitely like highly aspirational. But if we could really connect with what our purpose and what's inside of us, I think that we could bring a lot to this world.
Michael:          I think that's a great thing to say. And we'll link in the blog article you had on finding spirituality in your craft in the show notes because it's a good read and talks about this further. Yeah, I mean I think really God, or the universe, or whatever you want to call that is really in everything. The forces in everything to use a star wars.
Kyle:               yeah
Michael:          So, and even if you have quotes on mundane business, there still is that God energy in it as long as you let it blossom and be aware of it, and appreciate it so. I know it's sometimes hard to see if it's some area of your business that it's not maybe your favorite area. Perhaps you don't like marketing, or perhaps you don't like bookkeeping. But someone else really loves that. And if you just delegate that task to them, they can make that area of your business blossom. So which is one of the reasons for hiring other people who have complementary skills to you.
Kyle:               definitely
Michael:          So they can bring that life force into that area of the business that was a bit of a drag for you.
Kyle:               Yeah, it definitely feels like having you get somebody on your team that is doing like their craft that is what they're actually intend to have then when they can bring, and what's best about them. You know it right away in your business.
Michael:          Yeah, and sometimes, it's not necessarily work task that you're doing in your business. It's the energy you bring to it. I remember reading this… I forget which book it was in. But it was one of Tony Robbins' books. And he was saying how he was at a summer retreat, and he had to do the dishes for four hours a day. And when he started, he was like, "This really sucks. I came here to be at a retreat not to do dishes." And he had all this negative junk. And then he did… Like you were saying earlier, reframe. And he like got into a space of being present in the current moment and being grateful for what he was doing. And then he got to really enjoy doing this talks that previously been dragging him down. Now he found uplifting so. The story we tell ourselves makes so much difference there. It's amazing.
Kyle:               Yeah, so I guess along with the story like again, I think we've talked about a lot of the negative ways that it can impact us. But by creating a like it's possible to create your own story by just saying like just getting clear on what your mission is. And I think like especially in creating content, or writing for people, you want to connect with a higher purpose and something; a vision. Often times when I'm working with I think with people that work with me we'll develop something called the 'big hairy audacious goal'. Which is like it's like a ten year out goal and it's something like it so ambitious, and it's so crazy. But how do you want to like make impact the world? I want to help ten thousand entrepreneurs, impact a billion people with storytelling. I want to help a million people make a billion dollars through public speaking.
Or just these huge, huge numbers that you're like when you when you first see them, you're like, "Wow! How am I ever going to do that?" But by connecting with that, by creating goals like that, then you start to create a story line for your business that other people can follow. Especially if they're measurable. Like really saying like want 10,000 people. You can create a graph of that and reporting on I sold X number of books this month. And I know that that's helped out many people. I have impacted this in front of this many people, and so I'm on my way to whatever. And so, you can share that.
And not only does that help give you extra meaning and you extra power and you extra energy in what you're doing and why you're doing it. Just like reframing how Tony Robbins does dishes. It can also help other people. You can enlist other people in this vision that you have for the world. When somebody is like, "I have this goal, and I want to achieve it. And somebody can be like, "Well I love that goal. And I want to be one person out of the 10,000 to join this. I want to take part in this." And I think that's you know, so stories are equally as motivating and energizing as they are troubling sometimes if you don't control them.
Michael:          One of the things that occurred to me while you were talking about that is this disconnection from spirits is something that affects a lot of people in society. This feeling lack of meaning and listlessness, or lack of joy. And there's a phrase that we use in [inaudible] [32:10] yoga world. We refer to it as cold depression because it's not regular depression because you don't necessarily feel depressed. But you feel disconnected from the meaning in your life. So, anything you can do to reconnect with your intuition or reconnect with spirit can really help with that. And I'll put a link in to cold depression for people who haven't heard of that phrase. Has some yoga suggestions for dealing with that. But if you're feeling it just going out into nature is a good way to deal with feeling that disconnect.
Kyle:               It's one of my favorite things. And it's one of the reasons why I love living in Salt Lake City Utah right now, is this nature is always very, very easy to access.
Michael:          Well, we'll talk about how you have a little trick for doing that in a moment. But let's just talk about the two books you've written, and how your intuition played in to you creating those and being the driving force between… for you writing them. So…
Kyle:               yeah
Michael:          Is it the case that you didn't know you were going to write the book and then your intuition kind of tapped you on the shoulder and said, "Hey Kyle, you need to do something here?"
Kyle:               Yeah, yeah well it was definitely how the universe works for me. So my first book, 'The College Entrepreneur' was actually before it was a book, I tried to make an online course. And I had tried a couple of times to like put it together. I was actually doing it in Thailand once. I recorded the whole thing on an island on Ko Pha-ngan. And I put it all together and then when I had like listened to it. I like turned up the volume a little bit more and I started hearing all of these like random jungle noises in the background of my course. It was just like it wasn't working, back to the drawing board, didn't want to. I put it away for a while, then tried again, and then re-recorded it all. And this time I was in Chiang Mai and I would like pull up a blanket over my head and like talk into the mic, so it was just perfectly good audio quality.
But I didn't feel like the title of the chorus was a mouthful, and it was just… I didn't feel like it really connected. And so again, I had kind of like felt like that was a failed project. And right near the end up leaving Chiang Mai, this amazing guy [inaudible] [34:45] reached out to me. And he's like, "Hey, I know somebody named Chandler Ball who needs some help with his content. You should get in touch with him." And so, Chandler Ball runs a company called 'Self-publishing School, and it's all about how to write your own book. And so I helped him put together his content marketing strategy. I helped him hire somebody on his team to help handle the content too.
And so by digging into his brand, digging into what he does, seeing his success stories. I thought, "Well I actually could write a book." I thought it would take like years before I wrote a book. You know is all these limiting beliefs of [inaudible] [35:25] way cooler I have more experience to write a book before it will do anything. But then after working with Chandler, I was like, "Maybe I can you know just maybe."
And so that's when the idea that's still behind the College Entrepreneur was something I had felt really strongly about, and I felt like I needed to share that. But I didn't know how because I see like there was there was kind of a middle ground I wanted to cover where there's either like; especially in the entrepreneur community. There is like drop out and start your own business and learn from the School of Hard Knocks which I think is very appropriate in some cases. And there's just kind of the business as usual. Just get good grades and a degree, and everything will be fine which I don't actually think is the case very often anymore.
But so my take was there's a lot of stuff that's valuable that's happening between classes and between your grades that you can take advantage of. There's money laying on the table right here that students aren't using. And so I wanted to share that. I just had to say it. But it wasn't like… it wasn't connected with anything I do as a business. I didn't have any plan to do it other than I was like I need to make this statement. But it was good enough [inaudible]. So I wrote the book. And just the process of writing this first book gave me the courage and the understanding. Oh now I know how to write a book. I've also got to give a heart up to Dan Norris and that's because while working with him at [inaudible] in the past, I got to see how his process for writing a lot of other books. Like the seven days [crosstalk].
Michael:          Oh, he's a book machine men.
Kyle:               He's crazy, he's amazing. So I learned a tremendous amount from him and I think just like knowing him and working with him probably like impacted and developed my [inaudible]. I felt like I could write my book. On the second one on…
Michael:          Have you read his book on creating and writing that he put out last year?
Kyle:               I read a few [inaudible] [37:51] through the full thing. But I loved [crosstalk] on Instagram. I love that he's been putting out and he like he pretty much wrote the book through Instagram quotes which was… I thought it was brilliant. But yeah, yeah so I think it's a great book.
Michael:          Yeah, it's called 'Create versus Hate' for people who can't find Dan's Instagram.
Kyle:               Yeah, so with the second one 'The Story Engine' I learned a really great technique from Chandler Ball which I think it's a really fun way to kind of let your intuition guide you. And he calls it mind mapping. And well I'll put a scan up on this in the show notes or we'll take a bigger picture of this. But I'll show it in the video now so it's just right here is like the center where I just wrote the title, 'The Story Engine'. And then I started saying, "Okay, well I want to cover a couple of key points in here. And I just started letting just drawing the core ideas, and then started like attaching little extra ideas to it, and I just kind of let it flow. Let my mind kind of dump out whatever it was.
And so, I got a lot of different ideas in here, and put it all together. But it was just kind of following my intuition. But it created an entire outline for a book which I used. If you actually had a chance to like compare a lot of these notes in here with the actual like table of contents of the story, you'll find it lined up perfectly. And I was just with the mind mapping exercise. It just lets it all come out instead of. You know I think a lot of people just try to force a book. And they're like, "Okay, well I'm going to write a book today. I'll start with chapter one. Here we go." But I don't think that that'll ware you up fast. But if you have a plan that you can create with this mind map, that you can do this. You can come up with an amazing book in less than an hour with a good mind mapping exercise. You of course have to write it. But if you've got it in you.
Michael:          Yeah, I know mind mapping is great. I mean that was more popularized by Tony Buzan 40 years ago I guess. And it does seem to like help you come up with ideas that if you vote out, your outline linearly, they wouldn't come in because you can see connections between different places. And it's not… The mind map you showed us had a lot of text in it. But you can have a little diagram, so cute icons or whatever he put in there.
Kyle:               yeah
Michael:          And I think it's cool that you hand drew your mind map. I think that can allow for a lot more creativity. But there is also a mind mapping software out there that people use as well and I've used. So really cool way to tap into your intuition and your rational mind at the same time. So as you were writing your story engine book, did you get any writer's block or did it just kind of flow out or?
Kyle:               I would get writer's block. Usually, what would happen is there is definitely like once I had this outline I built out kind of the map of the book in Trello. And there are definitely times how I dealt with writer's block. But usually, I avoided it where I would like pick out the chapters that I wanted to do more. And so then there were just a couple… Like the last couple of chapters where maybe a little bit more of a slog. And so what I would for that. If a chapter was just like not working for me is I would try to write the first paragraph.
I would go into the chapter and I'd be like, "Okay, just write the first paragraph, maybe the last paragraph, or at least to start at it." And then I would be like, "Okay, I got that." And sometimes, that would be enough to beat it. Sometimes I'd be like, "Okay, well at least I have that and I'll go away to a chapter I want to do more right now. So I do that. I feel like I make progress. But I just feel like just by getting that… This was something I used to do in school with my papers too. Just by getting that first paragraph down, it allows your mind to start kind of working on its own and really starting to visualize things.
And I think that getting that extra clarity makes a huge difference in how empowered you feel to write it, or handle it. So I could come back the next day or maybe a couple of days later, and the writer's block wouldn't be there as much. Or another easy thing would be like, "Okay, well maybe I just don't have enough research on this. So I do research then a couple of plans and drop in a couple of quotes and that would be messy or whatever. But at least I would have a couple more tools to bring to the table this time.
Michael:          I love that suggestion you said just work on the chapter that you feel inspired by instead of feeling you've got to write chapter one, then chapter two, and three.
Kyle:               yeah
Michael:          If you feel it's chapter seven that's the one that's like really filling you with joy, write that and then come back and fill in the other ones later. I mean it doesn't matter these days. I guess in the old days when you would type; people typed books, maybe it's what mattered more. But with word processes, who cares what word you write stuff in.
Kyle:               Exactly yeah I was all over the place. Did not write the book from front to back. It was chapter seven, and 20, then 18, then four. Yeah, I was all over the place. It was fine because it was all it was all mapped out. It was all organized. And so all I had to do was it made it easy to manage. And so instead of saying like a whole book, I was just writing a chapter at a time.
Michael:          That is so cool. So you mentioned before we got on the interview that you do micro digital normading even though you're not like traveling around the world right now in your life. You're in the U.S. But you still managed to do some nomad stuff. Tell us how you do that.
Kyle:               Yeah, so we've met just kind of like… You and I have that like in Colombia and Thailand and all kinds of wild places around the world. And kind of the traveling entrepreneur was the thing that got me into entrepreneurship in the first place, and I came back to Utah about… Yeah, I've been here for about a year. And I have friends and family here and I really enjoy it. But I've still been able to bring a lot of kind of the things I've learned while traveling all around the world to really enjoy a lifestyle here in Utah. And so how I do that especially in the winter is, so I ski at a ski resort called Snow Bird. And it's very… it's kind of a competitive place. Like the elite skiers go there and they want to ski all the great powder.
And so it kind of is rough got there in there every day. It's getting really competitive and you've got to like sharpen your ski poles to get anything. And so when I knew this, like I way… Or if I knew that a good snowstorm was coming during a weekday, I'd set my alarm extra early like five am and then get… do a couple hours a work right away in the morning and then drive up to the ski resort from like nine am to eleven am right when it opened and get a bunch of turns in on a weekday. And then I could just crack open my laptop up at the ski lodge in order to launch and then put in another couple of hours of work.
And so, I was able to get to like level little bit of a lifestyle during my week days, do what I loved. But also still be able to keep up with my business at the same time. And so I just take in a lot of the ideas up like what we've brought to working remotely, or living in Chiang Mai, or living lean. I have a full office set up with complete with like podcasting or like lights that I can bring, and put in like my tiny little day bag. And so I've opted to be just totally mobile and so I can… Yeah, my office can be a ski lodge, my office can be a coffee shop down Salt Lake City, or can be any coffee shop in Chiang Mai which I hope it will be all of those things again in the future and more.
Michael:          That is so cool and inspiring. So many of us are able to do that now. You know just from a laptop. I just want people to think, what could they do with that to shake things up? Because I find when I work at different locations, it gives me more creativity, and new ideas come to me. So very cool. So let's just switch gears a bit now. And I'm kind of curious why you're proud to use your business intuition.
Kyle:               Why am I proud?
Michael:          yeah
Kyle:               Well, I think like again in this, I'm proud because I think that there's a lot more to us than I think we understand and as somebody who… Like I have stuck it a lot, and I read a lot, and so it's really hard to get out of your head sometimes. But by connecting with that, I think you connect with something. I think intuition is something bigger than what's inside of us, and I think it allows us to kind of connect with us with the whole world. And so, I'm proud of that because I think like it connects me with that bigger story that's happening. And it helps me to find my own story and it lets me… it shows me a lot of the stuff.
Like intuition is playing a huge role in my life because a lot of like if I always like look back on myself a year before; and it's been happening for the last decade. But I would never expected to see myself you know where I am now. And I'm sure like when I see myself a year in the future from now, I'm not going to believe what's happening. I think a lot about this. It's trusting my intuition, it's trusting my adventure, it's going with the gut. And like yeah you'll have to make the… I can think of a couple of like you know just essential decisions where you're like, "Oh God I'm not sure, but I think like my intuition is really pulling this way. So let's go for it." You know turned out to be some of the best choices.
Michael:          That is great. So, I'm on a mission to that all entrepreneurs openly use their intuition that work because they'll make more money and be happier. And also because I think every business leader used their intuition openly, they'd make less dumb ass decisions that hurt other people and hurt the planet. So, my question to you to close this interview is, what would it take to make business intuition more openly used this year?
Kyle:               I think it's great to start with vulnerability. And I think it's a common question that a lot of people are having right now. But I think vulnerability, the precursor of vulnerability is honesty. And to be whether you're writing in your morning pages, whether you're talking with a friend, whether you're talking with your coach, whether you're writing a blog post, just being honest with yourself and what's happening.
And being vulnerable with who you are, and really being transparent and real. And just getting down to what's clearly happening is what will define you, or it'll allow you to have that intuition instead of feeling kind of stuck and torn up. But if you're just… if you have the courage to really reach out to a friend and say, "Hey, I'm having a really tough day. I don't know what I'm going to do." And so they're starting talking through it. By being vulnerable, you allow that intuition, you allow that spirits coming into you.
Michael:          That is great. So if folks wanna find you online, how can they best do that?
Kyle:               So right now, I'm writing a lot at thestoryengine.co. And I've got really cool info graphics on storytelling, and how to create stories that engage your customers and their imagination. How to build relationships with content marketing and all kinds of good stuff. So definitely check me out there. If you'd like to see a little more of kind of my personal writing; though I haven't updated it that much recently. I've been doing a lot of work on the story engine. But my personal writing about how to find spirituality in your craft or just kind of the inner battles that I go through. You can check me out at kylegray.io. And yeah, we'll include I'm on Twitter @Kyle.Gray. And yeah, I'm happy to connect with anybody there. Share your story with me. I'm excited to hear it.
Michael:          Fabulous! Well thanks so much for coming on the podcast Kyle.
Kyle:               It's been an honor Michael.