Jonscott Turco talks about "The Intersection of Excited and Scared (And Sure it is the Right Thing Too)" in this episode of the Intuitive Leadership Mastery Podcast, with host Michael Light.
"If a leader doesn't admit their own failures, how do they expect a building trust to have their team take risks and risk failing. And I think that's where talking the talk, and walking it becomes very different. In terms of it's easy to say something and then go back to the way things always were. And I think that's one of the issues with clients is I work with clients and if they don't implement the changes that they've agreed to, then we have another conversation because then it becomes you know we're spending this time, we're investing time, energy, and money and in morning these changes are positive." – Jonscott Turco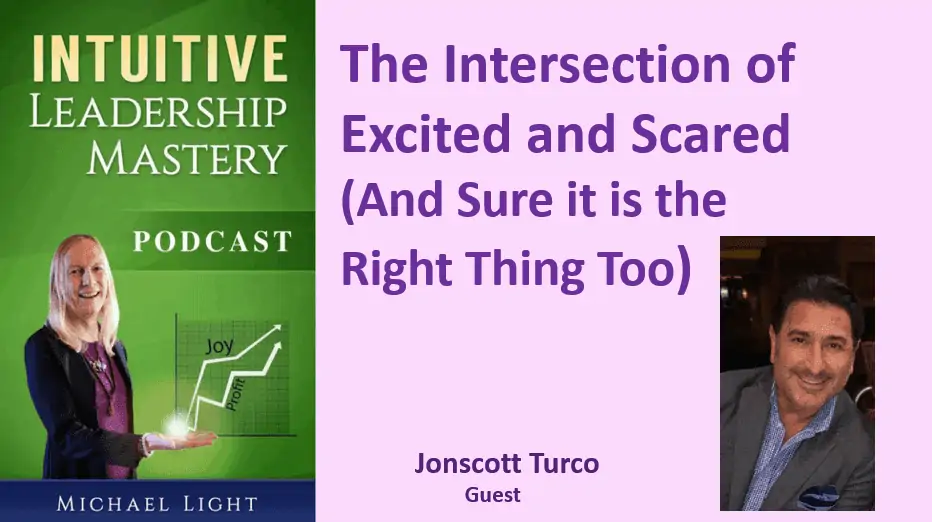 Here are some of the topics discussed in the podcast:
The intersection of Excited and Scared (And sure it is the right thing too)

Growth happens outside your comfort zone

Lip service to innovation but strict on failures and metric

Employee engagement inflection point

The risks of being content with the current status of your business

World is changing faster

When the pace of change external > the pace internal, the end is near

Using intuition to move faster in business

Overcoming the fear of failure, fear of being wrong

Failing forward fast

How to work with your surroundings when people envy, think you are crazy, or both

Remember to breathe

"No One is going to die, no one is going to go to jail."

Tips on navigating the unconventional life of an entrepreneur

Overcoming the fear of investing in myself (time and money)

Why Authenticity is key to intuition

Easier said than done

Work, life and leading with intuition

Can you buy fake authenticity?

What is authenticity

Building trust

Authenticity score
If you want to double your profits and half your stress, check out the Biz Intuition Profit Doubler. It is a free course for you to use intuition in your business.
Mentioned in this episode
"Everything can be taken from a man but one thing: the last of the human freedoms — to choose one's attitude in any given set of circumstances, to choose one's own way…every day, every hour, offered the opportunity to make a decision, a decision which determined whether you would or would not submit to those powers which threatened to rob you of your very self, your inner freedom." —Viktor Frankl

Listen, evolve and learn vs being stuck

If the pace of change external > pace internal ⇒ the end – Jack Welch, CEO GE

"Fine" is the new angst
Bio
Jonscott is a change maker for global businesses, organizations, and their leaders. He empowers clients to anticipate and adapt to marketplace opportunities and disruptions to move with agility to succeed today and in the future.
Turco brings nearly 25 years experience as a trusted business advisor, leadership, and behavioral change agent. He is skilled at diagnosing and repairing organizational inefficiencies and cultural problems; creating and implementing intuitive strategies to erase dysfunction. His work enables leaders and organizations to be more successful through improved communications, leadership, agility, innovation, customer focus, and cross-cultural collaboration.
Jonscott earned his undergraduate degree in International Business and Marketing and was the valedictory recipient of a Master's degree in Counseling Psychology, both from Manhattan College in New York. In addition, he also serves as an adjunct undergraduate and graduates school Professor, instructing students on subjects including International Business Leadership and Cross-Cultural Organizational Alignment.
In his personal time, Jonscott enjoys spending time traveling with his family and learning/sharing cultural experiences. He is passionate about photography and sharing the world through his images and enjoys speaking with groups around the work and motivating them to lead their lives and businesses authentically.
Jonscott is a lifelong martial arts practitioner and has achieved Shodan rank in Shinto Go Ju Karate. He's a longtime soccer player & coach and endurance athlete, competing in races including the NYC Marathon and 140.6 mile (226 km) Ironman triathlon.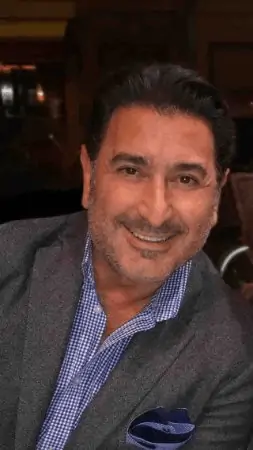 Learn more about Jonscott Turco at:
Interview Transcript:
Michael:           Welcome back to the show. I'm here with Jonscott Turco; very unique name there just in case you need to track him down by Google. And we're going to be looking at the intersection of excited and scared, and when you're sure it's the right thing to do too. So, coming up in this episode, we'll be looking at that. And we'll be looking at the risks of being content with the current state of affairs in your business. How to work with your surroundings when people envy you, or think you're crazy, or both. Tips on navigating the unconventional life of an entrepreneur. And how he overcame the fear of investing in himself. And also, why authenticity is the key to intuition. So, welcome Jonscott.
Jonscott:           Thank you Michael. Happy to be with you today.
Michael:           So, let's just talk about the … You told me a bit about this before hit record. The intersection of excited, and scared. And with the extra pressure that you know is the right thing to do.
Jonscott:           Yeah, I think it's … Thanks for the … I think it's interesting because we as entrepreneurs, we all encounter these situations where we're breaking out right. We wanted to do something that's not conventional, so which was let us to entrepreneurship. And I think if we look at this from the perspective of trying new things, and diving into new opportunities, there should be some level of fear because it should stretch us, right. It shouldn't be within our comfort zone, or within the space that we're familiar with. I think if we do that, there'll be a certain level of scared, a certain level of [inaudible] [01:34]. And I think when we do those things and we're married with the excitement of the opportunity. So, if we're leaving our comfort zone.
We're really excited about the potential, and we're scared because it is stretching us. Stretching us on the limit so we're comfortable, we're safe. I think those two things kind of inform the latter part which is that's I think when we know it's the right thing to do. You know where we're at the point where we're excited and we're not scared, probably okay, maybe consider. If we're really scared and not excited maybe we should move where we are. But if we're at the point where we're scared and excited at a similar high levels to me, that's a real tipping point for myself and for my clients about maybe you should consider this a really big deeper into one of those things that are exciting you, and scaring. I use that as a little test frankly for myself as well, and that's what I know it's the right thing to do.