You can listen to the podcast and read the show notes here.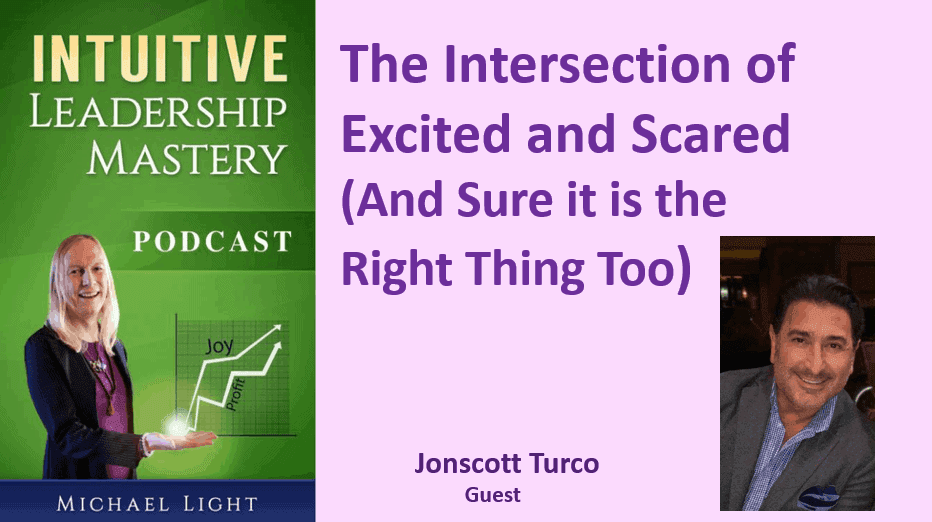 Michael:          Welcome back to the show. I'm here with Jonscott Turco; very unique name there just in case you need to track him down by Google. And we're going to be looking at the intersection of excited and scared, and when you're sure it's the right thing to do too. So, coming up in this episode, we'll be looking at that. And we'll be looking at the risks of being content with the current state of affairs in your business. How to work with your surroundings when people envy you, or think you're crazy, or both. Tips on navigating the unconventional life of an entrepreneur. And how he overcame the fear of investing in himself. And also, why authenticity is the key to intuition. So, welcome Jonscott.
Jonscott:          Thank you Michael. Happy to be with you today.
Michael:          So, let's just talk about the … You told me a bit about this before hit record. The intersection of excited, and scared. And with the extra pressure that you know is the right thing to do.
Jonscott:          Yeah, I think it's … Thanks for the … I think it's interesting because we as entrepreneurs, we all encounter these situations where we're breaking out right. We wanted to do something that's not conventional, so which was let us to entrepreneurship. And I think if we look at this from the perspective of trying new things, and diving into new opportunities, there should be some level of fear because it should stretch us, right. It shouldn't be within our comfort zone, or within the space that we're familiar with. I think if we do that, there'll be a certain level of scared, a certain level of [inaudible] [01:34]. And I think when we do those things and we're married with the excitement of the opportunity. So, if we're leaving our comfort zone.
We're really excited about the potential, and we're scared because it is stretching us. Stretching us on the limit so we're comfortable, we're safe. I think those two things kind of inform the latter part which is that's I think when we know it's the right thing to do. You know where we're at the point where we're excited and we're not scared, probably okay, maybe consider. If we're really scared and not excited maybe we should move where we are. But if we're at the point where we're scared and excited at a similar high levels to me, that's a real tipping point for myself and for my clients about maybe you should consider this a really big deeper into one of those things that are exciting you, and scaring. I use that as a little test frankly for myself as well, and that's what I know it's the right thing to do.
Michael:          And I forgot to introduce you earlier. So, I was probably too excited, or scared, or both. But you help out organizations who are having problems. I want to call you an organizational shrink. I don't know if you want to take that [laughing] [02:45].
Jonscott:          It's one of those things where I think some organizational psychologists. I do leadership and innovation to help organizations function better, have a happier employees, and be more profitable. So, I think I can do that, I feel good in my job.
Michael:          Yeah, so you probably come across this a fair amount you know.
Jonscott:          Yes, for sure.
Michael:          Not quite sure what to do and maybe they're not used to going towards that fear.
Jonscott:          It's not because I think that many companies pay lip service to the fact that they support innovation, they support stretching boundaries, and then they hold you accountable to a very low tolerance for fear; for failure. So, it's one thing to say it, and to talk the talk. But walking that talk is a whole different thing, and many leaders are driven by the metrics that drive organizations and don't have the we way to really support innovation and really support growth through people leaving their comfort zone.
They kind of walked the well-worn path. It's that old analogy which is I'll never get fired for hiring I.B.M.. I need updating my software better. But when people are looking for providers they there was all these new upstarts and interesting people coming around, but there was risk. There was risk to go, or going with a new type of service and if you chose the old mainstay even if it failed, they couldn't default.
Michael:          yeah
Jonscott:          So, I think that leaders today are [following through on what's important both in terms of metrics, and also important in terms of people happy, and motivated. And I think employee engagement is at a crossroads now. Particularly in the States Middle Eastern countries I work with. I think it's at a crossroad different culture as a culture and systematically something I work with as well.
Michael:          What are the two directions on this crossroad?
Jonscott:          Well, it's pretty polar. I think one direction is to do the same thing and to bear the responsibility and the criticism of talking about change, but not executing and following through. And the other side of this inflection point which I think is going to reward companies, and people, and leaders is following through, weathering those failures, learning from the mistakes, and carrying forward with a renewed sense of purpose, energy, and resolve to succeed. I think those are… that's really, it's really either or those two. I don't think there's a lot of middle ground. Because middle ground is going to get swept up into the former. It's going to get swept up into the way things have always been.
Michael:          And what's the problem with going down the road of the way, or way things always been? I mean it sounds like it's quite attractive for road really for a lot of people.
Jonscott:          Well listen, there's moments in time is, but you know there's a there's a quote I was really like to remember which is from Jack Welch which says, "If the pace of change external is greater than the pace of change internally, then the end is near." The world we live in …
Michael:          Wow! Wait a minute. The end is near? You mean the company might die?
Jonscott:          I think that's a fair inference from that statement, yes.
Michael:          But Fortune 500 companies don't die, do they?
Jonscott:          they do
Michael:          Look at Kodak you know. Famous [crosstalk] [06:12] company that went down the floor.
Jonscott:          Look at Nokia. Look at the rates of the percentage of users in the mobile market in the '90s who are using Nokia. It was multiples of Apple and everyone else. And when Apple…
Michael:          60 percent
Jonscott:          And then when Apple launched their iPhone, and then, who was the second provider, do you know?
Michael:          Motorola maybe.
Jonscott:          It was Blackberry [inaudible] [06:34]. So, neither of whom are a factor in a great dramatic way these days. So, I think there's plenty of examples from consumer products in the space like you said Kodak. If you look at the financial markets like Lehman Brothers and Merrill Lynch and all the consolidations. And even if you look at other markets like fashion and I know I like to look at Crystal was a funny champagne brand. Paris and they didn't want to be affiliated with the whole rap culture and community because they believed it was bad for their brand.
And that was the only thing keeping their brand at the level of sales it was. So, it's embracing your customer base and drive it. But I think yeah, there are many examples as you said of organizations Fortune 100, Fortune 500 and the latter who didn't change, kind of stayed where they were. And if I told you in the '90s that Nokia would be gone and they'd be on the air just shocked, and hysterical about the company failing 20 years later we wouldn't believe it was such a popular brand.
Michael:          right
Jonscott:          I think it's… and if we take that as entrepreneurs and extrapolate that reality, we're all at risk. Or I think we're at risk of being comfortable and content with whatever we achieve, right. So, we don't have the back stop. You know oh I just you know, it's five o'clock and it's time to go and I'm going to go take care of my own life, and whatever. We don't have the luxury of just walking away from it and finding another thing and flipping a switch because we're doing this because we're passionate about making differences, and of the world making differences to the people that are our clients.
And myself personally, helping people realize that there is a way to work happier and smarter around the world and not be trapped by a Steve Jobs, or trapped by [inaudible] [08:24] by just doing things because that's the way that we thought they should be done. So I think it's important.
Michael:          Right and part of the reason why this is even more important now as you alluded to there is the pace of change is getting faster and faster every year. It's not like it was when and how the business was 20, or 30 years ago where a change might take a few years to get rolled out. Now changes happen in a few months.
Jonscott:          Yeah, if you think about just the amount of information there's a statistic that… I wouldn't misquote about could be the jest which is there's more information in the hand of a 10-year-old child with a smartphone than the president of the US, or the prime ministers of countries had just a couple of decades ago. So, it's incredible and that's just growing right, that's just the pace of change that we're dealing with is accelerating. So, it's like that and sorry, I tend to speak in analogy at times.
But it's like that analogy for life which is like if you're walking on a moving sidewalk. And you're just walking at a normal pace and you're walking against the sidewalk, you stay exactly where you are. If you don't walk, if you're not moving at all, you're going backwards. So in order to get ahead, you have to run, you have to be fast. So, I think for leaders, and for entrepreneurs, we went into those fears, we went into those being scared and leaving something that may have produced some results for us in the past, but resting on our laurels is not an option. You know it's not an option.
Michael:          Because the laurels are going backwards on this change sidewalk.
Jonscott:          Exactly it's true, Michael.
Michael:          Yeah and one of the ways we can move faster in business is to access our intuition, and to do that openly. And that's why I champion that as a revolution in business, all business leaders to do that.
Jonscott:          I think it's one of the reasons why I was excited to speak with you today, and when we met recently. It's because I think that that's such a clearly (I hate to say this) but it's such a clearly intuitive. It's an of course moment when you talk to me about intuition and leadership and the fact that people don't speak about it, and don't recognize its power. And how we work on a regular basis, and how we think about our work as entrepreneurs. It's exciting so your work is a very interesting thing to me which you know led me to the opportunity to speak with you today. So I think that's… You know I think looking at the world changing more quickly. I think paying attention as entrepreneurs to what interests us, or where we feel we're bringing our value and our unique value to our consumers and our customers and maybe that evolves and changes.
I remember when I was a kid. I had an Apple two computer in the mid '70s. And if you told me then that we'd have cell phones and smartphones and that the phone in my hand would be more powerful than the computer I had at that time. It's really exciting and oftentimes unpredictable but if they get it this way if Apple rested on their laurels none of this would be.
Michael:          right
Jonscott:          If they're going to take the chance, if they didn't fail with the Melissa, if they don't fail with some of the other products, and learn from it, and listen to their consumers and I think that's the biggest fear right because if you have… If we as entrepreneurs have a consumer base that we've built and cultivated over a long period time or a short period time, being true to them is important to us. And I think simultaneously we need to be open to new business ideas, new business opportunities, ways to serve our clients and our potential clients in a more complete way. Which I think we all have the opportunity to do.
Michael:          Yeah, I mean I think the problem is not so much failing. It's not trying or not doing experiments, or playing. And as long as the fail isn't as big, and big enough to take your company down you know personally you have small failures to learn from them, so you can you know. I mean it's sort of like the internal combustion engine has a lot of small explosions you know many times a second, and it drives the car forward. Whereas if you kind of collected all that gasoline together and exploded it once, you'd have a problem.
Jonscott:         [Inaudible]
Michael:          All right so the same thing with business you want to have a lot of failures. But you want them to be small ones that kind of give you that impulse to keep moving forward improving.
Jonscott:          absolutely
Michael:          Is probably a Japanese word for that, right?
Jonscott:          probably
Michael:          [Inaudible] I'm forgetting it. I'll look it up and put it in the show notes.
Jonscott:          okay
Michael:          But so, given that it's important to use intuition, and not so many leaders use it. I guess because they're you know, why do you think people don't use their intuition openly? I mean many famous business leaders have said they use intuition or follow their gut to get stuff done.
Jonscott:          I think it's again, it goes back to our one of our original points which is it's a bit scary. It's a bit scary to operate in a connected way where it's not easy to demonstrate metrics that justify the choices and the expression of leadership. Because leadership is an art if not more so than a science in my opinion. So, it's accumulating knowledge of course. It's being able to connect with and work well with people. And so it's an intersection of driving success or connection with people. And I think that being intuitive, and trusting your intuition is something where most leaders are afraid of those failures. Even if they're not big failures, or afraid of being wrong.
So, I think this goes nicely into something we just we spoke about before record which was it goes into that point where if we're afraid of leading with our intuition, and we are afraid of being authentic, and owning our own mistakes, our own flaws as leaders, I think it becomes a challenge for the people around us to take us from a place of trust and confidence. Because if a leader is never wrong, if a leader never leaders…
Michael:          If a leader never is wrong his name is Stalin I think.
Jonscott:          you know
Michael:          Didn't he go back to the newspapers and erase out anything where he was could have been wrong in the past.
Jonscott:          So, if you look at it that way, if a leader doesn't admit their own failures, how do they expect a build trust to have their team take risks and risk failing. And I think that's where talking the talk, and walking it becomes very different.. In terms of it's easy to say something and then go back to the way things always were. And I think that's one of the issues with clients is I work with clients and if they don't implement the changes that they've agreed to, then we have another conversation because then it becomes you know we're spending this time, we're investing time, energy, and money and in morning these changes are positive.
And I do want to grieve and then when push comes to shove at the end of the day when you have the path of least resistance which is well worn, or you have a past that's going to be a little bit more of a challenge and more effort and little bit less predictable. Many leaders just by cut by [inaudible]. It's not almost like it's almost without deciding. They just kind of let things flow. And then I revisit with them and they say well, "We agree, but we just never really made it happen." Because they had what they don't say is that I didn't follow intuition, I knew it was going to be a mistake.
And how many times have we heard that from clients, right? I knew it was going to be a mistake, then why did you do it? And they all have examples. I sort of have examples where I didn't listen to my intuition and sometimes when my intuition was validated by trusted advisers or my dad or whomever and I went with something I turned out to be the wrong decision. And I think we can … even if they're small things, are small or large. We have the opportunity when decisions are made that turn out to be wrong of letting it really drag us down and define us by the mistakes. Or learning from it and rising above it and moving through to the potential that we have to not do that thing again.
Michael:          I think that that's a great point. And what I recommend to people is just keep a journal on the decisions you made. Whether you made them with your rational mind, or your intuitive mind, or maybe you had a dream about it, or however you got intuitive info. Or maybe you're just you gut felt tight when you were interviewing that potential employee, and then you hired them anyway, and they kind of embezzled hundreds of thousands from your company, or whatever happened.
Jonscott:          Yeah, I think it's important to recognize in yourself what you know where you make your decisions from, what parts of you you're tapping into.
Michael:          But people getting into this intuition stuff for the first time, it helps to like keep track of what in decisions you made where the intuitive knowledge as well. Because you probably aren't going to be able to learn it in an afternoon. It's probably going to take a little while of practicing. And maybe you just keep to the existing rational past for a few months and see what the intuition says, but don't act on it; that's a safer way into.
Jonscott:          That's a great piece of advice. I think also it gives you the opportunity to try it on. Right to see how you're keeping track of your decisions and where they're coming from; if they're coming from rational intuition or something else. I think that it gives you the opportunity to kind of test it and see the times that you were right. And I think that again it's not even a matter of right or wrong because you can follow the well-worn path and have it be fine. If fine is your goal, then you can have it be fine. I think the opportunity cost of that is not realizing the full potential you have to help your clients to add value to your relationships professionally and personally. And also to move things from a place where it's fine.
Fine to me is source of [inaudible] [18:19] because it means that I'm operating from a place of fear and like let's just leave everything the way it is. Let's just not try to do anything new, try to innovate. Let's not try to take all the accumulated information that we have from our customers and from our potential customers and say, "How can I meet these needs, and what are they telling me based on their behaviors?" Whether they be consumer behaviors, leadership behaviors. Like what are they telling me? What is my intuition telling me about? How can I better serve them, and to be of more value to them? And then in consequence of course part of that help will be helping our businesses as well.
Michael:          Right, not only helping our business grow, and our clients grow, but also helping our staff grow is another aspect of this because…
Jonscott:          Right, I think that's a key point as a leader. So I think if we demonstrate that, if we kind of walk the talk and we show them that we're willing to admit that we've made mistakes in the past with [inaudible] [19:17] I think we're going to failing forward faster something that I see we have in our notes and I think part of it is now let's try and see if it works. I think there's so much deliberation, and so much slow processes and it's a real epidemic in business around the world. And in personal businesses as well, in our personal lives where we know something is wrong, but we continue to persist in it because it's just … there's a momentum of living, there's a momentum of practiced that it's almost more difficult with the inertia working there to change direction.
So, I think that if we can embrace that opportunity to own it as a leader, we develop our people so much better. We build trust without asking for trust. I think I know readers who ask for trust or demand trust which is somewhat hilarious when you think about it because it's not something that can be requested or demanded. It's something that happens, and it happens because as a leader, we're authentic. We're finding our own authenticity and saying, "Yeah, I've made a mistake, I did something wrong." Or I made, I followed, I thought this to be right whether it be intuitive or otherwise. And it didn't work out this time.
Michael:          Yeah, well we'll talk about authenticity a little bit later in the show. But what about when you're doing this, you have this bold leader that clearly you are. And other people envy you, or they think you're crazy, or they think both you know.
Jonscott:          [Inaudible] [20:46] I think point… The schedule that we all are … from… The schedule that I keep all over the world. If I'm in the states, if I'm in the East Coast and I have clients in Europe, or Dubai, or in the Middle East, or Australia certainly, my time schedule is hectic. If I'm in the East Coast, my friends want to know if I'm working because they may see a post at one or two o'clock in the afternoon of me taking… [I love photographer] taking a photo and posting something to Instagram and like I did you work today? And I said, "Yeah if you'd like I can text you one o' clock in the morning when I start work. And the question that comes you know like how do you have the freedom to live your life this way, how do you create this which there's no simple answer for anyone, right.
We all have priorities, we all have ways of working that lend itself to things that we're good at in ways that well we're going to be uncomfortable. So for me, it's not the most comfortable reality, but it's a choice I make to be available to my clients when they need me to be available. I think the envy of it is usually based on the misperception that we have total freedom and total blue sky every day because oftentimes as leaders and as business people particularly as entrepreneurs, we don't share the tough times. They see the flights to amazing places, they see the pictures from some of the work, and some of the client testimonials. But they don't see the background, they don't see the business development, they don't see the failures, they don't see the contracts and accounts that have not been won.
So the envy is oftentimes misplaced sometimes thankfully it's placed well. I think many people will like to stick to the path, and they think you're crazy because you walked away from what job and you said no to this offer, or you fired a client who was a high paying top client who wasn't following the counsel, and consultant advice that I give. I think that for me when I have my friends, people who know me best when they think I'm crazy and they simultaneously envy what I'm building and then I kind of know that I'm doing the right thing. If I'm pushing things enough that my friends think it's totally out of the box, and they misperceive my schedule as being something that they envy.
Because most people don't choose this path; let's be frank. There's a reason why people you know when I finish and I have to go to the bank. I'm happy people work at the bank. It's a valuable important service they provide, and so those people when they see it like my life or my schedule me think of it crazy. They may wonder like how can you just be out at three o'clock, or whatever day you have a [inaudible] But they also don't seem that at seven thirty in the afternoon …evening [afternoon I was going to say] So they have to be up at one o'clock.
Michael:          right
Jonscott:          So, it's not always what it seems. I think it's important when you are building a business and when you're trying to break out of the normalcy of convention that you have a thick skin about your family, and friends, and people surrounding you who may tell you that you're making a mistake. I have two kids in university, and I tell them oftentimes like you have to follow who you love, and you have to follow things you're passionate about. And people may not agree with you, and I may not agree with you. But you still have to follow for yourself as a person. What it is that's meaningful to you.
So think I encourage the crazy. I do, I encourage it in my kids, I encourage it in clients. I think it's important too. If only in your mind and you mention this very accurately when it comes to intuition. If you only exercise intuition in your mind and keep track of it and then you can kind of compare and contrast like where it is and perhaps you know see the opportunity. You have to really harness your intuition to make better decisions. Not that it rules everything all the time, but it's a significant advantage if you incorporate that into your decision making process.
Michael:          Absolutely, it's just a tool in your toolkit just like spreadsheets are a tool, intuition is too. Just take them both in. I'm kind of wondering where people listening can buy a thick skin for business. Is there, or how did you get that? How do you become neutral? And by thick skin I assume you mean you are just neutral to what other people say. You're know what they say, you take it in, but you know going to get upset about it.
Jonscott:          I think that there is a lot of E.Q. Emotional intelligence is a piece of it and listen, I'll be the first to admit that I have my flaws. And I have moments where it's easier than other times to practice what I preach when it comes to this. I think part of it and I had a client ask me recently like, "How do you remain so calm in the face of such tumultuous hectic urgencies at work with clients?" And I think some of it is just breathing through it and realizing that this is very important that no one's going to die and no one's going to jail right.
So it's important but let's take it rationally because I don't think any decisions that are made in haste, or that are made dogmatically really have a foundation of success in the long term. I think unless we stop and take a beat, and think about things holistically, and apply our toolkit, other metrics, intuition, our experiences certainly, I think it's important. And for me personally to your question we all had to have our stories, and I certainly have mine and I think going through events and work events in my life that were tumultuous, that were unexpected and I think we all make mistakes by permission, or omission.
I think just surviving those, and picking yourself up, and continuing forward. I think that that provides itself some inertia and momentum to the fact that this too shall pass. And the way that I can address this, and learn from it, and not repeat the same mistakes is really going to be more defining of myself in my career, in my leadership abilities, and whatever mistakes I made in my past. That's why I firmly believe in, that's something I encourage my clients to believe in as well.
Michael:          And I think Tim Ferris is pretty inspirational on this. He tries out all kinds of things and screws them up and shares what happens. So you know.
Jonscott:          absolutely
Michael:          And I remember in his original Flora work week book. He said one of the exercises he did, he'd eat go out in a… I thought was in a cafe or whatever he just lie down on the ground.
Jonscott:          He mentioned that, yeah.
Michael:          Just to overcome the fear of what other people might think. And he'd lie there for ten seconds then get up.
Jonscott:          I think to your point about that, I think if you… I think it's very basic. So if you respect or admire a person or a leader and their opinion is shared with you and you wish, you choose to hear it and internalize it; that's valuable and that's important. If it's just noise, and one of the great opportunities, and one of the challenges of the world we live in, in the media that we work within is that we invite a ton of criticism and a ton of anonymous critiques. At the end of the day, I have several people I know who are well known and they just don't read the comments, just don't want to see it. And you have others that take it in and really internalize it at times and at the end of the day, I've seen great comments, I've seen horrible comments.
I've seen comments that were forward looking, a few comments that are past focused. At the end of the day, you're responsible for today, you're responsible for right now and you're responsible in your opportunity as what are you going to do after this point forward. Nothing [inaudible] [28:55] But all you have is right or you have is right now. So I think that's a point I try to stress and I think that's where intuition comes into play which is you have accumulated life previous to right this moment. And I think that informs so much, and relying on your intuition which I think is a manifestation of so many things that you'd experience in your life. I think it's important. I think it's a critical voice to hear in your toolbox we talked about.
Michael:          Yeah and it sounds like all of these things you're talking about really help with navigating being a non-conventional person.
Jonscott:          Yeah, I think so.
Michael:          Because entrepreneur generally is unconventional.
Jonscott:          Yeah, it's true. We all have that opportunity. It's also applicable. Let's be clear. It's also applicable to people who have a more conventional nine to five lives. I think the [inaudible] is incredibly valuable. Keep track of your decisions, and where those decisions came from. And then kind of check in with yourself and I think again, going back to my quotes, I think it was Socrates like, "An unexamined life is nothing. An unexamined life is not worth living." I think just to… I think most people don't examine the lives of they live. So, I think when you stop and sit back and say okay, this is how I'm spending my time, these are my goals, are they aligned, am I working towards my goals with how I choose to spend my every day, or my goals here in my life like somewhere floating into the other directions.
Michael:          Or I think some cases, do I even have goals?
Jonscott:          Right I think most people are just kind of going through the motions and daily basis. They don't examine their situation, they don't check in and those are the people I see and I work with who frankly are hugely successful financially. They're incredibly measurable in their jobs, and it trickles into every part of their life. So, it's not about the money necessary. It's about how aligned is your life with what you feel important and how your intuition is telling you to be. I think that those are opportunities are missed by a number of people. So intuitive leadership, intuitive learning, and intuition itself no matter what you do for your life limited by what your choices.
Whether you work or don't work, or you have a nine to five, or you're entrepreneurial, or you're truly nomadic you know, trusting your intuition and checking in with it often will only benefit you. There's no downside to it. There's not many things where there's no downside to it. This is a true like it's only going to benefit you when you check in with yourself. But again, it requires a certain amount of embracing of fear and embracing of the unknown, and vulnerability you know which I think a lot of people tend to… we tend to throw smokescreens around different parts of our lives for different reasons.
Michael:          So, I met you at a conference and you decided to invest quite a lot of time and money to go to that as to [inaudible] [31:46]. How did you overcome that fear of investing in yourself, Jonscott?
Jonscott:          I think it's a great point, thank you for that question. I think a lot of it has to do with… You know to a degree, well not to degree. I think time is the most valuable commodity. It's all we have to trade for the life that we want to live and the people we want to spend time with, the people are important to us, and things that we love to do. So for me, I have been doing a bit of research and a bit of exploring. And then I have to thank Jackie Natural who was a speaker at this particular conference at the annex. And I think I found out she was going and I knew I was going to be in Europe at that time. I carved out the time around there to leave it open, and I kind of left it open. I didn't book it. I kind of left it open for a bit because it was a big investment in time and money and I could be doing other things.
I could have spent more time with my family, or friends. I had other uses like we all do for the actual financial investment and I thought at the end of the day I prove… it comes back to kind of practicing what you preach, right. Like I'm saying earlier. I always taught clients that you need been a check in, need to invest in their own skills, in their own ability to learn new things. So for me, it became down to that crossroads of saying, "Alright I'm not really sure, I think it's the right thing to do, I'm excited about this, and I'm always a bit trepidations in spending money." But I decided for those reasons that we originally said it was the right thing to do it and it was truly. And I think many of us don't hit pause or not even pause. Pause is a more dramatic stop.
But they don't like kind of grab stuff on to their life and our lives are moving so fast. I think they don't take on new things or learn new skills because they're you know, we're meeting our clients' needs where delivering services where you know plugging along in our own entrepreneurial ways. And I think learning new things and my friend said to me, "What are you going to do there?" I said, "I'm going to listen." And that's an amazing gift. Like I say this to my kids and they give me like the dad look. But they're in university and their everyday they're in class learning things they didn't know before right then.
And as we go through our lives to get into the work world oftentimes, we don't have that opportunity, or we have to really seek out those opportunities to learn. So the conference we went to was an amazing opportunity just you know. It was [inaudible] Rogers never missed a good opportunity to shut up. So, I think just listening and hearing people stories and everyone takes different things away. I think that it's important to say what is it that you love? Like how is it that your skills can be evolved, or up-scaled, or changed, or you know.
I think if we stay true to the things that we're passionate about, and then clients will see that and I think clients will come from those experiences as well. So yeah, it's something I struggle with truly. Like in that I'm making a bigger leap now with some new business ideas and I think that it's a [inaudible] [34:37] It's literally you know, I'm super excited like a high level excited, and I'm high level terrified, and I'm like that's definitely the right thing to do. It's important.
Michael:          alright
Jonscott:          [Inaudible] myself
Michael:          Yeah, well that's a good way to decide. I think if it's something that excites you and it scares you, so a great way to overcome that. So, let's talk about authenticity, and why that's so important to business intuition.
Jonscott:          You know it's a great segue. I think that it goes to the point where people can hear intellectually they can process why it's important to be authentic and to be present and to be vulnerable on the way. And I think there's authenticity in vulnerability are so closely tied and if you practice authenticity, and you are present with your employees, and you're present with yourself, and you admit the things that you do well and need help. I think that it serves you better as an individual. It leads you to a more truly intuitive experience because if you're lying to yourself on a daily basis, and then you try to tap into authenticity, trapped into intuition excuse me. You're basing that intuitive plugin based on a false story, and a false narrative.
So unless we're authentic with ourselves, this is just internal. Once we're real with what we are and what we're good at what we need help with if we try to tap into that tool box and pull some intuition out. Intuition is going to be tainted in my opinion by the false narrative that we're living when are telling ourselves. So, I think being authentic. Again, it's much easier said than done. It's difficult because it requires courage. It requires risk, and it requires embracing uncertainty to a degree. And I think that if we do those things, we'll be happier with our work, we'll be happier with our life. And I think when there's a lot of pressure authenticity is a is a huge buzzword right now in a lot of different communities. I think what it leads to is just this almost false authenticity, or a fake authenticity that some folks and I say
Michael:          Where can I find fake authenticity?
Jonscott:          I'm sure if I go to Google search, or Amazon. Something somewhere, but I think that it goes back to what I said earlier which is checking in on yourself, checking in on who it is that you are, what is important to you, and what are the guiding principles of decisions that are like guiding your life and your decisions. And I think when you're real with yourself… And again this is I have to be you know candid. This is not something I'm always good at and I often have moments. To kind of catch myself and say no that's not what I really want I just think that's maybe what I should be doing. So if you're really your life by the should, and not by the authentic it's a recipe for living sub optimally I think, or living a life that is not authentic will give you a lot more headaches in the long run both in terms of how you operate your business.
The intuition that you tap into is going to be kind of skewed based on this false narrative, and the work that you do is not going to be as aligned to who you are truly as a person. So, I think that's an important piece to think about, and to practice. I think as you said about going back to this, it's such a great idea, keeping track of where your decisions come from if they're coming from you know metrics are coming from intuition. I think keeping track of how you live and what decisions you make. And if they're authentic, and checking in, are they authentic? Give them a score you know like you know…
Michael:          An authenticity score,
Jonscott:          Yeah, I think it's an opportunity or I think that it's given a score like if you say you know. Brene Brown has a great quote. It says, "I choose discomfort over resentment." And if you have things to do at work, and you're following up, and it's important to you, and you feel like you're really in your authenticity. And someone says, "Hey could you help me with this and come over here and do this." A reflex most of us is to say sure, sure I'll help you. And you put what you're doing on the back burner and then you silently resent the fact you didn't get a chance to do what you wanted to do. And stop being rude, stop being a team player you can certainly be a team player.
And I think the irony of that she speaks about this in a couple of her books is it gives you the opportunity to be respected for your boundaries. So, if we're authentic and we listen to our authenticity and we sit down to this based on what we find connecting to us as leaders and individuals and entrepreneurs. And I say you Mike I'd love to help you, but I'm going to be busy with clients. Can you make the time a little bit later? Well, yeah, of course. You know you have respect the fact that I'm doing work, and I respect the fact you're doing work. Saying yes all the time is not the way to be and I think it's…
Michael:          It's not the road to authenticity. The road to authenticity isn't paved with yeses.
Jonscott:          That's true, and again if you're living an authentic life again, we challenge… I challenge to do this in many respects and I keep challenging myself and checking in. If you do this, you're going to piss people off. Like the world doesn't respond well to boundaries and to nos, and I think it's one of those things where if you're … And even Oprah Winfrey said this recently or said this years ago. I just read it recently which like you know if you're intending to be real and to be authentic [inaudible] [40:41-40:51] time and you're being authentic to the things are important to you. So I like the idea Michael of authenticity score. It does have to be a one to ten it could be a four points scale. Like lower than average height of an average guy and I want to for you know am I skewed positive, or I'm I skewed negative, or am I kind of in the middle? We could talk more about that.
Michael:          Yeah, and also I think it's a great idea. I appreciate you suggesting that to us. And you know the end of the day if you're not authentic, you're just going to not have a successful business because reality is not… doesn't treat you kindly in authenticity in the long run. You can get away with it for a little while but
Jonscott:          Precisely, and you can you know I think people can go through the motions. But the truth is going to come out, and that's one sure deal of being inauthentic. You can't fake it forever.
Michael:          And I know you're quite into sports. You've done an iron man, and a marathon, and what have you. And that's another arena where if you're not keeping up with the speed, it's kind of really obvious.
Jonscott:          Well, yeah and I've done a full Iron Man several [inaudible], and New York City Marathon, and I'm a slow, slow, slow guy. So for me, I think it was an invaluable lesson in learning about persistence, and about not try … I could never be a fasty, fast person. But the goal to me was seemingly insurmountable when I first considered it. And I think it kind of informs a lot of things that I do in my life which is if something seems crazy and impossible, I want to learn more about it. So, I think that particularly when it comes to how we embrace life outside of work whether it be sport, art, culture, travel. And for me all of the above, where does that come into play?
I think one of the reasons why I derive so much value from the seminar (the workshop that we met in) because I think people are showing up as themselves. And the community of entrepreneurs that we were with, that was miraculous to experience frankly because the world doesn't work that way in general. So to be around several hundred people who are pretty much living their authentic selves, it's incredible. So and it's inspirational for me not to make excuses for myself to not be authentic. I think that if we if we follow the examples around us on a day by day basis in our own worlds, we see a lot of inauthenticity and I think being around people that's why I think the community is so important.
Michael:          absolutely
Jonscott:          I think if you like you've dealt with your show here. I think community that we experienced and Portugal together, I think that it's important to check in with people who are like minded. I think that's a really valuable tool. Because let's be frank I just gave a talk this morning and it's sometimes lonely and isolating to be entrepreneurial and to follow your own path. Whether your spouse, or kids, or friends or family, or says like they just think you're you know they think you're crazy they think you know how do you ever work. Because they don't see you working, they don't see you following the normal patterns of what work is to them. They don't know when you work, they're not you know.
So, I think that it's important to check and support and to really test your limits of living an authentic life. It's going to be weird, it's going to be uncomfortable. It doesn't get better. You get used to it. That's the final analogy I'll make about Iron Man as my dad just couldn't understand it. He was like I don't understand, explain to me what it's like. I said you know when you're doing something physically and you have to stop because you feel like you're going to die. I said you have to get to that point and back it down a fraction, and then stay there for twelve hours on that raises edge. But I think when you do that like anything else. Like I said earlier like you prove that it's survivable and you're stronger for the experience. So, I think that's an important take away.
Michael:          Excellent, so if people want to find you online, I think you're in transition right now between [crosstalk] [45:23].
Jonscott:          Yeah, we're doing the website now. So, I think for me the best way is to go to Jonscott Turco at LinkedIn. My first name is fairly unique – J O N S C O T T.
Michael:          Yes, I've never met another one.
Jonscott:          Yeah, you probably wouldn't. There's one more I met at LinkedIn. He's a retired marshal airlines. That's probably the best way, or on Facebook similarly you know obviously in my name. And then, I'll keep track of the contacts and then inform the viewers and listeners as to the new watch of the websites.
Michael:          fabulous!
Jonscott:          Yeah, I appreciate it.
Michael:          Yeah, well it's been a great pleasure talking with you about being excited, and scared at the same time, Jonscott.
Jonscott:          I appreciate it. Thanks for the opportunity, and thanks for everyone listening and watching. Thanks Mike.