Kyle Gray talks about "Handling Change in the Face of Fear" in this episode of the Intuitive Leadership Mastery Podcast with host Michaela Light.
"We see things as linear beings. But the change is happening exponentially. So our brains aren't really at least our kind of conscious minds aren't able to navigate the fast changing world very much anymore and so I think intuition is essential." – Kyle Gray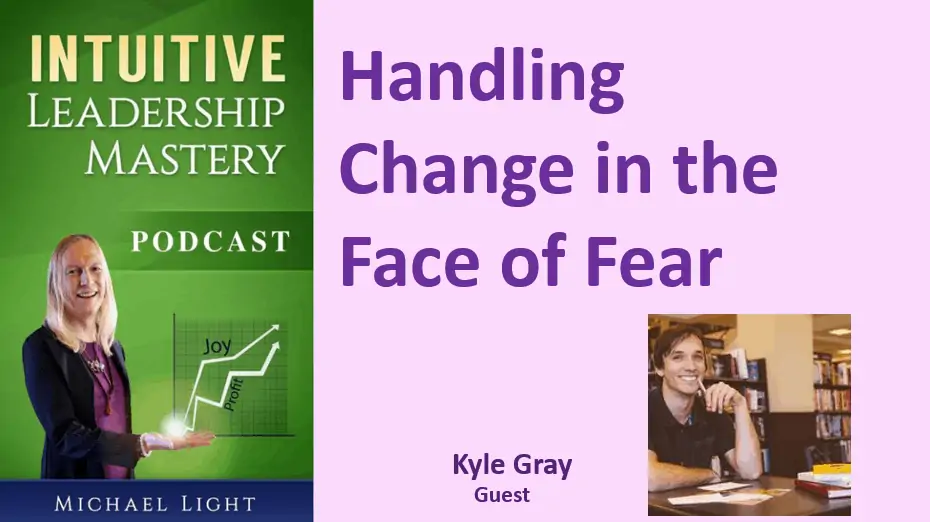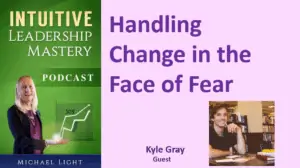 Here are some of the topics discussed in the podcast:
Handling change in the face of fear

Fear in the face of change. Worry.

Cortisol

Hashimoto's disease – thyroid → anxiety

Even when I get positive opportunities

Reframe the story

The reason why you feel bad is different than the story you tell yourself about why you feel bad.

WWIT to feel good about this situation?

Tell yourself a Positive Story from my future self – talk as though it has already happened

Gratitude list about the situation.

Pace of change accelerating ⇒ must use our intuition more to stay ahead

Talk with a friend who can listen well or a coach

Writing Morning Pages for more truth in your life and business

Hearing my intuition

Unfiltered thoughts – clearing out the mind junk

Handwrite them

How to find spirituality in your craft (no matter how mundane it might appear to others)

From help people through rock music lyrics to helping via blog articles and books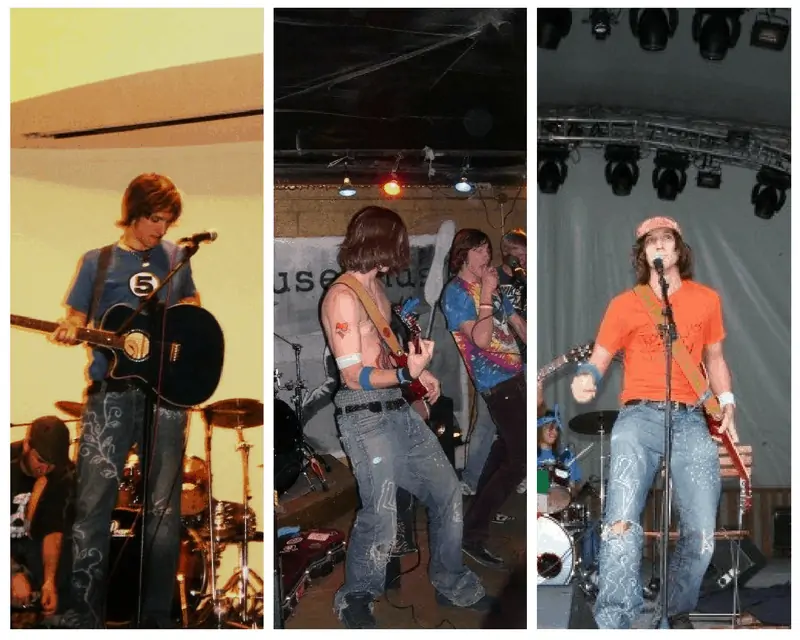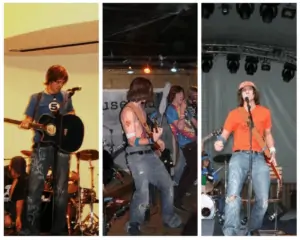 How to bring Heaven to the Earth with your business

Disconnected human talent – cold depression

Intuition as the driving force behind his two Amazon best seller books

Mindmapping my book's outline from intuition

https://en.wikipedia.org/wiki/Mind_map

Work on the chapter I wanted to do more today (vs in linear order)

Writer's block – write the first and last paragraph and let it go

Micro Digital Nomading

Why are you proud to use your business intuition?

WWIT to make business intuition more openly used this year?

Self honest

Vulnerability
If you want to double your profits and half your stress, check out the Biz Intuition Profit Doubler. It is a free course for you to use intuition in your business.
Mentioned in this episode
Podcast: Play in new window | Download (Duration: 52:30 — 48.1MB) | Embed
Subscribe: RSS
Kyle Gray is an entrepreneur and bestselling author who helps startups and small businesses grow with storytelling and content marketing. He has helped hundreds of startups and small businesses create scalable content marketing strategies. His book The Story Engine outlines his process for making content marketing and brand storytelling easy and effective.
Kyle has worked with many well-known brands and businesses like AdEspresso, Advance Your Reach, WP Curve and Self-Publishing School.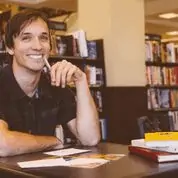 Learn more about Kyle Gray at:
Interview transcript:
Michael:          Welcome back to the show. We're gonna be talking about handling change in the face of fear with Kyle Gray. And we'll also look about how he finds spirituality in his craft no matter how mundane it may appear to others. And also a practice he has that brings more truth into his life and business that he does every morning. And we'll also look at how intuition was the driving force behind his two Amazon best seller books. And if we get time, we'll… he has some tips on how he does micro digital normading even though he hasn't left the United States for several months. So welcome Karl.
Karl:                Thanks so much for having me Michael. I'm excited to be here.
Michael:          I'm excited too. And for those of you who don't know Kyle, he's an entrepreneur and a bestselling author. And he helps people out with storytelling and content marketing. And I love his book, 'The Story Engine'. We'll put that in the show notes and I definitely recommend checking it out. So let's just come back to that first point. You had a time in your business recently where you had some fear. And the fear wasn't because something terrible was going to happen. It was because something wonderful was going to happen.
Kyle:   Yeah, yeah speaking of stories. Like I work with entrepreneurs. I'm kind of the story they're telling all the time.