Running a business can be super stressful, but did you know that it doesn't have to be? We have come to accept stress as part and parcel of our professional lives, but why? You can be your most successful self with the help of your intuition. Discover these 3 simple steps to staying calm when things get difficult.
Stress is one of the biggest threats we face in today's fast-paced society. It's the number one killer in our society, causing high blood pressure, heart attacks, anxiety and depression. Running a business can be highly stressful so how do successful entrepreneurs deal with the pressure?
Our intuition is our self-preservation system so it makes sense that we can harness its power to help save us from stress. Here are 3 simple intuition tools you can use to stay calm when the stress of business gets too much.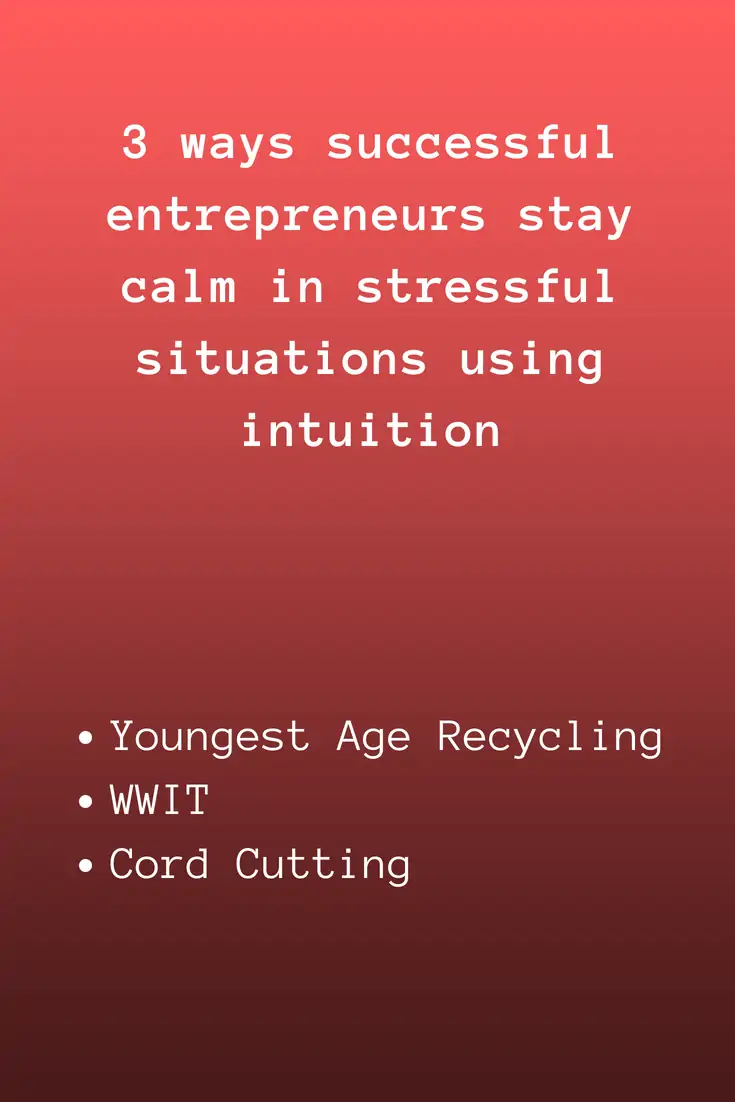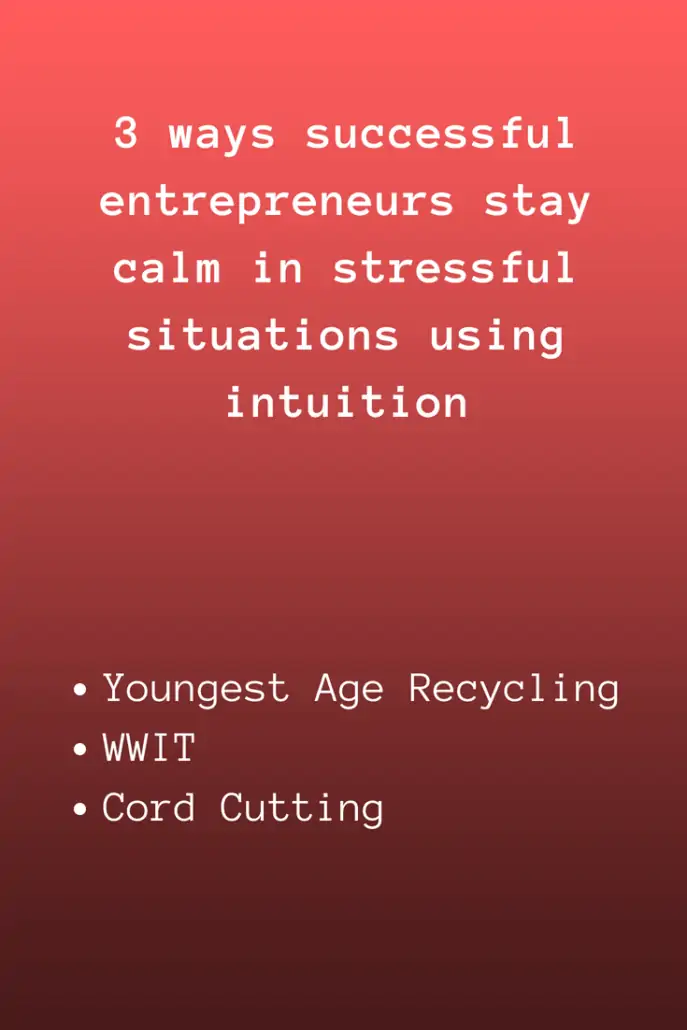 But, Isn't Stress Normal?
NO!
Even from our school and college days, we've been taught that stress is normal. If you want to succeed then you have to expect stress and just 'suck it up'.
If you do a Google search for 'stress culture', you'll get multiple returns about the growing number of college suicides committed due to stress. This culture of stress and the obsession with perfection is creating a world of burnt out professionals fearful of putting a step wrong.
What Are the Effects of Stress?
When we enter a stressful situation our brain releases the stress hormone, 'cortisol'. This triggers our body's 'fight or flight' instinct making our heart race, our breath quicken and our muscles tighten.
In certain short-term situations, stress can be beneficial. It is, after all, a natural, self-preservation response. However, sustained high levels of this stress hormone can lead to numerous health concerns. A recent study from Yale University has proven that,
"stress affects physiological functions in the brain, contributing to chronic diseases like hypertension and diabetes."
Here are just some of the symptoms of chronic stress:
Headaches

Anxiety

Insomnia

Heartburn

Depression

High blood pressure

Fertility problems

Digestive issues

High blood sugar
Intuition Combats Stress
There are intuitive methods we can use to help us effectively deal with stressful situations. Sometimes stress comes from an outside source, but it can also come from within. It may be something from our past that has settled into a pattern and is triggered when we enter certain situations.
As Heart Coach & Intuitive Business Strategist, Andrea Rae says in her article, '10 Ways Intuition Balances Emotions',
"As you connect to the body more deeply to listen to intuition you become more aware of mental patterns of worry and obsession that take you away from your connection to your true self."
While we can't always control external situations, we can control how we react. Our intuition gives us the power to break the cycle of negative patterns which lead us to feel stress.
Here are 3 simple ways to take a calm approach to stressful situations.  
1. What Would It Take?
What Would It Take (WWIT) is a powerful business intuition tool which strips away problems and obstacles which cause stress. For example you may ask yourself, "What Would It Take to win this important contract this week?"

Instead of wasting time stressing about the situation, What Would It Take is focused only on actionable solutions.
How Does WWIT Work?
To explain, let's take one of the most common stressful challenges we face as CEOs and entrepreneurs: the hiring process.
Before you begin asking your WWIT questions, I recommend you TLC first.
TLC
TLC or To the Light Connect is a useful tool which not only clears your mind, but opens a direct channel to your inner voice to bring power to your WWITs. You can discover how to connect to the light with the help of my How To TLC video.
Now you're ready to ask the question and see what inspired actions come to you.
Here are some example questions:
WWIT to attract an ideal candidate?

WWIT to attract an ideal candidate who can start next week?

WWIT to attract an ideal marketing manager?
Listen to what your intuition tell you, you may hear such inspired actions as:
Posting a job ad in a certain job board

Asking a friend for a referral

Searching for that kind of person on LinkedIn
Using WWIT and following your intuition can reduce stressful hiring by 90%. This intuitive tool is completely flexible and be used in any aspect of your business. Wherever you are experiencing blockages or stress, WWIT it!
If you want to double your profits and half your stress, check out the Biz Intuition Profit Doubler. It is a free course for you to use intuition in your business.
2. Youngest Age Recycling Tool
Perhaps you notice that you get stressed out in particular situations in work, and a pattern is emerging. Maybe the thought of dealing with a certain client makes you feel the lower emotions on the Hawkins scale, such as anxiety and despair.
The Youngest Age Recycling tool allows you to clear the issue and the negative feelings, and permanently clear the root causes of the problem.
How Do I Use the Youngest Age Recycling Tool?
This intuitive method is an investigative and visioning tool. First of all, ask yourself these few questions:
How do you feel when this thing in your business is happening? (Focus on emotions and body sensations rather that thoughts.)  

What is the youngest age you felt the same way? (Don't think – just say the first age that comes to mind)

Who was this with? (Again, just go with the first person that comes to you.)
Then, TLC (To the Light, Connect) yourself:
First, TLC your younger self who first experienced the same emotions and sensations

Visualize light coming from above and below them into their body.

Then, TLC the pattern that you are clearing by visualizing it as a shape and send light into that shape from above and below.
When we face that same situation again, you will no longer feel the lower emotions. The stress responses will be gone from our bodies and we will feel calm.
3. Cord Cutting
Sometimes the negative energy and anxiety we feel isn't our own. We can pick up negative energy from others, or they attach to us like a cord. We can feel their stress or sometimes these 'energy vampires' simple drain our energy resources and cause us to feel uneasy, and ill-prepared to deal with stress.
Intuitively cutting the cords, you will free yourself and release more of your energy to achieving your goals. It also gives you a clearer mind to deal with stressful situations with full energy.
How Do I Cut Cords?
As always, the first thing I recommend doing is to TLC, for a positive state of mind and to attract positive thoughts, and vibrations. You can also send light to the person or people at the other end of the cord.
In your mind, imagine a sword or pair of scissors cutting the cord, and feel yourself float away like a balloon, leaving the negativity and stressful emotions behind.
It's a good idea to practice this every morning, to release yourself from the stresses of the day before. Give yourself a clean slate with light and love for each new day!
Three Simple Ways to Successfully Side-Step Stress
I take a real comfort knowing that I can deal with anything business life has to throw at me because I have the right intuitive tools, including:
Youngest Age Recycling

WWIT

Cord Cutting
Practicing these simple strategies will help you to protect yourself from stress and reduce its hold on your business life. For even more tips and tools, you can check out this 10 minute WWIT cheat sheet.