Natalie Baack talks about "Waking Up Your Body to Infinite Intuitive Business Wisdom with Natalie Baack" in this episode of the Intuitive Leadership Mastery Podcast with host Michaela Light.
"What I really realized in that, in exploring all of this through eating psychology coaching is that when I wanted to, I had a bunch of unwanted behaviors around food. And my relationship to exercise and my body and all sorts of things. And what I really got in the process was that it's not really about calories. It's what's really having an impact on my body is stress. And I learned that to listen to my body and what was really going on, what she was trying to tell me. I helped start to think about changing my life, and creating a lifestyle that's actually more supportive." – Natalie Baack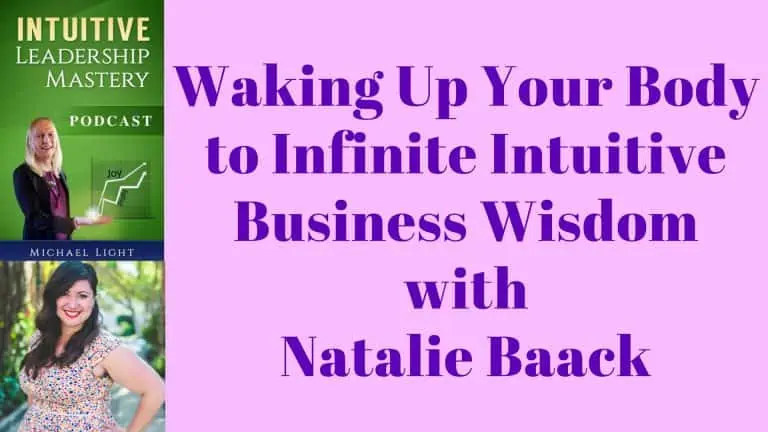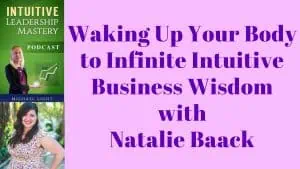 Here are some of the topics discussed in the podcast:
How her body woke her up to her infinite wisdom

Worked in Hollywood as a movie coach helping the movie reach it full potential

A culture of martyrdom, subtle slave driver

Lack of boundaries and voice

Dieting rollercoaster – focus on weight and looks

Covering up with partying – work hard/play hard

Burnout, weight, sick for 6 months with a "cold"

Bullying, abuse and sexual abuse

Breakup in relationship with someone who was not healthy

Law of attraction – get healthy to attract healthy

Marc David Eating Psychology

How and why > What

Disconnection from Love

A intuitive message from our body

Food wounding – there is something wrong with our body

Food as the enemy

Clear the feelings vs emotional eating

Learned to listen to my body ← messages from my intuition

Burnout = need for external validation to be worthy

Unhealed trauma

Weight = protection and/or stress response

Fight, flight or freeze response

Immune system issue = defenses to energy not working

Anxiety and depression

Bio hacking as an escape?

Why body image healing is a key to tapping into intuition

Hearing my body's messages

Trusting your body

The current paradigm and approach to health disconnects us by putting us into our heads

Male language of health and weight: war on fat, battle of the bulge

Social programming and conditioning from our mothers to the media

Denying our body messages in order to fit in or due to trauma

Not speaking up when I hear my intuition

Untangling from the idea that health and worth have anything to do with looks and weight

A lack of self loving and fear of not belonging / being judged

Hell Yes or No

Labeling of dress sizing

Internalized misogyny

How you may be blocking your body intuition with numbing, avoiding or fear of feeling

Why trauma and chronic stress create a barrier to hearing the messages.

Hustle

Competitive Over exercise

Eating

Drinking, Tobacco  and Drugs

Media and screens

FB false sense of connection

Lack of focus, sleeping issues ⇒ e

Digital detox

Be in nature

Does this give me energy or does it take it away?

This person

This area of my business

This task

WWIT to get the result I want another way?

Why you should flow instead of fighting with your monthly cycles

What time of the month is best for intuition and creating

How the nervous system is the messenger

Overcoming depressed, burned-out, and disconnected

How to apply this to your business

Key take away

Tune into your "Yes"

What would give me energy today?

How can I be more authentic myself today?

Why are you proud to use your business intuition?

Not spin and compartmentalize my life

Be my whole true self

Do energy → Be energy

WWIT to make business intuition more openly used this year?
If you want to double your profits and half your stress, check out the Biz Intuition Profit Doubler. It is a free course for you to use intuition in your business.
Mentioned in the episode:
"The messy middle" of female middle management

"You take the blue pill, the story ends. You wake up in your bed and believe whatever you want to believe. You take the red pill, you stay in Wonderland, and I show you how deep the rabbit hole goes." The term redpill refers to a human that is aware of the true nature of the Matrix.

Yoni = vagina

"The beauty of a woman is not in the clothes she wears, the figure that she carries, or the way she combs her hair. The beauty of a woman is seen in her eyes, because that is the doorway to her heart, the place where love resides. True beauty in a woman is reflected in her soul. It's the caring that she lovingly gives, the passion that she shows & the beauty of a woman only grows with passing years."  – Audrey Hepburn
Podcast: Play in new window | Download (Duration: 1:14:16 — 68.0MB) | Embed
Subscribe: RSS
Natalie is an Intuitive Life and Eating Psychology Coach and founder of The Permission Circle. She is passionate about helping women take back their power from body shame, burn-out, food guilt, and their inner naysayer so they can rise, at every size.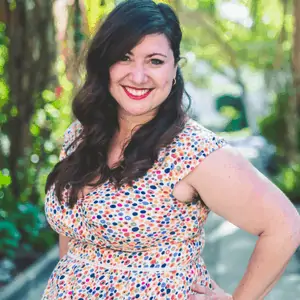 Learn more about Natalie Baack at:
Interview transcript:
Michael:          Welcome back to the show. We're going to be talking about waking up your body to infinite intuitive business wisdom with Natalie Baack. And in the show, we'll look at how she woke up her body to her own infinite wisdom. And why body image healing is key to tapping into your intuition in your business. And also, how you may be blocking your body intuition. Perhaps you're using numbing, or avoiding, or fear of feeling. Hope no one listening has those. But the chances are you probably do. And also look at how you should flow instead of fighting your monthly cycles. So welcome Natalie.
Natalie:           Hi, thank you for having me.
Michael:          You're so welcome. So how did your body wake you up to your infinite wisdom?
Natalie:           yeah
Michael:          I think there is a story there, right?
Natalie:           There is a story there. Yeah, it's quite a timely story. In fact if you think about what's in the news right now. So I was in the film industry for 12 years.