You can listen to the podcast and read the show notes here.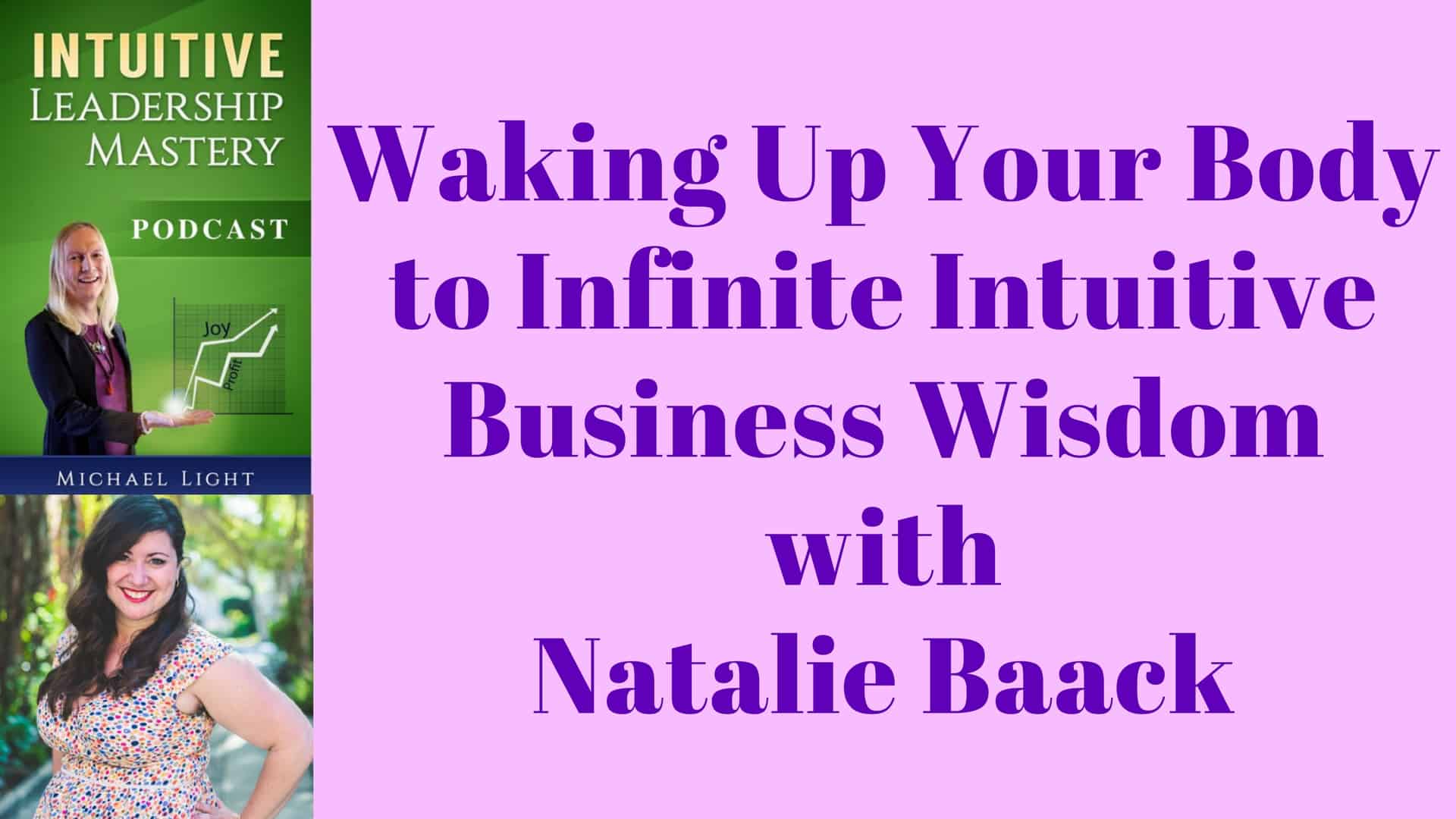 Michael:          Welcome back to the show. We're going to be talking about waking up your body to infinite intuitive business wisdom with Natalie Baack. And in the show, we'll look at how she woke up her body to her own infinite wisdom. And why body image healing is key to tapping into your intuition in your business. And also, how you may be blocking your body intuition. Perhaps you're using numbing, or avoiding, or fear of feeling. Hope no one listening has those. But the chances are you probably do. And also look at how you should flow instead of fighting your monthly cycles. So welcome Natalie.
Natalie:           Hi, thank you for having me.
Michael:          You're so welcome. So how did your body wake you up to your infinite wisdom?
Natalie:           yeah
Michael:          I think there is a story there, right?
Natalie:           There is a story there. Yeah, it's quite a timely story. In fact if you think about what's in the news right now. So I was in the film industry for 12 years.
Michael:          Oh my god!
Natalie:           yes
Michael:          You didn't know Harvey Weinstein, did you?
Natalie:           I knew of him quite well. I worked with a lot of his people in his studio. And I had a former co-worker who used to work for him. And we would talk often about how horrible our bosses were. Essentially, I was in market research in the film industry doing post-production, test reading analysis, and it's been compared to a life coaching for movies is essentially what I did I helped them figure out what was in what was in the films way of reaching its full potential based on audience response. And analyzing that.
Michael:          goodness!
Natalie:           And I loved doing it. But I didn't love the long hours, and the stress, and the mindset of… What did I call it? I called it a culture of martyrdom; as expected martyrdom. If you were working yourself with you know to the bone with everything that you have had, then you weren't getting enough. And I had a boss who we would say sometimes well at least is that Hadley he's not as bad as Harvey right. He was a slave driver. He was subtle. More subtle, but he was frankly emotionally manipulative and definitely just used us for… treated employees as resources more than people. Even though he feigned the atmosphere of care. So, and simultaneously since I was about 12.
I was dieting and I was constantly trying to turn my body into that perfect image that I would see in magazines or that the weight loss charts and B.M.I. charts would tell us we were supposed to be instead of just learning how to roll with our own unique body, right. And so, I spent about ten years 15 years really focused so much on weight and looks as a measure of health that I didn't listen to what else was going on. And while this was happening parallel to this in the film industry, I was spending… You know I was working seven days a week 12 to 16 hours. Under high levels of stress and taking responsibility for that. I didn't have good boundaries. I started when I was very young. I didn't have a voice. And whenever I would try and speak up of course, I would get shut down, or [inaudible] [03:47], or patted on the head.
And said you know who are you to complain this is a great job. And so at the end of the day, my body just started crashing. No matter what I did dieting wise, I kept gaining weight. My P.M.D.D. weight went out of control – Premenstrual Dysphoric Disorder, to the point where I felt like I was going crazy once a month. My immune system was all over the place. I was getting sick constantly and of course simultaneously, I was doing a lot of partying outside of work to try and make my life feel better. You know work hard, play hard is a common phrase in the industry. And so, one day around leading up actually the end of 2012, my body just started giving up on me. I couldn't… I had a nonstop cold for about six months. I thought I was going to have to give my cats away because I thought it was allergies.
Michael:          You were allergic. You were allergic to your boss.
Natalie:           I was allergic to my boss, exactly, yeah. Now at that point, I even had a different boss. Our company had gone through a bunch of different interactions. But the culture is still there. And this is something that I've really you know, I won't go off too much on this tangent. But with all of this Harvey Weinstein stuff, I think it's important to be having the conversation in the working world beyond sexual harassment, and sexual abuse. There's bullying and emotional abuse that happens, and emotional manipulation that happens that makes people feel really stuck in that world you know and…
Michael:          I'm wondering if the two are really the same thing on a different… you know one of spectrum.
Natalie:           Where there's smoke, there's fire.
Michael:          oh yeah
Natalie:           absolutely!
Michael:          I mean…
Natalie:           yeah
Michael:          I think a lot of the sexual abuse is a pattern. They just want to bully people into doing what they want. Isn't really about the sex.
Natalie:           Exactly, exactly and I think beyond not just Hollywood, but the corporate world. The bullying of women especially. I have a former C.E.O. who has an organization that empowers women. And she talks about the messy middle and how women tend to get stuck in middle management because of that culture; the patriarchal massaging the stick kind of undertones not so much undertones, but overtones that run in our corporate world. So essentially, I realized that whatever it was that I was doing for my health wasn't working and what I… the phrasing that I used at the time was I'm not healthy.
I had a really bad break up on New Year's Eve 2013 with a guy who was lovely but also an alcoholic. And I decided that I wasn't healthy and so I had to get healthy to attract healthy. Now at the time, that also meant that thin equaled healthy. And so, I still was stuck in some body image challenges which I know we'll get to you a bit later. But one thing led to another and the main question I asked myself was, "Why do I have such a hard time taking care of myself? Why do I have such a hard time sticking to a diet, and eating the way that I think that I should? You know and one thing led me to another. I went… I tried Paleo, I tried some holistic health practices.
And eventually, I found eating psychology coaching. And in that certification developed by Mark David, and Emily Rosen. Mark David primarily. Emily Rosen helped him really bring this work into the world. What we look at in eating psychology is the how and the why of eating and our relationship with food and body, and indigestion, and immunity and all of those things rather than the what. Although I still explore the what with people in terms of like what we should be eating to support our own unique body types. But what I really learned in the eating psychology world is our body's trying to get our attention. And it will just get louder and louder until we listen.
Michael:          it will
Natalie:           it will
Michael:          Start off with a little ache or pain and it will progress into a six month cold.
Natalie:           Yeah, yeah and even the…
Michael:          health issues
Natalie:           Even the desire to diet is a symptom. The disconnection from love from our physical body is a symptom of something. So that's essentially how I ended up on the past that I am of really supporting women in particular, but not close to working with men. But there's something…
Michael:          Fair number of men have eating disorders.
Natalie:           Well, and I should clarify it's not… I don't you know, there's disordered eating and then there's eating disorders. Eating disorders is really when it's become clinical to the point where it's risking somebody's life in more immediate immediacy, right. Where disordered eating is to me based in food wounding. It's made our relationship or cultural the way we approach food and body as a culture is wounding.
It's telling us that we're doing something wrong, and there's something wrong with our bodies, or something wrong with how we eat. As emotional eaters, as over eaters, as you know as eaters; period. And. I think that the other 98 percent of us who don't actually have a clinical eating disorder. Who have maybe have overcome one will have really problematic relationships with food that could have a lot more… be based on a lot more stuff love and freedom than they are, yeah.
Michael:          I mean whatever you're putting in, choosing to put in your body, why not love yourself doing it?
Natalie:           I love the thing that you're putting in it.
Michael:          Saying the thing that you're putting in it. Exactly, because if you feel guilty or bad about it, it's just not gonna… it's gonna be worse than anything that's actually in the food.
Natalie:           Exactly yeah, and that's… you can talk about that from a physiological perspective too. If you're looking at food as the enemy, it creates a stress response, right?
Michael:          yes
Natalie:           So when somebody says look, says, "If I just look at that cupcake, I'm going to gain ten pounds." If you're coming in with that perspective, it could actually very well be the case, right?
Michael:          Yes, it's used coming from it well I'm giving myself. I love this cupcake, and I love myself eating it.
Natalie:           And I'm savoring it, and I'm not [crosstalk] [11:15] yes.
Michael:          I'm enjoying it and I'm noticing how I feel as I eat it too. That's the other thing, right?
Natalie:           exactly
Michael:          I'll eat different food, but I do notice some foods I feel different as I eat them, or after I eat them.
Natalie:           Yeah, and in the case of the cupcake, I'll quite often get a rush from the sugar. And then I'll get half an hour later, I get a dip you know with us I don't everyone gets that from cupcakes.
Natalie:           Most of us do from sugar and it's that level of presence that's missing to the experience. So that then you can say okay, well, do I like this? Is this something I want or is this something that maybe I don't want that energy drink after maybe I won't have as much of the cupcake next time, or based on how I feel.
Michael:          Yeah, maybe I'll just have a nibble of a cupcake or I'll just smell the cupcake or look at it.
Natalie:           Yeah, yeah, yeah or if you want it, just eat it until you fully feel satiated right, or [inaudible]
Michael:          Yeah, I think the other thing when I'm being really conscious is that if I'm upset, and I'm going for a cupcake or ice cream or whatever might go to comfort food is; mashed potatoes and gravy works pretty good for me actually.
Natalie:           yeah, yeah
Michael:          Ice cream is not bad.
Natalie:           yeah
Michael:          But if I can clear the emotion I have, whatever the upset is.
Natalie:           yes
Michael:          And I have some water because often when I'm hungry, it's not really hungry. It's I'm really thirsty.
Natalie:           yeah
Michael:          And the desire for the cupcake goes away.
Natalie:           Yeah, yeah, and that's what you just brought up actually was is really kind of the key in this. Is that people kind of skip over that feeling. The feeling is clearing, the feelings part in this conversation. Well, most of us know it's not really about the food. But what we're not taught or given the tools around are how to work with the emotions. Emotional eating is a very natural thing. It's been given a very stigmatized perception, right. Based on well emotional eating leads to weight gain, and weight is bad, fat is bad. I say this with air quotes because that also can be a misperception. And the thing is we were born emotional eaters, and it's actually vital to our survival. If we cried, our mothers knew it was time to feed us.
And so, food and comfort got intimately tied together from birth. And that's part of survival. If we don't enjoy food, we wouldn't even eat it. So there's this like catch 22 to enjoying food because if you enjoy food, you're afraid you're going to over eat. Well if you think you're going to overeat, it's probably because there's a belief that you have to restrict in some way. So, we are all emotional eaters. It's what we want to work with is, are we emotional under eaters or emotional overeaters? And not making that wrong, but understanding is that as a symptom trying to point us to in our life. So if I am emotionally overeating, what am I trying to know, what am I not dealing with? What's missing, what do I need right now, what other self-care tools could show up in this moment to support me, right?
Michael:          Yeah, it's kind of tricky because there's a whole trillion dollar industry of the food industry out there trying to convince you that you're just going to feel good if you eat whatever it is they're selling.
Natalie:           Right and then, there's a whole diet and fitness and wellness industry that's making you run for needing that.
Michael:          Right, yeah, it's quite interesting really.
Natalie:           yeah
Michael:          So you learned a lot about your health and your eating psychology. Tell us how this led you to your infinite wisdom.
Natalie:           Well, so what I really realized in that, in exploring all of this through eating psychology coaching is that when I wanted to, I had a bunch of unwanted behaviors around food. And my relationship to exercise and my body and all sorts of things. And what I really got in the process was that it's not really about calories. It's what's really having an impact on my body is stress. And I learned that to listen to my body and what was really going on, what she was trying to tell me. I helped start to think about changing my life, and creating a lifestyle that's actually more supportive.
Michael:          So, what kind of messages was your body saying? Just to help us understand.
Natalie:           Absolutely, so when I look at burnout, one of the things that I see in burnout is a need for external validation. So if we're burning ourselves out, we're buying into the idea of busyness, and productivity. Is who we need to be being busy and productive in order to be worthy. I also see [inaudible] [16:58] trauma in that. So, if we have a propensity toward stress, if we are more sensitive. So burnt out can also point to sensitivity. So there's a lot of different kind of tours you can go through based on the symptoms. So I started looking at all of these different things that my body might be telling me. Like the weight itself is a symptom of needing to be protected in some way.
Michael:          Yes, literally, people have to be kept at a distance. So one way to do that is put on a lot of weight.
Natalie:           Right and it can also be a response to stress. So if you look at different times in your life where weight has come on suddenly perhaps, I always like to ask the question what was happening in your life at that time right. My first major weight gain happened when I was in high school. And my parents… I got in the middle of my parents' marriage. I was brought in the middle of my parents' marriage. I didn't voluntarily do it. And became… I was not an only child, but my brother had moved away when I was nine. So I was essentially an only child and in the energy space. And there was a year where somebody cheated somebody, and everybody was mad at each other. And we… And I knew about it.
Michael:          okay
Natalie:           And I spent a year in this house with two people who were living in separate bedrooms, yelling at each other; if they were talking to each other. And me trying to get through my high school years just trying to just survive. So I avoided the house. I used to say you could cut the tension with a knife which I didn't know I was empathic at the time. So I would probably actually would have if I had known how to work some spells. And the weight came on as a response to the stress as well as just avoiding the house.
So that's when the loss of our family; core family. Also we lost things like family dinners, and quality home cooked food. And I ended up eating out more, and going to the same areas in Canada. Like the Olive Garden of Canada after school. When I go to Tim Hawkins with my friends after school. And my friend worked at McDonald's in that was inside the Wal-Mart where I had my first high school job. So I… you can kind of see how things would snowball from there. And I gained 30 pounds in a year.
Michael:          Wow! But you were protected.
Natalie:           I was protected. It was my… that was my body's response to my soul and my heart kind of saying, "I need protection, I need to feel safe". And our bodies respond to these are you know, it's the mind-body connection right. So our bodies can will respond to what we need without us really knowing what it's you know, without us even necessarily asking.
Michael:          right
Natalie:           And because it's kind of a primitive system. It's just as I said an enemy my fight or flight with that like you know my… I was frozen so it was really more my freeze response. I felt very stuck in that time. And so, the cortisol would be firing and all sorts of things. And so, that's where I started to unpack all of this stuff over the years. Where did my weight come from, where did my belly come from, where did my immune system issues come from?
So immunity look at the connection is really a sensitive soul whose body starts trying to like put the defenses up. And I didn't know how to energetically protect myself as an empathy. I wasn't aware that I was in a way or that I was sensitive. So in the more I work on healing my… honoring my sensitivities, the more I can look at my immune system response. Other immune disorders, digestive issues. Digestion can also relate to …
Michael:          You've just described half the illnesses that get treated in the Western world.
Natalie:           yeah
Michael:          Immune system disorders, you know that's…
Natalie:           Yeah, chronic pain, chronic fatigue; all of the stuff. It's an epidemic because we're pathologising it instead of understanding what's really going on. I ended up with chronic pain, and chronic fatigue as a result of not listening. And my work now is for personally, is about slowing down, creating space, learning how to listen to my body and honor its needs from a self-care perspective and not trying to be proving my worth by working 16 hour days in a job in an abusive workplace.
So, that's really the journey that I've gone on which is really like okay, what are these different things trying to tell me. And I take this in beyond just the physical response we look at. I look at things like anxiety. I look at depression. Those are physical responses. They're just not ones that we really think about physical, right. And what are those trying to tell me? So, it's really taking all of these challenges in our body, and making them right for being there. And then listening to whatever soul message is underneath and underlying
Michael:          Now, I think this applies to a lot of entrepreneurs listening because a lot of people have health challenges. And they may not be hearing the message that they're getting. And they you know they either do like you didn't have eating to cover it up, or drinking or drugs well going just working really long last to cover up.
Natalie:           yeah
Michael:          The pains in their body.
Natalie:           And taking you know, there's a lot of bio-hacking happening now in our world which is awesome. But I also wonder if it's borrowed energy. So a lot young entrepreneurs in their 20s seem to have more energy. I mean I'm like 36 now and I've started to run a little bit out of that stuff. I can't push myself anymore. My body says no, and I know that I have to listen because I don't want it. This is the stuff that does lead to degenerative disease. My mom has Fibromyalgia Chronic pain and chronic fatigue are right on the tails of that so.
Michael:          But you're not going to get that because you're listening to the messages from your body before it becomes that bad.
Natalie:           Yeah exactly but that was a wakeup call. It was like [inaudible] [24:34] the connection.
Michael:          right
Natalie:           yeah
Michael:          Yeah, it's amazing. I mean I was reading a book recently. I'll see if I can remember the name. But it's by Joe Dispenza who was in 'What the bleep movie.
Natalie:           yeah
Michael:          And he… I've only just started reading it but he had a story in there of someone who had terrible health challenges but she started listening to the messages who basically healed herself. I mean she had cancer some kind as well as some immune stuff and, "Becoming Supernatural'; that's the name of the book.
Natalie:           Oh yeah, yeah, yeah I mean…
Michael:          And I'll put them in the show notes.
Natalie: Awesome! I would have heard about that one. You know and that's it can take time to listen you know I think it's very easy for people to get frustrated and they're like okay, I figure out my problem now I need to fix it right which is this very quick fix world that where. And when I had my health crisis in 2013, I went to a national past you know who gave me a bottles and bottles of pills and told me I had to quit sugar and we've been bagged and like all my food sensitivities range.
Michael: wow!
Natalie: But at the time, I was still working full time in the film industry I had a boyfriend who drank a lot and smoked a lot I had a social group of people who I felt like I freely belonged with for the first time in a long time in my life and I called my father sobbing that I was going to have to if I wanted to heal my body I was going to have to give up my world oh wow you know I don't see that you ate together with those people was on the list of things you couldn't eat the food in the drugs and the drinking and the you know and you know.
It sounds like you know it should be well you know you should just want to be able to take care of yourself but it becomes this really you know the thing that really underlies our relationship with body image is lack of Ana Ana Ana fear of not belonging.
Because if we you know we've learned that to be accepted in our culture we have to look a certain way like the prettier we are the more perfect we are the more accepted we are.
And so below. Longing and self were like really really under there for me.
Well there are some some places like Los Angeles where that's very temporary strong yeah thing that you have to have not the right body image.
You know so why why why do you mean it's all just just finish this thought in sacrificing sacrificing my needs for the sake of fitting an or not being sure those kinds of things are something that was that was happening a lot as well you know.
And that's something I see a lot with women.
You know well you know it ties into control mechanisms used in the pantry arche to.
Keep women in their decision.
Yet to keep a small and also to keep a separated divided there's a lot of competition and comparison.
Between women around around how we look so that we can get our man right yes there's only suggestive men.
Actually three you know half billion of them.
Well and it is just trying it just trying to scare city a lot I have a lot with my.
My money coach for the comparison with my religious body it's very tied into money and scarcity of energy in general.
Time and money is the thing it stops us from doing most of what we want to do.
And stuff belief which comes from a lack of self-worth.
You know.
So so why you mention body image their weight why is body image and healing it such an important thing if you can to tap into your information in your business Yes So the thing with body with our body image stuff is that you know.
What I like to say is that for us to feel really truly free in our relationships with our bodies we have to discuss like untangle the idea that health and worth have anything to do with looks and weight.
You know.
It's it's this perfectionism thing right there we're always striving for and so we're listening.
Outside of ourselves for the answers we're going to turning to the experts and saying you tell me how to make my body look perfect or work perfectly it's implicit into ourselves and listening to our own messages and when we you know our you know instead of fighting with our body right we use a lot of also like masculine terminology in the diet world you know the battle of.
Being at war with our bodies you know.
And measure although the measuring and.
Calorie counting in the macros and like all of those things it's a very masculine approach and when we come back into just listening and trusting we're coming back into more of the feminine as well.
And when you I look at it actually even as practice when you can practice you know how your body wants to is responding to food you can also start to hear it's yes's and no. To.
The other external you know stimuli right so in relationships in business in.
You know if you can listen to the yes and the no for food or movement.
Then we can listen to the ss the bigger yes's in the nose the big soul yes's in the nose to guide our life and by our businesses and the reason that that's blocked. Is because when we are stuck in a negative body image or we. Think that respond bodies are supposed to be perfect. We're not listening to ourselves we're up in our heads thinking about what we should be doing what we're supposed to be doing.
What I really want to be doing what we really serve and honor my body right now
so yeah sometimes it gets hard to hear that message from the body when the so much of the social media our advertising and other people's thoughts in our own head yeah.
So I would have how do you. Help people hear their own body messages.
Practice. It's just practice it's not going to happen overnight but you know one of the one of the problems is you know we we distrust it we distrust our messages or we deny them for the sake of.
We deny them for the sake of fitting in or you know having not being alone or having a success excuse me our ego actually loves to convince us that what we're really hearing is not true you know.
And the I mean in there is the other element I want to also dollars which is trauma you know who we have dissociated from our bodies and some way to to handle trauma to handle stress coming back into our bodies can also sometimes not feel like a safe place.
To have a mentor and dear friend who helps women heal their relationship.
With their bodies in themselves after sexual abuse.
You know I had I been getting to know her and working with her I did I had a lot of sexual shame not from forced. Like you know thank goodness I'm blessed to be not one of the one in three I mean the other two where many have so far again knock on wood I carry pepper spray with me in big cities but. Which by the way that level of stress at all times in our lives as women we wonder why we're all having.
Right now so.
What I learned was you know I would hear I know intuitively but I was.
Not speaking up.
Right so because I wanted my body I didn't believe that somebody would love me for who I am essentially right so I definitely had a number of sexual you know relationships and encounters with men who didn't necessarily work for us is for me right.
I think a lot of us do we think we all too that right we. We. Get our needs met in one way that that may not be true to ourselves right whether it's sexual whether it's in my job rate I dishonored my note of that in that job for ten years and that's why I ended up out.
My body was like OK when are you going to let you know when we when are you going to change your life because this isn't working for us so ultimately you know the symptoms in the body are pointing us to misalignment.
You know and I you know that I've seen that in older entrepreneurs where they say doing something that's not of not making them happy yeah and their health can suffer or you know in the worst case they get a heart attack or something like that I mean who will. Be over this was you know this so this happened to me earlier this year.
You know I think this is where the conversation in coaching business coaching in particular and many coaching around.
You know pushing through resistance to become problematic.
Because what we want to really do is look at that resistance like where is it really where you feeling what is it constriction or is this like is it you know is it something that could be expansive if you said yes to it or maybe it's not even a yes. Maybe it doesn't flow you know.
And we're trying to convince ourselves that it's the right choice but if we're really listening you know we made actually get a different answer and sometimes we don't want that answer because it means we have to completely throw away a brand that's getting us lots of visibility it. As in my case.
You know I had a brand I started last August called the Kirby confidence coach. And I'm curvy and plus size it was.
Perfect marketing hook in my world.
But it it was it was I felt I mean everything serves a purpose right so I feel like it gave me a really great.
In road to understanding the world of body positivity and fat positivity understanding intersectional feminism because it's all very tied in together.
But. I started to deny some of my more soul for intuitive skills and made it really much more about.
His and I became kind of a more of a blogger than I was a coach it wasn't it wasn't bringing in my idea clients.
And but I was in pod cast after podcast I was published in magazines.
I was running a workshop that I still love and I just will still run it helps women feel confident in bikinis on the beach.
But I'll run it in a different way you know.
And.
You know it was this little voice in the back of my head for a long time just saying like this isn't fully who you are this isn't you know.
Putting the label of curvy on it you're actually creating separation from women who aren't curvy who still need this support and who could still benefit from half of my clients were Kirby Kirby Kirby has been co-opted by the class world as well I think when I was it's a size ten I was curvy.
As well but now it now curvy really does mean kind of size twelve size fourteen and above.
You know and so it just in so many ways I had all of these no I didn't even have to have a number on dress sizes you know I mean honestly such a label exactly and. I don't fit my imagination I feel has been inflation and dress sizes in last twenty years you know what used to be a twelve is not you go to the they're vanity sizing for. Are any. Sizing OK I don't know why did Hair happen to be a division right like I went there with when I was fourteen and fifteen sixteen and I gamed that thirty pounds I remember it was devastating to me that I had to. Go from the normal store to back her own store basically.
Right.
In in in the mid ninety's in Canada we didn't exactly have the choice in fashion we did it.
So and it's still lacking you know they're still used sixty seven percent of women are size twelve.
And only four percent are represented in the media.
And.
You know so yes Elton Atlee what I really love to help people do is move that conditioning in the labeling out of their way in using using our food and body wisdom as a doorway to being who they really are so stripping ourselves of the labels breaking out of the Matrix you know.
And Exactly so the label the curvy confidence coach to me was even constricting you know.
And I kept thinking but I'm throwing away like I'm wasting an opportunity it's such a good you know it's a good way to get seen it's great for visibility you know as a marketer a former marketer I was like it's such a good marketing hook you know but I knew. And and so I kept hitting walls and may businessman or G. got constructed.
And in March I had a car accident this is I think when you first saw my my my post at a car accident in San Diego right coming out of my friend Rachel's retreat which was about honoring my yes and then listening to Menos you know. Three blocks from her retrieve i T. about to go who. Ran a stop sign Wow And I I was struggling financially because my business had not been growing and I had invested a lot of money in a business coach.
And that had felt started to feel quite out of alignment as well and I was trying to charge high ticket pricing which I also felt of lime it was I didn't feel in integrity you know.
And there and I was in a relationship that was like OK but not great and so all of these things were happening and I was leaving this retreat thinking to myself OK you know you're in your house or you're going to wreaking honor them because if you don't know what's going to happen you know.
And I'm thinking about this and three blocks from the house I had a car wow wow and I had said to the universe flashed my mom about two weeks prior I just need financial play the same thing the universe knew but I think when you say it out loud dress yes. I see would love to.
But. You know I thought I need some financial breathing room and I had this car. And it wasn't my fault because she had.
You know here comes a check four thousand dollars check for a car that was going to die anyway right I thought OK well I could either buy another car. Or I could let this be my breathing room and actually take some space to figure out what's really going on yes and not only have an even bigger that I don't even listen right you know what's good that you took that space so you didn't have an even bigger message from the universe could have been more disruptive Yes. Exactly what I joke that my spine went out of alignment so that I could get back.
So you could get back into into alignment.
OK personally and I think I think what something you're saying there is you have to be a hell yes to something which is a phrase Some people use a strong yes if it's a maybe or a might that's not yes yeah I mean I think you want to look at it it will just feel like a whole hearted Yes And where do you feel it right to feel in your heart I do this a little bit actually here is a tool I could offer.
One of the things that I do to help people start feeling their yesses and their nose you know you think about something that's there is a Hell yes and where do you feel that in your body where do you feel and then think about that when it's a no what do you feel in your body you know so I usually it's like I told you a personal example right so. I mean you think we could even do that with you right now like WHAT THE HELL YES WHAT THE HELL YES for you but something that's a real yes or personal food or.
Health or yes. Yeah yeah OK you know I'm thinking of a beach right now because you know.
Yeah. And where do you feel that in your body.
Back up a chess you know open and it tingling around my protest.
Yeah so then take us into hell no.
I feel my shoulders.
Yeah they are kind of the translation like I want to develop into a little ball in if I take it to the full strength but yeah I really got weight on my back.
Yeah it's a simple as that.
So if you can't if you're feeling into you're feeling into I like to say feeling into rather than figuring out because whenever I hear figuring out I think you're thinking about it in your filtering it through conditioning.
Versus feeling into it. It's going to feel expansive it's going to often feel heart opening. Women will feel it in our you know knees oftentimes it's you know is it turning you on is it opening your heart is it expansive or.
Is it is it a positive tingle or is it like oh I want to crawl up is that constricting is it.
Is it does it feel weighty does it feel like.
My tummy is all in not so I feel like I want to throw up you know when I've been to using this example lately a lot of my clients will just go right the hell no it's truck you.
Haven't struck make you feel that's your no.
Or your yes depending on which side of the spectrum you're on.
The politically.
Well you know. Some percentage of people want to bridge was twenty five percent or thirty percent of the population voting population voted for them.
So you like some of.
I'm sure some do you know I mean I think that's true of any election you know.
Anyway let's not go down that terrorists are. Pretty political in my world he understands Yeah yeah well I mean I could talk for hours about it but I think that would be on the topic of waking your body up and your infinite business wisdom.
But I have had the conversation about you know the kind of internalized massaging that we have.
You know in even just even as women we have our own internalized massage me that one of those things that makes us think we have to. Look a certain way to be appealing to have sex appeal to be worthy.
You know and so that is really one of those systems of conditioning that we want to dismantle in ourselves in order to love our bodies in order to feel good in who we are as we are you know you know I mean I think really sex appeal comes from the joy and energy that you give now I think Katharine Hepburn probably said something to the effect. Yeah I think forgetting the quote I'll dig it up and stick it in the show notes but something to the fact that if you're feeling happy and joyful you've radiate.
Sexual beauty Yes and if you feel joy and happiness and a line met you know in who you are you also are in a in an energy and enough fiber a share of.
Attracting clients right tracting.
Attracting and receiving abundance.
That was one of those one of those signs for me earlier this year was like OK my energy is shut down like of course I'm not going to be attracting clients right now. So what's shutting it down why am I feeling anxious Why am I feeling constricted you know I was having panic attacks waking me up at the middle of the night for me in December January like I want our founding on a match cast and I was just like OK. What is going on.
And I tend to find that for me I like so one of the things that I do with people is I help them listen to those different.
Symptoms Ray and and create what I like to call it a body wisdom legend So what does this mean usually for you you know if you feel this way or you notice this like what does it feel like for you you know so for me anxiety has started to point to me feeling out of integrity.
You know all the tendency is to be really hard on myself you know OK what am I what I may not doing that I'm supposed to be doing and I'm really mad at myself that I'm not doing it.
Instead of OK what's not in integrity with who I really am or.
Better self with my higher purpose what's not in alignment with that.
And if I let it go too long then it has to turn into depression.
Where.
It's surprising how many entrepreneurs actually are depressed rhapsodic about their business we have to cover it up but. So let's talk about how people may be covering up their body intuition maybe they're numbing it down to him for doing it or.
Just afraid of what feelings might cop come up if they started listening to it yeah I see it often with entrepreneurs particularly.
I see a lot of spiritual by passing you know just faking it till you make it. Focusing on the positive instead of honoring the shadow.
Working and pushing instead of being with you. No. Resistance in holding space for it.
Eating instead of looking at the resistance over sometimes over like we're you know over exercising can be something.
That comes into play. As if exercising might me.
So I sometimes notice people do yes like what does my body want it's like I've got to get whatever this distance or time or weight lifted.
Whatever it is yeah.
You know it's kind of looking at like where are you.
Can you be alone right or watching T.V. can be something to you right.
Yeah media not just T.V. but the whole media like Facebook I mean I made a video about I'm doing a ninety day video challenge right now and I I just did this video I was in a street corner and everywhere you look there was a video screen when everyone has their phone too like if Yeah heaven forbid you should be away from a video stream you got your portable video screen just in case you might be bored for five seconds you can whip it out.
Yeah I don't like what does that mean you know I've noticed I've had a I had a client who was like.
So matter self because she couldn't stop looking at her phone in the car.
And you know we started exploring it and kind of going into the root of it it was ultimately connected connection not feeling connected feeling lonely you know and Facebook gives us that sense of. False sense of connectedness right.
Where we're not actually receiving we're going to mean hits from the like we're not really receiving real. Connection right.
Now you have Facebook doesn't look you in the Army doesn't give you a hug you know.
Least not yet.
Yeah exactly.
Yeah I mean so sometimes it's just did you stay in your pajamas all day and get any work done and you know if you feel like you didn't and you feel like constantly overwhelmed by like.
Not doing and needing to do you know to me that something is asking you to actually take a break and slow down so that you can you know six low down to speed up.
That sense I see a lot of people who are burnt out and still feeling the pressure of pushing through now I also want to acknowledge like some of us you know it's the privilege of being able to take a break and there's actually you know the way they kind of economy's going and in the States it can be tough but it seems daunting to even take a break sometimes I had this conversation with with a friend last night she was is that I'm exhausted but I can't stop and I was like you have to stop or your ID is going to keep stopping and her body has stopped her like beyond the point where she you know she should be functioning right now you know right of pain massive digestive issues.
All sorts of out of immune stuff you know and I was just like just take top forty eight hours.
To give yourself full permission you know take up and break.
The screen. Right if you feel like you're lonely call a friend like just don't be scrolling. Hours in the blue late you know keeping it up and not preventing you from resting in forty eight hours of fully full permission to have unstructured time. Do whatever you want as long as it doesn't involve technology.
Go into nature bring a friend if you have to go camping like you don't have to do this by yourself but just get connected you know you know but if you're if you're going to be with somebody and it's going to give you a sense of obligation then don't be with somebody you know.
Digital detox I think the phrase Some people use for having a day where they just don't touch their phone or computer or stay away from electronics.
So so what are some of the symptoms that we might see or our lack of focus. Getting sick a lot difficulty sleeping we think that lack of focus is a lack of motivation.
But usually it's a very subtle symptom of.
Burnout trauma.
That's a great.
Clue to get from our bodies if we're feeling lack of focus time to take a break before we burn out yeah.
Yeah yeah and you ask yourself Is this something I really want to be doing like is this fine is this giving me Joy you know if I like to also think about just being guided by like a very simple question in all areas whether it's food whether it's what we want to do with our lives whether it's a relationship does this gives me energy or does it take it away.
I love that the same and again does this give me energy or does it take it away.
Being with this person to give me energy does it give me joy this is fun or am I constantly trying to like you know protect my boundaries because of their toxicity you know. Does this task give me joy is this in a maze on a genius it's fine if it's if it's you know this is where we look at resistance being.
You know pointing you to something.
That might be true for you maybe you don't really want to do this like Frankly I don't love the marketing elements of this job right but I get on podcasts all day I'll talk to people or coach I really want to have a team soon if they can so that i can they can help me oh well what would it take you to have a team now yeah it's a very good question.
Yeah I mean it would it would be having it having financial bandwidth Yeah.
Then what would it take to have the financial band with.
Us we want dick down into that but not going to take that very powerful Yeah question I think energy is very important joy in a business I wrote a whole section of my book called energy.
Just doing an energy audit you know like you said like the question you're using what does it mean and if you will take it away you know with every person involved new business every client every staff member.
And then every area of your business you know to. Look at the do an energy audit of all the areas of business and if market doesn't give you true you know can you delegate it can you eliminate it can you do it some other way right right or what what would it take for the marketing given the choice if I'm choosing to do it right. Now yeah various reasons yeah how can I make it joyful How could I not have fun doing it right well and that's a really good point it's like can I do it some other way is what I've really been looking at to.
You know.
What are the things that I like creating what makes what gets me you know out of bed in the morning.
To do that you know so is it you know. Am I trying to do the other question asking that is am I trying to do things the way that other people do it and working for them. If not doing it to create a new way that's going to feel more in flow for me that's actually really well into the next question.
What's the next question that this was around why should be flow in sort of fighting our monthly cycles.
Yes you know women do that yeah so tell us about fighting your monthly cycle would look like so that looks like.
Yesterday was the first if my period.
And I had all sorts of ideas about what I was supposed to accomplish yesterday I was hacked.
Also when you know when we are so this I learned from a very dear friend of mine Washburn who's the period I help the period coach and.
She helps women think their business is their cycles and when we are in our menstrual phase we're much more into it ironically new JLI not as verbal as I am today.
And.
What I what we did in the corporate world and you would do in the kind of patriarchal structure of working is that we feel like we should be exactly on a certain way every week of the month right but that's just not true for us and for men too if you follow the moon if you're more intuitive you're more so. And sort of you may feel the energy flow you know flows of the world.
Of our our natural world right so flowing with the cycle is about planning your money around your peaks and your valleys and where your strengths are going to be that week so for me right now I've given myself permission to not have to do but I'm allowing you know whatever wants to come through in the space to come through because the veils are thinner for me right now and.
I'm sensitive. I'm not going to go out in a crowd of a bunch of people I've noticed especially the more I tuned into my body the more I realize that this week I'm delicate you know. Because I'm very open. So this is a really good week for me to be tuning in to what's a yes and what's a no.
Because I'm I can feel the energies of those things more getting worn down tends to be when I pushed against my cycle or I've asked her that a little too much and I haven't listened to my need for sleep you know.
And just to kind of run through really quickly the full a killer phase which is the rate after menstrual your energy starting to build back up again so it's a really good time to ramp up into the doing of the things that you've been tuning in to what's in alignment around Aviel atory is very verbal It's a great time to book podcast interviews or.
Put sales calls in that week or to teach a workshop.
You have a lot of energy and also.
We're just more magnetic even those weeks you know and then you come back into radio phase and you're starting to kind of cool off and kind of slow down and get back into self care and luteal phase is a really good face for planning.
So that's kind of the cycle of the month and when you can get that into the flow and flow with it and sort of fighting against those things you're going to just it's just going to feel better.
A lot of people have P.M.S. because they're fighting that. The intuitive desire to to rest to. To listen to create.
To be in a red tent somewhere you know.
And just be like I mean we're cleansing and we're you know.
We're shutting so what else we want to shag what feels you know what do we want to what do we want to maintain.
So that's that's it again and that lies not just the period well so the lunar cycle Yeah I think statements respond to yeah you know that's why they would lunatic it's been a tick right because yes because people get a bit crazy at that time of the month you know I I for a long time in my period ran on them on the phone and and I thought and I thought that I that it was my period that was making me really anxious because I get a lot of things right here on the full moon.
If I'm not allowing that energy to move.
A period moved off of it on to the new moon at one point that can happen and I've found myself still anxious there on the full moon and I had started to like you know get into our worlds of you know which you were stuff and then I realized oh maybe this is just creative energy that wants to come through and maybe what I really want to be doing is my inner wild woman just wants to be dancing out naked and in the full moon in the desert you know here I am in my house in L.A. trying to get sleep so and I have to work tomorrow.
When.
There's also you know Elam. Flowing with with the energy when it is coming through. And not stifling it.
So. You've talked about a lot of things about messages from your body and listening and avoiding numbing it down how can we apply this to our businesses today. Yeah I mean it's going back in looking at. Is their resistance to something is there a task that you have that you've had on your To Do list for weeks and you're like I just don't want to do this maybe you just don't want to do it.
You know as maybe you could just say no yeah dead or hire someone else to do it or hire someone else to do it or is there another way to do it get creative you know is it something you really have to do you know what would it take to get the results I want in another way.
Listening to those feelings tuning into what's your Yes What's your No Is it what's it what feels expansive what feels constricting So if you're trying to decide on something you want to create a course you know or you've had you know we're all a lot of us are big idea generators and not necessarily putting those things into action maybe it's because they're just not in the right phase right now so every day just waking up and asking yourself what would be a joy to work on today. Really gives me joy what gives me energy.
I'm writing that one town.
You know I'm traveling right now because I decided that for me to you know feed my hungry so I needed to get out of L.A. and start traveling the world that's something that I didn't have permission to do in the film industry right I was shamed for wanting to take vacations and.
You know and I'm one of the reasons I became a coach in the first place because I wanted to have a location independence and it has we know that's been a little bit trying when it comes. Consistent wife I am but.
But. The energy of me getting more integrity into integrity with myself and what my desires are are bringing you know making my voice more authentic and who I'm showing in the world is more authentic So that's the other thing as I would say like.
You know how can you be more authentic Lee you in the world.
By listening to what's true for you what's what's in alignment for you what would feed your soul what would give you energy what would give you joy I've been joking like my whole life right now and like Mary condo in all of my energy only Only what gives me joy.
And it's wonderful so it just hit with a smile you're proud to use your business intuition openly.
Yeah.
Well.
It's interesting.
I was taught for a long time in you know to spin in the film industry spin who you really are compartmentalise.
It took me about three years of coaching.
And still consulting in the industry before I came out as a coach before I came out as we were right I didn't even come out really as.
I think I mean even just. Talking about intuition you know I think there's a fear of. A fear of turning people off enough getting in and not belonging right because you want I definitely have had a tendency to want everybody to like me and be a bit of a pleaser in that sense.
But the more I am authentically me and sharing who I am.
The more I will find my idea of clients the more they'll be attracted to me you know and and I know that that's true I've seen the evidence of it. So.
You know for me I think it's just a beautiful example of.
Another way to look at resistance.
Is.
My story there is there I had a lot of judgment I've been coached in you know to think that I was.
Playing small or that I was.
So sabotaging.
And I kept feeling this pressure to rush you know have my back up against the wall financially so that I would get into action you know all of those kind of more masculine approaches to business and you know have I been in you know earning and have I had like business success this year no I've actually probably had made the least amount of money in my entire life this year but am I more in flow I mean more true to who I am. Yes and I know that what I'm creating out of this since that car accident you know since I actually finally slowed down to really listen to me intuition what I'm creating now is much more in alignment with who I really am.
And so yeah I could push to get something out there.
That isn't really true to me I'm not going to feel good about doing it.
And I just know that.
So I think we put a lot of pressure on ourselves as entrepreneurs to.
To have fast success earn all of the money quickly.
And not unlike a midlife crisis there's one moment where we wake up and go This doesn't feel right this isn't feel good to me you know and there's a perspective of that could be fear of failure that could be this could be that for me it's really more my whole life has been about getting in the last four years back into a feminine flow.
And moving out of this masculine strategies of motivation fear stress scarcity not that scarcity and lack.
The masculine strategies of forcing and pushing right versus And I think that you know I experience there see come from the mass and I think it's a shadow of all of us but. You know moving out of that doing energy and more into being energy and letting my business develop out of that instead because it's actually vital to my house for me to. If I don't do that I will not be OK.
It's just true my body does not let me get away with pushing anymore.
So.
So you know what's the best way to guide myself now in my business is to really listen.
You know. So that you know I'm on a mission. Help all entrepreneurs to openly use their business intuition because I think it will make more money and bring them more joy. And also. I think if all business leaders to use their intuition might make less dumb ass decisions other people or hurt the planets that.
So what would it take to make business intuition used openly everywhere.
This year.
My first thought which first thought right thought is just.
Talking about it talking about you know how you use intuition in your life talking about.
You know. How you are you know as a business owner.
Making your decisions what guides you to work with certain people or what guides you to make it make you know what's what's the you know.
To listen to an idea and work you know I mean it's.
Is it coming from. If it's you know is it coming from thinking what you should be doing or what might be marketable or is it coming from an intuition of like you know this is really important and this is what I want to share and I don't have to explain why it's just a S. It's just what I feel it's just what I know.
I think more of us to talk about it and you know make it right you know and sort of make it right.
Well but give us all permission to do more.
Sounds a great thing for Mean of us to do so.
If people want to find you online one how would they best do that now so maybe maybe website is Natalie Bach dot com.
A C K composer but with an extra A and a K. and seventy.
And on Facebook I'm at the permission circle which is the next phase of my business in the process of launching right now.
And it's really about I mean in that space of giving yourself permission to be and do whatever feels true for you and that moment you know.
And so that you can come more into alignment with your true self and in who you're who you're here to be.
And then I'm. Instagram it's Natalie Ariane Bach which is that middle name.
Because there's another Natalie Bach who lives in Australia OK.
Great well we'll put all of those in the show notes so it's easy for people to find you.
I appreciate you coming on the show and overcoming resistance came up for us.
Always in perfect timing Yeah I need a bit more space I thought Why fight to let these these clarities come through so.
Thank you so much for having me You're welcome.