You can listen to the podcast and read the show notes here.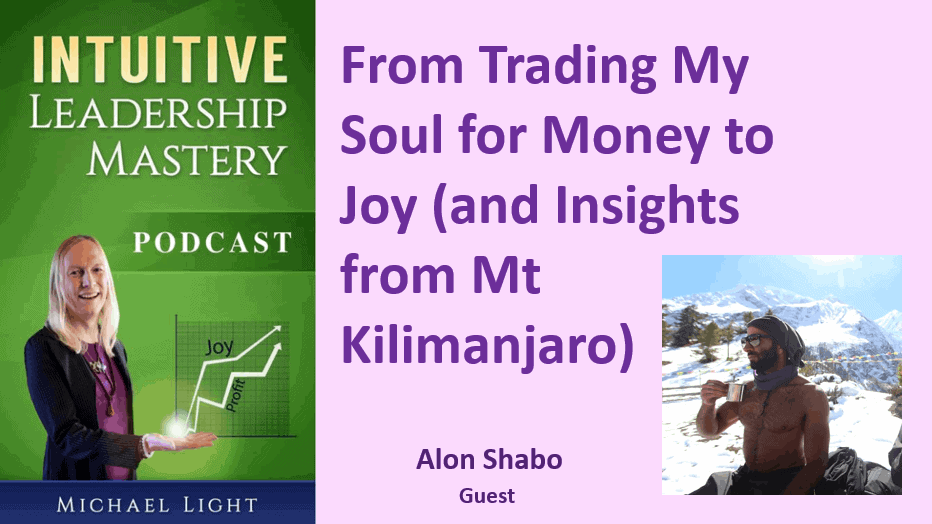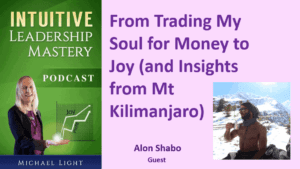 Michaela: To the show. And today I'm talking with Alon, and his last name is Shabo. I think I'm saying that right. You can correct me in a moment if I got it wrong. We're gonna talk about how he traded his soul for money, and how he changed that to a more joy filled business. And also some insights he got from climbing to the summit of the highest mountain in Africa – Mount Kilimanjaro.
So he's also got a lot of insight from totally disconnecting from his regular life and all his digital stuff. And also he gets a lot more excitement these days from helping his customers be happy instead of doing what he did in his dark arts days which we'll talk about. And if we have time, we'll talk about how and why he gave up drinking. And how he is happy at parties and to be the wild sober guy. So welcome Alon.
Alon: Yeah, thank you for having me.
Michaela: And just in case you don't know who this guy is; he's an author, businessman, secret [inaudible] [01:08] and is about to release a book called 'Just be a Good Animal'. Be out sometime later this year. And we'll talk a bit more about that later. But first of all I'm kind of curious you had a job, a business that was your passion, you really enjoyed it, and you gave it up to chase money. Why, what was what's going through your head man?
Alon: Yeah we're going to begin. Let me give you the back story. So what is this? 2011, 12, and I'm getting fired from my first real job and going on the figure your life out thing. (I'm sure everyone here can relate to that.) So I tapped in. I'm like okay, I'm passionate about health, wellness, fitness. Co-incidentally I was good at it and in that industry that just means you have a nice physique which is pretty [inaudible]. But that's the truth about it. So I started a fitness blog which turned into a fitness coaching service which turned into info products, and I had a nice following. This was kind of in my business infancy so I didn't really know how to scale properly, and hire properly, and do things like that. So it just got to a point where it was a cluster fuck. And that's a good problem in retrospect.
I had you know 40 something paying customers monthly and this was just organic small channel stuff. Everyone was happy. When I stopped doing the business I had customers like they're pretty upset about it. So that's the back story. What really happened was I had to dip in my business. I wasn't sure how to hire. I was unsure how to scale. Just all these things that a new entrepreneur had run into. And they say they did this to kind of filter people who deserve it or whatever. So when things got hard, I got shiny objects in draw and I ran into an opportunity to do some ghost writing and copywriting for a New York Times best-selling author. And at the time, it was a lot of money.
So that all fuck yeah! I don't want to deal with all my clients. I could just write for one guy. Cool! And it was cool for a few months and I kind of shaped a different path where I was writing from multiple clients. And in my niche I guess I had a little name for myself as someone who was okay at what he does. And it was all good, but we can fast forward about three and a half years later and I'm still doing that stuff and the money was good money was good relative to the work and everything.
But while my bank account was growing I was just like so disconnected from the work. I was just talking I'm sad that I was in creating stuff. And I think any kind of creative with a message inside you know like they understand the truth. If I can burns when you're not doing it. So it got to the point where I would do stuff for clients and there would like physically hurt, physically hurt I should be doing this for myself. I should blah, blah, blah, blah. So that's kind of what happened where did the [inaudible] [04:12].
Michaela: So you said it physically hurt. Where in your body did it hurt when you were doing this dispersing work?
Alon: Literally like in the middle, in the chest. And it was such a fucking drain of energy and it only took me until I started doing what I like to do. And in this case I was just writing statuses on Facebook. No business, no money. Just read a nice status. I got a ton of love and people messaging. Like oh, I needed to hear that. I realized that would raise my energy, that will makes me excited. Now I can walk around town [inaudible] right to be happy. And then when it's a client time here's a lot of money to do this task. My shit my chest my midsection everything was just tighten up and if I be tired after.
Michaela: Do you think your chest was trying to tell you a message at all in that time or?
Alon: certainly
Michaela: What do you think it was trying to tell you?
Alon: Don't do that, run away.
Michaela: Yeah and how long did it take you to hear this message?
Alon: You know I kind of ignored it for probably about six, eight months. And but in that time I was kind of gradually I guess like spirituality part too. Like revisiting, thinking hard questions about life, etcetera. And then figuring out kind of the exit plan because I had weird situation. And I guess people say it's golden handcuffs. You know when you get used to making a certain amount of money. It's a little bit difficult to just be like, "All right bye bye now."
Michaela: You know I was talking to someone on the show a few weeks ago and she had a dream to create a business for… you know a school for autistic children and someone offered a ten million dollars to like get this dream going. But it was a bit off. Her intuition said this wasn't quite right. You know was nine out of ten, but it wasn't a ten out of ten. And that was one of the hardest session she made to say, "No, I'm not gonna take the golden handcuffs. So how did you get out of your golden handcuffs man? I mean that's hard. How you make money?
Alon: Of course well logically I figured out an exit plan and then I started doing other things to generate and to kind of [inaudible] [06:36]. One of my mentors hold me like it's like the jungle theory; like Tarzan. You don't jump to another tree it until you have a solid branch to grasp onto or else you'll fall down. So yes, I just gradually I started exiting the relationships I would joining me.
I started replacing them with better ones like for example I was doing copywriting services. I started ditching all the businesses that were just questionable or shitty clients; whatever. And I started writing more about stuff that I care about and I like. Like stuff if I would do with my own audiences. So that was step one. And then step two a step back into kind of a business thing. So I have my own I mean coming take up on my time. So that's kind of the two stages that happened and…
Michaela: So that's a nice technique there. And I think whether you can exit a business or you just want to improve your current one, going towards where the joy is like you did there. You know like what brings me more joy? And getting rid of the work, letting go of the work. I see me let go these clients gracefully. Or did you just tell them…?
Alon: Yeah, we had a difficult conversations and then we set up a plan that makes sense, so no one got fucked over. Pardon my language by me just announcing. And there was moments where I was very rational about it and you know it's probably go in motion mixed together. But I got very rational about it. Anybody listening if you have a day job, and you dreams to be an entrepreneur, and you fantasize not or whatever like keep your day job because stable income is… it's amazing.
It puts you to a place where you're not back against the wall, going to your head, stress. But for some people they need that. And I think I may be one of those people where to truly crush it and you know back against the wall. You know skin in the game. Like you're going to die if this doesn't happen type of thing.
Michaela: Well I hope you don't die. Long as you're motivated. And you know it's not just… I think it's not just enough for people who have a regular job to have stable income. You've gotta have your expenses be less than your income as well. Preferably significantly less, so you've got a lot of room there and so to do other things. So you manage to ship it out of this training copywriting business and you created a new business that I'm hoping you got a lot of joy from. Is that the case or?
Alon: Yeah I mean it's a business and it's a job. So I'm not like, "Yeah like yeah!" But when I do hear about my customers, (that's funny, right?) and I want to write well when my customers send in a testimonial being like my father's a very angry person and I started putting your oil in his tea and now he's much more calm and everyone likes to be around him or I love that. With that I feel like my truth everything's relative. Like it started with fitness coaching and now it's this product. I feel like it's kind of the same effect on a bigger scale.
Michaela: So you sell a product that helps people's health and then their happiness as well.
Alon: Absolutely, it's just like a stress, anxiety kind of relieve or people take it for pain, sleep better…
Michaela: wow!
Alon: yeah
Michaela: That sounds much more satisfying than writing copy for products you don't really believe in.
Alon: Absolutely and especially when you're kind of just a lone guy in your dark little corner. Here's your delivery [inaudible] [10:19]. Let's make it happen. I feel like you need people. You need to be connected to outcomes and things.
Michaela: Do you ever meet your customers or is it all remote?
Alon: For this new business?
Michaela: yeah
Alon: Yeah now we're fairly new. Like we just got our first 100 customers about two weeks ago. So yeah, I basically I try to get my every customer on the phone. I wanna understand why they bought this, how they heard about us, what they're taking it for. I had a customer the other day tell me that hey I didn't really feel any results and I just gave her a refund without even asking her. So that's kind of like a contact I wanna have in these initial stages.
Michaela: That is cool. So you mentioned that you have… sounded like you have a dream that you have a business that you do get really excited about going to work. What would it take to have a business like that?
Alon: That's a really good question. That's one of those what would it take. The way the vision I see this playing out is I'm here grinding and building this up until it justifies kind of the next stage which is building a culture and a team. And I feel like then I step off from being a scrappy entrepreneur figuring everything out hustling, grinding, whatever into just being more of a leader, and grooming people, and getting them to move the mission forward. As anyone who aren't up working with this is a real employee or partner or whatever. I need them to be aligned with not the money, but we wanna have a massive impact on this.
Michaela: So having a business that has something bigger than the business is on some mission to crew to heal people who are sick, or unhappy, and make a big change in the world. Maybe stop a few wars starting even.
Alon: And to plant a lot of trees. So we have this partnership where every time we sell a product, we make a donation to our partner and I give them enough money to plant a tree in order to …
Michaela: wow!
Alon: yeah
Michaela: I almost have this vision that you'll be… in the future you have like a corporate jet. And you'll have packages with parachutes of the soil and you go into a war zone and you just kind of drop it out. And all the soldiers and angry people will like take some in their tea and like look just mellow out.
Alon: yeah
Michaela: They'll just go home. They don't need to have a war.
Alon: We'll use drones though. It's more environmentally friendly.
Michaela: So I know you've done a bunch of climbing really tall mountains like in the Himalayas or Mount Kilimanjaro in Africa where it's like so high you can't even breathe. Why on earth did you want to climb in the Himalayas? So it's really tough.
Alon: Yeah, well it's different the Himalayas thing, it… a guy in D.C. made a post saying who wants to join me after dizzy J.J. – the annual conference. And he was a copywriter as well so I read his post. And it kinda leaves me with a notion I have for adventure. And I haven't really done anything nature prior to that nothing maybe overnight camping like once or twice in my life. So I took him up on offer and we went to Nepal which is an amazing country. People say it's like India, but more chill. That's how I was told. Yes and we trekked in the Himalayas for a while.
It was like two and a half weeks, three weeks. Just Tuesday was the most incredible thing I've ever done and there's so many things I wanna say about it. It's like for one of a completely disconnected from smart phones life eyes and just the daily biased stuff, routine. You know every day has a structure. It's like we're waking up and we need to get to our destination, boom! Like after the track I was quite confused. I woke up and I'm like, "What is my goal for the day? What's my objective?" I'm just [inaudible] [14:43] felt weird to be a civilian I guess. But yeah, the disconnect was really good gave me a lot of clarity I think and you can benefit from not I don't even think you need to go into nature.
You know that magnifies the effects. The month we went, the year prior I think like there was a freak storm that killed like 30 or 40 people on the same trek we were on. So that was like a thought in all of our minds and it made it more. It makes you more present when you think you could die like at any moment. It doesn't make you more present for sure. And we did run into like a pretty big storm out there. It wasn't a freak storm that will kill us. But it was… it's kind of like man versus the elements. You can say that really are human and I was in… my thought process was different every day. I would wake up, make sure my gear was good, tie my boots and we would just trek all day to beautiful nature. It's very therapeutic.
Michaela: When you say it's therapeutic, how is so for you?
Alon: Well able to disconnect and just being out in the wilderness realize that most of the things you care about don't really matter. Most of the things you worry about for example. I don't know. We just got rid of a lot of. Better in my mind and it kind of reconnected me, reminded me what I care about. And after that I may seem like some key live changes just based on some of those insights from the mountains. And that's just small things about how I go about my day.
Michaela: So what did you understand that you care about that you didn't know before?
Alon: It's not that I didn't know it before. It just kind of reminds you. And I think the same goes for people like looking for their passion and trying to find out what it is. I mean I think like it's very evident in your early years there's like clues and like throughout your life there's clues. Like for example throughout everything I've done like in my in my business life, it's all been around health, and wellness, and fitness, and things like that. So and even with my clients I write about like my best clients of all been in the areas that I'm connected to. So now it's just like everything in my life revolves around my truth. So like my book, my business, my coaching, but they do very small and on its side.
Michaela: So instead of finding your passion it's more that your passion was there the whole time and you just covered it up with all these distractions. You know digital, and your lifestyle, and what have you. And then you…
Alon: yeah
Michaela: … clear that away. You could feel exactly what you wanted to do.
Alon: Yeah and you know like I have some traumas from a previous relationship. And I'm just… the mountain kind of cleansed me. Like when I got off the mountain back to the real world, back to civilization. Like I felt oh really because you're [inaudible] [17:51] from everything; it's amazing. You know there was some point I was like, "Wow! I'm the only person here I'm the only person who's ever been here." That's how I felt. So just like you have your life and I'm like you're in the mountains and you're trekking to the mountain thinking and I'm like, "Well I need to make this change.
I can't wait to get home and just make these changes," and things like that. It is all comes from the detachment. And also like it feels really good to make it to the top. There was a goal we worked on for two and a half weeks. Every day we're getting there, were getting there. We got like altitude sickness, fatigue, some moments are really uncomfortable. Normal stuff, but then when you make it feels good right. It reinforces like goal setting in your mind.
Michaela: Well we'll talk more about goal setting in a little bit when we talk about your African mountain adventure. I'm kind of curious. Did you get any… do you think you got any messages from the mountains or nature or?
Alon: Yeah, I did. I mean it was it was… it wasn't as if the mountain was talking to me. The only conversations we had were me asking the mountain not to kill us and like to give us good weather. Yeah like you gotta respect that piece. Because it makes you feel quite small, and you're like in the belly of the mountain, and weather can change in like two minutes, and it can go from 90 degrees to like zero in a span of 15 minutes. Yeah, I got some for sure messages. Like after I climbed Kilimanjaro which was just really fuckin hard. It was a grand. It was a different experience from Nepal. But after I did that I was immensely proud of standing up there. I was like you know not really human… I mean thousands of people climb it a year.
But I'm just like wow! Like this is a view you have to earn. What is the message I got? I was if you can climb a mountain like that you can do anything. And all the business goals and things like that I kind of spook myself out about it see it's impossible. I'm like, "Oh that's nothing. I just climbed this fuckin mountain. The big message I got form Kilimanjaro is one step at a time. Don't look at how far you have to go because that will be more lies you. And most people don't even get started because they see how far they have to go. So that's kind of my business philosophy. I'm just showing up every day like looking down at my feet on step at a time. Sometimes I may go off course and I'll just get back on course.
Michaela: I think that's a good thing to… you do you've got a big goal to business right and you don't have to like get overwhelmed with it. And if you just stay in the present moment, and just keep making small steps. Because it's so easy to get overwhelmed a goal. Is that how you use to handle goals or?
Alon: Can you repeat that?
Michaela: When you… before you climbed these mountains, well you knew you had big business goals? I'm assuming you had big business goals or big life goals. Did you find… did you get overwhelmed sometimes? Because you're like you kept looking at the summit instead of like I just need to say one more step forward.
Alon: Absolutely and watching what other people are doing, and comparing their success to mine, and feeling inferior. You're always a sense of things. But yeah that's why it you know I left my fitness business win and had a lot of momentum and I mean I don't like to use the word regret. But it's definitely something that if I stuck with it, I think things would be radically different right now. Yeah I looked at how far I had to go. And I was like, "Oh fuck this I can go make me easy money on this trade [inaudible]".
Michaela: So you were climbing a really cool health business mountain and you looked up too much and it looked too terrifying and you kind of see down the slope.
Alon: There's a helicopter to land with some babes in it and they're like, "You want anything?" I was like yeah that's pretty much what happened. And anyway the joys of the climbing. So the thing about…
Michaela: I mean they were then you were on that helicopter drinking the champagne for three years and eventually you started kicking the bad customers gently out of the helicopter door. And you routed it over to this other better mountain that you're currently on where you say is healing.
Alon: Yeah pretty much that. The thing about climbing mountains is the joy really isn't a journey is like summits are very anti-climactic. So let's say you're climbing for like Nepal is like two and a half weeks in summit. Every day summit, summit, summit, summit, summit, but you really just enjoying the journey. Those are the most important. You get to the summit and extremely… it's extremely anti-climactic. Like it's pretty high so you don't wanna spend much time there because you can get altitude sickness. So you like snap some pictures and you're fucking out of there; that's it. So I think that translates to life as well. It's all about the journey.
Michaela: Yeah, I think it's good. It's a very important enjoy… for me it's important enjoy the journey. But I can enjoy achieving a goal as well.
Alon: Well of course.
Michaela: And then sometimes there's a depression that happens after the goal is achieved. I don't know if that happens to you. But you have your big goal for years and years. And then you get there and it's like, "hat's it? Now what?"
Alon: Just like that.
Michaela: That's why it's good to have several goals on. The hamster wheel.
Alon: But that [inaudible] doing like a small goal or reinforced in your mind like go [inaudible] outcome. Let's do another goal. Even when I was just coaching I would make very small goals for people like drink fuckin water and we would celebrate those models and then we build upon it.
Michaela: For me that's one of the benefits of being in a mastermind because we're like we have our yearly goals, and we have quarterly goals, and we go weekly goals. And we celebrate each other successes or we help if we have challenges or get stuck. So it is pretty amazing. I was reading this book the other they called 'No Picnic on Mount Kenya'. I don't you come across that. But it's the story of these Italian prisoners of war in the second world war and they escaped from the prisoner of war camp because they were bored. Climbed up this mountain right so they could achieve it. And then of course they had to come back down and go back to the prisoner of war camp because there wasn't really anywhere else to go.
Alon: Sounds like a sad story.
Michaela: Well no they were happy because they'd like you know… they were in spite of… because in the camp… but what I wanted to say is in the camp they could see the mountain every day and they were mountain climbers; that's what they were before the war and a lot of [inaudible] [24:54] I really wanna climb it. So they did.
Alon: Just because you can.
Michaela: They had to… they didn't even have proper climbing equipment. They had to… You know how these prisoner of war things where you have to make your own kind of fake stuff out of leftover things. So they didn't even have proper axes and stuff. They had to kind of fake it out. But they did it, and succeeded, and enjoyed it. Now you mentioned there the getting the champagne and the helicopter that you escaped from the first mountain. Do you still drink, or what's your relationship without alcohol?
Alon: Yeah, I'll drink wine every once in while with a nice dinner, or with my girl, or something. But I don't drink alcohol now. I haven't for a few years. I'm not like stone cold sober. Like for example I was in a weird situation in a music festival like a few weekends ago. And I was like, "Yeah give me a drink." Mostly because I just felt a bit uncomfortable. And then within a few sips already felt my thought process and I felt everything turned negative.
And it's quite funny because I journal religiously and I was feeling bad, a fairly nasty emotions. So I told my friends I was like, "Hey, I don't feel good. I'm going back to the tent." This was a camping festival. And I went home and I journaled. And I looked in my journal a few days later and I'm like, "Jesus Christ! Like drinking is so bad for me." Just like some of the things I wrote. Even the way my handwriting. It looked like angrily like scrawls.
Michaela: wow!
Alon: Yes is probably one of the best things I did in my 20s was cutting out alcohol for the most part. You know getting out that oh it's a social event drink or oh it's the weekend drink. I mean and for many reasons too.
Michaela: I love how you look back in your journal and get insights that you didn't necessarily know at the time.
Alon: I've been journaling for since 2010 I believe. Like almost a decade, almost every day. I really know it's kind of therapy for me.
Michaela: It's that a bit like that artist's way thing where you kind of spend a certain number of minutes writing and you don't even know what you're gonna write about?
Alon: Yeah stream of consciousness. It just kind of… you get your emotions out. I do it in the mornings that from feeling anxious and I just write what I write. And then I guess I figured out what was bothering me and it's not in the head anymore. It's on a piece of paper. That's probably one of the best habits addict up and it's also comes and made me a decent writer just through that practice which is known well pretty well.
Michaela: So you didn't really have a dark night of the soul with your alcohol consumption. You managed to become conscious that it was not you were getting negative effects for it. But it didn't like go down into a total death spiral.
Alon: No, I was never like rock bottom alcoholic. But I…
Michaela: Not one of my other guests I interviewed who were… Do you know Russ Perry?
Alon: yeah
Michaela: He yeah he had a real Dog Night of the soul. His wife was gonna leave him, you know all kinds of problems. And that's when he decided I'm gonna stop.
Alon: You know for me it just kind of stopped. I just started noticing it was giving me shit the effects and this happened when I got much healthier in my life. So I just noticed I was like lost that euphoric feeling so I don't know this was back then now when I drink I guess but also why am I doing this? Like I respect my body too much you know what I did was like. And then I look around and see all these drunks and I'm like everyone's trying to escape from something. I feel like I've nothing to escape from and I'm really, really proud to say that. I'm really happy with my life.
Michaela: Now that's interesting. So how come you don't need to escape anymore? Because most people spend most of their life trying to escape from their reality. Not… and when I say escape, I don't just mean alcohol. That could be eating sugar, or it could be addictive sex, or watching movies all the time or you know.
Alon: Where you're going to the gym and rock climbing and playing sports you could say that's an escape as well. I think that's my preferred escape. And I prefer druggists well at indoor offense it was ignited testosterone all that stuff feels scared. I like all those…
Michaela: As long as you don't inject into your eyeballs you know.
Alon: Yeah absolutely. But why am I happy with my life? I don't know. I'm just content in the same simple things. Like prioritizing my health in like getting my daily exercise. Like all the food I eat is just everything that my cells want. That's…
Michaela: How do you know that? How do you know the food you eat is what your cells want? Do they also tell you? Are they like talking in little voices? [Inaudible] [30:07] body.
Alon: I feel it in my body. I feel it in everything. Absolutely, I mean it's rooted obviously in like ancient knowledge and things like that. But yeah, when I eat shitty food like I had pizza the other week how to finance a quiet I don't use you know. It's what if it tastes good.
Michaela: I tasted good made my ego happy.
Alon: Yeah, there's no point. Like doing drugs basically
Michaela: How are you eating this pizza? Makes it sound like you're in some den where like there were lights and people were like offering you pizza.
Alon: Domino's pepperoni on my couch. Like it's like you know that feels good.
Michaela: Yeah, but then you noticed afterwards your body just didn't feel great.
Alon: Yeah absolutely, but back to your question. I just feel sick of it being healthy feels a lot of that and just privatizing that media relationships. I'm not really on social media anymore. I don't really look at what other people are doing anymore. I don't watch other entrepreneurs in an hour who are way more sensible than me. I don't really like I or them I don't know what their life is like and that's different from years prior where I was just everyone else's and I was like, "What am I doing?" Now does this fit into society now I'm just kind of listening to myself. And I might like this. This feels good. I don't like this. I'm not going to do this. Same with people like I'm very transparent not since I don't like somebody so I'd like to get the fuck away from there.
Michaela: So some people might call this hell yes or don't do it.
Alon: Yeah for sure. I mean there's some in the middle some things like you know just more and more practical stuff I guess.
Michaela: Me too, so it sounds like you've really treat your body well. It's almost like there's you and then you see a body and it's like you've got a nice pet. I don't know. I was going to say a dog, but you don't like a dog. You're more like a gorilla really.
Alon: Yeah, I was explaining this to my girlfriend the other day. She's not like me. She's kind of the opposite of me, so that's nice. We're kind of in the middle. But I don't know. I told her I don't care about my house and my business or anything as much as I care about my body, and how I feel, and that's not in a vain narcissistic sense or anything. It's just more like protecting my genetics and ensuring like I'm super healthy for the rest of my life because I don't I rarely get sick. But when I'm sick, I'm just like man health is just it's everything. That's all you could ever want and everything else kind of noise so.
I guess my goals these days are more mature like I'm more… I optimize each day. That's my number one priority, and then all the other stuff is all kind of secondary goals. But they all tell you because when I'm healthy and full of energy I'm able to accomplish a lot more. Like I'm a big… I don't know if you know [inaudible] [33:13] the late copywriter is kind of like the godfather of jet response. He has a quote and it says, 'one good idea exploited properly while walking on the beach can be worth more than ten lifetimes of hard work'.
Michaela: I like that quote.
Alon: Yeah, so that kind of guides me in a lot of things. But I don't walk around beaches looking for insights. But I kind of try to optimize parts of my life outside of business because that's when the subconscious kicks in and it's like here's a great idea. And good ideas executed probably worth more than sitting and grinding behind the screen.
Michaela: Oh absolutely I mean I think the days of grinding are over.
Alon: yeah
Michaela: It's really possible to… If you listen to your intuition, you can figure out solutions to business issues without having to crawl into a hustle [crosstalk] [34:12]. So you stop it.
Alon: So irresponsible.
Michaela: Yeah well you just go to say no as Nancy Reagan would say. You know to drugs. Let's say no to grinding. That doesn't mean you can't do long hours. If you're really turned on and enjoy enjoying what you're doing that's fine.
Alon: It's weird though because I went to one of my clients offices last year. He asked me to sit in and meet his staff and help them with some stuff and the old me was like, "Yeah sure". And that was like the worst week of my life one. And two, I saw all these grinders who sat at computers for 10, 11 hours a day. And at the end of the day, I'm like, "What the fuck did you accomplish really?" Like I don't understand how you guys can do this. I'm like my work has suffered greatly from spending just a couple hours in this office. Like what is going on here?
Michaela: It's like an addiction people get. It's the workaholic kind of thing the hustle addiction.
Alon: But they're just gazing at keyboards. They're not doing anything, it's weird.
Michaela: Well it looks weird to you but to a lot of entrepreneurs that seems normal.
Alon: yeah
Michaela: Maybe because you got more perspective from having been up in those mountains for weeks.
Alon: Everyone has their own style that's what I've learned. You just gotta understand your style, and your strengths, and your weaknesses. And just not be like I should be like that person, or this podcast said to do this. You know just like I guess that's what intuition means, right? Just listen [crosstalk]
Michaela: In tuition – inner teaching literally right your intuition.
Alon: Like your gut for example. Your gut is a brain, right?
Michaela: yes
Alon: Second brain or organ. But most people's gut is so fucked up. So how could they listen to their good if they're gonna listen to their gut if their gut is so poorly damaged?
Michaela: You know I think I have talked about the gut brain with I think it was with Barbara in another episode. I'll link it in the show notes. But yeah there is definitely a second brain down there in our gut. And there are actually more neuro-transmitters in our gut than there are in our brain.
Alon: We are bacteria literally. I don't know the numbers, but I think our bacteria so.
Michaela: I do know the numbers. We have about 60 trillion human cells and there's about 600 trillion bacteria.
Alon: yeah
Michaela: There are way more bacteria in our bodies than there are human cells.
Alon: yeah
Michaela: And they have things to… intelligent things… I mean I actually talk to my bacteria in my gut. And I know I'll say… you know if I'm having an upset tummy I'll say, "Hey guys I'm happy you live in my body. But can you just keep the party down? Because it's like causing some problems up here." And they're like, "Oh we're sorry. We didn't mean to do that."
Alon: You got to drop some paratroopers in there. You know get some [inaudible] [37:07].
Michaela: And that might keep them happy. I mean I also do.
Alon: This kind of how it works.
Michaela: You can absolutely. You can ask the bad bacteria to leave your body. If you wanna stay in this body you got to be good for me, have a high vibration, you gotto be conscious bacteria otherwise [crosstalk]
Alon: … strategy I just knew yeah if you get one hundred thousand billion cells of lacto whatever.
Michaela: Well you probiotics are a good thing. And I said that sometimes take those. I do an annual cleanse thing where and part of that regime is taking probiotics so. And the other thing I've done is (what do I call it?) where you flush out your intestines, colon; hydrotherapy.
Alon: yeah
Michaela: Because there can be a buildup of plaque and other duppy stuff in there it's…
Alon: absolutely
Michaela: You know I mean usually I mean usually… I don't get this too disgusting. But usually my poop is kind of brown colored. And I did this colon hydrotherapy for ten times. And after the first few times, this really dark sticky black stuff started coming out. I'm like, "Where the hell did this come from?" And it must of been hiding in there for years or decades. And effects… I think it affects your intuition if you're gut is full of junk and goop.
Alon: I notice in my morning writing sessions after I've [inaudible] waste there's much more clarity, my thing is more fluid, etcetera. But I think we're talking too much about shit here.
Michaela: Well it's all about intuition and business. But it all relates really.
Alon: Yeah [inaudible] you don't want to carry the waste. It's like clutter.
Michaela: Yeah, now well I think there's a business point to be made here because our businesses… I mean I know a business is like an abstract thing. But it's also like a little living organism and there are areas in our business that collect… shit for want of a better term. They have clutter, they like got a negative energy, they've got a lot of undone tasks, their employees in that area of the business really don't enjoy being there. So taking a business to the for a bathroom break and letting go some stuff that isn't a fit can be a good thing.
Alon: absolutely
Michaela: And it's possible I think to hear messages from different parts of their business just like you hear messages from your body. It feels really good when you do certain behaviors. I think when we work with our business in some ways, it really is kind of singing and happy. And maybe that's what you were talking about where you see your business in the future being like this wonderful place to work for you, and all the people working there, and for the customers. That's maybe where it's gone.
Alon: absolutely
Michaela: So tell me a bit about this book you're writing, 'Just be a Good Animal'. It sounds really unusual title for a book.
Alon: Yeah, so let me make a quick plug for my book that's on Amazon right now. It's called 'Why You Should Climb a Mountain' As just basically it's a bunch of short lessons on I guess health, and personal development, and mindset stuff that I've just picked over the past decade. So that's the previous book or context now. Why you should be a good animal? And so my think my view on humans is we're obviously animals.
We have smartphones, we have big brains, and that's also why we are going to the moon. It's also why it were so anxious, and depressed, and angry, and all this stuff about irrelevant bullshit. Yes, so I don't my philosophy is to be a good animal. And it all comes down to health and living more naturally and more in tune with yourself. So yeah that's kind of it's kind of a fitness book more or less. You know looking after your body, caring for your body [crosstalk] neglecting it.
Alon: And it was [crosstalk] [41:33] well you know. And realizing that we're just animals and we're gonna die, and no true … and we are just bacteria designed to spread more bacteria. Some of us are narcissistic enough to have an impact or whatever. But the reality is we're all gonna die, we're bacteria. So be really good bacteria; maybe that'll be the title. Just be a good animal's working title.
Michaela: Well we'll look out for what the actual title is. So anything else you want to share about business intuition before we switch to some other questions?
Alon: No, I think we've touched on a lot of things.
Michaela: So alright, excellent! Well that's what I like. So why are you proud to use your business intuition openly in your business?
Alon: Because it translates into I do what I want, and I do what feels good, and I control my time, and I'm free. Not just in terms of I don't have a boss where I can control my schedule. But I'm free to decide what I want to work on. I just avoid things that drain my energy and things I don't like and things that I'm not good at and that's something I've recently just been really focusing on is just learning how to delegate better, learning how to be more self-aware, and how to just back off. I don't know anything about this. And also being able to trust people. Those are the things that killed my first business. Like for example, I couldn't trust anyone. I was like no one can do it as good as me and like all these bullshit ideas that prevented anything from really happening. So yeah, I guess [crosstalk] [43:20]
Michaela: That's a very common entrepreneur's belief. No one is good as me.
Alon: Yeah, I may be good at like one thing so.
Michaela: Yeah go me if you think if you look at the odds that's like how many billion people on the planet; seven or eight billion. Chances that you're the best to everything task, speed on your business is pretty remote.
Alon: Yeah, if you're in business and your business is new like speed and getting it done and moving is more important than even quality for example. So I'm not married to the perfect outcome or making sure this person is perfect. And I'm more like can we get the minimum like effective dose or the minimum required thing done fast, and efficiently, and keep going. And then I just kind of adjust from there. Like I was on a mastermind call earlier with a guy who I don't know he's a bit confused. And he sent me this long list of ideas and he was so analytical with graphs. I'm like, "Holy shit you don't like… pick one and see what happens then."
Michaela: That is good advice for folks listening. Just take a step forward and you'll climb few new mountain. Not like analyze it to death.
Alon: Yeah, I mean we never presented to him. We're like okay this route makes sense let's go and then we just slog through hell for ten hours. And if we went the wrong way, we lost a day. But that's better than just sitting there like uhu, uhu. Like this way, or this way, or this way because like today you get bogged down in so much information. And everyone's preaching their own methods and including me right now with my animal philosophy, right.
Everyone's saying this is the best, this is that. That's why I like I don't listen to podcasts anymore. I don't really follow people on social media or I don't… I don't know. I'm kind of… I mean my own intuition thing. And sometimes it's not good because you're just like a little bit detached. But sometimes it is good. I'm in my own little world in my brain it's only around that right now. There's pros and cons too.
Michaela: Yeah, I think there's some benefit to some cross-fertilization and going to conferences and meeting interest [crosstalk] [45:32] stuff.
Alon: Absolutely, but periods of solitude they say they can help you return to yourself. If you're all screwed up, you might have too much clutter. So like last year I spent a good few months like I was in Woodland Hills California just kind of in the hills with my dog, solitude. Nobody even knew I was there. No social media and I think it was a good year. I mean there's just a lot of changes happened. A lot of insights uncovered.
Michaela: Excellent! So I'm on this mission about entrepreneurs to all can we use their intuition because first of all I make more money and have more joy in the business, and be less stressed. But also I think if every business leader openly use their intuition it would inspire their staff, and it would also mean they'd make less stupid decisions that hurt other people or hurt the planet. So what… and it sounds like you like really believe in using your intuition in your business. So what would it take to make business intuition more openly use this year?
Alon: For me, for myself?
Michaela: yeah
Alon: What would it take? What would it take if you used more business intuition this year? So I mean in addition to the foundational health and the meditation in keeping your mind clutter free and trusting your essence that's kind of the foundation. So I think it's more… I don't know. More just confidence in action taking and just do it. You have a feeling, you have a thought, just do it. Don't ponder too much.
Michaela: That is great advice.
Alon: yeah
Michaela: Just use your intuition.
Alon: I mean if you need to declutter your brain, and you need to be in a place where you feel good. You're not operating your business out of fear scarcity or like trying to keep up with the Joneses in your community. You should have like should have your why kind of dial down as your fuel. I don't think people can be really in touch with their intuition if they're not prioritizing mental, physical, spiritual health; things like that just to declutter. Because like Western society and just the world today just put so much shit on you and in you. And marketers like me are responsible for this in this [inaudible] [48:09].
Michaela: Well you've come back from the dark side of copyrighting and now you're on the light side of having a healing business.
Alon: Now I'm using my talents for good you can say.
Michaela: Okay, excellent! So if people want to find you online, what's the best way to do that man?
Alon: Yeah, so if anybody wants a copy of my book for free, I would love to send you a copy. Just friend me and message me on Facebook so we can actually chat. My url on Facebook; is facebook.comshabo. I think my picture is on my [inaudible] [48:46] drinking coffee in the snow or something. And yes send me a message. I would be interested in hearing your thoughts on this as well. And I think my website and stuff will be linked on this page.
Michaela: Yeah, we will put the link to your Facebook, and your website, and to your current book on there together with the other podcast episodes we mentioned. So it will be included there.
Alon: [Inaudible] [49:14] the link.
Michaela: And that will be on the intuitiveleadershipmastery.com website. Well it's been really fascinating talking with you. And thanks for coming on the podcast today.
Alon: Absolutely man, talk soon.