You can listen to the podcast and read the show notes here.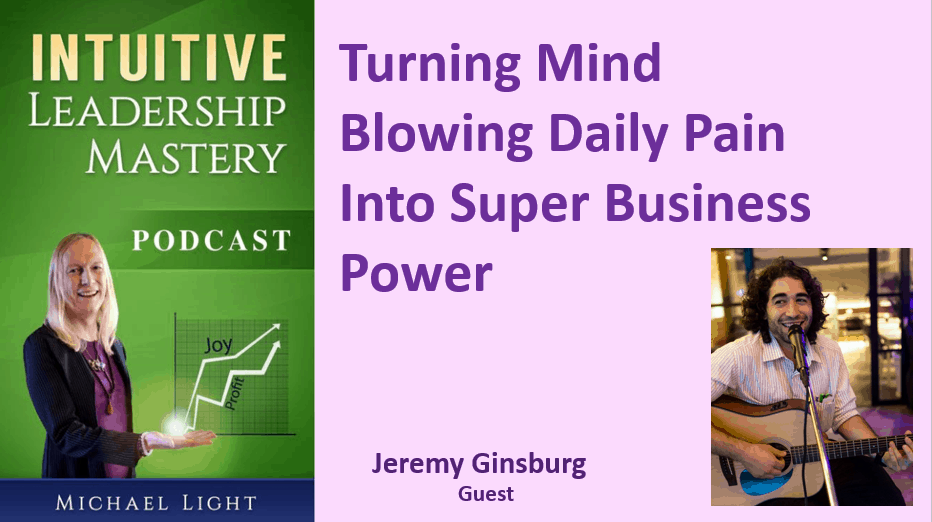 Michaela: Welcome back to the show. I'm here with Jeremy Ginsburg, and he has gone from drowning in pain every single day to writing it. And we'll talk about his mind blowing story about how he's broken through two years of daily chronic migraines and headaches to launch two businesses. And also what he learned from going 18 days with deliberately not eating food. It wasn't like he was locked in a cage.
He was consciously choosing not to eat. And also the lessons he's learned on running a business while dealing with chronic pain in his body, and mental pain; whether that stress, anxiety, depression, insomnia, or worrying all of which he's had at one time or another. And how he became a friend with pain, and allowed it become his greatest teacher. And we'll also look at the mind versus the heart, and which is best live for, and why. So welcome Jeremy.
Jeremy: Thanks for having me. It is a pleasure to be here.
Michaela: Yeah and in case you don't know him, he's the co-founder of Ginsburg expeditions. They've got a digital detox camp in Brazil in a couple of months. And he's been an entrepreneur intentional Nomad for four years. And he does intuitive business coaching, creativity, and helps people move their businesses from their head to their hearts.
Jeremy: You make it sound so elegant.
Michaela: It is elegant when I say it. So yeah I've known you for quite a few years now. And for a lot of that time you've just been like laid out. You know literally couldn't move from the bed because you've had these debilitating headaches. Or other times you had the debilitating headaches, and you kind of managed to keep on going. But like pretty much every day you had a headache, or a migraine, or some other crap going on.
Jeremy: Yeah, I mean I'm very grateful for you. I remember that's initially how we met. You gave me some techniques to connect to the light. And I remember talking to you thinking, "Wow! Like I'm in so much pain." And say, "Well what was the pain now?" I was like six out of ten. Then you say, "What would it take to get it to five out of ten?" And at the time I remember having so much resistance to that because it's like I want you to make the pain go away.
I don't want more homework. But now two years later here we are, and I'm using a similar strategy just to take it one step at a time. And I feel like that's a great lesson for everybody in any situation just like what would it take to feel a little bit better. Feel like society often wants to like wave a magic wand and have all the problems go away but that's not necessarily…
Michaela: yes
Jeremy: …the case. So what would it take has been a big instrument for my healing and I just want to thank you for introducing me to that.
Michaela: You're welcome. I mean I'm on a mission to have every entrepreneur to use what would it take to not only solve the health problems, but their business problems. If you have your accounting or bookkeeping is like a bit sucky right now. It's you know… Whatever a six out of ten and you wanna get it to improve to a seven out of ten, what would it take? Because you might not be able to make your magic wand for that either.
Jeremy: Yeah, I think the whole world can use it. I think it's a beautiful way of taking you know a physical… not a physical. Like a mental stress, or emotional problem, and it's like I let's put it into action. Let's actually take action, and turn it into a result instead of just complaining, and focus on this shitty situation or this painful part of our life.
Michaela: Because that that's easier said than done if you're like lying in bed with a mind splitting headache. So tell us about how you broke through. Some of the things you've done. And also you've launched two businesses while you've had this health challenge.
Jeremy: Yes, so it was definitely a journey. But I would say the main turning point for me was one acceptance just kind of like surrendering. Be like okay, I'm in this position. Like I'm not gonna resist any more because I'm already in so much pain. So this is level of accepting what is, and then taking best action. I think there's this deeper rooted level of self-love, and just like loving myself no matter where I'm at. And I know that sometimes sounds cheesy or fishy. But to me to be able to look at myself and kinda treat myself as if I were my own [inaudible] [04:38], or my own child and just have those loving thoughts even when I'm in so much pain. When I'm wanting to escape, and running away from myself; that's been huge.
But also I've just met so many amazing teachers, doctors, healers, along the way. I have an amazing support group. I'm working with a coach who's taught me this beautiful meditation technique that's up and go into the pain. And basically I've just accepted that like this is a journey, this is a dance. It's not something I just tap my fingers and it goes away. It's something that I'm constantly working through, that I'm learning to enjoy. And as soon as I started to love the pain, and embrace it, magical things started happening.
Michaela: So tell us how you love the pain. Because a lot of people who have pain whether it's physical pain or something in their business that they don't like the idea that they could love that aspect of themselves, or their business is a little hard to believe.
Jeremy: Yeah, it's definitely tough. And it took me a while maybe even a year and a half. But I believe that that which you resist persists. So whether you're in physical pain, in your back, in your shoulder, or have a headache, or even you're stressed out. If you're thinking, "Oh I'm stressed out. I've gotta get rid of this." And really you're just feeding that believe. You're feeding those thoughts. You're giving it more light. And a lot of times energy flows where consciousness goes.
So if you're resisting it, then you're kinda like letting it live. Where if you start loving it oftentimes, it goes away, or it's just that slight change in perspective where you get out of the negative loop of, "Oh I'm in pain this [inaudible] [06:17] I'm resisting I don't wanna be in pain. Oh I hate myself because I'm in pain, and I'm in more pain". And it's just a negative cycle as soon as you say, "Ah I feel pain, but I love the pain", then it's just it's like you break free. And all the sudden you have this opportunity to make progress, and actually feel better.
Michaela: Yeah and I think there's a difference between loving something and wanting it in your life. I can love a child, but I don't want them to be doing a certain behavior. So the same with the pain. I can love the pain, but I may not want to kind of hammering on my head.
Jeremy: Right a lot of people…
Michaela: reference
Jeremy: Yeah, I think that's good. What's the definition of love? For me, love is true acceptance not judgment. And so you can love something, but then not want it to be a hindrance on your life. You can say I love you, I embrace you, I'm grateful for you, but you cause me trouble, so please keep your distance. I prefer not to be around you. But I think…
Michaela: yeah
Jeremy: …sometimes especially in the West people are like afraid of loving things that don't bring them benefit because they feel like they need to hate it. But in my perspective that's not really beneficial.
Michaela: Yeah, I mean it's almost a god like love. You know the be observant God that loves everything in the whole universe. But that doesn't mean she wants everything the way it is. She's just accepting it, and loving it.
Jeremy: Right and if this is going over some of the listeners head, just think of it more as a way of you have a choice every single moment. You can accept what is, or you can reject it, or resist. And you have free will to do as you choose in this moment. But I would suggest try to love it because it usually makes things a lot better than when you hate it.
Michaela: So do you measure your pain each day on a number scale or how do you track how you're doing, and what's causing? You know if you found things to correlate with your headaches or?
Jeremy: Yeah, so I have this huge list [and I don't have it written read down] of triggers. You know certain things and it's more just checking in with myself. Constantly checking with my intuition, and having this dialogue with between myself and the pain, or myself and the headache, or intuition, or love, or the universe; whatever name you wanna put on it. But I would say throughout the day, I'm constantly checking. And like how am I feeling? Do I need to take a rest? It's usually not what would it take to feel better, but it's a similar sense of what do I need right now, what's the next best action, is there a message for me. And usually that takes me to something that would be the same result as what would it take to feel better?
Michaela: So it sounds like you're a lot more conscious of yourself and your environment than you were two years ago.
Jeremy: Absolutely and that's why I've learned to become grateful for this pain and sort of saying trust me on this I don't wanna.
Michaela: Yeah, you can say whatever you want.
Jeremy: I guess if I have to ask that I probably shouldn't swear. [Laughing] [09:23]. This pain is here, like this sucks. You know screw this, F this, now I can't go to this meeting, I was supposed to go to this bar tonight, and perform, and blah, blah, blah. Instead saying, "Aha, there's pain. Like this is a signal to like go into my psyche and meditate for a minute, and really see what the message is in. This is the universe saying, "Hey put your attention here." And basically allowing myself to be guided instead of feeling like I get to be the boss of my life, and I get to do what I wanna do. It's more of this like taking a backseat and just like riding the wave, and seeing what happens.
Michaela: Now when you talked about the other beliefs you had about the pain; whether it's bad, or it's not fair, or all kinds of things you had, it's almost like I was hold the pain in place.
Jeremy: Definitely, I don't think it's really productive. And I learned that after a year of not wanting to put up with this. A feeling sorry for myself, feeling like a victim, feeling like oh I'm the bad guy. Poor me, poor me". And it's like my head is in pain, but my toe is completely fine, but I'm choosing to focus only on my head. And it takes a severe commitment and like you said a lot of conscious attention to be I there's pain in my head but you know so what? Life goes on.
The sun still shines, the cloud still move, the birds are still chirping. And I find it very unproductive to sit here and be like oh poor me, pity me, this sucks rather change perspectives for a bit, take best action. And then after a certain amount of time, I am grateful. Like yes, thank you body for allowing me this beautiful message so I can go and take a nap. Or for giving me a good excuse to go get a massage five days a week, and just relax and just like turning it into my superpower instead of resisting it.
Michaela: I think this is so interesting. And even for listeners who don't have pain in their body. I think most people have bits of the business maybe they're not happy with, or cause them pain. Or contractors, or employees who they're not fully happy with. So I think this whole discussion can be applied to messages we get from pieces of our business you know give us pain.
Jeremy: For sure. I had a client recently where there's one issue in the business that a customer that they don't really want to do it, they're asking for a refund, and it's just like a big headache; literally. Not the ones that I get, but for the very specific client, and just having a quick conversation and then realizing that they have one bad client. But there are so many good things that are happening in the business and she even had a couple businesses where she could focus on the more creative aspect.
But instead, she was spending her whole day trying to figure out what to do with this one customer. It was consuming her. And I think that's just simple human psychology. We have this tendency to focus on the negative. And at one point in our life, it's a survival skill and it helped us in the area of our business. Does it really do you good to focus on the one thing that went wrong, or is the best to let that be and the focus on the 50 things that are going right?
Michaela: That makes a lot of sense to me. Yeah, it's like what we focus on expands. And if we focus just on the painful part of our body, or our business, we don't help grow all the wonderful stuff that's going on in the rest of it, or heal. It's hard to heal that part of our self. I mean you mentioned distractions and running away from the pain. How were you running away from your pain, Jeremy?
Jeremy: Jes! Where do I start? Well I think first it's not necessarily running away, but kind of like rejecting and the way of like oh I have had X, and it's like just wanting it to disappear, wanting it to be over and just resisting it. And feeling like oh this is such a devastating experience. I just wanna get out of this. So I was using a lot of marijuana often caffeine and I just… this wasn't necessarily running away. But it's more just trying to push through which in a sense is kind of saying like, "Hey headache, I see you, but I don't care. I'm just gonna try to like bulldozer."
Instead of being like, "Let's hear what this message is. But besides that there's been times I've been in so much pain. I've just like used tons of marijuana, psychedelics, breathe techniques. And in a sense it was running away, but it allowed me to achieve a lot of beautiful peak experiences, and those were very, very valuable for me. But eventually I reached this point where I realize like I'm going up into the universe out of space. You know I… one time I micro dozed on mushrooms, and I went into a floating, and I was doing mouth breathing, and no joke. I like left my body.
And when I opened my eyes I was seeing lights everywhere, and it's like super crazy and profound. But then realizing that like that's not the answer. I can just spend my life trying to run away, and have these out of body experiences. For me, the true test is living life, being in my body, and like feeling, and really going into the pain. And like diving deep into the sensation going into my fears instead of running away or trying to covering it up with a Band-Aid, or breathing technique, or medicine, or what not.
Michaela: Yeah and I think a lot of us can feel with that. Because I know when I've had problems in my body, or in my business, I've wanted to get distracted. And I'll go on social media, or watch T.V., or all eat, or drink alcohol, or merry out of things humans get up to distract from our pain. And for me often when I love the pain, and listen to it, and hear whatever the message is, it just gets better and goes away you know.
Jeremy: Right it's like there's this quote by [inaudible] [15:45] who is one of my favorite is a stand-up comedian turned into a transformational speaker, and I just really love him. And he says, "What if the goal of life wasn't to feel happy is just to feel?" What if every emotion, or every drama, or trouble, or quote issue in your life wasn't there to be solved, or taking care of, it's just there to be. And there's a lesson that comes in every single one of those.
So when something comes our way, we try to push it aside not get back. It's like this feeling has a lesson to come and teach us. But if we're trying to cover it up, or just get through it, or smoke a cigarette, and get drunk, then whatever it's trying to teach us is just gonna go back, and then it's gonna stay there. Like when we suppress it, it's just buried deep in wherever it goes. I'm not so sure where it goes.
Michaela: Probably into our subconscious.
Jeremy: Our subconscious, that ether. Some people say we carry emotions in our body. I think there's partial truth to that. You know scientists who claims I know everything. But it definitely exists, and I've been asking myself when I feel an emotion, or even a strong headache, or anxiety, or fear. Instead of thinking how can I get out of this, how can I fix this, the question shifts to what is trying to emerge out of me, what's been buried deep in my psyche, what's trying to make its way out? And how can I just see it, love it, and get out of the way so I can emerge? And it's worked very well for me so far.
Michaela: That is a great question to ask. What is trying to emerge for me now from this situation from this particular disease?
Jeremy: Yeah, what would it take to let this emerge?
Michaela: Yeah, there you go. That's a great question there. Because I think these things are all messages from our intuition, from our bodies. And I have this mental image that I'm like a house, or a temple. And the diseases, or the pains are like little telegram mailman. Remember in the old days. (Maybe you haven't ever received a telegram.) But someone would rush up to your house with this telegram. And they're all excited to give it to you because it's like an urgent message; hopefully good news. But whatever it is, it's news. And what I do when I'm distracting, or covering my ears from the pain, or not looking at it is I am grabbing that telegram man or woman, and throwing him into the basement of my house before I can even read the telegram, and closing the door on it.
And now I've got a whole basement of my house filled with these telegram men and women. And they're kind of… Some of them have been there for decades, and they're getting a little smelly around the edges, and they're kind of pooping in the corners of my basement and you know maybe rattling on the pipes in Morse code trying to get me the message. But I just think it's an irritating noise in the heating system. But if I just open the door and love them and hear the message and in the [inaudible] [18:53] hand that they've held this telegram for 20 years with the message. You know and they open that up, I can read it, and then they can go on their way. And I don't have to get the pain anymore you know.
Jeremy: Yeah, I love that even to build on it. I feel like a person delivering the telegram is scary because we're never sure what the message is gonna be. But when we open up and say, "I", maybe this is huge scary, fat, muscular; whatever the guy looks like is intimidating. But if we can get over their fear, and realize that in the message that telegram has is beautiful piece of advice or lesson. I like to live by this mantra. "Everything is here to help". And so just embracing every situation, and knowing that there's gonna be a deeper lesson behind it somewhere.
Michaela: That's a good way to look. It's like constantly looking for the silver lining you know in the clouds. If everything's here to help, you kind of searching. You like doing a Google search from your mind. Like okay, here is this situation in my body or my business today. But how is it trying to help me? And seeing that aspects of it.
Jeremy: exactly
Michaela: It for me in the case of pains to my body, it's often… You know sometimes there's a spiritual message or a life message there. You know I need to change something, maybe I need to have a talk with a certain client or want to just how we work together. Or maybe it's a message for me to take some rest, and not try and do 27 things in the day. You know kind of dial it down a bit.
Jeremy: Exactly and just for listeners who are trying to figure out what's the message of this situation or this fight I had. Sometimes simple can be the most beautiful message possible. Sometimes a message is just like you said rest…
Michaela: yeah
Jeremy: … or take a break, or smile more. It's not like you need to look deep for this esoteric meal let's go through. Sometimes this is a mess it was like hey take a nap.
Michaela: Naps are great and they really help my intuition. I had another guest on the show a few months ago; Russell Smith. And he was getting some messages from his intuition. And he was living in China near that big port. And one day the port just blew up, and his whole apartment was basically destroyed. He nearly died along with his spouse. And it's because he's been getting messages to move out of Beijing and go to somewhere else. He's moved to the mountains of China where he now grows tea in the mountains.
But I think the thing with these messages is if we don't listen to them, they can come back even more painful, or more chronic. If I ignore the problem with my bookkeeping system and it's kind of you know, I distract from it and I don't deal with it, next time it comes back maybe it's an even bigger problem. So if I ignore the problems with my body, I get a worse disease. And I see that in other people. They get… they have small irritating things and then they come back more irritating adventure. The message gets so loud, they have to hit the reset button and just die and reincarnate but.
Jeremy: Yeah, sadly that happens. But I also see that and other situations as people living in their head, and their body has some say their heart wants something to say. Their body and heart wants to transform. They wanna evolve into something bigger, but they just ignore it. And kind of a good example, it's like you know those people who are in a relationship that it's not so good. They know they've gotta get out of it.
But for some reason, they're self-sabotaging themselves to keep them self in this relationship until it gets worse and worse and worse. And then eventually, the universe just kicks your ass and something happens. And then it's like, "Wow! I've been living a lie for the last 15 years", or whatever. And so it's like these get away or options like a little bit of discomfort now leaning into it in the change or ignore it and then build and build and build. And then all of a sudden, an avalanche will just come through. And who knows what will happen then.
Michaela: Right because relationships or business is there a growing an entity. You've got the two people in the relationship but you've got the relationship itself is also a growing entity. It's always changing every day. A relationship is not the same today as it was tomorrow. It's a different thing. It may only be slightly different, but over time it shifts, and the same with a business. My business is different today than it was yesterday and it's different from what it was ten years ago.
So and if I try and constrict it to stay the same and not let new growth come out of it, and go in the direction it needs to go, that's where trouble can arise, and I think that's one of the reasons. Have you ever noticed a lot of businesses only last a certain number of years? You know they… You know even big businesses, they may only last like 100 years. But small businesses often only last like 30 years if that. And it because someone there is not letting it evolve, and emerge in the direction it needs to go.
Jeremy: Yeah and a lot of time I see with entrepreneurs is at some point in their life, their business serve them. Is that I was calling a super exciting, and it made them a bunch of money. But all the sudden like they've outgrown their business and they're still believing in this old story. Like, "Oh, I'm just an e-commerce owner, or I don't wanna share my time for money, or I only do F.B.A. and that's it. I don't wanna do consulting." And their body, their heart wants to let grow into something bigger and sell their delegated into something bigger.
But they've still they're living in this past story of like aha, my business and if I let go of this that's scary to my old story that I've been telling myself. It's death to that story. And so maybe that kind of relates to what you're talking about. It's like then they lose the passion and they're not excited about it. So then it starts going down the drain. They start firing the wrong people, people start fighting, and all these things start to happen based on the fact that they're just holding on to something that is no longer fit for them.
Michaela: Right whereas if they just let whatever needed to emerge emerge; either that business would grow into something different that would make them happy and make more money and make their staff and customers happier, or it you know it's time to let that business go. It's very analogous to the relationship idea that people hold on to a dead relationship long after it's expired.
Jeremy: yeah definitely
Michaela: And then they wonder why they're not happy. So I know you went 18 days deliberately not eating food, and you weren't like chained up to stop you from eating. You were consciously… you were around other people who were eating food. So tell us why you chose to do this, and what it did for you man.
Jeremy: So after conventional and western medicine couldn't really help with the pain in my head, it basically allowed me this opportunity to explore holistic healing modalities. Lot of stuff from Chinese medicine, Vedic medicine in South America you know all over the world there's tons of stuff. We didn't have pills 200 years ago. People used natural plants and herbs. So this is kind of another one of these experiments that I've done. I've been to a lot of different healers and things that I've never even heard of or not sure why it works, or that it works, or how it works. And this was just a way for me to experiment, and try to see if it would help this nagging of mine. So it's this protocol called the 'Master Fast'. And I didn't just wake up one day say I'm gonna do it. This was a conscious decision.
I had a friend yeah and check my who did the fast and she had a lot of success with it. And she had also introduced me to a breathing technique which has been extremely instrumental. and helpful for my healing journey. So she had a lot of trust for myself. And yes, actually I did a five day water fast, I did a 3-day Apple fast, a 10-day papaya fast, or a papaya [inaudible] [27:12] to call it. And it basically I was getting stomach aches all the time as well. And my intuition was saying, "Hey, it's time for like a fast cleanse where you gotta mix it up." And I'm not talking about like eating Indian food and pizza and getting a stomach ache. I'm talking about I would have the papaya, and mango for breakfast. And then ten minutes later I would be on my bed with essential oil on my stomach like getting a massage from my girlfriend, rubbing my stomach.
Like it was bad. And at the time there's two wolves inside of my mouth, my psyche not my mouth. It's like the Native American parable. It's like there's two wolves. One is greedy; an ape, and the other has love and wants to grow. And the wolf survives is the one that you feed. So getting these stomach ache so my bed and then there's this voice they are you've fricking idiot, you have headaches and now you screwed up your diet. And my head hurts, and now my stomach hurts. My whole body screwed up I'm never going to get better. There's this other voice that's like, "Hey finally the head gets a break in the stomach can be the one who's go in your back".
I get excuse to lay down and relax in a new sense of pain, a new sensation in a different part of the body. And so after basically two months of just like getting a lot of stomach aches after eating like clean or healthy food, I knew it was time. So I did my research, I looked up a lot of resources more importantly what I think is most important is having success stories. Because to me, that helps like believe that it can actually work instead of just reading about it, talking to people, reading testimonials that people like went through it. They had their struggles, but it really helped them. And so yeah, I did this Master Fast challenge, and I kept of law on it was I think how you found out about it and…
Michaela: yeah
Jeremy: Yeah, I did 18 days without any food just drinking tea grape juice, and there's plasma putting. It's called lots of enemas, some think sure's, and there's a colonia, lots of breath work, and other tools mixed. And I'm really happy I did it. And it scared a lot of my friends and family and they reached out with a hey you gotta stop this, you're crazy. And I was like, "Thank you, but it's my body." So yeah, 18 days without food. It shattered a lot of my belief system about food, and nutrition, and energy.
And I'm honestly still integrating that, and figuring out the best way to eat food. But it really… I like to say like you said with the telegram delivers, right. So imagine I had all these people delivering telegrams throughout my life about food. Like hey you're binge eating, every time it stoned you eat all the Oreos. You know all these things whenever you get drunk, your emotions and you consume 4,000 calories after 2:00 am, and then you wake up to hate yourself, and all these messages.
And just been putting them in the basement, putting him in the basement. And I feel like doing this fast, I went down to the basement, turned on all the lights, and I was just like, "Holy shit! These people have been living in my basement for my entire life." And so now the struggle has been integrated back to real life. When I got upstairs, I'm like, "All right there's a shit ton of people in my basement that I need to get out of my life. And being okay with the fact that like they're not going to disappear overnight like one of the times going to embrace them, except them, love myself for who I am, and just love my life and love food instead of judging myself based on these past experience, and experiences, and behaviors.
Michaela: So I've got so many questions about this. Is so interesting. I mean first of all, what kind of beliefs did you have about food before you did this 18 days without eating?
Jeremy: It's hard to remember. You need 2,000 calories a day to live; the food pyramid. I knew the food pyramid was somewhat bullshit. But I was like I there's something there. You know balanced diet which means protein, carbs. I don't believe that sugar was the devil because I did ketogenic diet for a while. So I was like ah sugar is bad. I can't have too much of it. The belief that I needed to eat throughout the day, every two hours to keep the metabolism going.
Water; the fact I believe that I needed to consume what eight glasses of water, or whatever people recommend because a big part of this fast is dry fasting I did was 35 hours. And dry means no food, no liquid. Even intensely which I did is no contact with liquid; no washing hands, no shower. I did brush my teeth because I don't want people to have to do [inaudible] [31:51].
Michaela: I have a bit of a personal question here. During those [inaudible], did you still go to the bathroom?
Jeremy: Yeah, I peed a couple times. And it was very… it's very smelly. It's a strong fragrance, but that's when the kidneys are cleansing. I don't have the complete science to back this up. But I can say from experience that when you dry fast, one the spiritual experience is out of this world. And you can look at the Bible Jesus, Mohammad, even Moses. A lot of people have and the past prophets have had like the spiritual experience in the desert which is not the main reason I did it. But it's quite a nice bonus when I'm like looking at the trees, and I'm like wait I think mushrooms, or what's going on here? So that's one component.
But when you dry fast like your body you know, it turns completely inwards. It starts to like eat itself and then in that comes the healing. So a lot of times it's really a detoxing from the inside out, and then you can pee out things. I guess I missed out there because I haven't like read up on dry fasting to the point I'd like to work and I share. But there's tons of information online, and yeah, that's a big belief system. But also the biggest one that I'm still working with, and I don't wanna offend people. But it's just the fact that like we're all addicted to food. I was like I'm addicted to food. I can't speak for other people.
Michaela: I think 99.9999 percent of the people on the planet are addicted to food. Just how big the restaurant industry is man, and the supermarket industry, and the farming industry. You know who… By the way, the food pyramid was created by the farming industry in case you didn't know.
Jeremy: I'm pretty sure that most scientific data that we have about food is backed by the people who make money off of it which we're having to live with. And I heard like I felt this intense pain when I'm drinking grape juice all day for a couple bucks. And I'm thinking here like there's starving people all around the world. But you have this western society that's eating four meals a day, snacking, having these huge cocktail parties with food and crackers everywhere. And just a sad, but also a little hopeful realization that like there's plenty of resources to feed the entire planet.
Michaela: oh yeah
Jeremy: There's all these people stuck in the way trying to make money off of it. And that hurt, that hurts so much. My heart felt so much for the world and then to look in the mirror, and look at myself and wow and 25 years that was you. And there's just like I'm pointing the finger at myself, or putting one finger at other people, and putting three back at myself. And realizing that like it starts with me, and that was a big believe that I'm honestly still dealing with when I go out, and just look at how people treat food and how… Like for a practical situation. If you think about like right before you eat, the anticipation. You build it up, you're super excited.
Ah you smell it, and you wait at your table, and you order, oh is it gonna come couple more minutes? And then it comes, and it's like wow there it is. These onion rings, or salad, or grilled eggplant materiality sause, whatever it is. And just think about how that first bite is like so delicious, and you savor it, you appreciate it, and people are very present. But what about the tenth bite? By the tenth bite, most people are just like, "Oh so tell me more about last week". They're just like seven in their mouths which is completely okay.
I'm not here to try to change anybody, or judge because I do the same
thing. But just to be aware of that, and realize that like we enjoy the first bite after that it's just like. We become so… I don't really… I become like this animal. Just like [making sounds] [35:33] yum, yum, yum, yum, yum, yum, yum. And then I get to the point where I'm like, "Oh hey, I'm not hungry anymore. But I don't quite hate myself; how full I am." So many keep being a little bit more. You know eating to this point of like full. I'm so full that there's no more I can eat. Instead of like, "Hey, I'm actually pretty satisfied. So I'm gonna stop now because then I can still function as a human being. And it is that…
Michaela: I think listening to my body while I eat. And I had a conversation with Barbara Fernandez you may know. She used to do a lot of nutrition stuff in her previous business. And she recommended not talking while you eat. Don't talk with other people, pay attention to the food for every single bite, make it a meditative experience if you can. And do the talking separately because it's hard to pay attention to our body you know.
Jeremy: Yeah, that's right. I've actually… one of the things I've also explored in this healing journey is silent retreats. I've been on I think seven or eight different meditation retreats all silent from one day to ten. And yeah, it's like you're super mindful which each bite you're like you can appreciate the food, you notice how many ingredients go into each food. It's like if you were to sit down at your next meal, and really count how many ingredients go into that, and think about how many people touched those ingredients. And like grew them, or picked them, or some of the store. It's like there's so many different things to be grateful for.
Michael: There are, and so good practice to do before a meal to like bless the food and bless all the people and animals and plants who sacrificed themselves, or were sacrificed by other people usually. It's not… Plants suddenly said, Oh yeah, let me cut off my fruit for you." Some human came along and pull that off, but I can still be grateful for that.
Jeremy: And for listeners who are like, "Oh silence is scary, that's stupid. I wanna be social and talk to my family." That's completely fine. A compromise that I really like that I got from 'Kicked Out Hot', Vietnamese and Master is he suggested talk only about food. So talk about how delicious the food that you're eating. Talk about, "Hey, how are the mashed potatoes? Are they good? It had some salt on it, is delicious." Because then at least you're talking about the present things that's going on.
Michaela: Here's the other thing I've learned from more conscious eating and fasting. Is that when I have that… You know sometimes you have an extra potato chips or some other food and often it's only one aspect of that. Maybe I just need more salt, and it wasn't a potato chips at all. I just needed a little a few grains of salt and I'd been fine, or whatever the thing is so.
Jeremy: Ding, ding, ding. Yeah, exactly your body craves something, and then the mind takes control. One of my friend said every time he craves sugar, he is really just thirsty. And he drinks a glass of water, and the craving goes away.
Michaela: Oh that if there's nothing else you get from this conversation, if you're feeling shitty; whether it's feeling hungry, or feeling sad, or whatever drink a bunch of water until you have to go pee. You know 50 percent of the time that will solve the issue. And another 30 percent of the time taking a nap will solve the issue.
Jeremy: What about the other 20 percent?
Michaela: That's where you have to use what would it take.
Jeremy: What would it take to make this 20 percent the best?
Michaela: There you go. But really we are chronically dehydrated as a society. You know if the pee is coming out, not every few asking if it is, it's dark and not like color; you probably dehydrated
Jeremy: And honestly, I'm experimenting with this myself because I used to be especially everyone's like oh you have headaches or dehydrate or drink more water. So for a year and a half I was just chugging water nonstop. Drinking a lot of soda water even herbal teas, but since this massive fast. I've been drinking less water. I've been feeling better. But I'm still getting hydrated because I'm still eating a ton of fruit.
And I love it because food has that it's naturally filtered through the trees. And so this is like a healthy way of getting water instead of drinking some of the water coming to the tap or at the store which sometimes isn't healthy is who knows what's in that. But I notice my body rejecting some of the water at seven eleven here in Thailand. Not that I'm like getting sick, but I feel like I there's something not so natural in here.
Michaela: Oh if you go into if you go into studies of bottled water, they've kind of done these measurements of the chemicals in bottled water. Some bottled water has a shitload of chemicals in it. You know from the plastic in a bottle being in the sunlight, and it leached into the water, or other issues. So there's a wide variation between waters. I mean personally I just buy a water filter, and filter the tap water. That seems to give pretty good results.
Jeremy: Nice and again I would also [crosstalk] [40:42]. Sorry, just wanna make a disclaimer.
Michaela: yeah
Jeremy: One of the stuff… it's scary especially when people are like, "Oh what do you mean? Don't drink water only through like that's crazy." It's like it's okay. I'm not saying you have to believe anything we say. My advice is trust your body, listen to your body, your body knows best. The body wants to live, it wants to thrive, it wants to grow, it wants to heal. And so even if your body says, "Don't listen to me." Listen to the body.
Michaela: Absolutely listen to your own body, your own intuition in all of this stuff. And I would say from a medical point of view. My research has said, 30 days not eating food doesn't cause any health problems. People don't start having health challenges to about 50, or 60 days of not eating food. That's when people on hunger strike start having kidney failure, and other issues. But 30 days is no problem for any human being to go without food, or certainly no question human being is being on a good diet. I guess if you're already starving it might be an issue, but.
Jeremy: That's what the research says, and the findings. But this master fast, they suggest starting with 108 days.
Michael: wow!
Jeremy: That is like the benchmark. Like I did 18, and then I stopped. And everyone's saying, "Like hey you didn't give it a long enough shot to really hear the headaches." And so, I'm living under…
Michaela: 108 days!
Jeremy: Yeah, I'm like talking to my friends having two weeks. Like are you crazy? And then in the master fast Facebook group I'm like day 18, and people are like day 75 finally getting down to those you know and all the parasites are coming out. And it's just a show like my belief system just cracked.
Michaela: But just be clear that the master fast crinkling was you… What do you call it; plasma plum something?
Jeremy: Yeah, plasma pudding.
Michaela: pudding
Jeremy: That's what it called. It's grape juice, psyllium husk, activated charcoal, and bentonite clay.
Michaela: okay
Jeremy: And then it turns into pudding when you when you let it sit.
Michaela: Right, sounds yummylicious.
Jeremy: Yeah, right. It actually it's quite delicious. And really helps clear about…
Michaela: So you have some nutrients coming in is what I'm saying.
Jeremy: Yeah, you're consuming maybe 1,000 calories a day through the grape juice.
Michaela: okay
Jeremy: But then it's… I don't know. The science is definitely has not been figured out. Like and I asked in a group. And it's like how would they make money if they were to prove that they can live off just grape juice. Like what is the restaurant industry gonna do when people are like, "Oh I don't need McDonald's, or fast food, or any pizza. I can just drink juice all day." And so that I see why the media wants to shut this down, and it's scary for nutritional science these days.
But I'm determined to like continue researching, and exploring, and figuring out what works best for me. I don't feel like it's my calling to share on the world and tell everybody to start changing their eating habits. But for me personally I know there's something there. So I'm willing to continue making lifestyle changes, and exploring that.
Michaela: Well yeah, I mean listen to your own body, and notice how your body is feeling when you eat things or don't eat things. I mean I notice when I eat different food, sometimes I feel good after, sometimes I need to take a serious nap after eating certain foods so.
Jeremy: Yeah, that's been a sad thing for me as I've gone back to it in the last two, three weeks is realizing that food which in my own belief I thought was supposed to give me energy. And then facing the reality that a lot of the things I'm eating makes me more tired. Like I eat it, and then I feel good for 20 minutes, and I wanna lay down versus you know drinking reducer in fruits, and you feel light, and then you have more energy.
Michaela: yeah
Jeremy: And it's been hard if I don't let go a lot of these food cravings, and addictions of things that I thought were good for me. But really they're just holding me back. Well I mean I fast one day a week, and I've done that for about five years. And I often… Some fast days I'm fasting for 24 to 36 hours, and I'm drinking water and tea when I do that. But no food. And when I first did it, I often get detox reaction on my body took the opportunity to get lunch toxins out. I felt like I was coming down with a cold or whatever. But really it was just toxins coming out. But now I actually feel full of energy often and I'll get more worked done on that first day than I do on eating days. Because what you're saying that eating often is an energy drain.
Jeremy: Right, there's two things that brings up one. Is it's really tough to decipher what is a detox symptom, and what is reaction of like things are getting worse. And I'm not sure what the differences. Maybe the intuition is best. But for me telling myself every time I feel pain, it's like this is a detox. My body is healing. Instead of saying, "This is getting worse." Subtle change like it's made a huge difference for me. And the second thing I think the biggest aspect of the fast is just simply a belief.
Like maybe the first couple times you did a fast; at least for myself, it's like oh I'll keep the day open. I don't wanna plan anything. Now I plan the most of my fast days because I'm like I'm gonna have abundant energy. I'm planning for success. I have this belief that I wanna have more energy instead of setting myself up to have a lazy day in bed. I'm going out, I'm scheduling coaching calls, I'm doing my emails, creating something, performing, singing; whatever. And for me that stems from the belief that like I know that I can do this.
Michaela: Yeah, well and I think everyone listening does fast every single night. You know for how many as you go. Now some people fast for 12 hours every night. They eat dinner at like 6:00 pm, and then after whenever they you know 7:00 am. That's 13 hours actually if you did that, right? And that's why we call it breakfast, right? Breakfast is breaking the fast from the night. So everyone listening does do a bit of fasting. And that's why sleep… One of the… I think sleep is rejuvenating for many reasons. But one of the reasons is we're just not eating for 12 hours.
Jeremy: yeah exactly
Michaela: And the body has a chance to repair things you know so. And I've done quite a lot of fasting myself. And I think that's helped with my intuition, and hearing things better. I haven't done 18 days, but I've done ten days of juice fasting. And I also did a vision quest where I did three nights, and four days of dry fast. So no food, no drink, so.
Jeremy: Yeah, what was that like?
Michaela: It was pretty fucking intense men. Because like how we gonna get a possible… You know when I get a dry mouth, when I get hungry, when I get really thirsty. What if I get sick? But we were in a group of about 50 people in the mountains of Bolivia. It was like a Native American kind of mission quests kind of thing. And we cut down the street and planted in a circle in the middle, and kind of danced around it to native music.
You know every hour, we danced like 20 or 30 minutes, and then you rest. And everyday, we sun gazed in the dawn, and dusk. So that means looking at the sun for a few minutes while it's low in the sky, and it's not painful to take in the [inaudible] [47:59] from the so. And that helps too because I'm curious. Do you… when you did this fast, did you find you were taking in other ways than the food?
Jeremy: Yeah absolutely. I was doing a lot of breath work. It's called the [inaudible] method. It's [inaudible] founded by a Russian scientist also surprisingly. And the most gave me so much energy. They still do. And I don't know why, but it's like I have a horrible headache, put a bunch of water on my butt, meditate, flush it out, and then I'm like pumped out. It's like taking an espresso shot. There's something going on there and…
Michaela: You didn't take the espresso shot in the am right.
Jeremy: No, but I put a lot of other things like that way. I did coffee for a while. Green coffee, grape juice, some of the tinctures, tea. If it is always it's filtered and super clean and some people may disagree with this. But from my experience if it's… So it's not poisonous it's ending up going in the same place it's your body's accepting it. It's just you don't have the filtering going on. It's not going to the colon and the kidneys. So it can be very dangerous if there's something that's you know toxic. But as long as it's extremely clean, I've found no problem. Baking soda; another one that can help with diarrhea. So it is a business podcast where we talk about.
Michaela: It is a business podcast. But I think we have open minds. I mean there's a lot of things that get held in the intestines. I've done a whole kind of [what's it called?] Colonic irrigation where I guess that's a more advanced enema saying well that's a machine that slowly lets the water it warm water in, and there's a way for the stuff to come out.
Jeremy: Yeah, those are great and highly recommended for people fasting. It's a good way to flush out the system. And people massaging in their stomach.
Michaela: Yeah, in Thailand you'll get people rubbing coconut oil on your tummy, and massaging the intestines to release the stuff. But if you haven't thought of that… Some people think the intestine is just like a tube. It's not a tube. It's like crinkly thing that's got at least crevices, and nooks, and crannies in. And because it's got the blood test and has to reabsorb all the water from the food before it comes out. I mean I don't wanna gross people out too much. But if you've ever seen vomit it's a pretty liquid state in the stomach when you first eat food. And by the time the stuff comes out the other end, it's usually pretty solid, or hopefully it is. So there's some reabsorption of all the nutrients. But with all those crevices in the intestine, stuff can stay in there for decades. So and does.
Jeremy: yeah
Michaela: So I think they're doing something to clean that out can release a lot of toxins from your body which by sea could affect your headaches if that related to toxins in your blood system.
Jeremy: And so [inaudible] [51:05]
Michaela: And here's the other thing with the whole tommy and intestines. There are a lot of neurons in the intestines. I think there are actually more neurotransmitters in the intestines and there are in the brain which is why if you've ever seen the anti-depression pills, those that Zoloft, and all that. If you read the small print, they say this may cause problems with your digestion. And the reason is you've got all these neurotransmitters in your intestines. So the same drug that tries to affect your brain is also affecting your intestines. So we have a second… in fact we have a brain down there in our intestines.
Jeremy: So, it's one of them like appetite suppressants. Like I've taken a couple antidepressants and Adderall for a while. I just remember I wasn't hungry at all.
Michaela: Yeah because it probably shifted the neurons in your intestines. I mean you know how if someone gets punched in the stomach, it cannot come out. If they get hit in the solar plexus that can actually knock a boxer out. That's because they've got a brain down there. When we say we have gut feelings, we literally do have intelligence down out there. So that's why the idea of looking at food consciously, and fasting can affect so many things in our intuition, and our consciousness.
Jeremy: Yeah just to bring that back to people who are like, "I hear you guys, but you're talking about crazy stuff and whatever." There are so many more practical benefits of fasting. If people enter men fast, I notice I had laser focus. When I was on this fast like I'm waking up. Even if it's nothing intense. Even if I'm like I I'm eating breakfast from seven to eight but then I'm in a fast from eight to 12. It's like in those windows where I know I'm not eating. So it's easier to focus where if I'm not committed all the sudden I can go, "Aha I could go for some chips right now. Oh should I make another tea?"
And for me I notice I was able to work so much more sharply and to have that laser focus. And also if you can't trust yourself that you can go without food for a long period of time, you don't make these excuses. Like, "Oh it's one o'clock and I'm getting hungry, so I can't keep working." It's like no, relax, everyone's going to be okay, and just trusting that you can continue working and this are going to be a hindrance.
Michaela: Well I know one entrepreneur. In the evening, he doesn't eat breakfast or lunch. He just eats dinner. And he said he does the most focused work during the day with his mind isn't foggy from eating food. So many ways to take this. So I'm curious you said you still had family meals when you were fasting. Is we still eating with other people? I mean you weren't eating, but you were at a social event where other people were eating.
Jeremy: Yeah, I'm a couple so the hardest one was probably my brother Nate who was on the podcast a couple months ago.
Michaela: yeah
Jeremy: And one of his employees made a dish. She's from Ukraine. And she says she like, "It's not amazing." And like I wanted to go and be a part of it. And one of the huge emotions that came up during this fast is like eating is such a social thing. I felt this loneliness. I felt this exile anxiety. Like, "Wow! I'm not accepting any marks. I'm not going out to cafes, and eating with people." So it's really challenging essentially like just smelling all the food. Is just like so tempting. And like luckily, I was super committed. I was with my girlfriend who was also doing the fast. But it basically put me in a situation.
I was just like suffering every single moment. I was just like, "I know this food isn't good for me. I know I'm not gonna eat it." But it was just like putting myself through how, and at the same time all the other people are eating, and just like no big deal. There's like aha food, so good. And I'll sit there on the side. Like, "Wow! Why did I come here?" And there was only one time and I was like couple days into the fast. But after that, I ended up like going to certain cafes, and stuff. And the cravings just kind of completely went away.
And I didn't like purposely want to put myself in environments like everybody is eating. But I was able to be in social situations where there was food around, and it's just a choice. And the mind game that I was playing, it's just like hey I could eat that, but I know that's not gonna make me feel good. It's like only this mind that creates this craving that's like oh this is gonna make me feel better. It's gonna give me more energy.
But because I've been dealing with these headaches for so long even if I had a headache I'm like all of a popcorn, maybe you'll make me feel good for ten seconds, but the headache is not going to get any better. So for me, it was just having a slight firm commitment and like dedicating myself to this fast and being completely discipline. And reminding myself that these cravings are just you know, they're coming and going. It's just like a thought this too shall pass.
Michaela: Yeah well and I find when I first started fasting, I did find being around other people eating was challenging. Now I don't find it a problem. I mean I can appreciate the food, and the smell, and other people enjoying it. I don't need to eat it. I mean it's the same. I gave up drinking alcohol like 11 years ago, and I can socialize with other people drinking alcohol. I don't have I don't have the urge anymore to drink alcohol. Whereas when I first gave it up, I did so.
Jeremy: Yeah, it's another game we talked about smell. At first it was like I smell it, and the instant thought again like we talked about before. It's oh what can't I do? What's the pain? So it's like, "Oh! Those cookies not so good. I can't eat them." Instead of just saying, "Wow! Those cookies smells so good." And just appreciating the smell. Like, "Wow! What a blessing it is to smell chocolate, and vanilla, and sugar, and just appreciate that smell instead of feeling like I'm suffering so much just see it for what it is, or smell it for what it is.
Michaela: Well and you're getting two out of the three senses there. You're seeing the food, you're smelling it, you just not tasting it. And to be honest, I find with food the smell is far more important the taste. I don't if you've ever eaten when you had a bad cold and you couldn't smell. Food doesn't taste you know, it doesn't taste as good. The smell is 90 percent of the joy in the mouth for me. I mean there is the texture thing, and the bit of tastes thing. But really smell is the key and [inaudible] [57:27].
Jeremy: Nice if you start playing around with that like smelling one food…
Michaela: yes
Jeremy: … and eating another
Michaela: What I have done is I do… This is when I was in grade school. We did a thing where we were blindfolded, and we had our noses clipped. And then we had different… we all brought in it was like a show and tell. It was a taste and tell. And was so you bring in like a cube of cheese, or a cube of onion, or a cube of garlic, or a cube of bread, or different things that basically were moderately similar in texture. And then we try eating them, and see if we could identify what they were. And we fucking couldn't. It's like you munching down on this onion. Is it onion or is it apple, right?
We're only basically seems the same to me. But when you open your nose again, "You're like Whoa! I just ate an onion." Yeah, it's more complicated. But it's interesting that the you know, sometimes in social situations other people might be concerned when we do things that are little different. And that's often the same for when we first become entrepreneurs. I don't know if you had this when you became an entrepreneur that some people in your family are like, "Oh why don't you get a real job, why don't you get something secure?"
Jeremy: It definitely did. People just get a little bit uncomfortable because they're not sure. It's like you're stepping outside of their idea of what's available to them. And sometimes, they can be scary because it threatens their decisions. If you're doing something different, if they have made it that's the right thing, and that's basically telling themself that what they're doing is not right.
Michaela: Well and if I'm not confident in my choice… in my entrepreneurial journey, or my fasting journey, or whatever it is, hearing those things echoes back a beliefs I have in my own mind. That hey, this is a dangerous thing whatever instead of looking at the pulse of aspects.
Jeremy: Right and I haven't taken a step further or so I know I'm an entrepreneur. But I've been doing a lot of digital detoxes, and like going offline. And then entrepreneurs are like hey that's crazy. You're missing out on sales. You're not working hard enough. And again this is just like stepping into the unknown and embracing this idea of nonconformity and just doing whatever works best for you. Because I realize that when I take a couple days off line, or I just want a 5-day yoga retreat; no Wi-Fi, no electronics at all. When I get back into it, I have so much more enthusiasm, so much more energy and excitement.
And so that's why I challenge people out there just like experiment, take risks and don't feel like it is you do what everyone else is doing because life begins outside of your comfort zone, and that's where the magic can be found.
Michaela: I absolutely I mean I do seven to ten day yoga retreat without e-mail twice a year. I just came back from one. And I tell my clients, "Hey I'm going on this retreat." It's not like that I disappear so that I know I'm not there. And I don't schedule calls during that time. But it's all fine. You know I mean? So I know you're doing additional detox retreat in Brazil in a few months. That's a four, or five day retreat or?
Jeremy: Yeah, so it's February 22nd to 26th. If you wanna come hang out, it's in the beautiful mountains; three hours outside of Rio. We've got indoor rock climbing wall, a natural cold spring, a pool gonna be doing yoga, some meditation. We're gonna have some speakers sessions, fireside masterminds. It's gonna be a blast, and it's to give me a chance for innovators entrepreneurs people working in tech who feel like they know they need a break. But they kind of feel like they have this phone and they're not sure oh if I go offline for a week what am I gonna do. So we're bringing people together so we can hang out, grow, have fun, talk business, talk life. All in an environment we're not distracted by our phones and Wi-Fi.
Michaela: Wow! Sounds amazing and we'll put a link to that in the show notes. I think it's digital detox can dot camp. I guess that's one of those new extensions. Instead of dot com, it's dot camp.
Jeremy: Yeah, so anyone has any questions to really you know feel free to reach out and I can chat, see if it's a good fit. I don't know where these listeners are coming from. But you do need a visa for Brazil. So if you're interested, start applying for the visa. So we'd love to have you, and also we're gonna do some [inaudible] [1:01:58] off breathing, and a lot of deep stuff. It's basically just gonna be like a business conference needs like camp plus like using your intuition and connecting with nature, and yourself, and other people. So, I'm super excited, and…
Michaela: So I know you have another call you're going to. But before we go, why are you proud to use your business intuition, Jeremy?
Jeremy: That's a good question. Let me ask my intuition. Because I feel like it really brings out the best version of myself. And it allows me to run a business from my heart rather than my head. And the implications of that are serving the world first, and doing what's best for my client, for my team, for myself, and for the world. Instead of just trying to make a bunch of money.
Michael: That is beautiful. I mean that's pretty similar to what would it take for evolution where people use their access their intuition openly in their business. They're gonna be make more money, be happy, be less stressed. And also I think everyone in business use their intuition, we'd have less dumb ass decisions that hurt other people on the planet, so.
Jeremy: amen!
Michaela: Yeah, so what would it take to make business intuition more openly used this year?
Jeremy: Well I feel I could plug my coaching services. But I don't really wanna be to some promotional right now. But if so it…
Michaela: We'll plug those in the show notes for you.
Jeremy: Yeah well we're working with a coach helps having accountability. So I know that's what you do as well, and I help people do that as well. But I think also it's finding other like-minded businesses to surround yourself with that run from the heart. If you are surrounded by people that are just chasing the next niche, or trying to figure out how crypto is working, and they're just chasing the money that's fine; that works for a lot of people.
But I feel like in order to raise consciousness, and build businesses from the heart it takes a collective, it takes a community, and it takes support and having people around you that are gonna really bring you up. And instead of asking, "Aha, how much money is that gonna make you?" Ask, "Aha how is it gonna make you feel?" Is that what your heart wants, or is that what your wallet wants? And just asking these reflective questions, and surround yourself with people who have the same goals and values as you.
Michaela: Great! Well it's being fabulous talking with you. If people wanna find you online, what are the best ways to do that?
Jeremy: Jeremy Ginsburg on YouTube, or I have a blog. I put on my music there. Instagram @Jeremy Ginsburg as well. My website is on a day, but hopefully I'll do that. But you can be creative, and find me. I'm pretty accessible. But before we get off, I just wanna honor you and just say that you're fucking awesome, and I really love what you do with this podcast. And for spending all this time. And I don't even know if you make money off of this. Just like putting yourself out there and really helping the world, and having conversation like this. I just think it's a beautiful way to help people, and give back, and teach others to step into their power. So thank you for inviting me, and thank you for just having the show.
Michaela: Well thanks. I feel warm in my heart you saying that. Currently, I don't make a lot of money from it by I do put a lot of time and energy into it because I think it's important shift that needs to happen in the world. And it's certainly helped me to use my intuition in my business. So I like to help other people too. If you wanna find all those links, and the transcript from this episode, you can find it at the intuitiveleadershipmatery.com website where you can find all the back episodes as well. So thanks for coming on the show, Jeremy.
Jeremy: Thanks for having me, much love, and see you in Brazil maybe.
Michaela: I ended the recording tha.t I would have answered on air actually. I … my father is coming to visit me.
Jeremy: Yeah, I know you're not coming. Thank you I know we got calls. Yeah much less.
Michaela: Yeah, and maybe we can do another conversation another time. Talk about some of the other things, and get that song to go in there.
Jeremy: Oh yeah, sure whatever. Thank you so much. Hope this was good for you and…
Michaela: It was fabulous. It was great conversation. A lot of interesting thoughts there, man.
Jeremy: Cool, all right. Have a [inaudible] [1:06:29] happy Tuesday.
Michaela: Bye you too.