Niki Coate talks about "The New Earth (More Entrepreneurial Profits, Growth and Joy)" in this episode of Intuitive Leadership Mastery with host Michaela Light.
"We're going to be talking about the New Earth and entrepreneurial growth and joy, how you might be missing out on getting your business to grow more easily and to be more healthy and happier."

Show notes
Why is the New Earth so important now?
Unprecedented time on earth… new consciousness. Covid times. 

Remove blocks to your aligned life 

Old paradigm: Suffering and struggle and super long hours
How can this help your business make more profits and joy?
Especially female entrepreneurs

Align with your truth, Clear out blocks to creating the life you want

Live the life you deeply desire and own the business you really soul desire
What exactly is the New Earth?
Vibration of Love and Joy

Indigenous traditions and new age – time of harmony 

Long cycles – move into a new age

2012 mayan age, age of aquious, yogi new age 

Evidence that the New Earth exists

New Earth = New human

Dark night of the soul

Shining light on our limits/blocks

A purge of our limiting smaller selfs 

Birthing pains

Awareness is first step 

New perspective, reframes

See the change as an opportunity for growth and joy

See universe/god as remind us we are all Love

I created these challenges/pains for my own awaking of consciousness.

Gradate, openness, curiosity 

Not label

News negativity and judgments – upholding separation and supporting the establishment system

Media diet and conscious selection of sources and media

Resistance to the New Earth

Drugs

Distractions 

Ignoring the change

Cold Depression – numbing

Overlay of 3d

Internal perspective 

In parallel to Old Earth

How does this compare to Eckhart Tolle's book A New Earth: Awakening to Your Life's Purpose?

Practices to be in the Now

Not so much about what it is and why do it
Tell us a little about yourself and how you ended up in Cusco, Peru
How founded Healing House

Didn't have a vision, big life change/rug pull

Intuitive Message "go south" (Central or South America)

Trail of breadcrumbs – not upfront big vision
What do you recommend for dealing with people who don't understand these concepts, especially when they are people you care deeply about (family members, old friends)?
Only thing you control is your own inner vibration and inner life

Your frequency can either help others around you ascend and evolve or leave

You may not be aware of their inner shifts

The practices don't require to believe in god or new earth or new age

Kindness – presence and attitude shift and act

Gratitude 

Smile
Will all humans "move" to the New Earth? 
Where will the others go?

Is available as an option to everyone – if they chose it

Limited role earning 
What do you recommend for incorporating these concepts strategically into your life and business?
What about specific tactics/action steps?

What are the biggest mistakes people make?

Reminders of my ideal life and affirmations 

Micro Rituals – programmed act – that gets you into your desired frequency – NLP anchoring 

Community with people with others of shared vision
If you had to sum up everything we have talked about, what one thing would you like people to take away from this podcast?
Micro practices

Rest

Nature time

Sleep

Movement eg dance, yoga

Breath 

Smiling

Chose the life you want to create in this moment
Podcast: Play in new window | Download (Duration: 1:12:19 — 66.2MB) | Embed
Subscribe: RSS
Mentioned in this episode
Bio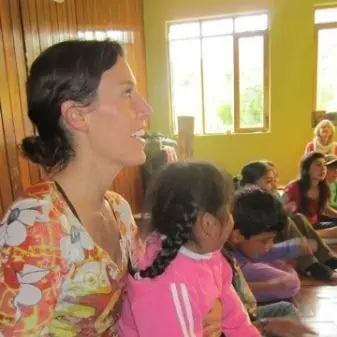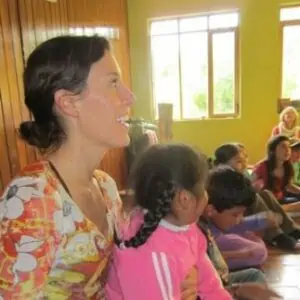 Niki is the Pachānanda School and Retreat Center and Healing House, founder. Her mission is to help you explore your creative energy and develop a fulfilling life for yourself. Niki is a certified Yoga Teacher and Reiki Master who believes in a well-rounded and creative approach to healing and spiritual growth. She helps facilitate the different levels of your experience by offering a blend of Yoga, Reiki, Meditation, and creative exercises specifically catered to your particular needs.
Niki`s unique style of energy work draws upon her background in writing and the study of literature and philosophy, as well as her work as a singer-songwriter. 
In addition to her experience as a Reiki Master, Niki is a student and teacher of philosophy and literature, as well as a Yoga Teacher Training Lead Teacher, Sacred Dance Teacher, and energy medicine teacher/practitioner.  
Links
Interview transcript
Michaela Light 0:00
Welcome back to the show. I'm here with Nicky cote from Petra Nanda and her in the house in Cusco, Peru. And we're going to be talking about the New Earth and entrepreneurial growth and joy, how you might be missing out on getting your business to grow more easily and to be more healthy and happier. Welcome, Nikki.
Niki Coate 0:22
Hi, thanks for Kayla, thank you for inviting me to the show. Yeah,
Michaela Light 0:27
excited to have you on here and to help all the entrepreneurs listening now they can understand this kind of unusual concept they may not have come across before so and how practically it could help them in their life and their business. For those of you who don't know, Nikki, she's the founder of the patch Ananda school and retreat center and healing house in Cusco, Peru. She's originally from I believe, Illinois, in the United States. Yeah. And she's a Reiki Master and a yoga teacher and a dance instructor and does all kinds of creative and spiritual things. She also does energy healing. And she has been studying, you know, personal growth and philosophy and healing for many days. In her copious spare time. She is a singer and songwriter. So, welcome. Thank you. So I, yeah. So I think we should start with a question that may be on some of the listener's minds is like, why is this newer thing so important right now.
Niki Coate 1:32
Right now we're undergoing an unprecedented evolutionary leap on the planet. And the more that we can tune into it and consciously choose it, the more we can get on the train with it. So for both our lives and our businesses, it's a really key piece to be understanding the shift in energy in order to empower ourselves and create the lives that we're looking for.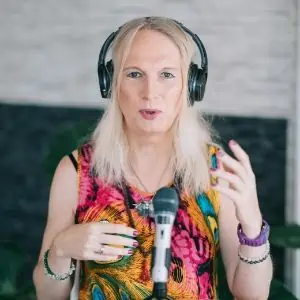 Hi, I am Michaela Light, author of "Intuitive Leadership Mastery" and "What Would It Take?". I help CEOs dramatically increase their business intuition so that they can grow their biz faster with less stress. And not burn out with even more work hours. In a 1,000 member international entrepreneur community, I am known as Ms. What Would It Take. It has been 15 years since I stopped only using my logical brain to run my businesses and stepped up my intuition to help me make faster and better decisions. I have helped thousands of CEOs reach their goals 4x faster than before. Here is what  one of them had to say: "I'm working on things that are more fun, more exciting and more enriching for me...from a personal perspective, but also from a career standpoint. And I have to say, this is surprising for me because 2016 will mark the ninth year of me running my business. I was actually looking to exit my business and to try something completely new, different and more exciting. But after working with Michaela for the past three+ months, I realized that I didn't have the right framework to reach my goals." - Dustin Overbeck, CEO of TownWeb