You can listen to the podcast and read the show notes here.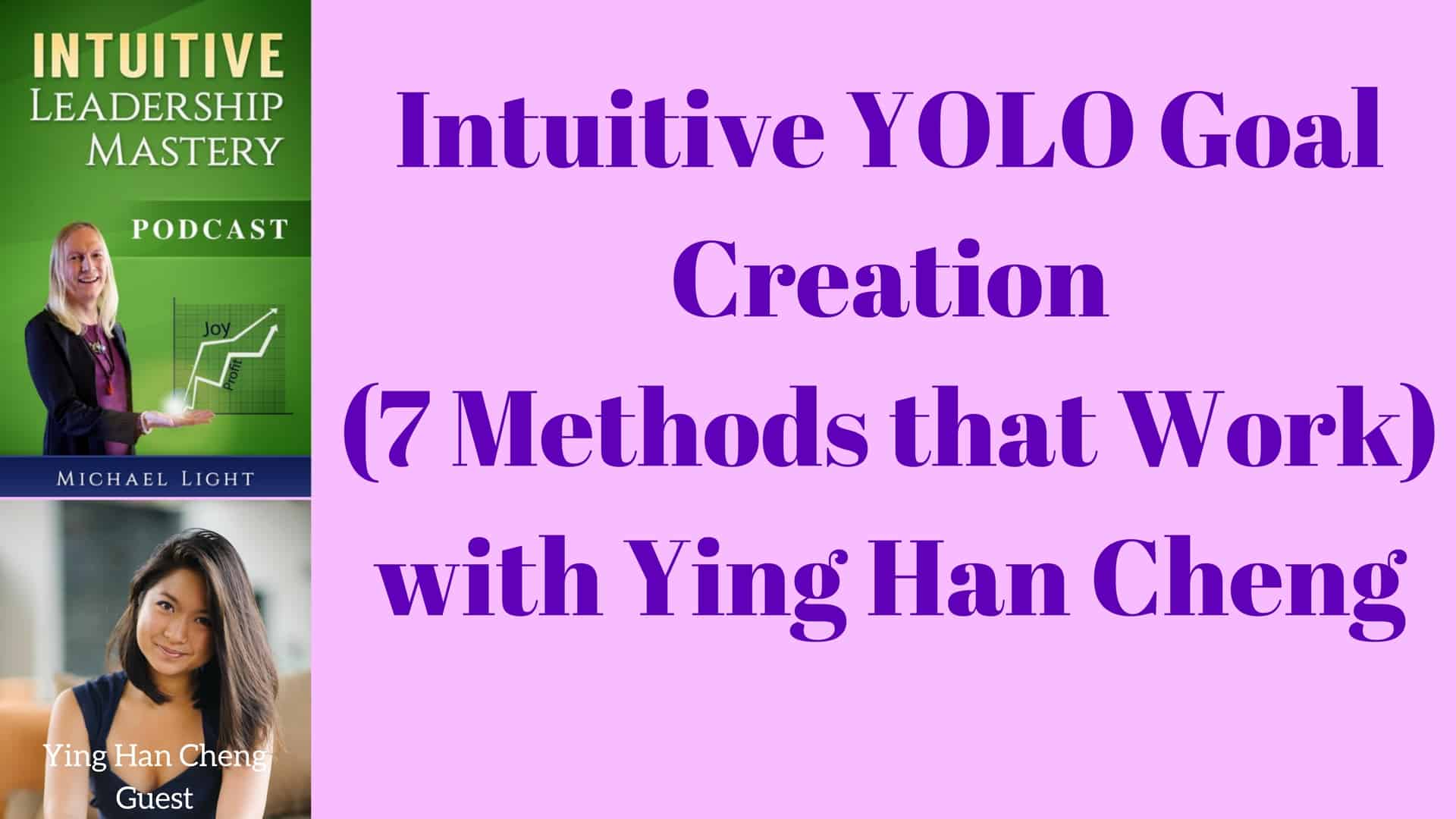 Michael:          Welcome back to the show. I'm here with Ying Han Cheng; bestselling author of 'Your Yellow Lifestyle', and we're gonna talk about how she creates goals using her intuition and seven methods that she has to do that. And we'll look at how you can tell if you're ready feel goal by testing your body. And some ways she creates her YOLO goals. YOLO stands for – You Only Live Once, in case you didn't know that. And we'll look at some transformation… whoo! There's the book, yea! For those of us joining on video. That's clever of you to have that there. And we'll look at some questions you can ask yourself that will help transform. And we'll also look at some of the pitfalls of intuition. And if we have time, we'll talk about how she took a trip to Peru in order to cure a terrible health illness that she had, and what she learned about herself there. So welcome Ying Han.
Ying:               I'm very honored to be here for the third time. Always a pleasure to connect with all of you guys, and wow! Like what a journey it's been.
Michael:          Yeah! So how can people listening know if they're ready they are for a goal they have? Maybe they have a big business go they want to achieve. But how would they know if they're actually ready? Is there a secret their body could tell them?
Ying:               So one of the things that I talk about in my only live one's life in business innovations book, and also just like in my programs in general is about how you can actually connect with your true goal. One of the first strategies that we talk about a lot is about connecting with your goal behind your goal. So a lot of times like what I find that it's a big challenge for people is that they have this huge goal, and then when they get it, actually if it's like a promotion, or a pay rise, or a trip, or like meeting their ideal girlfriend and just like wanting to get married. And like when they get to the other side of it, sometimes they're just like, "Aha! Like what? Like it doesn't feel as you see as they thought it was going to be.
And so, in order for us to kind of know, and a lot of times because we went for the wrong goal or rather there's a goal behind the goal that we don't really know about, and that we didn't know that was well important to us. So one of the things that I teach a lot and talk about a lot is about how to find that goal behind the goal. And the best way to do that actually is to actually connect to yourself. And that sounds really woo, woo. That sound like, woo, like what am I connecting to? Like what part of myself am I connecting to? And that's a lot about what you talk about Michael. It's like connecting to [inaudible] [02:56] which is about like your intuition, right. You're connecting not only spiritually to your goal, you're connecting physically to your goal, you're emotionally connecting to your goal. And you're also intellectually and mentally connecting to your goal.
And that's really giving you a holistic experience of what your goal is. And I don't think about goals as something that is the end point and you only focus on it completely. I also think about it as a process. So the experience of your desired outcome is usually called the goal. Determines, like how pleasurable this goal really is and this desired outcome really is. So there's a few ways, and every one of those things that I listed has different techniques to do that. So at the end of the call, we'll talk about how you can get there through your emotions. And that's like creating the states that you can get there in. The other way is using your creativity to get there, so visually getting your goal, and infusing that emotion within you. Physically, you can check in with your body whether or not your body is ready is to embark on this big desire.
You know whether it is something that's out of your mind. Like I read somewhere. I was reading my senior year book today. I was like on my bed and I'm like opened it. And I read somewhere where people were just saying like to my other friends. Like they were like good luck on that filmmaking journey of being a highly a lawyer. So, I was thinking like there are things and they're goals in your life where I like the essence of it could be something different than the physical form. And a way to connect with your goal. I know which is kind of like why we're talking about this is to check in with your body right now. Like if this goal is still true for you because a lot of goals are also outdated. Might be something…
Michael:          So how could we do that? If someone was listening, they have a goal they want to check if it's really true for them, what they do?
Ying:               Yeah so if you know how to hear I yes or no within yourself intuitively, like I think that's one way to do it. Another way to do it that I've recently been sharing and experiencing is through muscle testing. That's something that is has to do with the weakness in your muscles when something is untrue. So your muscles are made out of… I guess cells and then it connects to each other by like little electrical impulses. And so and like and water runs through all of us. So a lot of times you drink water before you do this. And so when you are… you really believe in this statement, your… and you can do this two ways. One is like holding up your arm, and you can push it; someone else will push it down. And if it goes down, that means it's not true, and if it stay strong that means it's true. So your muscles actually are stronger when something is true for you in your body.
And the challenge is that a lot of times, our minds think something is true or not true, but our bodies have a different answer. For example, like you're thinking that your invention goes I want to make six figures within the next six months; mind right? But the body may be freaked out, that may be a huge… If you have not done that before and you've been having let's say zero to 1K for a few months, and that's the goal you're dropping to, your body might be a shock and that they might not be on board with this goal, and they'll end up being self-sabotaging. So one way to know this like, what actually might be stopping you? Or like if your body is on board with all of this is to check in with muscle testing. And if your body is not on board, you have two choices.
One is basically to change some beliefs to make it come on board. Or the second one is like the goal smaller or something that you can actually receive right now. Yes, so it's very simple though. If you guys want to learn it like right now and test it in your life; we don't have time to go into like the details. But there's a really simple one where it's basically using your fingers. And I have a video on that you can e-mail me and send this you to know how this thing yes or no. But basically, what you want to do is you want to get some consistent yeses, and some consistent nos. And so you know what your body is like when is it yes or no. So it's basically like when you're like this. Two fingers kind of like going right through it and then…
Michael:          So, you've got interlocking circles for the fingers for those listening on audio.
Ying:               Oh yeah, interlocking fingers. It's like saying an okay sign. But then it's like two okay signs kind of…
Michael:          And then you hold trying to hold them together as hard as you can, and you pull them apart.
Ying:               And…
Michael:          If you're thinking about your goal, they either stay together or they don't.
Ying:               Yes, so it's like if my goal for example right now is to evaluate whether this client that I'm getting right now is safe appropriate and to the highest and best good. I have… like let's say I have a client in mind that I really want to work with, and is this client is safe, appropriate, and to the highest best for me. And that I'll be like yes or no. And that way, you can also make decisions much faster. And develop a trust with yourself, and your intuition because this is your body intuition, right.
Michael:          Now it's interesting you use those three words: safe, appropriate, and for the best good. Can you tell us why you picked those? What you're looking for in a client?
Ying:               sure
Michael:          Or a goal.
Ying:               I like to use the word safe, appropriate, and the highest and best good because actually have been on the on a post in fact he does I keep referring to that. Because I just feel that there's a lot of times where you're doing something for an ulterior motive, and for a very selfish reason. And I want like the way that I want to I'm like business, and in the way that I want to my community is that it's safe right. Like the… engagement and then you actually have a safe. It's appropriate, it's not like offensive, it's not like…
It's like one person winning, the other person losing. It's appropriate, like it's comfortable, and then it's the highest and best good of both peoples. So both would achieve growth, both will… Just before we got into this call Michael is like you know to kind of like the highest of us get for us to like receive like abundance both of us from our conversation and you guys too. For you guys to receive the best value from our time together. So I think like it's a way to write, raise everyone's experience. And that's a huge value that I have.
Michael:          That's great! It's some wonderful thing to do when you're creating goals and I would have said, "What would it take for this goal to be safe appropriate for the best good of all involved?" I was going to use those phrases. So you mentioned it's important to have a goal behind your goal. Can you could just an example? A surface level goal, and then the goal behind it be used to make you more powerful.
Ying:               Sure yeah, I mean I'll take the votes like simple and the most common goal that I can my clients have which is to make an excellent dollars. In a talk that I did last week right, like one woman was like she stopped me in front of like everyone when I was like talking about this. It was like you know what? And she was like really like please. You know what? I don't care what you say, but money is always going to bring me more happiness. And I mean I'm like, "Yeah, like it." Like sure it can bring you more happy. But also at the same time or and also at the same time, what are you going to actually do with that? Like when you're chasing a figure, like what I've realized my clients who are chasing like seven figures, eight figures, when they're chasing just a number itself versus a mission. Something that they know that you want to contribute, or they know that they want to create in the world.
The momentum and the power behind the energy behind that goal is very different. So, what do I mean by momentum, energy, and power? I mean by opportunities. The kind of people that you attract into your life who're going to support us because nothing can be done alone, right. The deals and negotiations like the speed in which this goal comes through is very different than when you're just like solely focused on, okay I want like eight point nine six five four three two one. Like this amount of dollars in the bank which is not an unhonorable goal either. It's just about optimizing the energy in that sense. Like the sounds vague, but it's about optimizing your heart, and your vision, your body, and your entire community, and the way that you're opening up to the people around you, so that you can also recruit people who are also on the same vision as you are.
Michael:          So tell us a bit about saying yes as regards creating goals.
Ying:               Yeah, saying yes is actually the first part about to create your goals. Like I mean as long as story sure a little story about myself which is I never used to say yes to myself. Right like I used to say yes to everyone else around me. I said yes to my dad right, a lot because he's like super smart and I ended up getting three undergrad degrees, one master's, got onto like front page of like newspapers, and it's all because I want to make him proud. And I think a lot of Asian families that you have that; and not just Asian, any family. Like you have a sense of like you want to make your parents proud, or like you want to make your friends proud. Like you really want that and so you're saying yes to a lot of the things that you think will make society proud of you.
Your community is proud of you, your school, your teacher, the people you respect are proud of you. But what do you actually want? So my core message… I mean for me like actually found myself going through a downward spiral because while I was making them proud, I wasn't being fed. I was feeding fat and I thought that was going to get me the love that I needed to feed myself in order to feel loved. And this is like high school, college times and a little bit after of college. And as a response to it, I got really stressed out and I started developing an eating disorder which basically I found myself at the peak of my career having the worst relapse of the eating disorder that I had hidden for ten years and so…
Michael:          Which one did you have? Were you throwing up, or were you not eating?
Ying:               I would say like both. Both throwing up and not eating.
Michael:          okay
Ying:               Yeah, it was more like compulsive consumption to bottle up emotions because I didn't know how to deal with it. And so that was a way to push it down physically, and then a release of all the emotions, so that I could just relax.
Michael:          Wow! You just make it sound fun.
Ying:               It's fun until you are just like this is controlling me, and I'm not controlling it, and this is not cool, yeah.
Michael:          Right, that's also bad for your throat and teeth right.
Ying:               Throat, teeth, like psychologically you're just like I'm an imposter, nobody knows who I really am. If they really found out who I was they were [crosstalk] [15:33]
Michael:          Oh! You didn't tell people you were doing this?
Ying:               No, no, it was a secret all along. Like even the boyfriends that I had. Like hello, they're [inaudible] living with me for one year, but I kept it very secret.
Michael:          wow!
Ying:               Yeah, I know. You know get serious. But really, it's to my detriment.
Michael:          wow!
Ying:               Well because I…
Michael:          Why do you keep it secret?
Ying:               Because I didn't want anyone to support me, and I wanted to do it on my own, and I didn't believe that anyone was going to accept me for who I was. I thought they were all going to judge me. It was shame. Shame, I was ashamed of myself, yeah. And I didn't dare to share this with someone because I felt like if I did, then everything I had accomplished and to that was completely negated. And it was like …
Michael:          oh well
Ying:               Just like useless like piece of crap. Like that was like the…
Michael:          Wow! And if someone had… if someone had looked from outside, the career you were having, and the money you had, they might have thought, "Well what a successful woman."
Ying:               yeah
Michael:          But inside, you didn't feel that at all.
Ying:               No, and then I went through the world. I searched the whole world for answers. Psychologists, doctors, experts you know and this is all done in secret. So it's on the disguise of another name. And so,
Michael:          This could be a book, 'My Secret Travels Around the World'.
Ying:               In the preface
Michael:          Oh, it's in the preface, okay. And you already… it's in the book. There we go.
Ying:               Every [crosstalk] [17:09] wants you to win even this part of the story wants you to win. You're part of what are your secret is out there.
Michael:          Do you think this was your intuition trying to tell you something in some way?
Ying:               yeah
Michael:          in retrospect?
Ying:               It was just like you're not happy, like dream bigger. You know or it's like figure, this out. Like stop what you're doing; stop. Just like take a break and just get some perspective. So, I mean like long story short, I went the world, searched the world, even went to Shamans in Peru, studied with them, did [inaudible] that didn't help. And I was like some…
Michael:          That's kind of ironic, right? You have a vomiting disorder and you go drink [inaudible] which makes you vomit, right?
Ying:               Yeah, I didn't even vomit there. I mean …
Michael:          You didn't?
Ying:               I liked did it, and then I like yeah, no it was it was really weird.
Michael:          You held it in.
Ying:               I held it in, but it was still weird like anyway. It was a weird experience, but it was great though. I mean I learnt about compassion. I learnt about… I truly experienced compassion, but that's a start for another day. Because if I start, I can totally go into it.
Michael:          yeah
Ying:               But I think what really did it for me was actually a trip in Spain. Similar retreat [inaudible] [18:24] and the depths of it. I literally… was like a 48-hour trip with like an 8-hour like intense moment, and that did that actually. I felt so clean because we had fasted the day before, and there was nothing in my system. My brain, my heart, my mind, my spirit was all connected. And basically, like I've gone through the physical, the emotional, the psychological feeling of all of this stuff.
And even went to coaching and I got certifications. And I think the last one too was the consciousness of the spiritual level that I need to heal. And so at that moment, I knew that there was a road of no return because like this was like my last, last, last resort and there was nothing else that I could do after this at this point in my life. And so at that moment, I just asked myself you know like am I ready to like let this go? And deep within me like a voice bubbled up and answered before I even finished my question.
Michael:          oh no!
Ying:               Yes, it was daunting.
Michael:          And then you didn't have the issue after that?
Ying:               Yeah, I just knew.
Michael:          wow!
Ying:               I just knew that this was who I really was. And I knew that from that day onwards, I needed to say yes to me. And because saying yes to me is going to have the world say yes to me. As so that's the core message I want to share with you guys and all of you say yes yourself because, yeah. I mean it cost me my health, and it's like life, yeah.
Michael:          Maybe the 'Y' in YOLO stands for yes.
Ying:               Yes Only Live Once
Michael:          yes
Ying:               Maybe, yes so when I did start saying yes to me, the world responded, and I find that sometimes when you say yes to yourself in these transitionary periods, and a lot of people do, right. You say yes to your transition. You go on that path and you're like saying yes to yourself. And then you get sucked in to this routine, or system, or other people's systems, and you have pull yourself back up, and say yes to yourself again, so you can move to the next friends here before you like you start getting into the depths of it. So there's nothing wrong with like going into it and like following other systems, and following other ways that people have already done in order to get to where you want to go. But at some point, you need to pull yourself out of and like okay, is this still the direction that is saying yes to me; to you?
And I find entrepreneurs oftentimes like they take success stories and like people who sell that company as and like have this like visions of what they wanted to achieve. And they just copy step by step or they try to emulate that because they don't want to reinvent the wheel which is great at saving time. But still got to remember somewhere like is this really saying yes to my dream behind the dream, my goals? And that really helps like create that holistic balance of your own spirit, and your soul, and your calling, and your purpose, and you're doing, and your business, and your structures, and your physical material world. Yeah, that's my take on that.
Michael:          So as well as saying yes to yourself, what else helps you create your goals?
Ying:               Yeah, I mean the vision we talked about that that's connecting with your emotion and creative vision from a perspective of emotion is not because we basically are just moving from state to state to state as a human experience. So that vision stuff is the opt in or are you guys can download that and then you can experience what your vision is like in that emotion. And the second thing is emotion. When you are creating your goal, like a really good thing to have is to actually receive the emotion from the future when you have already achieved that goal. Because when you're actually going for a goal, you're not really going for the thing itself like. Like selling a company; or I don't know, flying to outer space.
Like the moon Tesla like, or Space X. But I'm like you actually achieve… what you're really going for is you're going for the feeling of what you receive at the end of that goal. And so, you can download that feeling into your system right now. And then you might be able to open up experiences and opportunities that are in line with that feeling in your reality right now. This is a very spiritual way of talking about this, a very energetic way of talking about this. But what this basically means it's a way to trick your brain and suit creating a possibility right now. Because the goal, the only thing that's in your way from you right now, and where your goal is, is distance. You want to close that distance.
So that's why emotion is important. And emotion is actually the best way to generate the correct emotions for your goal is to understand your commitments and values; and that's point number four. So you guys have not been following. It's point number one. [Inaudible] [24:15] to me. Second one is your YOLO vision which you can achieve through states. State one is emotion which is connecting with your future emotion. And then the fourth one is your commitments and values. Every single person have personal values. They are different from societal maybe the same we don't know. But there are personal values that take you off or make you super happy. So…
Michael:          It's important your goal is compatible with values you have otherwise, you're just going to lose energy in going towards the goal.
Ying:               Totally, I mean there's no point like achieving someone else's goal because it's like it's not personally pulling you towards the earth.
Michael:          But so many people do that, right? They achieve someone else… It's not… it sounds like you did that in your life in the beginning, right?
Ying:               Yeah, I mean I don't think there's anything wrong about like supporting other peoples goals because we're here to help each other and like we can definitely contribute to other people's goals. But what's more important than that is actually honoring our own commitment, and I don't see that I or you or everyone honoring their own commitments like something selfless which I was talking to a really… executive a couple days ago at dinner. And he was saying isn't it really selfish to go for what you want at the cost and expense of other people. And I thought about that. And I was like okay for you to believe that, that means you must believe that your purpose inherently is selfish. And it costs other people to do that. I mean he had a really… Like I understand where he was coming from.
But the point that I want to make is that when you are focused on creating the best version of yourself, and the best version of your purpose, and with as much compassion and openness as possible while keeping in mind it needs to be practical and honoring your material desires. There is like it doesn't… Like I think that people inherently feel like it's a bad thing. And that's what makes the downer spiral or that's what like creates the doubt that creates the personation, or the self-sabotage as, and you'll never get there. Like there's any part of me that believes it's bad because inherently, you don't want to go towards a place where you're feeling like you're that person. So that shrink to kind of understand like why you're doing that, is to actually realize what your values actually are, and your commitments.
So that it's very clear and pure. Like what you're going for. So commitments, we talk about that in the book. You can see there's a method in which you can find your personal commitments. But usually, they're just very simple truths. For example, like someone could be committed to truth, authenticity. Some people can be committed to inspiration, connection, fun, freedom. Michael I think you're committed to freedom, yeah?
Michael:          I like freedom. It's one of my values.
Ying:               yeah
Michael:          Freedom to do and be myself.
Ying:               Yeah, and in expression. Some people are really committed to expression. So if you remember the times where you're furious. Like so furious in a situation where you're just out of control furious. That's because one of your values, and one of your commitments has been violated. And that's really good memory to go back to figure out like what that value actually was.
Michael:          I love that. So also it's important to take action on your goals and it's great to do spiritual work, but you have to take some inspired actions on this planet.
Ying:               Yeah, you do. Yes, so the next point; number five, is actually action. And action has to be inspired in my opinion. Because one of my values is inspired connection. So it's got to be fun, and it's got to be free. So, yeah, got to take action. Like every time there's something scary, take action. Every time you're unclear, take action. Every time you're confused, take action. Every time you [inaudible] [29:03], take action, just take action. And take action with a good attitude. Not like oh I want to like, uh-uu.
Michael:          Which movie character was that, you were [inaudible] Ying?
Ying:               I don't know. It just came out.
Michael:          Yeah, was like some goblin in the Lunar Reconnaissance.
Ying:               Yeah, like it was the precious one.
Michael:          Which explains why all those goblins never achieve their goals in 'The Lord of the Rings' or something.
Ying:               Because it is slithering around.
Michael:          Yeah, slithering around, yeah exactly.
Ying:               Like being grouse.
Michael:          yeah
Ying:               They're just too slow and too grumpy.
Michael:          yes
Ying:               And yeah, like take action with a good attitude. It would be your best attitude. Like you can totally do it. I know like you don't know me, I don't know you. But like whatever it is like when you take action, you're just gonna feel so good about yourself. I know you already know this so. They're just…
Michael:          And then, what about energy management while you're creating your goals how does that fit into this?
Ying:               Yeah, so if you're really got so that's a six point which is energy management. So say yes to you, have your vision, have your emotion, get your commitments, take your action, and then manage the energy in which you actually are creating this thing. So if you work every single day 24/7 hustle, hustle, hustle which has a lot of people go by that, right. There's so many books on that, and so many people who represent that. But you'll get burnt out, and getting burnt out is really uncomfortable and …
Michael:          dangerous
Ying:               Yeah, dangerous. You could get sick. Like really, really, really exhausted. Some people get chronic illness from that. I hadn't clients who came to me with like 11 symptoms of 11 diseases because she was burnt out and they just kept showing up. Your body is just trying to tell you like alarm bells, like red lights blinking. I think something is wrong. Can you please pay attention? And so, in order to go for goals and viciously because I'm sure like if you're here, you're wanting to achieve something bigger than yourself.
And to be able to do it at a fast speed that you are finding enjoyment, excitement in, you've got some manage your energy. And the way to manage your energy is actually to know like what in your life actually fills you up with energy, and every form right. Like in all directions. Is it nature, is it exercises, is it social activity, is it doing something you're scared of? Like you've got to find that optimal…
Michael:          Can we put all those together into one thing. We'll go bungee jumping in nature with our friends.
Ying:               Yeah, you can and I do that a lot. Like I'm just going to go to coast and way if you… in two weeks to research their retreats. Because I'm running YOLO retreats for people that's experience the transformation in the weekend. So, I'm researching beautiful retreats. And here's I'm inviting my friends, my nomadic friends to come with me. And we're doing jet boating which is basically a boat on like a roller coaster, but it's like on the water, and I go like onions. And we're like 18 around the whole coaster for four hours.
So that kind of like cool riding, all the different activities so that it's using a lot of energy. It's using a ton of energy, like physical energy, but then one that fills you up with a different energy. So you want to make sure you are very aware of that balance. Especially when you're picking the activities and the things that you decide to commit to. Is this activity draining your energy or is it filling you up with energy. People that you talk to. Some people really like having your time. Are these people draining your energy, or are they filling you with energy?
Michael:          Yes, I talk about energy vampires in my book; that's really important. It's a really important thing to look at. Which people give us energy, which people drain it? And also which parts of our business give us energy, and which parts drain it.
Ying:               yeah!
Michael:          You can look at that. So great that you're doing that as well. So, you use your intuition a lot in your business. Are there any pitfalls to using intuition?
Ying:               Yeah, I mean there is. Like the toughest part about intuition first of all is that you sometimes don't know like what is true and what is not. We talked about that earlier on how to test that. But the second thing that I find sometimes when I have clients who are like overly like relying on intuition. Is that they believe that things will just show up in full form as long as they like it's the… that law of attraction pitfall. Or you believe that if you just think about it, and you just imagine it. You have the emotions, you have your vision, everything will just show up exactly the way that it is in perfect conditioned wrapped in a present for you. And I used to believe that. I was like listening to Abraham Hicks. I was like yeah, going to imagine my ideal husband is going to show up, and I'll meet him, and I'll know exactly who this person is.
Michael:          Well you'd know because he'd be wrapped up in wrapping paper with the bow around him, right?
Ying:               I know because he'd be popping out, and dancing in like perfect abs, and sweep me off my feet. And yeah, it doesn't happen, right? I mean yes there's a ton of things that like when I look at the guys that I'm dating, or the guys that I'm meeting, or it's my life taking so many of the boxes that I have. But the thing is you still got to put yourself out there, you've still got to talk to people. You still got to take action in order to draw that things who woes you, or attract you.
As a woman [inaudible] [35:30] very powerful attraction energy which I also talk about in the YOLO orgasm portion. Where you can actually just be. You can just be who you are, and be truly who you are, and you'll notice people get attracted to you without you needing to go chase, or fish, or hunt down, or hustle, or all those kind of actions. You still have to take action in order to be so you can be and you can put yourself out there as well as who you really are.
Michael:          Some people just waiting around for the universe to come to them. And you're saying, "You need to take some action as well as well as doing the spiritual work".
Ying:               I mean if you're like a [inaudible] patient like yeah, like try that. If that works for you, great. But I like things faster and I like to help the universe to help me. For me to help the universe to help me, it's really about taking small micro commitment. So in marketing, we do that's where we allow our audience to make micro commitments for their transformation, right. Where it within them where they do, so that it's not so overwhelming. And so the same thing with the universe.
Like you want to be able to make micro commitments in the form of action to let the universe know that hey, I'm actually really committed to this goal. And so by taking similar actions, you can create that momentum and that experience for yourself. Same with exercise, right. Like you don't go from like nothing to running a marathon. You want to start like maybe three times a week, or two times a week, even one time a week running. And then you start building it on. So take that action otherwise, if you just sit around and wait for it, and expect yourself to get in full shape…
Michael:          And that would be way… what some people do. They're waiting for a sign that they should act, right?
Ying:               yeah
Michael:          Because they want it to be perfect, or they don't want to be rejected or they don't wanna think any mistakes to happen.
Ying:               Yeah, they want the plan to be perfect. So they spent all their time planning it, and then by this time when they finish planning it, the opportunity has left.
Michael:          Yeah, so what about… what are your thoughts on whether things is fate and it's all decided ahead of time, or we're creating our reality?
Ying:               That's an interesting question.
Michael:          Yes, was this question fated to come to you, or did we just co-creator it?
Ying:               Oh yeah! I think there's both. Is a little bit of both in the world. Creation definitely is beautiful. Like creation, you can create anything that you want, right. And you may not like… Yeah, like the thing that you want needs to actually be the thing that you want because creation works in a way that's going to give you what you really want inside. So even if you think you want this, but you really want something else, it might give you that something else. And so creation is great. I do believe in creation and creating from the most genuine place that you can be. But fate is also like you know. Like you can call that essence of creation.
Like some form of fate that you have gotten that idea to create it. But I definitely don't see fate as something that is just sitting there waiting to like a lottery to get you. I don't see fate as that. Like [mimicking voice] [39:22]. Like I don't see that like something that's very… I mean it could happen, right? Like I do know people who have won lotteries. Like one girl that I met in Bangkok actually, she won the lottery. And she was in… I think she was working for a big corporation; Unilever or P&G, one of those.
And then… but then, she took the message, the sign as star my company now because I'm not taking care for two years. I have my runway to do that. And I think that's beautiful, and I thought that was the most amazing way to actually use that. And that could be the first thing like you know the last like relax, your purpose is really important; do it. But you wait around for fate to happen is… I like more control than that.
Michael:          So, you talked a bit earlier about how making micro commitments to the universe, acting, not expecting your goals to come all at once. Maybe they'd come a step at a time. Tell us more about that, and how you achieve that in your life.
Ying:               How do you achieve that? I can talk about it from in terms of the YOLO relationship because this is just kind of a topic in my mind right now. And let's see like in the form of your business relationships right. And new personal to that. Let's focus on business relationships because we're in intuitive business mastery. Business relationships like everyone has had bad clients before, right? Like I mean just like how everyone has had bad boyfriends, or bad breakups, or bad girlfriends, or bad relationships. Everyone has experienced bad clients. And if you haven't like then, I'm really happy for you. But in terms of attracting the right kind of clients to you, and ideal clients for you where you are positioned in the best place to help them.
And they're positioned in the best place to receive your value, and your help takes a lot of clarity. So there's eight steps that we kind of talked about earlier. The seven areas that we talked about earlier to understand like what specifically? Like is that's good for you right now and then your micro commitment is actually to be in the state in which you can attract these people.
So you've got to be ready to attract this caliber of clients into your live. That is a company or if it's an individual, so whatever size that is. It could be also your colleague or a different department if you're working somewhere. And clients I refer to people you just work with frequently. And so, the micro commitment here then is that you've got to step up to become the person that's worthy of receiving that relationship, and really creating a core creative, co-beneficial, win-win relationship with that person. And like goal of what voices are stopping you from doing that, and that's the heart part actually. Yeah, the letting go part, don't you think? What do you think?
Michael:          It can be hard to just let go. You do… you have set a goal and you take action, and being able to let go and receive. A lot of people are very bad or receiving.
Ying:               yeah
Michael:          So, getting good or receiving is a good skill to have. Still related to this, I know you're a really high achiever. And I just have this imagination perhaps, the listeners do too. That your schedule is just packed solid. But I know that's not the case. So, why is your schedule not packed every day filled with activities?
Ying:               It's like not packed with activities, but then it ends up being packed with activities that I never even thought I would be a part of. So okay, so this is my basic schedule. Well to answer your question; why is it not packed? It's because I love spontaneity. Like my values that we talked about earlier like freedom, fun, and inspire connection. So I knew that actually, one of my mastermind buddies called me an hour on this. And was like if you're committing to all these things, where is your freedom? And I was like, that's right.
Like hard as it, my schedule every hour is fun. I don't have freedom of my time. And when I came into this business wanting that freedom of time. And so, I had to redesign the way that I approached my weekly calendar. So my clients are only on Tuesdays, Wednesdays. And Monday there is a [inaudible] [44:53] just. I have some admin work, some marketing. But mostly it's free, it's open and it's opens for a free schedule the week before or even the week of… I mean my entire schedule for the rest of the year just randomly filled itself up last week because [inaudible]. But opportunity came, I said yes.
Even after a conference in Bangkok, we have this one week conference with a lot of digital entrepreneurs that are doing really, really amazingly in the companies that they built. Like after that, like everyone's kind of chills like [inaudible] one there, and another [inaudible] along. And the next in the end in the two weeks I'm going to retire, and then Paris, and then Eastern Europe all these things just like just kind of laid out. And they're just I have enough room in my life where I can just say yes to certain things. But had I really planned everything out till like February, I would have to say no to a lot of these things.
Michael:          Yes, that makes a lot of sense.
Ying:               I do these…
Michael:          I do that with my… You know I use schedule once for my podcast guests, and I don't make available every single day for time slots for that reason.
Ying:               yeah
Michael:          So, it's interesting. And I also like when I take a trip, I skip… I block out the day before the trip, and the day after. So I'm not running around trying to do lots of schedule things before a trip, or just after when I come back.
Ying:               Yeah, it's a bit hard to control. Like if the test is going to be late, like travel thing, yeah.
Michael:          So, did you have to overcome a mental block to doing that? Because I'm sure a lot of people listening have their own schedule filled with things. Perhaps, they'll like to do this was there a mindset you had to shift. You felt you were too… you would be [crosstalk] [46:50]
Ying:               … my job. I had to change it all. I was like I couldn't do this in [inaudible]
Michael:          okay
Ying:               I used to do [inaudible]
Michael:          right
Ying:               Advertising Agency right?
Michael:          yeah
Ying:               But that's not even true to be honest. Like I actually was able to… so the things that were important to me was fitness and social, and I needed to be intellectually stimulating. So even with that schedule, actually, sometimes a schedule is also very freeing because then you know which part of the schedule you can actually consistently dedicate to a topic, or an area. So for me, like what I did, if I did have a really thick schedule, like what I did was actually I before my day began. So like six to eight am every day would be yoga, work out, something.
And so that's a new habit I created. But I knew it was going to happen because I knew I was going to show up at work. So that was a really nice we don't leverage structure to achieve your goal. And that was one of my YOLO goals. I wanted to get in shape. And then, another part is lunchtimes. You can always like tag on anything that you do that's a regular thing. Like brushing your teeth, or like going to bed. Like you can always tag on things that… Yeah, tag on that habit, and create some ones around it that are healthier or that are achieving towards your goal.
Michael:          Did you have to overcome a belief that if you didn't have your schedule super filled, you were lazy, or disorganized, or something?
Ying:               Oh yeah. Like when I first started entrepreneurship, I was not like busy. I would feel very… I was wasting time.
Michael:          But now you know that's no longer true.
Ying:               Well, now like a lot of my work is no longer pure execution and implementation. A lot of my work is creative, and inspiration, and creativity, and innovation takes space. It's like physical space, it's time. And like in order to think about a new life, you have to remove yourself from where you are that's a people on the experience something completely different. And so, when you're constantly putting your head down and like being busy, it's really hard to find solutions to problems because you're in the weeds, right. And so, eah so that space is really necessary. If you can't find time in your schedule, yeah so anyway I won't go to solutions, but yes. Problems yes, I definitely have to figure out like how to honor space because I did not want people to think that I was lazy, or I did not want myself to think I was lazy.
And I didn't want to blame myself if I didn't hit my target. And then, I think a lot of my clients also feel that like had one person who was always on the go. Really, really great, amazing person. But like always on the go to the point where he was never able to evaluate like his own needs versus answering and saying yes to everyone else in this kind of goes back to [inaudible] [50:16]. So when you are busy like just think about, are you busy because you're achieving your goal? And then you are; that's one thing. Or are you like is your time being given to achieving other things that are draining your energy. Just a kind of bring back the concept we talked about.
Michael:          So, you listen to your intuition a lot. What you get out of doing that in your business that you listen to your intuition?
Ying:               I just feel so much more relaxed because intuition is like… And I know a lot of you guys may think like oh, that's so hard or like I don't know. I like a debate with my intuition, or like you don't believe in your intuition, or you don't even know what it sounds like, or you don't know like how physically connect. Or if you're advanced, then go like oh, well of course listen to your intuition. For me I find that when I do develop the relationship with my intuition, and I strengthen that bond, I feel a lot more supportive, and I feel a lot more healthy and compassionate for myself. And I feel like I make decisions based on my heart, and I make decisions based on my like mission or a deeper meaning. Like more meaningful place rather than just purely my intellect.
I think intellect is amazing. Like I love learning, academics. I can nerd out seven hours I fish intelligence, cryptocurrencies, all those kind of things. But you need the heart and the ethics to combine it with it. And I feel like intuition is this other layer kind of just encompasses all of you. And intuition will be able to kind of it's your unconscious, it's your intuition, is that layer that kind of comprehends all this process that are happening here. And then it has like a very simple answer to get back to you. So, I think it's great. It saves me a lot of time and energy. When you get ensue, when you trust it, right. But you've got to learn and build that relationship just like a pet, right. You got to build that bond with your intuition until you can trust it fully, or even partially; oh okay
Michael:          So, what would it take to make business intuition used openly by every entrepreneur this year?
Ying:               I was… I… the first thing that came through my intuition is that results. I believe that maybe like somehow have a condensed, immersive experience where people can see results from their intuition. Or somehow like develop that bond and have like a transformative experience that you can go back to where you understood this previously. I would say would really help people understand this concept of intuition.
Because I think like when someone gets with their intuition like going to the store we talked about earlier when that voice that yes before I said yes or before I could even comprehend the question. That's when I realized that there was something else in me. And I find that if entrepreneurs realize that they can leverage even one product, even more optimization, even more like power from leveraging that source of intelligence. Then and experience that life. Then it would be kind of non-supportive not to use it. Yeah!
Michael:          That sounds great because I'm on a mission to get…
Ying:               I know
Michael:          All entrepreneurs using their intuition openly because they'll make more money and they'll be happier, and they'll make less damas decision citizens to the people and the planet. So great thought you have there. So if people want to find you online, how would they do that? And then we'll tell them about the gift you have for people as well.
Ying:               Sure, so you can find me on Facebook. You can find me on my website, or on my Instagram. So that's www.y_agestayyoungforever. [laughing] [55:15] dot net.
Michael:          all right
Ying:               And then, Facebook is just Ying Han Cheng. Instagram is Ying.News. What I do you have for you guys is a couple of things. One is the vision audio. So a best life audio. It takes you through an experience in which it gets you in touch with your biggest visions intuitively and perfectly all around. And then it goes through challenges, helps you face some of the things that might come up to stop you, and then it allows you to have a space to write that down. And then, afterwards, it will [inaudible] capture it.
And then afterwards, you also will get some e-mails and a couple of emails. And then at one of them, you'll have a transformational questions which will then take you through it; 'How to Crystallize the Intuitive Action' that we talked about. And then, another offer that I have which is also free is a call, and that is about receiving. So, we talked about earlier around how to… how we can set these goals. We can go over these goals, take these action. But when we actually get them, it's really hard for people to receive.
And so if you have any challenges in receiving compliments, like you have a problem receiving. If you are not receiving, you're not going to be that happy in your life because you can receive 100 units of happiness and you're only receiving one unit. You're not efficient. And so, one of the easiest way to receive actually is to practice it deliberately. And for a woman, or for even for men, what you can do is leverage the practice of deliberate orgasm into this. This is a completely different topic talked about, embedded as really practicing that advanced level of receiving. And so, I have a recording of a class on that I would love to share with you too if you're at that stage right now.
Michael:          Wow! Might add thousands of dollars to your profit by doing that.
Ying:               Receiving, yeah receiving, receiving abundance. I have so many clients. They have so much in their [inaudible] class everywhere living in five star hotels, but just not happy because… Yeah, receive it.
Michael:          Got to receive it to enjoy it.
Ying:               yeah
Michael:          Well, thanks so much for being on the podcast today. It's been a interesting journey.
Ying:               And there's like one thing I want to… It's like I was like oh…
Michael:          sure
Ying:               Okay, so I want to say like why receiving is so cool is because like you know memory is like if you're a psych major you probably know this. But memories are stored as fragments in your brain. So when you're actually recalling memory from your brain, it's actually different pieces of fragments that come together and creates this experience for you. So every time you recall a pleasurable experience, you're actually not only recalling those fragments, but you are layering it up with another layer of pleasure. Therefore, you [inaudible] [58:22].
And so you're learning to receive and you can milk those memories that are giving you the positive feelings that you're goal; goal behind the goal is actually about. You can imagine how that can strengthen that experience. You can really like fulfill your body and give it this like reward that is truly what you're looking for. And so, yes. So I do a lot of practices with my community on how to receive this practically on their day to day lives, and when it comes to business. Yeah, so I just want to share that. So if you guys have experiences that you love, like you have talk about it with someone and you can like… You have massage and enjoy even more.
Michael:          That is a great tip to end on. So, thanks so much for being on the podcast, Ying Hang.
Ying:               Of course, always.