Ying Han Cheng talks about "Intuitive YOLO Goal Creation (7 Methods that Work)" in this episode of the Intuitive Leadership Mastery Podcast with host Michaela Light.
"So one of the things that I talk about in my you only live one's life in and business innovations book, and also just like in my programs in general is about how you can actually connect with your true goal. One of the first strategies that we talk about a lot is about connecting with your goal behind your goal. So a lot of times like what I find that it's a big challenge for people is that they have this huge goal, and then when they get it, actually if it's a promotion, or a pay rise, or a trip, or meeting their ideal girlfriend and just wanting to get married. When they get to the other side of it, sometimes they're just like, "Aha! What? It doesn't feel as good as they thought it was going to be." – Ying Han Cheng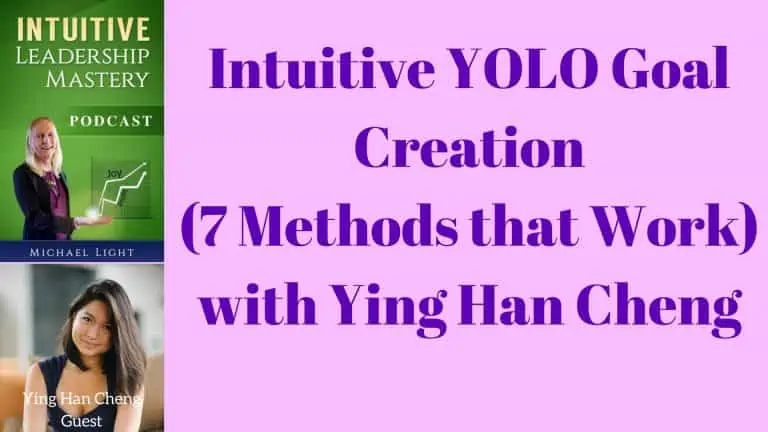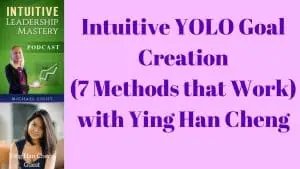 Here are some of the topics discussed in the podcast:
How to know you are Goal ready with your body

Is my body ready Muscle testing

Connect with your goal behind your goal

Vs depression after you achieve a goal

Goal as a journey

Momentum, energy and power

Easy, joyful, 6-figures by next March

Vision boards

Is this safe, appropriate and for the best good

How she creates YOLO goals

Saying Yes to Me

To myself vs yes to others

Doing for self love vs to make others proud of you

Saying Yes to myself → the world says yes to me

How she got on her current path

Healing from bulimia

Healing from the Peruvian jungle

Aya

Hepe powder

Fasting and feeling my emotions and spirit fully.

Vision

Emotion

Commitment + Values

Values violated ⇒ fury ← remember the times you were furious

Action

Energy management

Avoid burnout

What gives your energy?

Patience and right timing to grow

Worry about finding the right niche vs spontaneous finding it

How people are naturally drawn to you

8 Tremendous Transformational Qs

1. What specifically do you want?




2. What is the evidence that will let you know that you have gotten your answer to #1?




3. For what purpose do you want this?




4. Where, when and how specifically will you have this?

#5 – #8 in the Downloadable Worksheet

Pitfalls of intuition

Law of Attract – Waiting for it to show up perfect and complete goal

Waiting it out looking for a sign before you act

Vs Make  micro-commitments to the universe

Feeling into it to know when to act

Fate vs Creating

Not come all at once – get one step at a time

Vs all planned out ahead of time

Yolo business relationship

Leave room in my schedule for synchronicities to happen

Values of freedom, fun and spontaneous connection

Only clients Tuesdays and Wednesdays

Lazy / disorganized vs packed super scheduler and full plans

Receiving in the female way

Why are you proud to use your business intuition?

When you listen to your intuition and act on it you get so much more headspace and heartspace.

Your intuition has it own todo list for your life

Supported and held by the universe

More meaning in my life, more heart and ethics

WWIT to make business intuition used openly by all entrepreneurs this year?

See results

Transformative experience

Importance of Receiving

Review positive memories and layer gratitude on top
If you want to double your profits and half your stress, check out the Biz Intuition Profit Doubler. It is a free course for you to use intuition in your business.
Mentioned in this episode
Podcast: Play in new window | Download (Duration: 1:00:10 — 55.1MB) | Embed
Subscribe: RSS
Bio
Ying Han Cheng guides transformational leaders, change makers, entrepreneurs, corporate go getters and people who are ready to do deep work experience transformations so that they can contribute at the highest level.
She's an international bestselling author, speaker and executive lifestyle and business innovation coach.
Through her You Only Live Once (YOLO) Life & Business Style book and Freedom Success Formula International Online Group Coaching Program, she supports thousands of entrepreneurs and conscious executives in 5 continents pinpoint their PASSION, turn it into ACTION and in many cases allow their YOLO work to support their multi-figure YOLO lifestyles. Her clients span Asia, Africa, Europe, and USA.
Her work has been seen on 350+ networks including ABC, NBC, FOX, "The Startup Celebrity Show", Forum for the future, and BBC.
Prior to coaching, she managed global digital marketing teams at Ogilvy & Mather. She also holds a Masters of Science degree in Innovation, is a Master Neurolinguistics Programming (NLP) practitioner and has been a part of Stanford, Claremont Mckenna College, Singapore Management University, and University of San Francisco.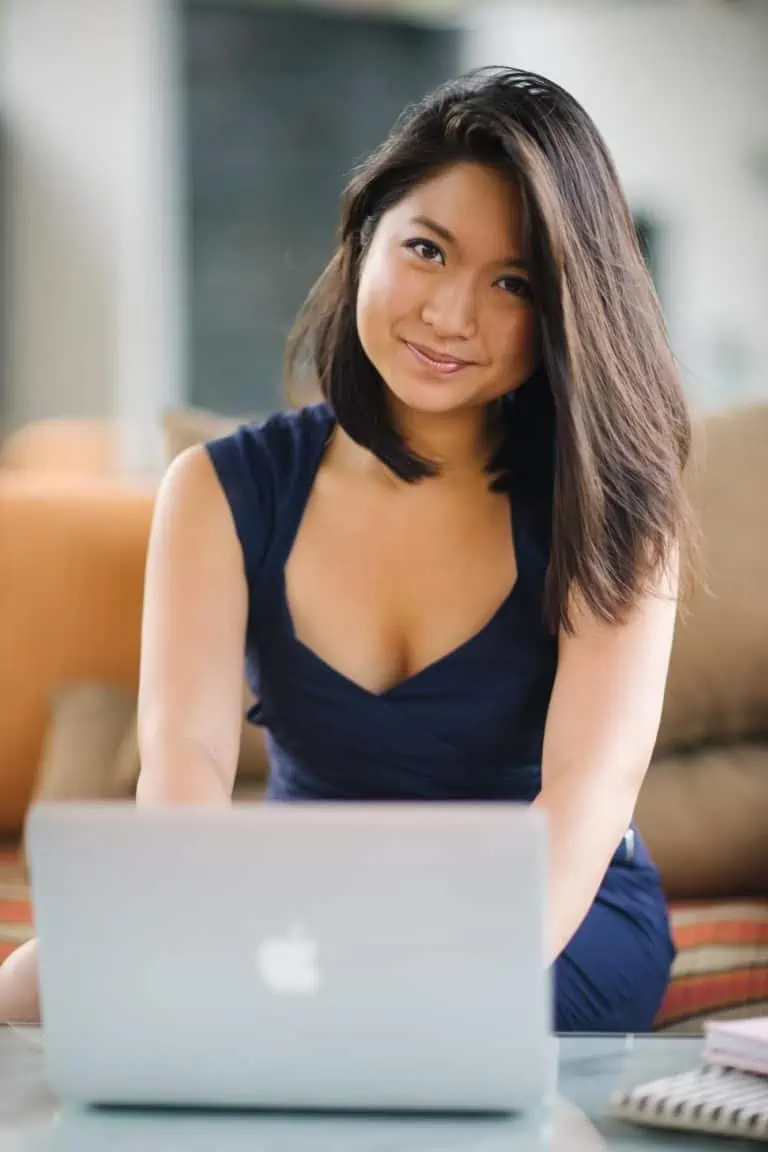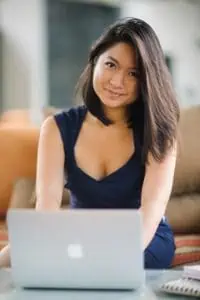 Learn more about Ying Han Cheng at:
Free gift

 ← 8 Tremendous Transformational Qs worksheet + Creating your goals audio

Receiving and Yolo orgasm [

YHC to provide link next week]
Interview transcript:
Michael:          Welcome back to the show. I'm here with Ying Han Cheng; bestselling author of 'Your Yellow Lifestyle', and we're gonna talk about how she creates goals using her intuition and seven methods that she has to do that. And we'll look at how you can tell if you're ready feel goal by testing your body. And some ways she creates her YOLO goals. YOLO stands for – You Only Live Once, in case you didn't know that. And we'll look at some transformation… whoo! There's the book, yea! For those of us joining on video. That's clever of you to have that there. And we'll look at some questions you can ask yourself that will help transform. And we'll also look at some of the pitfalls of intuition. And if we have time, we'll talk about how she took a trip to Peru in order to cure a terrible health illness that she had, and what she learned about herself there. So welcome Ying Han.
Ying:               I'm very honored to be here for the third time. Always a pleasure to connect with all of you guys, and wow! Like what a journey it's been.
Michael:          Yeah! So how can people listening know if they're ready they are for a goal they have? Maybe they have a big business go they want to achieve. But how would they know if they're actually ready? Is there a secret their body could tell them?
Ying:   So one of the things that I talk about in my only live one's life in business innovations book, and also just like in my programs in general is about how you can actually connect with your true goal.