You can listen to the podcast and read the show notes here.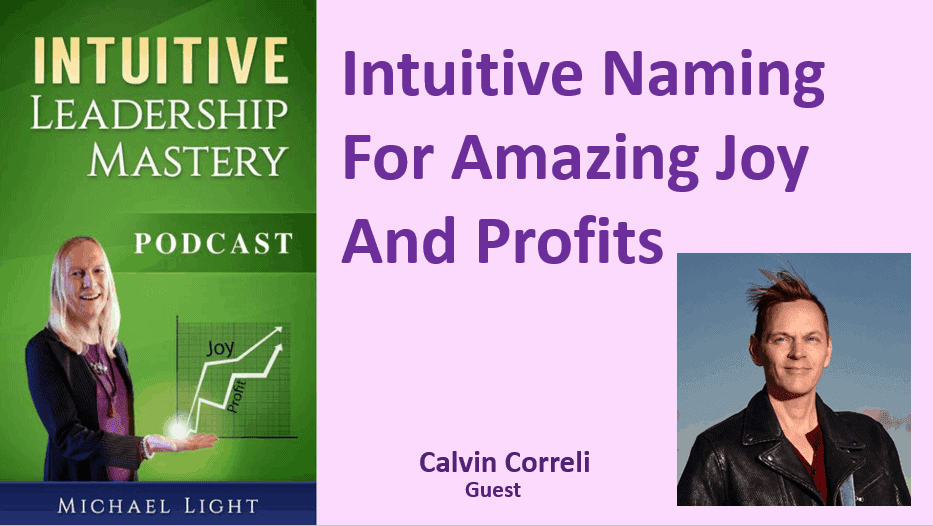 Michael:          Welcome back to the show. I'm here with Calvin Correli and we're going to be looking at intuitive naming for 00:06 [inaudible] profits in your business. And in the show, we're going to look at how he changed his name three times. How he picked his business name and product name using his intuition and how he overcame being emotionally shut down and opened up ten years ago with the help of an amazing spiritual teacher. And we'll tell you the details on that in a moment.
And perhaps, most importantly for entrepreneurs listening, how he integrates all the money, practical stuff and strategy with the spiritual stuff because a lot of us have difficulty with that. So, I'm curious to find out how you do that Calvin.
And if we have time, we'll have a look at some of his controversial views on intelligent intuitive country design. He wants to create his own country; that sounds interesting. And why good customer service is key to your business success. So, welcome Calvin.
Calvin:            Thank you very much. I'm glad to be here.
Michael:          I am so happy you're here. So, I thought of people changing the name once or twice but three times, that sounds impressive.
Calvin:            Yes, I don't do things small I guess. Yeah, I was… Basically, it's one big change and then adjustments. Let's put it that way. But I was born 01:25 [inaudible] in Denmark and I didn't like the name much.
And it was very complicated in the U.S. in particular. Like how to pronounce it in a way that people understood. And it was just that I wasn't at a huge fan and so I met these people who are into numerology and I kind of started to get the idea that you could actually change your name.
So and I met my current wife who had changed her name already and then I was like alright, let's do it. So, I met with this guy actually in New York. A Danish guy who walked me through it. So it's a system and it basically like every letter has a value. You add them up and you do the sum of sums of each of the words in your name or each of the names in your name. And then, you combine that with the day of month that you were born and you do this math on it. And it tells you things about how your life is.
How it is kind of outworked and how it is in words and he walked through that for me and I was like whoa that hits home. And then he's like, here's what I propose for you instead as like these I want to give you three names and they got to hit these numbers. He was asking like can we just go wild and change anything or do you want to keep like the names or anything. I was like just go for it. And so he walks in and he's like here's what things are going to be you, with the name change. And I'm like that sounds pretty fantastic.
And then he gets to the point where he starts to share with me these lists of names that have these values. And I look at them and I'm like oh wait, wait, wait. So, I'm actually supposed to change my name here. Like I didn't know what I was going in for. But it hadn't really sunk in and it actually took me a year.
My wife and I, we sat down and looked at these lists and picked some names that we that we liked and that felt like me. And then we sat on it for a year because it was just too scary. I was just too scared to make that change and identity. And especially for me like what all my old friends will think and family members and stuff and then…
Michael:          What did they think?
Calvin:            Most people have been fine. Some people are like you know, weird. It took my dad a little time to get over it. But now, he's fine and now it feels like it's so long ago. I was like five years ago and I'm like… At the same time, I moved from Denmark first to… I tried to move to America and didn't get a visa. And then, we have been living in India for a year. So, I met so many new people who didn't know me as anything else.
It was just you know, I got very used to it quickly and that just feels awkward to think that I had a different name once. It's fun too. But every once in a while, I'll reach out to some old acquaintance that I knew years ago and I'll like send an email in my old name. Just a… it's weird because they might not know at all, right. We haven't been in touch for this period and then after we've broken the ice, I can say oh, by the way, I have changed my name to this. And many times, they'll be like yeah, I knew that, I saw that.
And I picked that because I was like Calvin. I wanted to be Calvin J. 04:51 [inaudible] And Calvin because one of the quotes that have stuck with me forever is the Calvin 05:00 [inaudible] where is like persistence is everything. Like talent is you know, there is lots of talented people that never make it. There is skilled people, intelligent people; whatever. I forget the exact quote. But basically, the only thing that really matters is persistence, stay with it.
And that was a quote that kept me going for years and years when I was struggling. Just like keep going, keep going, something will happen. And so, I liked that name Calvin also. Well, I had actually at the time like anyone is named Calvin any more.
Michael:          Calvin in the Hobbs maybe.
Calvin:            Yeah, Calvin Klein. But it's not a name that you meet a lot around.
Michael:          no
Calvin:            But I kind of like that. And then, I had an employee years ago whose name was… his middle name was just a letter 'S'. It wasn't short for anything. His parents literally named him the letter S. So, I love that and that worked out with the numerologist. So I was going to be just J. But authorities in Denmark wouldn't let me do that. So, I became Jeremiah.
Michael:          They don't let you have a single letter name in Denmark?
Calvin:            no
Michael:          Are there any other restrictions to 06:10 [inaudible]
Calvin:            No, so when we answer a third name change actually so we you know. There's something about the Conaway that I didn't really sit right with me. And then we met another numerologist who was like you know what? This is so we changed it so that our last name is Correli. And the way that came about was that he wanted something that was similar to what we changed it to already; that Conaway.
But then, the rules in Denmark are that you have to pick a name that nobody has or more than two thousand people have and there's only like twelve names that are the so called free last names more than two thousand people have. These are the Nelson, the Anderson and Hansen and like all those you can just take. But anything else if there's less than two thousand people that have this name, you have to get written permission from every single one. So, that's not going to happen.
So, we just made up our own name. So, I was like looking at Steve Correli. I was like that's has like a nice ring to it and that kind of fits this. But that didn't work numerologically. So, we ended up throwing in 07:23 [inaudible] Correli.
And that just seemed right and I've had this long love for Italy for years and years and it sounds a little Italian even though it's spelled that way you wouldn't do in Italy. And I was like yeah, let's do this. And actually, the last time we changed our names was. Also just an adjustment my wife and I found that you actually slept this period through swap. We were both born in the twenty seventh of the month. I'm born on the twenty seventh of March, she's on the twenty seventh of June.
And so we were numerologically actually very, very similar. And then so we could swaps numerous. It was a good swap numbers. So, I had to suddenly have four names and I was actually in line down at the courthouse downtown New York here looking over lists picking one. After another line. So, my middle name of Norbert. So now, I'm actually Sheldon, Calvin, Norbert, Correli.
Michael:          All right, sounds very presidential.
Calvin:            It is, doesn't it? I can't be president over here yet unless they change 08:31 [crosstalk]
Michael:          Not yet; not until they change the constitution then you will be able to step in at the last minute you know.
Calvin:            Exactly, I don't think I can be president.
Michael:          So, I was kind of I mean this sounds a lot of fun. I'm kind of curious; what effects have you notice in your business in life and energetically since you did this?
Calvin:            Yes, I mean my life is so different today than it was back then. In terms of relationship with myself, relationship with others. The business is doing like radically different but better health. Everything in my life has proved tremendously.
Michael:          wow!
Calvin:            Is it because of numerology? I have no idea, right. I don't really care. I'm not like a staunch believer in numerology or really anything. I'm like…
Michael:          It's just the technology.
Calvin:            Yeah, maybe it works, maybe it doesn't. I don't care. I didn't like the name I had. Whether it was because of numerology or any of the other hundreds of things I've done to improve my life, I don't know. I don't really care. For me it was fun. I think the bigger thing about it is like you're asking before we started here like, who do you want to be today?
Michael:          yeah
Calvin:            I think the bigger advantage is like really getting that experience of letting go of your identity at such a deep level, right.
Michael:          yeah
Calvin:            I don't even have the same name anymore. Like you know, I don't have to be the same person. I also moved to a different country and so many things happened. I think that was tremendously helpful as well.
Just taking me out of the environment that I was in that was no new me as a certain identity and just being able to reinvent myself. And like that's who I was and now, this is who I want to be now so.
Michael:          Well and that's the great thing about travel. It totally frees you up from your old identity from the country you were born in or wherever you lived for a long time.
Calvin:            Exactly and I can see now when I go back. I have two children in Denmark with my ex-wife and they still live there. My parents live there. Like all my family live there. Every time when I go back especially now, I can just see how powerful it was to be able to go far away. Kind of rediscover myself, clean up all that family dysfunctional. Like crap that we that we bring with us from our upbringing and then go back and meet everyone from that place. I have radically different relationships with everybody at this point and it's…
Michael:          that's great
Calvin:            It feel so fantastic, yeah.
Michael:          I mean one way I've looked at it is mother, father, sister, brother, son, daughter, ex-wife, whatever are all just labels we put on people. And really that just in from a spiritual beings like we are who we've given all this baggage to.
Calvin:            yeah exactly
Michael:          And we don't have to. We can see them as spiritual beings.
Calvin:            Yes and 11:25 [inaudible] is like if you think your son, let him go back and spend a week with your family, right.
Michael:          That was [inaudible] who said that?
Calvin:            That's [inaudible] yeah.
Michael:          I never met his family.
Calvin:            At their muffle. But yeah, it can really like realizing every time you go, you have those, you go back to see your parents again and it's challenging. It's just an invitation to look at. Like, what is this about now, right? And it doesn't really have to be challenging at all.
Michael:          no
Calvin:            It can be absolutely amazing.
Michael:          Well and just as other people's families generally are not challenging to us.
Calvin:            Exactly, 12:06 [inaudible] in those ways, yeah.
Michael:          Right, so it's quite possible to get to that point where your family doesn't trigger you.
Calvin:            yeah
Michael:          So I love how you… how I would describe it as you kind of reverse engineered the numerology. Usually, people use numerology forwards to go from a name and a date of birth to get information. But you do it reverse engineer and said okay, here's who I want to be. Okay, here are names that will get me there.
Calvin:            Yeah exactly and I wrote software for this of course. So, I wrote a software that would go through and like a grab all last names in America and that's how we came up to Conaway.
And for my company as well, my company name. The actual company corporation is named 'Powerful Through Grace' which is also like we came up with that name based on the numerology and like obviously how we see things.
The product name is 13:01 [inaudible] and that too is as a big process of coming out with that name. But again, we were working to hit certain numbers. So I wrote this software that I just threw ideas out. It could tell me the numbers whether it's good or bad. We automatically look up and see if the dot com domain was available, things like that. 13:21 [inaudible] go through it quickly.
Michael:          This is next level business practices.
Calvin:            yes
Michael:          You've got a search engine that finds path for names that have a domain available. And then, you were also tweaking with what date you were going to incorporate it as well.
Calvin:            Oh yeah; I have this beautiful lawyer Lisa 13:37 [inaudible] surname who is totally on board with all of this stuff. And so, she did research into how to get it done. So, we incorporated in exactly the right day. We actually went through and changed the company name as well a couple of years ago. Originally, it was 'Easy World Teaching Institute'. And then we changed it to 'Powerful Through Grace' and that name change had to happen on a certain date as well.
So she found that if we expedited, paid an expedition fee and then at the same time sent it on a specific date then, it would be and then kindly asked that as well. I think just to make sure. But that worked out perfectly.
Michael:          And this is very common in Asia. You know Chinese people do this all the time not necessarily using numerology. They may be using astrology but the date that they and time they incorporate a company or they launch a product; they're very careful about how they do that. Or found start a building or whatever the thing is.
Calvin:            yeah
Michael:          Specious time I think is the technical term right.
Calvin:            Yeah, India is big in that kind of thing as well. They have their own…
Michael:          But I think was something to it and even if it's a bunch of whatever, it's because billions of people believe it. There's so much energy tied up in all the people who do believe it. You can tap into it by doing it.
Calvin:            yeah
Michael:          Well, that's my view because I mean I've messed with my own astrology and I didn't like my astrology so I shifted the astrology.
Calvin:            How did you do that?
Michael:          I just did energy work on it. I made myself bigger. As big as the whole universe and then the planets were so teeny tiny that just moved them around a bit till I got what I wanted.
So, similar concept you know. I mean all of this is a creation we've done as humans incarnating that we create these little systems.
Calvin:            sure
Michael:          They don't have to be… It's not like slavery where the numerology has to control you and use your Karma or faith or all that stuff. Like we're powerful spiritual beings and we can do what we want. So changing your name, changing your astrology, picking company names, product names; it's all a little game we play.
Calvin:            yeah
Michael:          So, you mentioned when we were talking before the interview that you were pretty emotionally shut down which is hard to believe because you seem pretty emotionally present.
Calvin:            yes
Michael:          So, tell us how come you were so shut down and how you came to open up ten years ago.
Calvin:            Well that I mean why is that that's what I learned, right and growing up. It was like all nobody was really in touch with what they're feeling or saying what they were feeling. It was all like this life of like you have some like you're feeling hurt or scared or like feel like you have some need for something.
And then, instead of just expressing that oh, I'm scared then you go back inside. You don't even realize like what you're feeling exactly and then you try to rationalize and figure out a strategy. What words can I say so that I get my needs met from this other family member without revealing anything about myself and without actually acknowledging? Then like it becomes this whole 16:50 [inaudible] of and I lived like that for so many years.
Michael:          Was this special to your family or is the whole of Denmark basically this way?
Calvin:            I don't think it's uncommon. I…
Michael:          Or maybe it depends on what name they have and their date of birth and their numerology.
Calvin:            Yeah, yeah I think this is also like particularly bad for me because I am a very emotional person and very, very like unusual and in many, many ways. And it wasn't recognized and it was like weird and different and scary and all that. So, I just learned to like keep everything to myself and like just let it build up inside. And I married…
Michael:          17:40 [crosstalk] your creativity and artistic side or?
Calvin:            Yes, yeah and my emotions and just like anything and like all the things that I was ashamed of and scared of. And in particular, it seemed like fear was something that was not dealt with very well in my family. I spent a week with my dad last year for the first time in my entire life that me and my dad to spend a week together; just him and I. We were driving down Highway One in California. And I taught him to instead of like saying things something like slow down. I taught him to say I'm scared.
It worked really well. Like once he says that I'm like naturally, I just want to I'm like oh I don't want you to feel scared. Let me… But when he says slow down, I feel controlled and like it does I feel like right not.
Michael:          And what was that coping mechanism you used to cover up fear to go into controlling others or controlling yourself?
Calvin:            Yes, definitely and it was what was being used in my family. Definitely and like yeah, not even recognizing that you're afraid, right.
Michael:          Yeah and just for people who may think control is kind of handy thing to have. What's the bad side of control? Because I mean the traditional business view is you try and control everything pretty much, right.
Calvin:            Yeah, how's that working?
Michael:          Not so well these days.
Calvin:            Right especially like controlling other people to try to get your needs met. It never ends up feeling good for either party. The only way it ends up feeling good is if like you are being open and you can invite the other person to do something with you and it feels good for both of you then, it's amazing. And it might be the same thing kind of on the surface but the energy behind it if you're coming from.
And like every time you just open up and reveal yourself like I feel scared right now. It instantly just hits a button in other people that makes them almost like all people who… Makes them want to be like oh, you know. It touches them and then to open up and now we can start that relationship.
Michael:          You know I have a dream. A dream that one day, all leaders in our business community and country will be okay doing that. Can you imagine Congress in the United States where people are admitting their fears and being vulnerable and saying what we really want?
Calvin:            Like honestly, I'm not sure what to do here. Can we talk about it?
Michael:          Yeah because that's not allowed for politicians typically, right. They're supposed to know what to do all times.
Calvin:            Yeah and can't change their minds and all that crazy stuff.
Michael:          I mean that's nuts, things change. I mean the world is so chaotic. There's so much change in technology and society. And other things and a whole spiritual set of changes that are going on.
Calvin:            yeah
Michael:          How could you have a policy that doesn't evolve and change?
Calvin:            Right and if you don't… I mean like never changing your mind or asking people to not change their minds is the same as saying that you assume they're right about everything. I don't think that's possible. So, the only way it like I'm always like when I realize I've been wrong about something I'm like yeah, let's celebrate. Hey that's fantastic, it's progress. I learnt something new. Like that's what we want. We want to learn something new and the only way you can learn something new is to realize that you didn't know it before.
Michael:          So 21:17 [crosstalk] to look at it.
Calvin:            Yeah, yeah it calls for celebration. Just like a lot of people don't like feeling incompetent. But the only way that you learn something is by feeling incompetent first or you never try anything new and then you can stay within that small confines where you can feel confident or competent.
Michael:          So how did you get to open up because you sound like you were really in a shutdown really tight box so that's?
Calvin:            Yeah, I guess at some point I didn't have the option of staying shutdown anymore. I had a big crisis of meaning after my daughter was born and she kind of turned one. And I realized I wasn't where I wanted to be in my life. Like you think from an ego point of view. I was very like here, this is where I need to be in order to be okay and successful. And I wasn't there and so that pain just grew to be too much.
And so I started to look into help. I have started to work with a therapist and I also got a coach education. I hired a coach and that very quickly let me to realize I want to learn this stuff for myself. And kind of self-image changed over those years from like being that I'm not a people person. I'm bad with people to realizing I actually that's kind of the opposite of the truth you know. Is really crazy.
And yeah so, I started to learn more and do this work and I realized that I really enjoyed it and I think that combination of like a logical math brain with actual good emotional availability once I started to open up, was really amazing.
One of the things that really helped me was this body therapy which is actually a Danish develop system. It's called Body S.T.S. And what it is is you're on a massage table. But they work on your front side they work on both sides. But they start in your front side and it's not the traditional massage in any way. It's very much like opening up the energy system of the body and then opening up emotionally. So, like whatever has been shut down in your body gets eventually stored in your body as muscle tension and other things.
And then, as they go in and they open, they release that stuff. All of these all things come out. So, I liken it to kind of like empty out  the reservoir it's so right you've like all these things you didn't want to feel see store them away and now they need to get out somehow.
And so for a while is like every time is getting triggered I was like. Yes, fantastic because like that's an opportunity for that way. For a period it was a pretty intensive. Like everything, all kinds of things would trigger pain as be like walking on the street starting to cry and it would feel really awesome. It feels so good to be crying there.
But the body S.T.S. was the first time I tried it and this guy was working on my front side. Especially the belly area. There's a lot of this like the switchboard for every emotional stuff in the body. And then, he was working on my front side and then he just leaves me there for like twenty minutes to steep for my own.
And during those twenty minutes, I would be crying. Like really crying and then laughing and then crying again and then laughing some more. And it was just coming these waves for twenty minutes nonstop and it felt fantastic. And I wasn't crying about anything, I wasn't sad. I wasn't like there was no story attached to it. It was just like tears coming out of me and there was laughter and it was just so fantastic.
I've tried it several times since and I go. And actually my wife now is trained in the system so I have first-hand access. But this is such an amazing tool.
Michael:          I think that's a great thing. Whatever body work you do or energetic work to release stuck things because I definitely think we stash. If we don't want to handle something, we stash it somewhere in our body. Often, we stash it in places that we don't notice like a commonplace behind our backs. You know somewhere in the back part of the body because you don't notice that as much.
But if we leave stuff stashed there for too long or we keep repeatedly sticking crap into the same body area, guess what? It gets sick.
Calvin:            exactly
Michael:          So, it's not just that your life sucks a bit but you get healthy. I honestly think there's no reason for humans to get old and die other than through choice. But yet ninety nine point nine percent of people stash all this stuff in the body and then wonder why they're not feeling so good.
Calvin:            Exactly, yeah and it cuts down our access to intuition, to body intelligence, to all that our bodies have to offer. So we're limited in our resources as well. And especially for someone like me who is very, very mental. I really used to live from like the neck down. Like my body is a vehicle to transport my brain around but that's that brain is…
Michael:          That sounds like a Dalek.
Calvin:            a what?
Michael:          If you've ever seen Dr Who.
Calvin:            oh no
Michael:          A Dalek; you know those creatures that only have like they have a metal robot body and they're very logical and they always want to go around killing other creatures because they're too happy and get to cry.
Calvin:            That's pretty much like it, that's exactly it. But these people like Ray Kurzweil and others who believe honestly in all seriousness that you would be able to download your human consciousness into answer like some S.D. card or whatever. And then put that consciousness into it. I'm like that doesn't even make sense.
Like most of who we are as is like it's much in the body and the spirit as is it like in this brain.
Michael:          I think it can theoretically be done. I mean I think I communicate with my electronic equipment. If my computer is not doing things well, I'll like talk to the software, the hardware, the Internet and all the other bits. And they have a very different kind of consciousness and way of being. So, if you did doubt, I think technically you could do it. Maybe it would be very distorting.
Calvin:            Yeah I don't see how you could get like that all of the emotional and spiritual complexity of who we are on to that thing and then into another. I don't think that we're in this life time as who we are is separated will from our bodies.
Michael:          Well maybe if you totally emulated the body and software, you could do it. You know you can go back a few million years and say oh, I don't think we can take these infinite spiritual beings and cram them into a little baby's body. And a lot of people, when they're incarnated, if they have memories of their babyhood or childhood like, what happened? I used to be infinite and now I can't do all of things I used to be able to do.
Calvin:            Yeah absolutely you can, so yeah. For me the person I'm … Like for me having been someone who used to live very, very much in my head. I can see that it's easy for me still to get into a place of not really being fully present in my body. So, it's super helpful to regularly have different types of body work and that opens up. And like that reminds me oh, yeah. Like it just expands my world again and again.
Michael:          So or any kind of if you can just stand up and move around or dance or do yoga or have sex or play music or whatever you do.
Calvin:            that's right
Michael:          I'm just listing things from your bio here. So, you also got help by meeting 29:20 [Buddy Jeffries] who you know, he helps you to open up even more. And we'll put his link in the thing. But he was like a signpost on your route to spiritual growth by the time.
Calvin:            Yeah, I feel like he was the one that really cracked me open in that way. I worked with him for two years and we speak on the phone every week at a fixed time. I lived in Copenhagen, he lives in Sunita in California so, we had a nine hour time difference. And I didn't see him. He was just this embodied voice to me which is…
Michael:          Maybe he's in a computer chip.
Calvin:            He could I've met him in real life since then. But there is something very powerful about that actually. Like not having to relate to a human being but just like having the conversation by a voice. That was it, that worked really well for me.
Michael:          And I'm just going to imagine probably, did some energetic shifts with you as well.
Calvin:            Yeah, it was very. It wasn't like you know deep Sherman type stuff. It was more like just like having me pay attention to what was going on in my body a lot. And a lot of like time travel in the sense of like whatever I notice in my body, something is twitching in the shoulder or whatever. And then we go in there and just see what kind of pictures and stories come up and then maybe there's some old moment that happened when as a kid or whatever.
And then I like go back and replay that episode with who I am today being there, being able to speak in my ear and just take walk through that situation with someone on my side if you will. And that seem to be super powerful. I had some very, very powerful experience with that and you know it's whatever. He's like very… He doesn't come with like a plan or anything. Just like every week, we just meet and see what's up? What is the energy move us to do here.
Michael:          So, I know we talked earlier about how you integrate all the money, practical stuff, strategy and your spiritual side and that's the thing that a lot of people have difficulty with. So, just tell us briefly how you do that.
Calvin:            Yeah, couple different things. Like first of all, like the way I look at my businesses is we provide a product, the tools for people that does certain functions that they need in their business. Marketing and taking money and delivering content for courses and all that stuff.
But really, what I'm doing is I'm trying subverted lead it to hold the space for our customers to turn in to be the biggest version of themselves. To really step into a place that's like more alive and more of them being in essence, more empowered.
And we do see that with our customers as they get going and they get their stuff, it transforms their lives and their relationships all around. We have a lot of female entrepreneurs who use our software and end up being this breadwinner for the family and their husband start to work for them and things like that. And I love seeing that and it's something that I'm very intentional about. This is not just a tool that solves a problem. This is really a transformational tool that I want it to have that effect of opening up the hearts and minds and consciousness of everybody who comes into contact with it.
And the people that we have as customers are doing the same thing for their customers. So, we're touching a lot of people's lives. So, that's kind of one thing and at the same time, I mean I'm sitting there writing code and I have a good brain for strategies. So, that comes pretty easy.
Of course, if we want to be strategic about things but not in a manipulative way. Just like well, what comes before that is right. Like you want to focus on your conversion before you focus on getting a lot of leads in the door right. That those kinds of just common sense kind of strategic stuff.
Another example is hiring. So, it's something that was a struggle for me for many years. Finding the right people to work for me and is something both my parents had companies where there you know, separate company. My mom started a software company and grew that to fifty people back in the eighty's. And my dad had another company that was even bigger doing metal shop fitting in wooden things like that.
But one thing I saw was that they actually always struggled with finding good people, finding the right people and having good relationships with those people. And it was tough for me as well. So, what I did was like attack it on all levels.
So both just like a concrete practical level of like well, what's a process for getting candidates in and filtering them out and screening them and cetera? Reading books about them, about that and team building; those kinds of things. But I also looked at some of the emotional mind set pieces of. I realize for example that as a kid I've gotten a lot of acknowledgment for being good at programming and there's still that part was still active in me.
And so I was afraid that if I got a really good developer in that he would be better than me and he would get moms or dads praise more than me and things like that. So you know or from that and then I have a healer that I work with on a weekly basis these days. And so bring it with her and they look at what kind of energies are going on in my body and like whatever things come up in those sessions around this, around other things.
So really looking at it from all levels. And just I don't set deadlines, I'm not on a timetable. I don't have… I just keep making progress on it at all levels and then eventually. What in that happening was actually super beautiful. Because what happened was my dad celebrated his eightieth birthday and I went to that. And then, I saw my daughter there because I was in Denmark. So, my son didn't want to see me and their mom thought that that was a good idea and that he should see me. I didn't see him and then well just…
So, what happened was my dad asked me to be Toastmaster which means I had to coordinate speeches and like there's this whole thing. And I had to drive, take my daughter back home as well. And so I was like should I. I could get someone else to be the toastmaster and take her, I could get someone else to take her or you know what? 36:55 [inaudible] is a very, very safe city. I could just send her home in a taxi alone.
She's twelve now. She was eleven then something. That honestly should be fine. So, I asked her mom if that was okay. She was like no. So I guess someone else, some other parent took her home. It was all fine and then I got an e-mail from her saying because of this I can never see them again and definitely they can never visit me here because I was just be partying and send them home alone in a taxi in New York City. And all these other stuff.
So, she decided that I should not see them which of course I didn't accept. So, I had to take her through the legal process of like getting the government to interfere in the stuff. And that led to not only like now we have a great working relationship. My kids have been over here many times and it's been amazing and all that is all sorted.
But also because of this, I had to go to an evening meeting in Copenhagen with the government over this. And that's when I met Nick who is now my business partner and is like the most intelligent person I've ever met and like super good. Running and running all the development stuff and taking the stuff and basically being like a business owner alongside me.
So, I'm so grateful. It worked out better than I could ever have imagined. And one kind of showed me the way. I didn't realize how important it was for me to work with people who are super intelligent. This guy has the highest G.P.A. of a high school exam in Denmark ever.
And the highest in mathematically can get. So nobody can beat him just to give you a new illustration. And as realize that's what I need from the people that I work with. And so, like everybody on my team has like I had one other person on my team at that point. She had to go and then everybody has come after and the world like we're just putting something together that's super jet now so yeah.
Michael:          That makes total sense to me. It's funny how the things that look really terrible at the time turn out the most blessed thing that could have happened. You'd never have met that business partner and changed your business that way for more profits and joy if your wife hadn't been doing that back then, totally amazing.
Calvin:            I'm so grateful.
Michael:          Yeah so, I know we're up against a time limit for a conversation today. But I'd love to have you back another time to talk about how you're designing a new country and about customer service and many other things to do with intuition and business.
Calvin:            I would be delighted to 39:34 [inaudible] provide.
Michael:          Yeah and if people wanted to find you online, how could they best do that?
Calvin:            The best way right now is to go to my software company simplero.com and sign up for the newsletter there. There's a box at the bottom of the screen and I write. We talk about the software and those things obviously. But I also write a weekly newsletter on Fridays. That's like my corner where I talk about exactly these kinds of things that we've been talking about today so.
Michael:          wow!
Calvin:            yeah
Michael:          Well that's wonderful. So we'll put all those U R L's and the other ones we mentioned in the episode in the show notes and we'll hope you have the same name when you come back on the show enough.
Calvin:            You never know and maybe you know it's Calvin.simplero.com and that you can also just reply to all these emails, to all these newsletters. I'll get them so.
Michael:          Excellent well that is good with a name like yours, it would be impossible to hide because when you Google your name, like you're it.
Calvin:            yeah
Michael:          All right, well thanks very much for coming on the show, Calvin.
Calvin:            Thank you so much, Michael. Thank you to everybody who's listening. It was a pleasure, super fun.