Calvin Correli talks about "Intuitive Naming For Amazing Joy And Profits With Calvin Correli" in this episode of the Intuitive Leadership Mastery Podcast, with host Michael Light.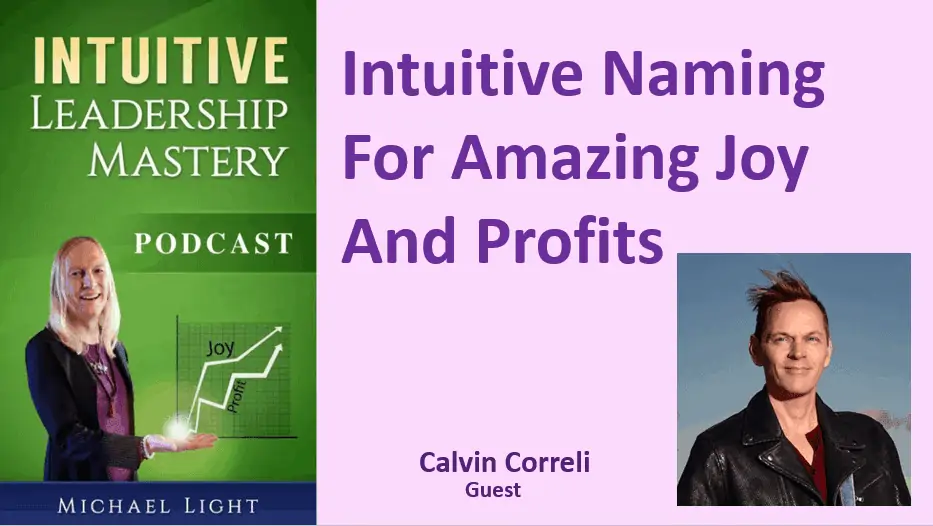 "Controlling other people to try to get your needs met, it never ends up feeling good for either party. The only way it ends up feeling good is if like you are being open and you can invite the other person to do something with you and it feels good for both of you then, it's amazing. And it might be the same thing kind of on the surface but the energy behind it if you're coming from." – Calvin Correli
Here are some of the topics discussed in the podcast:
Why he changed his name three times

His original Danish name was hard to pronounce and spell for Americans

Used Numerology  to help pick a new name

Reverse engineering numerology to get the spiritual energy you want based on the name you pick

Fear what family and friends would think

Procrastinated for a year

Traveled to India for a year and used the new name and got used to it

Wanted middle name of just J but Denmark would not allow that so used Jacob

Plus they require new names to either be used by 2000 others or zero others

What effects have you noticed in yourself and business and life and health since the name change?

Who do you want to be today?

The power of travel and easier to clean up family patterns.

How he picked his business name and product name using his intuition

Biz name = Powerful through grace

Used software to search spiritually powerful names with web domain and certain incorporation

How he overcame being emotionally shut down and opened up ten years ago with spiritual teacher Bodhi Jeffreys

Upbring of being closed down and manipulation

Shame

Fear was not dealt with well in my family – used control instead

Coach → body work → spiritual guide

The joy of crying and laughing for release

Especially without a story

Open up more body intelligence

How he integrates money, practical, strategy and his spiritual side

Combines High vision and programmer details

How to hire people who are good for the company and you want to work with everyday
If you want to double your profits and half your stress, check out the Biz Intuition Profit Doubler. It is a free course for you to use intuition in your business.
Mentioned in this episode
"Nothing in this world can take the place of persistence. Talent will not: nothing is more common than unsuccessful men with talent. Genius will not; unrewarded genius is almost a proverb. Education will not: the world is full of educated derelicts. Persistence and determination alone are omnipotent." – President Calvin Coolidge
"If you think you are so enlightened go back and visit with your family" – Ram Das

Celebrate finding out that I was wrong or incompetent – because then I know I can grow and learn – Calvin

Daleks (Dr. Who)
Podcast: Play in new window | Download (Duration: 41:30 — 38.0MB) | Embed
Subscribe: RSS
Bio
Calvin Correli is an entrepreneur, artist, creative, intuitive. He is the founder of Simplero. Calvin is into spirituality, personal growth, music, entrepreneurship, life, love, sex, creativity, food, drinks.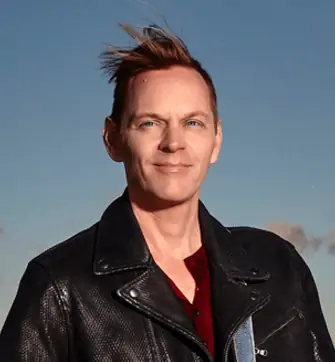 Interview Transcript:
Michael:          Welcome back to the show. I'm here with Calvin Correli and we're going to be looking at intuitive naming for profits in your business. And in the show, we're going to look at how he changed his name three times. How he picked his business name and product name using his intuition and how he overcame being emotionally shut down and opened up ten years ago with the help of an amazing spiritual teacher. And we'll tell you the details on that in a moment.
And perhaps, most importantly for entrepreneurs listening, how he integrates all the money, practical stuff and strategy with the spiritual stuff because a lot of us have difficulty with that. So, I'm curious to find out how you do that Calvin.
And if we have time, we'll have a look at some of his controversial views on intelligent intuitive country design. He wants to create his own country; that sounds interesting. And why good customer service is key to your business success. So, welcome Calvin.
Calvin:            Thank you very much. I'm glad to be here.
Michael:          I am so happy you're here. So, I thought of people changing the name once or twice but three times, that sounds impressive.
Calvin:            Yes, I don't do things small I guess. Yeah, I was… Basically, it's one big change and then adjustments. Let's put it that way. But I was born in Denmark and I didn't like the name much.
And it was very complicated in the U.S. in particular. Like how to pronounce it in a way that people understood. And it was just that I wasn't at a huge fan and so I met these people who are into numerology and I kind of started to get the idea that you could actually change your name.