You can listen to the podcast and read the show notes here.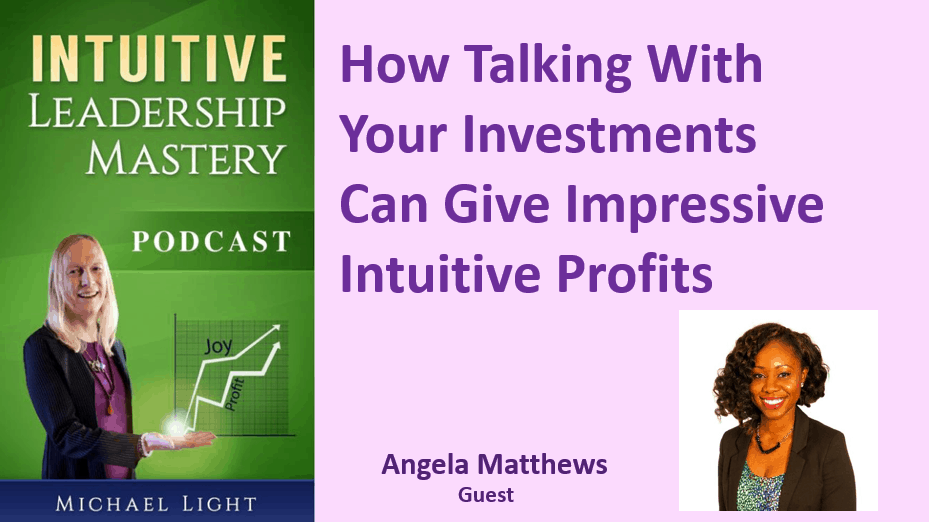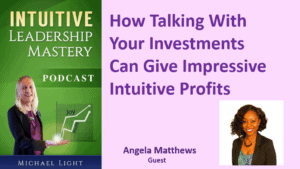 Michael:          Welcome back to the show. I'm here with Angela Mathews, and we're going to be talking about how she uses her intuition with investing, and money. So, she is a legendary investor. She founded the 'Happy Investor Method, and also the mindful investor club. And we'll look at how she makes declarations versus having goals, how she speaks with her money and her wealth, why having children changed her relationship with a business. And how she uses her intuitions to decide when to liquidate an investment, and when to buy it. So, welcome Angela.
Angela:           Thank you so much for having me to the show. I'm really excited to be here today.
Michael:          Yes, it's great to have you here. And let's just start off by you told me before we started the interview that you like talking with your money, and your wealth.
Angela:           I do
Michael:          Tell us about that, and why you do that.
Angela:           I love talking with my money, and my overall wealth because sometimes, a house or a property may not be physical money, but it's still your money because it's bringing it in. And the reason why I love to do that is because it has an energy to it, has a feeling. And I feel depending on how long you've had your money for and maybe might be going through different stages. So, sometimes it can be a baby, sometimes it will hit adolescence especially for investment a penny or how long the pattern.
It can be adult, mature, or you know like not wanting to move or grow and sell think about is okay you little constipated, are you being shy. You know can you go out and come back with friends which I do a lot for investments. I say, "Okay, I'm going to let you go out, and I need you to come back with friends. So, I actually talks and I money a lot, and most times, it actually listens. So, it listens because I listen to it.
Michael:          That would make sense. So when you say you listen to it, what it what kind of things does it tell you?
Angela:           Sometimes, it's really interesting because I look at my bank account, or sometimes I'll look again my portfolio. And I'll think to myself like, "Are you happy, are you doing what you should be doing?" And it does say you know like well, I'm feeling lonely meaning I should invest more. Or I feel static, I feel okay which usually means that it's good, it right it's I made a good decision. Sometimes I look at my bank account and I say like, "Do you need to eat more? Like I need a little fattening up, should I add more money to you? Look what's going on." And I almost get the energy sense that it does. Like it's like a leaf shaking alone. If I has an analogy, if it's on a tree, and sometimes to me, I like to vision my money being a money; literally a money tree. And yeah sometimes it just means fertilizer and stuff like that.
Michael:          Tell us a bit more about that money tree visualization you do.
Angela:           Absolutely and so for me, trees are really important in general just because they just make you feel better. They've literally been here longer than you chances are will be longer than you. And I have a say somewhat of a wisdom attached to it. So, I'm visioning a money tree where your money happens to be the leaves of the tree. I feel like there's a stronger sense in knowing what season you're in. And so sometimes, you could be in spring where you see new buds of money. Like acorns, or little Caesar saplings showing themselves. Sometimes, you can be in the summer where it's just bright and driving, and the wind blows and it still sits there right; nothing's happening.
And then other times, it could be and fall right where the older the money that's been there the longest. Sometimes its cycle is done and it needs to be reinvested or it's done. And you literally watch it go back where it came from. And so sometimes that might be reinvesting it into something else. Or just literally giving things for what it's done so far. Providing shade and security. And so to me that's it's like my money tree, and sometimes I hug it, right. Like I actually do real trees, and it just feels good, and I think just showing that appreciation and respect for money versus putting on a pedestal. It shifts the relationship that you have with it.
Michael:          Why is putting money on a pedestal a bad idea?
Angela:           Well, I think unless you have a pedestal for everything, putting anything out of it it's all about idea. If you have a pedestal for everything and I guess because then that means nothing's on the pedestal. But putting on a pedestal is bad because it somewhat changes. It will always change the way you view things because a year it's an exterior event, an exterior ending that is dictating your life. And so, if you're putting on a pedestal valuing it more than it really is. It's just a piece of paper that someone has a belief about that you share the same belief about especially when it comes to worth and value. Then that's not really to your best advantage, right. I have rather put on a pedestal if I had to. Not what money could do, but the potential that it has, right.
And then, I find that if I do tend to put money too much on a pedestal based on that potential, what really helps to deflate that is thinking of what other ways can actually get to the same potential. So an example would be perhaps I want a lot of money to take a very, very comfortable trip in Africa, right. Go to where the entire continent in a very comfortable way, right. And so maybe this needs really lacks accommodations, maybe this means bodyguards to aligned vehicles; whatever that could mean.
And thinking, "Well I need a lot of money to get there." So now money's on a pedestal. Now I'm thinking well okay, well maybe how can I achieve this about money, how can achieve this by leveraging relationships, how can I achieve this by sharing the messages about was truly happening on the continent? Which can still afford me the same quality that I desire just shifting, kicking the pedestal, laughing, watching it come down and seeing what else holds the potential.
Michael:          And some people may not put money on a pedestal, they may be digging a hole for it, and looking down on it.
Angela:           absolutely
Michael:          They may be angry with their money.
Angela:           Absolutely and that's really ironic too because you do have people and sometimes within ourselves where you're angry at money. You're angry at the things that people who have significant amounts of money do with their money, and the impact and implications that has in the world as a result just because they happen to have more money. But I really try to say don't direct that energy towards it because if you want, you can combat money. Like if you want to combat that energy, having money is really important because it's on the same playing field, and it's on the same energy frequency. If you're going to go to combat with someone who's ruining the world in your viewpoint because they have tons of money, the only way to counter that is for you to have tons of money to kind of combat that energy with a positive energy.
Michael:          Well it just be okay they do whatever they do with their money and I do what I want with my money.
Angela:           Exactly who pupuing on the person just because they have money is not going to fix your situation.
Michael:          And the real issue is not the person has money, is that they are misguided in what makes them happy, or maybe misguided is the wrong word. But they have a different choice for what makes them happy.
Angela:           They're disillusioned, and I'm actually thinking about one person in particular.
Michael:          So, yeah because I think money itself is neither good, or bad. It just magnifies what the person already is so. Magnifies what we're able to do.
Angela:           Absolutely and sometimes you may want to check it. Just like I know that you probably got… you know sometimes it could just be envy.
Michael:          yeah
Angela:           That could be seating at those thoughts and so you want to really check and yourself with yourself if you find that you're hoarding resentment, or digging a hole, or saying to yourself on one side that you kind of don't want it because you don't want to have these qualities.
Michael:          Yeah, and the problem with envy it's a low vibration, and it's hard to create your dreams from a low vibration.
Angela:           absolutely
Michael:          Yeah, so speaking of creating your dreams, when you want to create your dreams, you make declarations, you don't have goals. Tell us about that because that sounds intriguing.
Angela:           Absolutely, so I make a declaration. Sometimes they're bold, sometimes they're [crosstalk] [08:59]
Michael:          Tell us a bold declaration you've made recently.
Angela:           So a bold declaration that I've made recently. I think business wise is probably my most recent was that I'm gonna to actually coach 15 serial entrepreneurs, in learning how to scale their business  lunch wise which is really bold for me because I'm not a coach. I don't do it. I have no desire to be a coach of that nature. It came from just I just want to show people that there's easier way. You know that if they're just in their pedal to the metal all the time in grinding not seeing results. It doesn't matter about your website, it doesn't matter like how many Facebook likes you have where people are in your mail list. Like all that is crap.
Like you just say that what you want and then it will happen. You know instead of the other way around. And so, I just decided to create a little army of me. And so, I declared 15 people which may seem very small. But for me, considering my audience are all investors and people looking to invest. I have many entrepreneurs in my circle in terms of my tribe. So and also for the price point of the program as well considering we're sharing energy for five weeks. So that was a bold declaration, and I said I wanted this within two weeks. I wanted to find these 15 people within like 14 to 15 days. And so, that's huge for me. And I want to do this pregnant, and I want to do this while launching my next cut business like a week later.
So, I think that's kind of bold. And it's working you know, it's working. I still have to go. I still have a few days to go to hit the 15, but record is the way they are, and it's just working. And so, that's why I think really making your voice, and your word, shape your existence in reality versus having all these other things that have nothing to do with you per se personally shape your existence, your reality. To me it's so much better, right because I can control my word, I can declare what I want at any point and have it show up. Which is why I have to declarations versus goals. When I made a declaration of taking 15 people under my wing, I didn't think well, how am I going to get to set 15 people? I didn't think with one strategy would be, I didn't think who is this target audience, I think any of that. I just said I want to help at least 15 people, and that's it.
And however the universe got my higher self sees fit to make that rollout. I'm watching, I'm willing, and I'm working. But I'm in the spectator role. You know just to see at the end of next week like well what happened? And I find that when I'm in the position of declaring, and executing declarations, I am more… I'm not as emotionally involved. I can definitely take a higher perspective, a higher self-perspective on everything that's going in knowing that there are extremely stressful moments. But and knowing that we're just kind of eating popcorn, watching, and seeing how this unravels from the craziness that you just said.
Michael:          And why is it important to be in that spectator role, and not be emotionally involved? What's the danger if you get emotionally involved in your declarations, or goals?
Angela:           Well I do want to say that emotions will come and go no matter what. Whether you say you want to not be emotionally involved, or be emotionally involved, we're humans, we have emotions, that's going to happen. It's just how attached you are to the emotions. You know whether there are clouds passing by which equal anger. Anger, surprise, whatever those emotions are. And literally experiencing them in the moment because we're human and we're entitled to experience with those things feel like, and letting them continue to pass by. But I think it's even that is still a spectator role of your emotions, right. Watching them pass by as clouds. And it's important because sometimes when you get so emotionally connected, I think that you sometimes attach to worth, and value.
So, if you are going through a moment in your life where something isn't working out, maybe it's a business deal that didn't work out, or perhaps you're trying to go for a promotion, and you just saw this other guy get it who does like literally half the work that you do. You get angry. Resentment builds and after a while, it's very logical to think that the next step or to start equating that to your value, and your worth. And so, when you are led by your emotions and you let your emotions actually dictate, then all of a setting and I fail a worth conversation comes in. And to me, those are very difficult conversations to get out of.
So I try not even go there. I know that I am absolutely worthy, and extremely abundant. And so, if everything's abundant and I am intrinsically abundant as well. But I find that it will help me just get through the issues to just keep focused on the spectator role, right. It's something if you didn't get the promotion or if the launch didn't go well, then what's the next plan, right? That's what you need to be thinking. You need to be thinking acting fast.
Michael:          And I noticed in that declaration you shared with us, you talked about people, and not how much money you are going to make.
Angela:           yes
Michael:          Is that important to you?
Angela:           It is important. It is absolutely important to me because in the end of the day, you can declare money but money comes, and money goes. It really… especially once you start getting lots of it. You're just like this… It starts losing the meaning that it once had when you're first chasing it, or getting it. It's like I don't know. At some point, money to me almost looks like beings. Like I don't even understand what this means sometimes. It's like oh I got a lot of beings. I don't even know like, what does this mean? But I think when people… when you declare people, you're declaring impacts, and you're understanding that granted it maybe 15 people today, 15 people in five weeks.
Even if half of them do what we signed up for everyone to do, I mean that impacts of that will be tremendous. And so, I'm thinking impact versus money, right. And the money will come you know. I could have easily declared say well into two weeks, I want to generate an additional 20,000 dollars in income right in two weeks. I could have easily declared that. But instead of saying well, I want to declare 15 people right 15 whatever, whatever that looks like. Then perhaps, it may not equate to 20 or 25,000 dollars, but I fully recognize that in the long run, it will. In some way, shape, or form.
So an example would be right now we have ten like I said. I will probably scholarship one, or two people. Give an apprenticeship and a scholarship. That's still falls within my declaration of 15 people because the end of the day, those people are still going to be learning things about their business, they're going to be generating money. And I'm sure if I really want to think about it, I could probably at the end of the five weeks say like, "Hey, why don't we formalize this mentorship relationship with the actual coaching package?" And know that they will have no hesitation buying it because I literally just showed them how to make a lot of money.
Michael:          And do you use cycles in new launches, or?
Angela:           I do, so I go through 90 day cycles for business.
Michael:          Why ninety days?
Angela:           Everything goes in 90 days cycle, so why should I not? You've got seasons, you've got everything does. And so, I think just follow it just falls in the natural beat with everything else. And I find that I need rest as well, and so I will go. My attention span literally last for about 90 days. I'll have about 90 days with the projects before I'm just alright, we need to do something else, I'm done. And within that 90 days, I will go from conception, it will have a full life in 90 days, and then I will rest it and say, "You've done well.
Maybe I will probably see you next year, or next fall." Or something like that. So I'm a fan of 90 days because I can hyper focus, and knowing that it will be over in 90 days helps me to not lose focus on what the goal is. And so, I can probably get more done in those 90 days and I would have for the year because I know it's going to end in 90 days. It's almost like when you're running a marathon, and you see the last spring coming. You're just going to charge for it because you're like the end is near. This isn't the end was…
Michael:          forever
Angela:           … or miles, or forever. You just take your time and just pace yourself. And so for me, I definitely probably should have a conversation with pacing myself. But it doesn't exist for me. The pacing, there's no pacing myself, it's just we're doing it.
Michael:          And then tell us a bit about how you target. Do you pick the avatar, or who you're targeting because clearly in that declaration, you knew who you wanted to attract.
Angela:           Actually, I didn't. So that's the funny thing. I didn't which is why I love declarations because it takes the pressure off of knowing the how, the who, the why before making it. And those are things that I don't want to say and to limit my capacity, right. And so, I just literally declared 15 people. I didn't even say entrepreneurs because there are people in the program even now who wouldn't consider themselves entrepreneurs because this is their first time doing it. They perhaps have a nine to five, they're an executive, they never thought of themselves as entrepreneurs.
And now, it makes sense for them to release a product highlighting all the things they learned, right. Why not do that? And so I say I'm still learning who these people are actually. So, the next iteration, I'll say well, we had someone who is or serial entrepreneur in the sense that they have tons of real estate. You know we have someone who is an Olympian, athlete, we have someone who you know like all these people from all different works of life. And I think the ones that I really enjoyed working with the most and then, I'll make that the avatar. So, it's really interesting as I see it now.
Michael:          So you shared earlier with me that you're having a child, and tell us how that's changed your relationship with your business.
Angela:           It's changed a lot actually. And the reason why is because I think I had to sit down. And there was a point where I started thinking I have to work, and I have to do all this stuff while I'm with child. And then, it definitely gets a point where you start thinking well, I have to prepare for such a child. So, I start working even harder. And then at some point, I had a realization like a come to a moment where I realized you know, chances are I may only experience this three or four times in my life; max. I don't even know it to be honest because I want to see with this one feels like before I say go saying I'm going to have this many children. But I can experience a launch at any time. I can experience business anytime. I've been experiencing it right?
But how many times am I going to experience being literally a portal for a new entity that's coming into this world? And so, for the first three months while that I found out I was pregnant and ironically, the first three months is when you're not supposed to actually telling one that you're pregnant. I actually stopped everything I was doing. I had no desire to do business, and I respected that intuition. I respected the desire to just not do it and to just be with the process. To be with the process of preparing my physical body to house two beings. To prepare myself spiritually right. So understanding that if I'm experiencing morning sickness, that it's actually just our energies balancing themselves out, and it's having a physical manifestation.
So, if I can focus on our two energies being more at once you get there, then it was amazing how my morning sickness, and sometimes evening sickness subsided. So, it's really I've never been hijacked this way. In a really clear sense because I do feel like you just came in. It was like no, we're doing this and I really have never lost the taste for business that we had before in my life. And so I'm just kind of spectator role. Like just watching it you know. Like okay, like okay. This is a part of the human experience. This is a part of my experience, and I authored it this way for a reason. So why am I going to deny it if I clearly created it?
Michael:          And how do you feel that's affected your intuition? You've now got another entity inside you.
Angela:           I think that it's really done. This kind of done it for a [inaudible] [21:56] to be honest because I think that even though my child isn't born yet, it's still a spirit entity that's been here forever; just repurposed inside of me. And so, I definitely feel that I've got the intuition of myself as well as the intuition of this other being and really discerning well, what's my intuition versus the intuition of the baby's; this new entity. And really thinking well, which intuition am I going to actually honor, right? Because it's still my body, my life. Which is still what I'm thinking in terms of kids it's still my life. But I am also like a portal, and a vessel, and a house right. I want [inaudible] able.
So it definitely comes it's hard and then like I told you before I don't really have an answer for how to balance two intuitions, and how does this work out. I just know that there is a clear separation which I never thought would have been the case. There is… the being inside of me has her own intuition. Intuition being even when her father touches my stomach that she doesn't kick, but kind of like glazes. Like glazes a hand. I'm like dude, I think getting kicked. What is this? Like if you're going to like head-butt me. He gets like a what's up, a high five like a… What is that? So, it's recognizing that. It doesn't make any logical sense at all, but it's clearly there. So, I don't have any answer for how to, or what's going on. But I do know that there are two distinct things going on right now.
Michael:          Wow! That's amazing. So, let's turn now to investing, and how you use your intuition to decide when you sell your investments, and rebalance your portfolio.
Angela:           Absolutely, so for me, it's really interesting. A lot of people use their intuition for buying stocks, for buying investments. Whether it be real estate, whether it be a fund it doesn't matter. And for me perhaps I use mine mainly for selling I find now, and it could be on a multiple of reasons. It could be one where I am an adolescent. The point of my investments, so I've had them for quite some years. A lot of years and they're now kind of going to this pubescent feel. And so, I kind of feel as if well, now I need to be more attached to what's going on because you're starting to act a little crazy. And I'm getting different energy vibes from you right now and this is literally like my stocks that I'm talking about, and I feel like you're about to do something similar.
So when you feel as if when your kid's about to get into some mischief. And that's really where a lead with in terms of my intuition. I'm finding that I use it more for the selling which is really interesting. Because if you sell too early, if you are an investor, you can be missing out of money on the table. But if you sell to late, you can also be screwing yourself and would have lost a lot of money. And so I think actually, I've built such a good intuition with purchasing that as I come to think about it now, maybe it's just on autopilot that I don't even realize that I'm using my intuition so much when purchasing. But because I'm going into this newer territory of selling, or liquidating, or balancing, then I'm feeling that I need to lean in a little bit more than I did originally.
Michael:          Well, maybe you have a different kind of emotional attachment when you're buying versus when you're selling. Because when you selling, you've already owned this investment for a long time and you've got a relationship with it. Whereas when you're buying, it's more like dating and you know you're less attached.
Angela:           Absolutely, absolutely and it is a relationship you'll find whether you realize you have it, or not, you do have a relationship with your money and your investments.
Michael:          And so, how do you get this information from your intuition about when to sell? Do you get a knowing, or hear it, or dreams or what?
Angela:           Sometimes, it could be a dream; it's really interesting you say that. Sometimes, it could be a dream. But it's never like, you sell this. Like [laughing]
Michael:          … made that clear yet?
Angela:           No, I mean that would be amazing.
Michael:          Maybe you just need to make a declaration to get psychic emails with buy/sell signals.
Angela:           I should, that would be amazing.
Michael:          Yeah, you can add so John Templeton to your spiritual board and have him give you a little nudge, or send you an e-mail. That would be really cool, and [inaudible] [26:42] works.
Michael:          yes
Angela:           But for me usually it's just like an air. It's in the air. It's just kind of like in my spirit, and in my radar, and so it's almost like you notice you're looking at something. And you notice in the corner of your eye there's like this idea or this thing. And it's in the corner of your eye like okay, whatever. So for me, that could be you should probably liquidate, or you should sell this entity. And then, it will come closer. The longer it takes for me to actually acknowledge and do something, it will come closer, and closer until it's just like this thing that's just in front of me that's like, "No, did you not. Like I tried to be nice before. You need to sell this thing, right. It's not for us anymore.
Michael:          And what happens? Have you ever in the past ignored that voice? When it got really loud?
Angela:            yes
Michael:          What happened then?
Angela:           That's when that man I had a feeling. [Laughing] your mouth like Yeah so yeah I get this man. I had a feeling moments and then I have to re-strategize. And so that's when for me it could've been a company as an example. It could have been a company that was really doing well and now, it's going down. I had a feeling that I should sell it, I really did. Sometimes right now for me it could be a virtual reality company. [Inaudible] [28:10] industry especially augmented reality. Lots of speculation, it's not here yet, that's just the way the investment works. But it's like damn, I should have sold. Like I could have made like 150 percent return.
Michael:          Instead, you held on, ignored the message and lost out.
Angela:           Lost out on the opportunity to make 150 percent. And now, I have to make the conscious decision into it and intuitive decision are we going to hold, and just wait for it to happen again, or are we just gonna learn our lesson, and cash out? And my investing style is I typically hold and wait again. Just like well, now I know to listen.
Michael:          Well, some teenagers turn around and become great adults, others end up in jail.
Angela:           Exactly, and then I'm just going to just have to suck it up and say that was the one that got away.
Michael:          Yeah, so when you hear the squat voice, the investment still might be going up in price.
Angela:           Yeah, it still might be going up in price and enough time.
Michael:          How do you deal with that because that's one of the hardest things? I mean I read the story of so Isaac Newton who invested in the South Sea Bubble which sounded like a really good idea and he made lots of money then he cashed out, maybe had one of those quiet voices. And his friends continued to make more money as that went through the roof. And then he sold everything property and put everything into the stock, and then it crashed.
Angela:           And he lost it.
Michael:          yes
Angela:           Yes, so for me, I rarely sell everything. So, I'll rarely completely liquidate out of an investment. I may take away 75 percent and liquidate 75 percent, and leave 25 percent just to write it out just for those moments. So, if I were say Isaac Newton, then I probably would at least ask something and there is don't make any money. And then, I slowly start getting back into it if it is performing. But there's nothing wrong with taking profits off the table. And as an investor, you just have to get really comfortable with even though you could have made more money, you made quite a bit, and it's just on the take-off that you just have to respect and honor that. But I find that not completely liquidating everything helps with those firms.
Michael:          So, let's look at how you use your intuition when you're buying. You use announcements as well.
Angela:           yes
Michael:          And you mentioned you use your body or ramallah as a pendulum. Tell us a bit about that.
Angela:           absolutely
Michael:          That sounds interesting.
Angela:           So I do use actual analytics. I do use charts sometimes if I need a bit more persuading. But I do go through analytics, I do go through financials, I do actually go through trends fighting understanding where we are on the curve. I go through geo-political atmosphere because certain things have a really huge impact now emotion wise from the market. Like I said we're emotion people so of course, the market is emotion led and driven as well because a lot of people don't know how to control their emotions.
And I try to take all that into account. But then at that other standard, I do use my intuition, and I'll sometimes whether or not use my body as the pendulum. I'll say show me left, show me, Yes show me no, and then saddle, and then sway and see which way this way and that will be that. And so using my body as a pendulum is really important and even for hard core investments such as property, or tangible things [that's what I mean by hard core]; tangible things. I do use my [inaudible] [31:50] and I hold it up, and depending on which way it turns; you know left or right. I'll know if that energy is good for me or not for my high is good and then move in.
And so, it's really strange because I do have the heart like no to give me the facts. But sometimes, you can have all the facts in the world and it's still not an easy decision, it still rubs you, a type of way. And when that rubs you a type of way, I think it's our job to find out why. Why is it still feeling off considering everything says green, green, green, green, green, and something in your spirit in your body is still saying no. Like your body is still tensing up when it comes to it. You need to listen to that because that's your intuition telling you something that you can't see but I can see is happening.
Michael:          And do you talk with your potential investments like you talk to your current investments or?
Angela:           I do so that's when I envision a board table, and maybe this is me wanting a partnership. I don't know.
Michael:          No, I don't think so.
Angela:           But I picture a boardroom. Okay, that's good. I picture a boardroom, and I'm in the head of the board room and I'm in a seat. And it's not actually the head of the table. It's actually in the middle of a horizontal table for some odd reason. And I've got all the investments around me and they each pitch me their idea. Like I would like to… I'm going to take your money and I'm going to do X. Y. and Z. I have this good track record. They each tell me a little bit about themselves. But at the same time just as you're at a party, or a dinner party, or a you're in a meeting.
Sometime, some people just don't rub you the right way. And so, I find that investments, when I envision this boardroom's an area there may be a guy in the corner and for some odd reason, he usually is in the corner. This is this guy in the corner. Like I said in the corner of my eye that I'm just not really getting a good energy vibe from and sometimes it's the person who's the most outspoken. And I'll still just like I hear you talking, but I'm not feeling the way… I just I'm not feeling you. And so, I do that exercise quite a bit especially when I'm investing in quite a bit of things, and let them all speak for themselves.
Michael:          Great! I think that's a great method. So, tell us why you are so proud to use your business intuition.
Angela:           I'm so proud to use it because I think it gives me an actual edge over the other guys. I think it helps me to be less stressed out when making decisions. And I always remember that when decisions completely went with my intuition, separating my intuition from my feelings, and knowing that it really was my intuition. That has a much higher success rate especially if an investment does not work out. I definitely find that my intuition saved me. And sometimes, it saved me when the investment does work out. It's like I don't know why I'm investing in this, but I just am.
And those are the ones that sometimes actually prove to be the best investments, and so it's really proven itself over and over. And some people when the market goes down, or it does some crazy thing sometimes. If they just only make their decision based on numbers, of course when the numbers go bad, they're going to freak out. But when you make your decision based on intuition, you understand that the numbers may say one thing right now, but it's not going to always say this and you just know it just won't, so you wait. You wait until the numbers correct themselves, and they always do.
Michael:          So, not everyone uses their intuition as openly as you do, Angela. What do you think it would take to have all entrepreneurs openly use their intuition?
Angela:           I think it would take more entrepreneurs saying that they are using it. The ones that are doing extremely well or successful and saying that this is actually a huge factor in the decision making process. You know sometimes people say it's luck. But I think oftentimes, it probably is intuition not luck. It's actually following your inspiration into that random supermarket so that you turn into that random person that later becomes your business partner. That's not luck, that was intuition. And so I think sometimes having more people come out the closet would really give people who aren't that strong in using their intuition.
The logical reason as to why they should use it because I know it's not very logical, right. There is no… it's just because I intuitively thought so. I intuitively felt so. That's a hard core reason, and people like to think that success is actual algorithm. But it's not. There's so many things going on. So, I think that's what it would take. Just more people coming forward and more people actually giving it a serious consideration, and not undermining their value.
Michael:          Great! So, if people wanted to find you online, what's the best way for them to do that?
Angela:           They can go to the happyinvestormethod.com. And so, that's going to be on the show notes I think. I was going to stop…
Michael:          yes
Angela:           I said that's a long thing to spell. But it's happyinvestment [crosstalk] [37:00]
Michael:          It's spelled how it's spoken.
Angela:           Exactly, it's spelled exactly how it's spoken. And that's where you can go to find a little bit easy ways to invest in the stock market. Like I said that's what I'm about; having people have a really happy, easy, pleasant, emotions experience around things that are supposed to be hard, supposed to be a certain way. I'm just [inaudible] [37:21] that it's not really that hard. They just do that to make themselves some business.
Michael:          Well, it's been fabulous talking with you here Angela, and thanks so much for being on the show.
Angela:           As well as you. Thank you so much for having me, and I wish you all the best of success.