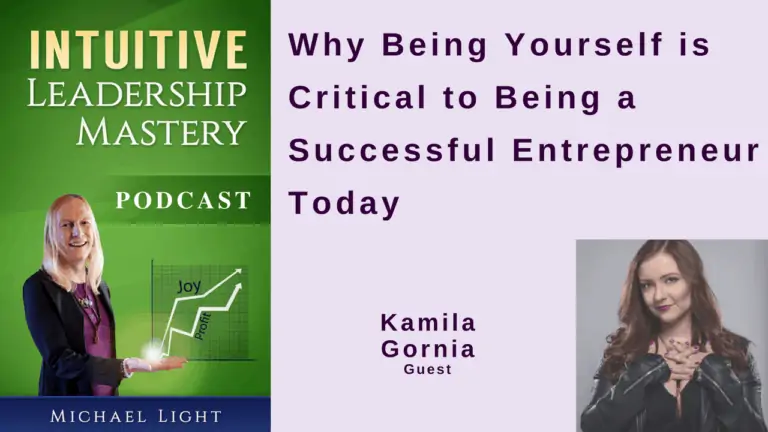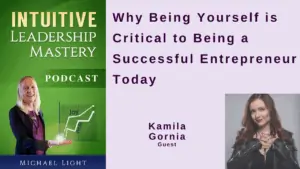 You can listen to the podcast and read the show notes here
Michael: Welcome back to the show. I'm here with Kamila Gornia and we're going to be talking about all kinds of interesting things to do with why being yourself is critical to being a successful entrepreneur today. And how you can easily step in to being an authority in your business and in the market you're in. How you can lead with joy and purpose and a whole movement she runs hot behind the hostile and successful marketing mastery. And any out people out there who are scared to be visible in your business online which I know a lot of entrepreneur friends I have including me; this problem. She's got some really powerful refrains that can help you get out of your hiding place now. So, welcome Kamila.
Kamila: Yeah! Thank you for having me.
Michael: So, let's just start off. Why is being yourself so critical these days if you want to be a successful entrepreneur?
Kamila: Yeah you know, so I really think that there's a lot of people out there that are… I mean there's a lot of replicas of like mentors of gurus out there and I see this all the time. And it's great because it might work in the beginning but soon after nice… I know this because I talk to some of these people and I mean time and time again, I hear after like a year or two or three of doing this replication modeling. You know this model business that isn't exactly you know based on who they are. They built a successful business. They get six figures maybe multiple six figures but they're not very happy with it. They don't feel fulfilled. They don't feel like they have the spaciousness, the freedom to actually say what they want to say. And then you know that can be really exhausting and that can be really draining for people once they get to that point. And that's kind of what happens when you're chasing just money and not really tapping into what you actually care about. So being able to be yourself is… you know first of all, I mean you're able to create a business that's actually easier to run in my opinion because we don't have to put on a face and I know I said this earlier. But you'd have to put like a mask, right. You don't have to be put a mask of like people are expecting me to act a certain way. I'm not exactly that person but I'm going to do it for them, that's really exhausting. It gets so tiring after a while of like pretending to be this person that you're expected to you know to be.
And then you know if you're not truly tapping into who you really are whether it's your personality or sharing your stories or just sharing your message. You know the thing that comes up is you're kind of robbing people from being able to connect with you truly and you know, that's how we connect. We connect with stories, we connect with just vulnerability and you know being real with people. You know you can't just go off and teach you know hundred percent of the time and that's you know the only thing I mean. Yeah, you're going to teach people some good things but you're not going to have that connection that ultimately we all seek. So it's just you know, it's breaking down a lot of barriers that I think.
Michael: And why does that… you know that 03:33 [inaudible] you said from the choice point of view in your business. But does that also help you or how much money you make as well?
Kamila: Yeah, well of course. I mean if you're not burning out. If you're not getting on and like tired and exhausted of pretending you can actually be in your business in a way that actually works for you, right. So I mean that's really what it comes down to because when you're able to step into your full self you again you can talk about whatever it is that you want to talk about because you're people are going to get the vibe that you're authentic, that you're true, that you're real, you're genuine. I mean first of all they're going to want to work with you much more.
You're going to create some lifelong fans and potential clients that come back and come back and come back over and over again because they feel that you know, a vibration off of you. That is something that they want to be around because nobody wants to be around people that are fake or pretending or are into exactly who they say they are. Like we're all very into it. I think everybody has a certain level of like intuition or even more than that. And we can tell when someone's not being themselves. So it's like definitely in your best interests to just like start off and just be yourself fully show up and you know going to support you from many different ways not just the joy but everything.
Michael: That makes total sense to me and I think that's becoming even more true today as people wake up to their intuition. So, why is it that so many people do put a false face forward or have a you know, business isn't representing their true selves?
Kamila: I mean I think the biggest thing… So number one it doesn't always start out with like you know I don't think we want to necessarily have the wrong intentions in mind a lot of times. They want to be successful so and then there's people out there teaching others to just follow this proven formula and don't break the formula, don't break the rules. I mean just follow this blindly and you know, gosh darn it! If it doesn't work then you're not following it closely enough. So that's pretty restrictive but there's actually people teaching this stuff.
So number one, if you're signing up for a coaching program or whatever and then your coach is telling you to do this and then they're telling you that you're not a good person or you're not going to succeed if you don't follow these rules. I mean it can make you kind of feel not very good about yourself. So of course you're going to you know start off and follow these rules and become this replica of whatever. So very often that's really what's starting for people.
Now on the other hand some people realize that you know maybe they don't have people telling them to do this. But they see there's a certain amount of people that are successful and they're all seem to be doing this or they all seem to have their branding looking like this or they seem to be saying things in a specific way. So they're going to consciously take these things and basically blend them all together. It's you shape this persona that they think is going to make them the most money because if these people are making a lot of money, if I was to take some of these elements for me all these people and put them together into this one me, that means I should also be able to make money, right.
So a lot of times that's really what it is. Just like I just money because I think that's what will be the tickets making it happen which is why a lot of the burn out comes out of place to here because you're not leading the purpose, you're not being genuine and you're not doing things in a way that you're supposed to be doing it. So I think those are the two main reasons. I think everything else that's like a lot of times there's a lot of people that just have shiny objects syndrome and they just trying to be themselves but it's like quote unquote not working. Where in fact if it is working it maybe just not visible enough or maybe they're not allowed enough.
But I think on the back end of all of this, it's definitely fear of rejection. And you know if you're truly yourself, what if people don't like you? What if you know, it's harder for you to actually stand out because like there's a lot of these fears and doubts and all these you know a lot of them. We all have fears, we all have minds that blocks; if you will around how we show up and nobody wants to be blatantly rejected and ridiculed. So, we think that if we… if for example somebody is weird or like kooky and then you know just like a different person than everyone else in your industry and you're like you know, I have to pretend that I'm that other person because otherwise people are going to not see me seriously. I mean that's a big… You know of course if no one else is doing it, you don't want to be the odd duck out necessarily very often if it's not something you're used to doing. But in fact being in business is being different. It is standing out, it is doing things in a way that's going to just stand out in a powerful way.
So yeah, I mean I think there's a lot there. A lot of it isn't you know read it and do one thing to do you harm or anything but some of it is and you know I think it's just really important to be able to bring light to this and then ask yourself these questions of like; am I being actually myself? Am I actually saying what I want to say? Am I holding myself back from expressing my feelings, expressing my opinions because I'm afraid that my fan base is going to get up and leave or unsubscribe from my list or whatever you know so.
Michael: Well, we'll look at those bit later in the interview where we talk about visibility. But I think it does make sense to me that we need to be our own true self and I also think it's okay to learn from others as long as we adapt whatever it is to our true self.
Kamila: Right and I totally want to say like I think it's great to be able to model things and learn from others. Like I think that is one of the smartest things that anybody can do. Though when you're blindly following it without asking yourself, does this resonate? Is this aligned? Should I be saying this? Why do I want to say this? It's that element of just like why do you want to follow this press center? Why do you want to adopt this into your own business? It's asking these questions because yeah, it will be kind of silly for us to not look at what other people are doing because it's kind of like… I mean there are shortcuts out there quote unquote of course. There's ways; I mean people there lot of people have broken the secret, the key whatever for success and it's good to know that in order to shorten the learning curve for yourself. I don't think there's anything wrong with that. It's just how we use it and how far we take it that I think that's where problems might arise.
Michael: Makes sense to me. So, if you want to be an authority and I think many people listening here do because there's a lot of advantages in marketing and reaching people you know maybe for other reasons people want to be an authority. How can people do that easily?
Kamila: Yeah so, being an authority I mean being an authority is basic… Most people listening are probably already in authority but they might not even realize that. But as long as you're sharing your message, you're pretty much an authority. So being able to step into that more easily is just starting and now and you don't necessarily have to go and get on your mainstream media because I'm not a publicity guru so I can't talk about publicity.
But you can start with what you have available to you. It's just again everything that we just shared before which is stepping into what you believe in and actually talking about it with confidence and standing behind like your values and knowing what it is that you stand for and knowing what you stand against and making it clear to people. And when you're able to speak the truth to people, I mean that's when people are going to see that yes, she or he has opinions. They you know, they're well founded. There is passion behind them and I want to see you. I'm on board. I agree with this. I'm in the wilderness in this idea and this vision and I want to follow this person because of that.
So it's really how you say things and this is the difference too because I very often have my students trying to get the visibility thing kind of a mock. And it starts typically with posting on Facebook and they'll post like different content pieces. And very often the easy thing for us to do is just dish out a whole lot of tips like hey, you want to do X. Y. and Z? Here's tip number one, tip number two and tip number three good luck. That's I mean it will be about you know you're talking about maybe but because there's no flavor there, because there's no story there, because there's no like you know, there's nothing it's really show people that you actually care and like there's actually passion here and you know you're not just iterating what someone else said. But you're actually like experimenting on your own life or your own business or in your own industry. You know that's when people can really see that you're the authority that they want to follow.
So if for example I mean there's a lot of like health related people and the difference between someone that's just reiterating someone else's research and somebody that might not even be doing their own research precisely. But just like hey, so you know I read about this and I decided to try it or I decided to see how I would feel after seven days of doing this thing and then you know you have opinions that you form and then you share them with people. It's really simple. It sounds really simple but it's really difficult for people to do because yes again, you're potentially going to be coming face to face with some rejection because some people are not going to like it. And some people are going to tell you they're not liking it and some people are going to like not be very nice about it. But that's the whole point because you can't be universally like the fear in authority. It doesn't work like that. If everybody kind of sort of likes you then it means nobody loves you, nobody hates you either but there's no emotion there at all. Because being in the grace zone the neutral just you know, she's okay or he's okay. Okay, just tell me some good tips awesome, that's wonderful but if you're not going to change the world, you're not going to make that massive impact that you could if you were to actually showing up you know so.
Michael: So I think the phrase that people often use for that is polarizing your audience. They turn into people who love you or hate you.
Kamila: Right
Michael: You wrong many people in between. And the advantage of that is you really can affect more change in the world and you can attract more true fans and people who are happy to pay you good value for what you do.
Kamila: Yeah absolutely, it's really like it's attaching emotion to everything you're saying. So I guess that's polarization too because you're saying and it's not necessarily being controversial for the sake of being controversial. Because I think a lot of people talk about being polarizing with just you know, I'm just going to say things against the grain and just you know like make some people angry and that's not really what that is either. It has to be aligned with your values and if you are you know, if something that you believe in is what most people believe in, then you should still state that. You don't have to go against the grain with everything.
So it's really you know, I think that's something that was important to just distinguish between what most people seem to see polarization as. But it's just adding this emotion to it. So when you can explain why your passionate about this topic or just sharing your story in general and evoking any kind of feeling in people. I mean typically you're doing your job whether it's anger or sadness or whatever. And when I had my first business which was photography, I did a lot of fine art photography and like conceptual and that kind of stuff and that was my biggest thing. Is it wasn't for everybody but my main goal with every single piece of photography I created was to get some kind of an emotional reaction out of people. Whether it was confusion or getting turned on or getting confused or; I already said that. Or getting angry or just like being mean whatever. I feel like I did my job because that is referring to something in their life and it's showing some kind of a mirror in their life and then they can reflect on that and I feel like that's really what good concept is supposed to create for people.
Michael: Yeah and I think the reason that's important is you know, one of the sales of marketing things is people buy from who they know, like and trust and by doing this the people who love you are going to really bump up on the trust scale. Kind of wishy, washy you know, trying to please everyone you're not going to create that level of trust that's required for people to buy.
Kamila: Now absolutely I mean when you're standing up for what you believe in, your clients are going to see that and they're going to know that you if you are so passionately standing for you believe in you're probably going to stand that strongly for them too. And you're not going to let them and their excuses fly, you're not going to be that person that's just okay cool, even though I don't agree with what you're saying. You know they're actually going to be there for them and that's a really important quality to have in somebody you're working with. I think is that this person has your back because that's why we're paying people all those money. Right, to have your back. But when they're you know it's just it's knowing that they're going to be there for you.
Michael: Yeah, I mean I've been reading a book recently called 'Expert Secret' by Russell Bronson who… of clicked funnels fame. And it talks a lot about polarizing and how to become an authority. So this really ties in for me with some of those things. And certainly if you've experienced any of his videos, stuff where he showcases people who've done successful finals a lot of them do this polarizing they have true friends and they have people really don't like them so.
Kamila: Yeah, I haven't read that book yet but I am very familiar with him so.
Michael: You know it came out a couple of months ago.
Kamila: I know, I have it. I just haven't started reading it.
Michael: So I think this leads us on to people listening who are scared to be visible and that's so common in entrepreneurs and business leaders. They want to do something important in the world and have meaning and they would like to be in authority and be their true self. But they're scared to be visible. You know in their business and in particular online on video or social media.
Kamila: Yeah
Michael: I can't think how many groups I'm in where you know ninety more percent of the people get in their group and never post a comment.
Kamila: That's so common. It's crazy and you know and that's why people struggle I think because and I hear that all the time too. You know, Kamila I posted once and nothing happened. Why did anything happen? I didn't get any clients. Well, you're not supposed to be hosting once and being done with it and lurking in groups also is not going to help. So I'll share a kind of… I'll share this in a moment actually. I have a little bit of a like a hard truth that I'll share but I'll soften it up first.
So I mean the first thing that you really need to understand about showing up and visibility is well understanding yourself, right. So, why are you stopping yourself from being visible? And the more you can know yourself and understand what those fears and those blocks are, the faster you'll be able to actually overcome them. And really I mean like for me because obviously I think everybody has a fear of visibility to a certain extent and you know we just have to keep pushing through those blocks and you know breaking them through. And then you know and then a new one will come up or at least you're going a different way. But at least we're breaking through them in a like sequential way I would say if you're doing your work.
But for me, the biggest thing was I didn't want to be judged which is funny because I mean that's the whole part of my message. I don't want to be judged, I don't want to be rejected, I wanted to be accepted. I don't want to be you know I just had a lot of stuff around this. A lot of like you know deep things that were just not very fun to deal with. And being visible would expose me to potentially being ignored, potentially being rejected and what if people don't like what I'm saying. And what if I say something incorrectly and people are like Kamila that was the totally incorrect. How could you say this? This is not you know whatever. So there's a lot of those fears that would come up for me.
For other people I mean a fear of being seen as a like being found out as a fraud is a very common one even though you're not a fraud and you know what you're talking about. I think a lot of people doubt themselves and doubt their expertise and I've definitely dealt that too. I mean there's so many courses that I bought about Facebook ads even though I've been doing Facebook ads for like since they came out professionally and I knew what I'm talking about. Because I had that fear of like, what if I don't know everything? What if I'm not good enough? What if I still need to learn this like one thing and then people are going to call me out or talking about and tell me I don't know well how could you Kamila? Like are you serious?
So I spent so much money on like Facebook ad courses and every single time I bought them, I would go through the course. So I'm like, why did I buy this? I know everything in here. And I mean you know there's always room to grow and there's always room to learn new things and of course like there's always something new I would walk away with. So it wasn't like a waste of money. But still it's like well, why don't I just trust myself because I clearly know what I'm talking about. My clients are getting great results, why am I doubting myself?
So it's overcoming some of these theories and like really understanding where they stunning from. Why are they there? And then going like…
Michael: Why are some of them there? Can you give an example of one that you… some of this deep stuff you went into and why that fear was there?
Kamila: I mean so I think for most of it honestly it just comes from my childhood honestly.
Michael: Oh yes! The famous childhood. I think that's for most people for me it definitely was. You know like being ignored or being you know just not accepted. I mean that's like been a theme for my entire life basically and like I had abandonment issues and that was just like a huge thing for me.
Michael: So you had experiences with other children or in classrooms where you were ignored or people didn't like you and then that reflected back out of your business and ideas.
Kamila: Yeah, I mean I would say so. It wasn't even with… with other kids it was fine. It was mostly with my parents, that was the biggest problem and you know it's kind of like well they're supposed to love me if they don't, if they're you know mending me and if they're leaving me in the middle the nights to go out and do their own thing by myself, then maybe I'm not worthy of being heard, of showing up. So that was a really the big one that I had to work through.
Michael: And you just needed to buy that new course on how to be a better child.
Kamila: Rights damn, I totally missed that one. Yeah, so you know it's… I mean there's a lot of that and then even when I moved to America from Poland because I grew up in Poland. I came here when I was thirteen. So I mean another one that was very common for me as I wanted to be you know, I wanted to assimilate and I wanted to make friends and I'm a little bit more of an introvert and it's harder to…
Michael: You're really… hold on a minute there. You're an introvert? You're so vivacious and out there.
Kamila: Thank you
Michael: And you're a self-identify as an introvert.
Kamila: Thank you yeah, I mean. I think there's a spectrum and I think there's different ways of showing up as an introvert. It's how I recharge my energy and I spend a lot of time by myself. So I can be a very outgoing and I can be extroverted even in small doses. But I like being by myself and it's probably because I'm an only child and I spent so much time by myself and when I was a kid honestly.
Michael: So I think that's a great point for people to hear. Introvert means you recharge your energy with alone time whereas an extrovert recharges energy by being with other people.
Kamila: yes exactly
Michael: And it's nothing to do with how vivacious you are or how much you're good at networking or putting yourself out there.
Kamila: Or if you're shy. I think a lot of people confuse introversion with being shy. I used to be a shy child actually but I'm not shy anymore. But it has like there's actually extroverted people that are shy too and you know it's… I don't think one has to do with the other necessarily. But yeah so you know I had to assimilate when I moved here and some kids are not very nice to people that have accents and like weird things. So I needed to mold myself into that person that I thought people would accept more.
So then when you actually showing up and you're visible, that's still there. Like what if people reject me? What if I'm not going to you know no one's going to listen and I'm just wasting my time and you know just a lot of things that come up so that's that. But if you do have important things to share and you have a story and you have a message and you can actually help clients and you've been helping clients you know, I really think that if you are hiding and you're keeping that to yourself and you're okay with just working with like two or three clients or two to five clients privately and then not doing anything else outside of that, not creating content, not showing up on video or whatever.
I might make some people kind of upset by saying this but I honestly think you're being selfish if you do that. Because you are doing everybody a disservice if you don't show up and if you don't share that message. You could impact so many people. I mean you've probably heard that one smile at a stranger could change that stranger's life like in that moment. And there's been so many stories that I write about you know, someone is suicidal and they're on their way to the bridge to like jump off and then they meet a stranger who is nice to them. And you know that kindness just like transforms them and they're like oh my gosh, what am I doing? I'm actually going to live. That is such a huge thing and that's just one simple conversation with a stranger.
So when you're keeping your brilliance to yourself, your message, your story your like true authentic self, your vulnerability to yourself and you're not sharing that with people. Like how many lives are you not saving because of that and I find that to be extremely selfish. Like you're so deep into your own stuff. You're so deeply like under your fears and your doubts about yourself. It really has to do with yourself that you're not being of service to other people in a bigger way.
Michael: That is a great reframe to change how you are in the world about visibility. Do you have another refrain you can share with our audience?
Kamila: I think that would be the biggest one that I like to share. I mean from another one it's not that hard. I mean it's honestly I think the biggest thing is the more you do it, the easier it becomes. And it's always hard in the beginning and you basically have to work to create the momentum. But the momentum will not happen until you actually start doing it. So it's kind of how I like to talk about hustle versus flow. In order to create the flow you have to start with the hustle, you have to do the action. The actual like committed action until and then you're going to get some momentum to just flow and things are going to beautifully aligned and just flow out of you. But any time that I stop creating concept it's hard. You know I'm just like oh what a rush I talk about, have to get on, have to do a live stream, I have to write this content piece that's like I have to do it. But you don't have to do anything. I mean you don't have to be successful either you could just be sitting on your couch all day and then eating potato chips and no one's going to be making a difference.
Michael: You could be 29:04 [inaudible] eating potato chips on the couch.
Kamila: But it's like you know it really comes down to like are you serving yourself or are you serving others and how can you make sure that you're actually living up to your potential and that's a sound like cheesy when I say that. But I mean like you have the ability within yourself to actually change your current situation and many other people's situations as well. So you're the only person that's standing in your own away. So you have the absolute ability to change that.
Like I have a client, we're showing her how to like make as much money as she hasn't ever made this much money before. So I'm like you're literally the only person standing in your own way because you're coming up with excuses for why these people won't want your programs, your services but you're not even talking to these people. So how can you tell me that these people don't want your services if you don't actually know that or if you're coming into it assuming that they're not going to want it, right. It's all your mindset is literally going to drive every single thing and every single success and every single failure that you have. And you know like every challenge, every roadblock but also every celebration is going to be you know like your mind set is there so.
Michael: I can tell that leading with purpose is really important to you and I know you have a whole movement called 30:28 [Heart Behind The Hustle]. Tell us a bit about that.
Kamila: Yeah so 30:33 [inaudible] it's amazing. I'm very excited about it. And I mean what it really is, is being able to use the fact that as entrepreneurs first of all, we have to step in for leadership. So this is you know I talked about this already a little bit. But you know I'm really not a fan when people are hiding, when people are just you know greats and good would just you know I just want to make a lot of money and then you know I was going to help some clients and then like that's it. I'm just going to lead this peaceful life. And there's nothing wrong with that but you can have so much to do with how you like live today because you know it's looking at… Not creating money for money's sake but not hustling for hustle sake. Not just doing it because people are telling you to do it.
It's really understanding why are you doing what you're doing? What is the impact of that on yourself, on your own life? Are you going to make your life better easier to live in for your family, for your friends, for your own sanity and then for people that you're working with. So, how are you changing their lives? Why is that important to you? Why are you doing this versus something else that could also make you money? The race is being clear on like what is that impact that you're creating immediately on the people you're working with but also beyond that. So when you're able to help these people that you're already helping if everybody was to have this kind of support. If every single person in the world was able to overcome these things that you're supporting them with, how would the world change? How would that world look like if everybody had this kind of support and then you're able to actually create that?
So I think there's a lot of this is like society puts a lot of standards on us of how we show up, what we say, how we behave and being able to have the heart behind what we're doing. It really allows us to create more influence and create an actual impact in the world itself like beyond business. So when you have values, when you have a civic like cause that you believe in or just your message is something that can actually save people's lives even if it doesn't immediately feel like it may, it definitely can. So, it's making sure that you're using these channels that we have available to us and being able to share that because you know I really think it's a common recession of you know traditional media like the news and how depressing they are and they're sharing, they're controlling everything that we think basically and how we want to show up and how we want to behave and being able to use like Facebook and Facebook live and YouTube live and Instagram. I mean that's basically alternative media so being able to use that to like further the message that we want to share and what if the people that have millions of followers on Instagram and they're like here, here's how I do I make up.
If they started talking about well, why do I feel the need to wear so much makeup or why do I feel the need that women or girls, young girls need to look a certain way and it just you know on a small level. I mean you know a million people is not very big compared to like how many who are in the world but it starts with what you can do. You know it starts with being able to make that impact immediately. Me on the person that I'm walking down the street with or just that one person that's following you on your Twitter account or whatever. You're still making a difference so. You know it's really going beyond just the immediate like I really would like to have a Porsche and I really would like to live in a mansion and that's why I want to make my money. Well, that's not very inspiring and it's like not using your influence for what you actually could create in the world. So that's a little bit about the movement kind of feel like 34:22 [inaudible]
Michael: … It's almost full of passion.
Kamila: Yes
Michael: So how does your intuition tie into all this being your true self and being visible?
Kamila: You know I think…
Michael: … its purpose
Kamila: Yeah I mean I think that it ties into everything. Right because intuition is knowing and tapping into what you like what is the download right. Like what are you supposed to be doing and it's listening to your gut and it's being able to follow what you yourself know is the truth and not being swayed by outside external. You know like I said before like traditional media or you know people are telling you to do this or people telling you to do this. Sometimes I mean I think all the time honestly, you have to just listen to yourself because you know and this is so often something I see. A coach will tell their client hey, go do this project, do this campaign but that client knows deep inside that that's not what they're supposed to be doing, that's not how they're supposed to be showing up but they do it anyway.
Well whether it fails or it succeeds is irrelevant. How they feel about it is the actual important thing and very often you know especially if it succeeds actually that's actually like not that great if it succeeds. Because then they feel like all well maybe I should listen to my intuition but eventually they're going to come across a wall and they're going to again be in that space where they built a business that isn't them, that is based on somebody else. And they're going to create dependency on coaches, on the external motivators to get them to keep going versus yourself and your truth and knowing what you're supposed to be doing because that's just what you feel is the right thing for you. And there's no right or wrong anywhere and with anything. So, there's a lot of ways for you to bring in intuition into business and I think it's really important that everybody starts asking that question for themselves whether they normally think they have intuition naturally or if they need to work at it. I think we all do have it. It's just a matter of flexing that muscle a little bit more and consciously asking ourselves like what do I actually feel is the right answer here for me.
Michael: Well and I think some of the things we've talked about being your true self and being clear on your values and speaking what you believe in actually make it easier to hear our intuition.
Kamila: Yes
Michael: But when we're wearing a mask and afraid of what other people think it kind of covers up our intuition too.
Kamila: Oh yes absolutely
Michael: And I also you know what I'm getting… You know correct me if I'm not getting this right. All the things you've talked about here about being your true self, from being an authority and being okay being visible and having purpose. All of those tie in to having successful marketing of your business.
Kamila: Yeah, it's all interconnected because for you to show up, I mean you have to do it somehow and you know having marketing. I mean marketing is really the way to actually get out there and the way to make sure your message is heard and then make sure that you're making that impact in an efficient way, in a way that is easier for you to execute. So I think everything really blends together in a really beautiful way. So again finding your own way of making it happen but yes this is why I'm a marketing girl. Not the traditional one you might see out there.
Michael: Right the blowup scale up marketing girl.———————38:04——————Because it doesn't really… I mean tactics can help in marketing but if you don't have these bigger pieces behind it, it really isn't going to blow up your business the way you want it to.
Kamila: right exactly
Michael: And even if accidentally you had some clever Facebook ad technique and it did make your business bigger. If you were joyful and have purpose behind it you just burn out. You know it's kind of pointless.
Kamila: right.
Michael: So, let's just… We've got a few minutes left. Let me just ask you a few different questions which is you know why you personally proud to use your business intuition.
Kamila: You know I think it really again it ties back to being yourself and just showing up as you know you're meant to show up. So I use my intuition. It always kind of leads me in all different ways. But I'm really proud to be able to use it because I know that I have the answers and no coach or no program is actually going to fill that for me and you know I think that's true for everybody.
And then when I choose to work with coaches, when I choose to work with mentors or advisors, I'm not doing it because I'm lacking in something. I'm doing it because I consciously making this decision to support what else I want to create in my life and my life my business. It's not out of lack. It's not a fear. It's out of empowerment.
Michael: That is really powerful. I believe that business intuition is really important for everyone listening to use openly because that's a way for us to be less stressed, make more money, be more joyful and also stop making such stupid decisions in our businesses. Hurt other people or hurt the planet which so many businesses unfortunately still get up to it. So, what would it take to make business intuition just totally openly used by everyone in business?
Kamila: I mean I think it's having this conversation. It's bringing to light the fact that it's okay and giving permission to ourselves to actually use intuition because I think a lot of people are afraid of you of doing it a lot of people think that it's not… You know, especially more traditional but business people. It's like it blows their minds that you could even ask yourself and not ask you know… You know I mean so it's I think it's giving permission. I think that's the biggest key. So I'm really glad that you're doing this podcast. I'm glad that you're leading this movement because it's obviously very much needed.
Michael: Fabulous so, if folks wanted to find you, what would be ways they could do that?
Kamila: Yes, of course. So you could find me by going to kamilagornia.com and actually just go to heartbeathustle.com because it's probably easier for you to spell anyway.
Michael: I mean if you're Polish, yes.
Kamila: So if you go to heartbeathustle.com/intuition. I have a little bit of a gift for you that you can check out right there that will move you forward in this way and then potentially show you how you show up as an authority as well. So, it's a little quiz that you can take… that will bring some illumination on how you're showing up and how you can maximize your personality.
Michael: Fabulous well, I really appreciate you joining us today Kamila.
Kamila: Yeah thank you so much for having me.