Angela Matthews talks about "How Talking With Your Investments Can Give Impressive Intuitive Profits" in this episode of the Intuitive Leadership Mastery Podcast, with host Michaela Light.
"I love talking with my money, and my overall wealth because sometimes, a house or a property may not be physical money, but it's still your money because it's bringing it in. And the reason why I love to do that is because it has an energy to it, has a feeling. And I feel depending on how long you've had your money for and maybe might be going through different stages. So, sometimes it can be a baby, sometimes it will hit adolescence especially for investment a penny or how long the pattern." – Angela Matthews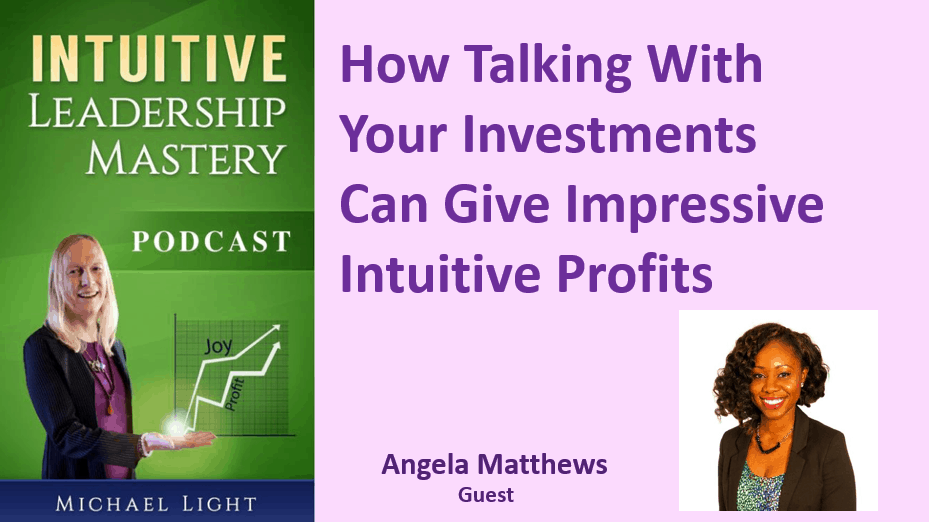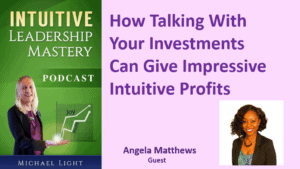 Here are some of the topics discussed in the podcast:
Why she speaks with her money and wealth

Wealth is more than money – stocks, property etc

Better Relationship with it

Can you go out and come back with friend

Aks my wealth: Are you happy?

I am feeling lonely – invest more

I am feeling good – all ok

Money tree visualization

Tree wisdom

The leaves the money

Tell what season you are

Spring – growth

Summer – strong

Fall – reinvesting

Winter –

Hug it

Appreciation vs pedestal

A pedestal changes how you see reality

No resenting it either – digging a hole for it, envy

Money magnify who we are

Why she makes Declarations vs having goals

Bold declarations

No Hows, Who, Why ← may limit you

Willing and working – in spectator role (not emotionally involved)

Emotions can affect your value and worth

You word shaping your reality

I am abundant

I am worthy

Speak it into existence and see how it unravels

Making a declaration from nothing

People vs units or money

People are impact

Money loses it meaning when it gets large

1 Apprenticeship or scholarship

90-day launch cycles

90 days is the natural beat of natural

And my attention span → hyper focus

Avoid burnout

Talk with my launch

Packaging

Numbers

Who are we targeting vs who can pay vs who makes me feel emotionally better

Why having children changed her relationship with her business

Preparing and working vs savoring the experience

How the energy of being pregnant has affected her intuition

Is this your intuition or my intuition coming through

Intuitive Liquidation indicators and rebalancing my portfolio

Using Intuition vs algorithms for investing

It is a quiet voice that gets loud

Cashing out when it is still going up

Take away part of my investment to take my profits

FOMO

It is time to let this go, but not at this moment

Treating the Buy side as courting a new relationship

Using my body as a pendulum

Using a mala to make decision

Trend spotting

Analytics

Geo-political affairs that play out over years

And intuition – potential investments each get a seat at a table and she talks with her

How she senses the energy of her portfolio

Treating it as a person

Let it grow as it is an adolescent

Why are you proud to use your business intuition?

Gives me an edge, less stress

WWIT for you to make business intuition more openly used this year?
If you want to double your profits and half your stress, check out the Biz Intuition Profit Doubler. It is a 5-day quick course using the WWIT technique.
Podcast: Play in new window | Download (Duration: 38:27 — 35.2MB)
Subscribe: Apple Podcasts | Android | RSS
Bio
Angela Matthews is a Native New Yorker and huge autodidact. Whether working at Goldman Sachs, or driving a Marketing Campaign for a new tech company, her success in many areas, stems from a natural interest to understand why things are the way they are. She is currently the founder of the Happy Investor Method and teaches everyday people how to invest in the stock market.
As a native New Yorker, her story is like many: First generation, Well Stamped Passports, Yogi Lover of Markets (Flea and the DowJones) , and a flair for adventure.
The founder of the Mindful Investor Club.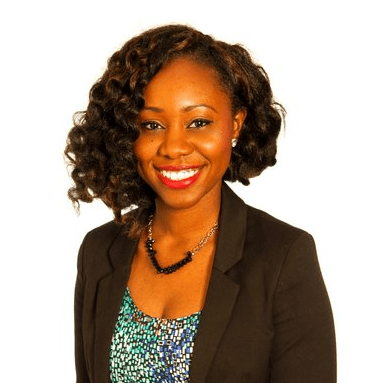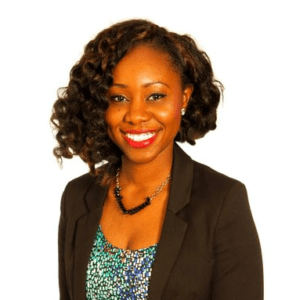 Learn more Angela Matthews:
Interview Transcript:
Michael:          Welcome back to the show. I'm here with Angela Mathews, and we're going to be talking about how she uses her intuition with investing, and money. So, she is a legendary investor. She founded the 'Happy Investor Method, and also the mindful investor club. And we'll look at how she makes declarations versus having goals, how she speaks with her money and her wealth, why having children changed her relationship with a business. And how she uses her intuitions to decide when to liquidate an investment, and when to buy it. So, welcome Angela.
Angela:           Thank you so much for having me to the show. I'm really excited to be here today.
Michael:          Yes, it's great to have you here. And let's just start off by you told me before we started the interview that you like talking with your money, and your wealth.
Angela:           I do
Michael:          Tell us about that, and why you do that.