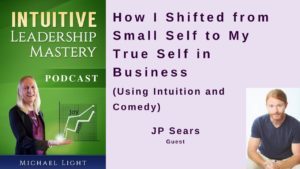 You can listen to the podcast and read the show notes here
Michael:          Welcome back to the show. I'm here with JP Sears, world-famous video comedian. Over two hundred million, many millions of episodes are being watched on YouTube. If you haven't seen them, they are very funny. Poking fun of some new age stuff. And he just came out with a book as well which caused by the same name as YouTube channel, 'Ultra Spiritual'.
And we're going to be talking today about how he got started on releasing his comedy videos and how he overcame the fear that he had before he released his first video. How he evaluates business decisions and directions based on his intuition and hearts. And how he got started using intuition in his twenty's.
And we'll also dig into some videos he was nervous about releasing and even a video he deleted. So, that's coming up in the episode. And also, fears he overcame with writing a book and why he decided to write it.
So, great to have you on the show J.P.
JP:                   Thank you my friend. I appreciate you being irresponsible enough to invite me on.
Michael:          Oh yeah
JP:                   Very happy to be here with you today.
Michael:          Yes, so you have an amazing YouTube channel. I have split myself laughing and probably peed in my pants watching some of these videos. But it seems a strange thing to do. You were like a healer or a coach before you started releasing videos.
JP:                   Yeah, working under the umbrella of a coach to an emotional healing work. I didn't doing that for about thirteen years before I released my first comedy video. You know, very sincere work helping people heal their hearts. You know, I think people help themselves to heal their hearts.
So it yeah, if seemingly I think on the surface appears to be something very different than comedic work. Yet honestly, it's incredibly related because the comedic work that I do; based on my delusional point of view. I'm using the language of comedy to simply deliver deeper perspectives and the deeper perspective is around human nature that things we do individually, society wise as well that those things that we do that's more in the undercurrent of our psyche in our heart. All the work I didn't 02:47 [inaudible] and same myself for thirty years before the first comedy video really taught me like, what am I doing comedy on what happens in the human psyche?
And then I think that comedy if I was over simplifying it is essentially helping people see the end same, looking under the obvious and showing it to people.
Michael:          And why is comedy better for that than just telling them straight out what they're not seeing.
JP:                   Well you know, a couple of dimensions to that. One would be because comedy is a frantic to me. It's a very natural thing for me. I have an inner comedian. It's just part of who I am. So, it helps me honor me. It's one of my off antic ways of expressing my voice and I don't necessarily think it's a better way of conveying deeper perspectives if comedy is an authentic to an individual.
But given the fact that it's authentic to me, I find people are much more willing to pay attention to comedy then they are just straight forward sincere message. And I think part of that is when we're listening to something being conveyed comedically, it's a playful energy. So it doesn't as much look like there's anything to defend against but you know if we just are we all know.
You know, we just all know how defended we get when someone starts to 04:25 [inaudible] to us. I don't even know if I said that word right; probably not. Or if someone starts preaching at us like Jesus is your savior. It's like our defenses are already up or you need to eat this way, this is the way. It's like you're pushing on me, you're trying to push my psyche into a place that it's not. So, it's just so natural to defend against something even if it's true. We'll defend against that and hopefully especially if it's not true your will defend against it still.
So that energy, that pushing energy of telling people what's true. We just get so defended and don't even consider the message. But with comedy, it came go in so that we can consider it because it doesn't look like there's anything that the friend against because there's not if I'm against it's playfulness. It's like if you want to children playing well probably feel relaxed. But if you watch people stabbing each other, we're not going to feel relaxed because it's not a playful state.
Michael:          Yes, stabbing people for emotional healing that sounds a very lucrative field.
JP:                   Yeah but, I don't recommend stabbing people, disclaimer.
Michael:          Okay yes, don't do this at home people. But use comedy at home because it might make your point more effectively.
JP:                   I agree for sure.
Michael:          So how did you get started on this? Was it some of the intuitive message that came to you.
JP:                   It was a perpetual path in the honoring myself more. So, I mentioned that I've been doing the emotional healing work for about thirteen years before I released my first comedy video. During that time, I had sold myself a story.
The story told me, don't be funny J.P. Don't be funny in business and professional world because it will discredit you. Like emotional healing people, spiritual people. They're not funny like look at 06:28 [inaudible] He's like super informative but he's not funny. So they essentially was trying to get myself to be someone who I wasn't. Trying to like amputate the funny part of me from professional life. Like I can be funny in my personal life and I think after enough self-betrayal, I just got sick of it. It's like yeah, I'm afraid this will be bad for business, that will be painful, yes. But it's more painful betraying myself. So I said yes to the inspiration that wanted to start making comedic video to share my perspectives, to share lessons. And it was a risk it was a jump off a cliff.
You know, sometimes I think being ourself is easier said than done. But it's always something where we win period. If we're being ourself, if we're betting on us being us, we win. However, it always feels like a big risk in my opinion. When we're at the edge of being ourselves to an even truer degree.
So, I was at an edge where it's like this is scary, very risky; but I'm doing it anyway. And it so happened to be that it turned out like that's the best thing I ever could have done for my business. So is like wow! I was wrong on my story. I think this was going to be terrible. I could have been more wrong which was just like a nice convenience. Even if it was… If my story was right and that turned out to be bad for business.
I think it's better to have it be bad for business even though I'm being myself. And it just might mean my business isn't life the right thing for me because I think for me the more I can show up as just me in my personal life and professional life, the better of I am.
It's a challenge to do at times because I have preconceived notions that I just make up about who I think other people think I should be, who I need to be for them. And sometimes, it's easy to worship that and betray myself and it is much more rewarding and scarier to betray who I think people want me to be in honor of honoring myself is being me and not apologizing for it.
Michael:          I think that's something a lot of listeners can connect with. You know, a lot of us in our businesses don't always be our true selves. And maybe this can be an inspiration that it's a good thing to do you'll feel happier, you're probably a business will do better or your business will pivot. Maybe if your current business can't handle it, maybe you need a new business that can handle the real you.
JP:                   I agree I think when we are not being the real us, we're playing freaking small. We really are. We're playing the limited game. I would guess we're probably trying to fill the prophecy of what we think is supposed to happen. And sometimes life has it that it's far bigger than the delusional little prophecy that we've imagined. So I mean…
Michael:          Where do you think that little self comes from? I mean most people have that experience of playing them themselves small. Where does that come from do you think?
JP:                   I personally think it comes from our fear based mentality has been welcoming human nature. We all have it and I think the more we play it small, the more we feel in control. And the more we feel in control, the less fear we feel. Somewhat defines fear as the sensation of being out of control.
So if we're the flower, not playing it small by being in the 10:26 [inaudible] where everything's in control, everything's predictable. Know it's going to happen we comprehend the smallness of our consciousness. But if we betray that and say yeah, I'm willing to be myself, we start to bloom. So, we go well beyond the comprehension of our control and the comprehension of what's familiar.
So, I think an unwillingness to be uncomfortable and afraid is why so many of us play it small. It sounds 11:04 [inaudible] big. Like you want to be yourself and allow your gifts to shine and allow yourself to discover your gifts and they all are dull and dirty before they shine. But we've got to discover them in the dull and dirty form first. So, it sounds great on paper, let your gifts shine and awesome.
But it's scary to actually do in my opinion because it means to the degree that we're allowing our gifts to shine, that the degree that we're surrendering rather than being in control and the degree that we're surrendering control rather than having control is the degree that we're going to be afraid.
And I don't think fear is the enemy. I think being afraid of our fear is the enemy. So in other words, I think turning them void or fear is what limits people. I think fear is a very healthy force and trying to avoid it; I think that's where we really, really get into a place of self-induced call it smallness and dissatisfaction and emptiness in life.
Michael:          I like that; the fear is not the enemy as fearing the fear. That's the issue, so feel the fear and do it anyway to quote a famous book.
JP:                   I love it; feel the fear and do it anyway.
Michael:          Yeah so, when you're making decisions in your business you know, how do you do that these days?
JP:                   Just open a fortune cookie and hope that it's speaking to the situation at hand. You know, I personally, how I do it now. And I'm learning this lesson so many damn times because I'm a slow learner. So how I do it now in my good days is I don't make decisions based on what I think I know. I make decisions based on what I feel.
And I feel I'm not talking about like emotional and angry is and happy but more than even deeper than that. The gut feeling, how does this feel in my heart which is I think that's some of the physical interface, the back of intuition. I think it's incredibly intuitive. So, I really love to make decisions based on how it feels to me that feel we asked 13:29 [inaudible] Steve … that opportunity. He feels have reason to say no other than feel to have a … he so now. And I think to me it's important and I'm willing to essentially peer crazy other people. Like you're saying no to this because it feels heavy in your chest.
Michael:          yeah.
JP:                   No other reason that's the reason. But I don't have any logical reasons sometimes I have logical reason certainly. But sometimes I just don't and I think a willingness to honor myself even though some people might think I'm crazy. Maybe they don't but I imagine they probably do think I'm crazy at times. So, that's really important and I've had so many times of betraying that. You know that feels heavy, that feels like a no. I think it's such a great idea. I think so. So I'll betray my emotion.
Men! I mean my beautiful assistant, Karen could tell you we get so much resistance. I mean just like life creates so much friction when we betray that. It's like life is like really where the dog who pooped in the living room and life is rubbing her face in the poop to teach us don't do that again. You know like, don't think your intuition again because you're not going to have think it. And yeah so, so many of those lessons have really reaffirmed to me. I think it's an art of listening to intuition and then the courage of honoring the intuition.
Michael:          So, what was your latest instant having life wiped the poop in your face when you've not paid attention to your intuition?
JP:                   Yeah, the lesson that comes to my mind there's been a couple in the past. A couple of months one was verbally agreeing to do a speaking gig for a much lower dollar amount than is my normal because like they're a friend of a friend. Like okay, yeah, yeah. And like I felt resistant but I was like I want to, I'll please two people. I'll please this person, I'll please the friend in the middle. And there was just so much hassle involved. So much nitty gritty. So much like they were coming back and asking for so much more than I was offering.
And after many hours of communication with them and not to mention lots of I would call an emotional tension, I just made the call like if there's not a contract signed, I am going to go against my word. This is a no and I don't like to go against my word but in this case, it's going with my intuition, my word. And fortunately, I spoke it. I came from what I thought was best and I dishonored myself there. So, I have to dishonor my dishonored self's word. And I had my intuition.
You know on the flip side, I also just really excitingly this past Saturday was a Saturday… might have been last Friday. So, within a week I woke up. There was like four thirty maybe five am and like I just couldn't sleep. There was just this creative impulse coming through me.
This idea of do a video on this topic. That topic is essential. You have to get all negative. But how the American Heart Association recently released their propaganda about how coconut oil is bad for you. So, like I had known about that for a few weeks. But just like I woke up, I've got to do a video on this and I didn't even want to go back to sleep. So, I got a crappy night of sleep so that I could start the creative process on that video and then you know, a quick turnaround on that video.
A couple days ago, I released it and it's hit such a sweet spot for people where it's seemingly really representing people with where they feel their ad. It's representing their voice that they don't know how to voice. You know it's in less than two days I got over ten million views on it. And to me.. that is and I don't at all measure things just by view count, that's just one form of extreme or feedback.
But that to me… The whole thing is really validating like, wow! I honored my intuition there like first off a valued swim in this river of intuition instead of going back to sleep and just honoring. Like I want to disrupt my normal schedule day and just start this video.
So, that it's nice to be able to recognize the real validation when we do honor intuition rather than just recognizing how life punishes us for 18:49 [inaudible] counter intuition.
Michael:          So, how long did that video take you to make? It's a few minutes long but I'm imagining it took a day or two to put together.
JP:                   Yes, so I gave myself… there's probably three different writing sessions on it. I would guess I was probably about six hours of writing time and you know, it's not my writing time, it's not just. I might like really typing for six hours. It's like this two hour block this is for video creative time so some of that.
Like I'm on my computer or phone making notes. Others like I'm just walking around in circles looking and just allowing myself to be open and then a blind-sided by idea is that I'm not run out of moral I come to me. And then yes, over the course of I think two writing sessions. On that Friday one writing session, that Saturday morning and then I think it was Saturday afternoon I filmed the video or the filming for this one was super quick; maybe a half an hour. And then I edited the video in just a shade under five minutes long.
Michael:          So, it took quite a few days of work to get that jam of comedic insight out there.
JP:                   Yeah, yeah I would say essentially like a day, a full day of work. But I just distribute it out over two days.
Michael:          Yeah and is it important to you, you have lots of spare time in your schedule to be able to do that kind of thing.
JP:                   We're kind of, kind of but my associations anymore I've had to learn I don't call that spare time. On the way like a mental association of spare time like it's not as valuable. So now, I have creative time and like just the word create just means a lot more to me than spare.
Michael:          But to someone looking, it might look like you're just hanging out.
JP:                   Yeah they're like, why is he sitting at the table like drinking tea and doing nothing? I'm doing creative time. For sure it's the most valuable thing I do in my schedule to be honest with you. So now, I mean there is that once in a while an exception. But I'm really crusaded hard to have one hour of creative time each day. Once in a while it's going to be a little more. Once in a while, the seriousness of life gets the best of me and my creative time gets passed away in favor of something far less important.
So, I would say it's taken me the new how many videos for tonight yes it's probably taken me a full two years to prioritize the creative time to the point where it's literally written in my schedule. It's off limits to put other appointments here. Because before that, I started to really have to fight to have creative time. In this just like wow!
Michael:          Why was that? Why did you have to fight?
JP:                   Creature of habit. Like before I started doing 22:04 [Cammy] videos, I didn't have really any active creativity in my life. So just like it wasn't familiar to me. So because it became a new thing, I was a creature of habit. I was used to prioritizing the old priorities. In the present day, those old priorities are not the priorities. Some of them are important but they're not the priority.
So, it's like I was treating the new priority creative time as a second class citizen and prioritizing that priorities. So, it has taken me a while like that inner battles and like letting go of the familiar in favor of honoring essentially the abstract that is created to prioritize creativity. It's taken a while but it's struggle.
Michael:          Yeah and I think creativity and intuition are closely related. So, having time to hear our intuition and it's not something that's going to show up for the bean counters in your business you know it's not like your accountant is going to say yeah, I saw you had an increase of two hundred units of creativity time on…
JP:                   … the spreadsheet
Michael:          Yeah
JP:                   Sure and that's the thing. I'm so used to valuing myself based on sort of those being encounters, a methods of quantification. Like I would call it the values of my father. Like we value money, we value status, we value maybe people like praising you. But like yeah, the idea of having to essentially write a new constitution of the United States of J.P. has… There was something I had to do for myself and very different than my old programming. But it was much more in alignment with me and who I am not who I was.
Michael:          If someone listening is having difficulty over coming their own parents' values of money, status and praise, what would you suggest that the step might be?
JP:                   Well, the first step to me is to embrace your feelings, realizing like it's hard and…
Michael:          Is that allowed in business? Embracing feelings?
JP:                   No, no I forgot business people don't have emotions. What do we have? Only have thoughts; so we've got to think. We're all human beings. I don't care if we call ourselves business people. I don't care what we call ourselves; we're people. We become even more than people. We call ourselves people. So, I think the first nothing…
Michael:          I'm going to go from that tension. What are we if we're not just people?
JP:                   That's a good question. I don't know but I think based on what we defined is people. Like you know, someone who has a muscular skeletal system, a brain, a nervous system and a crane system, digestive system. Like that's kind of what we define as people and there's this doing this that people tend to do so that's like are people nuts. But I think that the finer things in life are something beyond of that.
I think the richness of life comes from subtleties that don't show up in definition of people. If they don't show up in an anatomy but you know, we're creatures of the meaning. We're all hungry for meaning and I don't think meaning comes from peopleness. I think meaning comes from something beyond that.
So, I don't know if we call that like our spiritual essence. I don't know if we call that being connected to something beyond ourselves or we call it inner fulfillment. But I think people need something more than what they call people in order to feel a degree of purpose, meaning and inner fulfillment.
Michael:          And I think that's one of the big shifts going on right now from those previous times where everything's rational and it's just people as bodies. You know cogs in the wheel so to speak and now, people are being untrue selves and bringing meaning to their work and their lives and bringing that spiritual side in and embracing their emotions.
JP:                   Absolutely and I think it's part of that when someone can bring all that into their business world specifically, their business doesn't necessarily seem like a business anymore. Like yes, there's the business see things. Like here is this stupid spreadsheet and this business license. But there's like when there's purpose to life and like there's the intuitive is on and I that it's more than a business. Like is this my purpose? Is this my art? Is this my self-expression? Is that all of this? Is this my community enough connection with other people.
So, I think there are some things so much more beautiful than just a business that our businesses more than to when we bring these intangible elements that you so elegantly said, being counters can't count.
Michael:          I mean I think we're spiritual beings having a human experience rather than human beings occasionally having a spiritual experience.
JP:                   You know, I lit a candle last night and it was really spiritual. But I agree with you one hundred percent and I think your term there spiritual beings have a human experience that says in a few short words what my long ramble a moment ago is trying to point to. That's the so much more than just people that we are in America I mean.
Michael:          And that's partly why I'm on this mission to get all entrepreneurs and business leaders to openly use their intuition because is it opens up that spiritual side. But I mean also, it helps them make more money in their business, to have more joy and not be so stressed.
JP:                   So for sure.
Michael:          And in addition they stop making such stupid decisions that certain business people make. You know where they hurt other people or hurt the planet. I just think people would do less of that.
JP:                   Yeah, if you feel the consequences of your actions, like you're probably going to be hurtful actions less.
Michael:          yes
JP:                   And I think we probably wouldn't have to stretch too far to believe that; especially in entrepreneurship. Innovation is one of the best things we can do for business. And innovation to me is just a trendy 29:00 [inaudible] word that means creativity. And I think creativity is just a little bit of a more tangible synonym for intuition.
So, if we do the math, we may realize intuition is probably the most priceless asset we can have in our business. And I you know, when you look at innovation like innovation doesn't come from calculations. What makes sense, what change makes sense for us to make? I think some of the greatest innovations are the ones that are just simply by products that were birth through the womb of intuition.
And then I look of my comedy videos which have you know, I feel very blessed that they've been successful in the sense that they've touched the lives of millions of people. And they're also successful in the sense that they've opened up doors of opportunity in business that I couldn't have even dreamed of. So, I look at my commie videos and they were innovation. And it were other people using comedy and sincere self-help. Probably, but I never saw that before I started doing it.
But it's like wow! I had the creative impulse to start expressing creativity that way and if I didn't follow that impulse which impulse I think is intuition, then I probably would have been turning my back on well, what I can definitely say is the best thing I ever did for my business. It's you know, you and I mean I think you and I are just worried the choir preaching to the other about.
Such a valuable asset in business isn't; I can't help but say this also. Honoring our intuition in business I think is what it's a big component of what gives us inner fulfillment from our business. We all know the stories of people who have made millions and sometimes billions in the heck their life. They feel so unfilled. But what if we realize intuition is probably not only great for the bottom line of our business but it's also the source that can allow us to feel that sense of fulfilment in our business. Where we're not just in the rat race of no matter how much growth we've experienced is never enough. Where we're just hungry trying to satiate ourselves an insatiable ways.
I think intuition is something that comes from within intuition. So, I think it can be what fills us up and therefore, I think it's incredibly inspiring.
Michael:          I would agree with that looking at the amount you've made or looking at the number of views you've had on videos. It's not like when we get to certain you know, if you've got a five hundred million views you've got it made and that's it, you can retire.
JP:                   You cross a line there's the parade in life is just…
Michael:          Yeah, it's having the inner fulfilment have affected other people's lives in a positive way and to have listened to your creative muse instead of ignoring him.
JP:                   Which is another term for honoring myself, honoring ourselves. Honoring myself is very fulfilling.
Michael:          So I don't know if you heard those loud explosions on my end of the call earlier.
JP:                   I can't say I did. That tells me how bad of a listener I am. They're really close and I didn't even hear.
Michael:          Well, I just wanted to reassure you it's not a death threat against you J.P. I heard you recently had some death threats. I wondered how you dealt with that.
JP:                   It is a struggle yes, I mean Costa Rica right now have been for a little over a month. My girlfriend has a place down here and she is running some yoga teacher training production. So, my schedule allows me to be here for the couple months with hers wonderful. So when I got to Costa Rica, as my third time being here this year. Aha! You can say it was awesome. Let me do a video of it. Like a parody video on Costa Rica. And I did and I released it and there was definitely a percentage of people who felt very hurt by it and very outraged. And oftentimes when people feel hurt, they're not just in a while normal state of saying that hurts I'm sad but anger and outrage can be a part of.
So, the video with some people or some of the locals was received interpreted very differently than I intended. So yeah, I've certainly sincerely sorry about that. And so, I deleted the video because when I did it was received on a large enough scale that was inaccurate relative to my intentions. Like I didn't have the effect I wanted to but also, there is the death threats that came with that on harassment on the story. So, it was just you know, when people are hurt well, they can act in very angry expressions. And I get that, it's part of human nature.
So yeah, with that was the first media I've ever deleted. I don't intend to make it a habit of deleting videos. My intention would be never again. However, if there's just cause for I certainly want the humbleness to recognize that.
Michael:          That sounds like a difficult decision and…
JP:                   yeah
Michael:          I know some of the videos you mentioned before we hit records that you had nervousness on releasing them.
JP:                   Yes, it's certainly the first video I really had of the options your choice nervous about that you had that nervousness had some many dimensions at first as my first comedy video probably want to be me funny and also a crook people think I don't like spirituality and hear about how it would be interpreted. And then, I think it was the fifth video I made. It was called using 35:00 [inaudible] So, I said look at what I would consider to be the movement of a traitor Shamanism around IOS.
And that's you know, when something good becomes well known, you're going to get some flies going towards the white too. So, I was very nervous about that because some of my old communities that I had been very involved with in California, a lot of those people are in circles where they are perpetrators 35:38 [inaudible].
That's an interesting word I just tried to say. Perpetrator Shannon ism is a big thing so it felt like essentially dispelling a family secret. So that was a big one. And I know there's been some others. But I think most recently, the video that had me uncomfortable. Making it really seemed I did a video maybe six weeks ago on gun control.
Michael:          Oh yes, I saw that one.
JP:                   And no question especially in the US, guns are a religion. You know, religious mindset. You know, how dare you threaten the thing that I identify with because it helps me feel power to the degree that I feel powerless inside and all that stuff. That we pretend like it's 36:26 [inaudible].
So you know, I was a little nervous, definitely nervous about releasing the video. But there is no question, I have to do it because my creative news is inspiring me to do that which gives me a sense of purpose behind. And I'm you know, I've had so many experiences. I'm feeling scared about doing something but I jump off that cliff anyway. So, I know that like it's like yeah this is scary. It feels sometimes… it scares me to death. But I know I'm not going to die from it because I've been in this sensation before where a sensation like it.
Michael:          Except when you're in countries that began with letter 'C'.
JP:                   When there's a legitimate death threats and pardons I got kind of being scared to death may not just be a byproduct of my imagination.
Michael:          Yeah well, congratulations on your new book. You mentioned that that came from your intuition that the idea to write that.
JP:                   Yes you know, is a twofold process. Publishers approaching me but the intuitive part ways it just felt like a yes. I don't know how to write a book but I just said yes to them, what am I doing? It is…
Michael:          … jumping off another cliff
JP:                   That's exactly what it was and then certainly the whole writing process was very much diving into the well of creativity, that is the same thing as intuition. So that was quite a thrill, quite exciting, quite intimidating as well. So, quite a new right of passage to connect and strengthen my coming in to wish an entire greater degree.
Michael:          Yeah, I know when I wrote my first book this year. I had to overcome a lot of fears about what people would think or what if they liked it or what if they didn't like it. It was like going back to high school.
JP:                   Well here's the new high school.
Michael:          Yeah so, before I ask people you know, how they can find you, I've got a question for you which is; given how important intuition in business is in both of us, what will it take to make it more openly used this year?
JP:                   To make my intuition more open and more in general.
Michael:          To make every business leader openly use their intuition.
JP:                   Yeah, I think a willingness to be the true warrior who; going to use your words. Feels fear and as it anyway, I think it's scary to use our intuition, scary thing to be aware of it and even scarier to abide by it because we have oftentimes very little guarantees. Zero guarantees that our intuition is going to be right. So it's scary. It can feel safe to go the predictable route that's a logically laid out nothing wrong with logic. I still want those faculties. But like Einstein said, the best our intuitive mind is a sacred gift interactional mine is a faithful servant.
And I think grace happens in our business and personal lives when we allow that to be the flow. Intuition, that's the sacred gift, kind of treat it like that. Rational mind that's the servant kind of treated like that.
So, I think there's a people being willing to feel fear and act anyway. It is the key to allowing us to be more open with our intuitions.
Michael:          Well, great words of wisdom there J.P. If people want to find you online what would be the ways they would do that?
JP:                   Yeah, all my social media handles are awakening with J.P. I'm on all the usual suspected places I would say You Tube and Facebook are the places I'm most active with posting videos on all the time.
Michael: Excellent well, thanks so much for joining us from downtown Costa Rica.
JP: You're welcome my friend. I so appreciate you inviting me on and allowing me to be a part of your lovely offering. One of the 40:25 [inaudible] offerings for the world.