You can listen to the podcast and read the show notes here.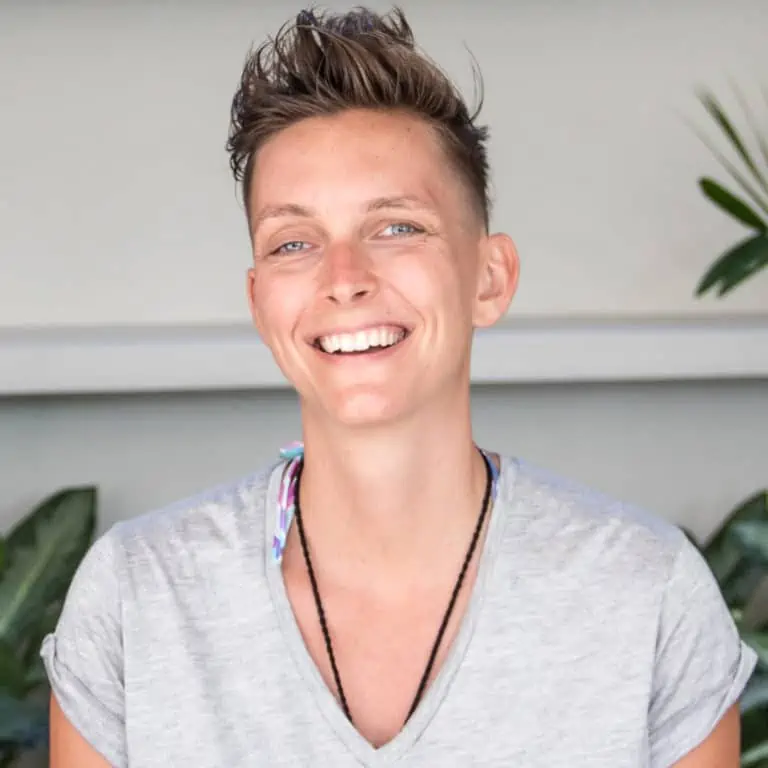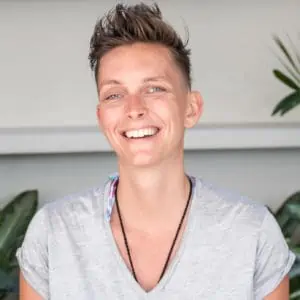 In this episode, I spoke with Conni Biesalski.
Michael Light:                    Welcome back to the show. I'm here with [Conni 00:00:22], and I'm going to totally make a meal of your last name, Conni. It's Bell-lanski? Or how do you pronounce that?
Conni B.:                              It's pronounced Bies-alski.
Michael Light:                    Biesalski, all right. She helps people live and work location independent, while embracing a conscious, healthy, and spiritual lifestyle. Wow! I want some of that. I've met her in many locations around the world. She is very inspiring. She is a yoga teacher, a surfer, and she is so spiritually focused, and she uses that in her business. I am so excited to learn more about that today.
She created Germany's biggest travel blog, Planet Backpack, and also co-founded Blog Camp, an online school for professional blogging. So she has some business chops as well as spiritual chops. We're going to be looking at how she uses intuition in her business, how she hears her messages from her intuition, and how her intuition has helped her start a new business called Live Your Heart Out, and that includes a YouTube channel, and intuition has helped her grow that to thousands of subscribers.
We'll also talk a bit about why surfing is a key business skill to have, and how she's managed to grow closer to her intuition for business over the years and hear her in her guidance better. Also, we're gonna talk about how you can learn to trust your intuition more and act on it, because many entrepreneurs hear those intuitive messages, but they're not sure if they should act on them.
Welcome, Conni.
Conni B.:                              Hello, Michael. Thank you for the wonderful intro. Glad to be here.
Michael Light:                    How do you use intuition in your business? Is it just certain areas like hiring or marketing? Or how do you use it?
Conni B.:                              Well, to be honest, I use it all over the place. I think it's my number one guide on a daily basis. Overall, in the big picture, I think I've even grown to the point where I couldn't do it any other way. I used to be very much focused on what my head used to tell me, and I used to be very out of touch with my intuition in my personal life, with my professional life, in all areas of life. It took me a very long time to get to where I am today and actually tap into that more softer kind of yin feminine energy in myself, even though I am a woman, but that doesn't mean anything in terms of the energies that we tap into.
How do I use it in my business? Well, there's so many ways that I use it, and for me, I guess it's grown very natural that I don't even think about anymore, but it's actually a good point for me to kind of look at it in a more objective way.
For example, right now I'm in the process of starting a new project. I'm in the middle of it, I'm just creating the website. I have already kind of changed my YouTube channel to the new project, and I'm diving more and more into what that's meant to be.
I felt something new coming along about two … maybe a year and a half ago or so, but I could feel that my time as the travel blogger in Germany, and Planet Backpack, Conni the digital nomad, Conni the traveler … I could just feel inside of me that that was slowly shifting, that that wasn't my end goal. That that was not who I needed to be anymore, and I was trying really hard to figure out what the next step would be.
We try to do that in our heads, and it's like so many other people out there that are trying so hard to figure out the business idea, that they're trying so hard to figure out what business to start, or what decisions to make, and we're trying to kind of fill out all these questions and questionnaires, and it's really hard to just do that on a rational sort of level.
Eventually I just said, "Okay, well I'm not getting anywhere with just trying to think about it and talking about it. I'm just going to let it go. I'm gonna give whatever, wherever I'm going, I'm gonna give it back to the universe, and I will trust that the universe will guide me. And whenever the time is right, I will find out where I need to go and what I need to do."
When I kind of surrendered all of that, I then felt myself in this sort of inception phase. I could feel that my connection to whatever, this bigger power energy, however you want to call it, it was open. It was literally … you could look at it as some, I don't know, maybe image of where there is your head, and the top of your head is open, and it's like this funnel and you're getting information into that funnel, kind of. I don't know if that makes sense.
I was in that kind of phase for a very long time, where I would be gathering ideas from my surroundings, from other people, from conversations, from the universe, from all that. But I knew my intuition told me to not force it, to not try too hard, to just let it flow. And so I did, and I knew inside of me as well, maybe I need to meet people, certain people. Maybe I need to have certain experiences for me to then figure out exactly what my next step, this bigger project, this bigger thing that I'm meant to do it … because I know that I'm here on this planet for more than just having a travel blog.
All of this was based on intuition of how I went about, and then eventually, beginning of this year, and I could feel it coming in the last few months. Now we're in March, but I would say around January, like a month or two ago, that it became very clear. Suddenly there was clarity, and it was a certain clarity that you can't force rationally. It was a clarity that happened very intuitively … knowing what to listen to, what to take in, what to use.
This whole process has been completely guided by intuition. If I was more focused on business and making money, and growing and all that, I would keep on doing what I'm doing – which is the travel blog, which is where my income's coming from, and where it would be so easy to keep growing, and to reach more people, and to be more successful, and to be more popular, but my intuition tells me that there is something else. And so I'm following that path now.
Michael Light:                    Well, that is very brave of you because so many people would like to do that and follow their intuition, but they … How did you learn to trust your intuition to that amazing extent that you're deciding to focus on a new business, you're not quite clear how it's going to make money, but you're just certain you should be doing that?
Conni B.:                              That's a really good question. Like I mentioned earlier, I haven't always been like this, at all. For most of my life I was very much in my masculine energy, being very rational with my decisions and how I was doing things, and so the last I would say five years, I've been more and more walking onto a spiritual path that really got me deeper and deeper into my purpose in life and to why I'm here, and to connecting to my feelings.
It started out with just diving into yoga and meditation. I went through a few of my personal crises situations, and so that helped me to kind of deal with life better. And the second effect was that by doing yoga, by diving into meditation and having a regular practice with both of them, that I started to get more in touch with my body, and generally just with myself and my soul.
And actually, you start taking things like self care, self love, more seriously. You think about, "What are my needs? What are my desires?" You think about that sort of stuff because you realize, "Wow! I've been completely neglecting … " I never thought about what my real needs are until I did.
And I started doing a lot of life coaching, or working with life coaches, and that was game changing in itself. I have been experimenting a lot with all sorts of energy healing, and all sorts of different ways to connect with myself to heal all traumas, to question all beliefs, and in the end, what it all led me to was just a much deeper, closer connection to who I am, and the person that I've always been. But it's just been covered up by so many layers of whatever happened in childhood, and then as a teenager, and as we grow up, and all these beliefs … in many ways, all the limiting beliefs.
And so I was very much out of touch with who I was, also because I had a very late coming out, so in my late 20s and I wasn't feeling what I was feeling for a very long time in my life, so I was completely out of touch with everything kind of that was going on internally. It was a long process for me that uncovered this connection of who I was, what I needed, and actually one big part of that was learning how to tap into, or how to connect with my feelings and emotions.
Learning how to actually feel, and once you learn how you feel, then you can listen better to what's good for you, what's not good for you. "Is this what I need? Is this not what I need? Am I feeling fulfilled? Is this enriching my life, or is it not?"
So you just kind of suddenly have this meter, this gauge of whatever you do, whatever you're experiencing, the people that you meet, the places that you go to … Suddenly it's clearer for you as to how … You become more sensitive, I would say, during that process.
And I've observed that within me, and I've observed that with a lot of other people who kind of dove into themselves more. And so then you just kind of feel more. And then your gauge tells you, "Okay, this is good. This is not good. This is what's helping me on my path, this is what's not helping me."
So it's really just a process of uncovering that connection with ourselves, so as to kind of be more clear to what we need, and what's good for us. Also, it's a trial and error thing, right? We all know what it's like to ignore out intuition, and then follow what our brains tell us and ignoring the gut, so to speak.
Then in the end, whatever happens it's like, "I should have known." Or, "I knew that this was going to happen." And what that says is when we say these things, is like, "Well, I had a feeling …" So we kind of knew in out gut, in our stomach, that's usually where these feelings come from. But we decide to ignore that, because we feel that our brains are smarter than our feelings, and what happens in our bodies.
I think once you have this clear connection to yourself, you know how things express themselves in your body, and so when something does not feel right, I can feel it pretty immediately within my body. And when something feels good, I feel it in my body as well. That's usually a pretty good indicator.
I just kind of have to go inside of my body to know what I need to do, and it's pretty clear by now. Then it's just practice, and actually making decisions based on that. Then once you do that more and more, and then realizing that those decisions were good, even though they might rationally be irrational … and people might tell you that they are irrational, to then also be brave enough, I guess, and strong enough to just keep listening to yourself, because the only person that knows what's good for you is you, right? Not anybody else.
So, that's kind of how it happened for me.
Michael Light:                    Wow! That sounds like an amazing adventure that you learned who your true self was, and you cleared out the stuff that was in the way of seeing that. And then you were okay experimenting and listening to you intuition and seeing what intuitive advice worked, what didn't, and working on that intuition muscle in effect.
Conni B.:                              Yeah, exactly. It's like a muscle, really. It's just working it out. The more you work it out, the more that voice, that intuitive voice grows louder. And then eventually, you can't ignore it anymore. You're like, "I'm not going to make that rational decision," even though it might be rationally right, you just can't do that anymore.
Michael Light:                    Just because you know on a certain level, it's just going to bring you more joy to follow that message, the intuition, even if it doesn't totally make sense on the rational level straight away.
Conni B.:                              Exactly. I think also for me, what also I think was a game changer is to feel guided and to know that things happen at the right time for the right reasons, and that life doesn't happen to me, it happens for me, and so that whatever decision that I make, whatever that is, there is no wrong decision. To trust in that, that there are no wrong decisions. So trusting that whatever happens, even if the result is bad, that it's not really bad. That's just the judgment. That's my personal judgment. That's just how I subjectively describe whatever outcome I'm getting.
But my intuition knows that whatever decision I make, whatever the result is, is it's the right result. And it think it has a lot to do with trust.
Michael Light:                    Right. What's an example of that, where your rational mind was like, "Woah! This was a bad decision," but your mind knew it was a good decision?
Conni B.:                              Well, right now my brain says, "You should keep doing the travel blog. You should keep building that audience. You should do this," you know? Should, should, should … "because that's what would financially make a lot of sense. You should focus on this, because that's what will make you a lot more money. And you should create this product." And I'm like, "Yeah, but my intuition and with what I need, that just doesn't flow together. It just doesn't match."
So I ignore that and I'm going with diving into a very creative sort of flow right now, where I'm doing things that are not generating an income right now, that are not necessarily expanding and growing my business, but where I'm personally … like for example, I'm doing a lot of YouTube videos right now and I'm not just doing them because … of course I want to grow that channel, but I'm also doing it because I feel so drawn to just creating right now.
Creating in a really creative sort of sense in terms of the videos that I make. It's not just about creating content, but about experimenting with the visual part, with the cinematography, with different ways of editing the video, with experimenting different video styles. I'm rediscovering photography.
I'm rediscovering a lot of things that I used to love as a child and as a teenager, and going back into the space of play. For maybe the only purpose to just follow that intuitive sort of guidance, of I just want to create, I want to experiment, I want to play; and of course in the back of my head there's the idea that eventually it will lead me to a new sort of business model, or whatever you want to call it.
But for now, that's what I need to be doing. It is purely intuition based because if it was up to my brain, I'd be creating eBooks, and online courses, and all these sort of things. But I choose to go the intuitive route and follow what I need right now. And that is not creating products.
Michael Light:                    That is amazing, Conni. And I've had similar experiences. I have a software company, but I also have this Intuitive Leadership company, and I'm just driven to do things to expand that and share the message about how business intuition is the way of the future. It just reduces stress, increases joy, and makes more profits for people. It is not clear to me either, exactly. "Okay, how do I monetize this?"
But I'm sure it will work out. It's almost like I can feel with a big kind of tsunami wave on the ocean, and I can either surf with the wave or I can be drowned by it as it crashes by. And I've decided to surf with the wave and encourage the change to come into the planet.
Conni B.:                              Exactly. Yeah, exactly. I can give you another example. For example, last year I was going through a bit of a … not just a bit, I was going through just a personal crisis, I guess, for a lot of stuff and I was very depressed for a while, just trying to work things out, and going through a lot of personal challenges for a year or two.
I had a lot of people approach me with business proposals, or I was invited to do a TEDx talk. I was invited to all these amazing things where all these people, as a rational business woman, "Oh, my god. TEDx talk. Got to say yes. Got to say yes." And I've got all these offerings, but during that time, I just, I needed to really listen to my intuition and to feel into what's good and right for me in those moments.
And I said no to a lot of offerings that i got, to a lot of proposals, to a lot of invitations I said no, because I knew intuitively they just weren't the right things to do. I told this story yesterday to a friend. I was like, "Yeah, you know, I actually said no to a TEDx talk invitation," and she was like, "What?" I was like, "Yeah. My intuition said nope, and I said nope.
Michael Light:                    Yeah, and I think that it's good to say yes to things, but if the intuition is shining a red light there, or a yellow light, I think it's good to listen to that. Or at least ask questions, you know? "Okay, my intuition is saying no to this TEDx talk, but what's the extra information I'm not getting on the rational level that I need to pay attention to? Is there something off with the person inviting me? Is there something weird happening in the location? Is there somewhere else I'm supposed to be on that date?"
There's many questions we could ask our intuition that would give greater clarity into that.
Conni B.:                              Totally. In my case, it was I knew that the message that I had been carrying out into the world was not the message I wanted to keep carrying. I didn't want to be on that stage and spread the message that I'd been spreading. It didn't feel genuine, because I was going through a lot of stuff. I wasn't happy myself, I was in a really bad place with myself, and my intuition told me to not get on stage and tell people just live an awesome, happy and successful location dependent life, when actually, I was feeling super unhappy. I was struggling with life and that being location dependent is not the end of the rainbow kind of thing.
Michael Light:                    What is the end of the rainbow? I've always been curious.
Conni B.:                              Wow! The end of the rainbow, I think is I guess equivalent to the question, "What's the purpose of life? What's happiness?" And I believe that we all maybe have different answers. For me, it's really about doing a lot of shadow work, to then be able to get all the light out that has been covered by a lot of shadow and then be able to contribute to what for … whatever I was put on this planet for, because I think we all have that in us, we're just not quite aware of it.
It also has to do, I believe, with we're not connected to ourselves and to our intuition enough. But, yeah. We're all here for one reason or another and it's about uncovering that and then going out and delivering that and contributing to the world.
Michael Light:                    Yeah, for me, personal growth or spiritual growth, or whatever you want to call it … and whether that's in business, or in relationships, or in health, or any of the other myriad of ways we experience life, is definitely an important part of the meaning of life for me. And also just having joy. Enjoying what we're doing.
I think the time for struggle is over, whether that was what something people call the Piscean Age that ended a while back. We're now in the Aquarian Age. We don't need to focus on struggle and pain anymore. We can have abundance, and joy, and play.
Conni B.:                              Absolutely. I totally agree here. Mm-hmm (affirmative).
Michael Light:                    And then, the other thing for me on the meaning of life, is some of it is just to experience. We incarnate in these bodies and create these businesses, and maybe it's because our spirit has never had a business quite like this, or never had the experience of creating a YouTube channel, but not quite knowing how it's going to produce money, and you wanted to be able to have that experience of trusting your intuition over a long period of time, over months, or even years before fruit is born.
Conni B.:                              Oh absolutely. I also believe that our souls have a lot to learn, and that there is some sort of script maybe even. I don't know, but I think it's the big picture is so big, I don't think we can comprehend. But I totally agree with what you say, that there is so much to learn for us and our souls, and that it's transcendental in it's nature.
We have a job to do here, and however that looks like and whatever the purpose is of that, we might never exactly find out, but that's why I keep following that path of intuition, because I know if I trust in that, then there's no right or wrong. It's always right, or however you want to label it.
Michael Light:                    Yeah. From a different … I think it's kind of a what altitude do you look at things from. If you're down in the weeds, then the weeds and the trees look high and short. But if you're flying in an airplane looking down, the trees and the weeds all look kind of the same height. From a higher spiritual point of view, there is no good and bad, there's just experiences. And they're either useful for the direction we're going in our life, or not useful, but we don't have to judge them.
Conni B.:                              Exactly. That's just our human brain wanting to shelter everything and put everything into some pigeonholing everything, and putting labels on it, and names, and all that stuff.
Michael Light:                    So as you've been building your YouTube channel, what decisions has your intuition prompted you to make?
Conni B.:                              Hmm. For example, I just changed … Oh, that was a big decision. Oh, man. People keep asking me why I did that. So I changed my YouTube channel from German to English, just at the beginning of this year, on January 1st.
And a lot of people think it was a rational decision, because that way I can reach more people and make more money. It's funny how people, that's the initial thought that people have. That that was the sole reason why I would change from German to English. And it couldn't be further from the truth.
Because it would be so much easier to grow that channel in German because I already have a big reach in Germany with my travel blog, and on Facebook, and Instagram and all that. The sole reason why I changed from German to English was purely intuitive. It was literally this pull that I couldn't necessarily describe. It was just this pull of energy that told me somewhere inside of me in words that I needed to do that.
And that is my interpretation of that pull, is because I need to be connecting with people outside of the German speaking world, that maybe through that channel, I will be meeting certain people around the world.
Maybe through that channel in English, I will be able to help certain people outside of the German language sphere that need my help or my support, and it was literally … In that way, if that is meant to be thousands and hundreds of thousands of people, or not, that's not for me to decide on. It will develop in it's own speed and nature.
That was completely based on intuition. The channel was growing really fast as it was, when I was doing videos in German. I knew it was going to be a challenge, but I wasn't scared. And that was the funny thing. I wasn't really nervous or scared to do it because I trusted so hard into that part and into that path, and I trusted my intuition so hard that there was no doubt that that was the right thing to do.
So when I got a lot of criticism for it, and I did get a lot of criticism for it actually, from a lot of my subscribers and viewers, because not all Germans' English is really good. Not all Germans want to watch videos in English. There is a reason why they followed me in German.
And then so I got a lot of backlash and a lot of people [unscribing 00:28:44], and a lot of people leaving nasty comments and sending me hurtful emails about how I was abandoning them. It was pretty sad, actually. And I felt like I was abandoning people. People thought that I was doing it for the reach and for the money. All I could say was it's just not like that. It was a purely intuitive decision. I need to follow that path and I need to follow intuition and so that's what I did.
I'm still struggling with the backlash of trying to get my channel back to a face of growth but it's slowly going that way, and I just need to give it a bit more time, I believe, to balance itself out. So that was a big one, for example.
Michael Light:                    What a tremendous growth opportunity that provided you making that decision, that you then got the opportunity to deal with lots of people being upset with you for what you've done-
Conni B.:                              Oh, absolutely. Totally.
Michael Light:                    … and to hold a neutral space for that, and to share with them if you chose to, that you were guided to make this choice. Because that's a learning moment for both you and them. For them to see someone famous who they admire saying, "Hey. I was just guided to make this. I don't understand totally why I'm doing it."
Conni B.:                              Yep, absolutely. And also, feeling into what it's like to disappoint people consciously, and seeing how it's disappointing people … And then I decided kind of to, as a compromise, because my Facebook page is still in German and there's like thirty something followers, or fans on Facebook, and I said, "Okay, so as a compromise, I'm going to do regular Facebook lives for those guys."
And so I've been doing Facebook lives, sometimes several times a week, but every Sunday at least, and it's been so much fun doing those Facebook lives and connecting with these people, and it's been a really good practice for me also just doing live stuff.
I love doing it now, and so it's been a really awesome learning process for me, and also now that I'm attracting … In the end, as I changed into English, it was about kind of filtering out maybe my tribe more, and actually getting more down to who I really wanted to reach. And so I guess I got rid of a lot of the people that weren't my tribe anyway. And so I feel like it's getting a lot more intimate with the people that I'm reaching now and I've kind of become more clear as to who these people are, and it's given me a lot more confidence as well in that way.
Yeah, it's been a real interesting journey. Another intuitive decision was that I did a 30 day challenge, a YouTube challenge. Once I switched to English, I did 30 videos in 30 days about vulnerability. Every day I intuitively decided what sort of video I was going to make, what the topic was about, and sometimes they were very sad topics because vulnerability can be very sad and very reflective.
So I had no plan for that month in terms of content. I had ideas, but in the end, I woke up in the morning, and I listened to my soul and my intuition and felt into what I needed to make a video on today, and then that's what I did.
Michael Light:                    Well that sounds both personally growthful, but also authentic, and I'm imagining it was really helpful for all the people watching.
Conni B.:                              Yeah, it was amazing. I could be so fully authentic and transparent, and truly who I am, and literally just make videos really based on what my life was like on that day, and like I said, sometimes during one month – during 30 days of my life anyway – I go through a lot of stuff.
I'm a woman, so I have hormones going up and down, and usually within a 30 day period, I go through days where I experience sadness, or grief, or obviously there's a lot of happiness, but I wanted to also especially talk about the days where I feel sadness. And there were days when I was going through stuff, especially during those 30 days. I was going through some relationship stuff, and there were days when I was crying and my intuition told me to make a video on crying.
There was a video where I cried in front of the camera and my intuition told me to leave that in the video, to not cut that out. And all of these things, so there's little rationale in what I do anymore, to be honest. It's-
Michael Light:                    I love how you stayed in the moment in those videos, Conni. Is staying in the moment related to … I know you surf a lot. Why is surfing a skill that can be reapplied to business?
Conni B.:                              Oh, man, in so many ways, really. I think surfing has taught me so many things for business and for life. One of the biggest things, I guess, was overcoming fear and even though you are scared, to just keep doing it anyway, and just keep doing it anyway, and keep doing it anyway, and to fall flat on your face and you keep getting up. You just get rid of the dirt, stand back up, try again.
Also, for me, surfing is extremely humbling, because whatever I've been doing, I've been doing it for maybe five years, or six years, and I feel like I've mastered certain areas of business, and passive income, and growing a popular blog, and people knowing me, and blah, blah, blah. I feel like I mastered that. I've gotten good at yoga, and I can bend my body in certain ways, and I don't know. There's certain areas where I feel like I'm pretty good. And then surfing is so humbling, it really puts you back to zero. It's the hardest thing I've ever had to master, I believe, but I just won't give up.
And I feel it translates so well into business, that you've got to be really persistent, and you gotta keep going and there will be days and weeks where you might not be as motivated, or if things are not going as well, or you're struggling, there's a challenge, and then things pick up again and you have a lot of success. I feel it's the same way with surfing. I have days and weeks where it's just, "Shit. I feel like I want to give up, that's it, I'm done, I've tried it." I've been doing it now for maybe a year and a half or so, and it's still hard.
Because I battle with a lot of fears, and I feel very intimidated with a lot of the guys out there, as a woman, and depending on where I am, but for example, here in California there's not that many girls in the water I feel like. So I feel intimidated a lot and it's the same in business as a woman. It's very male dominated and to kind of stand up for yourself, is something-
Michael Light:                    Literally on the surfboard.
Conni B.:                              Yeah, literally. So, gosh, yeah. Surfing has been such an amazing teacher, to be honest. I think that one of the biggest one is to just keep going back in the water and just keep doing it. Facing those fears and doing it anyway. It really does translate so well into real life. I can feel the effects of that in real life. It's not just theory, or it's not just idealizing or romanticizing surfing, or something. It's literally, literally helped me to face fears better in real life and business and whatever, for sure.
Michael Light:                    Yeah. The other thing I find when I surf is I have to be in the moment, and I have to be totally paying attention to the reality. You can't fake out surfing. You can't kind of negotiate a wave to do something different.
Conni B.:                              For me, when I go out there surfing, it's about life and death. A lot of times it's still about life and death, because especially when the waves are bigger than I'd like them to be … When you're concerned about life and death, this is about the moment. Nothing else matters. You're completely in the moment, it's like when you're stressed out, or whatever it is, and you paddle out, and then immediately I forget about whatever was going on on the internet and my business, on my phone and my laptop, and then suddenly you're right there.
It's just the wave … you, and the wave, and your surfboard, and some other people around you, and you're in this beautiful element of water that just captivates me each time and I'm so deeply connected to the ocean and the water and then yeah, absolutely. Just being in that moment is one of the most beautiful things to be, and then eventually you come out and then you're like, "Wow! I don't remember any of the thoughts that I had before I got into the water." They literally washed out. It's like it cleanses you or something,
Michael Light:                    That sounds so similar to successful business intuition, though. You're in the moment, you feel the fear and you trust it anyway. And you're in the flow, not of water, but in the flow of spiritual energy and being aware of that, and going with that flow, or choosing to modify the flow if you want to use various other spiritual tools to shift how things are.
Because when you're surfing, you're not at the mercy of the wave. You can decide how you're going to ride the wave, what moment you join it. Do you do all those complicated maneuvers I haven't learned yet, where you go through the eye of the wave. But you can choose to go left or right, or go to the busier part of the wave, or the quieter part.
Conni B.:                              Yeah, definitely. I like the metaphor with the flow as well, because I believe I'm in the best position to be creative and produce amazing things and results when I'm in the flow. That flow that you experience when you're riding a wave is just, it's the best feeling ever. Having that flow as I'm creating in my business, is also probably the best feeling ever. So yeah, they're very similar.
Michael Light:                    So let's wrap this conversation up by talking about how you've learned to get closer to your business intuition and in a guidance. 'Cause you seem to be amazingly close to yours. But how have you got there? And how could others get there?
Conni B.:                              Hmm. Yeah, I guess it relates to what I said in the beginning. It's really about adopting certain practices in your life and I can only recommend people got into yoga, and meditation, and picking up a daily meditation practice in the morning. And not just in the morning, but just one practical thing that I can recommend is to several times a day, check in with yourself, and just for one moment, be like, "What am I feeling right now? How am I right now? What's going on inside of me right now?" And just noticing, and becoming aware.
It doesn't even have to be a meditation. That practices or that cultivates your intuitive muscle, I believe because as you're checking in with yourself, you're building some sort of deeper connection with yourself. And that deeper connection, essentially, is your intuition, because then you start to hear more. You start to feel more.
And then it's about really acting on it. And that means actually making decisions based on your intuition and consciously doing that, and let's say … It could be small decisions, day to day decisions. It could be, for example, "Am I gonna work on this thing today for the next eight hours? Or should I maybe go out for a long walk? Or should I go for a long drive?" And then just kind of feel into that. It's not about being lazy. It's not about not wanting to work, it's really feeling into just what is good for you right now.
And then trying it out on a smaller scale and then going bigger. I believe that it is trial and error, but after a while, it will be really hard to go back to making decisions with your brain all the time. So that really helped me. And one very specific thing that helped me a lot to get in touch with my emotions more in that way, is there's a method called Grinberg.
There's Grinberg therapists, and it's a sort of body work, and I guess it is about shifting energies in your body, but it's really about connecting yourself, and feeling your emotions and where they are in your body, where there is stuck energy in your body. For me, that was a huge influence into how I started to connect better with my body and what's going on in there. And so intuition in itself is really just listening to reactions in your body as to whatever decisions or whatever you're faced with.
Michael Light:                    Hmm. Well, I have not tried Grinberg Method, but I've done lots of body work, and energy work, and yoga, and meditation, and all of those assists, but maybe the best question we can ask ourself is, "What would it take me personally to improve my connection to my intuition? What would it take for me to trust my intuition more?" And see what our own intuition has to say for us individually.
Conni B.:                              Absolutely. And then just trying things out. Experiment, experiment, experiment. I'm all about just like you said, seeing for yourself and I think, yeah, just try stuff out and without any sort of judgment or … even try out things that might not be where you think, "Oh, that's totally not me." Or, "I'd totally not be into that." Just try it out anyway.
Michael Light:                    Cool. Well how can people find more about you Conni?
Conni B.:                              At this point, you can check out my website in English, connibiesalski.com and on YouTube, also my name, connibiesalski. And yeah, my next big project, Live Your Heart Out, will be coming online very soon.
Michael Light:                    Fabulous. We will put those links in the show notes. Thanks so much for being with us today, Conni.
Conni B.:                              Thank you, Michael. It's been a pleasure. Thanks for having me.