Podcast: Play in new window | Download (Duration: 40:52 — 37.4MB) | Embed
Subscribe: RSS
JP Sears talks about "How I Shifted from Small Self to My True Self in Business (Using Intuition and Comedy) with JP Sears" in this episode of the Intuitive Leadership Mastery Podcast, with host Michael Light.
"I think on the surface appears to be something very different than comedic work. Yet honestly, it's incredibly related because the comedic work that I do; based on my delusional point of view. I'm using the language of comedy to simply deliver deeper perspectives and the deeper perspective is around human nature that things we do individually, society wise as well that those things that we do that's more in the undercurrent of our psyche in our heart." – JP Sears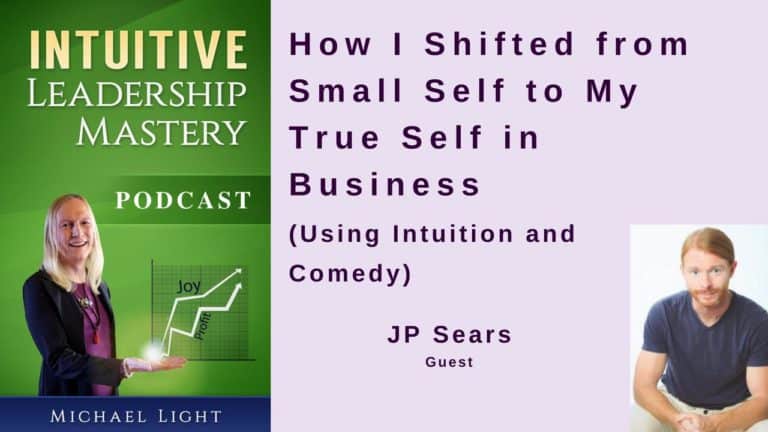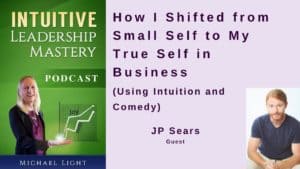 Here are some of the topics discussed in the podcast:
How he started making ultra spiritual comedy videos 2.5 years ago

200 M views

Me saying Yes to being me in bigger and more authentic way

Overcame fear that it would be bad for business

Playing it small = fear mentality

Evaluating biz decisions and directions based on intuition and heart

What if one says Yes and the other No

How a Yes feels in his body = Light

How a No feels in his body = Heavy

What happened when he betrayed his intuition and followed his ego or social pressure

Reframe: Spare time → creative time

in his schedule

Previously had to fight to have spare time

Overcoming my father's values: Money, status, other people's praise

Innovation is intuition

Innovation is the key to entrepreneurship!

What really are humans?

Body vs meaning and spirit

Spiritual beings having a human experience vs human being having occasional spiritual experiences

First start using intuition

20s after got a wonderful intuitive mentor

John McMullin Journeys of Wisdom

Always going, are we aware of it

Progression vs sudden awakening of consciousness

Videos he was nervous releasing and how he deals with negative feedback on YouTube

Aya video

Gun control video

How he dealt with death threats about his videos

Why he wrote a book

Intuitively felt like a Yes

Growth step, felt right, learning a new skill

How he overcame fears and developed deeper skills in writing his first book

Inspiration for his videos

The serious side of comedy

Use of comedy to change belief

WWIT for you to make business intuition more openly used this year?
If you want to double your profits and half your stress, check out the Biz Intuition Profit Doubler. It is a free course for you to use intuition in your business.
Mentioned in the episode:
Bio
JP Sears is an emotional healing coach, YouTuber, author, international teacher, speaker at events, world traveler, and curious student of life.  His work empowers people to live more meaningful lives.  JP is the author of "How To Be Ultra Spiritual," (Sounds True Publishing, release date of March 7th, 2017).  He is very active with his online videos where he encourages healing and growth through his humorous and entertainingly informative videos, including his hit Ultra Spiritual comedy series, which has accumulated over 100 million views.  You can learn more about JP and his work at AwakenWithJP.com.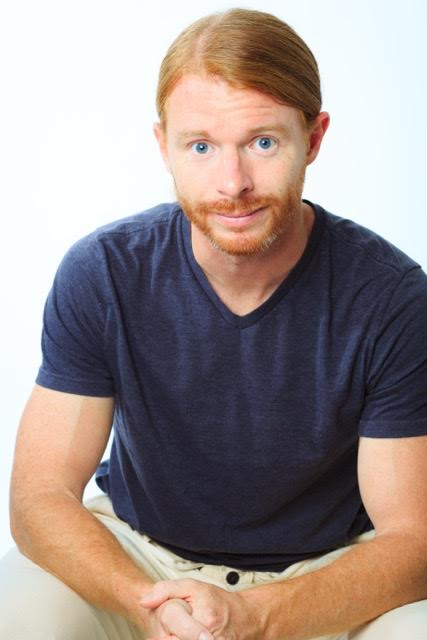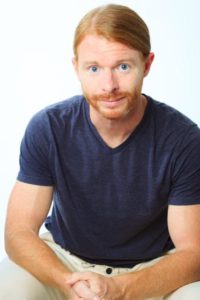 Learn more about JP Sears at:
Interview Transcript:
Michael:          Welcome back to the show. I'm here with JP Sears, world famous video comedian. Over two hundred million, many millions of episodes are being watched on YouTube. If you haven't seen them, they are very funny. Poking fun of some new age stuff. And he just came out with a book as well which caused by the same name as YouTube channel, 'Ultra Spiritual'.
And we're going to be talking today about how he got started on releasing his comedy videos and how he overcame the fear that he had before he released his first video. How he evaluates business decisions and directions based on his intuition and hearts. And how he got started using intuition in his twenty's.
And we'll also dig into some videos he was nervous about releasing and even a video he deleted. So, that's coming up in the episode. And also, fears he overcame with writing a book and why he decided to write it.
So, great to have you on the show J.P.
JP:                   Thank you my friend. I appreciate you being irresponsible enough to invite me on.
Michael:          Oh yeah
JP:                   Very happy to be here with you today.
Michael:          Yes, so you have an amazing YouTube channel. I have split myself laughing and probably peed in my pants watching some of these videos. But it seems a strange thing to do. You were like a healer or a coach before you started releasing videos.
JP:                   Yeah, working under the umbrella of a coach to an emotional healing work. I didn't doing that for about thirteen years before I released my first comedy video. You know, very sincere work helping people heal their hearts. You know, I think people help themselves to heal their hearts.
WWIT to start using your business intuition more openly?
Learn more about this powerful technique and how it takes only 10 minutes to learn a new technique that makes running your business 3x easier