Craig Sommers talks about "Food, Cell Phones, your Brain and Super Intuition with Craig Sommers" in this episode of the Intuitive Leadership Mastery Podcast, with host Michaela Light.
"Absolutely, looking back at it now, I now have a more functioning brain than I had before. They were all warnings I had. And that's the way I look at anything that happens in our life that not good, that make unhappy. This is the warning that we need to wake up, change what we're doing. Not only health issues. I mean especially health issues, but other things. When they start to go wrong in our life, I particularly believe that we're doing something wrong either in our lifestyle in our diet, our decisions. We need to wake up and make some changes. And when we do the right thing that we're supposed to do, that's in line with our life's mission, everything will get better." – Craig Sommers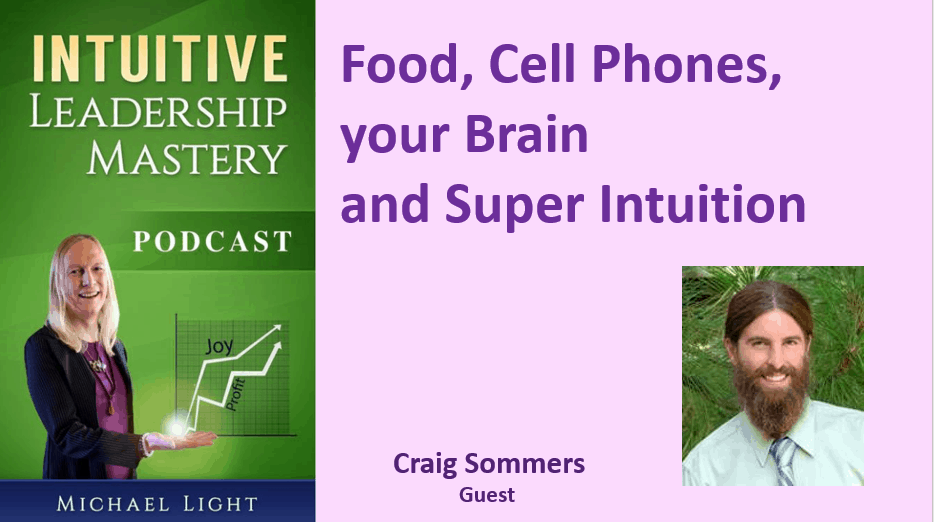 Here are some of the topics discussed in the podcast:
How his mom's health crisis facing death twice woke up his food consciousness and intuition

More energy

Less immune issues or sickness

Brain changes

The story of he switched to raw food and how that has affected his health and intuition

Wake up warning signs

enough

His changing relationship with money and business

Believe in god and doing good things → helping other people

Worrying about money to Trusting the flow will bring money when he needs it

His Dark night of the soul

Founded a Health food store, big biz CEO of whole foods, cut throat biz, ingenuity only high quality items not enough customers not educated, other big stores sold at less price than I could buy wholesale

Relationship breakup

How he sold his brick and mortar store, sold all his stuff and bought an RV and travelled the US

Low baseline expenses

Woof organization farm hosting

Vipranana meditation

WTY meditation

Fail of failing, being laughed at

Bliss on the Long Island Expressway

How meditation helps him access his intuition

How he uses his intuition in his business

Decisions

People visions

Dreams and B-vitamins

Synthetic vs natural vitamins and metabolize mutation DNA

Cell phones and the brain

WHO cell phones as level 2 carcinogene

Why are you happy to use your intuition in your business?

WWIT to make business intuition more openly used this year?
If you want to double your profits and half your stress, check out the Biz Intuition Profit Doubler. It is a free course for you to use intuition in your business.
Mentioned in this episode
His book

Raw Food Bible

"If you want happiness for an hour, take a nap.




If you want happiness for a day, go fishing.  




If you want happiness for a month, get married.  




If you want happiness for a year, inherit a fortune.




If you want happiness for a lifetime, help somebody else." – Chinese proverb

3HO Solstice retreat

(summer and winter)

MTHFR Mutation

– MTHFR mutation is a problem associated with poor methylation and enzyme production.
Podcast: Play in new window | Download (Duration: 53:01 — 48.5MB) | Embed
Subscribe: RSS
Craig Sommers is a Naturopath and nutritionist.
Before starting on the path to conscious living and a mostly raw diet, Craig considered himself 'healthy'. True, he suffered from what he considered minor symptoms including dandruff, athlete's foot, a small beer belly, as well as more serious conditions such as slow-moving bowels, poor memory, a short temper, and a chronic stuffy nose.
His doctor told him that none of these problems were related to his diet; then saw a registered dietitian who said the same thing…However, when he cut out processed foods and animal products and started eating mostly raw foods, most of his symptoms vanished! Craig also noticed that insect bites and other wounds healed much more quickly. His life improved markedly in many ways, as did his energy and attitude! In just five years, Craig went from working for others – and just getting by – to owning a health food store and earning a license in nutrition.
During his years running a health food store, he helped many people regain their health, counseling walk-ins and taking appointments. Thus he discovered his true passion and calling. He decided to sell the store and go back to school to become a naturopath also taking a teacher-training course in Kundalini yoga.
Craig has benefited greatly from healthy lifestyle choices, positive thinking and a diet predominantly composed of uncooked and unprocessed whole foods. Helping people stay healthy, or teaching them how to regain their health, is my life's work, and he enjoys it very much.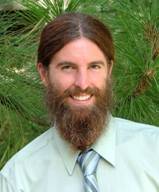 Learn more about Craig Sommers at:
Interview Transcript:
Michaela:        Welcome back to the show. I'm here with Craig Sommers and we're gonna be talking about food, cell phones, and how he has super intuition. And in the episode, we'll look at how his mom faced some serious health crisis was facing death two times, and how that woke up his food consciousness and intuition. We'll also look at how Craig uses his intuition in his business, and his changing relationship with money. We'll also dig into his dark night of the soul. So listen out for that coming up. And also, how he uses meditation to help his intuition. And why cell phones might be causing you problems with your brain and your intuition. Welcome Craig.
Craig:              Thank you, Michaela.
Michaela:        And just in case you don't know, Craig is a natural path and a nutritionist. I've known him for many years at the three-eight show winter and summer solstice events; meditation and yoga events. And he's also author of the 'Rule Food Bible' which I think he has a copy there just in case. Why don't we show the viewers who are watching on YouTube. There you go. It's a great book guys. I've read it. It's got lots of cool stuff and you get that on his website which we'll give out at the end. Wiuu! So Craig, your mom was facing death. She had cancer I think and maybe and then another time her heart was about to croak. Must've been very upsetting for you.
Craig:              Yeah, it was definitely a shock when I thought I had to research what someone should be eating and found out that the medical doctors and the cardiologist were not giving her proper nutritional advice. She had balloon angioplasty several times couple of months apart. So the arteries would clog up and they were blown into and a couple of months later would clog up again. Then they were saying, "Okay, next time we have to give you open heart surgery. Which sometimes people die in that process.