You can listen to the podcast and read the show notes here.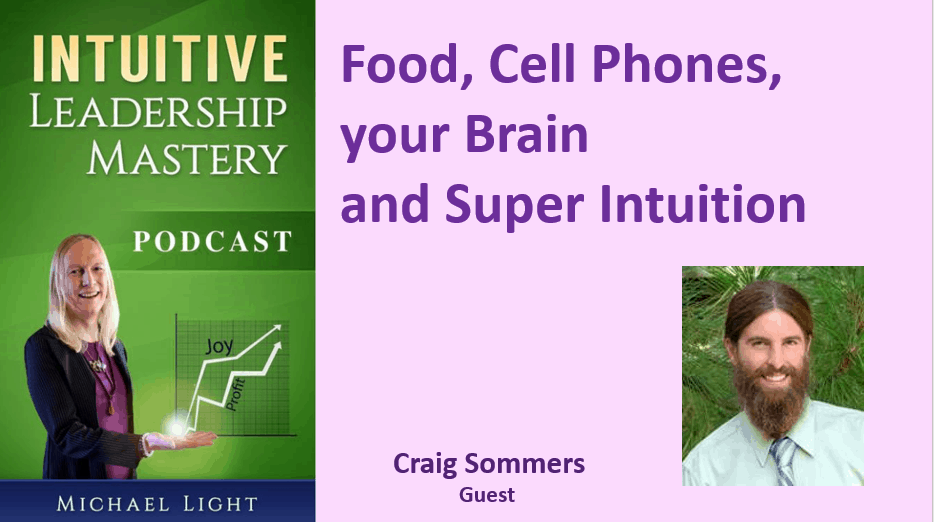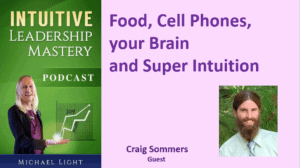 Michaela:        Welcome back to the show. I'm here with Craig Sommers and we're gonna be talking about food, cell phones, and how he has super intuition. And in the episode, we'll look at how his mom faced some serious health crisis was facing death two times, and how that woke up his food consciousness and intuition. We'll also look at how Craig uses his intuition in his business, and his changing relationship with money. We'll also dig into his dark night of the soul. So listen out for that coming up. And also, how he uses meditation to help his intuition. And why cell phones might be causing you problems with your brain and your intuition. Welcome Craig.
Craig:              Thank you, Michaela.
Michaela:        And just in case you don't know, Craig is a natural path and a nutritionist. I've known him for many years at the three-eight show winter and summer solstice events; meditation and yoga events. And he's also author of the 'Rule Food Bible' which I think he has a copy there just in case. Why don't we show the viewers who are watching on YouTube. There you go. It's a great book guys. I've read it. It's got lots of cool stuff and you get that on his website which we'll give out at the end. Wiuu! So Craig, your mom was facing death. She had cancer I think and maybe and then another time her heart was about to croak. Must've been very upsetting for you.
Craig:              Yeah, it was definitely a shock when I thought I had to research what someone should be eating and found out that the medical doctors and the cardiologist were not giving her proper nutritional advice. She had balloon angioplasty several times couple of months apart. So the arteries would clog up and they were blown into [inaudible] and a couple of months later would clog up again. Then they were saying, "Okay, next time we have to give you open heart surgery. Which sometimes people die in that process.
Several years before that she had cancer, and we thought she was gonna die. Somehow, she pulled through and lived through that one. This time I was… I decided to get involved and do some research. And found out that the nutrition does play an important role, and I got my mom on a nutritional diet basically she went in high fiber high nutrient dense diet. And she never needed that open heart surgery. She didn't need the surgery or her arteries opened up. We got around to supplement as well. And well, that was more than 20 years ago. My mom is healthy and happy right now at 85.
Michaela:        So this not only helped with the illnesses and diseases she had, but it actually made her healthier, is that?
Craig:              Absolutely, when you have a nutritional deficiencies, there are wide range different health related problems that you can get, and medical doctors are not trained to know what those problems are. In fact, most medical doctors don't even give you proper nutritional testing. If they do a blood test to see what they… some vitamins and minerals that it is what they call [inaudible] [03:29] blood test that looks at the clear fluid between the cell.
That only tells you if your diet was adequate within the last 24, 48 hours. The real nutritional testing would look at the white blood cell, and those cells would be telling you how your diet was for last six months; that's the way to go. In fact I remember Michaela you taking this test a couple years ago and being one of the very few people who came up with no nutritional deficiency. I can count on one hand.
Michaela:        wooho!
Craig:              How many people over the years that tested came up with no nutritional deficiency, and you're one of them.
Michaela:        wow!
Craig:              very impressive
Michaela:        Yeah, healthy diets and some supplements. And also sending light and energy to all my body parts. So you became more conscious of your own diet as well as your mom's diet. Did this affects your intuition and your business in any way do you think or?
Craig:              Yes, it definitely did. When you don't have an adequate diet, your brain can't function like it's supposed to and that the just me thing is that the science is [inaudible] [04:40] control. The type studies that are out there. So all of the different micronutrients which you just meet trace amounts of really make a big difference in the way your brain operates. For instance, we have concentrated vitamin C pumps in our brain. Vitamin C is cooked out of food. If you're not eating raw food or taking quality vitamin C supplements, chances are you don't have enough vitamin C. The United States government set some dietary guidelines; 60 milligrams or something like that. Absolutely ridiculous, way too low. You can't have enough vitamin C with following the R.B.A. for that nutrient.
Michaela:        So how much vitamin C do you currently take a day?
Craig:              Well, I used to try to call kava kava which is similar to a cherry but it's like the one that grows in the Amazon; this little berry. It's very high in vitamin C. I make sure it's processed properly and I use that in the powder and mix it in with smoothie. But I also eat… Like every morning for breakfast, I'll start out with half of a ruby red grape fruit, some papaya, maybe a half a kiwi, I'll have apple; various fruits cut up. Basically a big plate full of fruits. All those fruits have vitamin C. The fresher, the better because vitamin C does tend to drop off as time goes on. So I pay attention to all the nutrients I do in my nutrition testing once or twice a year. And I'm making sure that I'm getting all those nutrients. It's not easy.
Michaela:        So I know your mom had some really serious health issues. But what about you? Did you… As a business person were you super healthy before you changed your diet or?
Craig:              No, no I wasn't.
Michaela:        Were things happening?
Craig:              I would get at least one call the year maybe two whenever I was going around when I was in high school and beyond. I was getting sick frequently every few months. I had things that were kind of annoying. Things like athlete's foot, dandruff, or warped my hand occasionally, stuffy nose constantly. That's a little thing that most people wouldn't see as serious, but actually they're quite annoying.
And why live with them if you don't have to? So when I supercharged my immune system with all the nutrients, all these things disappeared. Athlete's foot gone dandruff gone, warts stopped; disappeared. I don't have to get them broken off any more. My brain starts to work. All these things that I just learned to live with, I didn't have to live with anymore and the brain [crosstalk] [07:47].
Michaela:        Yeah and looking back on that, would you think those symptoms and diseases you were having were like a warning sign that things could get worse if you didn't deal with them?
Craig:              Absolutely, looking back at it now, I now have a more functioning brain than I had before. They were all warnings I had. And that's the way I look at anything that happens in our life that not good, that make unhappy. This is the warning that we need to wake up, change what we're doing. Not only health issues. I mean especially health issues, but other things. When they start to go wrong in our life, I particularly believe that we're doing something wrong either in our lifestyle in our diet, our decisions. We need to wake up and make some changes. And when we do the right thing that we're supposed to do, that's in line with our life's mission, everything will get better.
Michaela:        So I want to reemphasize that for the listeners. If there's anything happening; not you're not happy with in your life, or anyone listening, in your business. It's some area every business. Maybe you're happy with the sales area, but the marketing depresses you. Or you love book keeping, but the legal side of your business socks, or whatever. I think most people can identify that some parts of their business turn them on, and some parts are a real energy drain. Well maybe you have some staff that like really give you energy and other staff are like a drain. And all of those areas that don't make you happy are a clue that something needs to change.
Craig:              Yeah, but you also have to realize you can't be a greedy person. You have to be satisfied with what you have and note when it's enough. Because the richer a person gets, the more things they accumulate, the higher their bills are, the more they want. And you have to realize you get to a certain point that makes you happy; you're comfortable. I mean here we are.
Most of us watching this, we're living in America, we have enough to eat, we wake up in a warm bed in the morning, we're comfortable, we have nice clothes. Looking at the person that drives a Mercedes Benz and pulls up in a mansion with a yacht and all that. You know that does not have to be our goal. We don't necessarily need that. I'm happy with a Toyota. I don't need a Mercedes. I'm happy with that I have and the place where I live. You know greed is a terrible thing, so you need to know when to stop.
Michaela:        I think the key there is whether you enjoy whatever the thing is.
Craig:              yeah
Michaela:        Because to me, greed is kind of not is not enough it's a lack. Greed is funneled by scarcity and feeling you're never gonna have enough.
Craig:              Yeah, so I've always had that feeling that what I had was adequate even though I didn't necessarily have what a wealthy person across the street had. What I had was adequate and I was happy with it. So that's the key point here; knowing when you have enough.
Michaela:        Yeah and I think the key there is feeling enough. I mean it doesn't matter how much money you have. You have a million dollars or ten million or a billion, it doesn't matter as long as you feel you have enough of what you have. And to be honest, the people I've met who are in the millions and above, if they're happy, they usually have something else they do with that time and energy. They usually have something they wanna change the world or some cause; that's where the often people. You know they're building their business to make a change.
Michaela:        So it sounds like your relationship with money is evolved over the years. Is that the case? I mean I know you started off working for someone else many years ago; decades ago.
Craig:              And most of us do part of working for other people. And as time goes on, we realize that it's not making us happy working for someone else, making someone else rich. So what I do is I took time to reflect or some people might call it meditate, go inside, go internal, and see what actually does make us happy. Princes with my wife. I'll tell you a short story here.
Her parents told her that she should work for the government. She didn't want to work for the government. She loved music. She loed classical music. She wanted to be a musician. So she went to school, she studied, she got a master's degree in music, and she became a music teacher. She started out working for a music school getting a fair wage, but not great teaching other younger people, or anyone really who wanted to learn classical music, and she enjoyed it. That was her thing, that was her passion. She wasn't working for the government to secure a job that will have a pension. She was doing her passion.
So at some point, the owner of music school decides she was gonna retire and she was gonna let my wife take all the students and open up her own school. And her salary basically doubled overnight. And she had all the freedom to take off and do what she wanted, when she wanted. You know her salary went up and basically she trusted, she followed her passion and she did what made her happy. And now, she's making more money than she can spend and she's saving lot of it. She's not even sure what to do it.
Michaela:        So how about with you? You owned 'Brick and Mortar' business and you were planning on building an empire I think.
Craig:              Yeah, well that didn't work out. Before I started my business, I thought that where I live which was on Long Island, the people were ready which is back in the '90s. Were ready for the highest quality product, animal free ingredients, organic, super nutrition; these kind of things. So I opened a health food store that was a cut above the rest. It was essentially being going to the [inaudible] had to own. The highest quality nutritional supplement didn't have any of those things capsules only veggie caps. Only the highest quality that I could find that I knew about the time. That cost a little bit more. As a result I didn't get the business role that I thought I would. I was part of a group called 'Earth Save' at the time.
There was hundreds of members that everyone supported me on opening of my own door before I opened it. After I opened it, people would rather go down to the supermarket and buy something for five cents less than come support me. And as a result, the store didn't make money and end up actually costing me to stay in business. So that was a big eye opener for me. I also thought that I would hire people who are passionate in the field; friends and people from this organization. So they were vegetarians also. However, some of them I caught stealing from me. Go over their house and you find stuff that disappeared from your store on the shelf in their living room. Money disappeared from the cash register; that type of thing. It was a big eye opener for me.
So I needed to figure out a way to still help people and provide people with good nutrition, but I didn't want to really have employees. I didn't want to have a 'Brick and Mortar' anymore because it was killing me. It was taking all my time. I really felt like my heart was being pulled out of my chest with that store after a while. So I sold it and bought an [inaudible] [16:28], got rid of things that I hadn't. And I went on a search for myself. I found that [inaudible] and the winter and summer solstice meditations are doing them with every one of those medications. I intuited more and more. I became more aware of my surroundings. [Inaudible] couldn't leave the younger awareness to my awareness expanded, and then I did something called 'The Passion and Meditation'.
And this is what the original person who introduced that to our society; Lanka attend a meditation. Probably the hardest thing I ever did in my life – living for ten days not talking to anyone, but a counselor once a day for five or ten minutes. We just check in with you no eye contact with anyone. Wow! You relief your childhood and the painful experience you had in the past would come up. You process it, and you let it go, and then you feel a lot lighter like you're floating afterward. And you leave there at the end of the ten days completely [inaudible] out, and you know what your next move is inn life. And so I follow that, and I always go back now every six months to do the [inaudible] yoga. That meditation helps me stay tuned in helps my brain stay awake and alert and aware, keeps my intuition sharp. And so far so good. I'm more enjoying my life.
Michaela:        So when you left to attend that silent meditation, what was the clear direction you got from your own intuition as to want to do with your business?
Craig:              So that was back in let me see. In the early '1990s. And I had been traveling in [inaudible] part of the year, going out of the country in a backpack; backpacking in India or Thailand. Went part of the year. When I left there, I realized that I could do different things. For instance, I decided I want to be a broker. A broker to make a lot of money. You make a percentage on every… For instance that are in my field which is nutrition, which I still want it to be involved in helping people get good nutrition which improves their brain, and gives people a better life.
So I realized that I could be a broker and I could make lots of money of my own hours working from home, working on the road; wherever I was. There was a lot of things that I realized at that point. But being… had more than a decade later. Honestly, I don't remember all the little things that came out. But I do know that things I processed from my childhood that were holding me back. There're some fears like that I processed that out, and that helped me progress.
Michaela:        Well that… So what was one of the fears you let go that was holding you back in your business?
Craig:              Well there's always a fear of failing. There's a fear of people making fun of you. Like a lot of people I think have this fear. Let's say you're in public somewhere and you hear someone laughing very loudly. Ha, Ha, Ha, they're laughter, ha, ha, ha. And you might… at least I did. I looked at them and wonder if they were laughing at me. Like maybe this fear from my childhood. Someone's laughing at me. What did I do? When I was a kid I wore heavy down clothes sometimes. My pants were too short. It looked funny. They were from a decade before.
So I had this fear that people were laughing at me. But I realized during this meditation that who cares if they're laughing at me? In fact, let them laugh, that good, make them happy. I like to make people happy. What does it matter? Why would it even matter to me if they were laughing at me? That's good, let them laugh. I'm happy I made them laugh. So I let's let that part go.
Michaela:        How do you think that changed your business then that you no longer had the fear that people were laughing at you or you were gonna make sales?
Craig:              I wasn't afraid to fail. A lot of people say you know I really like to do this with my life, but I'm afraid I'm not good enough or I'm afraid that I'll fail at it. And they never end up doing it and they end up staying in that government job or wherever they are, a nine to five for the rest of their life. And then when they're old on their deathbed, they think, "Well you know I really should have done that. I should have tried that. I wish I had the courage to do that." Well if you processed out your fears and you tried it, okay if you fail then you go back to a nine to five job. But maybe you won't fail. Maybe you'll end up doing something that you're really like and that joy will increase your health and your life span and everything good about your life.
Michaela:        So when you said this selling your business and selling a little possessions almost 90 percent of the sessions you have, was the dark night of your soul. Were you depressed or?
Craig:              Well I guess that was not really depressed. It wasn't just that the business failed and that the community that I thought was gonna support me, didn't and turned their back on me, and saved a few cents on a store that was close to that their house. At that same time, the relationship I had about four, four and a half year relationship with the woman that I had loved, that ended as well. She decided with good reason because I turned into a little bit of a nut. And with the stress of the store, she decided that it was time to end it.
So everything was kind of collapsing on me. My business, my relationship, I had to find a different place to live. My parents had a house that I had been living in previously and they sold that. They moved out of the island. So I really had no place to fallback to. I decided let's try a whole new thing. Let's just pick up and leave, and let's just see where I end up and see what happens. And it was really the best thing that I ever did. I remember when I left Long Island, I got rid of all my stuff.
I said goodbye to my friends, my store was sold. I got in my R.V. I was on the Long Island expressway heading out to get off of the island. I experienced the state of bliss that I had never experienced before in my life. I was completely blissed out. There I am, stuck in traffic, stuck in those traffic. You see people around you, they're all stressed out. And I'm just in an elevated state of bliss which I've only been that way a few times in my whole life. It's just like ecstasy and I was just so happy that I was leaving, I was out of there, and wow.
Michaela:        It's almost like you were letting go the energetic chains that were holding you down from actualizing your true self.
Craig:              Yes, yes right there, I said, "Wow! I don't know what I'm gonna do, where I'm gonna go, where I'm even gonna sleep tonight. But it's better than what I had, and it's exciting. It's a whole new thing. I get to start over again.
Michaela:        And by putting everything into your… everything left into your R.V. and just driving across the country, is that how you discovered the meditation or?
Craig:              Well right before I left Long Island, after that relationship and I was in the midst of selling the store, I did find out about the [inaudible] [25:02]. And I went there, and I had some pretty blissful experiences there. And I realized that I needed to go back and do that again and again. So I would say it was in the process.
Michaela:        So how does… You've done a lot of meditation. How has that helped you access your intuition?
Craig:              Oh yeah so before I answer to that exact question, let me just explain what a lot of meditation is. So going twice a year 3 HO, meditating for three days, and going to this [inaudible] [25:37] once; that's not really a lot. What I do is I do it every morning. When I did my teacher training in [inaudible], they said, "You need to do something called [inaudible] [25:50]. Every morning, you wake up… They do it very early morning. But I do it when I wake up … to sleep deprivation. I do this… I's a meditation basically the … that I learned through 3 HO was you chance a … for like an hour and then you do a yoga set for like an hour. Well, what I do is like a yoga set for an hour. I'm not really into to the [inaudible] although they are good.
They do help focus the brain and with the repetition, things do come in. But I do this yoga set every morning. When it's quiet and I go inside, I try to close my eyes for part of it. And when you silence your mind, and you try to push everything else out, things come in. That's when I got some of my greatest thoughts. Like for instance, my book 'Rock with Bible'. I get across to become a natural path. I had to write a dissertation at the end of the course. I decided I would write it on the raw food. The benefit of uncooked, unprocessed food. During this medication that I started in the morning, I realized that, "Hey, I can just add some stuff to this book, and I can publish it, and I can make money on it."
And I did that and I've been living off this money that this was back in 2003 to 2017, I'm still making income off this book every year. So as far as the meditation, it's every day. And if you want your intuition, you want things to come in, you do it every day. You t happened yesterday, you feel out what's gonna happen today. You don't even have to consciously think about it. In fact, I encourage you not to consciously think about it, to try to not think about anything. And the things that your intuition is going to tune in on are gonna be important things that are gonna help pertinent. So can you repeat your question one more time here?
Michaela:        Well how meditation has helped you in your intuition and using your intuition in your business.
Craig:              yeah
Michaela:        So you create new products in your business in having this book was being a passive income.
Craig:              So that's just one example. Basically, everything that I do these days that has to do it with business, and major life style things, I don't… sorry about that. My cell phone's ringing…
Michaela:        So you were telling us about using intuition in your business.
Craig:              Yeah, so everything that happens in my life and everything that I do, all the big decisions I make, I don't make them on the spot even though sometimes I do get intuitive hit on what you're right away. If at all possible, I try to wait. You wait a day or two and that morning when you wake up, I do this every morning when I wake up my mind is fresh, there's no food in my stomach. I'm strictly in the [inaudible] [29:10]. And it just come to me of what the best thing to do is.
If you make a quick decision sometimes, you don't see all and the other thing that can impact this decision. If you just wait for that decision, you do your meditation on it. Sometimes, things come in that you can think of when you're in your conscious brain. And in that subconscious brain, you sleep on it basically as well and you process it. So lots of lots of different things. I realize which products I can sell. I realize how I can sell these products better. I realize things about certain people.
Michaela:        As to whether they are good to work with or not.
Craig:              yeah exactly so …
Michaela:        I'm curious how when you get these messages from your intuition, how have you personally experience them? Do you hear words in your head, do you see words when your eyes are closed, do you get and knowing or something else?
Craig:              That's a very good question. There have been times where I've actually seen, I visualize the person. And I visualize this person with say like a greedy face or an evil face.
Michaela:        What does a greedy face look like, I'm curious?
Craig:              So there are times where I actually had visualized the person in some aspect. It's some kind of face like that, or an angry face. And realized that I should behave in a particular way with this person. There are other times where it's just the voice basically inside my head saying this particular thing is good, is not so good, we should go about it this way.
Michaela:        Do you ever have dreams that influence your business or?
Craig:              I have in the past. It's been quite a while. I do believe in the power of dreams and processing the dreams. And this is one place where nutrition plays a big role. There are B vitamins that are essential to R.E.M. sleep when we dream and remembering our dreams. So when you opt your B vitamin intake, you are more likely to remember your dreams. And those dreams if they have messages, they will be more clear, more easy to remember, and more easy to figure out when you're up in that B vitamin.
Michaela:        And is there any… I know there's a lot of different B vitamins. Is it particularly ones; B1 or 12, or some other number?
Craig:              I particularly recommend a complex. Now here's the thing with the B vitamins. There are synthetic. In fact, most of the vitamins out there on the market are synthetics. I have a particular D.N.A. [inaudible] [32:47]. It's called the MTHFR 677. So I can't resonate very well. I have a double mutation in this gene which means if I take the synthetics folic acid which is a B vitamin that's added to say a lot of flour product and bread, you'll see folic acid on there in all the multi… I can't … this or turn it into [inaudible] which is the acid form.
And about one out of five people have either a single or double mutation. So if I with a double mutation take this folic acid, what that folic acid does is it goes to my immune system, depresses natural killer cell which makes me more prone to getting something like cancer. This is a scientific documented fact. I have a video on it on YouTube. If you Google about my name…
Michaela:        Well we'll link it in the show notes.
Craig:              Yes and you can see a little bit more about that. So you got to be careful with the B vitamins. I use a product from Sun warrior called the raw vitamin. There is no synthetics in there. Leaves are already in methylated forms, there foliate as opposed to folic acid. There's been methylcobalamin for B12 as opposed to the [inaudible] [34:17] form which I would also not be able to utilize it and actually get study on that on myself.
I took the synthetic [inaudible] form for a year. I get the B12 test first found I had adequate B12. Well after a year I did the test, I found out I was deficient in B12 even though I took it for a year. After that, I did the D.N.A. test and found that I had a double mutation in that gene. So as science progresses, we find more and more interesting and very important information about individualized health plans for people.
Michaela:        Yeah, I think that's gonna be a much bigger thing in the future as we get software and you know little… I don't… Do they have software for smart phones yet that like can test your blood? And I think I read about something like that coming.
Craig:              I don't know I'm not a geek in that department.
Michaela:        But right now you could get a blood test at a lab and they could tell you if you're one of the 20 percent of people who have one of those issues metabolizing B vitamins. Or and I guess there are other things for the other vitamins too, right?
Craig:              Yes, like for instance, my wife has a mutation; a double mutation in a gene that turned to carotenoids say from carrots and green plants into actual retinol vitamin A. So she was deficient in vitamin A when I ran her test and she wears glasses. She had night blindness. She couldn't see street signs, and see well when driving at night. We got her on some nutritional supplement and she was also deficient in zinc, and zinc transports vitamin A. We got her on zinc supplement, we got her on some vitamin A. And few months later, she could see far and at night.
Michaela:        wow!
Craig:              We also found that out in a D.N.A. test.
Michaela:        That is so cool! So look let's move on and talk about something that most entrepreneurs use which is a cell phone and what that might be doing to their brain and their intuition.
Craig:              Okay, so in May 2011, World Health Organization put out a press release. And they stated in there that mobile phones are a class B2 carcinogen. Other B2 carcinogens are eating lead or eating DDT. They are possibly carcinogenic. Now if you look at the way our brain works, it's electrical. There are electrical impulses. They have special machines that can measure the electrical impulses that our brain all throughout our body. When we put our mobile phone up to our head, we're taking something that is a radio frequency transmitter.
It's transmitting a high frequency radio signal. It penetrates part of the way into the brain. It definitely has an effect on the electromagnetic signals in our brain. Now I mentioned just a minute ago that I have this mutation MTHFR 677 where I don't methylate well. I also don't make myelin [inaudible] with that D.N.A. nip. Myelin is something that covers the nerves and it's protective. You hear about some people who hold the mobile phone up their head and they say it actually makes their head hurt.
Michaela:        Yeah, I'm one of those, you know.
Craig:              Yeah, okay, so you're one of those 20 percent of people.
Michaela:        After about I can do 30 seconds up to my head. I can like take a quick call and I'll call you back when I've got my headset on.
Craig:              Yeah, you're one of those people also that has to be in a snit. Maybe you only have a single one but you're basically the result is your mileage sheet over the nerves are in a snip with someone who doesn't have this. So you're actually able to feel the microwave or the electromagnetic signal get in and go into the nerve which causes a little bit of pain or a little bit that sensation. May not necessarily mean pain, but it's the sensation; uncomfortable sensation. That's telling you right there that you shouldn't be doing it.
Now how does that affect your intuition? It possibly causing damage that it can cause cancer for instance. This is something that last after the electromagnetic wave is gone and then it can possibly cause other problems that we don't even… aren't even aware of yet. So I would be very careful about holding a phone next to your head. The way they use it and not be exposed is to either put it on speakerphone and not still hold it next to your head on speakerphone, but hold it at arm's length away or these are air tube headsets. I don't know if you can see this.
Michaela:        Yeah, to get them close to the camera. Yeah, you can see there's a tube there, and the speaker is actually in that little bulb thing away from your ear.
Craig:              So what you have inside the wire is copper. Your phone, you charge up your phone with energy. When the phone sends sound up to the speakers, it's sending electricity through this wire. And if the microphone is here and you hold that microphone on a [inaudible] [39:44]; and I have video on this also on my YouTube channel. You can see as the sound comes out, there's an electromagnetic current that comes with it and travel several inches away, but goes right into your brain. That's also affecting the impulses in your brain.
Michaela:        So do it… wait a minute that means everyone who's using ear butts either for their cell phone or for their music players or they have one of… What are one of those little wireless ear butt things called. I forget what they call them.
Craig:              Bluetooth
Michaela:        Bluetooth, if they keep a Bluetooth thing in there the whole time right next to their brain, you're saying that's potentially causing cancer and screwing up their brain.
Craig:              Well, here's the deal. The mobile phone itself it yelling with a tower that could be a couple of miles away. It has a much stronger signal than a Bluetooth. The Bluetooth is only going across the room. It's not as bad as holding your mobile phone. It's still not ideal. It's still a radio frequency transmitter. It's still transmitting its signal across through that signal is going into your brain. But why not go one step further? Why not go with an air tube or use a speakerphone, so you don't have that field going to your brain at all.
Michaela:        Because the radiation falls off as the square of the distance or something, right. It falls off really rapidly the further away you're from it.
Craig:              It does. In fact that in arm's length usually about 98 percent of the radiation from your cell phone has dropped off and to a level that's very safe. Now here's something else that important to know about your cell phones. When you're close to a tower, you have all the bars showing on your phone. Your phone put out much less energy than when you're very far from a tower and your phone has maybe no bars or one bar. You notice that when you're far from a tower, your battery doesn't last that long. So it's even more dangerous to hold the phone next your head when you only have one bar or no bars than when you have all of the bars. Still, either one shouldn't be done if you really wanna value you know have [inaudible] [41:56] in your brain.
Michaela:        I'd like the full set, and I'd like my intuition to work good and all the [inaudible] and all the other bits that contribute to that. You know and the energetic parts, the third eye that are in our head. You know I think they get zapped by these electronics as well.
Craig:              And I agree.
Michaela:        And I know you use… I've got one of these little… I don't know if you can see that there. Is a little try field media.
Craig:              oh yeah
Michaela:        Yeah, that's…
Craig:              In fact, I think you bought that from me.
Michaela:        I did buy it from you.
Craig:              I think that's the one I sell.
Michaela:        So just for the folks who are watching here. Let's see if I get my phone to come on just so they can see how exciting this stuff is. So I don't know if we can see that. There's the media. It's kind of on zero and I bring the phone nearer. I have to make a call I think, wouldn't I?
Craig:              Yeah, just dial any number. Usually not [inaudible] [42:51] dial 611 percent. That is customer service. You get a recording. Yeah, I see you.
Michaela:        Okay, so I'm dialing a number and oh look, it's zonking up already because it's going… is I'll hang up because I don't really want to talk to customer service on Claro in Spanish. So that's interesting and we could have played with the distance. You can get these means that are about 100 bucks and they're not just… I use it not just for the phone, but I go around the whole apartment or a hotel room because sometimes in apartments… I once lived in a place where the bed, this meter went nuts. And I was like why is it going nuts? And it turned out the whole electrical system for the house routed in just outside that where the head of the bed was. So I moved the bed. I moved the bed and I slept a lot better so.
Craig:              absolutely
Michaela:        you know
Craig:              I used to do inspections in people's homes with the meter. And I found a lot of people had sleeping problems when they had their bed in the high electromagnetic field and they moved the bed to another part of the room or a different room in the house with a low electromagnetic field and they slept much better.
Michaela:        Yeah and good sleep definitely affects my intuition. So when I'm tired, I don't make as good business decisions.
Craig:              right
Michaela:        And I don't interact as good with people. I'm more likely to snap at them instead of being more graceful. So let's just wrap this up looking at why you're proud to use your intuition in your business.
Craig:              Well, I don't particularly love the word proud.
Michaela:        What word would you like to use instead? Happy maybe.
Craig:              I'm happy too. I find it very useful. In some cases, I find it absolutely important.
Michaela:        What case is it absolute? When is absolutely important? I'm curious.
Craig:              Okay, so when you're hiring somebody for instance that's going to be handling money.
Michaela:        okay
Craig:              For instance I run a booth at this yoga festivals where there's a lot of money being handled, and I have other people working at the booth for me. So they're working at the cash register. If I hire the wrong person you know sometimes, you can find a person and one for you, one for me, or two for you and two for me. And if I wasn't able to properly read people, I can tend to lose a lot of money by people pocketing money and not bringing it to the register. So in that particular case, it's very important to be intuitive about a person like that when you're trusting your business to them.
Michaela:        And you were gonna say some other reasons you're happy you use your intuition in business I think.
Craig:              Well, the reasons that I'm happy… I'm just happy in general. I mean I don't actually have a list of them. There's nothing more at the top of my head that's coming to me. I just find it essential. It's essential to do stuff like this. If I didn't, I might end up buying a product that I think is gonna sell and then getting stuck with it after the event. Definitely I buy maybe 20, 30 different products depending on which event it is. And I end up buying just the right amount of it almost every time. Whereas I just dial out exam or I have a couple left over or the other.
If I wasn't in touch with that intuition also what… experience helps with that too and good record keeping. But if I wasn't in touch with all that, once again I might buy a product and I go home with it. Now what am I gonna do with this or why not enough of something that everybody wants and I sell it out the first day and then I kind of been making a lot more money with it, but I didn't buy enough of it.
Michaela:        So that really affects your profit margin there.
Craig:              Yeah, it affects the profit margin and your overall lifestyle at some point if you're living on that money.
Michaela:        Yeah, so I'm on a mission here for every business person to openly use their intuition so that they make more money, they're happier, they're less stressed. And also because I just think you've every business leader was using their intuition, they'd make less dumb ass decisions that hurt other people and the planet. I won't claim they won't make any… hurt other people, but I think they'd make less; significantly less.
Craig:              Well I think anyone that's making business decisions made based solely on profit and not on the environmental impact on the planet, not on the impact of the people that you're affecting, that you're doomed to be hurting yourself in the long run. You really need to be making decisions that are healthy for people, healthy for the planet. And whether you profit momentarily or emotionally or physically from this, you're gonna profit from making healthy decisions. And those decisions, they come from your intuition, come from your heart as well.
Michaela:        Yeah, so given that thought, what would it take to make business or intuition more openly used in this coming year?
Craig:              Well I would recommend that everyone do a little bit of meditation every morning. If they could possibly get up a little bit earlier in the morning and meditate. And the reason morning being so important is because you're on an empty stomach for one which is important for that type of thing. When you're digesting food in your stomach, it does some work as well. Your energy is more in your stomach, your blood is more in your stomach. The neurons are firing as well in the brain. If the morning is not possible for you, if you can find another time of the day where you're on an empty stomach where you can sit quietly, close your eyes, or if you want to keep your eyes open maybe focus on one particular point. Look up at a tree, look up at the sky, look up at the water.
I find the water being particularly soothing when I sit and watch the water especially at sunset and you see the water is jumping up and down, the lights reflecting, and all the sparkling is going on. If you stare at that for a while and just try to let your brain… Let the natural flow of the brain go, things will come in. And it's also good to keep a pen and paper with you, and write it down.
Because our lives can be super stressful, super busy and stuff could come in for a second and go right back out. Write it down as soon as you get it, look at it, look at those things that came into your during meditation. Maybe you won't understand them immediately, maybe you have to keep looking at it for a couple days or couple weeks and finally, it'll make sense what with that little hint of information was. Not everyone can immediately understand what the brain is trying to tell them.
Michaela:        Yeah, I just want to ground. I carry one of these. Some old skin note book. It's got blank pages in. I was writing in as well and I find that is great play. I carry it with me everywhere. And then when I get those intuitive hits, I'll write them down or other ideas. And I take it you know, if I go. If I'm meditating or I'm doing sad no or even find going to an ecstatic dance, I'll take it with me. Because sometimes, moving my body just frees up new ideas to come to me.
Craig:              Absolutely, that's why I do it while I do a yoga set. I'm moving my body with every part of my body. And the yoga set that I designed, I call it [inaudible] [51:15] yoga which I have on DVD for sale on my website. But I developed that to move every part of the body to get the blood flowing to stretch everything. There's a lot of yoga down there that will do most of the body or the major areas, but they don't get every single part going on. I think it's important to get every little part going in the fingers and the toes and so forth. All that what circulation is it really does something.
Michaela:        Yeah, cool! So if people wanna find you online, what's the best way to do that?
Craig:              Well it's very simple. It's rawfoodsbible.com.
Michaela:        Oh that's easy. Rawfoods with an S Bible dot com.
Craig:              that's it!
Michaela:        Well, thanks so much for being on the podcast, Craig.
Craig:              Thank you very much Michaela. I enjoined it, and we'll talk again sometime.