JV Crum III talks about "064 Enter the conscious millionaire flow zone using your intuition with J V Crum III" in this episode of the Intuitive Leadership Mastery Podcast, with host Michaela Light."You know a lot of times when you're an expert in something, over time, you get good at recognizing patterns. And the better you are… and you might do this even unconsciously. You might not be conscious that you're recognizing those patterns. But a lot of us have some kind of level of expertise in an area and then when something starts to happen early on, there might be two or three data points and most people might need see 10, or 20 and they go, "Oh! There's a trend here." But early on, you recognize oh, this is similar and your brain goes back and reference, reference, reference, reference." – JV Crum III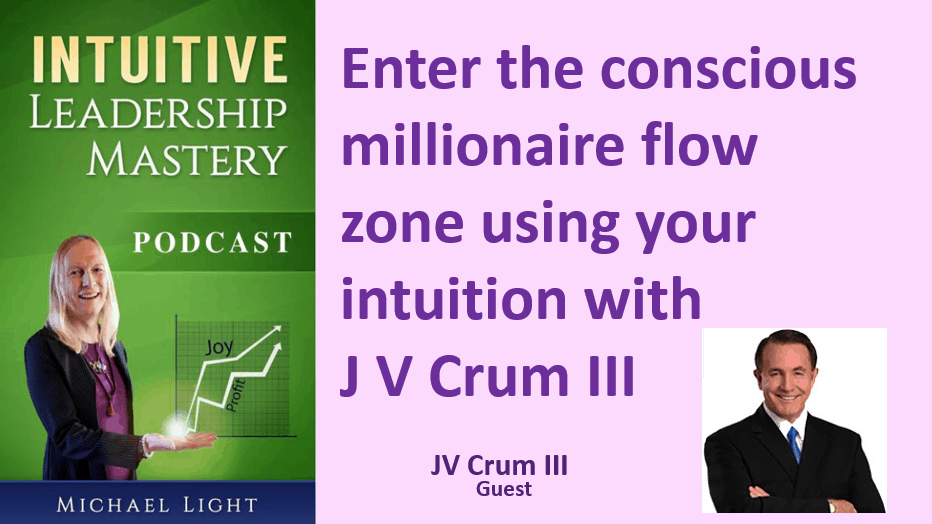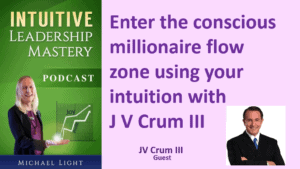 Here are some of the topics discussed in the podcast:
3 kinds of intuition

Left brain intuition

Expert reference points to a trend ← experience

Right brain intuition

Tapping into the info field all around you

Energy is information

More aware you become helps you access it more

See it as how the universe works, not mystical

Whole brain intuition

Intuition mapping

NLP state of trusting your intuition markers and getting accurate info

Pick a time your intuition was spot on and anchor

Intuition strength bars

Intuition is Not an all or nothing

Your reality read in intuition as a probability curve in a slice in time

Re-reading it like you check a compass or GPS

How to enter your Millionaire inner zone

Present

Chi Gong

Meditation

Slow deep breath

Open

Open to new possibilities

Authentic

Does this feel real and right for me?

True for me

→ enter the flow zone

synchronicity, attract opportunity

Chapter 7 in his book Conscious Millionaire

7 as the spiritual number and this is why he put in this chapter number

Stepping into a personal stargate

Why intuition is critical for modern business success

Fast decisions without full info

WWIT for all entrepreneurs to use their intuition openly in their biz?
If you want to double your profits and half your stress, check out the Biz Intuition Profit Doubler. It is a free course for you to use intuition in your business.
Mentioned in this episode
Podcast: Play in new window | Download (Duration: 45:35 — 41.7MB) | Embed
Subscribe: RSS
Bio
JV is the Conscious Millionaire coach who works with coaches.
J V Crum III is known for his LIVE On-Camera Trainings where he creates a Breakthrough for business coaches and consultants by helping them find $50,000 or more in hidden revenues and develop steps to put it in their bank account. Named by Inc Magazine as one of the Top 13 Business Shows to listen to in 2017, JV is host of the syndicated radio show and podcast, Conscious Millionaire, and the best-selling author of "Conscious Millionaire: Grow Your Business by Making a Difference." JV holds multiple certifications in NLP and has graduate degrees in three areas: law, business and psychology (JD, MBA, MS).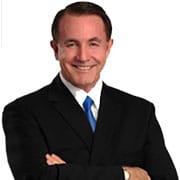 Learn more about JV Crum III at:
Interview Transcript:
Michael:          Welcome back to the show. I am here with J.V. Crum the third, and he wrote 'Conscious Millionaire', and he has a really great podcast called 'Conscious Millionaire' as well. Over 800 episodes of that are out there. And we're going to be talking about how he uses intuition in his business. And some interesting things about how he distinguishes three different kinds of intuition. And also how he accesses his inner stone of the millionaire intuitive place to get your intuition. And why intuition is so critical for modern business success. And we'll also go a little bit into the spiritual zone on how he gets his business to work even bad up by accessing spirituality in it. So welcome JV.
JV:                   Well, Michael thank you so much for having me on your show. And thank you again for being on conscious millionaire. It was a fun time.
Michael:          Oh! I had a blast. If anyone listening here is entrepreneurial, and that's who you interview, right? Basically other entrepreneurs and…
JV:                   Yeah, I work with coaches, and consultants, so I tend to interview people who either are coaches, or consultants. They work with coaches, or consultants, or they work in the area of mindset, personal growth; anything that would help a coach, or consultant grow personally, or grow their businesses.