You can listen to the podcast and read the show notes here.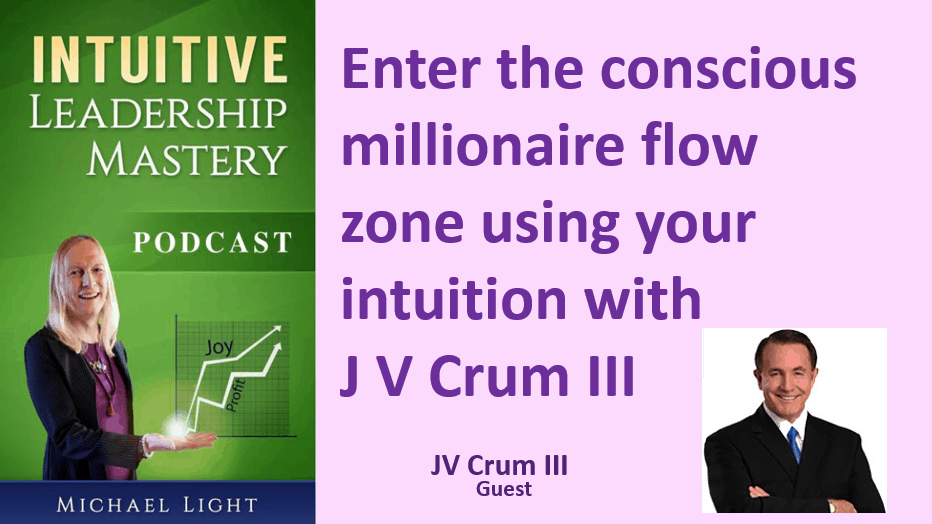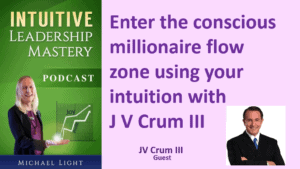 Michael:          Welcome back to the show. I am here with J.V. Crum the third, and he wrote 'Conscious Millionaire', and he has a really great podcast called 'Conscious Millionaire' as well. Over 800 episodes of that are out there. And we're going to be talking about how he uses intuition in his business. And some interesting things about how he distinguishes three different kinds of intuition. And also how he accesses his inner stone of the millionaire intuitive place to get your intuition. And why intuition is so critical for modern business success. And we'll also go a little bit into the spiritual zone on how he gets his business to work even bad up by accessing spirituality in it. So welcome JV.
JV:                   Well, Michael thank you so much for having me on your show. And thank you again for being on conscious millionaire. It was a fun time.
Michael:          Oh! I had a blast. If anyone listening here is entrepreneurial, and that's who you interview, right? Basically other entrepreneurs and…
JV:                   Yeah, I work with coaches, and consultants, so I tend to interview people who either are coaches, or consultants. They work with coaches, or consultants, or they work in the area of mindset, personal growth; anything that would help a coach, or consultant grow personally, or grow their businesses.
Michael:          Yeah, so maybe someone listening will be one of your future guests. You never know.
JV:                   maybe so
Michael:          Stranger things have happened.
JV:                   Stranger actually, that's happened a lot of times and that we have a brand new show that just came out marketing for coaches and consultants. And so, that show's going great and we just bring on the world's top marketers and how specifically coaches and consultant should be marketing to attract and connect with those right clients. And how to sell to those clients and how to build their practice in a way that's really going to be both conscious and highly profitable.
Michael:          Well, that sounds exciting. So let's talk about intuition and business. You mentioned there were three kinds of intuition you recognize. And the first one I think was left. What you called 'Left Brain Intuition'. Can you tell us a bit about that?
JV:                   You know a lot of times when you're an expert in something, over time, you get good at recognizing patterns. And the better you are… and you might do this even unconsciously. You might not be conscious that you're recognizing those patterns. But a lot of us have some kind of level of expertise in an area and then when something starts to happen early on, there might be two or three data points and most people might need see 10, or 20 and they go, "Oh! There's a trend here." But early on, you recognize oh, this is similar and your brain goes back and reference, reference, reference, reference.
And you go, here's the likely thing that's going to be happening here. Well, that's a form of intuition. It's not often talked about. I call it left brain intuition because you're using your left brain to access these reference points. And when we get to right brain, we're accessing the external energy feel. That's both external and flowing in us. But here, we're referencing our own experiences in the past to develop an intuitive insight.
Michael:          And I think that's what many people when they don't… haven't used intuition, that's what they think intuition is. I've talked to some people who are kind of very logical and that's basically their understanding of what intuition is. But there's more to it than that.
JV:                   There is, but I think it's important to note that everybody is using their intuition whether they're conscious of it or not. It's just a part of how we process information. And there is an example of how we do it with our left brain, and in our logical mind. And so a lot of people even scientists that might not necessarily think of themselves as being intuitive people are actually using intuition all the time to reference the data points of what work people who are building software, so in the tech world. I mean actually this is very common even though people might not label it as intuition.
Michael:          So, tell us a bit about the second kind, 'Right Brain Intuition'.
JV:                   The right brain is what most people would think of as intuition. But I don't think there is broad based understanding of how it works. It's thought of as kind of mystical or a hit and miss or some people are intuitive, and other people aren't. And I don't think any of that is accurate. I think that… And I come at things because I was pre-med initially and then I have nine years of NLP training. So, I come at looking at intuition and everything in business as sets of patterns, as what order do things happening on a sensory level. And so in the right brain, we need to understand well how is the universe actually set up, and we can go back to Einstein.
And Einstein really was a very early commentator on the fact that all this energy is really just packets of information; that's what energy is. It's information, so the more aware we become, literally the more conscious awake we become. The more we're aware of that information that's in the energy that's flowing around us and through us at all times. And so the right brain intuition is really just raising your awareness, and picking up on that information that's out there and also inside of you; that's how that works. It's important to understand how it's working because then you can really focus on realizing oh, when I open myself to be more connected however you conceive of that word or to connect with higher consciousness.
Or like in nature, a lot of people are more intuitive because you've got all these live energy that's around you. And it's giving off information. But the interesting thing to me is that both of these come together in what I call whole brain intuition. And psycho when your left brain in your right brain are kind of picking up on similar things, that's kind of the best of all worlds. Because you're getting your logical intuitive confirmation, you're getting your right brain intuitive confirmation into going. "Yes, this is probably the right answer".
Michael:          So, yeah, I mean the way I see it is all these kinds of intuition are just a tool to help us run our business, or our life rather.
JV:                   yeah
Michael:          And it's not all that one is better than the other. It's just one and… they're all useful to help us make decisions quicker.
JV:                   Well, I think that's really important what you pointed out Michel. Because a lot of times I think some people's fear of intuition, and then other people's overpraise of intuition come from thinking that intuitive information is somehow superior to all other information. And if I'm an intuitive there are people who run around saying, "I'm an intuitive and whatever I get for you is better than what you might get for yourself." And I go, "No, no, no, no. You first of all, you from an empowered state are the person most likely to get what's right for you. That doesn't mean you won't want to consult with somebody who's also intuitive. But I think we need to be grounded in our own power.
But more importantly, intuition is I think it is a probability matter. So, I think of the future as a set of probability curves because at any moment what's going to happen 24 hours from now has… If you are building a business and using scenario planning to go, "Well, which of these outcomes is likely 12 months from now? Well it's not just one outcome. You might have this much profit, you might have another amount of profit, you might have a smaller amount of profit. And those are all called scenarios, they're really probability curves. I think intuition works the same way because all of us on this planet; let's just limit it to the planet. All of us on this planet and every event that's occurring on this planet influences the future. That's how the future gets created.
Well, so when we have what I call an intuitive hit, or an intuitive insight, that's at that moment. It's like a slice in time intuitively. But it doesn't mean that an hour from now, that that intuition is still accurate because all kinds of things could change. And it's one of the reasons that we as empowered and inspired entrepreneurs, and coaches, and consultants need to constantly be checking into our intuition going, "This is still seen true, or did something change, and maybe I need to change my perspective." Because that's the reality of how life, and business actually unfolds.
Michael:          It so well the image that comes to my mind is total like if you were driving from across the country from New York to Los Angeles and you look to the compass in the car that represents your intuition. And it says, "Yeah, you're going west JV." But you wouldn't only check the compass once on the beginning of that 3,000 mile journey, you'd probably be checking it pretty regularly. Say okay, am I still on track?
JV:                   That's a tremendous example because this last weekend right now, I've been traveling. I'm in San Diego, and I went to Los Angeles. And Los Angeles is a good three hour drive because of all the traffic. And I was using an app that we could say was tapping into intuition. What it was really tapping into was all the information they had from other drivers, right. And it was constantly within L.A. If you've ever been L.A., it's like…
Michael:          I have, yeah.
JV:                   Yeah, 22 million people at a lot of traffic, and it was constantly. It would show me an image at the beginning. But then, between where I was and point B where I was going, it was in real time rerouting me constantly.
Michael:          wow!
JV:                   So what… and let's say I win a lot of places that would be about a half hour. So what looked like the best route; let's say that's your intuitive impression that the beginning of the route. And what was the best route 50 minutes into the drive could constantly change. And that's exactly how intuition works because what was happening was the information field was changing, and that was impacting the future. If I went down one street versus turned, and went two blocks, and went down another street. That's how our intuition works if we're constantly tapping in, or connected as a lot of us like to say.
Michael:          Yeah, well we'll talk a little bit later about how people listening could get connected more strongly. But right now, you mentioned you've done NLP. Is there any way you use N.L.P. to help you trust your intuition better, or problems?
JV:                   Yeah, absolutely and I do this with my private clients. I call it intuition mapping and I have nine years of training in multiple certifications in NLP. So what I do is I take someone who's had intuitive experiences that tended, that turned out to be accurate. So all of us as human beings have some intuition that we call; well, that's intuition but it turned out to only be maybe partly correct or wasn't quite right on. But then, we have moments when our intuition is just spot on, right. It's like do this, we do it and it's 100 percent clear.
It was the right decision. So, I have them identify those times and choose one and then I put them in state using NLP. Have to go back see what they see, hear what they hear, feel what they feel, and then I elicit the order on a sensory level visual auditory kinesthetic in which their sensory experiences occurred as the intuition was forming. And that I might do that for two or three different events and look at well, what's the pattern here? And then I tell them go out, and play with this. I like that phrase. Let's go play with this, and keep notes. So have him go spend a week, and notice when they're beginning to feel like they have intuition, and do the same sensory markers occur in the same order.
And then notice what they're intuition was, and what turned out to be true. And so, this gives them an opportunity to go for themselves. See, do we need to fine tune this a little bit, or was this really the pattern? Now, what's the benefit? Imagine your business owner, your coach, your consultant, you're doing anything in business. And you now know that when this sensory pattern occurs… Like in me, I tend to get my intuition in my forehead as words, or numbers. And then I tend to get like in my spine maybe a tingling, or maybe a tingling around my head. But it's a visual kinesthetic and what we call that is a synesthesia because the cue happened one bang, bang, bang. They always happen together. Now that would be sensory markers. Now imagine for every person, there's that kind of pattern.
It's just unique for each individual so imagine how much more empowered you are to make good business decisions. If you know that when this pattern occurs, and you need to make a decision anyway, your probability is just much higher to go with this, and to trust it because now, you actually added a scientific aspect to it. We're taking it totally out of the land of mystery, and woo woo where we're going well, I kind of have this issues, but I don't know if I should go with that. You know that is the land of woo woo. The land the scientific understanding of our intuition and NLP is that we know the sensory markers, and what order they occur. And so we can say well this is reliable, and given that I have to make a decision this is a good source of data to make that decision that we're going to call our intuition.
Michael:          I love that idea J.V. And it sounds a little bit like you know those you get on your phone safe the reception is good.
JV:                   yes
Michael:          It's almost like an end intuition meter to tell you if the reception is good on your intuition.
JV:                   I think that's a fantastic analogy because that's actually what it is. You're having your own pattern, you know what the pattern is, and when it occurs. You know that you have not an absolute certainty. I never talk about intuition is absolute certainty. But that's… You know there's very little in life that's absolute certainty. Most things are probabilities, right. You know when you go to let's say ask somebody to marry you, you don't have absolute certainty. But if you've waited to the right moment, you have a pretty good idea that you are going to get a yes, right. But everything in business is that way. Sales is that way.
But imagine if you're doing a sales call with a potential client, and you're tapping into your intuition, and there's something that says just give this conversation a little bit more time. They're not quite ready, right. You kind of get that intuition and it fits this pattern and you can go, okay we still need to talk a little bit more. They need to get a little bit more comfortable, maybe there's a question that's not yet quite answered. But we just need to build our connection a little bit more before we say, "Would you like to work together?"
Michael:          Yeah, I think using intuition in sales is a really good use of it because it can… For me it makes tell me when I should call someone or if I should wait a bit, or if I have a list of potential people to call who's the person to call today. Or even if I'm making a proposal, what dollar amount should I do the proposal for that will make us both happy?
JV:                   But that's very interesting because in doing I used to own a regional trucking line, and I would use my intuition a lot in making my pricing for bids. If I had to bid, if I had clothes on the low bid, for other people were bidding. I would go well, what's the exact figure? I use that also in I love to negotiate. Some people just love to negotiate into deals, and other people want to run away from, but you know I'm also an attorney. So, I actually find those things fun. They are creative processes and any time Mike. I mean you know, if you could take the written deal that's written up or you could negotiate and I'm always going to be the guy who is going to come and say hey, you know like why do we look at this maybe there's something that would be a better deal for both of us. The intuition really helps me know… Well, I'll give you a fun example.
When I go into hotels, one of the things I typically do is ask for some complimentary upgrades. You know but you can use your intuition is to know what you might want to ask for. You know like do you have corner room? Yes, do you have a corner room that you could upgrade me to so I'd have a better view? You know just things like that. It's fun to play with this. It's really just a fun world to play it
Michael:          Yes, and that's you know hotels are pretty low risk environment. I mean, what's the worst can happen? They say no [crosstalk] [17:39] you find out your intuition that the corner room was the available.
JV:                   Right, or complimentary parking.
Michael:          exactly
JV:                   I was just in a hotel this weekend, and I was going to stay and have meetings all the way to five o'clock. Well obviously, I had to be out of my room, but I had parking that was paid for but just till noon when my room is done and when I checked in I said, You know I've got meetings here at the hotel which is something they'd be glad to hear that people are going to be coming to the hotel that are local, right. And I said, "Could you extend the parking?" They said, "You know what? I'm just going to give you two days of parking for the price of one. That way, whenever you want to leave tomorrow, you've got in and out all day.
Michael:          oh wonderful!
JV:                   And I was great, so I had a meeting before the last one where I had to drive someplace. So, I needed to go in and out of parking but they extended and gave me an extra day of parking just because I asked.
Michael:          Well, we're going to talk a moment in a in a bigger ask you have for the universe. But first, let's talk about this millionaire zone that has helped people connect with their intuition better.
JV:                   Yeah, absolutely, so this is a whole chapter in my book. It's Chapter seven, and I mentioned that it Chapter seven not to mention the book, but to mention the number seven. So, I happen to be a three person, I'm the third. I'm J.V. Crum the third. My mom had two miscarriages before me. So not only was I was the third attempt to come through, but I'm with the third after my grandfather, and father in terms of my own name. And I tend to create formulas, and sort by a three. So, I tend to do organize things in the threes. But the other number I organize into is seven. So it's the less frequent number, but I bring it up because it's a spiritual number.
We all know there's you know it's a seven candles in Judaism. There's you know seven is a very spiritual number throughout different spiritual text. And so, when I was organizing my book, chapter three became my book on win by becoming consciousness. And has all my consciousness work on it. My proprietary work about how to be conscious and so, it just organized itself in a way that I said, "Yeah, I think seven is the place to put the millionaire inner zone." So, I've done a lot of proprietory work. (Another part of my background have a master's in clinical psych.) And so, I've always been interested not just in.
How one person has an experience but especially because of all the NLP training; two parts of experiences. It is especially ones that are spiritual and intuitive is, how do I with predictable awareness duplicate an experience in myself that I've had? And then how do I go out and teach that to somebody else and duplicate my kind of experience in someone else? And so, I started having experiences gosh 30 years ago where I consciously was aware that some days, I was in this flow. And if you're listening today, I know you've had an experience of flow where everything just seemed to come together almost as if magical, it was so amazing. The right person called you, then you walk out of your office, and you run into this person, and you do a deal with…
I mean everything just is in this natural flow. And then, you probably had these other experiences like I've had also where it seemed like it was that kind of the day from hell, right. Nothing seemed to work. And in old school terminology, some people would say you got up on the wrong side of the bed. But maybe you did get up on the wrong side of the bed, right. Maybe you actually did. And so, I became curious and started taking notes. What's going on from a sensory, from a state standpoint, from what's going on in my environment? Because I was looking for what's the clues? I did know what they were. When things seem to just go amazing. And what's going on when nothing seems to work out?
And I through this process was able to identify that there's actually three specific things that are occurring every time I'm in flow, and go into the zone type state. And then when I taught them to other people, it turned out that that worked for them as well. And it's like we've all seen maybe the stargate; the show Stargate. And there's this circle and you step through the circle and it's like you've gone into another energy for techs. Now the only difference between this and Stargate is that what I'm going to describe to I look at it as you're stepping into a vortex. But your surroundings are still the same physical surroundings, but you might experience some differently; that's what's different here. And here they are, they're fairly simple the most important one is to be present.
Because flow does not happen in this past memory nor does it happen in this future anticipation. In fact, neither one of those are real in the sense that present is. Because the past was just a present that has already happened, and the future is a present that's yet to happen. So from that standpoint, I would argue that present is all there is. But you've got to get to the current present and not be worried about the past and the future present. Now the easiest way to get into present… I can meditate and I think meditation is one of the best practices Shingon. Shingon is a good practice for this. But in a really easy one, everybody listening.
If you're listening right now, I just want you to know that if you slow down enough through in 30 to 60 seconds, take three deep breaths in, and then three deep breaths out, just allowing yourself to slow down. It's amazing how much more present you become. It's just that simple because I like to think of being able to get into the flow any time anywhere at will. So imagine if what I'm telling you, you can do anytime, anywhere, at will, and all of a sudden synchronicity starts occurring [and I'll explain what that is exactly] and the resources you need, and the people, the financial people that you need. You start being attracted to them. They start being attracted to you. And all of a sudden, you're in a different reality as a way. So, the first one is present.
The second one is open. Now, I'm a firm believer that you make strategic plans. You've got a one year plan for your business, it's got measurable results. However, when I say open, what I'm really saying is open that although your mind has done all this work and this is really great; you leave later ground work. But would you be open to it happening 100 times faster, or 100 times better in a way that your logical mind or just your mind period doesn't currently see? And so, it's really just being open to possibility; that's what I mean by open.
And then authentic when explained because a lot of times authentic, purpose, love, God. These are all in NLP terms nominalizations. And what I might mean by authentic, and what someone else might mean might be a little bit different. But let's make it real, and here's how to make authentic real. When you take a step, literally take a step, or make a decision, ask yourself, this is feel real, this is feel right for me. Real and right go together. And if so that's what I mean by authentic. So if you're present, you're open to possibilities, and you're taking steps that feel real. As I go, the path to literally unfold before you. You don't have to wonder what it is, and now you're entering a state that I call a 'Flow Zone'. So it's a… you're in a flow, but you're in this is zone of flow, and synchronicity starts to occur. It's a natural result of being in this flow zone.
And what's synchronicity? So, synchronicity is when two or more events come together in a way that's personally meaningful for you. So you might be standing in line at the coffee shop, and someone behind you is having a discussion, and they say the color green. Now, for everybody else in the room, that may have no meaning at all. But you, that morning, have been thinking what color do you want to paint your office. And all of a sudden, you hear green, and you get this picture in your mind of green, and you hadn't been thinking about green. You'd been thinking about maybe beige, or off white, or maybe light blue, and you go, [snapping fingers], "Oh! That's it." That synchronicity, that's synchronicity.
Synchronicity is also I'm thinking about Michael, and all of a sudden, Michael rings me up, right. That's a moment of synchronicity as well. Going, "You know I think Mike and I need to talk about something right now. You know and then bang! Michael's on the phone, and we're going, "Wow! Michael how are you? And then all of a sudden, we have this conversation about something that gives you information, or just a final very commonplace happens a lot. You could be on the Internet, you could be driving on the road and you see a billboard, you could open a book and you look down and the paragraph you read is the exact answer to a question you've been pondering. Like and there it is. These are all synchronicity, and they tend to occur much more frequently when you're open in a present state, and you're moving forward in a way that feels real, or right for you.
Michael:          I think they have come more frequently, and also if I'm all present, I notice them better.
JV:                   Well, present is the most important one of those three. And it's why I put it first is that in many ways, you could almost just get to the zone in present, but being open and authentic helps it a lot.
Michael:          Yeah, and that way opportunity just flows to you.
JV:                   Well exactly, and when I go to conferences, I tend to be in this zone, right. Intentionally, I'm in this zone. And there's some times I remember right now when we're talking, a conference I went to where I even called up somebody who worked with me, or after I'd been there for a day. And I said, "This is just like I'm in a play that was written for me." I end one conversation, pivot a quarter of a step to the left it to go walk someplace, and there's this person in front of me, and we have the next conversation that has value. They're not just conversations each. One of these are like packet experience of value, but it's like you feel like you're in a play. Like it was all written for you, and it's perfectly choreographed. Oftentimes, that's what like being in flow is like.
Michael:          And I know for me at conferences, I pick up a lot of energy from other the people I'm very empathic.
JV:                   right
Michael:          So to stay present, I need to take breaks. You know [crosstalk] [29:15]
JV:                   I glad you brought that up. I talk about it in terms of I'm an extrovert, but I'm also an introvert. And on my podcast, in my coaching, when I'm out in an event, people see the extrovert side of me. But I would say that I'm probably 40 percent introvert. So, when I'm conferences, I too have learned that sometimes late in the afternoon, I'll go to my room and I typically get a bucket of ice and I'll just sit there and put ice and some water and have some cool water.
But I'm just not like I don't go look at my computer. I don't go to do anything. I just literally need to recharge before I can go have more conversations. And part of that is that I'm like you so… People use the word sensitive, but I am much more sensitive than I think the average person. I mean this is what I do for a career. So, I'm constantly focused on being conscious. I mean it's kind of the deal, and I chose it as a career because this is what I love. But it also connects me to so much more energy in an awareness level, and then I just need to go have some downtime.
Michael:          Well, I know when I was younger and went to conferences, I would just drink alcohol as a way to deal with all that excess energy.
JV:                   I know I'm not drinking at all so.
Michael:          Yeah, I gave it up too.
JV:                   yeah
Michael:          Yeah, so we talked a lot about intuition. Why is intuition so critical for people in business today? You know [crosstalk] [30:46]
JV:                   I think it's essential. And the reason I think it's essential is that in today's world, a fast moving information and where everything is moving at a much greater speed. A business model that you have that got you at the top of the game literally can be nonfunctioning 18 months from now.
Michael:          Or even six months.
JV:                   Yeah, so how do you stay at the top of the game and grow your business, you're coaching, your consulting? How do you do that? I think you have to use all your resources. And this is such an important natural resource that we all have to tap into that I think that the people who are going to make the best decisions, are going to do are going to have a high intuitive component. And remember that intuition is not just what traditionally we think of as right brain, that you go to the right brain. But it's also left brain where you're using actively, intentionally using reference points in your own experience it both in life, and in business to make your next decision.
And I think every great business person is doing that. It's not happened chance when somebody becomes a billionaire. There are a few of those that might have happened chance. They just you know you could you might say they just accidently created the right company. I think the likelihood of that being the truth is very low. It make might make a good magazine article. But I think that people who are highly successful, I think every one of them consciously or unconsciously is tapping into exactly what we've been discussing.
Michael:          Oh absolutely! I've studied a lot of successful people and some of them write about it. Richard Branson says, "Trust this gut more than he trusts statistics."
JV:                   And [crosstalk] [32:39] I agree with that, yeah.
Michael:          Yeah, so given how important this is for entrepreneurs these days, what would it take for all entrepreneurs to use their intuition?
JV:                   Well, that's a fairly good question. I think it really just takes an awareness. If you're listening to this today, well, this would be a great primer have because I think we've had a fantastic discussion, and covered a lot of really important points. And then is just asking yourself, "Do I want to cultivate my intuition as a skill?" I look at intuition as a skill. Now some people maybe come into this life a little bit more skilled at this than other people.
And I think maybe you were one of those, and maybe I was one of those. We probably have a lot of friends like that. But I think it's best looked at as a skill, and that everyone can develop it just like everybody can develop Math skills. Some people may be better at Math skills than others, right. But everybody can develop it. So this is best looked at as a skill that can be developed. Wherever you are right now, you can get better at using this skill set in your business.
Michael:          I think that's great. So, we talked before we hit record about setting intentions, and making big asks of the universe. What's your ask for the universe today, JV?
JV:                   Yeah, you know this may sound a little superficial to some people, but I'll give a background. So, I grew up in a family that had no money out in the country. And at the age of five, I decided I was going to grow up and be a millionaire. Now, what was the impetus for that? This is the funny part. We so much didn't have money that when I had been well trained to be a polite little kid. (And I was very polite.) And when I went to the grocery store, I've been taught not to ask for the candy bar because we literally didn't have the money to pay for it, and my mom didn't want to be embarrassed in front of other people by having to say no because the reason she'd be saying no wasn't that she didn't want me to have Candy. It's like we literally couldn't pay for it.
And so one day, I said, "Well, what's the solution to this? I'm not going to grow up and live like this." And I went, "Aha! I know I grew up and be a millionaire." But I was serious. I was serious about it. And at 25, I had the 4-storey home in the Mercedes, and trips to Europe. Why? Because I set an intention. Now, let's add another piece of that. My dad became governor of Florida [inaudible] [35:08] at a time that somebody who was poor should have been because he ran against a millionaire from Miami who owned a bank. But my dad was a great personality, and he won. Now that meant that we got sent to all these national conventions, and put up in Swanky hotels that were so much nicer than the home that we had. And one of them was in New York when I was eight years old, and I went to the New York World's Fair.
And we stayed in this hotel that had… now we had one… People, I know this is going to sound impossible, but it's true. Out in the country, it's not the dark era. (I'm not that old.) We had what was called an eight party line. Now what that meant not only did we only have one phone line, [imagine that], but eight homes shared this one phone line. And when you get on the phone line, you go, "Neighbor, I can hear you breathing. Get off the phone and don't listen to my phone call." Or if you needed to make a phone call, you have to pick up the phone and go, "Susie, can we have the phone line just for a moment? We need to make a phone call." So eight homes were coordinating the use of this one phone.
So, imagine the impression on a little boy like me being in this hotel where not only did we have our own phone in the room of course, we had a phone in the bathroom. And I said to myself, "When I grew up, I'm going to do this." And do you know that home I reference that I got it 25 with three bathrooms. I had eight phones; two lines because I don't want just have one line [because I remember what it was like to have one line]. Two lines, and eight phones hardwired including the powder room. And people would come over to my home and they'd go, "JV, you've got a phone in the bathroom!" As if somehow I did know. Like somehow it magically got in there. And I go, "Yes, I know." Now, that same trip, I went to Radio City Music Hall, and saw a movie titled, 'The Yellow Rolls Royce'. And I said to myself I'm going to have one of those, right?
Michael:          Mm-hmm
JV:                   That was that little boy imagining his future. So that represented not going to the grocery, store not having a candy bar; that's really what it represented. But it also represented what those people just look at their living you know a more opulent. Like a nicer life, and I'm like, but I'm in that right. Because when I go back home, we got that party line, right. We don't have a phone in the bathroom, and so I am now keen on getting what I call the mansion that's right for me. It's the five to ten thousand square foot mansion. I don't want anything bigger than that because I don't want to a home that's like a city that's got to be run. But I want something where I can invite guests, and maybe do masterminds in it, and really utilize it for a lot of causes, and I want a Rolls Royce go in front of it.
So this last weekend, I was in Beverly Hills both days, driving around, looking at the mansions going. "You know that one looks pretty good. I think I like that one." At of course a Rolls Royce is all over the place in Beverly Hills. And so, I'm just putting out to the universe that if you're hearing this, or you have a connection to the Rolls Royce, maybe I can do some coaching with them. I'm willing for this to occur in all kinds of ways. Doesn't have to just magically poof, and there's like you know, the curtain opens. It goes, |Oh behind curtain number three, our price is right you won you know a brand new 350,000 dollar Rolls Royce.? But I've set my intention that yes, these represent levels of opulence that for me, the more opulent the space I'm in, literally, the higher my consciousness.
I have noticed a direct correlation behind having well-crafted, beautiful, finishes, great woods, marbles, and that… and literally consciousness. And I've also found a direct correlation between being in nature; beautiful nature, and especially if there's water in my case. That all of this connects me to just this realm of possibility, and inspiration. So for me, it's not… I want to explain. It's not just oh, I need a Rolls Royce. No, it's about a lifestyle, and it's about a statement about opulence, and abundance that I think is available to us. Because I'm still… you know no matter what happens, I'm still the guy who grew up and little Akhalaia [39:37], right, with an eight party line phone.
Michael:          So just to put you on the spot a little bit, JV.
JV:                   yeah
Michael:          When do you want to manifest this Rolls… White… It's a white Rolls Royce right?
JV:                   It's a white Rolls Royse. You know that's a really good question.
Michael:          When do you want to buy it?
JV:                   I want it within the next three years. Thank you for asking that yeah, because I've been actually thinking about this recently. Yes, the next three years. I would like this Rolls Royce.
Michael:          Or by your birthday; whichever comes first.
JV:                   Or by my birthday; whichever comes first, right. Yes, or by my birthday whichever comes first.
Michael:          So, it's been great talking with you. If people wanted to find you on the Internet well, what were the best ways to do that?
JV:                   Well, first of all, I have my podcasts, and so we love… I love podcasting, it's seven days a week. And I love interviewing people like you, so we've got twelve million listeners in 194 countries. And you can find that podcast at consciousmillionaireshow.com; that will take you directly to it. And if you're a coach or consultant, I have a special gift for you because that's who I work with. It you would like to achieve rapid growth in your business, you want to grow it much faster, then I have the rapid growth formula three day challenge; where we have a three day challenge with you to help you grow that business faster, and get a much clearer vision of where you want to go over the next three days. And that's at consciousmillionaire.com/rapid growth.
Michael:          And we'll put that link for the show, and the free gifts that you're giving into the show notes which people can find intuitiveleadershipmastery.com. So, it's been fabulous talking with you JV. I hope you have a wonderful rest of your day. You're in sunny California, I'm in sunny Thailand
JV:                   Yeah, [crosstalk] both of us are travelling. I decided to travel for six months because I said you've got a virtual business, you have a virtual business, and we both set it up that way. So right now, I'm in San Diego and you're in Thailand, and I've been to Thailand. Where are you at in Thailand?
Michael:          I'm in Phuket, on the beach. There's this beautiful beach north of the airports.
JV:                   Yeah, I haven't been to Phuket, but I been to Bangkok, and I've been to Chiang Mai. I loved Thailand. First of all, the people were fabulous. And second of all, incredible food, incredible and healthy. Incredible, healthy food.
Michael:          Yes, and sunny you know most of the time, it's great. Everyone smiles too.
JV:                   I know a lot of people who do business too, and go to Thailand. So, it's quite a popular place.
Michael:          Yeah, well I'm going to a conference next week and then, I'm going to Chiang Mai for six weeks. I guess [crosstalk] [42:22]
JV:                   Yeah, Chiang Mai has a lot entrepreneurs. It's become kind of an enclave. But it also is a very spiritual city.
Michael:          Yeah it is. Particularly in the… I went on a trek up in the mountains. I forget the name of national park there, but it's just incredible.
JV:                   Yeah, I love Thailand. So, anyway we're broadcasting to you with both of us traveling. So, I guess I'll issue another challenge other than the challenge to my three day challenge that I have for you. And that is you know, the actually the last part of my three day challenge is about getting real crystal clear to about the life, and lifestyle you want. So, it was by doing that that I got clear I wanted to build a virtual business, and I wanted to be able to every year, live in multiple places. I didn't want to just be in one place because I love to travel, and I love experiencing different cultures.
Michael:          That is a wonderful challenge. I hope people listening can create that in their businesses.
JV:                   Yeah, you know what? It all starts with an idea about what we want, and then figure out how to get it.
Michael:          And that's where your intuition can help you get what you want to create.
JV:                   Absolutely, my intuition said never ever, ever. I had a regional trucking line. So that was very location specific because you had terminals, and all that kind of stuff. And I said never build another business like this.
Michael:          Well, and I think that's something I've realized in the last few years. When we're building a business, we can decide what kind of business we want to build.
JV:                   Exactly, what the parameters are. Everything I do is on the Internet. The most I'll do is maybe have a two day conference. But gosh! I could fly in for that; everybody else is. It's not like I even have to be where the conference is.
Michael:          yeah, genius
JV:                   yeah
Michael:          Well, it's been…
JV:                   A wonderful world we live in.
Michael:          Yeah, well I know you're recording like eight back to back podcast episodes today so.
JV:                   I have eight shows today in addition to this show. It's a little bit crazy.
Michael:          Which is how you organize your life so you are able to travel
JV:                   Right, yes, I [crosstalk]. But that does give me days off.
Michael:          Yes, exactly well, have a great rest of your day, and it's been fabulous talking to you on the show.
JV:                   And thank you for listening today as I always like to say there are no accidents. If you're tuned in to Michael and I, you were supposed to be here. And maybe this is that show you need to listen to a second time, and really start applying all this to your business and life.