Ange de Lumiere talks about "Tune into your intuition without leaving your logical mind at the door" in this episode of Intuitive Leadership Mastery with host Michaela Light.
Show notes
Mentioned in this episode
Podcast: Play in new window | Download (Duration: 1:09:27 — 64.5MB) | Embed
Subscribe: RSS
Bio
After a fifteen-year career as an international mergers and acquisitions lawyer, and writing and publishing two books, Ange now helps ambitious female entrepreneurs suffering from self doubt tap into the power of their intuition to create the confidence to create a business that they love and the success that they deserve. 
She is the founder of the Business Intuition Academy. Ange is your girl if you would like to trust your intuition but do not want to have to meditate, wear crystals or give up on coffee or wine. She is French. She now lives in the South West of England. 
She has written a memoir called The Reluctant Akashic Reader. I am attaching the first three chapters. It's about how she went from being a lawyer to being a business intuition mentor. 
She founded a business intuition academy for female entrepreneurs. Her main modality is Business Akashic Records reading.
She combines logic with intuition to channel your business niche, market, offers, prices and timing
She has created a business oracle deck. 
She has a new podcast coming out on the 14th of June called the Business Intuition Podcast.
You can download her free workbook on the four steps to trust your intuition in business by signing up to her newsletter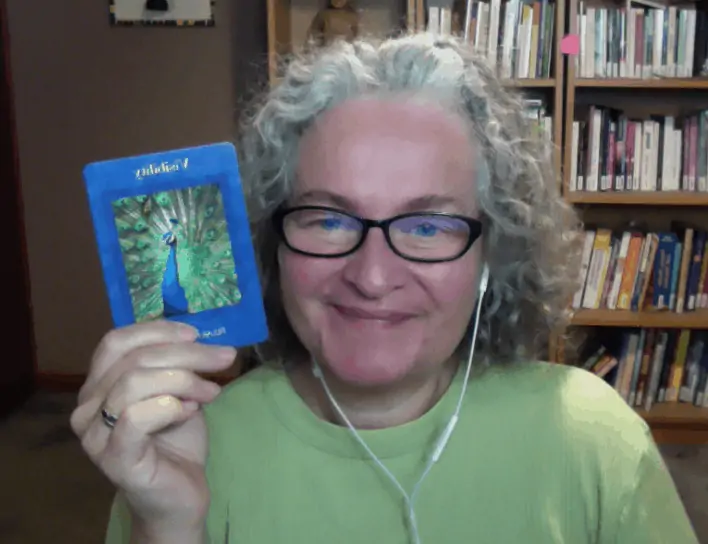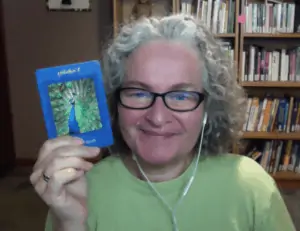 Links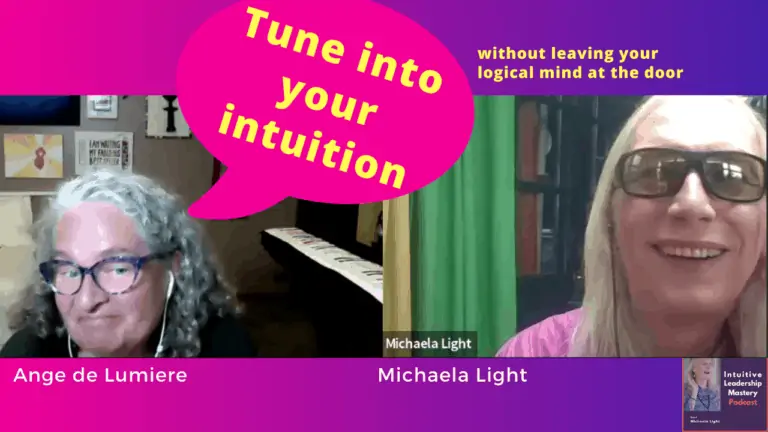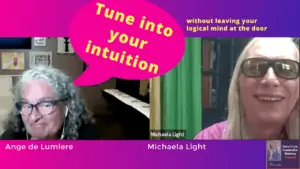 Interview transcript
Michaela Light 0:03
Hey, welcome back to the show. I'm here with Auntie de Lumiere. And we're gonna be talking about how you can tune in your, your intuition without leaving your logical mind at the door. And if you don't know, Angie, she's based in the United Kingdom, originally born in France. And she is an author, and also has created some Oracle decks. We'll talk about that. And she used to be an attorney. So real turnaround there go to being a business intuition coach, and Jason Ross on that we'll maybe talk a bit about that as well. And she has her own podcast, the business intuition podcast, and I'll put all the links to that. in the show notes, the episode intuitive leadership mastery.com. Anyway, welcome, Angie. Thank you for having me. Yes. So great to talk with you. So I'm kind of curious, because when I think of lawyers and attorneys, they're not. I mean, I guess they could be intuitive. But that's not not the impression they necessarily give. They're always very logical and organized.
Ange de Lumiere 1:10
Yep. head as well, like you in school. That was my 40. And, yeah, I know. And I fell into low, maybe a little bit by chance, because all the kind of options that I wanted to pursue, I wanted to be an astronomer and lots of different things. Yeah, that's what was my thing that was my jam, like then
Michaela Light 1:37
one,
Ange de Lumiere 1:38
but then I realized it was 10 years studies, and maybe not that many prospects of jobs. And so I did the responsible thing. And so I went to see, you know, like one of those career counselors, on my made me do tons of tests. And she said, you'd be a great lawyer. And I was like, Okay, let's give it a try. And it so happened that it was a double degree translation, and law, and I was quite good at languages. So I took an exam in languages to make sure my level was enough in English and Spanish, and I got in. So that's why that's how I became an international lawyer.
Michaela Light 2:20
Wow, I'm an international lawyer, not just a regular lawyer.
Ange de Lumiere 2:24
No, no, I did merger acquisition. I don't know if you know what that is, like, top. Buying selling companies traveling the world. I've been to all the continents except Australia. Which is kind of funny, because that's the one the only place I wanted to go. But so yeah, and even negotiated in Spanish, Colombia through sheeny. It was fun. It was a lot of fun.
Michaela Light 2:53
Wow. Yeah. And, you know, I'm sure you had to use your intuition to get the I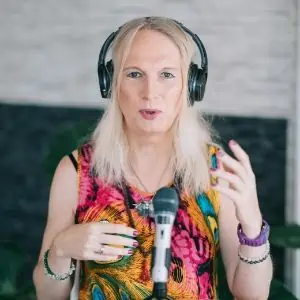 Hi, I am Michaela Light, author of "Intuitive Leadership Mastery" and "What Would It Take?". I help CEOs dramatically increase their business intuition so that they can grow their biz faster with less stress. And not burn out with even more work hours. In a 1,000 member international entrepreneur community, I am known as Ms. What Would It Take. It has been 15 years since I stopped only using my logical brain to run my businesses and stepped up my intuition to help me make faster and better decisions. I have helped thousands of CEOs reach their goals 4x faster than before. Here is what  one of them had to say: "I'm working on things that are more fun, more exciting and more enriching for me...from a personal perspective, but also from a career standpoint. And I have to say, this is surprising for me because 2016 will mark the ninth year of me running my business. I was actually looking to exit my business and to try something completely new, different and more exciting. But after working with Michaela for the past three+ months, I realized that I didn't have the right framework to reach my goals." - Dustin Overbeck, CEO of TownWeb