Read the show notes and download the episode here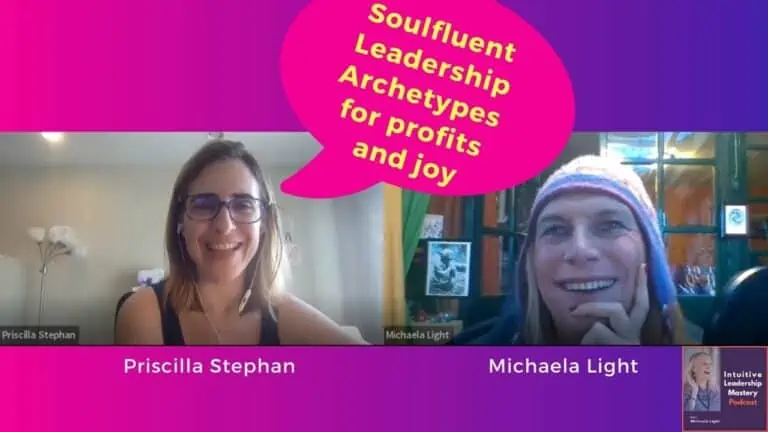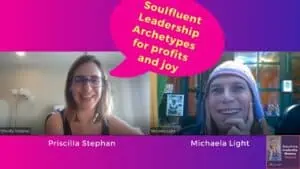 Michaela Light 0:03
Welcome back to the show. I'm here with Priscilla Steven. And we're gonna be talking about how you can use Seoul fluent leadership archetypes for more profits and joy in your business. And just in case you don't know Priscilla, she helps Seoul driven Women Grow sustainable world change businesses, and she does intuitive business,
Priscilla Stephan 0:26
strategy and coaching using leadership archetypes and we'll explain what those are later in the show. And she also together with guidance from your akashic records, so pretty amazing stuff. And she is about to publish a book later this year. What's the title of your book, Priscilla? Hi, everyone. It's the soul fluent leadership business guide. Simplify your visibility, message and profits by leveraging your archetype. Wow, that sounds amazing. So we'll put the link to where you can find out about that book as well as website on the intuitive leadership mastery website, along with all of Priscilla social links, but maybe we should start off with because some people may not be sure they really are a leader. Who's this for? Is it only for like big pool bar leaders? Or? It's a great question. Well, four years ago, I downloaded the supplement leadership archetypes body of work or framework through the Akashic Records when my soul guides asked me to write a tiny little book, which turned out to be more than a tiny book. And one of the concepts in this body of work is that leadership is defined as contribution. And so therefore, since we all contribute, right, we all add some value to the world some way we are there for a leader, I think that what I love about this is that it creates equality amongst everyone. First, you have value. Second, you have innate talents and gifts, and you get to make a difference. However you choose, knowing that it is a valid addition to the global, you know, the world. So whether you're a janitor, a school teacher, a mother, a president, CEO, it doesn't matter, you're providing value, you're making a contribution, therefore you lead, therefore, you are a leader. And the question then becomes what kind of a leader Do you want to be? How do you want to show up in the world, not from a place of a shortage or a master I have to, but from a place of conscious choice, and co creation?
Michaela Light 2:48
Well, it's very empowering to hear everyone is a leader who's listening to this in whatever realm they're leading, whether it's in their business, or in their community, or their family, or in their own life can read yourself as well. Yeah. And you mentioned some words there that we're going to unpack a little later, which was downloading from the Akashic records. So I'm just gonna make a mental note.
That will explain what those things are. Because some people may never have thought of downloading books or other stuff into, you know, that they can then publish. But I think we better talk about you mentioned the different leadership archetypes. So how many of those are are their own? What are they? Yes, there are five leadership archetypes and archetypes, the way I describe them are a set of energies that are in the collective unconscious. So pretty much there are ways of being patterns energies that we all have the ability to innately access within us. And some of us, for example, might think of the god goddess or a warrior, right? When you think about a warrior, what do you think strong, mighty powerful, kind of might be a bit of a loner, right? There are certain attributes and energies and ways of being that we attribute to certain
Priscilla Stephan 4:05
like the mother, right, nurturing, nourishing, kind, right? So these are elements or aspects of our personality that are within us. And archetypes are kind of a way to encapsulate a lot of these energies into a form that we can kind of assimilate in our minds and in our hearts. And so archetypes are a great way for us to understand parts of ourselves and in nice little encapsulations and in my case, there are five archetypes there is the mystic leader, the visionary leader, the Explorer leader, the strategist, leader and the divine feminine. Leader we all have aspects of each of these within us. However, depending on your phase of life or season in business arkad different archetypes might shift or become more dominant, almost like a shifting gears in a car. You know, based on what do you need at this time, I am through and through a mystic leader. What that means is my innate gifts are intuitive, healing, creative. And my dominant motivation to lead is to elevate consciousness and to bring harmony and wellbeing to people in the planet. Right. The other thing I want to add to go back to you to answer your question about is everyone a leader, you know, the concept of soul flew into leadership, meaning that you knew how to access, understand and lead from your soul's leadership language, ie your archetype. The whole premise of this is that so fluent leaders are leaders that are here to create a world where everyone thrives. A world where our choices are, our conscious choices are such that they impact not only ourselves, but the planet, our businesses, or team members or clients, that we look at the ripple effect of a choice that we make. So it's not just Oh, we'll make more money, and oh, too bad about the environment, you know, some, somebody else gonna have to clean it up, or we'll make more money, but we're going to run down our team, and everyone's going to burn out, you know, and have no balance in their lives. It's like, well, what can how can we create a world where everyone thrives, including the planet? So it's really a bigger perspective of, what would it take? What does that look like? Who do I need to be? If I want to create that kind of world, that kind of a business, that kind of a life.
Michaela Light 6:41
I love that. And I kind of think of it as an abundance mindset. That's the phrase I use for that. But same thing is pretty much the same thing. Or it's a win win. Kind of
Priscilla Stephan 6:53
exactly a win. Win Win is how I call it you win, your business wins, the planet wins, everyone wins. It's a win, win, win win, however many wins, you want to add on there. And so when you take the quiz, which is free, and I know you'll give people the access to the quiz, in the show notes, you'll identify the archetype that you have been operating from primarily, up until now. And when people come to work with me privately, I open their akashic records connect to their guides, and their guides Tell me if that archetype is still really relevant for where they are now, or if there's another archetype to focus on. Focus on next.
Michaela Light 7:37
Now, the these kind of view can depending on what work task you're doing in your business, you could call on different archetypes. For example, if you have some sales calls to do, perhaps you use a different archetype than if you're trying to do strategic planning for your business. Is that the case? Or you know, you're saying you pick pick one and stick with it?
Priscilla Stephan 7:59
Yeah, that's a great question. You know, I, I've never had the situation where somebody businesses is kind of pulled apart by different archetypes. What I have seen so far is that if you are an archetype, let's say in my case, I'm a mystic that goes through all core aspects of the business sales, branding, marketing, offers pricing. The business guide has all of these aspects, content, strategy, team building, manifesting style, as well as the kryptonite that every archetype has, right? For example, the mystic has a lot of self doubt, sometimes crippling self doubt, not that they're the only ones but it can tend to be particularly tough. So then how do you handle you know, your kryptonite, that can mean you know, sometimes mean nothing, just taking some action a little bit is enough, not having, you know, gazillion certifications, not that there's anything wrong with that. But sometimes we don't think we're ready enough or good enough. And so we keep piling things on, but like, no, let's, let's go help people now. Right with what we have. And so, um, I would say that it's, you know, the archetype of will be that navigating compass in terms of how key decisions in your business are made, especially in your messaging, for example, the visionary is very bold and polarizing in their message. They usually tend to create very leveraged business models where they're very hands off, you know, of a tight team, that for example, like in the coaching world, that would be maybe there's a flagship one year program and a little mini Step Up Program, but you don't see a whole bunch of things everywhere. You know, they're very tight in how they run their business very hands off, then they're usually the face of their business. And they're very polarizing. So their social media, their messaging their website, Is will will kind of shock you a bit and it will immediately you will either go, oh my god, where have you been my whole life? Or go? Oh my god, I don't like you, you know, it's that kind of energy, right?
Michaela Light 10:16
So where can we see a list of these archetypes and all the different meanings of them?
Priscilla Stephan 10:21
So well Priscilla Stephens comm forward slash quiz is very, it's how you would go and then
Unknown Speaker 10:30
get to take
Michaela Light 10:30
a quiz and it tells you what your archetype is. And then yes, and you can see what Okay, yes, we get your upcoming book.
Priscilla Stephan 10:40
Well, there you go. Yeah, the book actually has, you know, has a lot of the core foundational promises and concepts of self want leadership. And it takes you through each of the archetypes, you know, through all of these categories, manifesting branding, business model, whatnot. And then there's also the quiz at the end, which is you can take manually to when the book is out. And there, the book also contains 15 examples of archetypal businesses. So there are three mystic businesses, you know, the whole re explore business. So this can give you a sense of energetically when you look at an explorer business or in social media, like what makes this business like this, you know, like, even for mystic, there's an intuitive mystic, there's a creative mystic, there's a healing mystic, just as you give a sense of Wow, like, there are so many ways that this business can look like. And so that's what I took the longest in the book is identifying businesses that would give me permission to showcase in the book, and bingo permission to you know, their photos and their their intellectual property. So I can showcase them as these different examples. And so you can see, for example, a divine feminine archetype leader, his community in collaboration driven, you know, so South LA cafe in Los Angeles is, you see, it's coffee community connection, it's right there outside on their board, they give groceries to the community, it's all about for buy and with community, right? It's, that's what is their dominant motivation to lead. That is their compass. And so you can get that sense early on, if like, wow, this is energetically what moves these people in, you know, helps them make decisions.
Michaela Light 12:33
So it sounds like if you align with what your leadership archetype is, then your business is easier to run, and you're not kind of going uphill all the time.
Priscilla Stephan 12:45
Yes. or trying to throw that much spaghetti on the wall? Do I try this way to try that? Or? I mean, I think that there's always an element of experimentation, we're always evolving. But there are certain things to keep in mind. You know, for example, for the visionary, although I think everyone can use this. The visionary is number one question is, what is the simplest, most efficient way to accomplish this? The visionary is all about efficiency, they're in a hurry, they don't have time to wait, they have to change the world, you know? And so it's about simplicity and efficiency. What is the simplest and most efficient way to go about this? I think everyone can benefit from that question. But that is a specific visionary, leader, archetype question for the mistake. And a question could be, you know, how do I feel about this choice? Does this feel most aligned? You know, it doesn't mean again, that these are questions that are only for one archetype versus another, but it's usually the dominant question that they will go to, you know, for a divine feminine is, how can I get my community involved? And how will my community benefit from these choices? You know, it's those those are the underlying elements that are at the forefront when these different archetype businesses are making decisions, which affect you know, everyone
Michaela Light 14:13
so, it sounds like if you follow your leadership type, you're gonna have much more flow and joy in your business instead of being burned
Priscilla Stephan 14:23
and impacted you will feel you know, I had a visionary leader talk to me she said, You know that I have her read the the visionary in the book, which is like, my God, this is so me, but she said, you know, even before she read the book, she said, there came a point where I just decided that I was going to stop doing things I'm not good at, you know, and I know that can sound so you know, try it and will everyone so many people say that, but it was such a decision in her that she was not trying to be a pretzel and be somebody. She wasn't just like, Look, this is what I'm good at. I'm good at the vision. I'm good at delivering. I'm good at delegating. I suck. Everything else, it was just so easy because then she's not trying to invest energy and resources and headaches from doing things she's not good at. That's why, you know, this is a framework about understanding what you're good at your natural leadership style and staying in your lane. There's so much good that we have innately. Why are we spending time doing things that we are not good at? not efficient?
Michaela Light 15:28
Because the traditional leadership books tell you to?
Priscilla Stephan 15:33
Well, thank you. Well, there is a in on my website, there is a tab called what is leadership and there is a table. It's also in the book, which contrast traditional leadership with Seoul fluent leadership. And I would say that traditional leadership has been about hierarchy. And the shoulds of leadership, I have to be this way, I've got to calm down and suppress parts of myself. And so fluent leadership is not ego driven. It is soul driven, it is about expression, Authenticity, integrity, choice. And it's about giving yourself permission to be the leader you want to be. And that suppose the greatest opportunity, and the greatest challenge is that so fluent leadership is here to invite you to truly be the leader that you know, you truly are, or to explore what that can be for yourself, versus here's the approach of what it's going to take to be successful, fit the mold, climb the ladder, hopefully, supposedly get there, wherever there is, and so forth. Leadership is not who you're being versus what you're doing matters most utterly and ultimately,
Michaela Light 16:48
energy for, I'm having visions of 1980s women executives, wearing shoulder pads and climbing the corporate ladder here. And you have a lot of energy around this, which is fabulous. Priscilla, I believe I was like you did a bit of ladder climbing yourself in the past.
Priscilla Stephan 17:04
I am highly ambitious, you know, and I think I've always I find myself kind of butting heads within myself of Gosh, I want to be super expensive. You know, what would you know, a business that's like gazillion dollars worth and impacting millions look like to I want a simple business. I want to have a simple life. I don't want all the trappings of success. So I find myself going back and forth and finding my way of what does a joyful, simple, impactful business look like for me, I want a business that feels good, does good and pays good. That's not good English. I know it's pay as well. But the point is that
Michaela Light 17:46
that's me.
Priscilla Stephan 17:47
And I because I don't think we need to I am such a yes. And person. Maybe it's because I'm an only child, I believe that you can do good work, and you can get paid well, or at least give yourself a chance to try. You know,
Michaela Light 18:00
yes, of course you can. Yes. Yes. And it's such an improved.
Priscilla Stephan 18:08
I know my husband told me that he said you didn't realize that. I'm like no, but thank you. You're absolutely right. It's like yes, and I'm not an either or person I don't do or very well, cuz I like what I want. I want what I want, I want it now. Right?
Michaela Light 18:25
So let's just go back and explain some of those words we used earlier. So you talked about you down your you downloaded the book. Now when some people heard download, they thought, Oh yeah, you just go on iTunes or whatever. Yes, and you're downloading it, but you meant something a little different. So what do you mean when you say down loaded ideas or books or business strategy?
Priscilla Stephan 18:47
I think that you know, some people for say, a download and they had it like they have a vision or a dream or an inspiration or, and then they just kind of comes to them right from beyond their brain. So in this case, the Akashic Records is a space for you to connect to your soul and ideally through your eyes, your soul guides, where they kind of communicate with you. Everyone has the ability to connect to their akashic records into their guides, but I opened my own akashic records. I sit down and I start typing, I say guides, just tell me what you want me to, you know, be the conduit for so my I open up my records, it takes a few seconds, I can sense that the guides are talking and so as I hear them in my ear, I just start typing. And usually I can type for about 90 minutes until in my head hurts and then I stop and then I come back and then I do another, you know, a few days later, and then I come back and I'm like, Okay, I have no idea what I typed. I don't understand what has been said. This was the whole body of work for the archetypes and then this was also the case for the business guide my whole life. It was okay guys. 10 page PDF, let's just write a little mini bullet point thing. 10 pages turned into 3050 100. And now we're at 150 pages worth of stuff.
Michaela Light 20:12
Fabulous. It sounds a lot less work than having to think your way through writing the book.
Priscilla Stephan 20:16
I still love that anything I have to do I have to write a sales page. If I have to write a newsletter, if I have anything, I'm just like, okay, just give it to me. I'm lazy. I'm not gonna lie. I know. I don't want I don't like to work a lot. So I just like okay, guys. And then of course, I spruce it up with human, you know, 3d language. But yes, that's how I do it.
Michaela Light 20:34
So another word for that might be channeling. channeling is the word Yes, yes. Now, you mentioned two other words that I'd like to unpack for our audience. One is guides because not everyone is in touch with their guides or even know what a guide is, what, what do you regard as a guide,
Priscilla Stephan 20:52
this is my interpretation of it, that these are invisible beings in the ethereal realm, whether you call it universe, I don't know, you know, intelligent beings that guide us and want us mean as well, that we can access for insight, guidance, information, clarity. Some people call it their higher selves, I, in my case, I call it the Akashic records, some people channel, you know, St Mary, or St. Francis or saints or, you know, angels, I think there is a multitude of invisible beings in the ether in the, you know, heavenly realms that we can access, I happen to access my soul guides through the Akashic Records, which is a bit of a database of our soul. And these guides kind of accompany our soul through a real lifetime. And we're here to provide clarity and guidance. And to me, it feels like they're a bit of a committee, like they don't have faces, they just seem white. And they usually it just feels like maybe a dozen of them or so. And so, and you can open you can open up the Akashic Record, we mean anything that has consciousness has, has guides, you know, has a way for you to access the energy of that thing. So your business, Michael has a an Akashic Record, your your home, your relationship, a country, a book, a podcast, everything has its own individual akashic records, or you can just simply open up the Akashic records of a human. And then then from there, they can kind of spin you off into whatever areas of your life might be.
Michaela Light 22:40
Okay, so it's a it's a if I heard that, right, it's a record of your soul decisions past, present and future is that
Priscilla Stephan 22:46
that is perfect. Yes. And how you access that is usually through a prayer diff, there are different people that teach it in different ways. And it's an I know, I'm in the records in that energy. Because I feel a shift in my energy, it feels warmer, because the energy of the Akashic Records is of love and truth, that the records are always a space to benefit you. It is a sacred space that requires permission, nobody should be accessing. I don't know if if even though the guides allow someone you know, to, with ill intent to access someone else's records, because it's kind of like almost like a safety deposit box. You know, not everyone is you're not supposed to just willy nilly go into someone's space, because that's just not cool. You know? So you need someone's permission. Every time I open someone's Akashic Record, I said, Do I have permission to open your records, it must be a conscious choice to do so. And then you access you know, and I see hear and feel information. And it's almost like a movie, that's, I'm watching so I can see things. I hear things, and I feel and it's all happening at once and I just convey it to the person.
Michaela Light 24:02
Sounds amazing.
Priscilla Stephan 24:04
It's fun. And the good news is, like I said, everyone has the ability to access their own akashic records. And usually wherever training you take you, you get you learn how to connect to your own guides first and to build that relationship and then you can learn to read other people's records. You can learn healing and other powerful ways of cutting cords and, you know, shifting past life energy and karmic debts. I mean, there's so much you can do in the records and some people have intuitive medical intuitive ability and work with body stuff. Some people love to do relationship stuff. Some people do business stuff, I am strictly business, and now leadership, I really don't enjoy or am particularly skilled, as much as I am on the business leadership stuff and just really being able to type out pretty dense bodies of work, you know,
Michaela Light 25:00
That's fabulous. So now you mentioned is somehow relates to your higher self, you know, your soul or your intuitive self or your spiritual self, whatever you want to call the higher self. So how does the Akashic Records relate to that is,
Priscilla Stephan 25:16
you know, I'm not entirely sure, I don't know if the soul on the higher self are the same thing or out parts of the same, I should, I should know and research it. So I won't make a conclusive response. Just because I don't want to give people the wrong idea. My sense is that it might be slightly different, but I think you're still accessing a higher awareness, energy of your own spirit. Um, that is that's maybe transcends ego or transcends the mind. But that's, that's as far as I can. I can go for now.
Michaela Light 25:52
Now, we mentioned that these are your past records and your future. And, you know, I know some people see time as linear and other people see it as circular or all the times are accessible at once, which certainly is my view. Do you help people modify? Do you modify your own records from the past or future?
Priscilla Stephan 26:15
I think that you can, you know, when you release karmic debts or hooks, or you know, revisit or perhaps heal events or contracts from the past, I don't focus a lot on the past, that's again, not my, my, my jam. My sense is that that by healing the past, however, that happens that that inevitably shifts who you become in the present, either because you have a different perspective on something that or an insight that you might not have had about yourself or, or an event in the past. Or maybe you feel less encumbered by something that you either realized you were encumbered by or didn't even realize you were, you know, by? So yes, I think it can. And I will say too, in terms of future, the records are not predictive in terms of Oh, yeah, you know, I always have, I'm not a psychic, I'm not here telling your future. I, it's a very much a space of you come prepared with your questions, you come as a fully sovereign, being, knowing that you are not giving your power away to me or to the guys, you're coming with the intent of gaining clarity from a space of love and truth from your guides, knowing that you have free will and choice to make your choices in this 3d reality, based on common sense, and based on your ability to make an informed decision of your own. That being said, though, I do believe that the records are a place for you to live your best, most purposeful life and to give you clarity, and to grow as a soul by accessing them. You know, it is a spiritual development. I guess obstacle course that has felt like, you know, in seven years that I've been accessing it?
Michaela Light 28:07
Well, you know, I think many people are here for spiritual growth. And I often think, you know, starting a business as an entrepreneur is a way to accelerate spiritual growth in certain areas of our lives by overcoming challenges we have to hiring people or sales or whatever the visibility or any thing I feel like money, yes. Get the money.
Priscilla Stephan 28:30
Yeah, making money, having it receiving it, spending it, you know, all of it.
Michaela Light 28:35
I mean, in some ways, these things are sort of like a magnifying glass. You know, if I have an issue with something, I'm gonna have three times as much of an issue if I start a business or if I have more money to do it, is it analogous, I see it to the way relationships are, if I have a girlfriend or boyfriend will get married, it tends to bring up issues even more than if I didn't. So it's all very easy being spiritual, if you're hiding, you know, hiding away in a cave, not running a business, not in relationship. not growing old.
Priscilla Stephan 29:09
It does. Yeah, it does. I mean, I, I am married with a husband that's, you know, 13 years older than me currently, in the process of buying a home doing lots of adulting money calculations. It's, we're in it, we're definitely in it in the moment and running a business and got for a baby is and you know, there is the spiritual realm that is very interwoven with the day to day mundane aspects of life, as well. And I think there's a lot of spiritual growth that comes from taking action, as much as there is from stillness. It can go hand in hand.
Michaela Light 29:59
I think they They in a good business, they do go hand in hand. This Frank Sinatra song dooby dooby doo. And I think that applies to business. It's good to do things. And it's good to be and it's good to do some things. And it could be
Priscilla Stephan 30:16
You're so wise, that's perfect. Yes. I don't remember that sign than I do like, Frank. Kind of sir.
Michaela Light 30:23
I don't know if that's the title of the song, or it's just a phrase. Yeah, yeah, I know, I know. Now I want to find the song so I can hear. He was a great, great singer. And I think he was quite good at business, though he sometimes got a little distorted with some friends he had. So I'm kind of curious. You mentioned in the 3d world 3d reality? How many other realities Do you experience?
Priscilla Stephan 30:50
You know, I'm not an expert on this. I have heard, I think that they're, you know, like, 12 dimensions? I really don't know. I think that's what I've heard. I think that, you know, I think what I've heard is, but then I heard differently that, you know, we're like in the third dimension, hence, three days. And then there's the fourth, and then their Kaushik records are in the fifth dimension. And then I don't know what else keeps going beyond that, but I hear that there are I don't know how to access them. I haven't tried, I don't know if there are 12. But supposedly, there are multiple dimensions that go, you know, at higher frequencies of vibration, I guess.
Michaela Light 31:28
Yes, I've read and learn. There are many different dimensions. You know, some say 144, or Wow, anyway, certainly, more than Well, you know, if you're going to be an angel or an archangel, you, you're probably at a lot higher vibration than most humans. So not the humans can't have high vibrations we can. And maybe that's part of what we're learning to do. Here on this planet, in these bodies in this piece of time that we selected to incarnate in. Yeah, so it's all very interesting. So now, you're very good at asking questions. Priscilla. Tell me a bit about the types of questions you you ask and why the kind of question you ask as a leader makes a difference to those around you and to yourself.
Priscilla Stephan 32:23
I think that we if we, if we don't catch ourselves, we can find ourselves in a default of coming from a place of conclusion, assuming that there's only a certain way of outcome or possibility. But when we ask, as you call them expanse of questions, like your question, what would it take? What would it be like? What kind of a leader can I be? What kind of a contribution Can I make today? What what is possible with my relationship with money? Like, these are questions that open the mind to possibilities that then somehow, I don't know if our mind starts to look for different answers, you know, all of a sudden, you open yourself up to possibilities that, you know, if you go well, well just think of it this way. Let's say somebody says, Well, I'd like to open a new business. Oh, you know, my, Michael, you just can't be done. You need this and this and this. Or you can say, what would it take to open a new business that, you know, makes me happy? What would it take to create a business that sparks joy and makes a difference? What would it take to have a community that's really engaged and where each person values each other and cares about one another? All of a sudden, now your mind is connecting the dots of different answers to that that will for you just shut things down with a conclusion that can't be done. It's going to take too long, it's never going to work? Well. That's one perspective, doesn't mean it's the only perspective. And so as leaders, we're here to enhance whatever it is bottom line, you know, clients better world and actively seeking possibilities that transcend the logical, you know, conditioned mind or condition name of what's always been done. It comes down to asking a different question. You know,
Michaela Light 34:30
the questions we ask make an enormous difference that the results we get, they do. How I'm hearing expansive questions that you gave lots of examples for is that as opposed to contractive questions that are kind of Yes, no questions or judgmental questions or restricting us in some way. So opening up our possibilities it both in our mind and in our connection to our higher self. Maybe it also opens us up to the other dimensions we live in, you know, I think everyone is a multi dimensional being, yeah, sure, we have three dimensional bodies and bank accounts and what have you. But we also do have, you know, a spiritual component, as do our businesses, our businesses have three dimensional things, maybe they build houses, or do coaching, or whatever they do. But they also have a spiritual aspect, which we don't always get in contact with. And I personally believe our business does have a spirit, you know, you were phrasing it as you could read a business's akashic records. You know, I think our businesses have a soul or spirit, they actually want to grow in certain ways. And the same with books. I mean, I've written three books, and really, you know, did I write the book? Or did the book come to me to get written? You know, and I think the latter, what version works better? And the same with business? Did I create this business? Or did the business pick me to incarnate sup, because I was the most attuned to creating this kind of business? And, and if if I work well, with that energy of the spirit of the business, then the business is successful? And if I'm trying to force it, it doesn't work as well.
Priscilla Stephan 36:25
Exactly. I would completely agree with you that every business I believe, has a soul has its own IE it has its own consciousness, right. It has its own energetic signature, its desires. And another great question to ask is to ask your business questions, you know, so whatever your business name is, Mike, also, let's say Michael enterprises, you know, LLC, I'm just the imagined it
Michaela Light 36:52
would be my case, my tailor enterprises, mckaela
Priscilla Stephan 36:55
mckaela Enterprises. So what would be you know, Michela into enterprises? What would you like me? How would you like to be shared today? How, how would you like to market yourself? What would you have me say today? Um, so there are ways to commune, communicate, connect with and co create, ultimately, with the energy of your business? Because I think we think oh, and I'm the I'm the visionary, I've got to come up with all the answers. Well, what if you ask for business and then you go execute? You don't have to come up with all the answers yourself, the business
Unknown Speaker 37:32
helps you?
Michaela Light 37:34
Yeah. And for some people that may come as actual words, were channeling for other people, they may get, you know, visions or dreams or, you know, there's many ways we can get intuitive information. And if you don't, if the people listening don't hear things in their head, that doesn't there's nothing wrong. Maybe you get you information from your business to spiritual your higher self a different way. Absolutely can be maybe synchronicities is another common way, you know,
Priscilla Stephan 38:02
yes, yes, absolutely. There is no one way sometimes that can be multiple ways. And we're evolving and developing new ways. Some people like to ask for science, you know, universe, show me three signs, you know, that can be a way you know, each person for people consult with spirit animals or go into demonic journeys. I mean, there's so many ways that can be done, or some people just have a gut feeling it's a yes or no.
Michaela Light 38:30
Oh, good. That's all good. Well, we're nearly out of time. I know you have another thing to do with your exciting help purchase. And I'm sure you're going to talk to the spirit of the future house you getting. But I've got a question that I asked all my guests, which is what would it take to make business intuition more openly use this year, because sometimes people will kind of cover this aspect up?
Priscilla Stephan 38:55
Well, I think that it comes down to if you're aware that intuition is valuable in business to make the choice to practice it daily. It is a practice intuition is a practice of trust and openness and awareness. One of the first exercises my akashic records gave me was to spend half of my day just taking action based on my intuition, which was horrifyingly scary. Um, and so now, but it has allowed me to ask, okay, so what should I do next? Now, what am I feeling into? So it's really it's a practice it's a muscle just like any other and secondly, to be courageous if you feel like you can to lead in your business in that way, you know, to be that an example that intuition is, is is a good thing. It's not some woowoo thing. I don't I hate, but it's become Like this, like bad thing, it's actually the key thing to everything.
Michaela Light 40:06
It makes life a lot easier, I think and more joyful and profitable. So I think it's good to do that. And maybe people who are new to it can just practice in small ways. You know, maybe don't use it on that million dollar client deal, but start with some smaller prospecting as to which prospects feel like the right ones contact today, or, you know, perhaps with other smaller things. So, if people want to find you online, Priscilla, what's the best way to do that?
Priscilla Stephan 40:38
Priscilla? Stephen calm. I'm also on Instagram at Priscilla Stephan. And if you want to take the three minute free quiz to uncover your supplement leadership archetype go to Priscilla Stephens comm forward slash quiz.
Michaela Light 40:56
So we'll put all those links in the show notes. And just for everyone listening, Stefan is with a not an E. So last mistake I nearly made earlier.
Priscilla Stephan 41:28
soulful and leadership archetypes into the world. Thank you. You're such a wise grounding. Lovely host. It's been such a pleasure to speak with you. It's like I don't even need to finish my sentences. You're really captured. I love it. So thank you so much for having me.
Michaela Light 41:46
All right.